The 15 Best Ever Sangria Recipes for Summer
July 25, 2023 by Anna-Bet Stemmet
The best Sangria recipes for summer? Right this way, friend. Often cited as one of the best batch cocktail options for warm-weather entertaining, Sangria is a crowd-pleaser of note.
Traditionally a Spanish drink, the age-old Sangria recipe features red wine, water, herbs, spices, and fruit. However, these days Sangrias have a wide variety of ingredients, which can be adapted to suit your style. Here are a few of our favorites to try at home!
1. Classic Sangria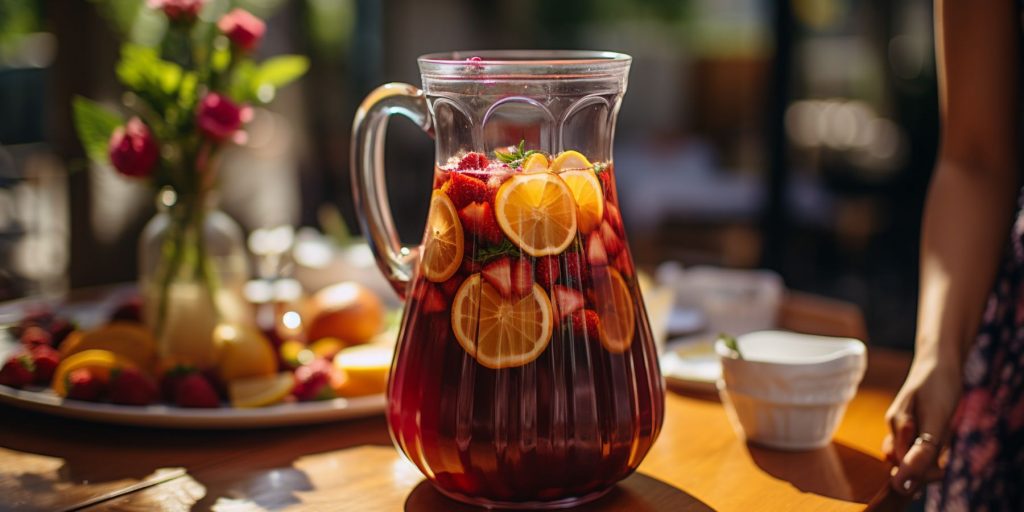 There are so many different types of Sangria to try, but if you are all about that time-honored vibe, we'd highly recommend starting with the Classic Sangria.
Begin by preparing the fruit; chop 0.5 medium apples into small pieces, leaving the skin on, and slice 0.5 medium oranges with the rind intact, removing the large seeds. In a large pitcher, muddle the chopped fruits with 3-4 tablespoons of brown sugar for 45 seconds. Add 0.75 cups of orange juice and 0.25 cups of brandy, muddling again for 30 seconds to blend the flavors.
Pour in a 750 ml bottle of dry Spanish red wine (or a red of your choosing) and stir well. Feel free to add more brandy, orange juice, or brown sugar to suit your tastes. Chill with about 1 cup of ice and garnish with extra orange segments if you like. Enjoy fresh or store covered in the refrigerator for up to 48 hours.
2. Strawberry Rosé Sangria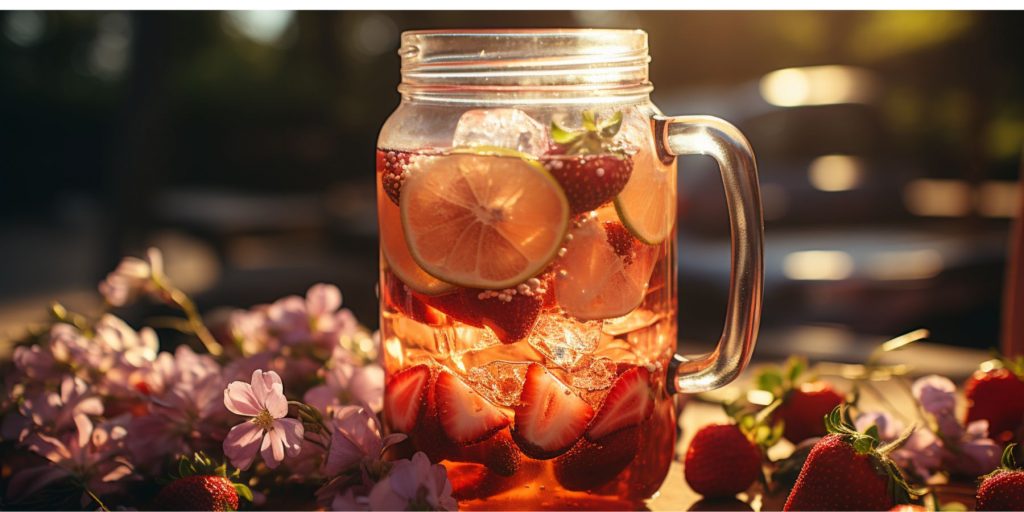 The best-ever sangria recipe to try at the height of berry season has got to be our Strawberry Rosé Sangria. Combine two bottles of rosé wine with 2 cups of SKYY Infusions Wild Strawberry Vodka and 2 cups of sliced strawberries. Taste the mixture and add 0.5 cups of stevia or sugar, adjusting to your desired sweetness. Stir everything thoroughly to ensure proper mixing. Refrigerate the pitcher for a minimum of 2 hours or up to 6 hours.
Just before serving, add 5 cups of lemon-lime soda and 2 more cups of sliced strawberries, gently stirring to combine. Serve the delightful Strawberry Rosé Spritzer over ice, garnished with fresh strawberries for an extra touch of charm.
More berry bliss: 22 of the Freshest Strawberry Cocktails to Make All Year Round
3. Watermelon Sangria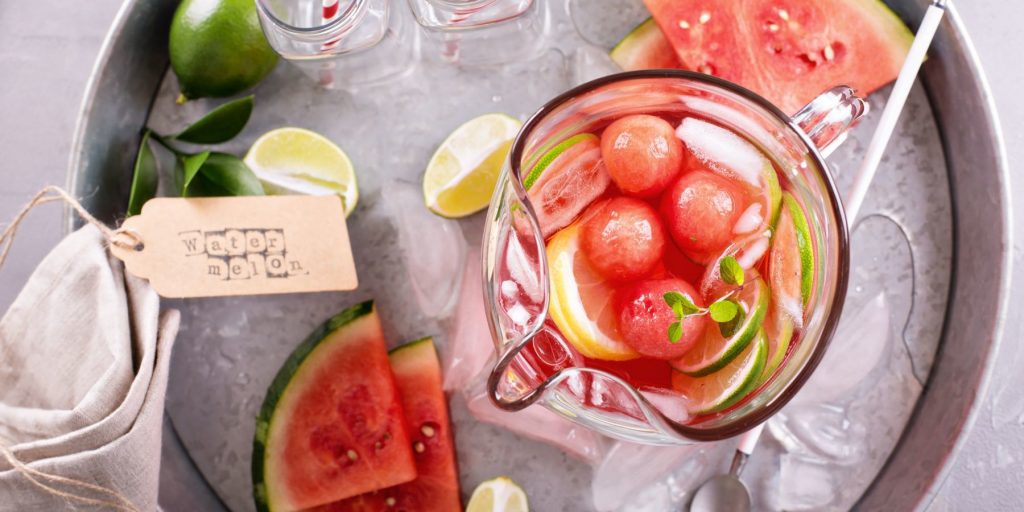 If you love watermelon cocktails in summer, this Watermelon Sangria is going to rock your socks! Blend ten cups of watermelon in a blender on high until a smooth juice forms. Strain the juice through a mesh strainer into a large pitcher.
Next, add one bottle of dry white wine, 1 cup of SKYY Vodka, 0.5 cups of Grand Marnier, and 0.5 cups of simple syrup to the pitcher, stirring well to combine. Now add 3 cups of watermelon cubes and a handful of orange wedges, fresh blueberries, and quartered lime segments into the sangria. Chill the mixture for 4 hours before serving.
4. Mango Strawberry Sangria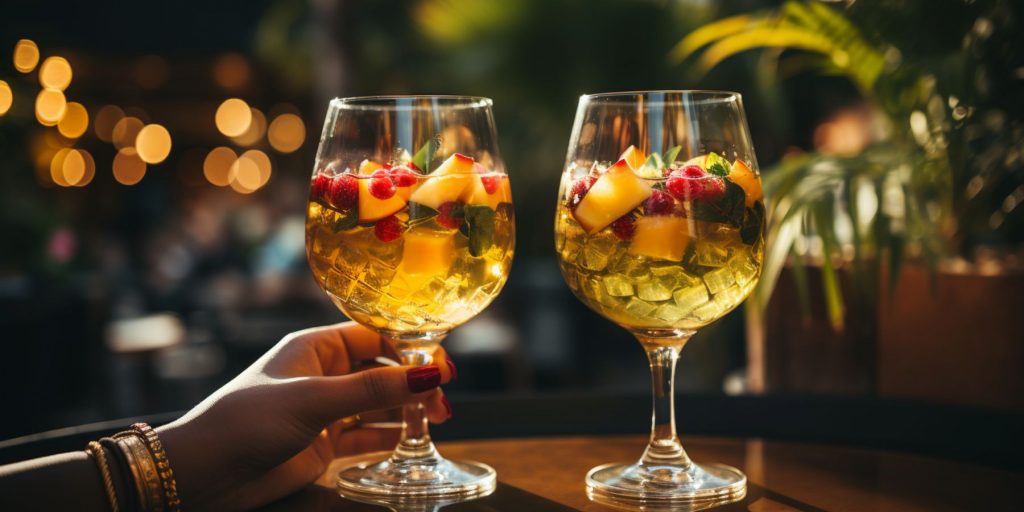 Start by pouring 1 bottle of sweet white wine, like Moscato or Gewürztraminer, into a pitcher. Add 1 cup of mango juice and 1 cup of coconut rum to the wine. Cut 1 mango into cubes and add it to the mixture along with 2 cups of hulled and sliced strawberries. Stir all the ingredients together until well combined.
Chill the Sangria in the refrigerator until it's ready to be served. This delightful drink is perfect for gatherings or simply enjoying a relaxing moment with its sweet and tropical flavors. Serve over ice and garnish with extra fruit if desired. Cheers! This recipe also yields the best non-alcoholic sangria recipe when you swap the wine for a non-alcoholic vintage and leave out the rum.
Mango magic! 8 Deliciously Fresh Mango Cocktails You Must Try
5. Iced Tea Sangria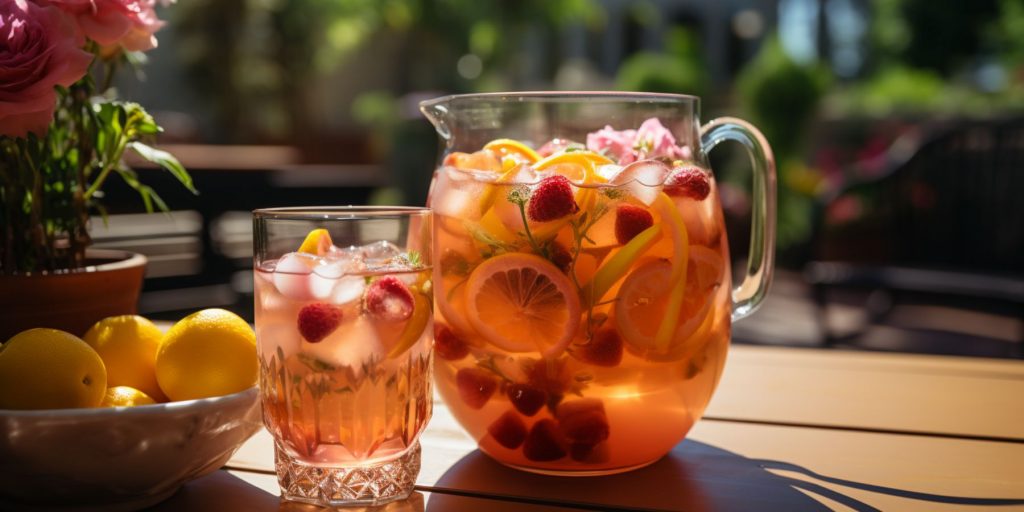 Tea cocktails are super trendy right now and make a great addition to summery events. Best of all? You can make them with any tea you fancy! To make a batch, start by steeping 4 bags of your preferred tea in boiling water, letting it sit for five minutes.
Remove the tea bags and set the tea aside to cool. Once the tea reaches room temperature, add it to a jug with two cups of white wine and honey syrup to taste. Give it a good stir, cool it in the fridge overnight, and add some ice and fresh fruit before serving.
Learn more: How to Make Honey Syrup at Home
6. Traditional White Sangria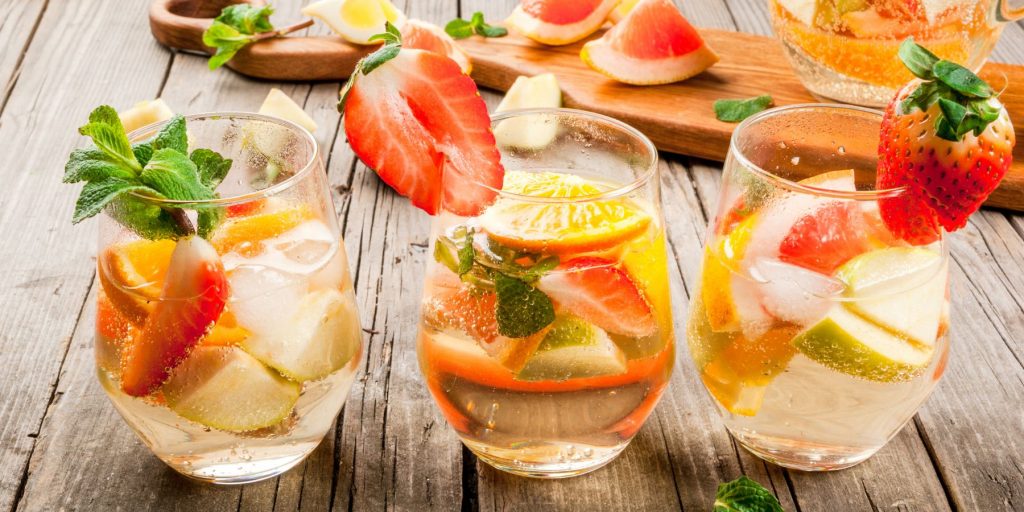 If you've been looking for the best recipe for White Sangria, the good news is that we're willing to share the closely guarded secret recipe for ours… Start by chopping 2 ripe peaches and 1 green apple into bite-sized pieces, adding them to a large pitcher. Sprinkle in 2 tablespoons of sugar and stir, allowing the fruit to stand for 20 minutes at room temperature.
Afterward, pour in 1 bottle of chilled dry white wine, followed by 0.5 cups of brandy or Grand Marnier. Add a handful of mint leaves and thinly sliced rounds of half a lemon. Stir and refrigerate the mixture for 1 to 4 hours to meld the flavors. Remember not to exceed 4 hours, as the fruit texture may degrade. When ready to serve, pour the White Sangria into ice-filled glasses, and optionally top with a splash of sparkling water.
7. Lemon Raspberry Sangria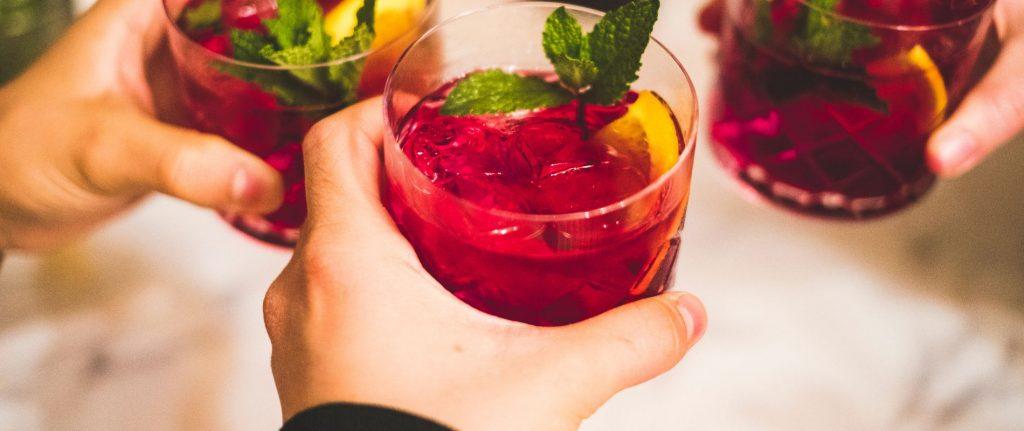 To make a delicious Lemon Raspberry Sangria, you'll need 2 bottles of white wine and 2 cups of SKYY Vodka. In a pitcher, combine the wine and vodka with 1 can of frozen raspberry lemonade concentrate. Stir well and allow the frozen concentrate to thaw. In a separate small bowl, take 0.5 cups of fresh raspberries and mash them before adding them to the liquid in the pitcher.
Refrigerate the mixture for approximately an hour. Just before serving, pour in 5 cups of lemon-lime soda and add the remaining whole fresh raspberries. Give it a gentle stir. Serve the sangria over ice and, if desired, garnish with a slice of lemon for an extra touch of citrusy goodness.
8. Green Tea Sangria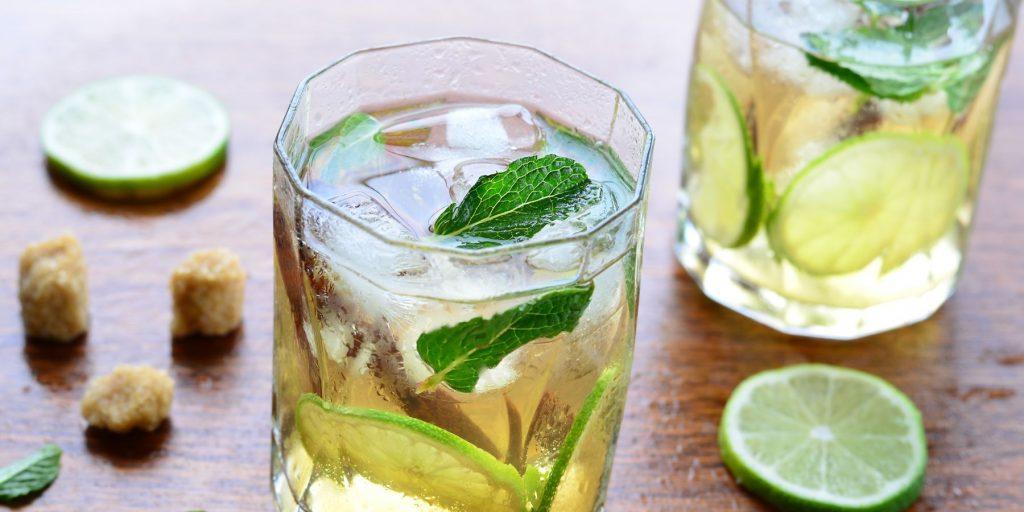 This beautiful big-batch drink is perfect for al fresco lunches. Bring 4 cups of water to a boil in a large pot, take off the heat, and add six green tea bags. Steep for 5 minutes, remove the bags, and stir in 3 tablespoons of honey. Let it cool down for an hour.
Now add the tea mixture to a pitcher along with a bottle of white wine, a few lemon slices, and a handful of fresh mint leaves. Refrigerate for 2 hours and serve alongside ice-filled tumblers, so everyone can help themselves.
9. Apple Cider Sangria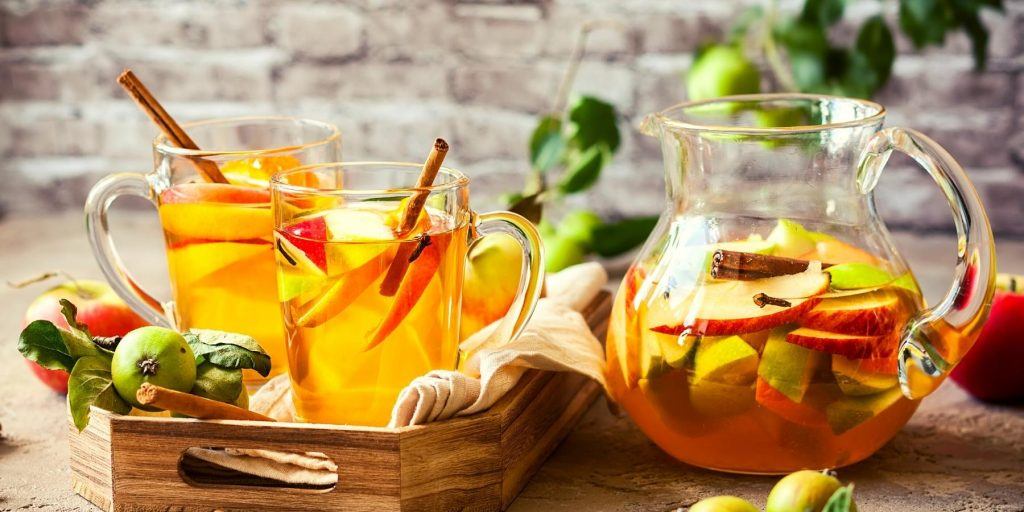 Apple cider cocktails may be synonymous with fall, but this sangria recipe ushers it into a tasty summer space as well. Combine 1 bottle of Pinot Grigio with 2.5 cups of fresh apple cider, 1 cup of club soda, and 0.5 cups of brandy. Add chopped apples and pears, making sure to core them first. Stir all the ingredients together thoroughly. For the flavors to meld, refrigerate the mixture for at least 1 hour, though you can chill it longer if desired. Serve over ice.
Speaking of fall, though! Snuggle Up with These 10 Irresistible Fall Cocktails
10. Sassy Sangria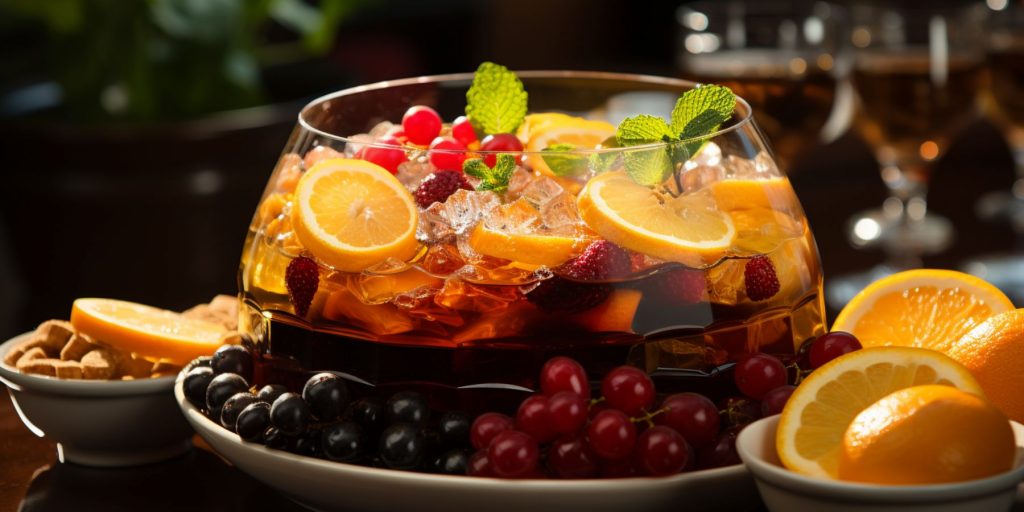 If you dig cocktails with some pizzazz, you must try our Sassy Sangria. You'll need half a bottle of Sauvignon Blanc, 0.5 cups of Wild Turkey 101 Bourbon, and 1 teaspoon of minced ginger. Also gather 2 cans of ginger beer, 1 halved and thinly sliced orange, 1 cup of white grapes (halved and pitted), and a handful of blueberries/blackberries.
In a large pitcher, combine the wine, bourbon, and ginger beer, stirring everything together. Add three-quarters of the prepared fruit to the pitcher, reserving the remainder for individual glasses. When ready to serve, fill your Sangria glasses with ice, fruit, and the refreshing mixture. Cheers!
11. Cranberry Chai Sangria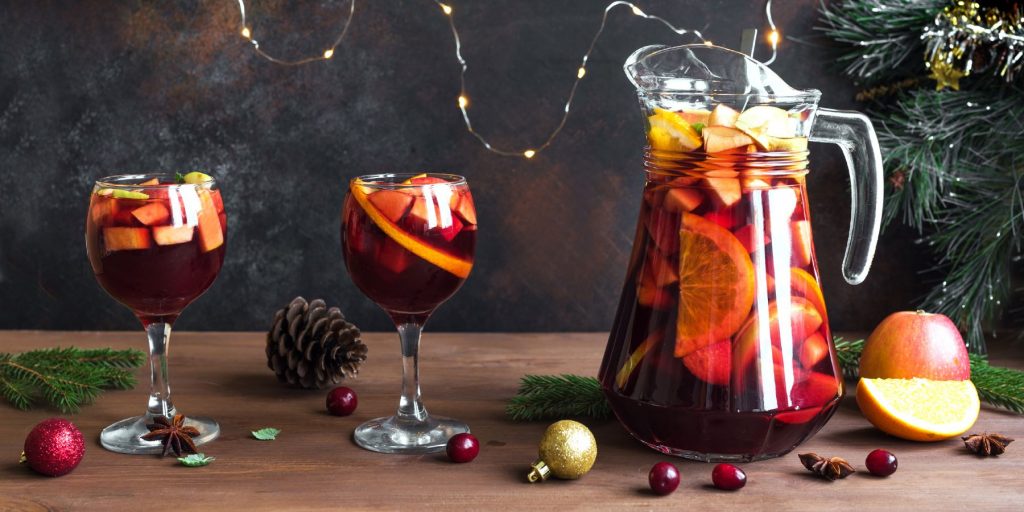 Arguably the best recipe for Sangria with red wine and warming spices in the mix, this Cranberry Chai Sangria will low-key change your life. Heat 1.5 cups of cranberry juice gently in a saucepan until it simmers. Remove from the heat and steep 2 chai tea bags in the juice for 15 minutes. Taste and add an additional tea bag, if desired, for a stronger chai flavor. Allow to cool.
In a pitcher, combine the chai-infused cranberry juice with 1 standard bottle of Pinot Noir, 1 cup of citrus-flavored seltzer, and 0.5 cups of brandy. Add thinly sliced apples, oranges, pears, and fresh cranberries along with a cinnamon stick to the pitcher. Stir well and let the mixture sit for 30 minutes before serving. When serving, fill a glass with ice and orange slices, pour in the sangria, garnish with the fruit and a couple of cinnamon sticks, and serve.
More cranberry goodness: 13 Cranberry Cocktails for Christmas
12. Frozen Sangria Slushie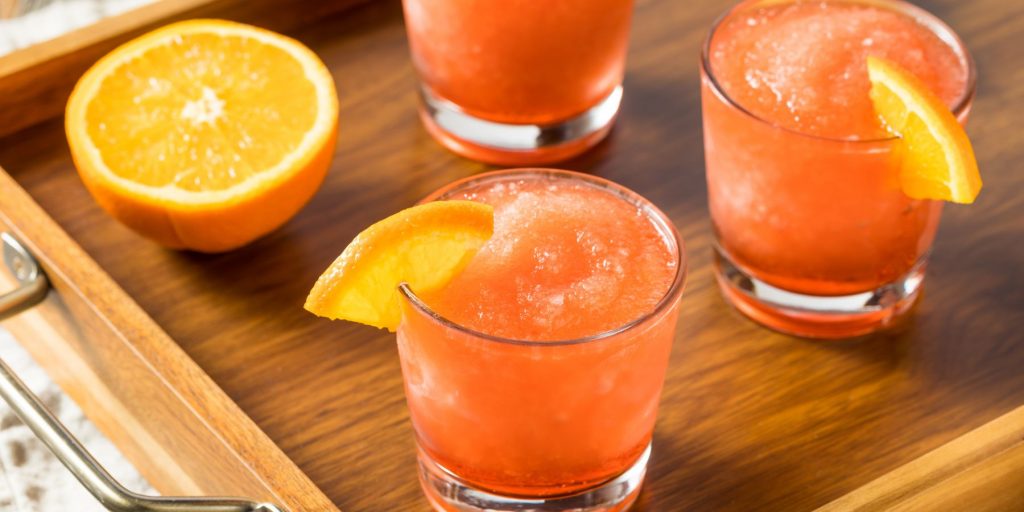 When the heat really is on, there is nothing quite like a frozen cocktail to cool you down. This version is great to make when you have extra clementines around. The night before you want to serve it up, peel and section 3 large or 4 to 6 small clementines and freeze them.
On the day of serving, blend the frozen clementine oranges with 1.5 cups of frozen mixed berries, 2 cups (16 oz) of dry red wine, and 2 tablespoons of honey (or use maple syrup for a vegan option). Be sure to stop and scrape down the sides of the blender as needed for a smooth blend. Pour the sangria into glasses and, if desired, garnish with slices of orange. For the best experience, serve immediately.
13. Pineapple Mojito Sangria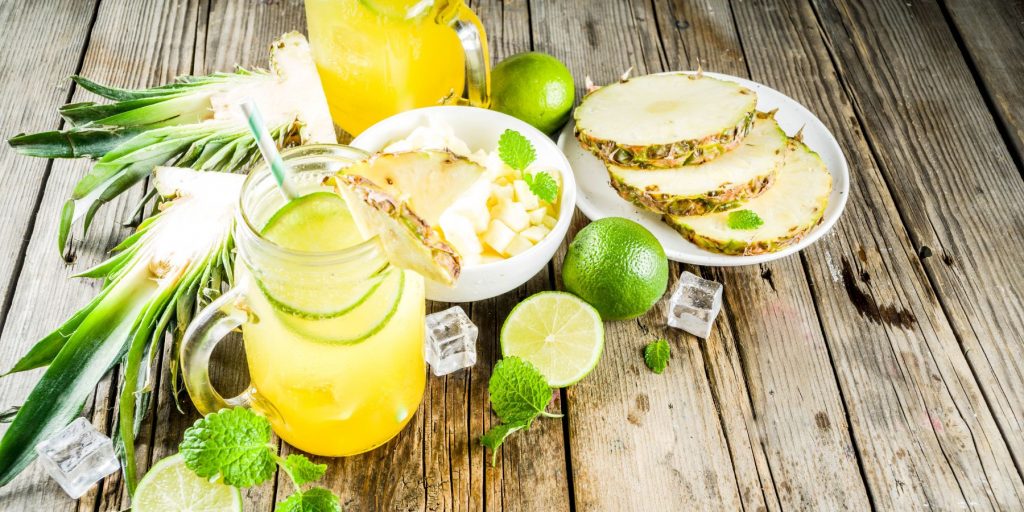 The classic Mojito has always been a summertime staple, and we cannot seem to get enough of this Sangria-inspired spinoff. Start by thinly slicing 3 medium limes and stripping the leaves from a small bunch of peppermint (approximately 30 leaves). In a sturdy pitcher, muddle the lime slices, peppermint leaves, and a third of a cup of granulated sugar using a muddler or a sturdy wooden spoon. Add 2 cups of diced fresh pineapple chunks to the mixture.
Pour in a bottle of dry white wine, such as Sauvignon Blanc or Pinot Grigio, along with 0.5 cups of white rum and 0.75 cups of pineapple juice. Cover the pitcher and refrigerate for 4-5 hours to let the flavors meld. Before serving, add 4 cups of lemon-lime soda to the pitcher. Serve the Sangria over ice, adding a few pineapple chunks to the glass. Garnish with extra peppermint leaves and pineapple wedges as desired.
14. Pina Colada Sangria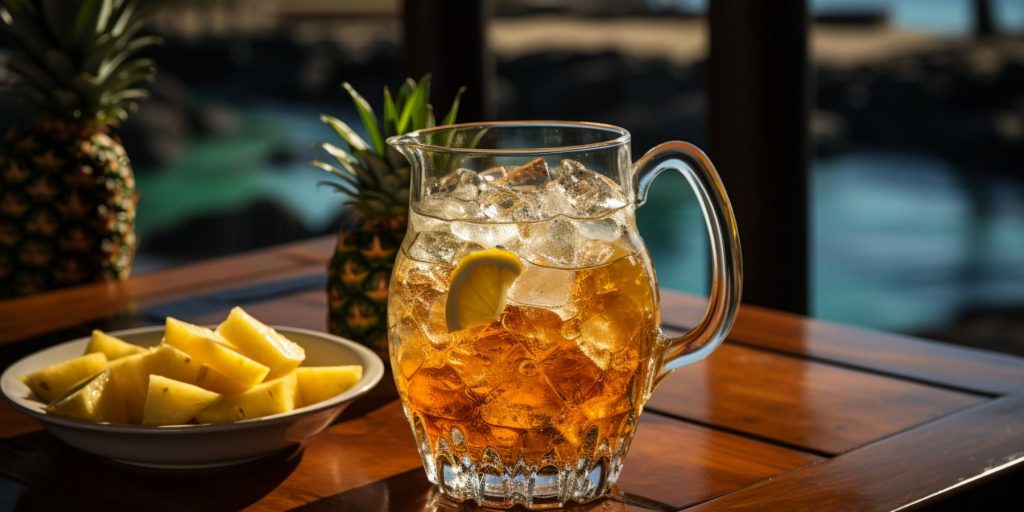 The dreamy Pina Colada has always been a tropical staple, and this riff on the classic is one we love to serve at a BBQ. Combine 1 bottle of white wine, such as Moscato or Chardonnay, with 1 cup (8 oz) of coconut rum for that rich coconut flavor. Add 2 cups of pineapple juice and 2 cups of coconut water to enhance the tropical essence. Toss in chunks of fresh pineapple for an authentic Pina Colada touch.
Gently stir the ingredients, cover, and refrigerate for at least 2 hours, allowing the flavors to meld together. When ready to serve, pour into glasses over ice, and if desired, garnish with additional pineapple chunks and a sprinkle of shredded coconut.
15. Blueberry Sangria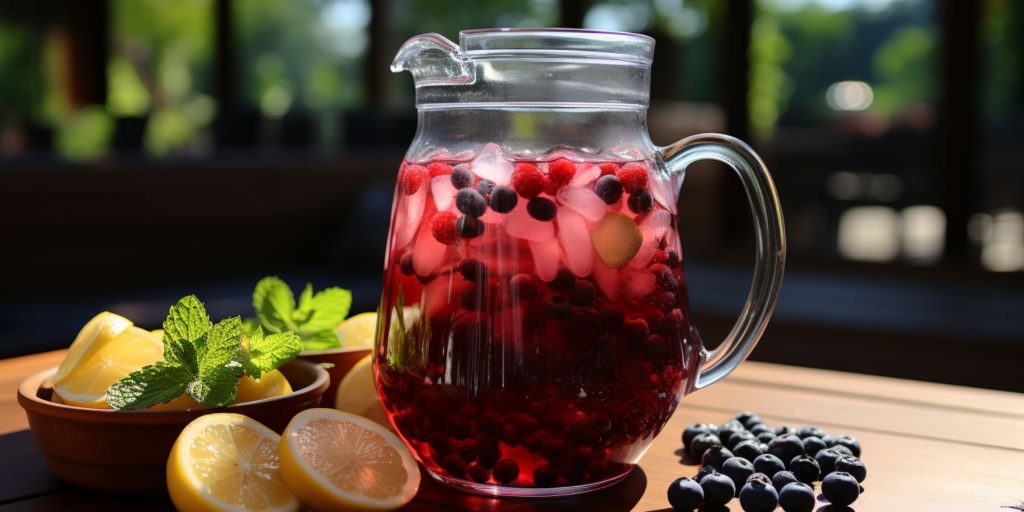 This is the best red Sangria recipe for folks who go ga-ga for blueberry cocktails, for sure! In a large pitcher, combine 1 bottle of red wine (such as Merlot or Cabernet Sauvignon), 1 cup SKYY Blueberry Vodka, 0.5 cups blueberry syrup, 1 cup blueberries, and slices of 1 orange and 1 lemon. Gently stir to mix the ingredients. Cover the pitcher and refrigerate for at least 2 hours or overnight to let the flavors blend. When ready to serve, top with 2 cups of ginger ale or lemon-lime soda for a little fizz, add ice cubes to individual glasses and pour the Blueberry Sangria, including the fruit, into each glass.
Good stuff, right? Well, bestie, there is plenty more where this came from! Sign up for our newsletter so we can have the good stuff delivered right to your inbox.