12 Honey Syrup Cocktails that Zzzing with Sweetness
December 24, 2022 by Anna-Bet Stemmet
We love honey syrup cocktails because they come to the party with an interesting depth of flavor that isn't always apparent in drinks made with other simple syrups. Whether it's the notion of bees on the wing adding their zingy energy to the mix, or the wide variety of flavor notes that typify honey from different regions, there's just something special about adding this springtime sweetness to a cocktail.
Wondering how to make honey syrup for cocktails at home? It's so easy! Simply add equal parts honey and water to a pot on the stovetop and whisk until it becomes syrup. You can also do it in the microwave using a microwave-safe container. The syrup stays good to use for up to two weeks when stored in a covered container in the fridge.
Here are a few of our favorite honey simple syrup cocktails to try at home:
1. Tequila Honey Bee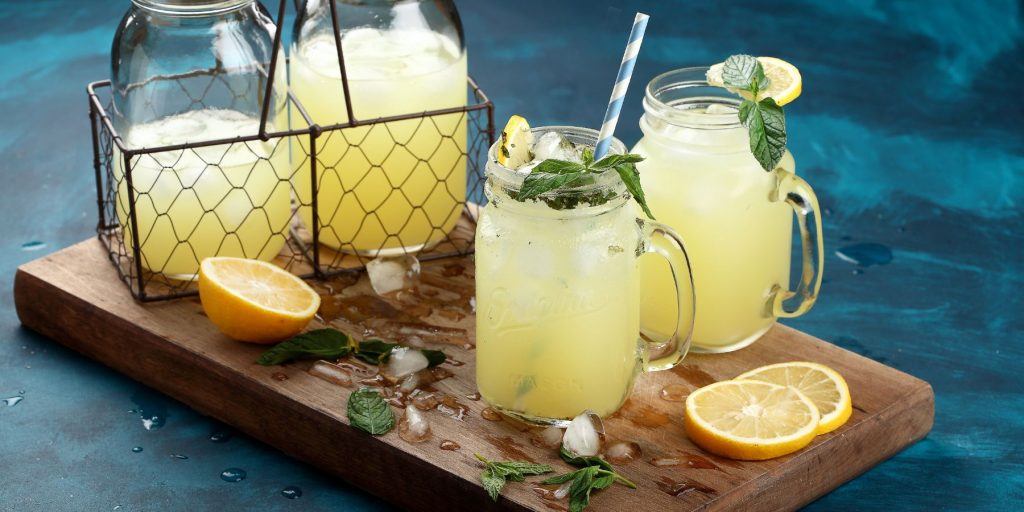 The Tequila Honey Bee cocktail combines 2 oz Espolón Reposado Tequila, 1 oz honey syrup, 0.75 oz fresh lemon juice, and a dash or two of bitters. Combine all the ingredients (apart from the bitters) in a cocktail shaker with ice, and shake until well-chilled. Strain into a glass that has been rinsed with mezcal to coat the inside, and add the bitters before serving.
More tequila cocktails to try: 13 Easy Tequila Summer Cocktails for Beginners
2. All Spice & Everything Nice
You can also use honey syrup for cocktails to create spicier mixed drinks if you like. The All Spice & Everything Nice cocktail calls for 2 oz Wild Turkey 101 Bourbon, 0.25 oz allspice-flavored liqueur, 0.75 oz lemon juice, 0.5 oz honey syrup, and two dashes of orange bitters. Shake all ingredients with ice and strain into an ice-filled rocks glass. Garnish with a slice of orange and serve.
3. Falling Leaves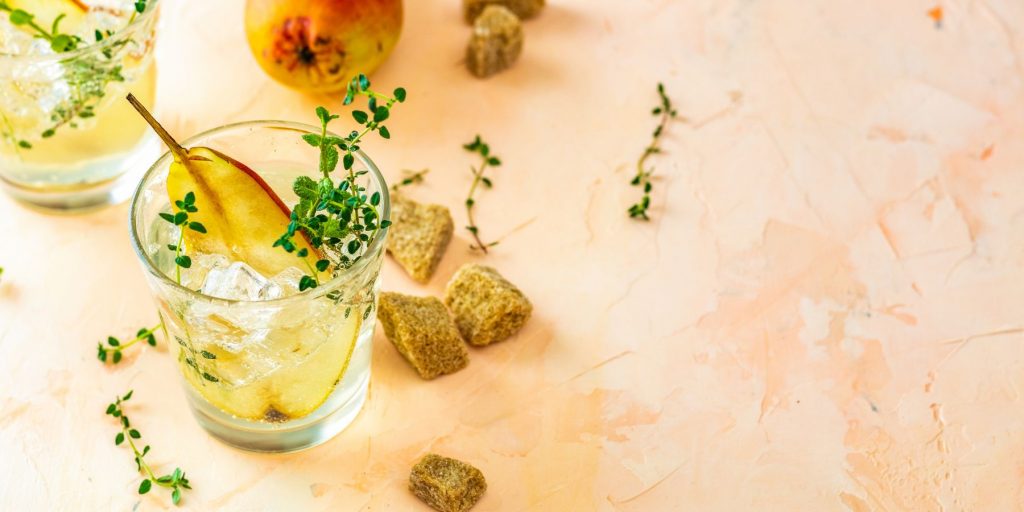 This is arguably one of the most flavorful cocktails with honey syrup and wine. The Falling Leaves cocktail calls for 2 oz dry white wine (such as Riesling), 1 oz pear brandy, 0.25 oz honey syrup, 0.5 oz Grand Marnier and a dash of bitters. Combine the ingredients in a mixing glass and fill it with cracked ice. Stir well for 20 seconds and strain into a chilled cocktail glass.
4. Bee's Knees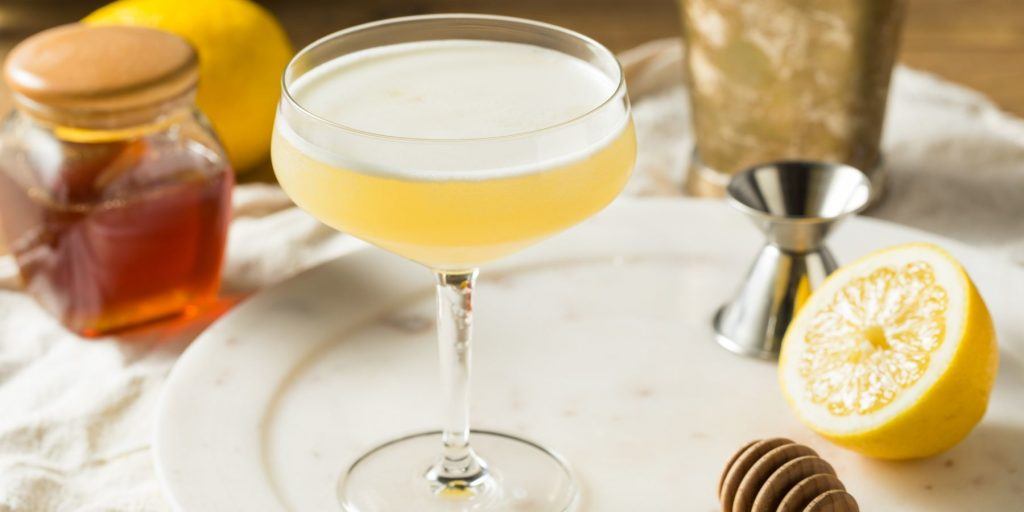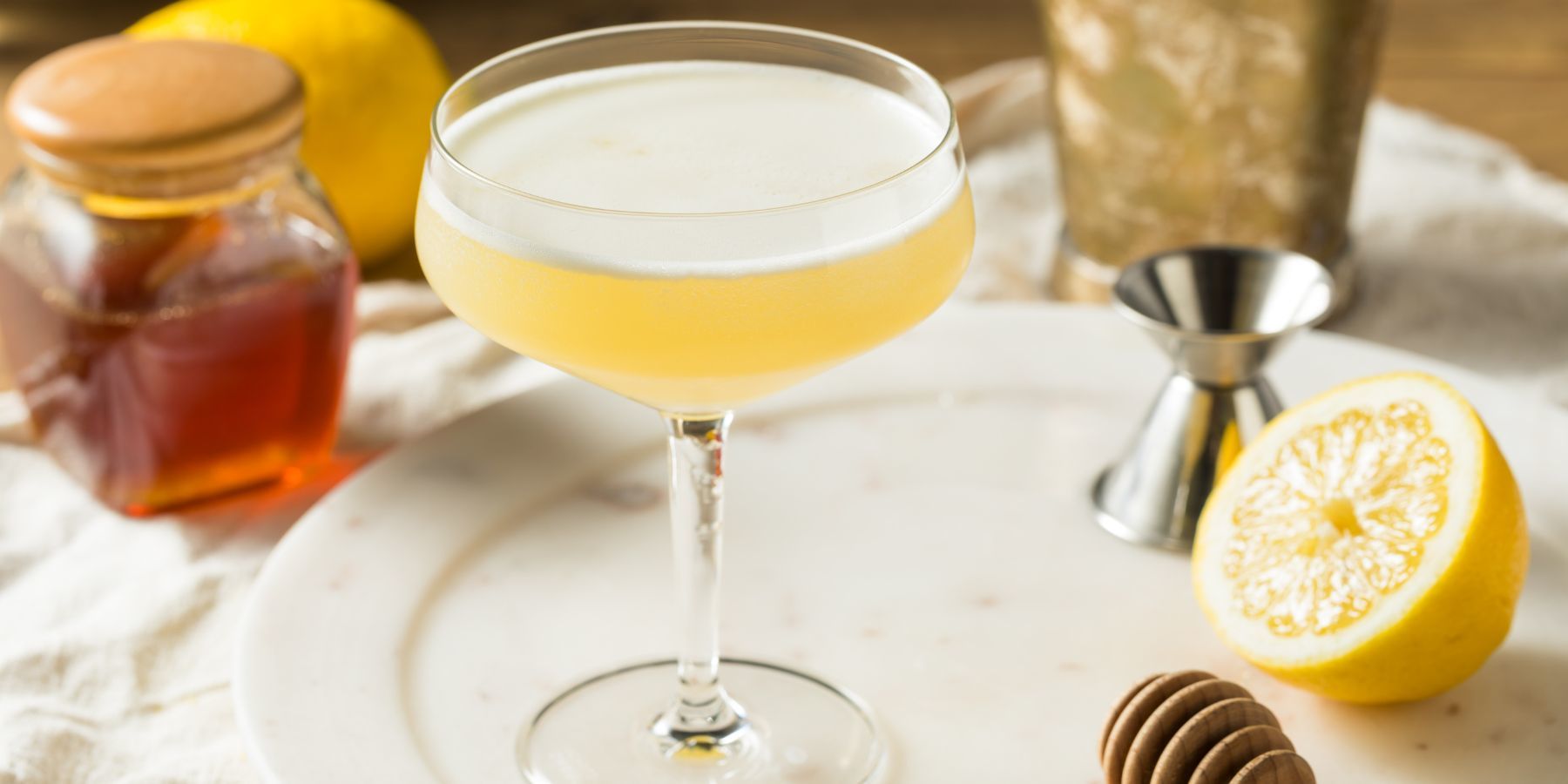 Ostensibly first poured by a bartender called Frank Meier at the Hotel Ritz Paris around 1920, honey simple syrup for cocktails was used in the Bee's Knees cocktail to mask the taste of the questionable gin available at the time. These days, however, this ingredient highlights the beautiful herbaceous nature of spirits like Bulldog Gin which we are lucky enough to have at our disposal.
5. Make it Count
You can also use cocktail honey syrup to whip up the delightful Make it Count cocktail. This lovely amber-tinged cocktail takes inspiration from the simple-yet-satisfying combination of Campari and orange juice. To make it, add 2 oz Campari, 1 oz club soda, 1 oz blood orange concentrate, and 0.5 oz honey syrup to a highball glass with ice and stir gently to combine.
6. Beer & Loathing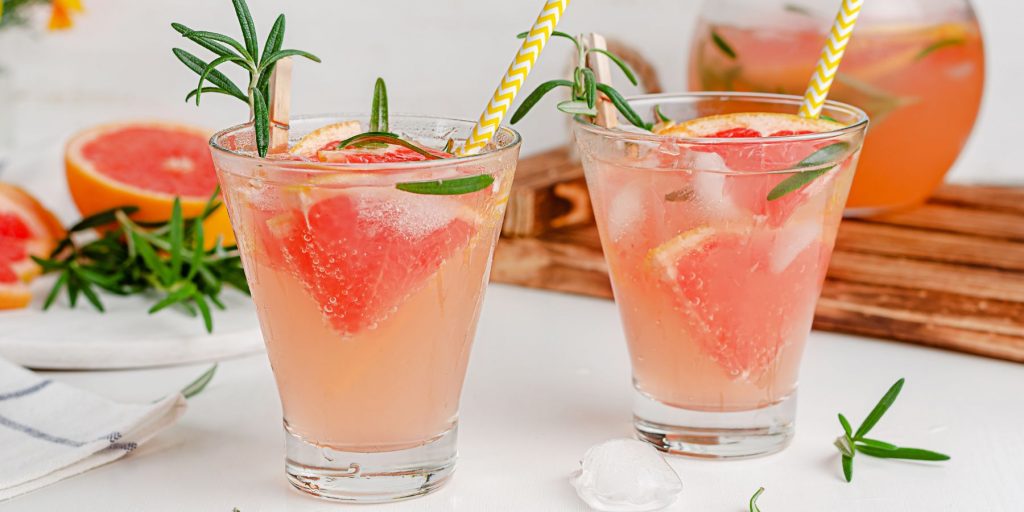 To make a Beer & Loathing cocktail, fill a glass with ice cubes and crushed ice. Combine 0.75 oz Aperol, 0.5 oz grapefruit juice, 0.5 oz lemon juice, 0.5 oz honey syrup, and two dashes of grapefruit bitters in a cocktail shaker with ice. Shake well and strain into the prepared glass. Charge with beer (a pilsner works well) and garnish with a grapefruit twist.
7. Honey Kumquat Caipirinha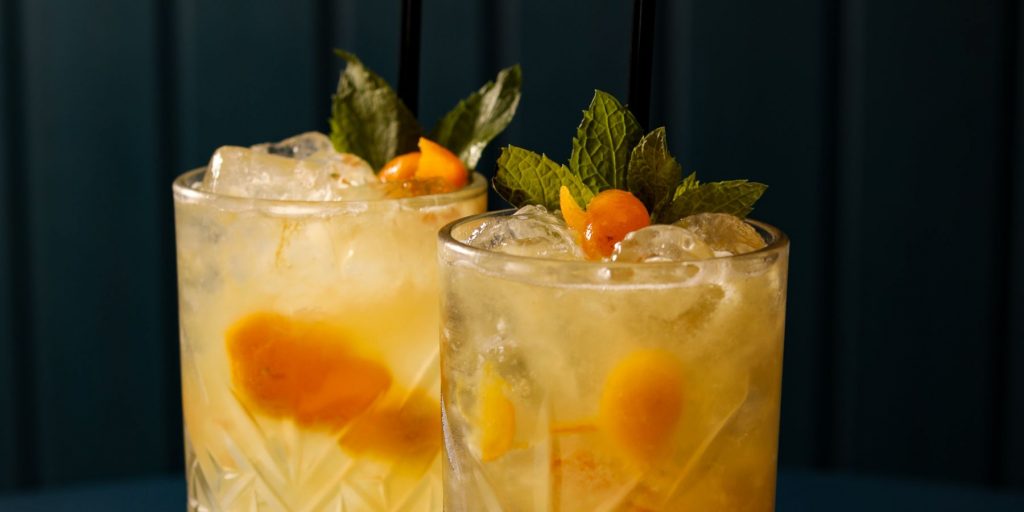 This refreshing honey syrup cocktail is a riff on the world-renowned Caipirinha cocktail. In a shaker, muddle 5 kumquats and half a lime, and cut into pieces. Add 1.5 oz cachaça, 0.5 oz falernum, and 1 oz honey syrup over ice and shake lightly until chilled. Pour unstrained into a rocks glass and serve.
8. Derby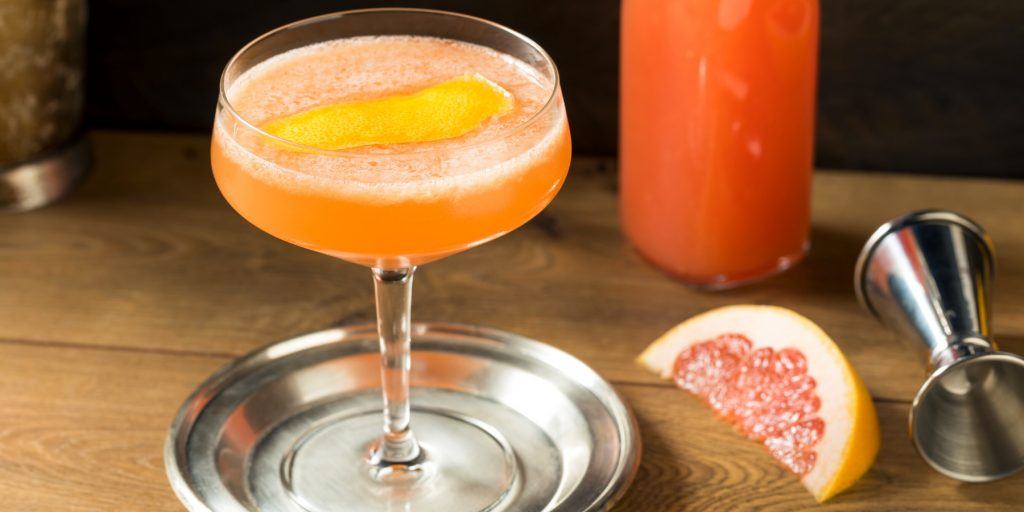 This honey syrup recipe for cocktails is for vintage drink lovers. The old-school Derby cocktail is a classic combination of grapefruit juice, bourbon, and honey syrup. The result is a sweet and tart refreshing sipper that's sure to be a frontrunner at your next event.
9. Bear With Me Honey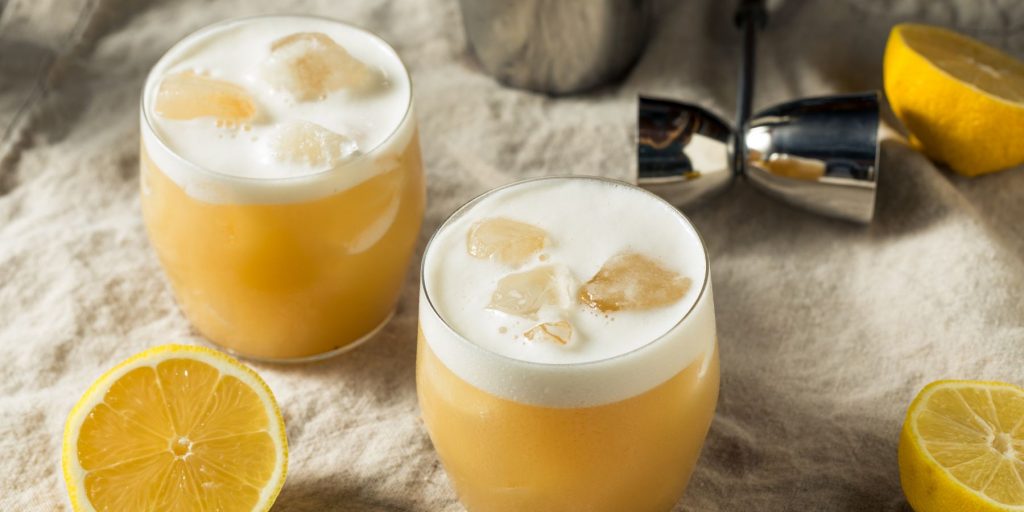 Honey cocktail syrup is also a star of the show in the Bear with Me Honey cocktail. Add 1.5 oz Bulldog Gin, one egg white, 0.75 oz verjus, 0.5 oz honey syrup, 0.25 oz Grand Marnier and two dashes saline solution (1:5 ratio of salt to water) to a shaker and dry-shake (no ice). Add ice and shake again until well-chilled. Strain into a rocks glass over fresh ice.
Adore an orange vibe? 8 Orange Liqueur Cocktails That Zest the Best
10. Honey-Kissed Cosmopolitan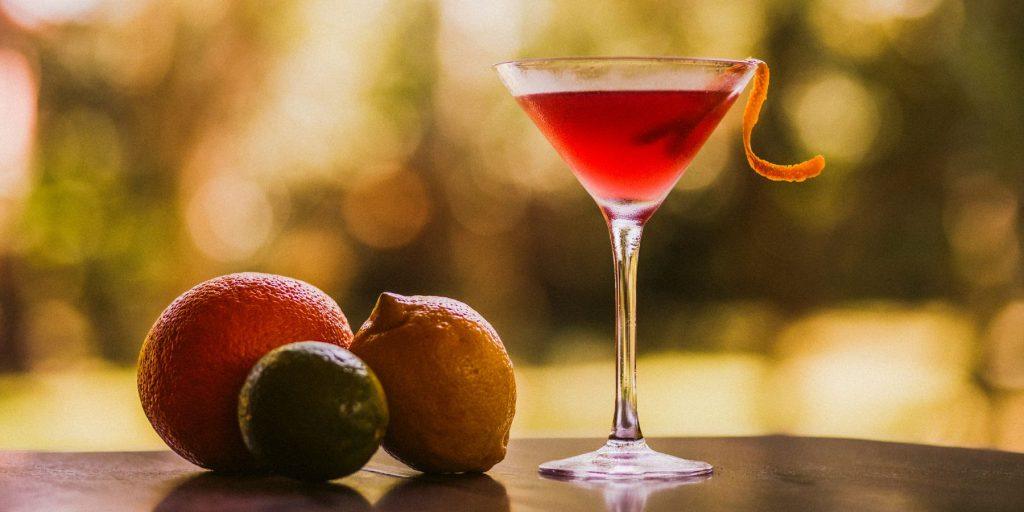 If you are a fan of the sophisticated Cosmopolitan, you've got to try this honey simple syrup cocktail! Muddle a lime wedge, a rosemary sprig, and 1 oz honey syrup in a shaker. Add 1.5 oz SKYY Vodka, 1.5 oz cranberry juice, and ice, and shake until well-chilled. Strain into a cocktail glass.
11. Gold Rush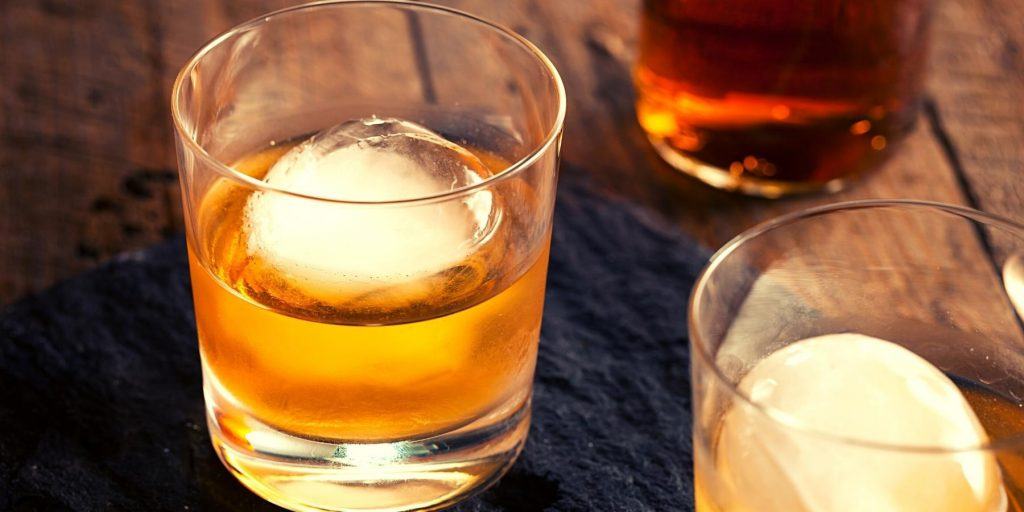 First invented in New York before prohibition, the Gold Rush cocktail is similar to a Bee's Knees, but replaces gin with Wild Turkey 101 Bourbon. Straightforward, sophisticated, and refreshing, it's the perfect pre-dinner serve for your next summer party.
12. Penicillin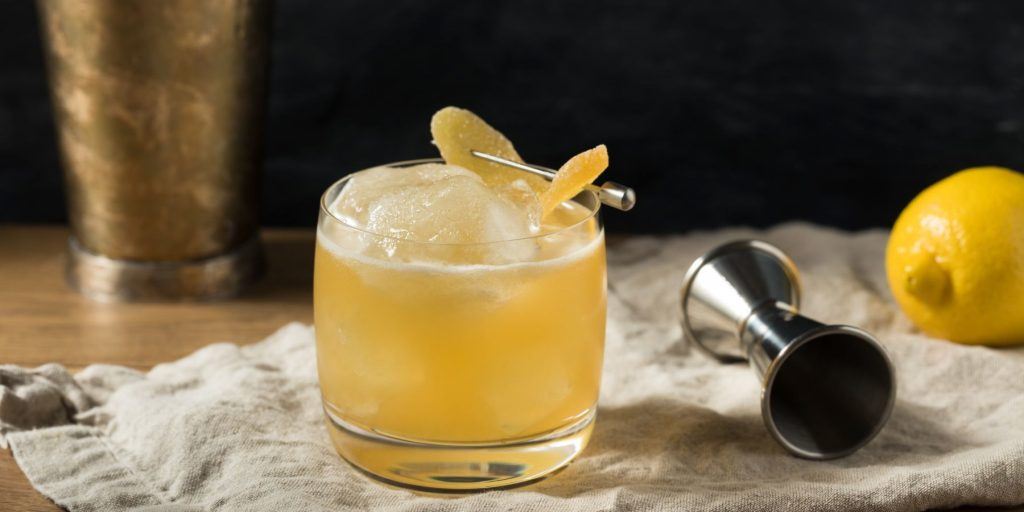 If the idea of a honey ginger syrup cocktail is right up your alley, may we please introduce you to the Penicillin cocktail? This zesty whiskey cocktail with its soothing notes of ginger and lemon will definitely warm you up from the inside out. It's pretty much a cool version of the iconic Hot Toddy, and we're here for this contemporary spin on the ultimate feel-better classic.
Like it hot? 11 Hot Christmas Cocktails for Holiday Indulgence
FREQUENTLY ASKED QUESTIONS
Honey makes a great addition to cocktails made with everything from SKYY Vodka, to Bulldog Gin and Wild Turkey 101 Bourbon. The trick is to turn it into a simple syrup by combining equal parts honey and water over medium heat, and letting it cool before use. This works better in a mixed drink than honey itself, which often doesn't mix well due to its natural viscosity.
Simple syrup makes a great addition to a variety of cocktails. We particularly love using honey syrup because it imparts an interesting depth of flavor to mixed drinks. This is due to the regional varieties of floral notes in different types of honey. Find a great selection of honey syrup cocktails on The Mixer.