Pitcher-Perfect Batching Cocktails for a Crowd
March 04, 2023 by Anna-Bet Stemmet
Batching cocktails can seem a little tricky at first blush, but it's fun and easy to do once you know the basics. The joy of batched drinks really comes into play when you're in charge of cocktails for a party and don't want to spend the whole night shaking up single-serving sippers. If you're looking to make cocktails for a crowd, do the prep work beforehand so you can join in the revelry. Here's how to do it.
Why are batch cocktails a thing?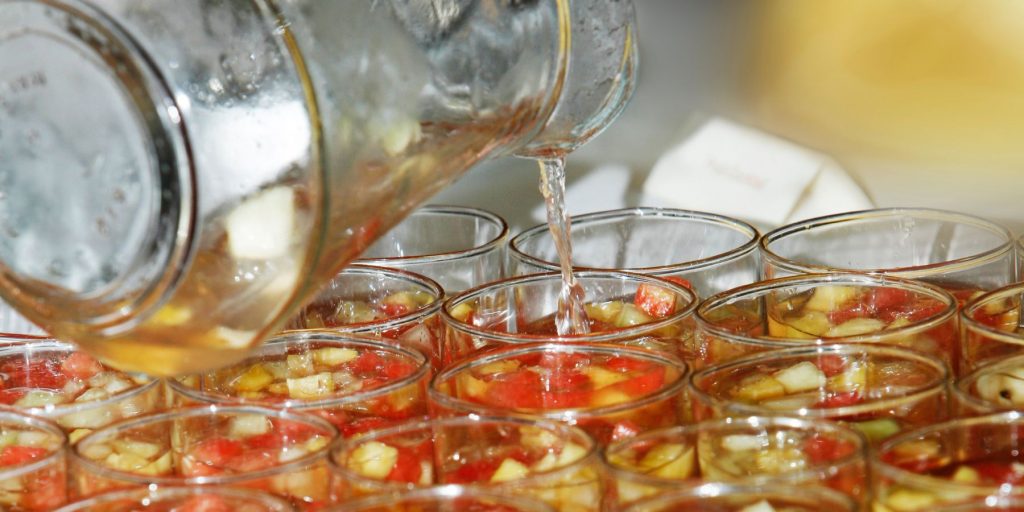 In short – convenience. Pitcher drinks allow you to make large quantities of tasty beverages for parties or large gatherings. Another benefit is that it's cheaper to make cocktails in bulk. Buying ingredients in bulk saves money in the long run, and if you're new to making mixed drinks, having things ready to go when your guests arrive also takes some pressure off.
Read next: 16 Best Party Cocktails That Are Real Crowd-Pleasers
7 Essential tools for making & serving big batch cocktails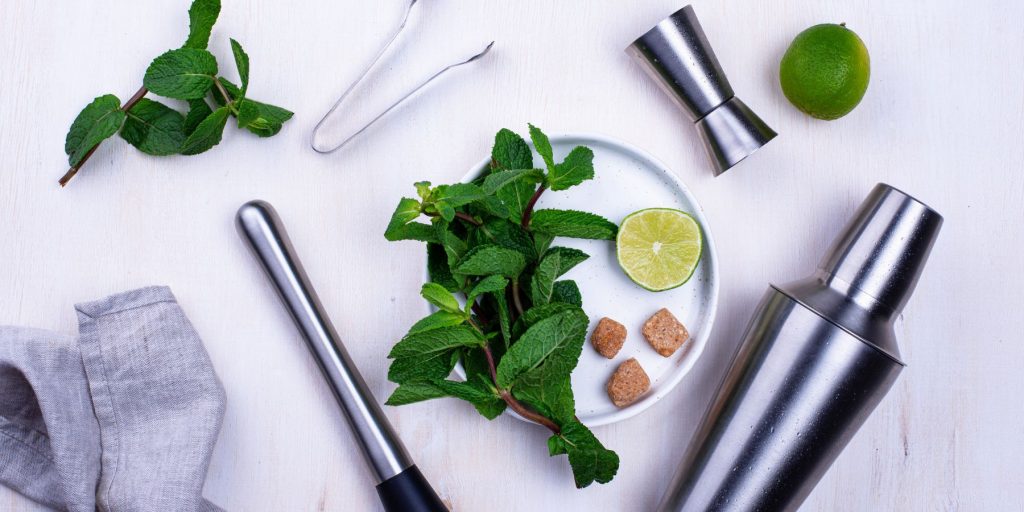 Here are a few required tools you'll need if you're making large quantities of mixed drinks ahead of time.
1. Cocktail batch calculator
By now you may have noticed that all our recipes come with a handy built-in cocktail batch calculator that allows you to upscale cocktail ingredient volumes at the click of a button. To find out how much of each ingredient you need, simply click on the recipe that tickles your fancy, count how many friends you'll be serving, and go to town.
2. Measuring cups (and a steady hand!)
Measure your ingredients carefully to ensure that you make the most of every drop, and that everything comes together in a tasty way. Insider tip? When making batched cocktails, we recommend that you measure your liquids directly over your mixing container. Spillage can be a real downer.
3. Mixing containers
The ideal container in which to mix your batch drink will differ from one cocktail to the next. In the case of drinks like the Negroni, which consists of spirits and liqueurs, it's easy and convenient to pre-batch in a big mason jar, empty liquor bottle, or clean growler (using a funnel) that can be stashed in the fridge until it's time to serve On the other hand, sparkly drinks like a French 75 are best batched in a big pitcher or punch bowl just before guests arrive.
4. Serving containers
Decide how you want to serve your batch cocktails and select a suitable container. For example, a cut-glass spirit decanter is a nice option for spirit-forward drinks that only need to be poured over the rocks. On the other hand, frosted cocktails like a Piña Colada are best poured from a pitcher with a wider spout that won't cause the icy drink to 'gloop' over and spill.
5. Serving glasses
Prep your serving glasses ahead of time as well. Frosted cocktail glasses are always a treat, so if you have space in your freezer, get them in there at least 30 minutes before your guests arrive. Similarly, if a drink calls for a sugar or salt rim, you can get those done beforehand, so all you need to do is pour and serve.
Learn more: 25 Creative Cocktail Party Menu Ideas for Your Next Event
6. Cocktail shaker
Certain drinks, like an ice-shaken Strawberry Daiquiri, can be mixed up, just before serving. In cases like these, a good cocktail shaker comes in handy. Otherwise, you can always use a mason jar or any jar with a tight-fitting lid.
7. Cocktail jigger + bar spoon
When serving from a pitcher, it's still wise to use a cocktail jigger to ensure that your guests get a well-balanced cocktail that's not too heavy in ABV. It also helps to have a bar spoon (or any spoon, really) to give spirit-based drinks a good stir before handing it over.
Learn more: What is ABV, anyway?
How to convert a single cocktail recipe to a batch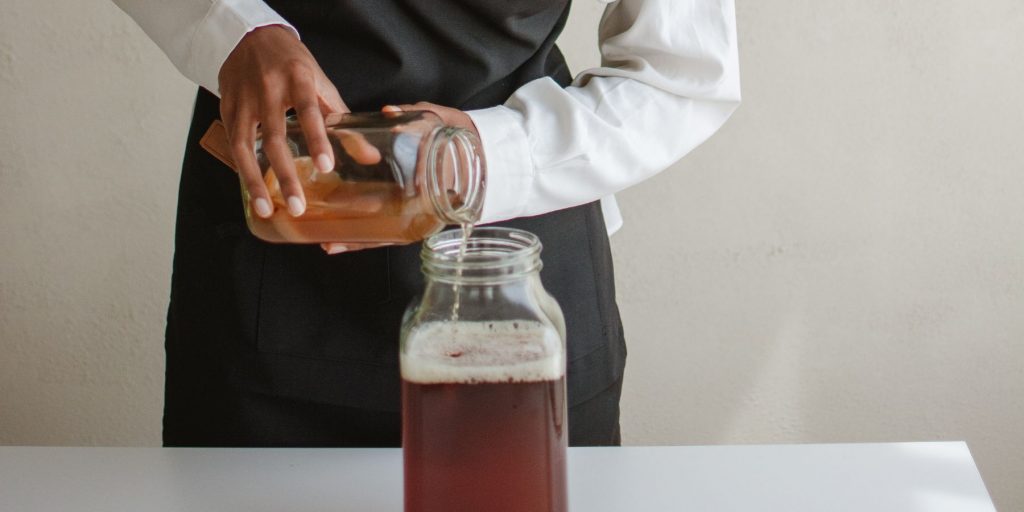 Batch cocktail recipes can be developed for just about every cocktail imaginable. All you need to do is prep everything before getting started.
Do the math
If you can't find a ready-to-go pitcher recipe for a drink you'd like to make in bulk, use the calculator function on The Mixer, to help you do the math. Use these calculations to figure out how much of each ingredient you'll need to serve a crowd.
Remember water (or plenty of ice)!
Many cocktails have water as an ingredient. Don't forget to calculate how much water you want in each drink serving, multiply it by the number of servings, just as you did for all the other ingredients in the original recipe.
A good rule of thumb is to add 10 to 15% water as calculated according to the pre-dilution volume of the rest of the ingredients. I.e., approximately one-quarter to one-half ounce water added to each three-ounce drink. If you're making a drink that will be served with ice in the pitcher or glass, start with a slightly lower dilution – the ice will melt and dilute the drink over time.
Feel free to adapt your recipe as you go
Figuring out your ideal batched version of a cocktail recipe takes some trial and error. Once you've combined all the ingredients, see how the cocktail tastes. You may need to add a little more citrus juice like lemon juice to get the acidity right. Or you might find that it lacks a little sweetness, in which case you could add some simple syrup. Too sweet? Adjust the amount of water or club soda. Let your tastebuds dictate the final tweaks.
Store your prepped drinks properly
The shelf life of batched cocktails can vary depending on several factors, including the ingredients used, the method of storage, and the specific cocktail recipe. Batched cocktails can last anywhere from a few days to several weeks if stored properly.
To maximize the shelf life of your big-batch cocktails, it's important to store them in clean, airtight containers in the refrigerator. Adding a small amount of citric acid or tartaric acid can also help to extend the shelf life by preventing bacterial growth.
If you intend to keep cocktail mixes frozen in the freezer for future use, it's a good idea to label it clearly and note the ingredients you've used.
More inspiration: How to Host a BYOB Party & How to Attend One
What is the best kind of cocktails to batch?
Once you've got the hang of making large-batch cocktails, it only takes a bit of practice and experimentation to find the best batch cocktail recipes to suit your hosting style and budget. If you are completely new to the game, we recommend you first try your hand at a few easy large-batch cocktails.
Here are a few of our favorite newbie-friendly batch cocktail recipes, and some insider tips to pull it off with ease:
Paloma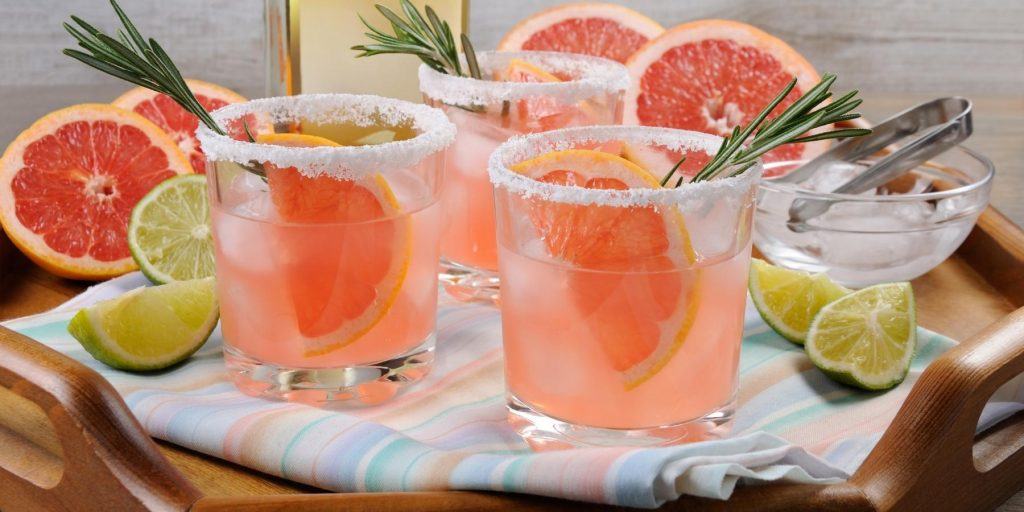 The pretty Paloma is a zesty classic that always goes down a treat. To make a batch, combine Espolón Tequila Blanco, fresh grapefruit juice, lime juice, and agave nectar in a small pitcher and stir. When you serve it to your guests, add 3 oz of the pre-made Paloma to a glass over ice, and top it off with club soda. A salted rim is a nice touch and fresh grapefruit round it off perfectly as a garnish.
Piña Colada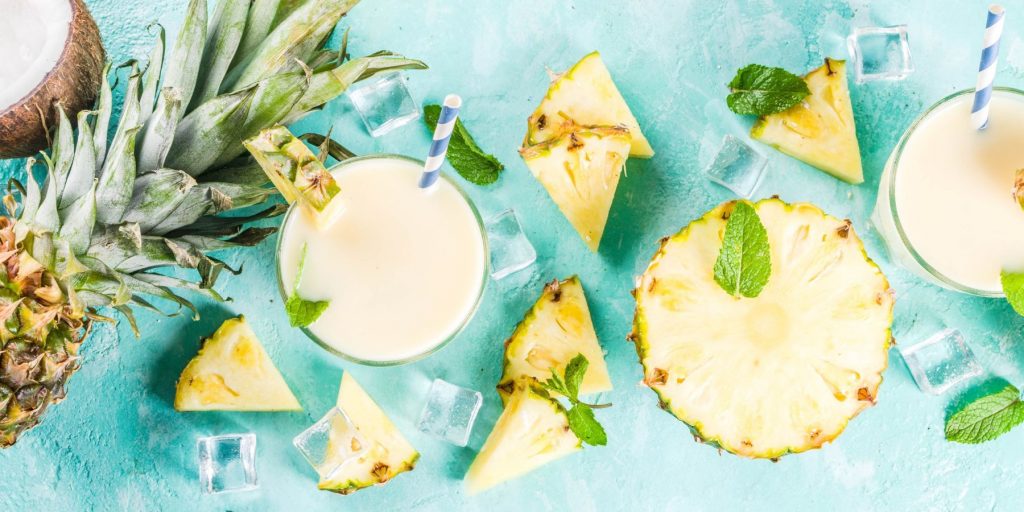 The creamy, island-style Piña Colada can be served blended or on the rocks. We prefer to make a blended batch because the ingredients combine well when blitzed. Simply add all the ingredients to a blender and pulverize until smooth. It's best practice to start with less ice and keep adding until you reach the preferred texture and consistency.
Strawberry Daiquiri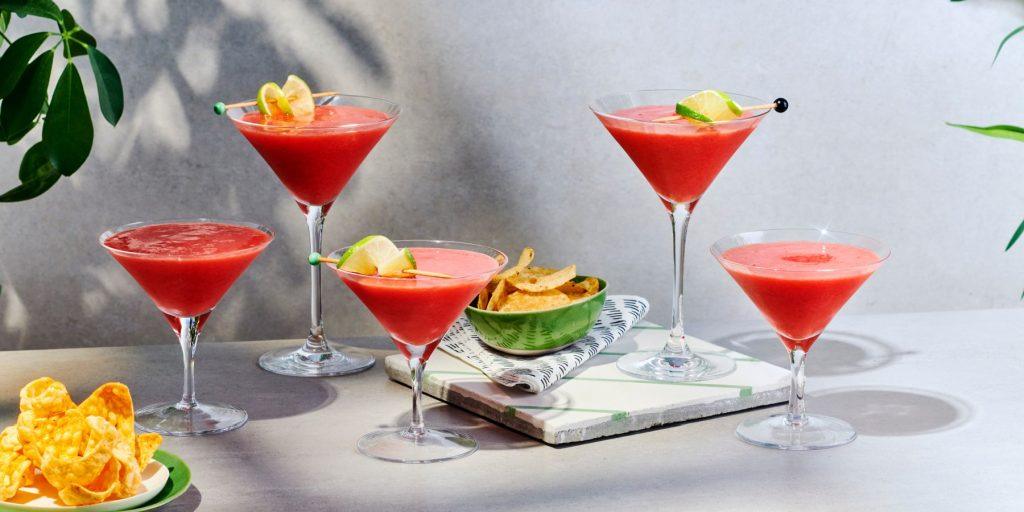 The flirty Strawberry Daiquiri is traditionally made with rum and offers a full berry sweetness and zingy lime finish, making it the ideal drinks-pairing for a variety of snacks. This drink can be served blended but serving it on the rocks is a little simpler when you're going big batch.
Add all your ingredients to a large container, then funnel it into fridge-friendly bottles. This will keep for up to two days in the fridge. Once you are ready to pour, add 3 oz of your pre-made Daiquiri to a shaker with ice. Shake vigorously for 10 seconds, then pour into a frosted coupe glass. If you are serving more than one guest at a time, you can shake two to three drinks at once.
Or use vodka >> How to Make a Strawberry Daiquiri with Vodka the Easy Way
French 75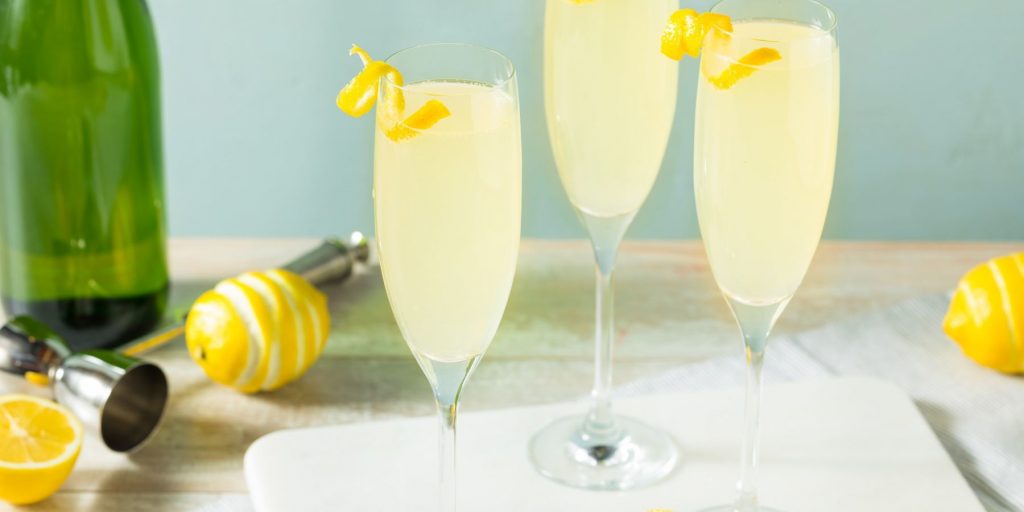 A high-octane twist on the classic Mimosa, the French 75 combines Bulldog Gin, lemon juice, and sparkling wine like Champagne or Prosecco. To make a big batch, combine all ingredients in a punch bowl and serve over ice in a glass of your choosing. Garnish with a lemon twist. It is best to add your sparkling wine just before your guests arrive, so the drink is nice and bubbly when served.
Negroni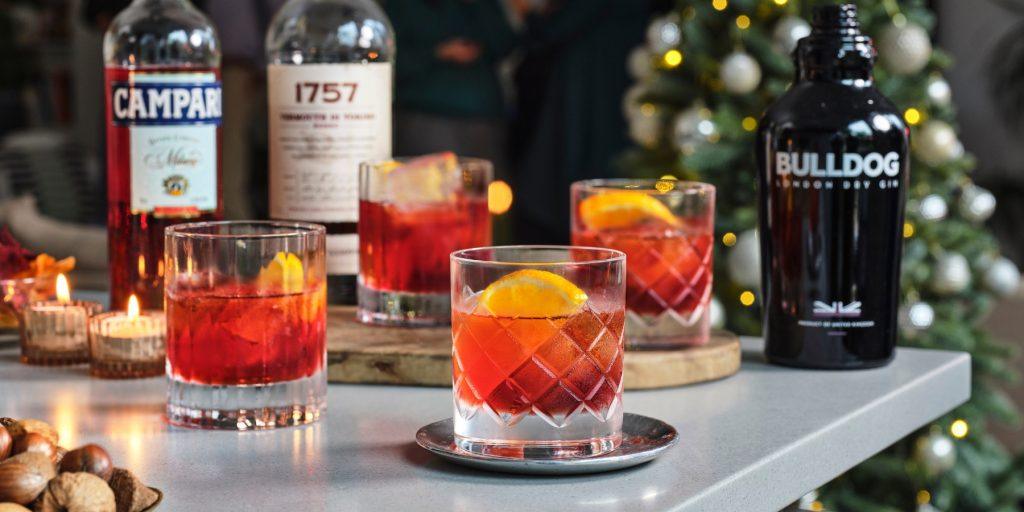 For fall batch cocktails, we love a Negroni. Simply add all the ingredients to a container of your choice and store in the fridge until you are ready to use it. Since the drink contains very stable ingredients with a long shelf-life, it will stay good for up to a week or more. When you are ready to serve, pour 3 oz of the mixture over ice in a rocks glass, and garnish with an orange twist.
Learn more: Snuggle Up with These 10 Irresistible Fall Cocktails
FREQUENTLY ASKED QUESTIONS
It depends on the type of cocktail you want to make. Cocktails with short-shelf-life ingredients like citrus juice or dairy products will only last a few days in the refrigerator. However, cocktails with more stable ingredients like spirits and liqueur can be batched a few weeks, or even months, ahead of time.
Batched cocktails can last anywhere from a few days to several weeks if stored properly. If you're making batched cocktails with ingredients that have a relatively short shelf life, (like fresh citrus juice or dairy products), they will only last a few days in the refrigerator. On the other hand, cocktails made with shelf-stable ingredients like spirits, liqueurs, and syrups can last longer, up to several weeks or even months, if stored properly.
Batching cocktails allows you to make a large quantity of drinks quickly and easily. This is perfect for parties or large gatherings. Another benefit is that it's cheaper to make cocktails in bulk. You can buy ingredients in larger quantities, which saves you money in the long run.