Snuggle Up with Our 20 Best Fall Cocktails
August 27, 2022 by Helena Lombard
If you love fall most of all, celebrate your favorite season with our tempting selection of some of the best fall cocktails. We've got all the recipes you need to take full advantage of this season's iconic flavors for a nostalgic taste of fall.
1. Hot Buttered Rum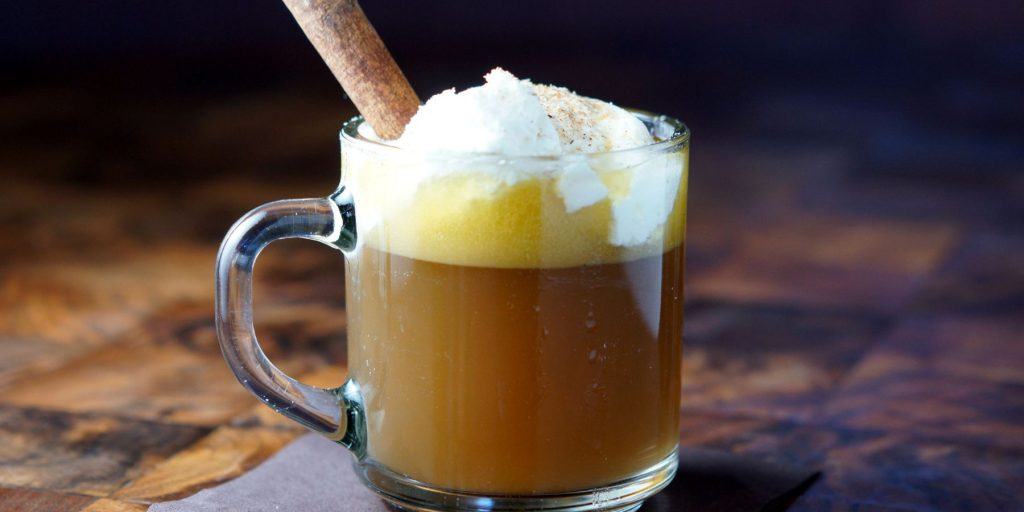 This is a classic and one of the best fall cocktails you can whip up on a chilly day. Irresistibly warm and sweet, Hot Buttered Rum is comfort in a mug that will get everyone's cheeks glowing. Made with rum, brown sugar, butter, hot water, and a smorgasbord of spices, these easy fall cocktails are great for Thanksgiving. One word of warning? They're downright delicious, so be sure to make a batch.

2. Maple Old Fashioned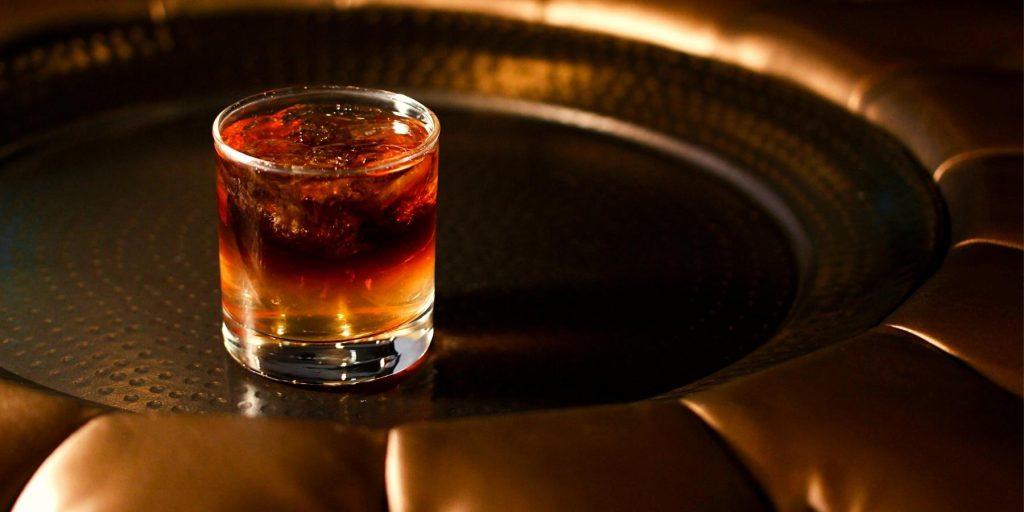 The rich and dark flavors of bourbon meet and mingle with the golden sweetness of the maple syrup in this fall-themed Old Fashioned. These fall cocktails originated in Scotland and they're quite strong, so take it easy. Have one too many and ye might just look like something the cat dragged into the house the next morning.
3. Apple Cider Hot Toddy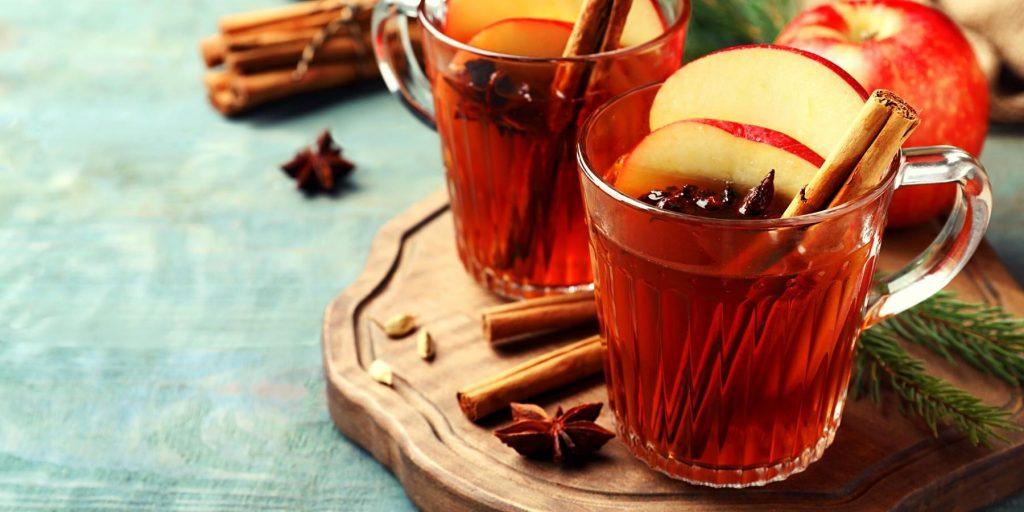 This is one of the best fall cocktails on our list. Even though it's very simple to make, this hot sipper is packed with those iconic fall apple flavors. To make an Apple Cider Hot Toddy you're going to warm up fresh apple cider, honey, lemon, and spices, add whiskey, and pour it into mugs. Simple, soothing, and perfect on a cold evening with friends.
4. Jack Rose
Apple brandy, fresh lime, and lemon juice, grenadine, and bitters come together in these epic fall specialty cocktails. Created in New Jersey at the turn of the 20th century, the name comes from the hero ingredient: applejack (a.k.a. apple brandy). The Jack Rose cocktail is quite elegant and was popular during prohibition and was a favorite drink for Pulitzer Prize-winning author, John Steinbeck. Make these easy fall cocktails as a welcome drink at your next dinner party this fall.
5. Apple Cider Sangria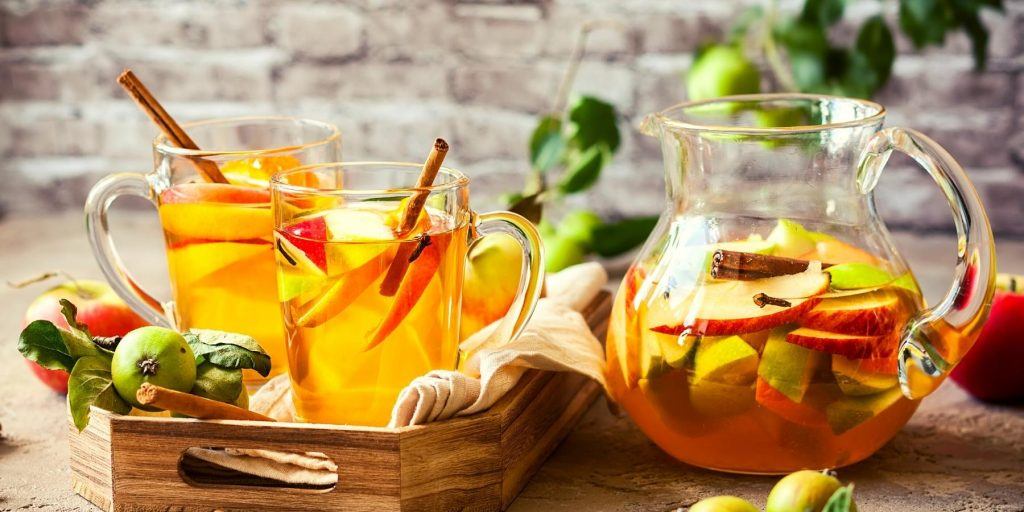 If you have a lot of guests milling around, we've got some fall cocktail recipes that you can batch up to please them all. First up is the crowd-classic Sangria, with an apple cider twist. Best made ahead of time so the flavors can really mingle, this drink is easy to create. You'll need a bottle of white wine, apple cider, brandy, fresh orange juice, chopped apples and oranges, cinnamon sticks, and a big pitcher or punch bowl. You can make your Apple Cider Sangria as fancy as you'd like as long as it's colorful, boozy, and deliciously fruity.
6. Mulled Apple Cider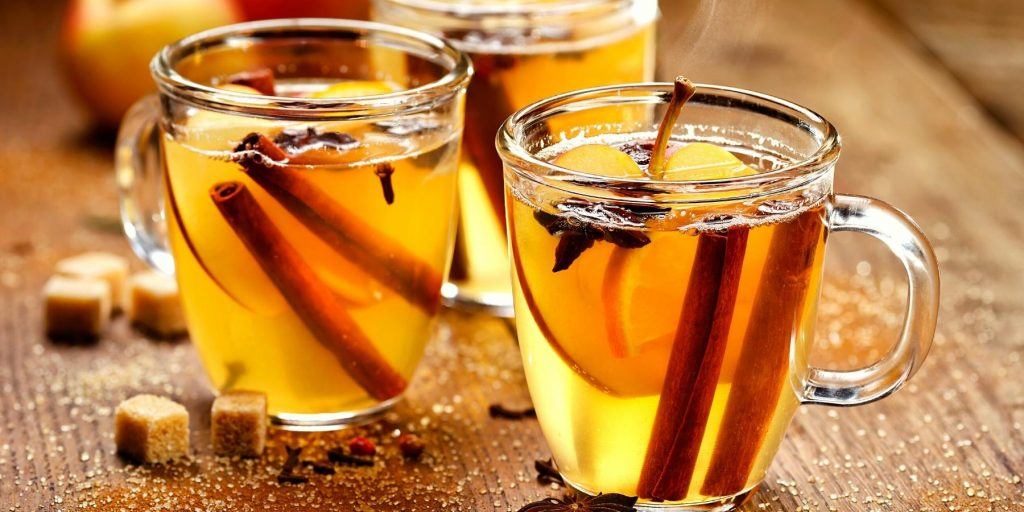 Serve these fall party cocktails by the gallon-full. A classic Mulled Apple Cider is made with fresh cider, dark rum, sugar, spice, and all things nice. The result is warm and soothing, so your cocktail-sipping friends will feel as snug as bugs in no time. For the best result, use fresh apples (no excuses—they're in season!) and juice them yourself. You'll be so happy you did. Yum!
7. Mulled Wine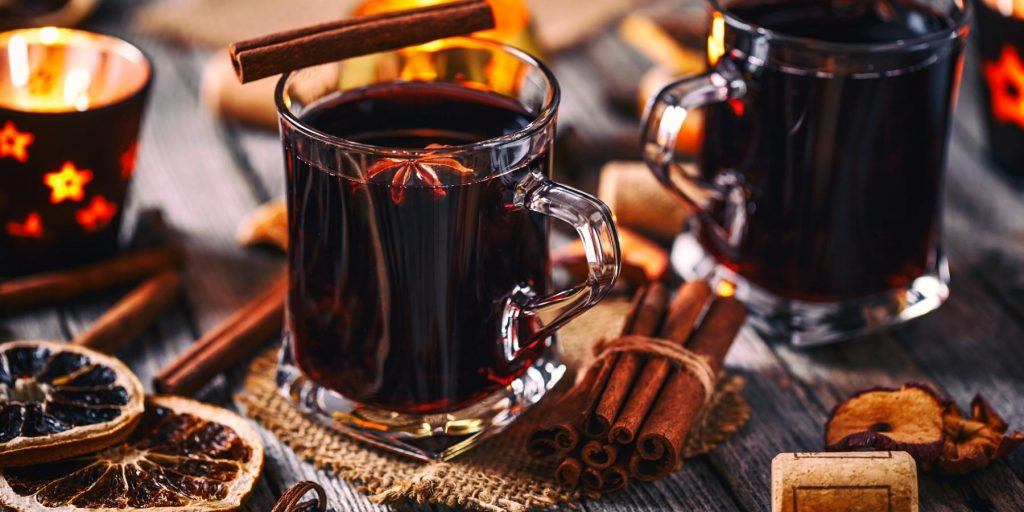 Speaking of tasty things, if you've never tried it, we highly recommend Mulled Wine for fall, winter, and any day that calls for something that will warm you from the inside out. To make Mulled Wine simply combine red wine, baking spices, brandy, fresh oranges, and sugar in a pot, cover, and simmer for up to 3 hours. Serve in warmed mugs with garnishes of your choice. This spiced wine is easy to make in a batch, so it's perfect for budget-friendly holiday parties.
8. Whiskey Sour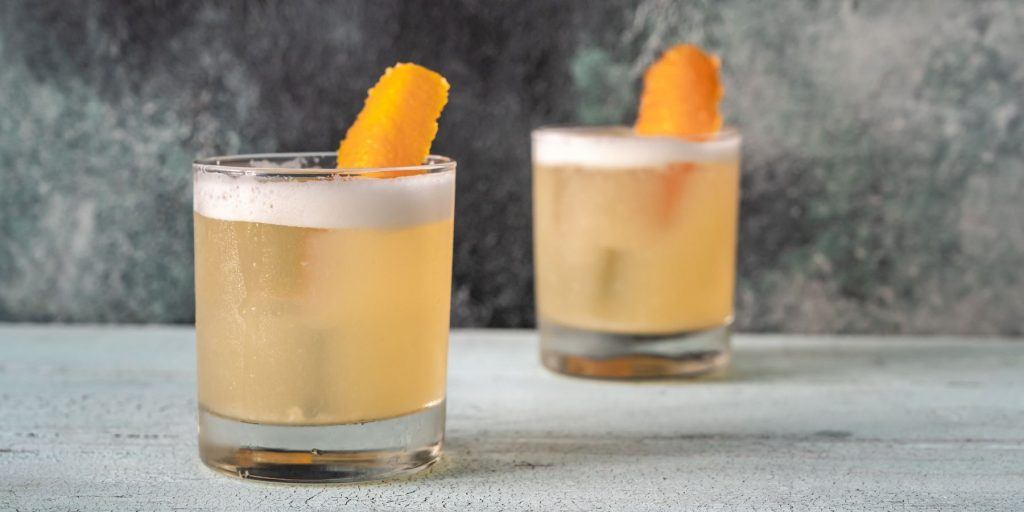 If you're hosting a dinner party this fall, add a bit of pizzazz with a sophisticated Whiskey Sour, one of the oldest cocktails in the world. Old-school and very cool, these iconic but easy fall cocktails are made with only three ingredients: good-quality bourbon, simple syrup, and bitters. Elevate it to dinner party level by adding egg white to the mix to create that iconic white foam on top. Grandpa drinks are trending right now, so you can't go wrong with this one!
9. Hot Pumpkin Pie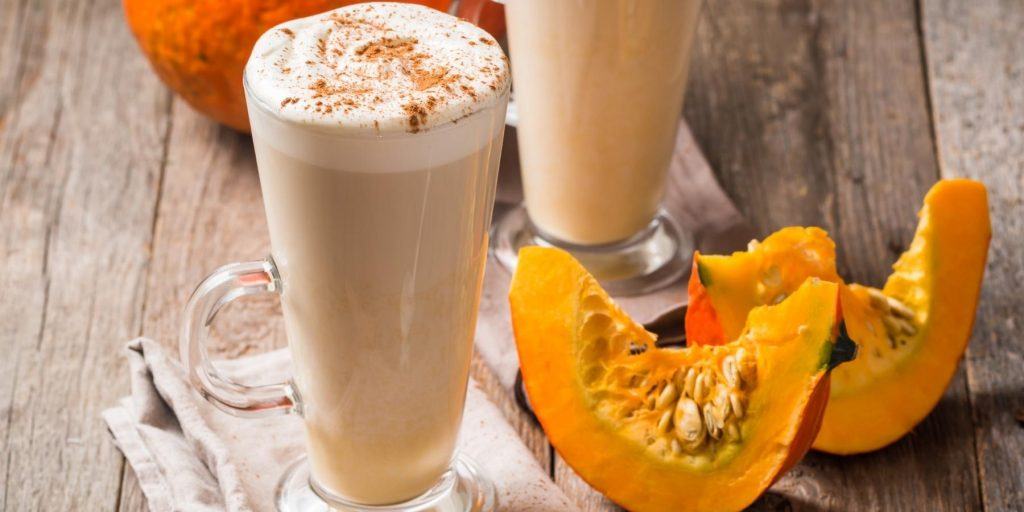 If you love the taste of warm pumpkin pie, then you've got to try these easy fall cocktails. Vodka, Irish cream, pumpkin pie puree, spices, and whipped cream make for a decadent dessert drink. Hot Pumpkin Pie is packed with all those comforting fall flavors we all love, this is the perfect sipper for those curl-up on the couch evenings or as a Thanksgiving treat. A comforting and warming drink for your soul.
10. Pumpkin Spice White Russian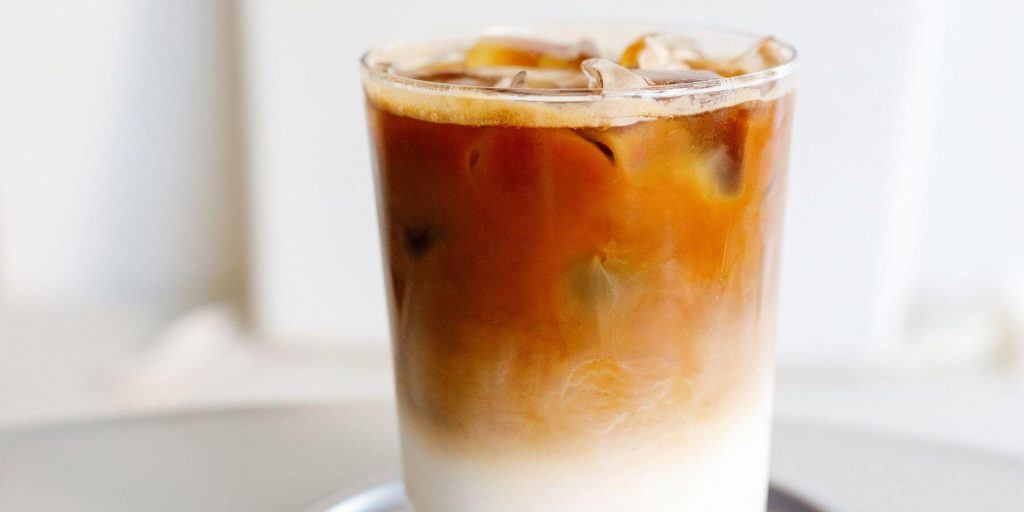 Calling all pumpkin spice latte lovers! This cocktail was made for you! A traditional White Russian is made with coffee liqueur, vodka, and heavy cream. To make a Pumpkin Spice White Russian you're going to give it a delicious fall twist by adding some pumpkin spice creamer and graham cracker rim. Scrumptious and indulgent, this decadent drink is no doubt one of the best fall cocktails you'll mix up this season.
11. Autumn Spiced Rum Cider Cocktail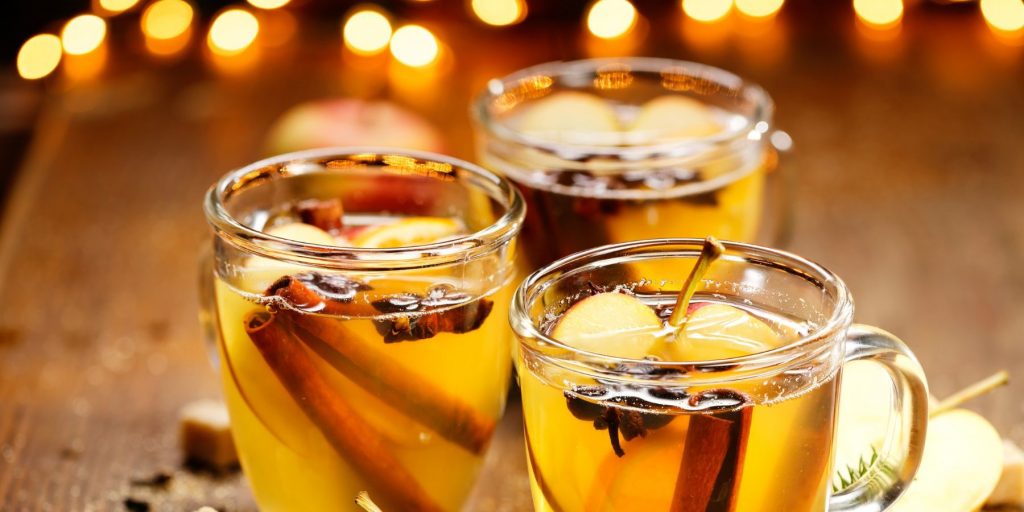 No list of cozy fall cocktails would be complete without the Autumn Spiced Rum Cider cocktail. Our tried-and-tested version features Maison Le Mauny VSOP rum, apple cider, cinnamon, and fresh ginger. This is all simmered together in a saucepan for 5 to 10 minutes, after which the spices are removed with a slotted spoon, and the drink is garnished with a slice of apple or your favorite baking spices.
12. Bourbon Apple Cider Cocktail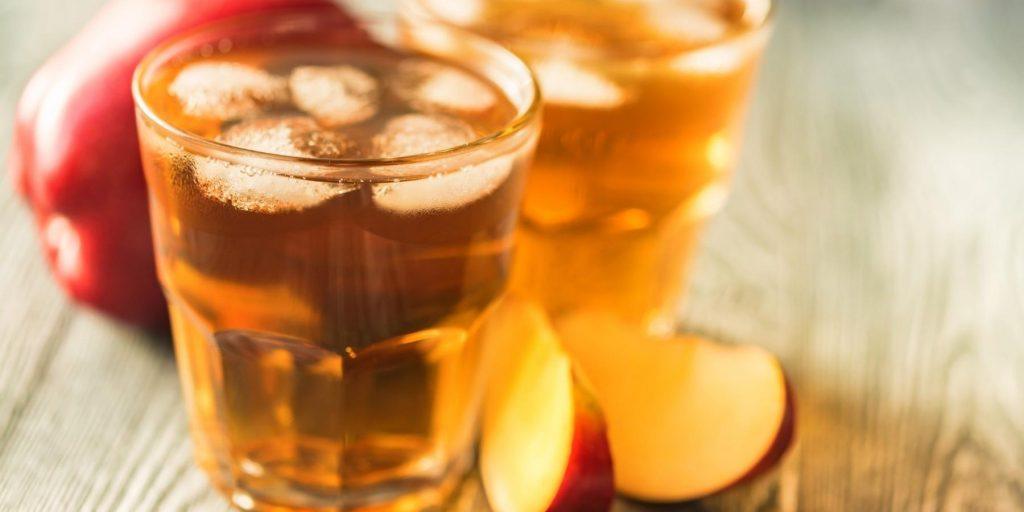 Give your apple cider a grown-up twist with this Bourbon Apple Cider Cocktail recipe. Mixed with apple cider, ginger beer, and all the spices, it's the perfect drink to warm you up on a cozy fall evening. Choose your favorite bourbon, and make sure you get fresh apple cider and cinnamon sticks to nail the fall flavors.
13. Last Word Cocktail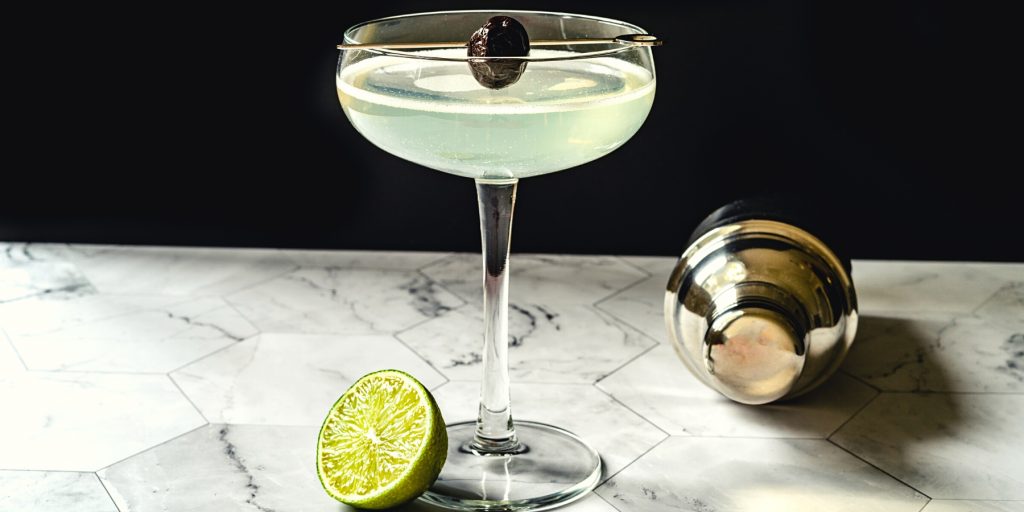 Arguably the most famous Chartreuse drink around, the Last Word cocktail is a true classic that will never go out of style. It is a beautifully balanced drink that walks a fine line between subtle sweetness and inviting tartness, underpinned by the captivating aroma of ripe cherries and bitter herbs. Refreshing and delicious!
Read next: 10 Chartreuse (Yellow & Green) Cocktails to try in 2023
14. Appletini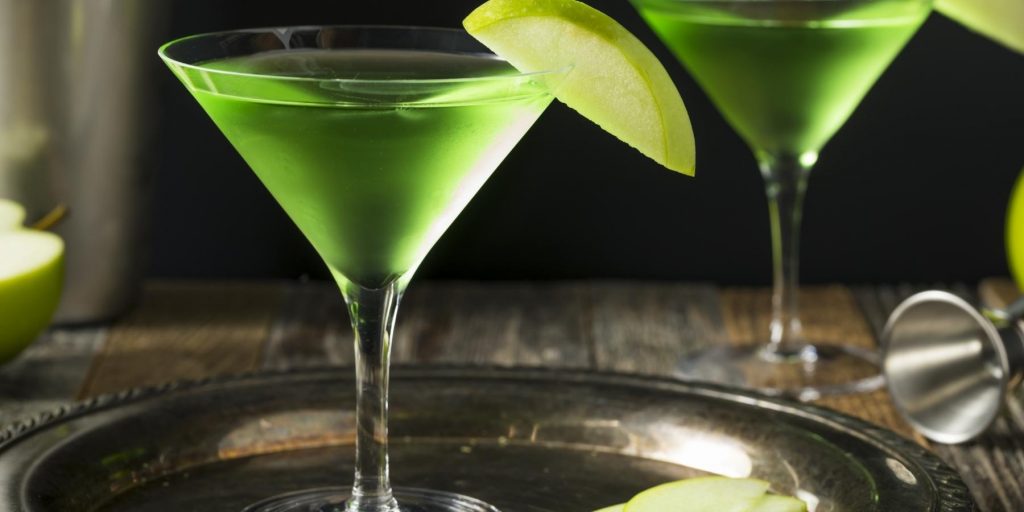 Apple Martinis pack a delightfully sour punch thanks to the combination of sour apple schnapps and lemon juice. Fruity and refreshing, the 'Appletini' as it's also known, is a 90s retro throwback that will always hit the spot.
15. Apple Butter Old Fashioned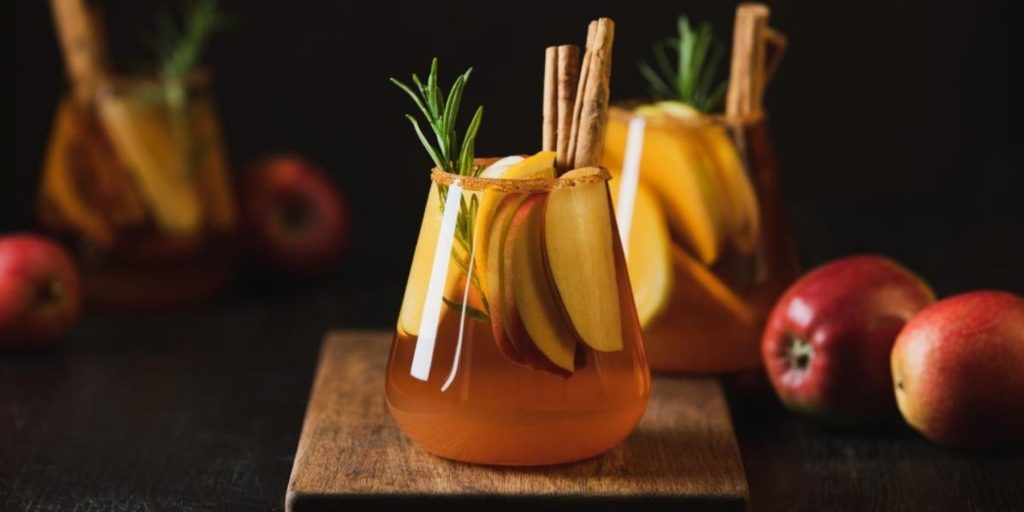 The Apple Butter Old Fashioned cocktail is packed with warm and spicy flavors synonymous with cozy apple pies. It combines apple cider, Wild Turkey 101 Bourbon, apple butter (of course!), orange bitters, and fresh lemon juice. Garnished with a cinnamon stick and some apple slices, it's as pretty as a picture.
16. Mudslide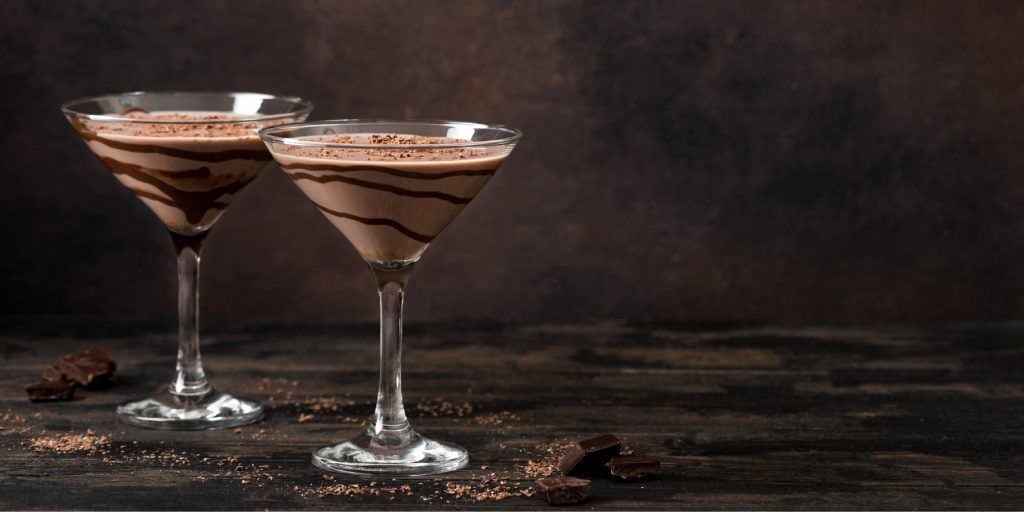 The iconic Mudslide cocktail is made with creamy Irish cream liqueur, smooth vodka, and a generous splash of coffee liqueur—the perfect way to unwind after a busy fall day of leaf crunching and pumpkin carving. Each sip is a decadent blend of creamy, chocolatey goodness, with a lovely kiss of SKYY Vodka lingering at the end.
17. Sidecar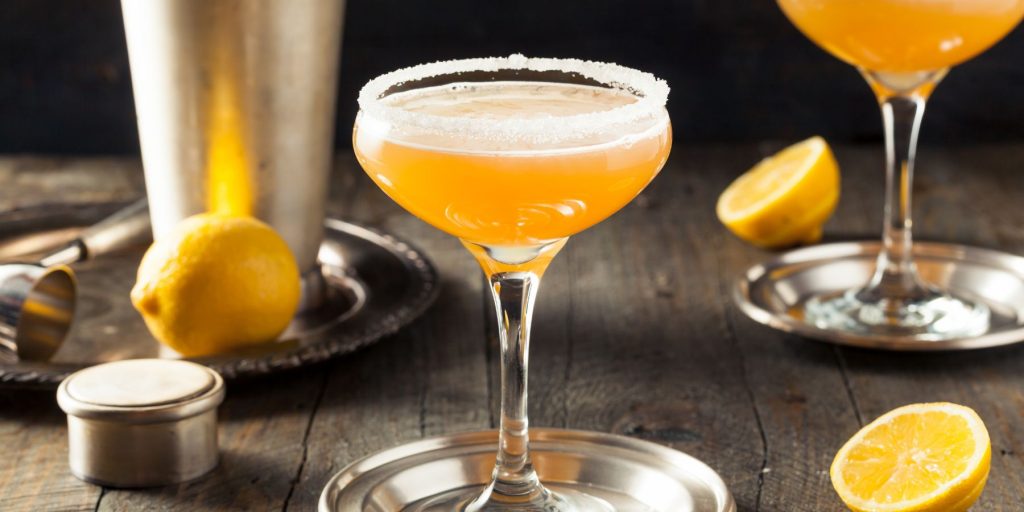 If a cocktail has been around for over a century, there's a good reason for it. It's simply delicious! If you're new to the world of cocktails, then the Sidecar is one you'll definitely want to try. The citrusy and tangy drink only requires three ingredients, making it an excellent choice for beginners. Don't worry about making mistakes; with this simple recipe, you really can't go wrong!
18. Amaretto Sour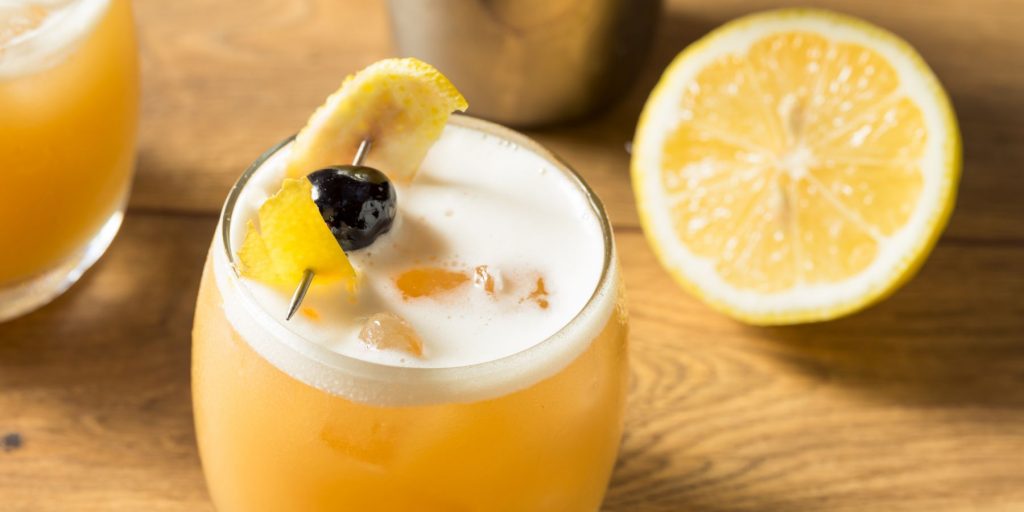 The lovely Amaretto Sour cocktail is a nutty spin-off of the classic Whiskey Sour which incorporates an almond-flavored liqueur that comes to the party with rich notes of vanilla and a subtly bitter finish. We love serving this as an after-dinner drink with a cheese platter and some dark, red fruit like plums and grapes.
19. Espresso Martini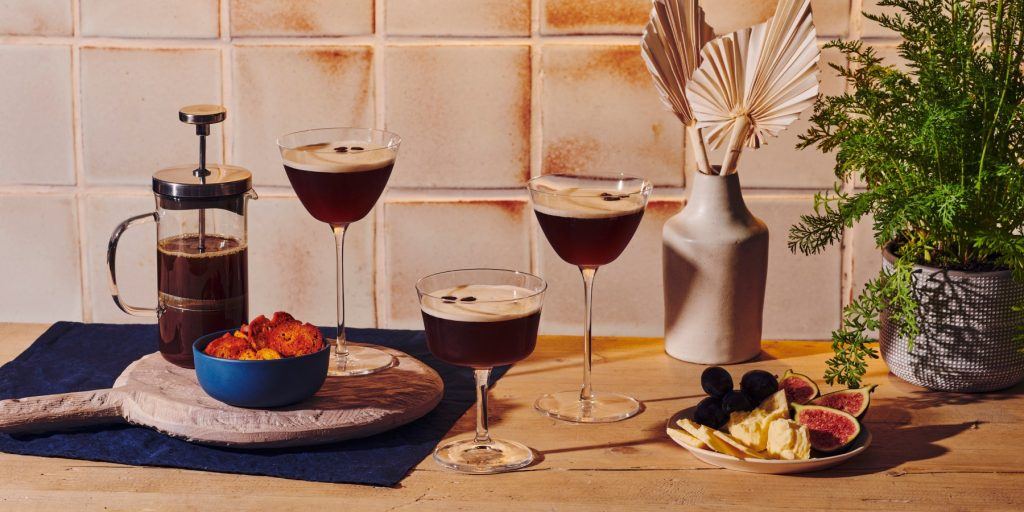 Coffee lovers will adore the rich, creamy flavors of the Espresso Martini recipe. A smooth, bittersweet cocktail, it brings together fresh espresso and coffee liqueur with a rewarding foam layer on top. Perfect for when you need perking up, it makes for a great after-dinner cocktail.
20. Tiramisu White Russian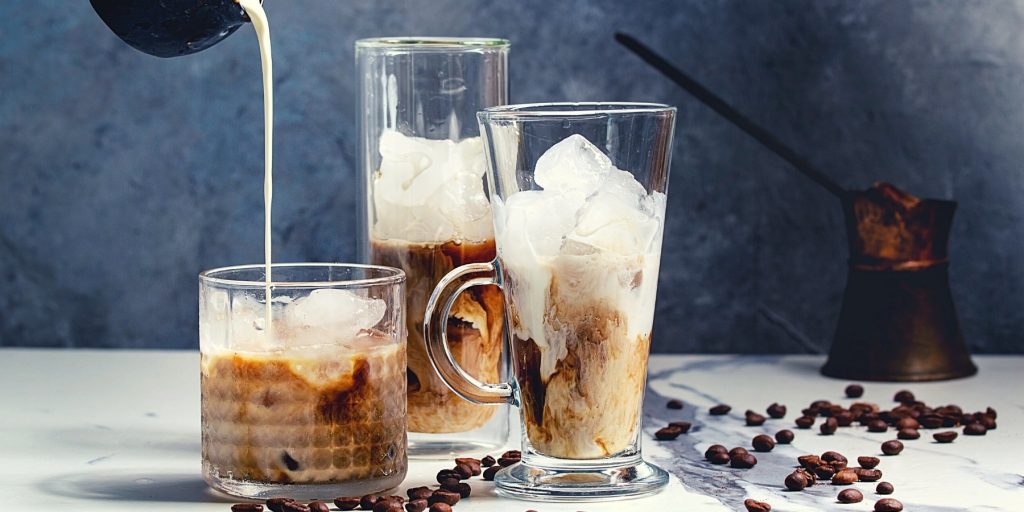 This White Russian and Tiramisu riff are both classics that share a rich coffee flavor, so a meeting of these two titans was inevitable. The Tiramisu White Russian is the best of both worlds, with rich flavors and a luxurious texture. It's an Italian dessert in a glass and a must-try for Tiramisu fans.
For more seasonal inspiration, sign up for our newsletter. Let us deliver the freshest recipes, cocktail stories, and party-planning tips right to your inbox.
FREQUENTLY ASKED QUESTIONS
Fall calls for feasting in the warmth of your home. And comfort food. There are loads of options when it comes to popular fall dishes. Some of our bests are pumpkin pie, apple pie, spiced cakes, pot roasts and hearty soups.  
Spiced pumpkin lattes are a fall favorite. Give it a boozy twist and make a Pumpkin Spice White Russian instead.  
Pumpkin, apple, maple, chai and baking spices are all popular fall flavors, so go ahead and use them for some cocktail inspiration.