18 Grenadine Cocktails to Try in 2023
August 14, 2023 by Anna-Bet Stemmet
If you love drinks with bold colors and memorable flavors, odds are you'll love our line-up of gorgeous grenadine cocktails. Let's dive into the bright and tangy world of this popular cocktail ingredient and paint the town red.
What is grenadine syrup?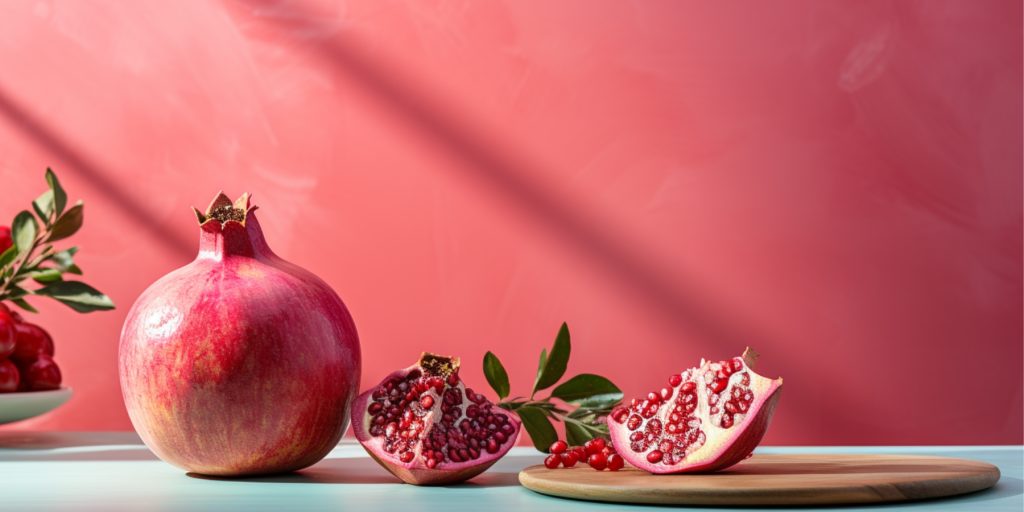 Grenadine syrup is a sweet and flavorful syrup that's commonly used in a variety of beverages and cocktails to add a burst of fruity goodness. It's not only delicious but also adds a lovely touch of color to your drinks.
What flavor is grenadine? Excellent question. See, grenadine syrup boasts a delightful balance of sweetness, with just a hint of tartness. Its primary flavor comes from pomegranate juice, giving it a fruity and refreshing taste that works wonders in both alcoholic and non-alcoholic drinks.
Traditionally, grenadine syrup is made from pomegranate juice, sugar, and water. Some variations might include additional flavorings or citrus juices to enhance the taste. It's worth noting that while authentic grenadine is made from pomegranate, some commercial brands might use artificial flavors or other fruit juices.
One of the most appealing aspects of grenadine syrup is its vibrant red color. This captivating hue adds a visual appeal to your drinks, making them look even more tempting and enjoyable. The intense red shade comes from the natural pigments present in pomegranate juice.
What is grenadine used for?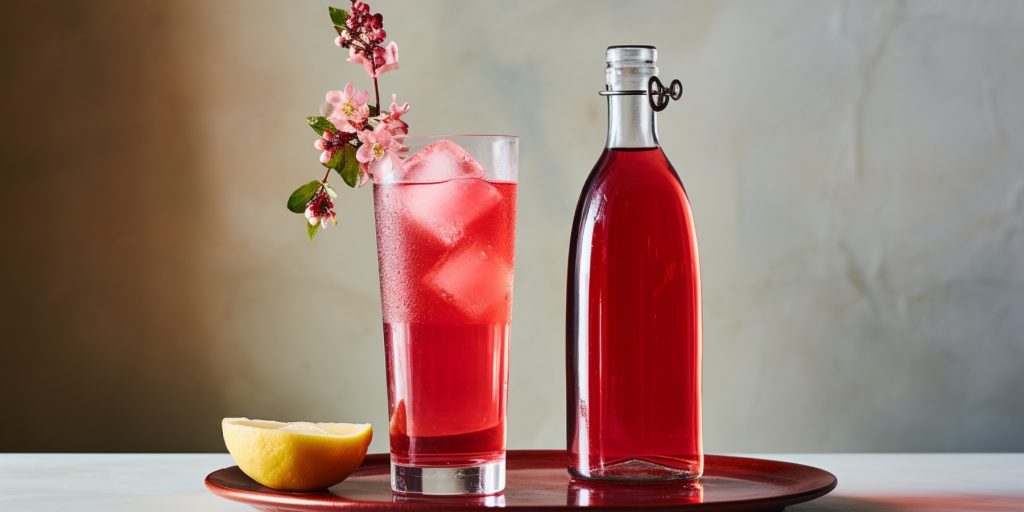 Grenadine syrup is incredibly versatile and can be used in various ways:
Cocktails. It's a staple ingredient in classic cocktails like the Tequila Sunrise, Shirley Temple, and Zombie. The way it blends with other spirits and mixers creates both delicious and visually stunning drinks.
Mocktails. For those who prefer non-alcoholic beverages, grenadine syrup can be added to lemonades, sodas, and fruit punches to give them a sweet and tangy twist.
Desserts. Beyond beverages, grenadine syrup can be drizzled over desserts like ice cream, cakes, and pancakes to give these treats a delightful fruity sweetness.
Cooking. Some recipes call for grenadine syrup as a flavor enhancer in sauces, marinades, and even glazes for meats and poultry.
TOP TIP! The key to using grenadine syrup effectively is moderation. Since it's quite sweet, a little goes a long way.
How to make grenadine syrup at home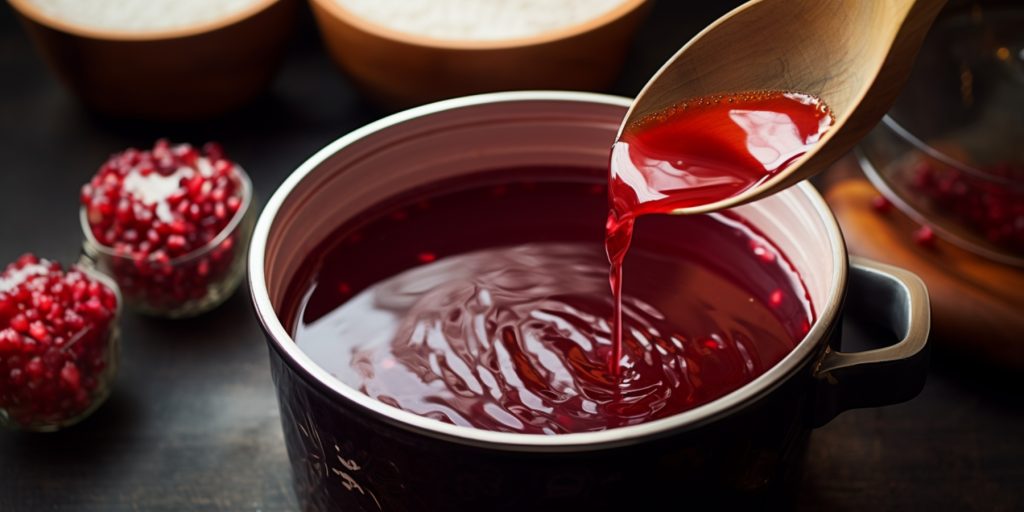 To make your own homemade grenadine, combine two cups of pomegranate juice and two cups of granulated sugar in a saucepan. You can also use cherry juice in a pinch. Bring it to a slow boil, stirring constantly until all the sugar is dissolved, then reduce the heat and cover. Allow the mixture to simmer for 15 minutes, stirring occasionally.
Remove the syrup from the heat, let it cool, and pour it into a small glass bottle or decanter with a tight-sealing lid. Add a dash or two of orange flower water (or Grand Marnier if you want a bit of kick) to the bottle, give it a few shakes, and store until you are ready to use it in a cocktail or mocktail of your choice.
Learn more: Easy Syrup Variations for Cocktail Making
Here are a few of our favorite cocktails with grenadine to try at home:
1. Tequila Sunrise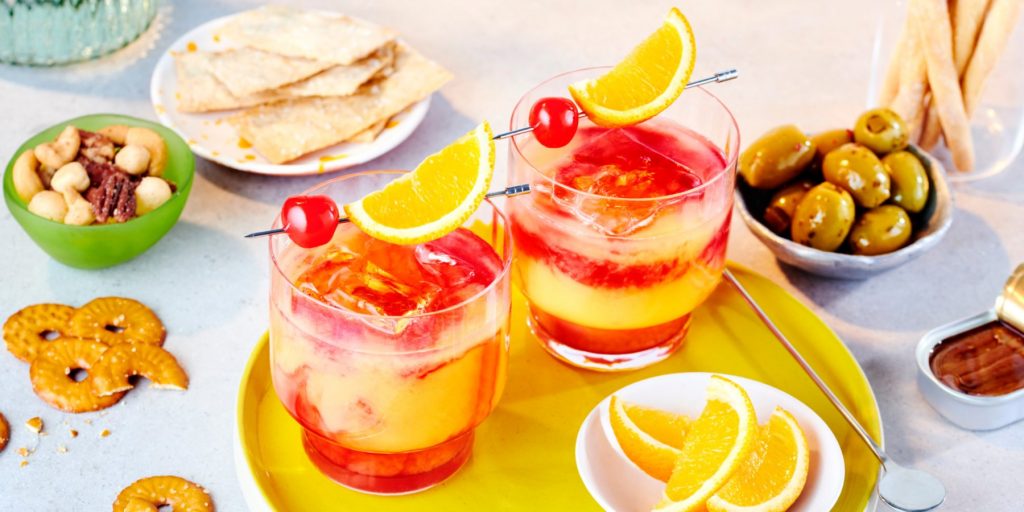 One of the best beachside cocktails ever, the picture-perfect Tequila Sunrise combines tequila, orange juice, and grenadine syrup in a tall glass. These ingredients layer prettily on top of one another, which makes it a very photogenic cocktail that also happens to be super tasty. Win-win!
Love it layered? 8 Popular Layered Cocktails that Always Make a Splash
2. Mexican Firing Squad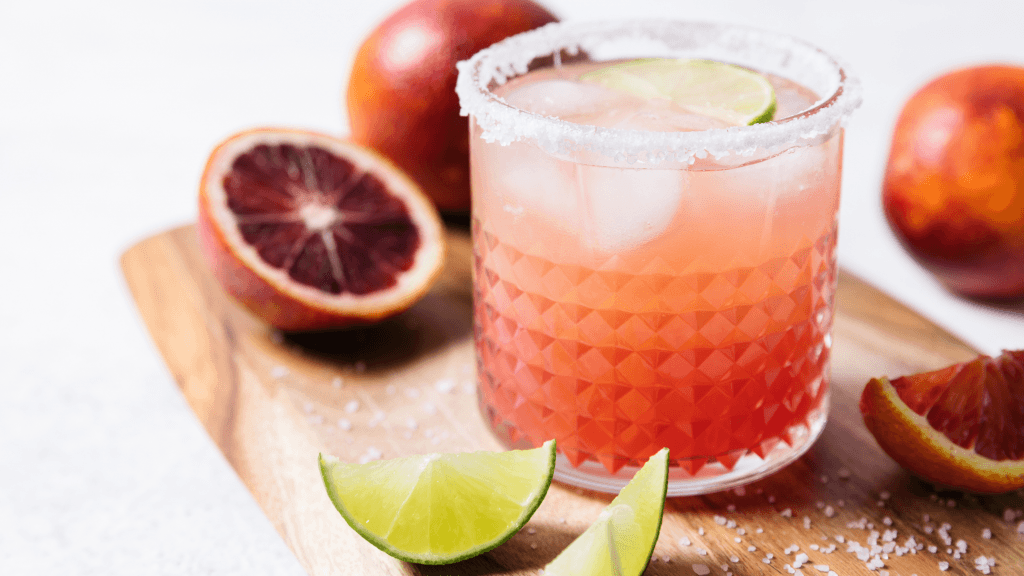 Featuring Espolòn Tequila Blanco, lime juice, and bitters as a striking base, the Mexican Firing Squad cocktail is thoughtfully sweetened with a dash of grenadine. If you're looking for a zingy Mexican cocktail that really packs a punch, with just a hint of sweetness to round it all off, this is the one for you.
3. French Kiss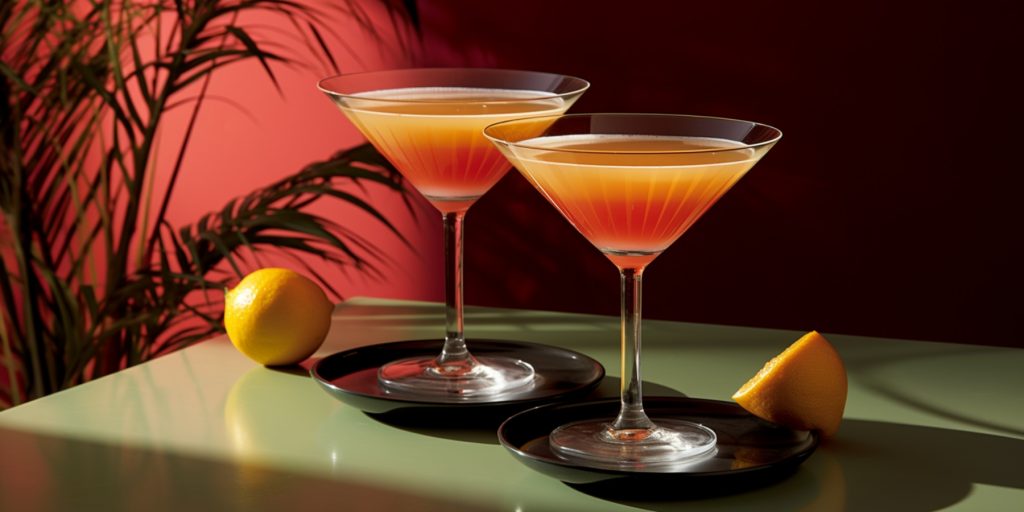 The French Kiss cocktail is a delicious reminder that life can be sweet and spicy all at once. It's a gorgeous combination of zesty orange juice overlayed with delightful hints of star anise, fennel, coriander, and mint, laced with the sweetness of grenadine.
4. Squashed Frog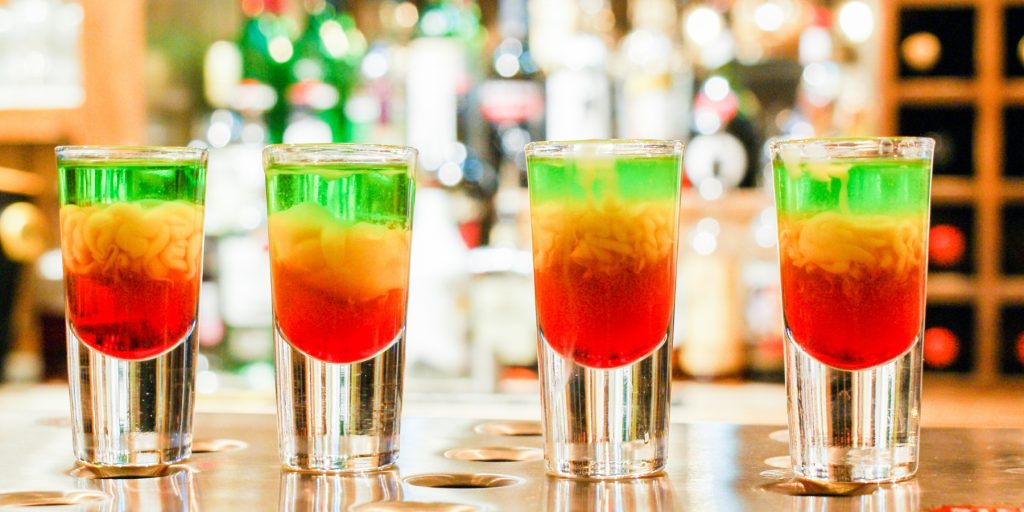 Layered into a shot glass from the bottom up, a Squashed Frog shot contains grenadine, melon liqueur, and Advocaat (a liqueur made with brandy, egg yolks, and sugar). Because the Advocaat is quite heavy, it sinks into the green melon liqueur, creating the illusion of something green and squashed (and frog-like) in the center of the shot.
5. Azalea Cocktail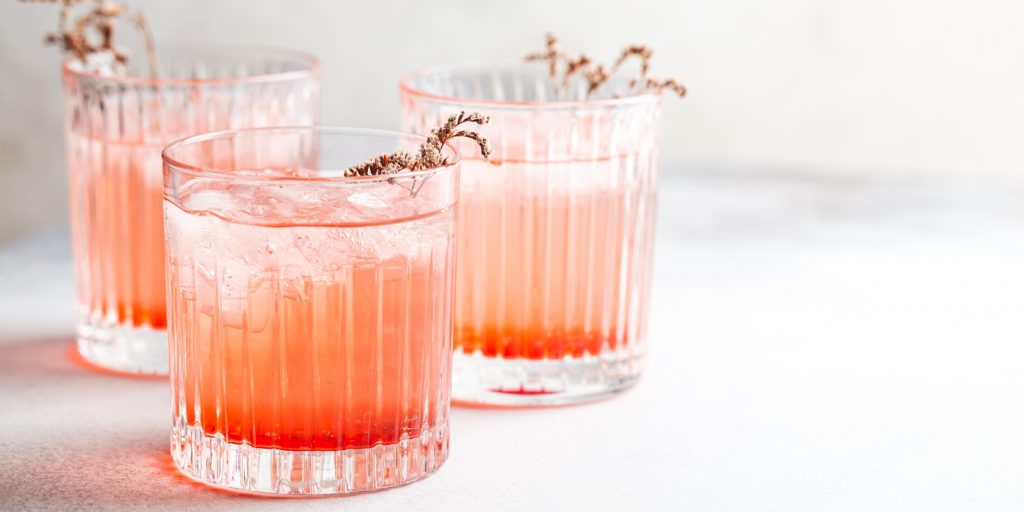 If you love drinks with a flowery vibe, we cannot recommend the Azalea Cocktail highly enough. It's a blushing pink gin drink infused with tropical pineapple and balanced with lemon juice and grenadine. Named after the 13th hole at the US Masters and Georgia's state flower, this easy sipper is enjoyed by patrons every year at the tournament.
6. Rum Punch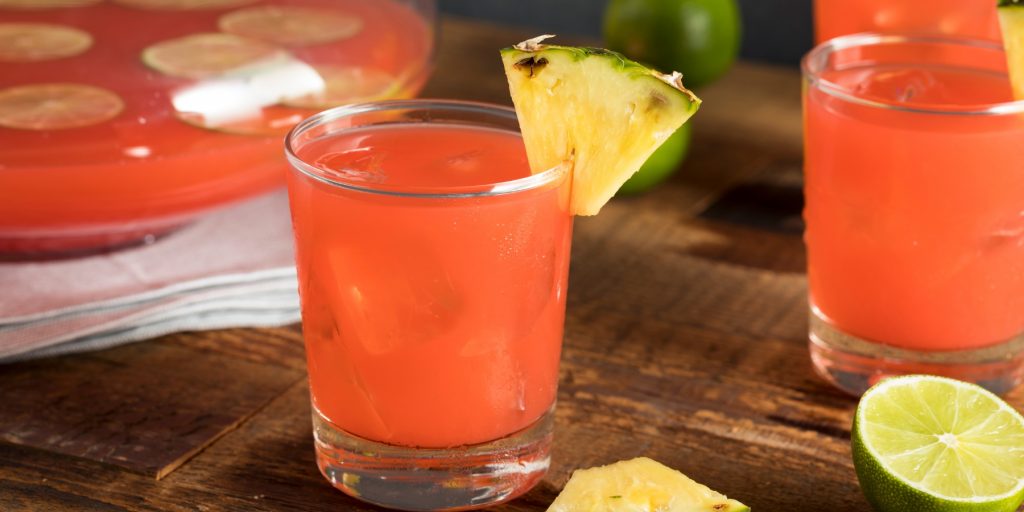 Rum Punch is a classic tropical cocktail that has been enjoyed for centuries, and for good reason. This delicious drink is made with a blend of rum, fruit juices, grenadine, and citrus, creating a flavor profile that is both sweet and refreshing. It's the perfect drink for hot summer days, beach vacations, or any occasion that calls for a little bit of paradise in a glass.
7. Shirley Temple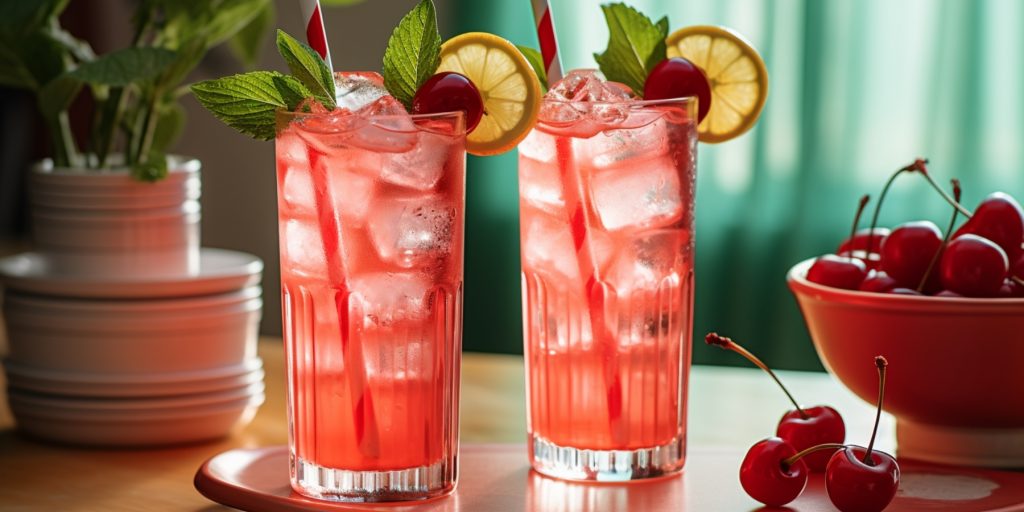 The Shirley Temple mocktail is named after the famous child actress, Shirley Temple. It was created in the 1930s and became popular as a non-alcoholic drink option for children, thanks to Temple's wholesome image. Today it's a fun mocktail enjoyed by people of all ages.
8. Dirty Shirley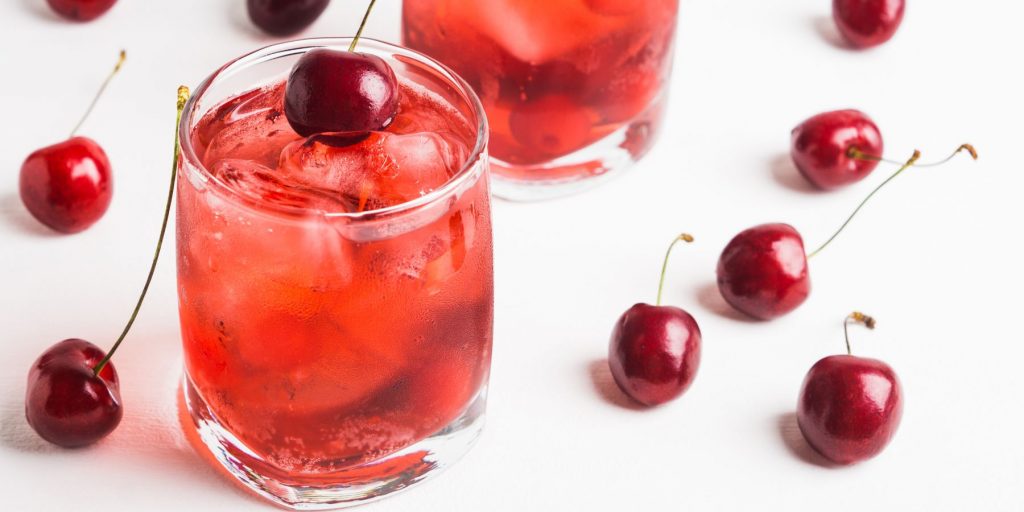 If you plan on offering your guests a Shirley Temple as an alcohol-free option, it's as simple as adding 2 oz of SKYY Vodka to the glass to turn it into a naughty but nice Dirty Shirley. When you have quite a few people over it's nice to have an easily adaptable drink like this on the menu that can be scaled to suit various tastes.
More mocktails: 8 Easy Mocktails for Simple and Clean Sipping
9. Pornstar Martini Mocktail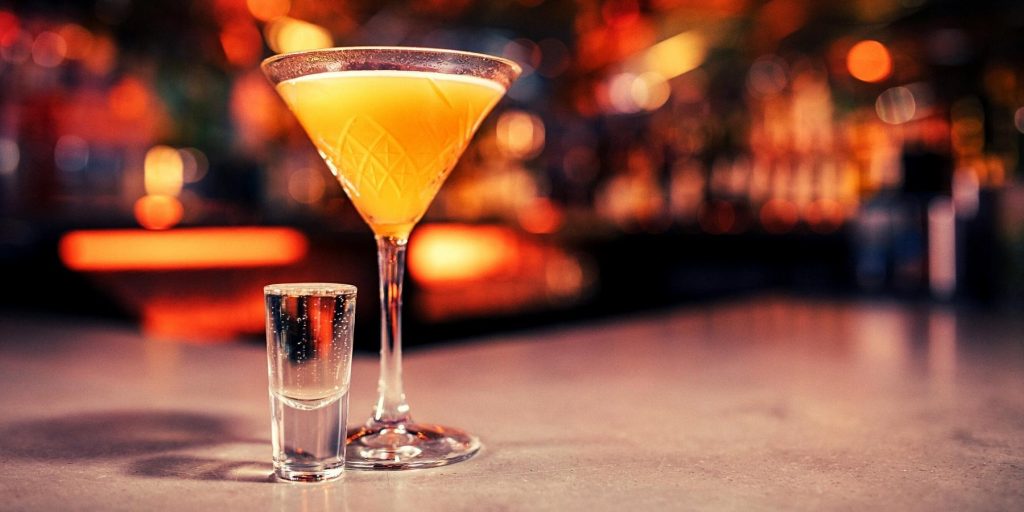 The more wholesome cousin of the Pornstar Martini, the tasty Pornstar Martini Mocktail combines alcohol-free vodka, passionfruit purée and juice, vanilla syrup, lime juice, and a dash of grenadine. Served with a sidecar of alcohol-free prosecco or sparkling apple juice, it's a jazzy non-alcoholic option for non-drinkers who enjoy a mocktail with a bit of pizzazz.
10. El Presidente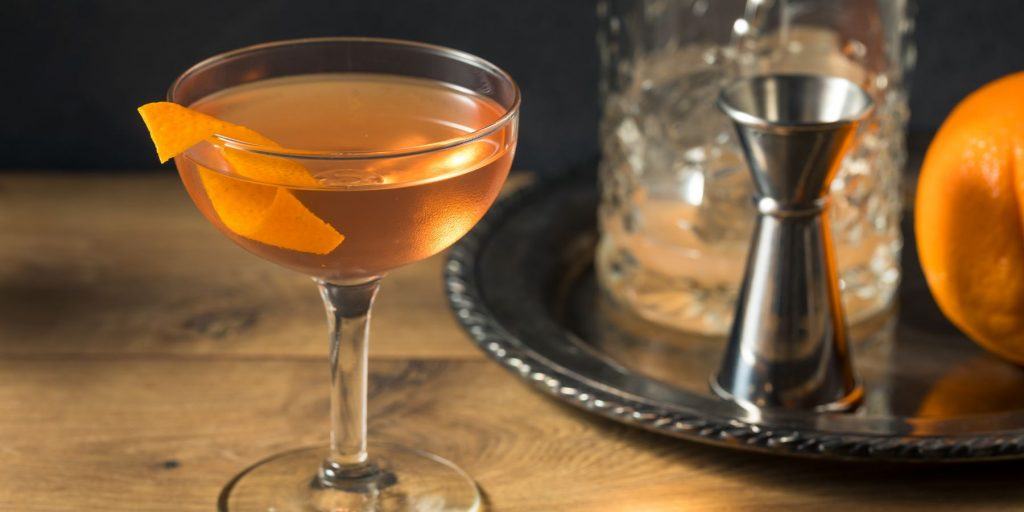 As its name suggests, the El Presidente cocktail was first stirred up in honor of a statesman, likely José Miguel Gómez, who was the leader of Cuba between 1909 and 1913. But as Cuban cocktails tend to go, this one takes the road less traveled, veering from a classically sour profile to the sweet, boozy end of the flavor spectrum, putting a delightful spin on the classic Manhattan cocktail template.
11. Black Magic
If you like to go all out for Halloween, it might be time to apply a splash of the dark arts to your Old Hallow's Eve party drinks menu. Simply mix up some ghoulish Black Magic cocktails to wow your guests and get the party started.
12. Hurricane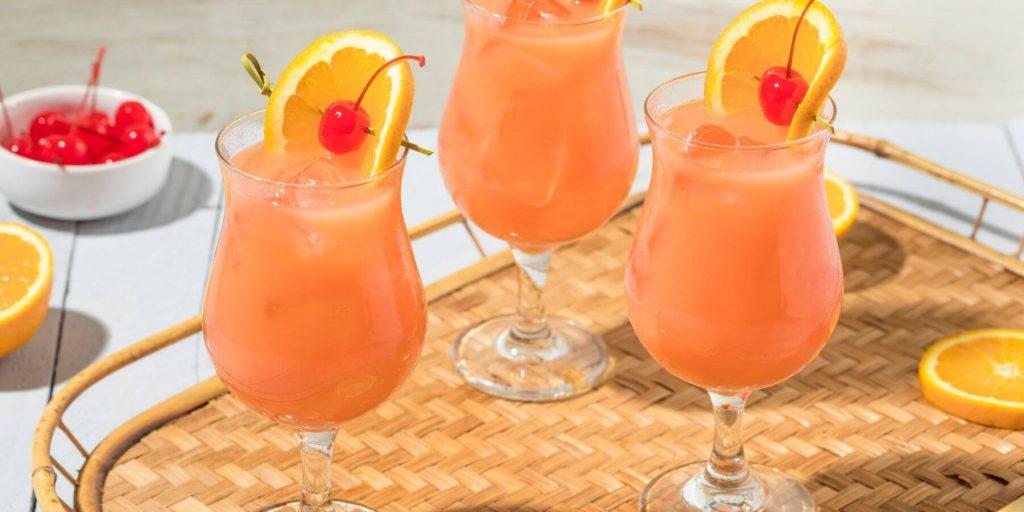 Featuring light rum, dark rum, lime juice, orange juice, passionfruit purée, simple syrup, and grenadine as ingredients, the Hurricane cocktail is one of the best beach drink recipes for sure. It is traditionally garnished with a slice of orange and a maraschino cherry, which is said to mimic Mardi Gras décor.
13. Blushing Bride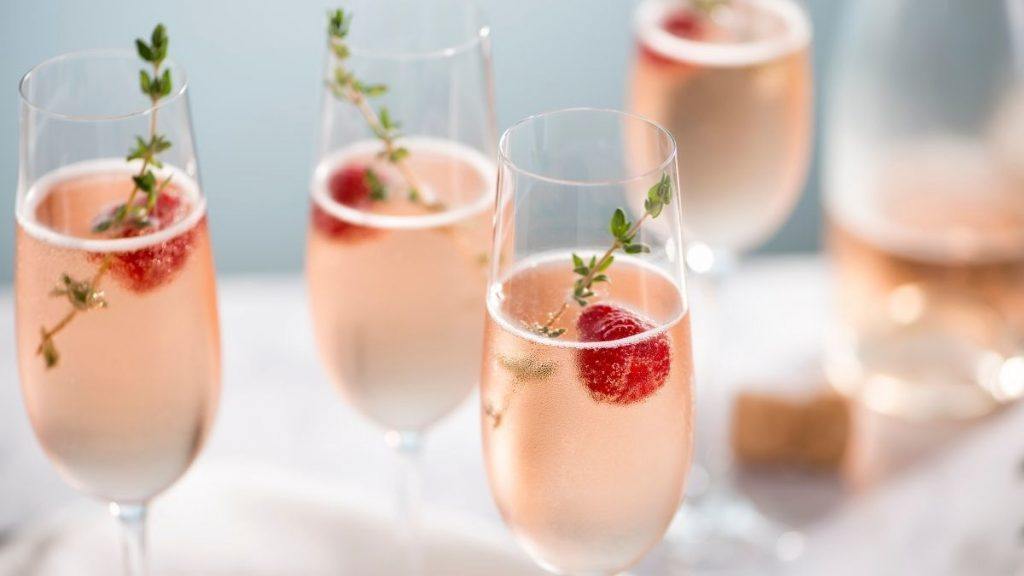 The Blushing Bride cocktail is one of those drinks that looks too pretty to be true. Bright, cheerful, and delightfully bubbly, it's a natural choice for celebratory occasions like weddings, bachelorette parties, and other events where plenty of toasting is called for.
14. Red Dragon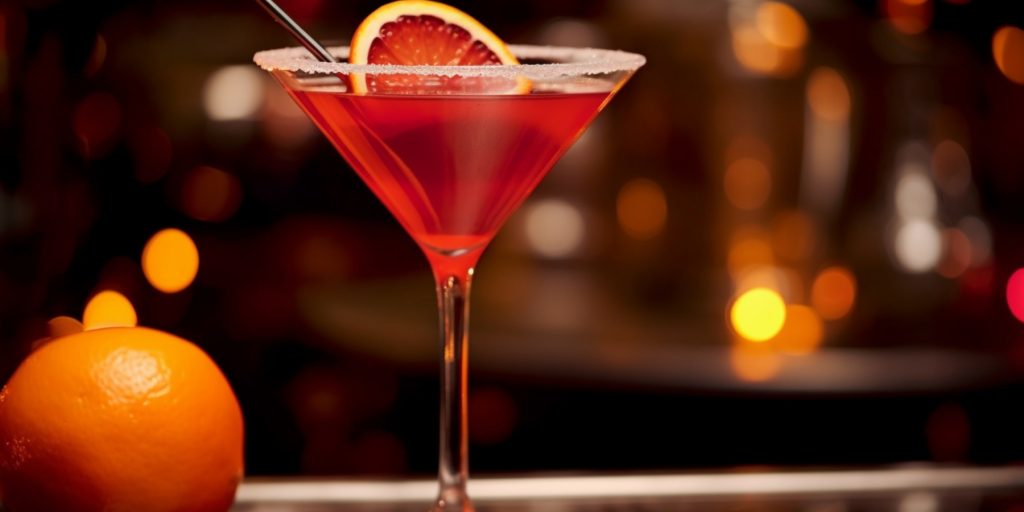 Inspired by the iconic dragon on the Welsh flag, the Red Dragon cocktail is a roaring mix of sweet and tart flavors. The base spirit is Bulldog Gin, which is topped with Grand Marnier, blood orange juice, lemon juice, and grenadine. It's bright and fruity, but don't be fooled by its sweet nature—the Red Dragon has a zesty bite.
15. Zombie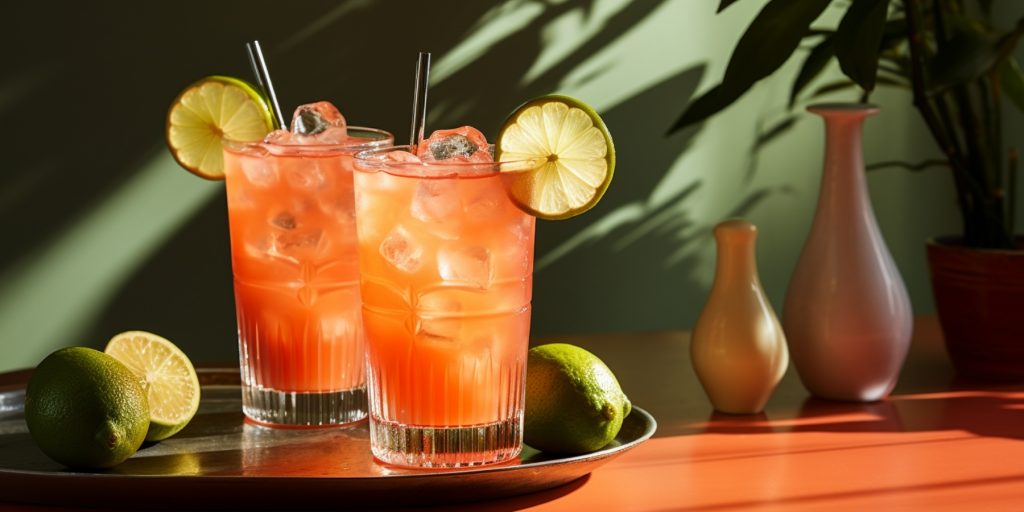 The Zombie cocktail features an alluring blend of fruity and tropical flavors that packs a powerful punch. With its potent combination of rum, citrus juices, grenadine, and a hint of spice, this delicious cocktail is the perfect choice for anyone wanting to add a bit of excitement to their cocktail repertoire.
16. Poison Apple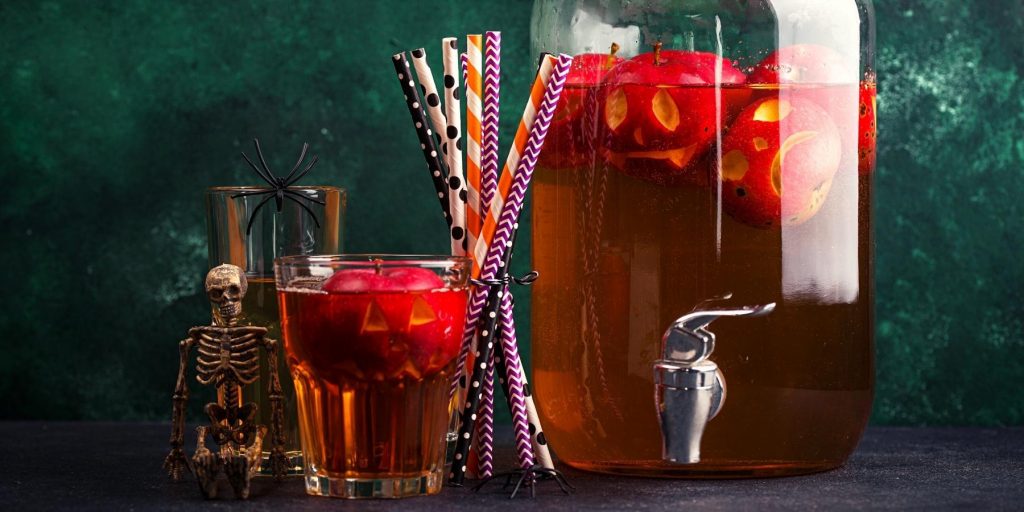 This seriously delicious apple cider cocktail is all about flavor and aesthetics, using the sheen of glitter for a cinematic swirl effect. All you need to make a Poison Apple cocktail is apple cider, cranberry juice, whiskey, grenadine, and edible glitter. It comes together quickly and goes down a treat.
17. Palmetto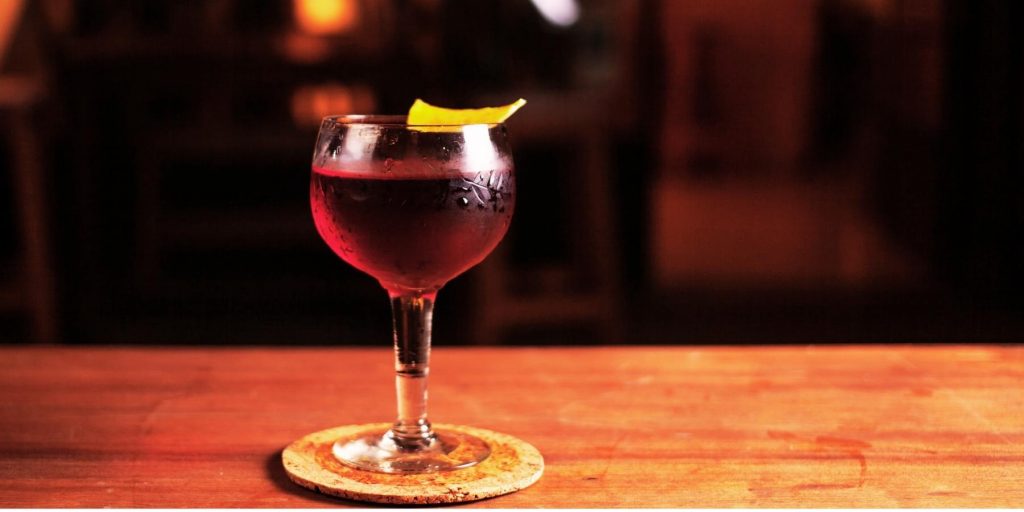 Rum, sweet vermouth, and grenadine are the star ingredients of the Palmetto cocktail. This complex drink originated at the turn of the 19th century but has recently stepped back into the spotlight. We highly recommend serving it as a sweet, sophisticated after-dinner drink at your next party.
18. Peppermint Martini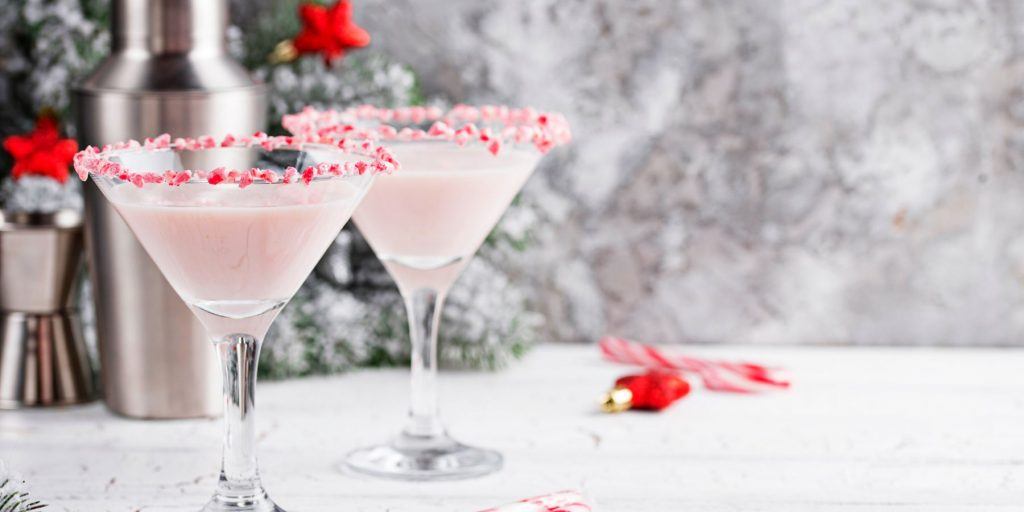 The lush and velvety Peppermint Martini is a delectable dessert-in-a-glass that will be the cherry on top of any festive menu. Creamy and minty fresh, this jolly cocktail is great to sip with appetizers, desserts, and everything in between.
Such fun, right? If you would like to learn more about the exciting world of DIY cocktail making and get tips on hosting like a pro, sign up for our newsletter. It's a quick and easy read filled with lots of tasty things— just what you need to keep the inspiration flowing.
FREQUENTLY ASKED QUESTIONS
Grenadine is crafted from a blend of pomegranate juice, sugar, and water, offering a sweet-tart flavor profile. While traditional recipes stick to pomegranate juice as its base, some commercial versions might include other fruit juices or artificial additives.
Grenadine's history traces back to the Mediterranean region, where pomegranates were abundant. Originally, grenadine was a syrup made from pomegranate juice and sugar, often used as a sweetener in cocktails. Over time, its popularity spread globally, and today, it's a cherished ingredient in various beverages and culinary creations around the world.