13 Cherry Cocktails to Indulge Sweet & Tangy Flavors
May 05, 2023 by Anna-Bet Stemmet
If you want to add some sweetness and sass to your cocktail game, cherry cocktails should be on your radar. This little fruit packs a big flavor and color punch, making it the perfect addition to any drink. From classic whiskey cocktails to exotic tiki concoctions, cherries have been a beloved ingredient in mixology for centuries.
So, let's raise a glass to the mighty little cherry and explore some fun and inventive ways to incorporate it into your next libation!
History of cherries in cocktails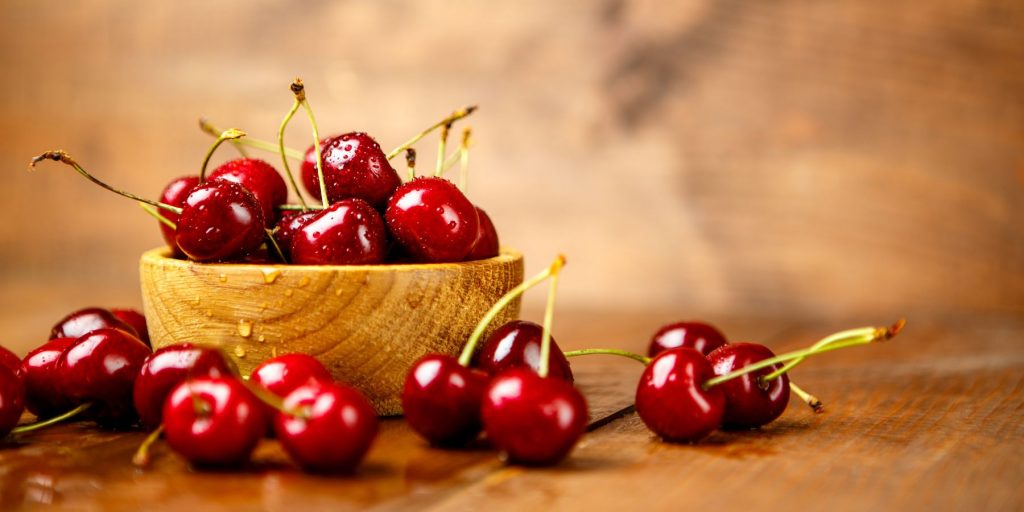 Cherries have been used in cocktails for centuries as both a garnish and flavoring agent. In the early days of cocktail culture, cherries were often muddled with sugar and mixed with wine or brandy to create a sweet and fruity drink. As cocktail culture evolved, cherries became a common garnish for drinks made with whiskey, particularly the Manhattan and Old Fashioned.
In the mid-20th century, cherries emerged as a popular component in Tiki-style cocktails, which often featured tropical fruits and flavors. Today, cherries are still commonly used in many classic and modern cocktails, adding a sweet and tart flavor profile and a pop of color to a drink.
Different ways to use cherries in cocktails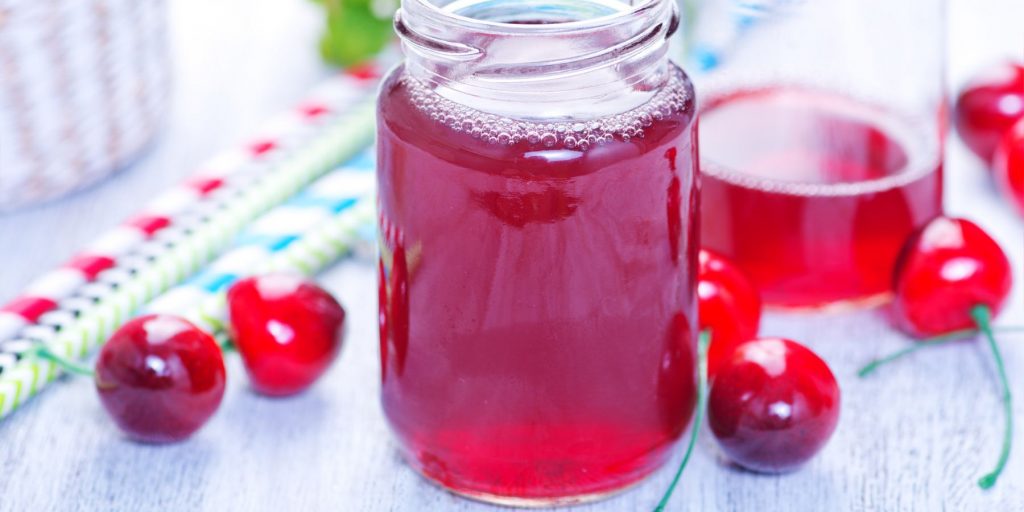 The great thing about using cherries in mixed drinks is that there are a variety of ways to incorporate the fruit in cherry cocktail recipes. Here are a few of our favorite ways:
Fresh cherry juice
Fresh cherry juice is a perfect way to add a fruity, tart flavor to your cocktails. You can use store-bought cherry juice, or simply pit and blend fresh cherries with a little water or lemon juice, then strain the mixture through a fine-mesh sieve. This juice can be used in a variety of drinks, including Margaritas, punches, and spritzers.
Cherry liqueur
Cherry liqueur like Cherry Heering is perfect for adding a touch of deeply integrated cherry flavor to your cocktails. It can be used in a variety of drinks, including Martinis, Daiquiris, and Manhattans. Try mixing it with other fruity liqueurs, such as raspberry or blackberry, for a delicious mixed drink.
Cherry vodka
Cherry vodka like SKYY Cherry Vodka offers a great base for a variety of cocktails, including Cosmos, and even Bloody Marys. It's also easy to make your own cherry vodka by infusing regular vodka with fresh cherries. Simply add pitted cherries to a mason jar with a few cups vodka and let it sit for a few days, shaking it occasionally to mix the flavors. Then strain out the cherries and use the infused vodka to your liking.
Cherry syrup
Cherry syrup is a sweet and tangy syrup that can be used in a variety of drinks, including lemonades, sodas, and low-ABV cocktails.
Combine two cups of sugar, two cups of water, and 16 oz of cherries (pitted, fresh or frozen) in a medium saucepan and bring it to a boil. Reduce the heat to medium, and simmer for five minutes, stirring frequently. Let it stand for five minutes. Then pour the cherry mixture through a fine mesh strainer into a large bowl, gently pressing the cherries to release its remaining juices.
Discard the cherries and allow the syrup to cool down to room temperature. Cover the container and place it in the fridge to chill for four hours. Once it is chilled, transfer the cherry syrup to your preferred storage container. Flavored simple syrup will last for in your refrigerator for up to a month.
Insider scoop: Easy Syrup Variations for Cocktail Making
Fresh cherries
Fresh cherries are bright and beautiful addition to any cocktail. Simply muddle a few cherries in the bottom of a glass before adding the rest of the ingredients. These are especially delicious in drinks like a Mojito or Old Fashioned.
Sugared cherries
Sugared cherries are a gorgeous garnish for cocktails. To make it at home, coat fresh cherries in sugar syrup and let them dry on a wire rack. These are perfect for adding a touch of sweetness and visual appeal to drinks like Champagne cocktails and fruity Martinis.
Classic cherry cocktails
Here are a few of our go-to classic cherry cocktail recipes that always seem to go down a treat when we whip it up at home:
1. Cherry Blossom
This springtime classic brings plenty of Eastern flair to the party. To make two Cherry Blossom drinks, combine 1.5 oz sake, 1 oz cherry liqueur, 0.5 oz Bulldog Gin, 0.25 oz Grand Marnier, 0.25 oz grenadine, and 0.25 oz lemon juice in a mixing glass with ice. Stir until thoroughly chilled, and strain into two chilled glasses. Garnish with fresh or brandied cherries.
More spring inspo: 19 Delicious Spring Cocktails Perfect for Warmer Months
2. Cherry Lime Rickey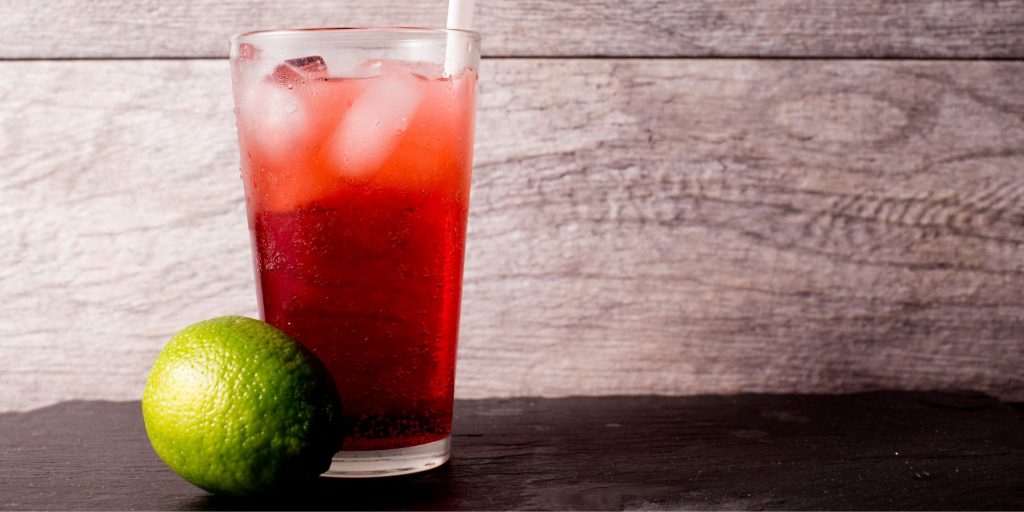 The Cherry Lime Rickey is a fruity twist on the classic Lime Rickey, and it's pretty as a picture. It's a great way to add a splash of color to just about any occasion. To make one, add 1 oz fresh lime juice, 2 oz Bulldog gin, and 0.5 oz cherry syrup to a serving glass and stir. Fill the glass with ice and top off with sparkling water. Garnish with lime wedges and maraschino cherries.
3. Singapore Sling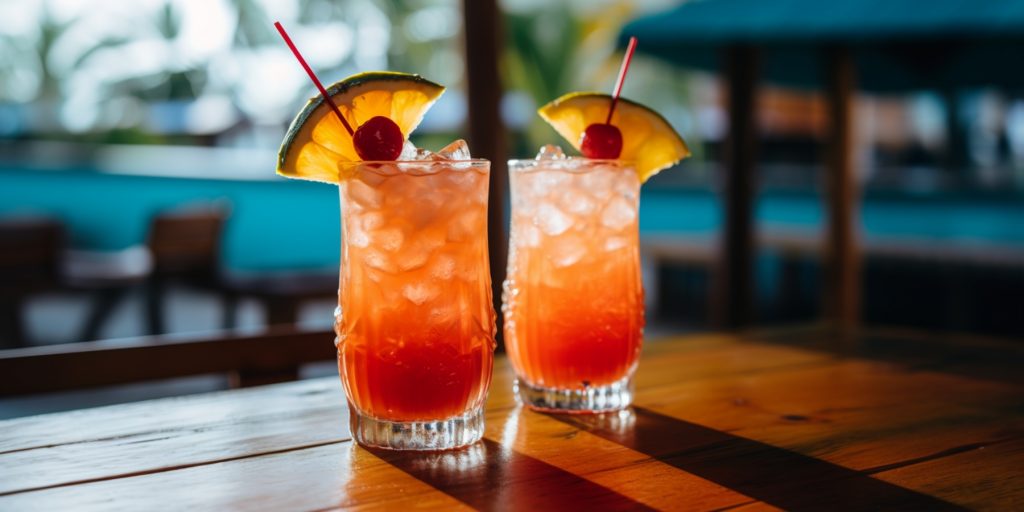 The refreshing Singapore Sling is one of the world's favorite cocktails and has made silver-screen appearances in movies like Cocktail and Pirates of the Caribbean. Well-balanced and delectably boozy, our recipe yields a subtly sweet drink with herbal undertones and a fair bit of kick from several different liqueurs.
Modern cherry cocktails
Cherry cocktails have also become increasingly popular in modern mixology as bartenders and home mixologists experiment with the sweet and tangy flavor profiles to invigorate their cocktail menus in unique and creative ways. Here are a few to try out at home:
4. Cherry Margarita
This enticing take on the classic Margarita is tailormade for early summer when fresh cherries are in plentiful supply. In a cocktail shaker, combined six fresh cherries (stemmed and pitted) and 1 oz of fresh lime juice. Muddle until the cherries mostly break down. Now add 2 oz Espolòn Reposado Tequila, 1 oz cherry liqueur, 1 oz simple syrup, and ice. Shake vigorously until frosty and serve in a cold serving glass with a salted rim, if preferred.
5. Cherry Whiskey Sour
If you're a fan of whiskey cherry cocktails, you'll love this delicious twist on the classic Whiskey Sour. Begin by scooping two tablespoons of fresh, diced cherries into a small bowl along with 1 oz simple syrup, allowing it to macerate for at least 30 minutes. Next, combine cherries and syrup with 1 oz lime juice and 2 oz whiskey in a blender on high speed until the cherries are completely pureed. Finally, pour into a cocktail glass over ice and serve immediately.
6. Cherry Negroni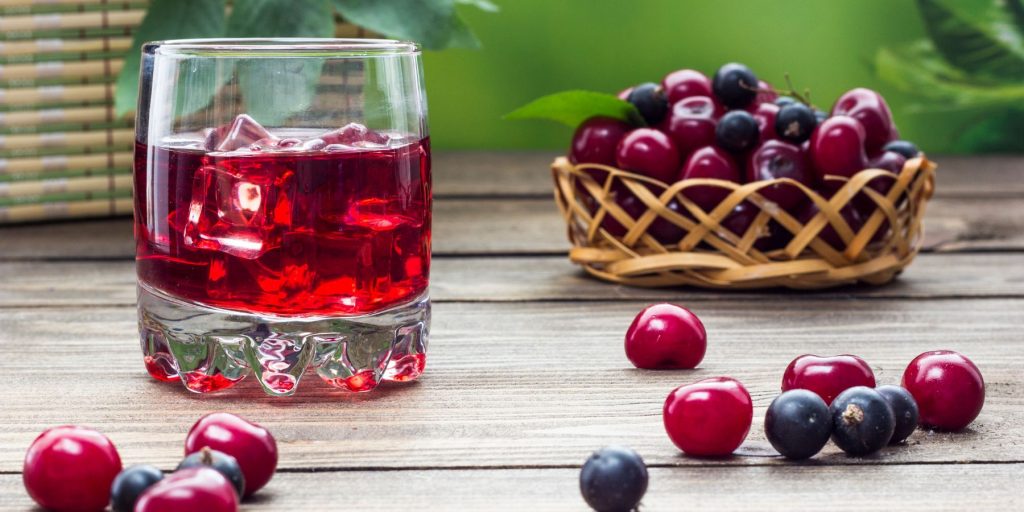 Why yes, of course there is a cherry-infused version of the darling of the after-dinner sphere, the ever-stylish Negroni. Fill a cocktail shaker with ice, and add 1 oz Campari, 1 oz Bulldog Gin, 1 oz Cinzano Vermouth Rosso, 2 oz tart cherry juice, and 0.5 oz simple syrup. Shake vigorously for 15-20 seconds, strain into a chilled glass, and twist an orange peel over the drink to release its fragrant oils. Enjoy icy-cold.
Cocktails with cherry garnishes
Maraschino and Luxardo cherries are two popular types of cherries used in cocktails and desserts. Maraschino cherries are typically bright red and have a syrupy texture. They are often used as a drinks garnish and are more widely available in grocery stores.
Luxardo cherries, on the other hand, are darker in color and have a firmer texture, with a rich and natural cherry flavor. They are a premium option and are often used in craft cocktails and high-end desserts.
Here are a few of our favorite cocktails that are typically garnished with cherries:
7. Sour Cherry French 75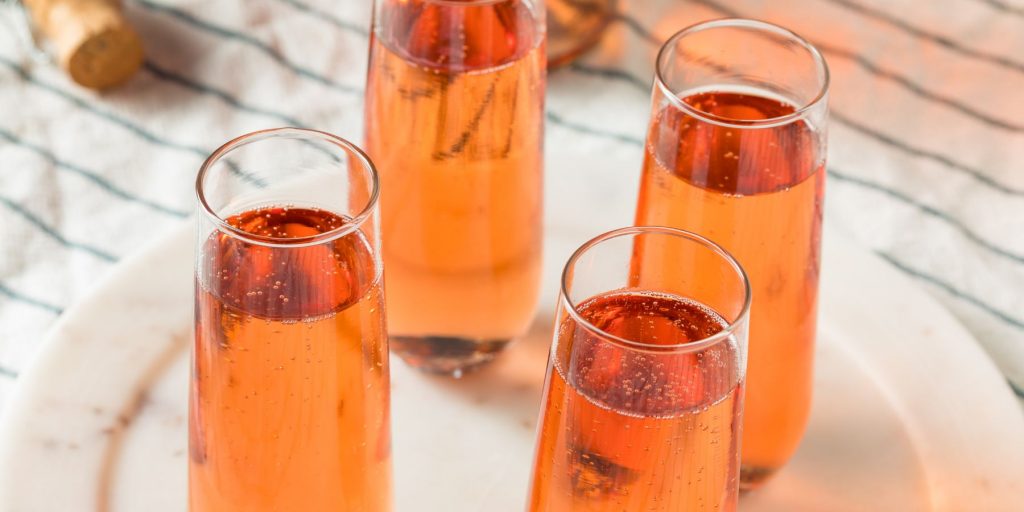 We love a well-balanced sour cocktail, and the Sour Cherry French 75 is completely marvelous. This variation on the traditional French 75 cocktail recipe calls for 2 oz Bulldog Gin, 0.75 oz fresh lemon juice, 0.75 oz sour cherry syrup, 2 oz Prosecco, and optional maraschino cherries or a lemon twist to garnish.
8. Bikini Martini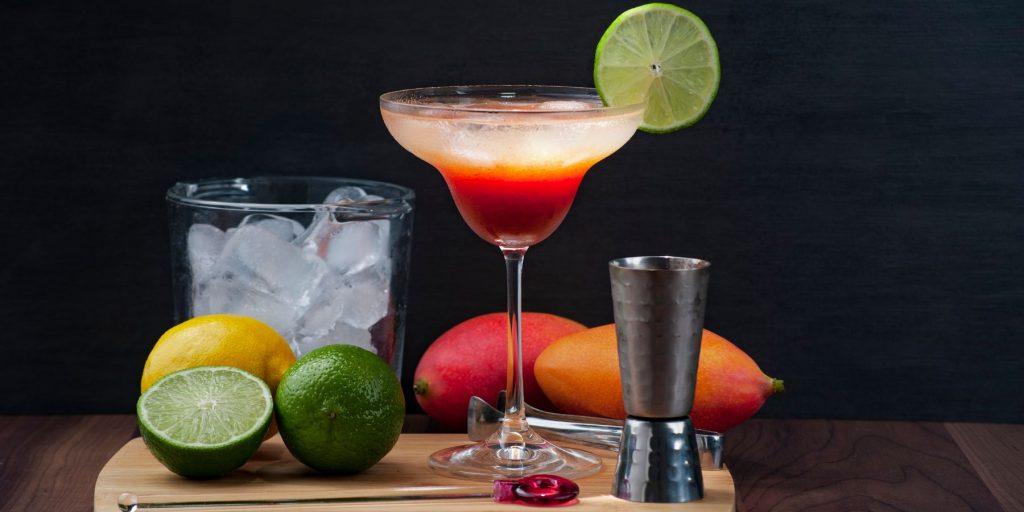 This prettily layered cocktail recipe calls for 2 oz coconut rum, 4 oz pineapple juice, 2 oz SKYY Vodka, and 1 oz grenadine. Combine the first three ingredients in a cocktail shaker with ice, and then strain it into Martini glasses. Next, slowly pour the grenadine into each glass to create a layered effect. Garnish with maraschino cherries and a pineapple wedge to round it all off.
9. French Manhattan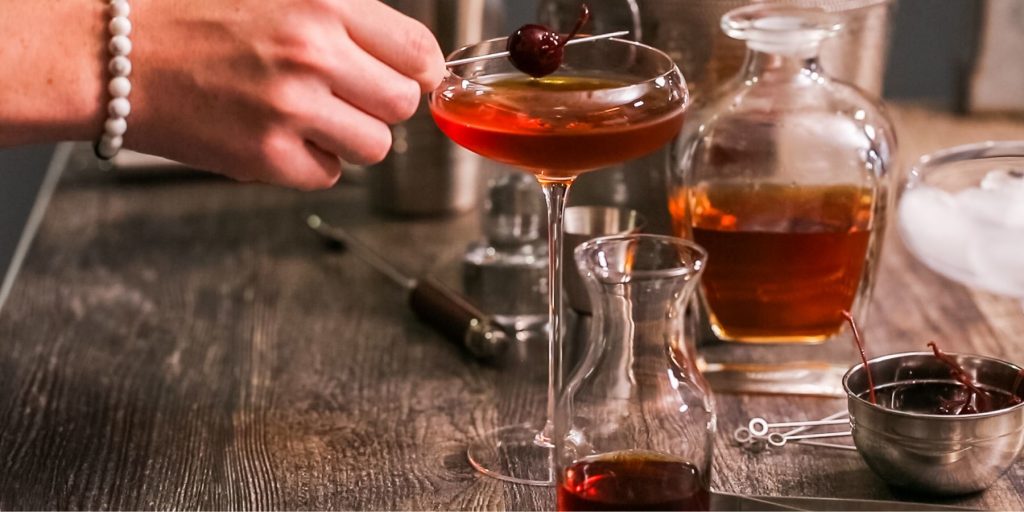 The French Manhattan is a dapper spin-off of the original, containing Bisquit Dubouché Cognac and Grand Marnier, along with Cinzano Vermouth Rosso and a few dashes of bitters. Garnished with maraschino cherries, it's a captivating drink that never disappoints.
10. Three Dots and a Dash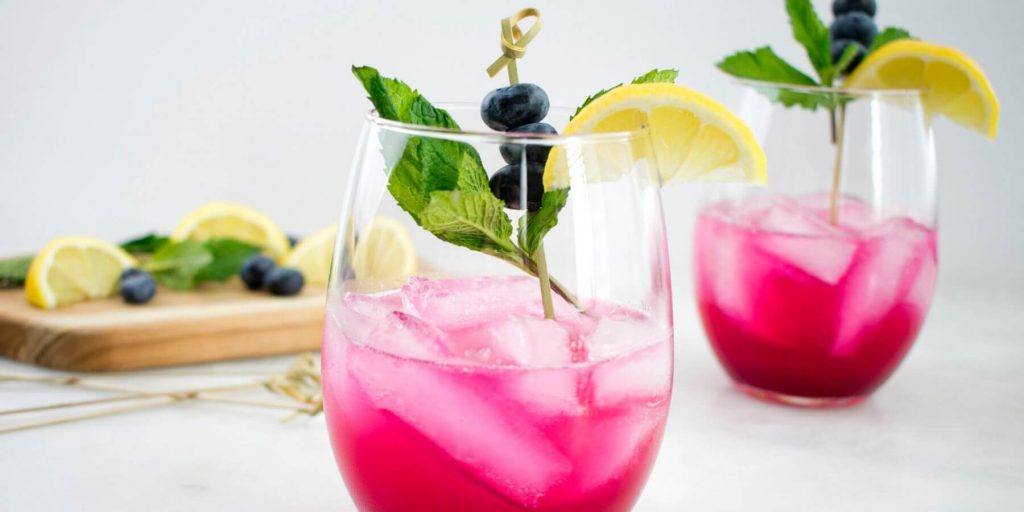 If you know your Morse code, you'll get that three dots and a dash stand for V for Victory. This tropical cocktail was created by the main man of tiki cocktails, Donn Beach, during WW II and features a classic rum, syrup, and juice combo.
This victory cocktail is a blend of Martinique Trois Rivières rum, allspice dram, honey syrup, lime, and orange juice, and a dash of bitters. Then for the standout garnish, three maraschino cherries (or blueberries) are skewered on a stick to represent the three Morse code dots and the dash.
More inspo: The 12 Best Fruity Cocktails to Serve this Summer
11. Pink Lady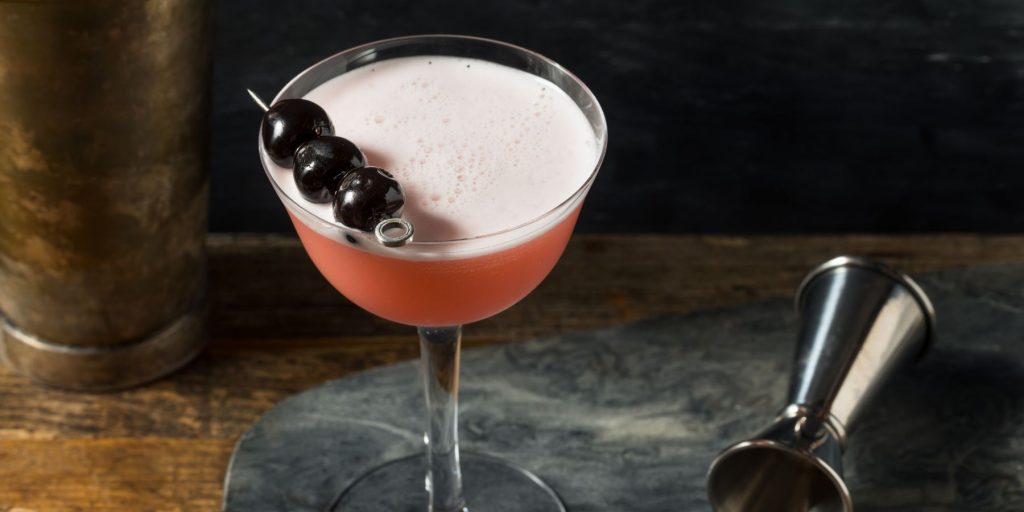 This much-loved Valentine's Day cocktail is ideal for a romantic occasion. Combine 1.5 oz Bulldog Gin, 0.5 oz apple brandy, 0.5 oz fresh lemon juice, 0.5 oz grenadine, and one small egg white (0.5 oz) in a cocktail shaker without ice. Shake for 30 seconds, add ice, then shake for 30 seconds more. Strain into a chilled cocktail glass and garnish with maraschino or Luxardo cherries.
Egg white 101: Your Guide to Making Egg White Cocktails the Easy Way
12. Sake Manhattan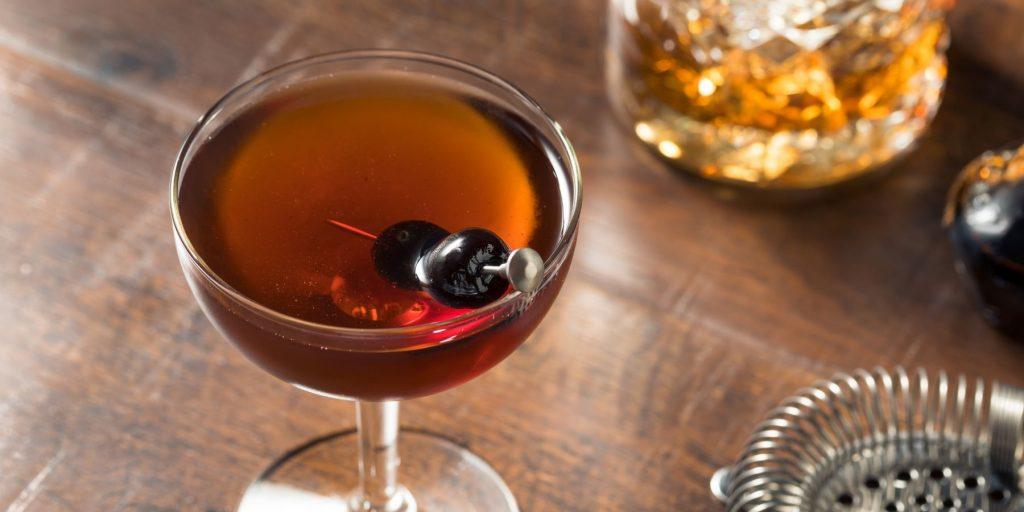 This delightful spinoff of the classic Manhattan calls for a warming ginger liqueur, which gives it a wonderfully spicy undertone. Combine 1.5 oz whiskey, 1 oz sake, 0.5 oz ginger liqueur, and two dashes of bitters in a mixing glass with ice. Stir well and strain into a cocktail glass. Garnish with Luxardo cherries and serve.
BONUS! The cherry mocktail everyone's talking about on TikTok
Of course, we couldn't to a list of the top cherry cocktails to try at home without including the viral Sleepy Girl Cherry Mocktail everyone's going bananas for on TikTok.
13. Cherry Juice Mocktail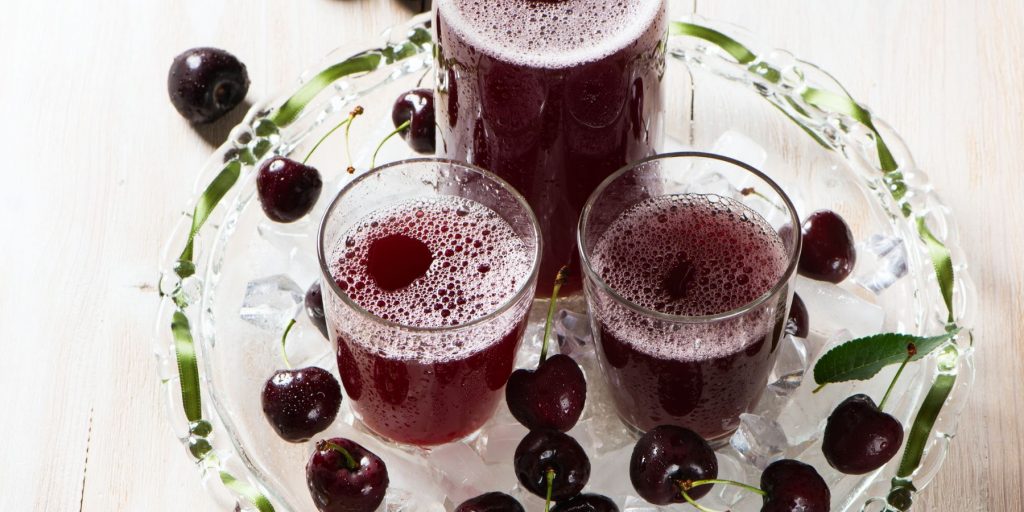 Purportedly, tart cherry juice contains melatonin, which is a natural sleep hormone. Researchers also hypothesize that magnesium may relax the central nervous system and help you feel sleepier. This is what inspired the bedtime drink.
To make one at home, fill a glass of your choosing with ice, and pour in 3 oz of tart cherry juice. Add a tablespoon of magnesium powder to the liquid and stir well, and then top it off with your favorite lemon-lime flavored beverage.
FREQUENTLY ASKED QUESTIONS
To make a Cherry Bomb cocktail, start by muddling fresh cherries and a teaspoon of sugar in a shaker. Then, add ice, 2 oz of cherry vodka, and 1 oz Grand Marnier. Shake well and strain into a glass filled with ice. Top with lemon-lime soda and garnish with a cherry. For an extra kick, add a splash of grenadine. This sweet and fruity cocktail is perfect for a girls' night in or a summer barbeque.
Some well-known cocktails that are typically garnished with maraschino cherries include the classic Manhattan, Old Fashioned, and the tropical Mai Tai. Other popular cocktails that often feature maraschino cherries as a garnish include the Shirley Temple, the Singapore Sling, and the Rob Roy.
Yes, cocktail cherries are real, and they are typically made from maraschino cherries that have been soaked in a solution of sugar, water, and either alcohol or a mixture of alcohol and fruit juice. This process gives the cherries their characteristic sweet flavor and bright red color.
To make cocktail cherries at home, start by pitting fresh cherries and blanching them in boiling water for 30 seconds. Then, place the cherries in a jar with a mixture of sugar, water, and your preferred alcohol or fruit juice. Bring the mixture to a boil and then reduce heat and simmer for 5-10 minutes. Remove from heat and let cool before storing in the fridge. These homemade cocktail cherries are perfect for garnishing your favorite drinks, and the syrup can also be used to sweeten cocktails or soda.