How to Host a Brunch Party at Home
October 18, 2023 by Anna-Bet Stemmet
Looking for some brunch party ideas to help you host a fuss-free daytime event at home or the office? The Mixer team has you covered, bestie. We adore a good brunch, and we're dishing up all the insider tips you need to be the #brunchtime host with the most.
What time to host a brunch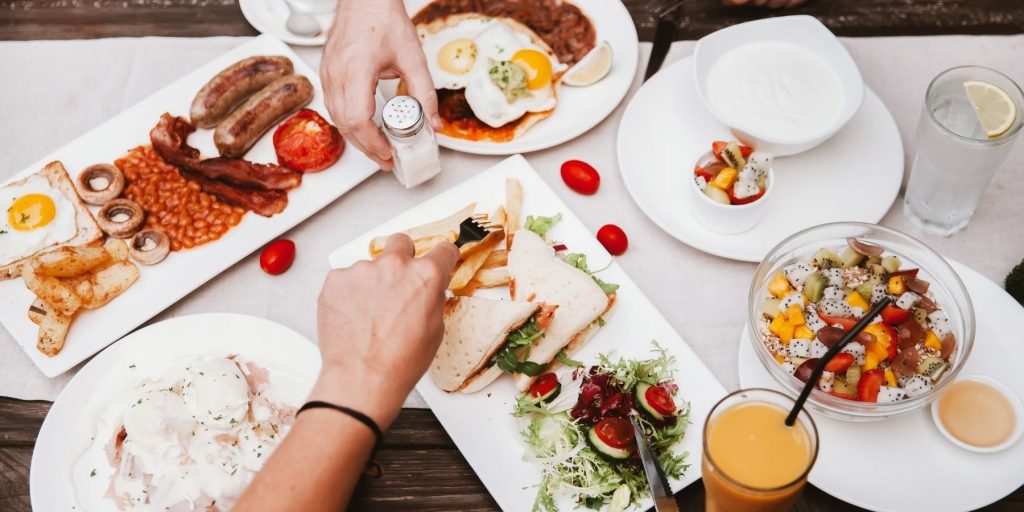 Typically, brunch starts around 10:00 and concludes by 14:00. This timeframe accommodates those who prefer a leisurely morning and allows guests to enjoy a variety of menu options ranging from breakfast classics to heartier lunch fare.
The mid-morning to early afternoon slot strikes a beautiful hosting balance, ensuring guests have the flexibility to savor both breakfast and lunch, setting the scene for a relaxed and enjoyable social experience.
DID YOU KNOW? The term 'brunch' is a portmanteau, combining the words 'breakfast' and 'lunch'. The origins of the word can be traced back to late 19th-century Britain. British author Guy Beringer is often credited with coining the term in his 1895 article titled Brunch: A Plea, published in the periodical Hunters' Weekly. Beringer proposed brunch as a sociable and relaxed alternative to the traditionally heavy, post-church Sunday meals of the time.
Brunch themes
If you really want to set your daytime shindig apart, it's nice to choose a theme and tailor your food, drinks and décor accordingly. Here are a few ideas to spark some inspiration.
Decade-themed brunch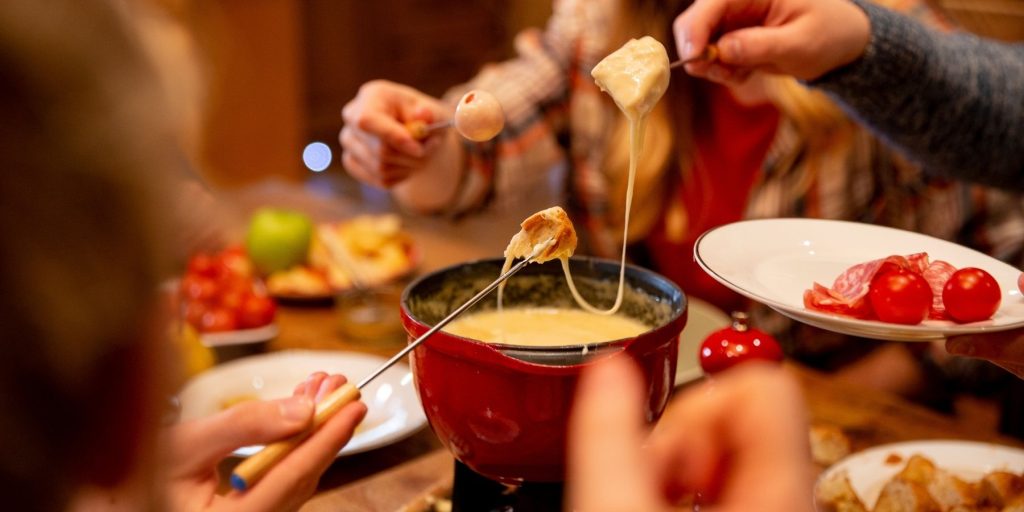 1960s brunch. Transport your guests to the swinging 60s with mod-inspired cocktails like the classic Bloody Mary paired with dishes like a quiche Lorraine or a breakfast fondue, creating an atmosphere that mirrors the era's sophisticated and cosmopolitan lifestyle. This is a great choice when you're looking for retro brunch birthday party ideas.
1970s brunch. Immerse yourself in a laid-back 1970s vibe at home, with era-inspired dishes like bacon-wrapped dates and granola taking center stage. Offer plenty of natural and organic options, grounded by earthy tones and bohemian-inspired settings that lean into the vibe of this groovy era.
1980s brunch. Step into the flamboyant 80s with a lavish home brunch affair featuring indulgent dishes like Eggs Benedict and vibrant Mimosa cocktails. Consider fun interior touches like neon lights and faux plants, tailoring a glamorous setting that recalls power brunches and '80s socializing. PS. This is one of our favorite brunch ideas for an office party.
1990s brunch. A 1990s-themed brunch could feature grunge-inspired comfort foods, such as a DIY waffle or bagel bar, and a nod to the era's high-octane coffee culture with drinks like the Espresso Martini or Black Russian. Enhance the experience with grungy décor, alternative music, and nostalgic treats like ring pops or pop rocks, paving the way for a playful day with friends.
2000s brunch. A 2000s-themed brunch should capture the era's obsession with global flavors, such as Asian fusion, foams and gels, and the epic burger craze. Embrace the rise of social media with Instagram-worthy presentations by creating a visually appealing atmosphere with bold décor and providing a vibrant and modern brunch experience.
Holiday-themed brunch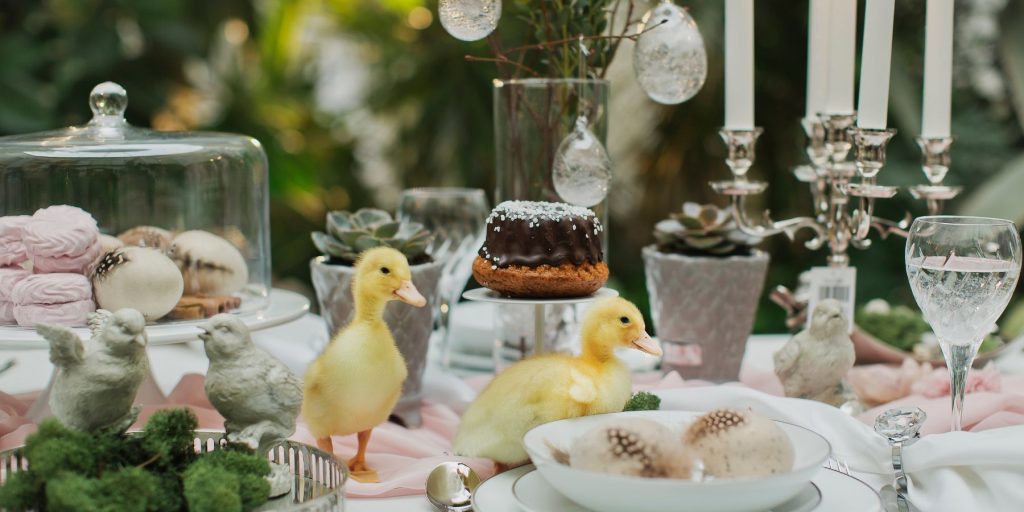 Valentine's Day brunch. Host a romantic Valentine's Day brunch with heart-shaped pancakes, berry-infused cocktails, and decadent chocolate treats. Set an intimate ambiance with soft lighting, floral arrangements, and romantic background music for a memorable and affectionate dining experience. This is also great as a bridal party brunch idea!
Easter brunch. Create an Easter brunch spread with colorful egg-themed dishes, honey-glazed ham, and fresh spring salads. Incorporate pastel décor, floral centerpieces, and whimsical touches for a festive atmosphere. Offer delightful treats like bunny-shaped pastries to celebrate the joy of Easter.
St. Patrick's Day brunch. Tailor a St. Patrick's Day brunch featuring Irish-inspired dishes like corned beef hash, potato pancakes, and soda bread. Decorate with green accents, shamrock motifs, and Irish folk music to capture the spirit of the holiday. Serve drinks like Irish Coffee or themed green cocktails for a lively celebration.
Halloween brunch. Host a spooktacular Halloween brunch with creatively themed dishes like spiderweb pancakes and mummy-wrapped sausages. Set the scene with eerie decorations, candlelit pumpkins, and haunting background music. Encourage costumes and offer treats like 'eyeball' pastries for a festive and chilling experience.
Christmas brunch. Tailor a festive Christmas brunch with classic holiday fare, such as cinnamon rolls, glazed ham, and festive cocktails like Mulled Wine. Decorate with twinkling lights, ornaments, and evergreen branches for a cozy holiday atmosphere. Incorporate a gift exchange or holiday-themed games for added festive cheer.
Also check this! How to Throw a Color Cocktail Party
Setting up for a brunch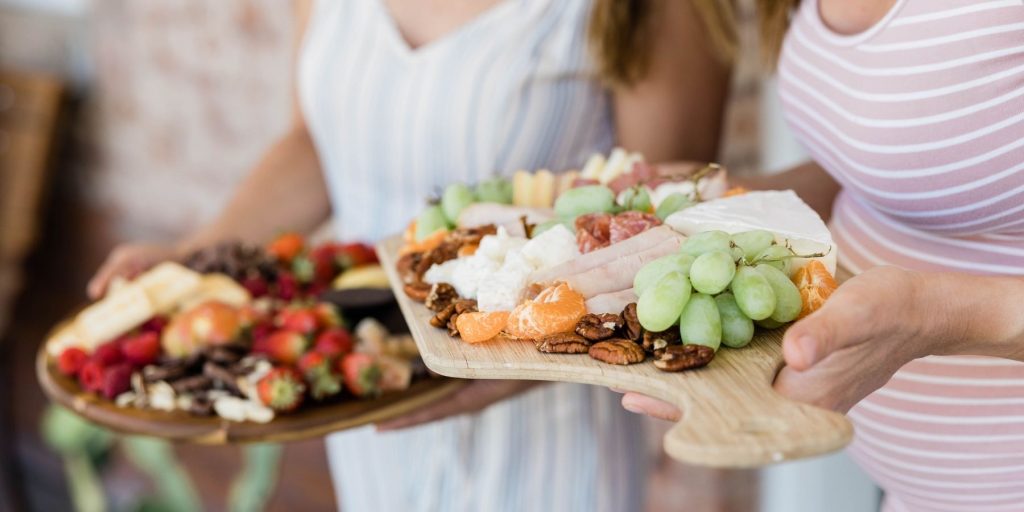 Setting up for a brunch at home can be enjoyable and stress-free with some thoughtful planning. Here are some tips to make the process smoother:
Plan the menu in advance. Decide on the dishes you want to serve and ensure a balance between savory and sweet items. Consider the dietary preferences and restrictions of your guests. If you want your guests to contribute dishes to the brunch, organize this beforehand so everyone knows what to bring, and you are assured of a balanced menu offering.
Prep ahead. Prepare whatever you can the night before, such as chopping vegetables, marinating proteins, or baking pastries. This reduces the workload on the day of the brunch.
Create a timeline. Develop a timeline for cooking and setting up. Note when each dish needs to be started and finished and allocate time for table setting and other preparations.
Set the table the night before. Arrange plates, utensils, glassware, and napkins on the table the night before. This allows you to focus on food preparation on the day of the brunch.
Buffet-style or plated service. Decide whether you want a buffet-style brunch or a plated service. Buffets allow guests to serve themselves, while plated service adds a formal touch.
Have a plan for keeping food warm. If some dishes need to stay warm, plan how you'll achieve this, whether through chafing dishes, warming trays, or the oven set at a low temperature.
Label dishes. If you're serving a variety of dishes, label them to make it easy for guests to know what they're enjoying. This is particularly helpful for those with dietary restrictions.
Choose the right décor. Consider a simple and elegant table setting. Fresh flowers, candles, or a decorative centerpiece can add a touch of sophistication.
Prepare a beverage station. Set up a dedicated area for beverages, including coffee, tea, juices, and perhaps a signature brunch cocktail. Ensure there are enough cups, mugs, and drinkware. Cater to different preferences by offering a variety of beverages, such as regular and decaffeinated coffee, assorted teas, and refreshing fruit juices.
Keep it cozy. Create a comfortable and inviting atmosphere with cushions or throws on chairs. Always check that you have adequate seating, shade solutions when hosting outside in the summer, and heaters if the weather is on the chilly side. Encourage guests to relax and enjoy their meal.
Prepare a kids' corner. If children will be attending, consider setting up a designated area with kid-friendly activities and snacks to keep them entertained.
Brunch food menu ideas
Truth be told, when it comes to your brunch menu, the world is your oyster. You could stick with the classics, get a little more creative, go full-on glam, or keep things on an even keel with options that appeal to folks with dietary restrictions. Here's some inspiration to get you started on your menu:
Classic brunch menu ideas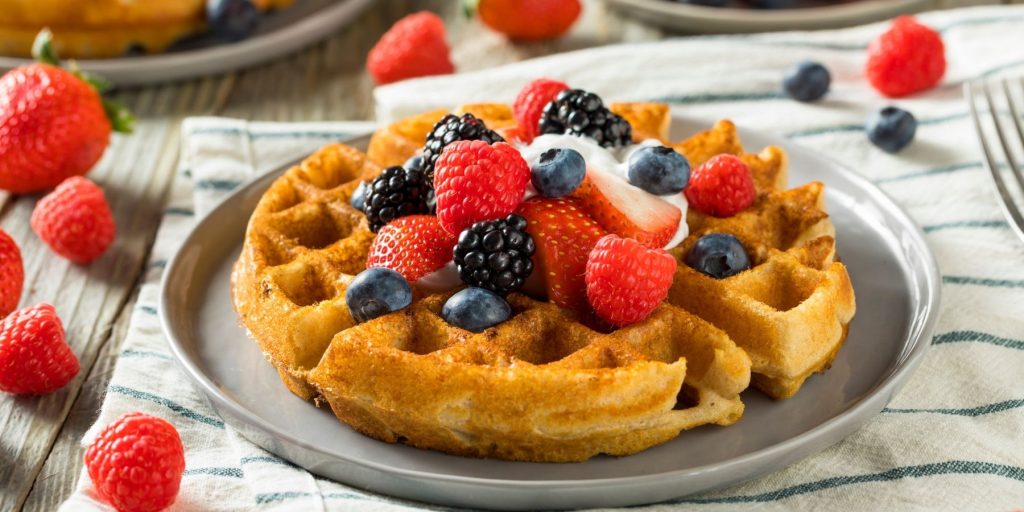 Eggs Benedict. Classic poached eggs on English muffins with crispy bacon and hollandaise sauce.
Pancakes or waffles. Served with maple syrup, fresh berries, and a dollop of whipped cream.
Smoked salmon bagels. Toasted bagels topped with cream cheese, smoked salmon, capers, and red onion.
Quiche Lorraine. A savory pie with bacon, cheese, and a creamy egg filling.
Fruit salad. A refreshing mix of seasonal fruits, such as melons, berries, and citrus.
Creative brunch menu ideas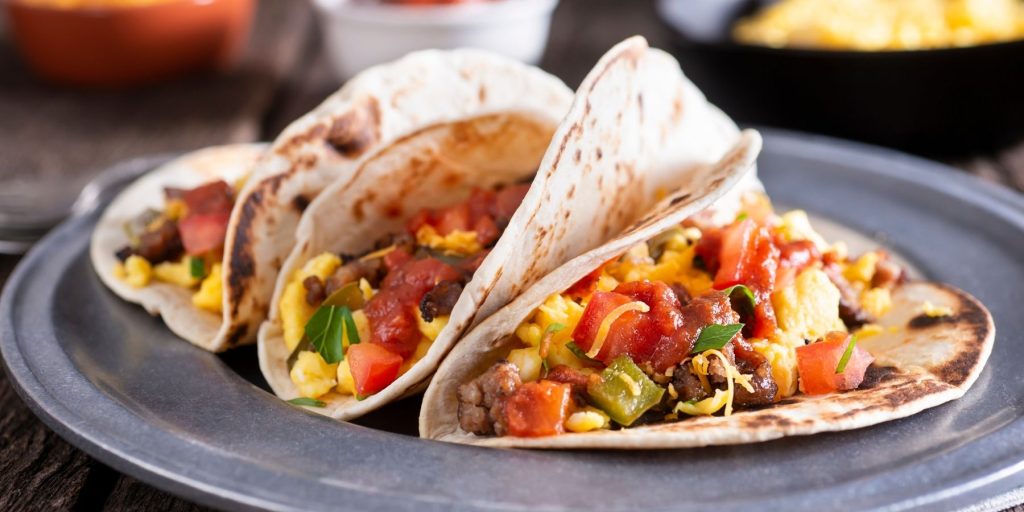 Avocado toast variations. Avocado on toasted artisan bread with toppings like poached eggs, cherry tomatoes, and feta.
Stuffed French toast. Thick slices of fried, egg-drenched bread filled with cream cheese, Nutella, or fruit compote.
Shakshuka. Poached eggs in a spicy tomato and bell pepper stew, served with crusty bread.
Breakfast tacos. Soft tortillas filled with scrambled eggs, black beans, salsa, and avocado.
Savory crepes. Thin crepes filled with ham, cheese, and spinach, topped with béchamel sauce.
Glam brunch menu ideas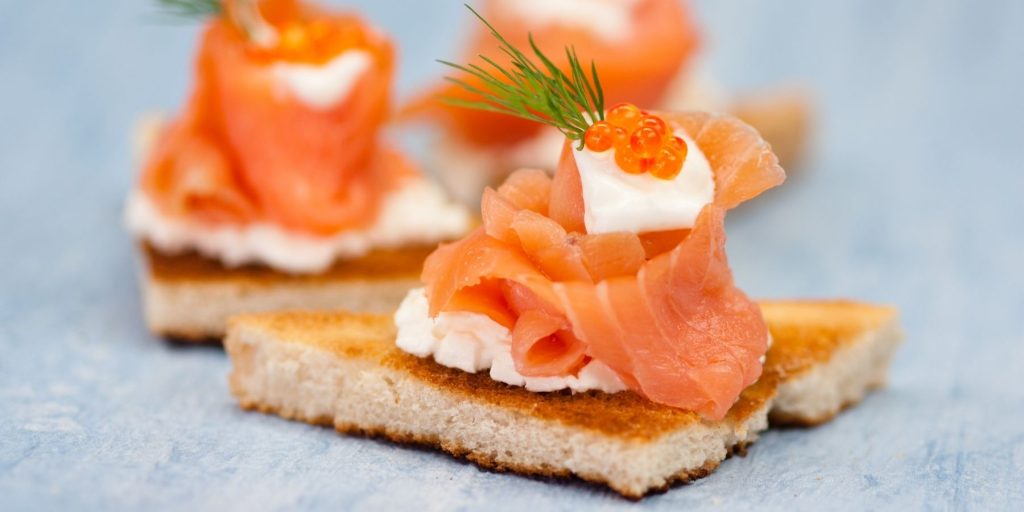 Smoked salmon and caviar crostini. Serve thin slices of smoked salmon on toasted baguette rounds, topped with a dollop of creme fraiche and a sprinkle of caviar.
Truffle-infused scrambled eggs. Elevate classic scrambled eggs by incorporating a touch of truffle oil or shaved truffles. Serve them in individual ramekins for an elegant presentation.
Lobster Benedict. Put a luxurious spin on the traditional Eggs Benedict by replacing the bacon with succulent lobster meat. Top with a rich hollandaise sauce and chives.
Avocado and crab salad in endive leaves. Create a sophisticated salad by mixing crab meat with diced avocado, lemon, and fresh herbs. Serve the mixture in endive leaves for a glamorous handheld appetizer.
Vegetarian brunch menu ideas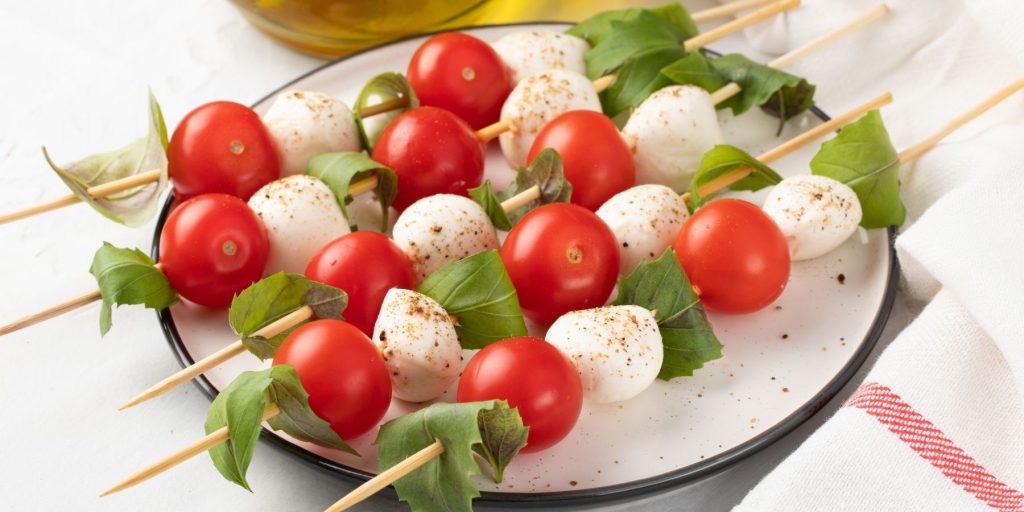 Vegetarian frittata. Baked egg dish with vegetables like bell peppers, spinach, and mushrooms.
Spinach and feta stuffed mushrooms. Mushrooms filled with a savory mixture of spinach, feta, and herbs.
Veggie breakfast burritos. Tortillas filled with scrambled eggs, black beans, roasted vegetables, and salsa.
Caprese breakfast skewers. Skewers of mozzarella, cherry tomatoes, and basil drizzled with balsamic glaze.
Sweet potato hash. Roasted sweet potatoes mixed with bell peppers, onions, and spices.
Vegan brunch menu ideas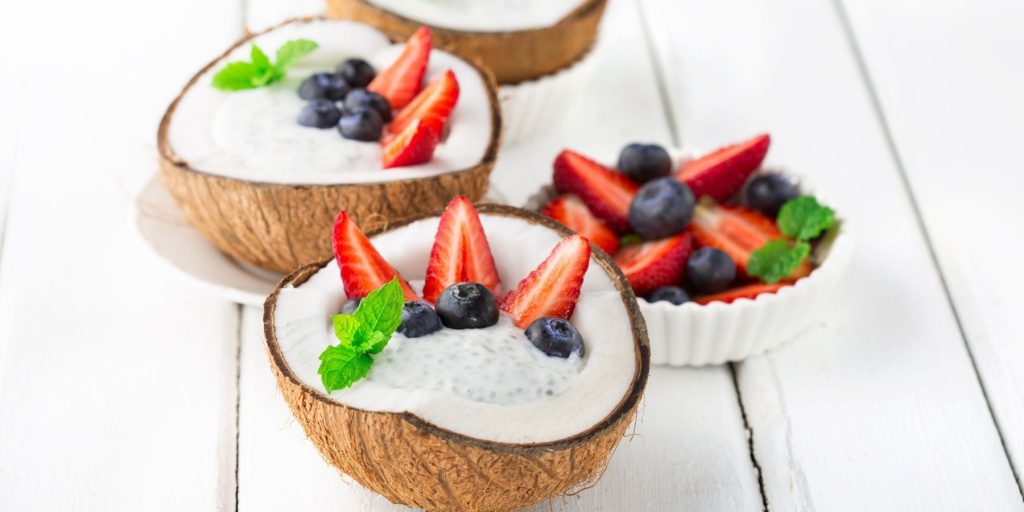 Tofu scramble. Scrambled tofu with vegetables, turmeric, and nutritional yeast.
Vegan pancakes. Fluffy pancakes made with plant-based milk and topped with fruit.
Chickpea flour omelette. Omelette made from chickpea flour filled with sautéed veggies.
Vegan breakfast burrito. Tortillas filled with scrambled tofu, black beans, avocado, and salsa.
Coconut chia pudding. Chia seeds soaked in coconut milk, topped with fresh berries and nuts.
Finger food brunch menu ideas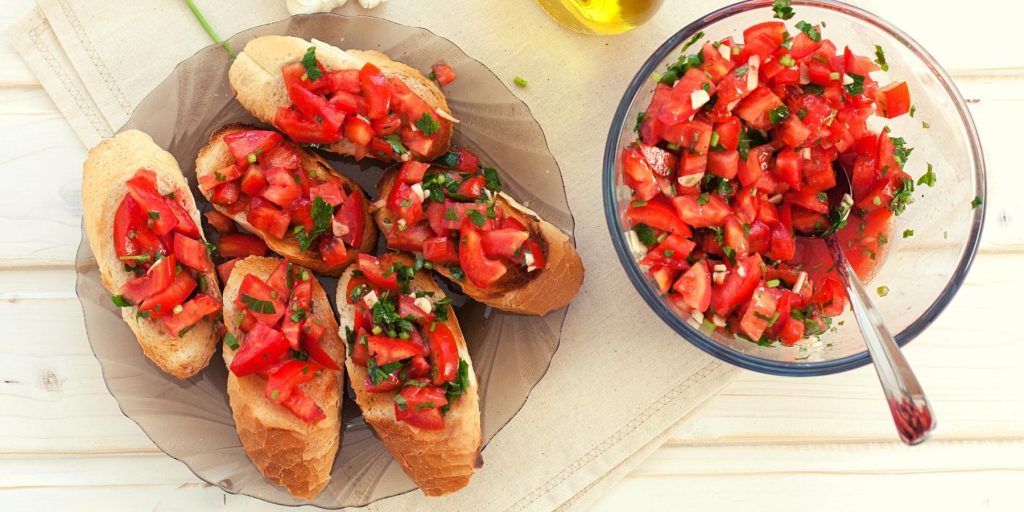 Mini quiches. Bite-sized quiches with various fillings like spinach, mushroom, and cheese.
Bruschetta bites. Toasted baguette slices topped with tomato, basil, and balsamic glaze.
Stuffed dates. Dates filled with goat cheese or almond butter and wrapped in prosciutto.
Mini pancakes skewers. Tiny pancakes rolled and filled with a variety of sweet and savory fillings.
Cucumber sandwiches. Thin cucumber slices filled with herbed cream cheese or hummus.
Brunch drink menu ideas
Of course, no brunch menu would be complete without a line-up of some classy clinkers. We recommend being ready with a variety of hot beverages, such as tea and coffee, as well as easy-to-pour options like mineral water and juice. Then, choose a signature cocktail or two to round off your drinks offering. Here are some of our favorites:
Champagne cocktails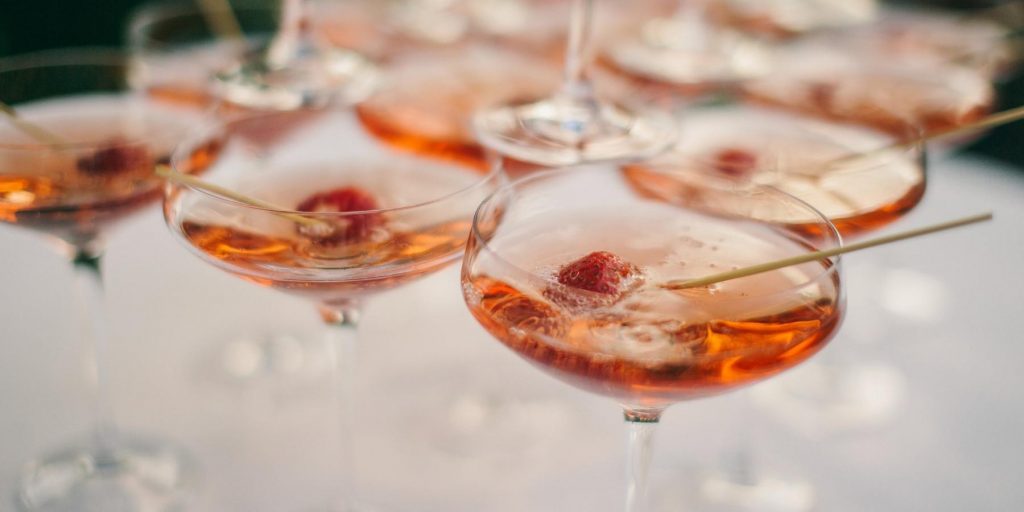 Learn more: 2-Ingredient Champagne Cocktails to Delight Your Guests
Batch cocktails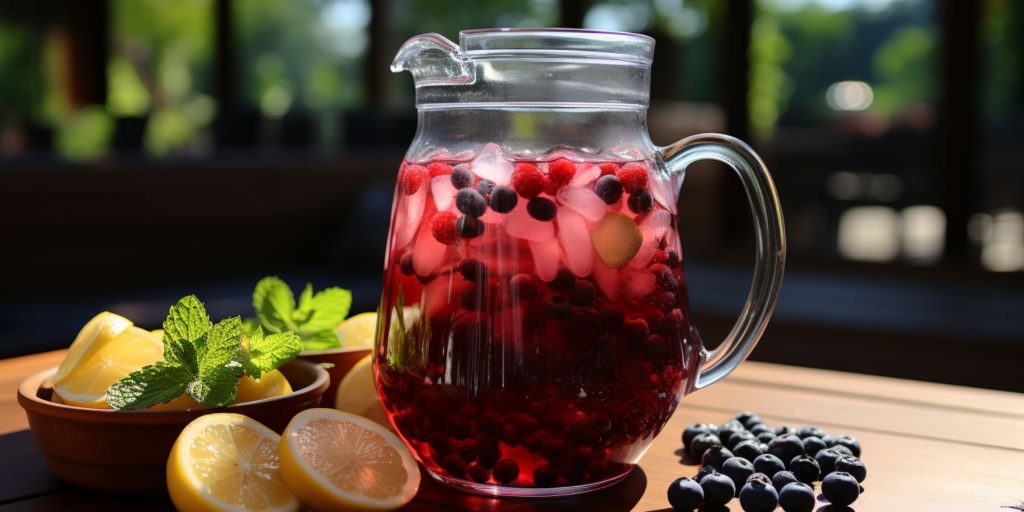 Read next: Pitcher-Perfect Batching Cocktails for a Crowd
Mocktails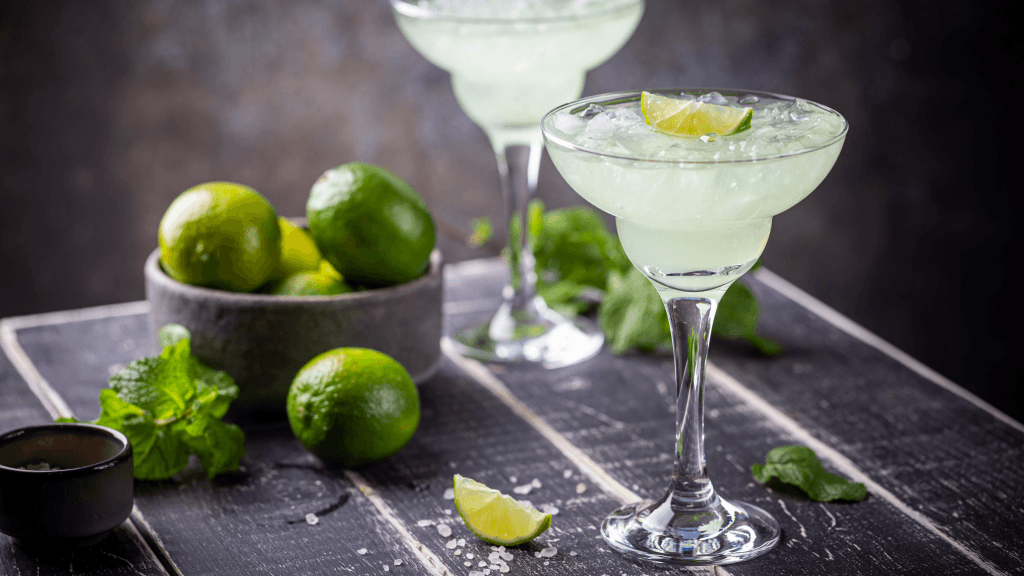 More inspiration: 8 Easy Mocktails for Simple and Clean Sipping
Build-your-own bar set-up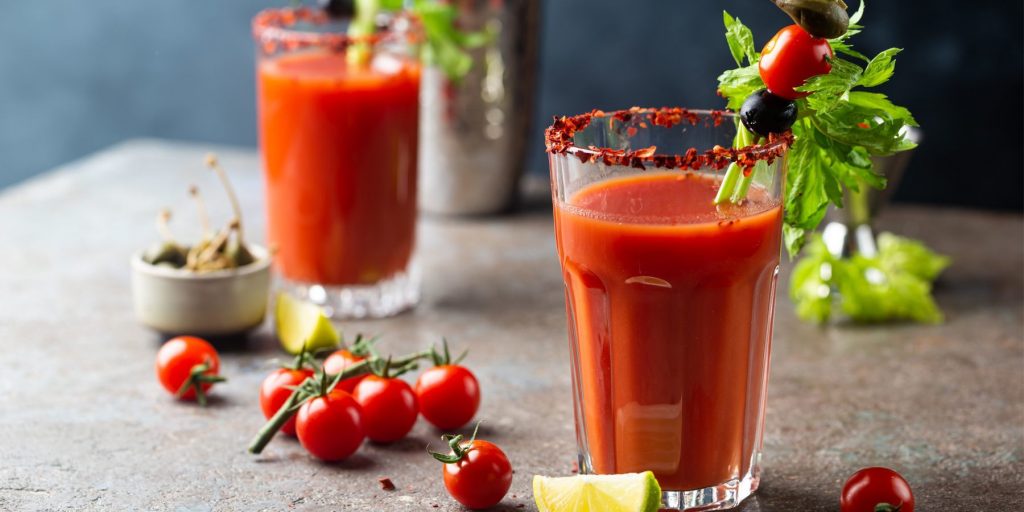 Bloody Mary brunch bar. Set up a bar with all the fixings, including different types of vodka, tomato juice, spices, and garnishes. Your guests can create their own perfect Bloody Marys to enjoy with brunch.
Gin & Tonic brunch bar. The same goes for the classic gin and tonic. Set up a table with different kinds of gin, tonic, fruit juices, sparkling water, and garnishes. Guests can assemble their own G&T to sip with brunch.
More tips for hosting a brunch at home
How to make clean-up quick and easy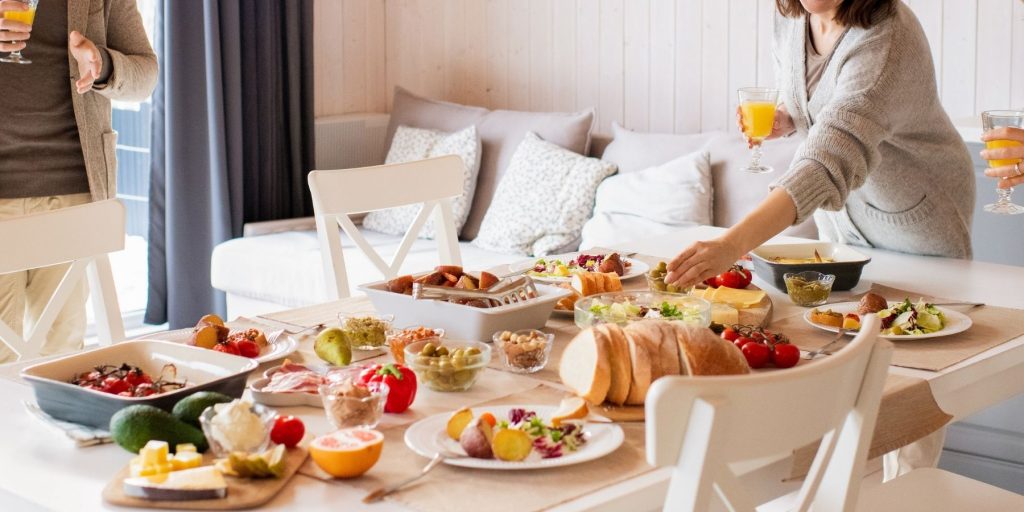 By implementing the following strategies, you can streamline the cleanup process, allowing you to enjoy the company of your guests without the stress of a prolonged post-brunch cleanup.
Use disposable or easy-to-clean crockery and cutlery. Opt for disposable plates, cups, and utensils to minimize washing. If you prefer reusable items, choose those that are easy to clean, like sturdy plastic or bamboo.
Create self-service stations. Arrange a self-serve area for drinks, allowing guests to refill their glasses easily. This minimizes the need for constant attention from the host and reduces spills.
Utilize serving platters and bowls. Serve dishes in large, communal platters or bowls rather than individual plates. This reduces the number of items to wash and encourages a more communal dining experience.
Consider a buffet-style. If space permits, set up a buffet-style serving area. This allows guests to help themselves, reducing the need for constant attention to serving dishes and keeping the dining area more organized.
Provide trash and recycling bins. Place clearly labeled bins for trash and recycling in accessible locations. Encourage guests to dispose of their items as they finish, making post-brunch cleanup more efficient.
Delegate responsibilities. Enlist the help of willing guests for specific cleanup tasks. Assigning responsibilities can make the process faster and more collaborative.
Plan a simple menu. Opt for a menu with fewer complex dishes that require extensive cleaning. Simple recipes often result in less mess and quicker cleanup.
Keep cleaning supplies handy. Have cleaning supplies like paper towels, all-purpose cleaner, and trash bags readily available. Attend to spills and messes promptly to prevent them from becoming more challenging to clean later.
Choosing music to set the scene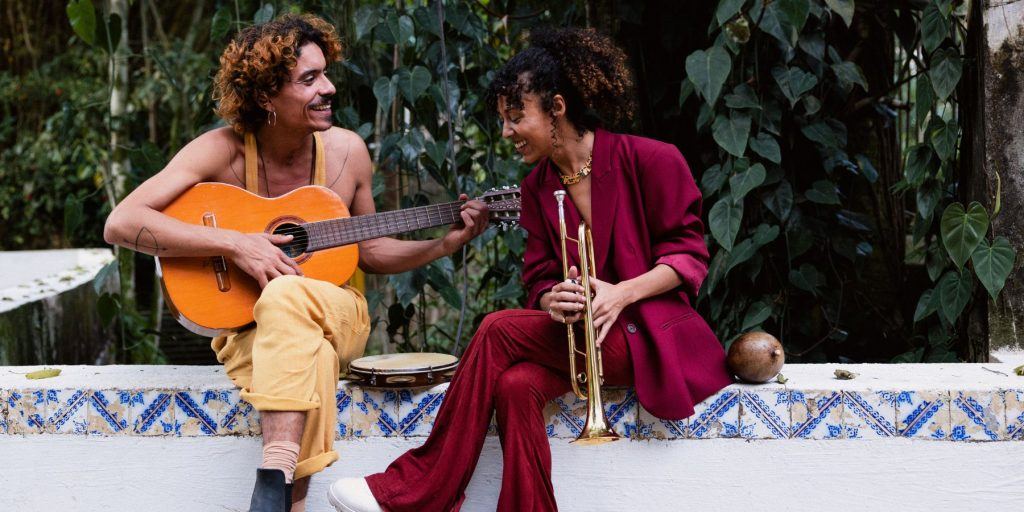 Remember, the goal is to create a pleasant and enjoyable environment where guests can appreciate good food, conversation, and music. Adjusting the playlist based on the preferences of your guests and the specific occasion will contribute to a successful brunch event.
Consider the vibe. Tailor the music to match the ambiance you want to create. For brunch, choose tunes that are upbeat, light, and create a relaxed atmosphere.
Time of day. Adjust the music style based on the time of day. Upbeat and energetic tracks work well in the morning, while a more mellow and soothing playlist might be suitable for a late afternoon brunch.
Diverse playlist. Create a playlist with a mix of genres and artists to cater to different tastes among your guests. A diverse selection ensures everyone can find something they enjoy.
Volume control. Keep the volume at a level where conversation can easily take place. Background music should enhance the atmosphere, not overpower it.
Theme integration. If your brunch has a theme, incorporate music that complements it. For example, a 60stheme brunch could include top tracks from this era.
Seasonal selections. Choose music that aligns with the season. Light and breezy tunes for spring and summer, and perhaps cozy or festive tracks for fall and winter.
Instrumental options. Consider instrumental or lyrically light music. This allows guests to engage in conversation without distraction.
Live music. If feasible, consider live music for a more dynamic experience. Acoustic guitar, a small jazz ensemble, or a solo musician can add a unique touch.
Test the acoustics. Before the event, check the acoustics of the venue. Make sure the chosen music complements the space without echoing or becoming too muted.
Update regularly. Keep your playlist fresh by updating it regularly. This prevents the music from becoming monotonous for repeat attendees.
Interactive playlists. Consider creating an interactive playlist where guests can suggest songs. This adds a personalized touch to the music selection.
Test beforehand. Play a sample of your chosen playlist before the event to gauge the volume and mood. Adjust as needed to ensure it fits the brunch vibe.
There you have it – the ABCs of hosting a gorgeous brunch at home. If you loved this guide, sign up for our newsletter to be the first to know when the next one drops. Cheers to effortless hosting!