How To Throw a Color Cocktail Party
June 13, 2023 by Anna-Bet Stemmet
Color cocktail parties are straight fire at the minute. With over three-quadrillion related tags on TikTok, #bluecocktails, #greencocktails, #pinkcocktails, and all the other pretty colors are giving major main-character energy RN.
Getting ready to host a color cocktail party of your own? Here's our fool-proof how-to guide!
What exactly is a Color Cocktail Party?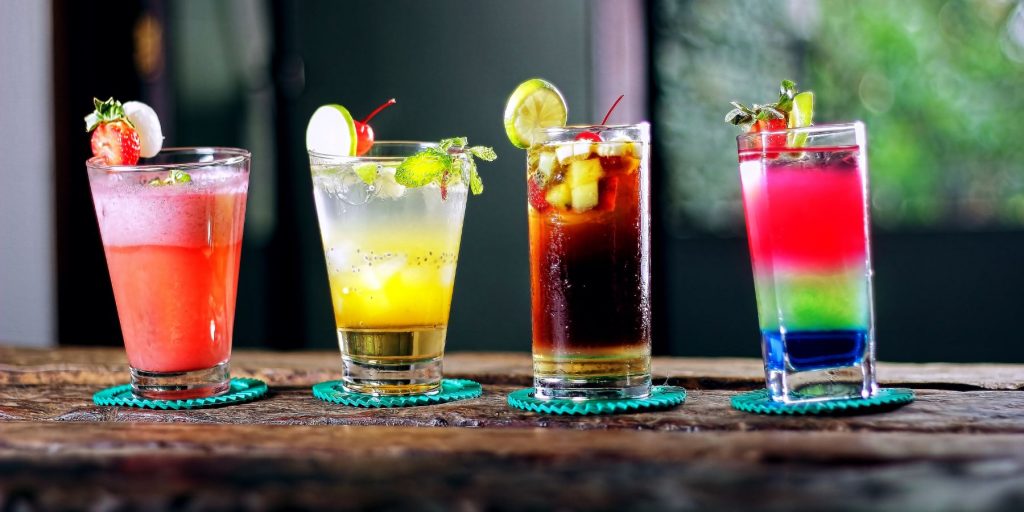 In short, a color cocktail party is a great way to get creative with your friends, family, and favorite drinks while adding a little sparkle to your next get-together. Here's how it works: each guest is assigned (or chooses) a color, brings a batch of cocktails that matches that hue, and also dresses up in that same shade. They may even add a hair-do to match…
At some parties, guests bring matching snacks or canapés as well. The result is a room filled with vibrant, popping colors, where everyone can showcase their unique style and creativity.
Planning a Color Cocktail Party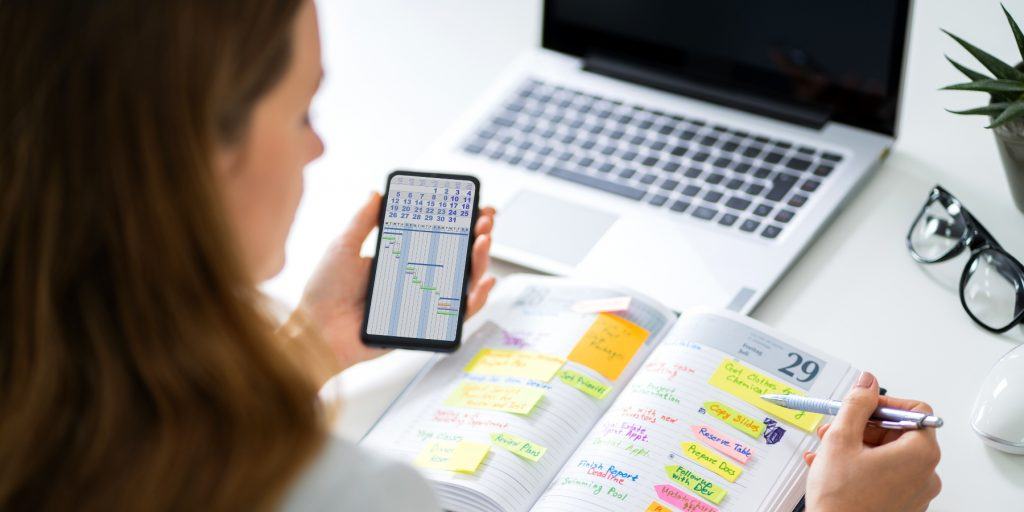 Planning a color cocktail party can be a blast, but it's important to stay organized in the lead-up to the event to ensure everything runs smoothly. Here are some things to consider:
Choose a date and time that works for everyone you'd like to invite.

Determine the guest list and send out invitations at least a few weeks in advance. Include the chosen color theme and instructions for guests to bring a premade cocktail in that color.

At this point, you need to consider whether you will be assigning colors or allowing guests to choose one themselves.

Decide on the decorations for the party, such as colorful balloons, streamers, and tablecloths to set a festive tone.

Arrange to have some non-alcoholic options available for guests who may not drink or prefer not to consume alcohol.
To encourage guests to participate, consider including some fun ideas in your invitation:
Suggest that guests get creative with their cocktails and outfits, and share their ideas with the group ahead of time.

Offer up some inspiration for color-themed cocktails that guests can try, and encourage them to share their recipes with the group.

Consider offering a prize or award for the best cocktail or outfit, to add a little friendly competition and excitement to the event.

Finally, it's crucial to emphasize the importance of having guests bring their cocktails premade to the party. This not only takes the pressure off the host but also ensures that everyone can start enjoying the festivities right away. Make sure to communicate this clearly in the invitation and follow up with guests as needed to ensure everyone is on the same page.
If you want to winnow down your color theme to be a little more specific, here are a few things to keep in mind:
Think about colors that are bright, and bold, and will create a fun and lively atmosphere.

Consider the season and the time of day the party will be held. For example, pastels might be a great choice for a springtime brunch, while bold jewel tones would be perfect for an evening event.

Make sure to choose colors that are easily accessible and won't necessarily require guests to purchase expensive or hard-to-find ingredients for their cocktails.
Choosing cocktails by color
To make it super simple, here are a few of our favorite brightly-hued cocktails sorted by color so you can pick your favorites:
Blue cocktails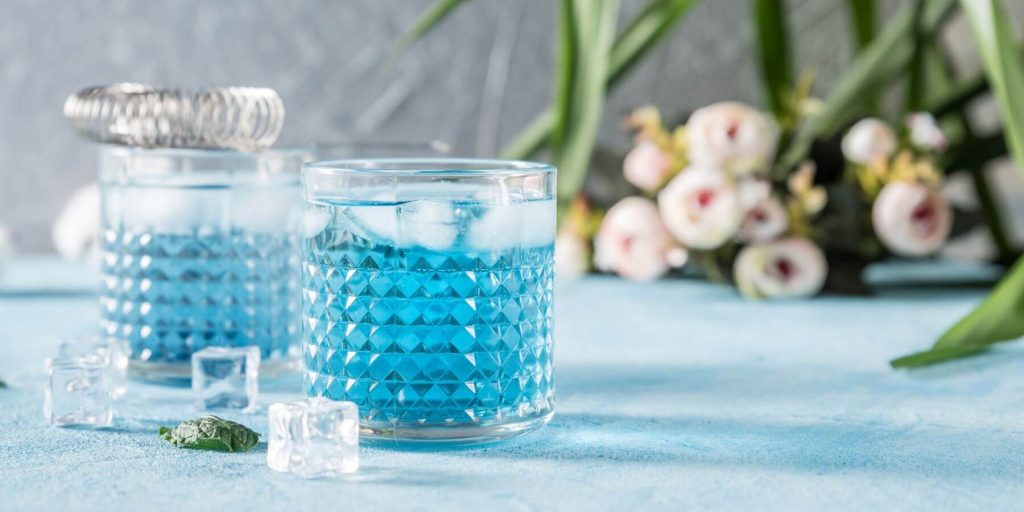 Green cocktails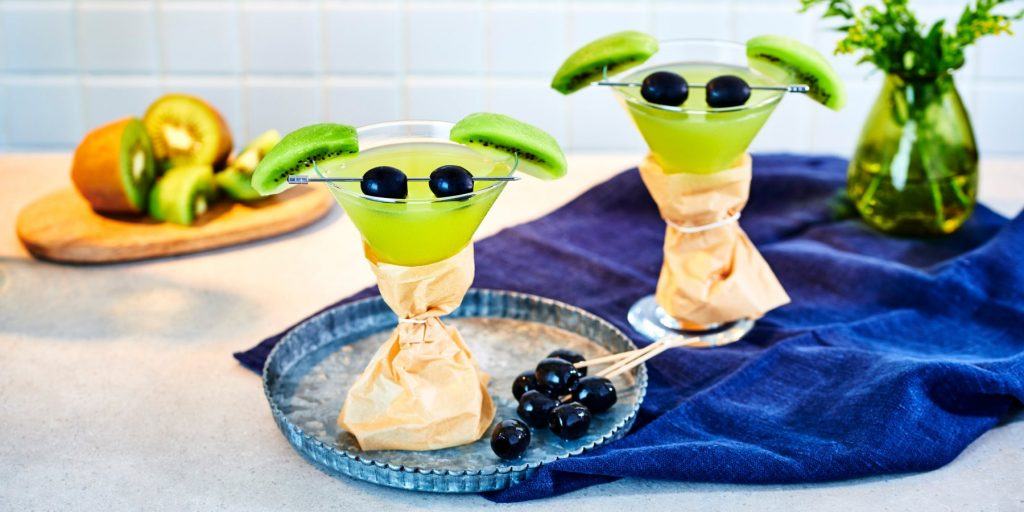 Pink cocktails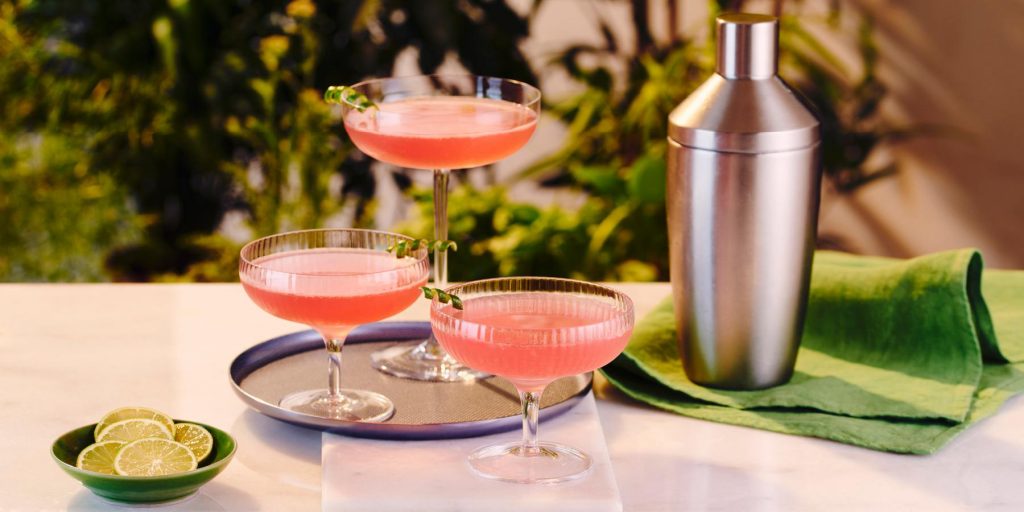 Red cocktails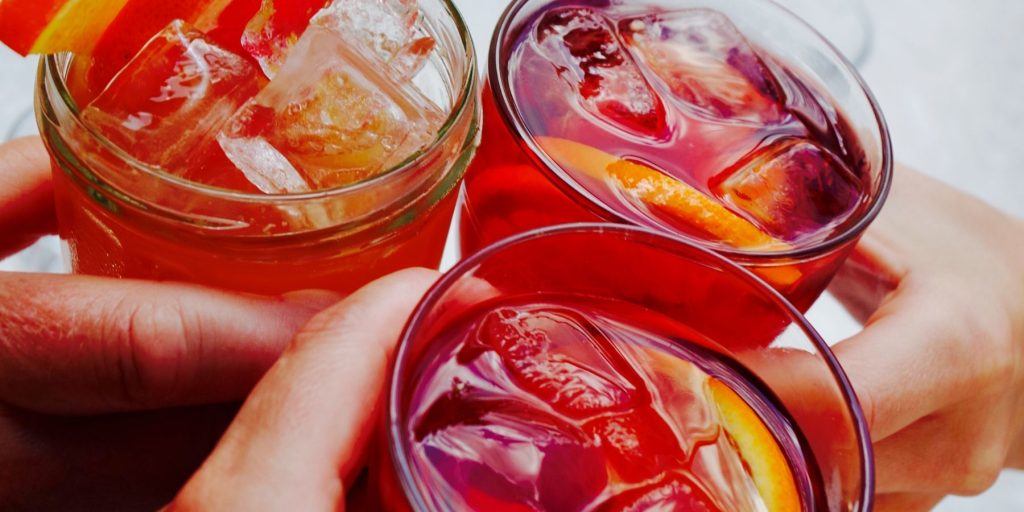 Sangria
Yellow cocktails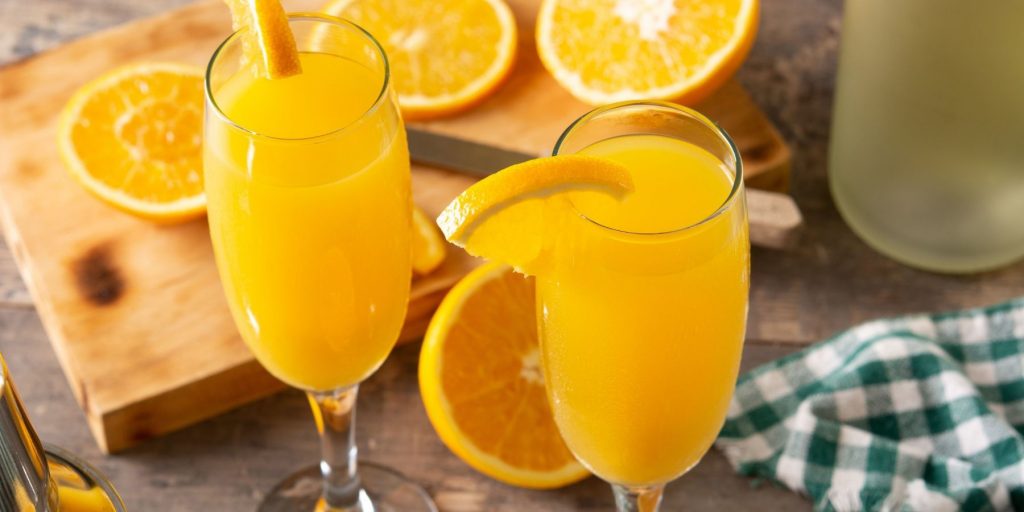 Purple cocktails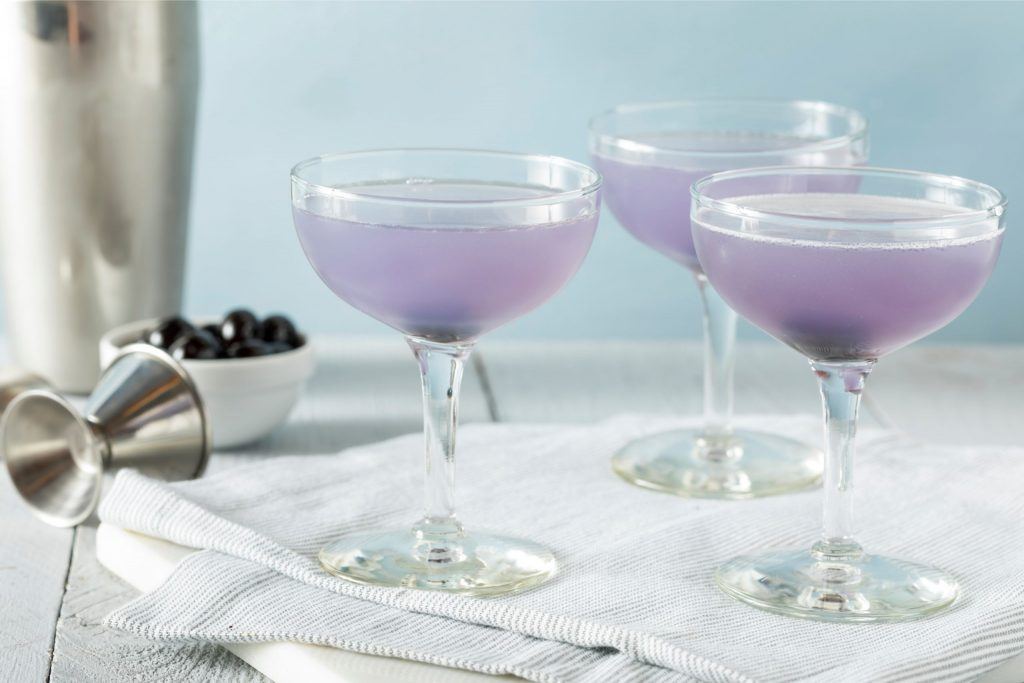 Stormy Morning
Violet Lady
Purple Reign 75
Purple Haze Martini
Orange cocktails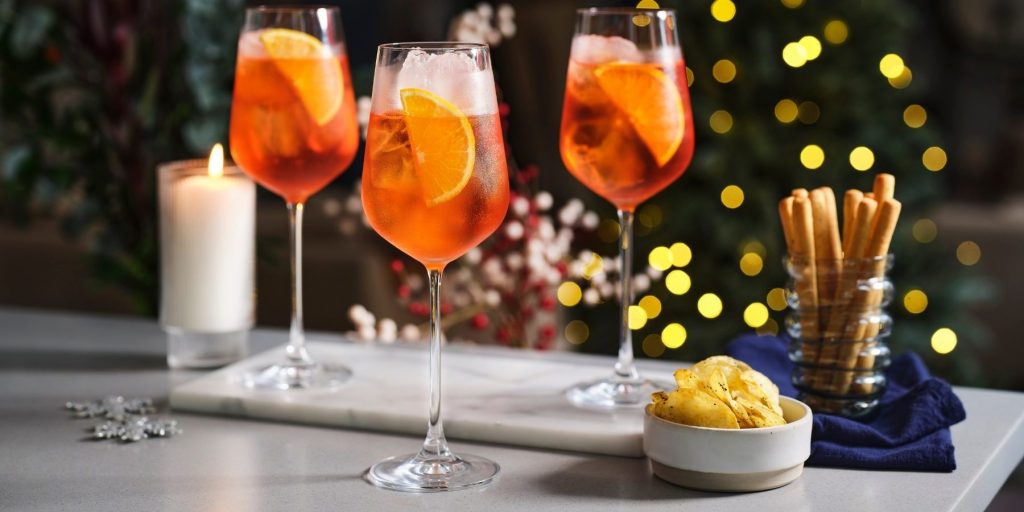 Rainbow cocktails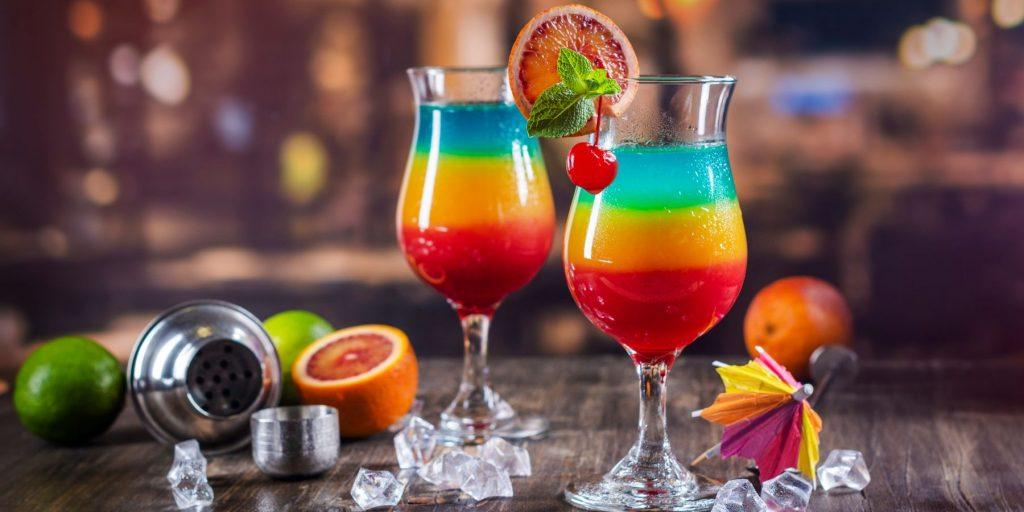 Rainbow Layered Cocktail
Bikini Martini
Bob Marley
Red White & Blue
More layered inspo: 8 Popular Layered Cocktails that Always Make a Splash
Decorating for a color cocktail party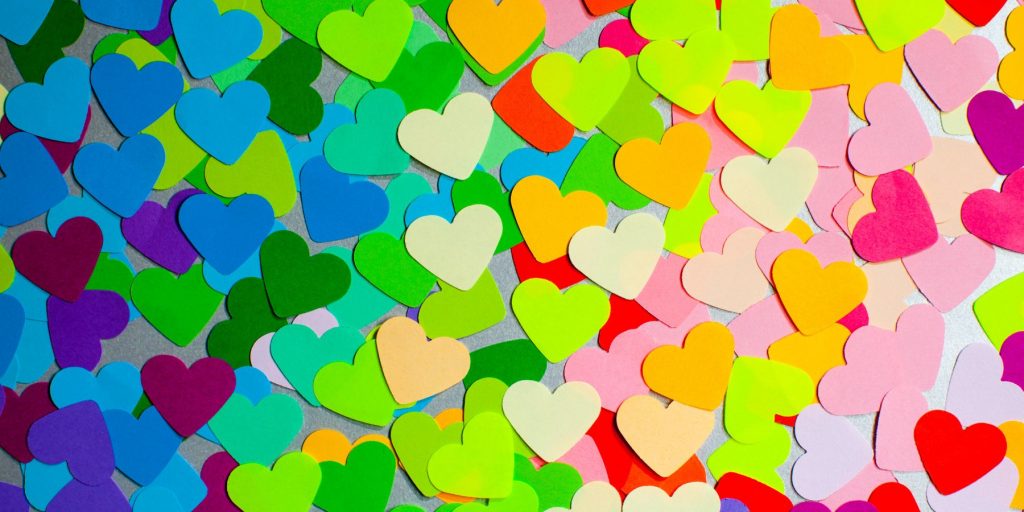 Incorporating the color cocktail theme into the party decorations is a great way to create a cohesive and fun atmosphere. Here are some ideas:
Balloons

. Balloons are an easy and affordable way to add color to any party, either as a balloon arch or simply scattered throughout the space.

Tablecloths

. Consider layering tablecloths in different shades for added visual depth and interest.

Flowers

. Fresh flowers are a great way to add a pop of color to the party. Mix and match different colors for a vibrant and fun look.
If you're feeling crafty, here are some DIY decoration ideas that fit the color cocktail theme:
Paper chains

. Cut strips of colored paper and glue or tape them together to create colorful paper chains. Hang them throughout the space for a festive look.

Painted mason jars

. Paint mason jars in different colors and use them as vases for flowers or to hold utensils and straws.

Tassel garlands

. Create tassel garlands using tissue paper in the chosen color. Hang them from the ceiling or drape them along the walls for a whimsical touch.

Painted picture frames

. Paint old picture frames and use them as table numbers or to hold signs with the cocktail names. Bonus points if you get a Polaroid camera in the mix and send each guest home with a picture of themselves and their cocktails in a corresponding frame!
Dressing up for a color cocktail party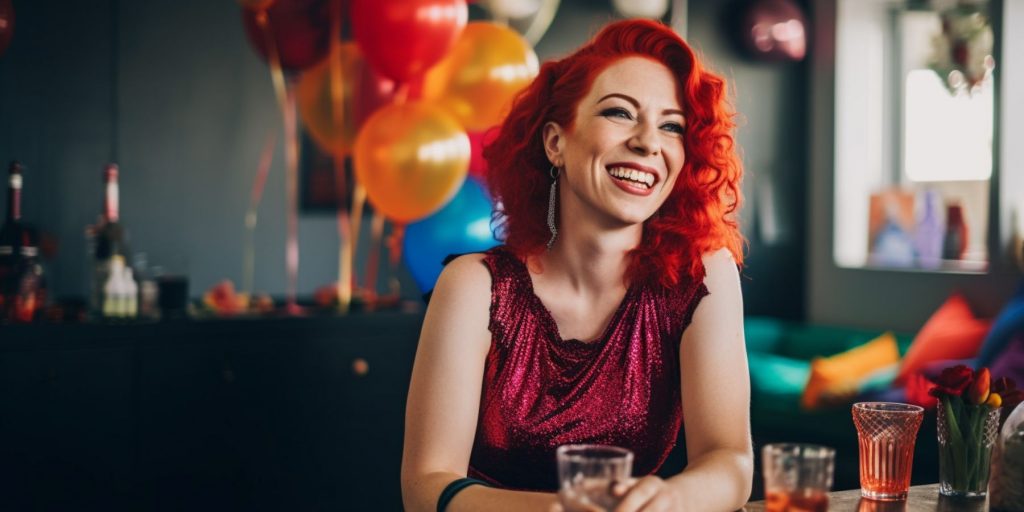 Encouraging guests to dress up in the chosen color is a great way to get everyone involved in the color cocktail party theme. Here are some tips you can share with guests on aligning their chosen or assigned color with their outfits:
Go monochrome

. For a bold look, consider going monochrome with your outfit. This means wearing different shades of the same color, from head to toe. You can use thrifted clothing finds to create a unique and affordable monochrome outfit.

Add a pop of color

. If you're not quite ready for a monochrome look, consider adding a pop of color with a single item or a collection of accessories. For example, you could wear a bright pink blazer with a black dress or a pair of purple shoes with a neutral outfit.

Hair and makeup

. Another way to incorporate color into your look is through your hair and makeup. Cocktail-inspired hair is having a major moment on TikTok and other social media platforms, with celebs like Emma D'Arcy leaning into the trend with #NegroniHair! Consider wearing a wig in the chosen color or using temporary hair dye to show off your color.

Find some excellent cocktail hair inspiration HERE.
In conclusion, a color cocktail party is a wonderfully creative way to add some joy and imagination to your next get-together. Start by choosing a date, drawing up a guest list, sorting out who will show off which color, choosing decorations, and allowing guests to choose their contributed cocktails by color. It's also a lot of fun to encourage guests to dress up in their particular hue to add to the vibrancy of the event.
With these insider tips and tricks up your sleeve, you can look forward to hosting a successful color cocktail party that your guests will be posting about it at several TikTok videos and Instagram shares per second!