How to Throw an 80's Theme Party that's Totally Fly
July 21, 2022 by Helena Lombard
You don't have to have big hair, wear shoulder pads, or blind anyone with your eyeshadow to know how to throw an excellent 80s theme party. What you do need, however, is a decent plan. And a fully stocked bar.
80s Party ideas: theme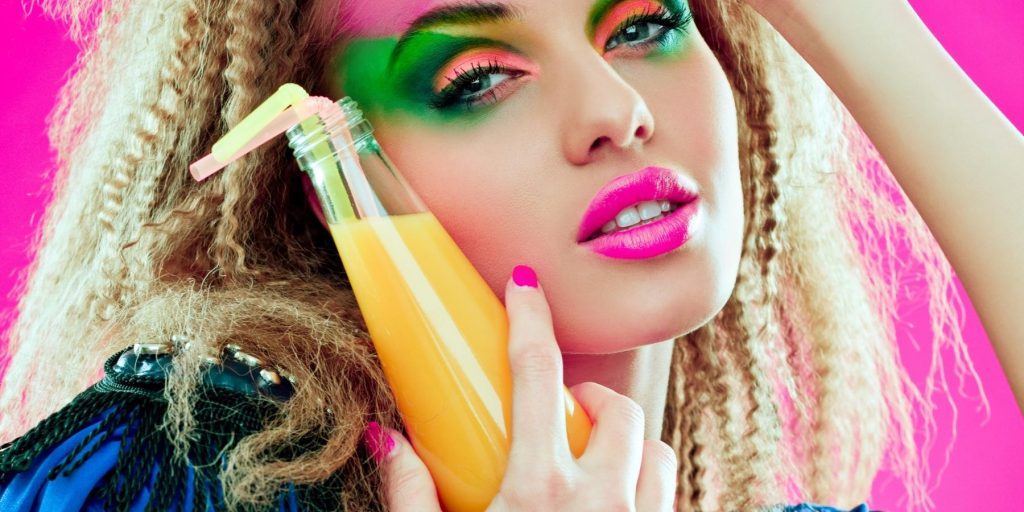 There are loads of party themes you can choose from, but the 80s has got to be one of our favorites. If you're planning an 80s themed party, you've got to understand it. It's the decade of the fanny pack, glowsticks, the Walkman, the Garbage Pail Kids, and the Rubik's cube. It's an era when kids and teens queued to play arcade games like Pac-Man, and if you were running late for anything, there was no way to let your friends know because the mobile phone didn't exist. Yikes!
In the 80s, most teen girls (and their moms) wanted to be Baby from everyone's favorite 80s movie Dirty Dancing. And, yes, they did want to be put in a corner. Preferably a dark one, while sitting on Patrick Swayze's lap.
Anyone that's lived through the 80s will tell you that these were the best years of their lives. That they danced to the best music, made the coolest retro drinks, and were the ultimate party generation. They moon-walked in their acid-wash jeans and legwarmers to songs blaring from boomboxes and Walkmans.
So, when it comes to 1980s party ideas, the sky is the limit. We're going to give you all the best 80s theme party ideas to put some iconic 80s glam into your jam. So, grab your drink, and let's rock down to Electric Avenue all night long.
Decor & set-up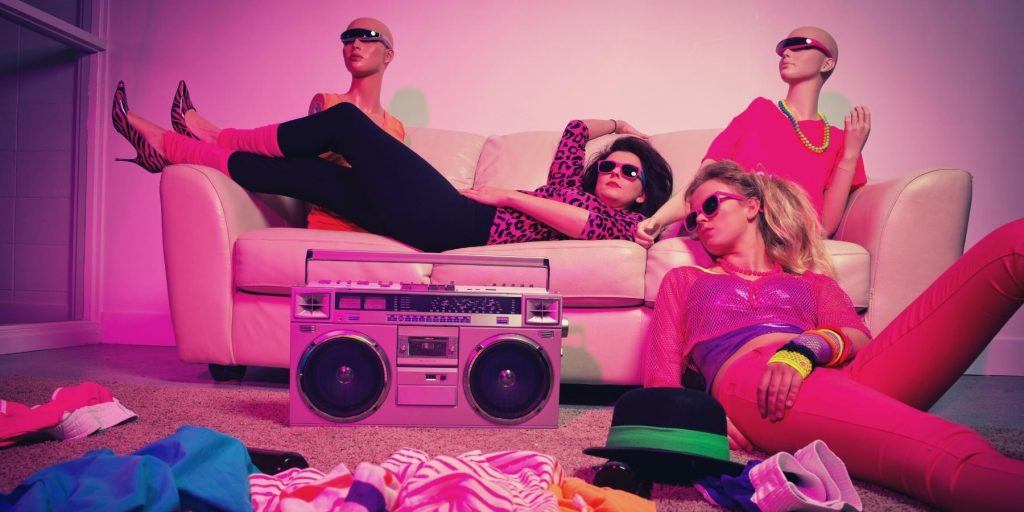 The first thing you've got to do before planning your deadly 80s-themed party is set the scene. The most obvious question you've got to ask yourself is how many guests you'll be inviting. Once you have that number, you'll know whether to host your 80's themed party at your house or if you'd need to book a venue for the night. There are some really cool party venues up for rent, but if you'd rather save some cash for your 80's cocktail menu, we say throw that party at your house! Just be sure to warn (or invite) the neighbors.
Once you've got the venue sorted, you'll be able to start envisioning the night. When it comes to party decor, there are loads of schweet 1980s party ideas you can try. If you've done it right, your guests will feel like they've entered an 80s time warp the moment they step through the door.
Neons / glow in the dark items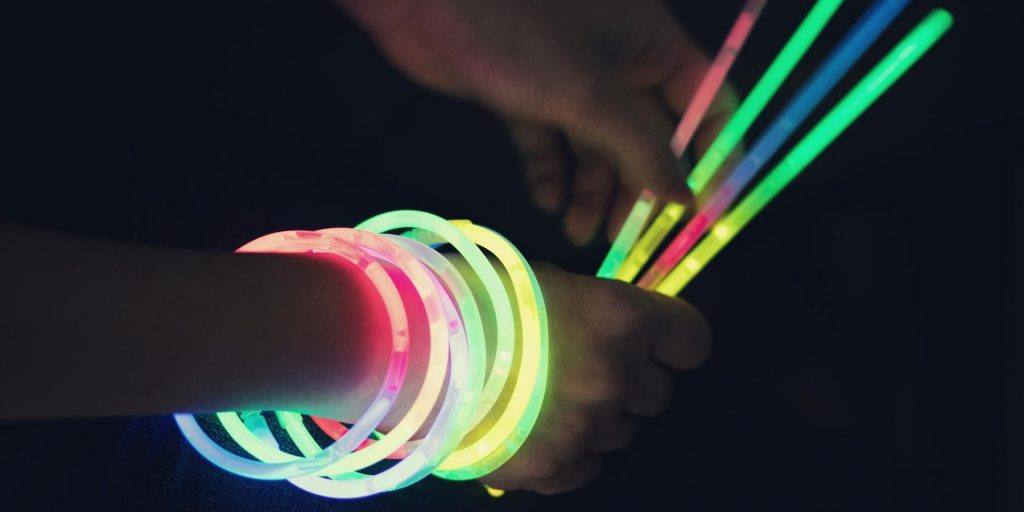 If you're not being dazzled by flashes of neon shades at your 80s themed party, you're doing it wrong. Make sure your theme party has all those eye-watering neon vibes—and don't be afraid to go a bit over the top! That's what the 80s were all about. The options are endless from bright neon streamers, lights, balloons, cake toppers, swizzle sticks, and straws. Color-wise you've got 39 different neon shades to choose from, so go wild and make it glow.
And speaking of glowing 80s theme party decorations, if you have a healthy budget, order some glow-in-the-dark banners with 80s captions printed on them. Some fun catchphrases to play around with are "I love my MTV," "I've fallen, and I can't get up," and "I'll be back." Hang these up by your dance floor.
Inflatable decors
Get your hands on some 80s themed party inflatables. From giant mobile phones to guitars, microphones, boomboxes, saxophones, and bananas, inflatables are easy to order online.
Retro photo booth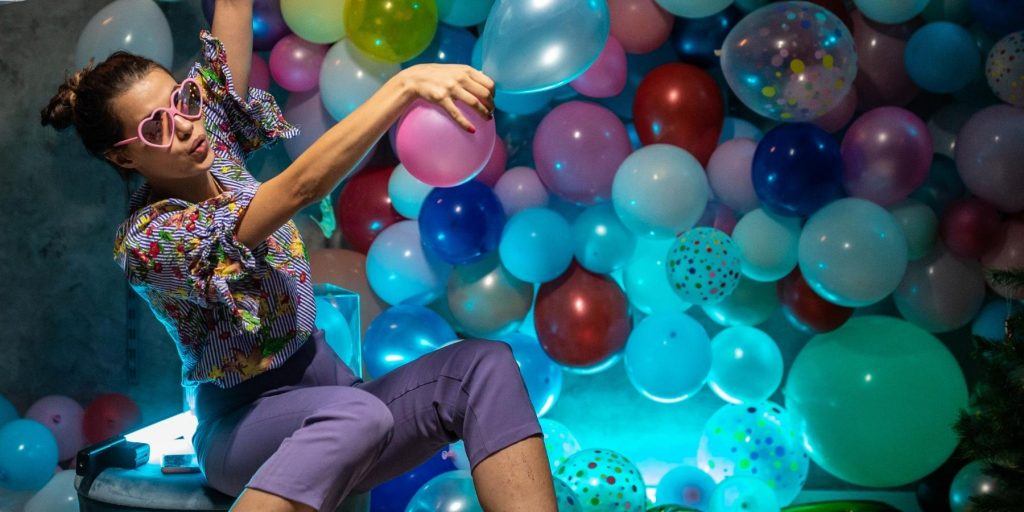 Who doesn't love a good memory of a great time? Setting up a photo booth at your 80s bash is an absolute must!
Make sure there are loads of 80s props for your friends to play around with and add additional 80s wardrobe items so they can get really glammed up. And if you don't have any, do the next best thing: phone a friend. Chances are they have loads of 80s paraphernalia lurking in forgotten boxes in their parents' basements.
For a mega surprise, invite some celebs to the shoot so your friends can hug, kiss, or hold them (upside down) for the perfect 80s party shot. We're talking about life-size cutouts, of course!
Some of our favorite 80s celebs:
Michael Jackson

The Terminator

Tom Cruise

Prince

Beetlejuice

Eddie Murphy

Yoda

Sigourney Weaver

Goldie Hawn

Mr. Miyagi

Meryl Streep

The Ghostbusters
Our last bit of advice on adding some retro charm? Get a Polaroid camera to recreate that authentic 80s vibe—and make sure to stock up on film so everyone can get in on the action. Your friends can take their photos home (and stick them on their fridges where Polaroids belong).
Iconic 80s movie/band posters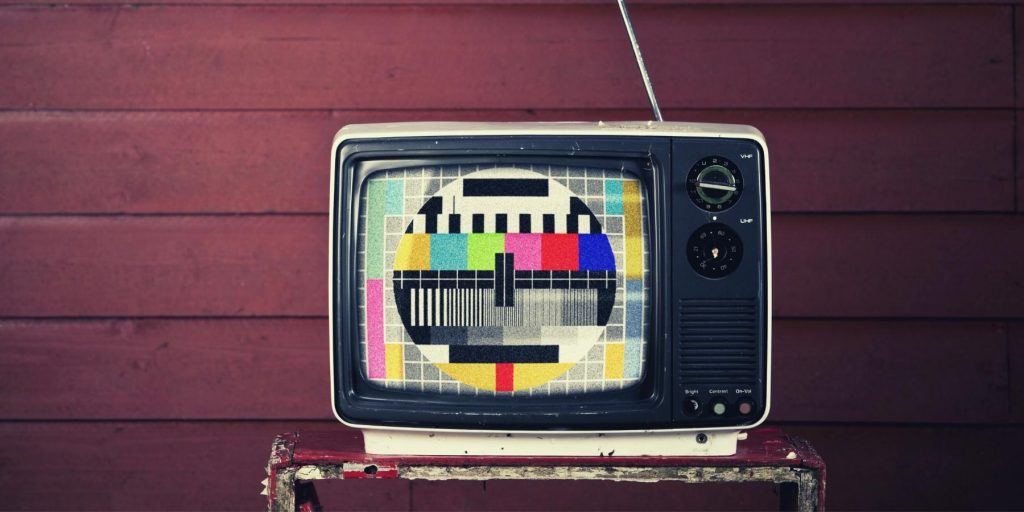 While we're on the topic of celebs, order or print out your own posters of iconic movies and bands and stick them up on the walls. The 80s has some of the most iconic movies and bands ever.
Some inspiration to get you started:
Depeche Mode

Queen

Kiss

Guns n Roses

Eurythmics

The Goonies

E.T

Indiana Jones

Star Wars

Top Gun

Pretty in Pink

Dirty Dancing
Another rad idea is to play the best 80s movies or music videos on your T.V. (s) – sound off. If your posse wants to tune in, they can use headphones—silent disco style.
80s arcade games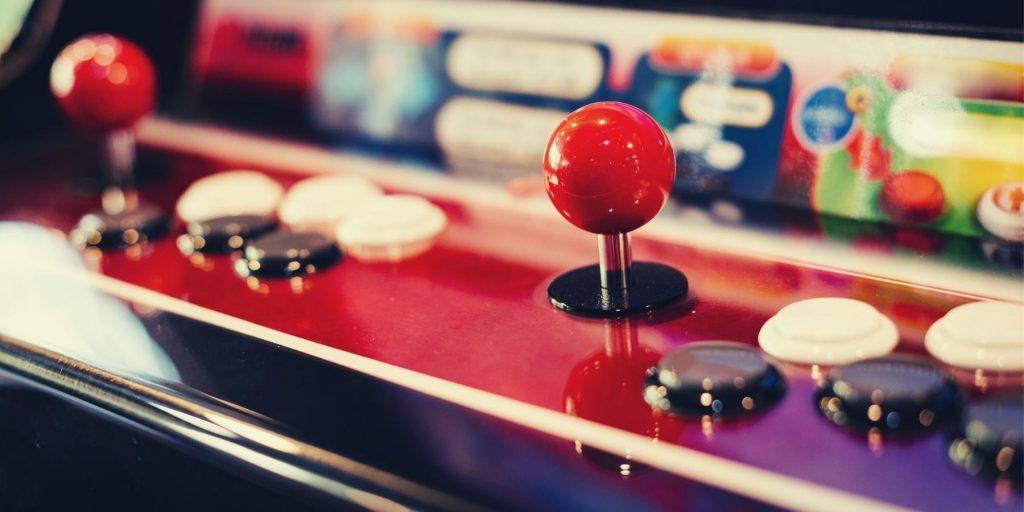 Remember how we said kids had to queue to play their favorite games? Recreate this nostalgic pastime and rent some arcade game machines, or set up video games. Some of the most popular were Pac-Man, Donkey Kong, Frogger, and Bubble Bobble, so try to get your hands on those.
Best. Party. Ever.
Boombox / Rubiks cube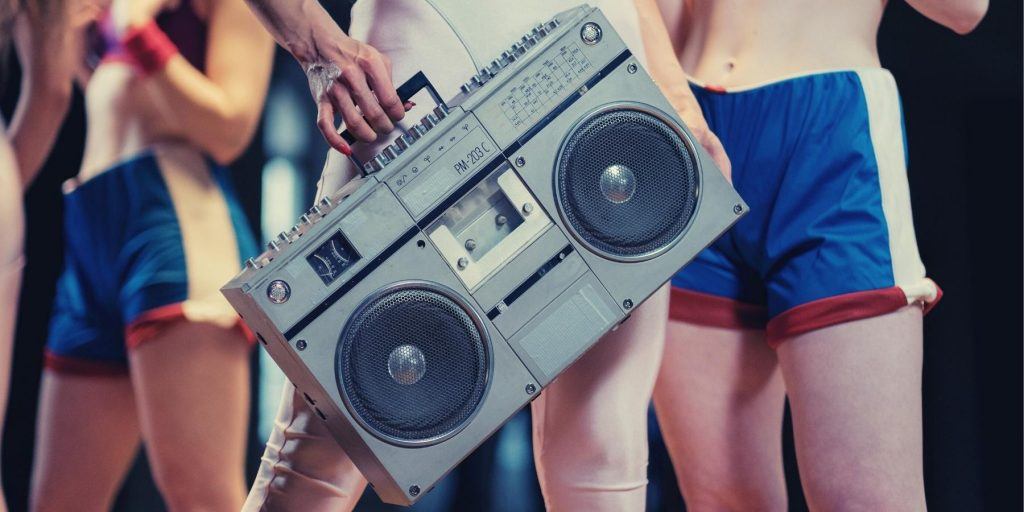 If your venue is spacious and has different party spaces, a great idea is to create a 'chill room" where your friends can mellow out. Add a boombox playing the biggest hits and a few Rubik's cubes, and you've got an 80s themed party right there. Boom!
Music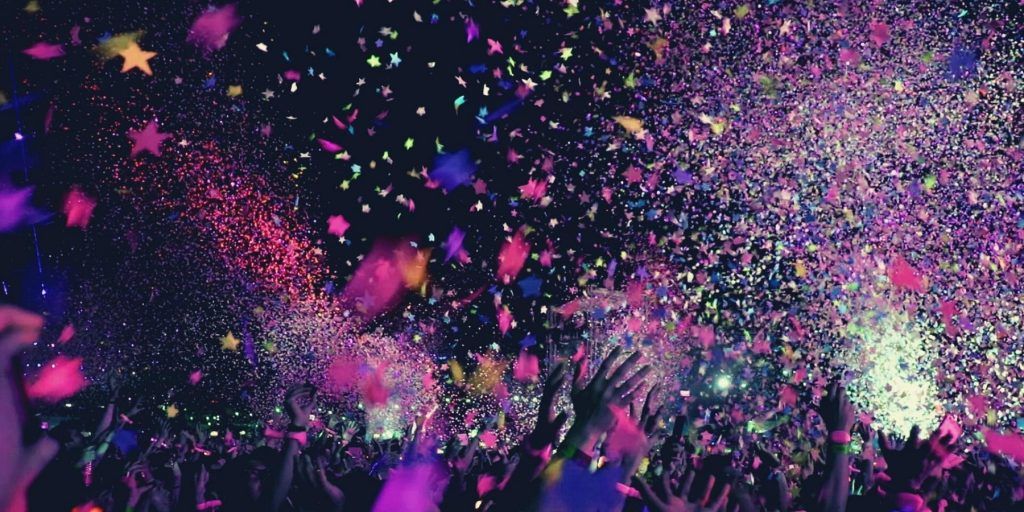 Dust off your cassette tapes and take your friends down to funky town with the best playlist ever. Make sure it covers all the top music genres of the 80s, including glam metal, jangle pop, hip hop, college rock, and post-punk, to put your dance party over the top.
You definitely want to put some effort into choosing the music—otherwise, that awesome dance floor you created will gather dust faster than you can say, Wham!
Here are a few of the 80's greatest hits to jumpstart your bash:
I Love Rock 'n' Roll (The Black Jets)

You Shook Me All Night Long (AC/DC)

Paradise City (Guns N' Roses)

We Didn't Start the Fire (Billy Joel)

Footloose (Kenny Loggins)

Girls Just Want to Have Fun (Cyndi Lauper)

Y.M.C.A. (Village People)

99 Red Balloons (Nena)

Take on Me (a-ha)

Video Killed the Radio Star (The Buggles)

Thriller (Michael Jackson)

Just Can't Get Enough (Depeche Mode)

Our House (Madness)

Kiss (Prince)

One Way or Another (Blondie)

Whip It (Devo)

Get Down on it (Kool & The Gang)
Feeling even more retro? How to Throw a Disco Lovin' 70s Theme Party
Set a dress code
One thing is for sure – 80s theme party outfits are the best. The fashion of the era was wild, friends. Aside from neon shades, bright colors, and Shoulder Pads (with capitals), we were also dealing with Big Hair (also with caps). And Jane Fonda with all the Spandex. This is what makes a dress-up 80s theme party so much fun.
Invite your guests to don an 80s theme party outfit, and double-dare them to go all out. You could share a collage or mood board with your invite to get them inspired, or even get a conversation started over WhatsApp so guests can coordinate matching 80s themed party outfits. Madonna and Sean Penn, anyone? Or how about Brooke Shields and Michael Jackson (they were a thing!).
TOP TIP: Have some grab-and-go dress-up gear ready as well.
Sometimes people don't feel like dressing up when they're headed to a party, but once they get there and see everyone else dressed to the nines, they get keen. Help them help themselves! Keep an 80s party costume trunk by the dance area so friends can help themselves to glow-in-the-dark sunglasses, face paint, make-up, tutus, and glow sticks.
Another fun way to up the ante on your 80s themed birthday party is to host a costume contest. Ask your friends to come to your bash dressed as their favorite 80s celeb or icon. Bonus prize for anyone who shows up with a mullet.
Food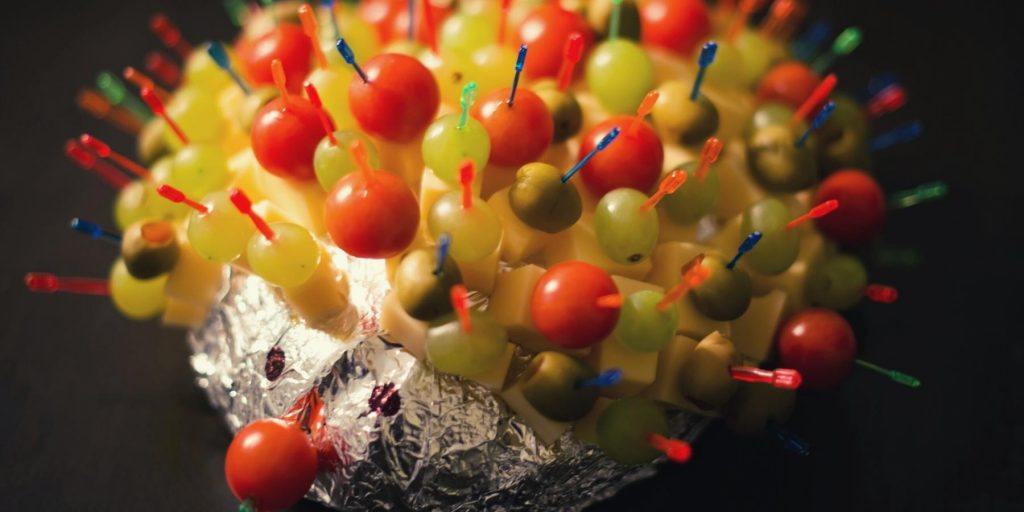 If we're completely honest, the 80s didn't produce the best food. Some of it was downright scary. But there are some tasty appetizers you can recreate for a tasty yet authentically 80s experience.
Deep-fried potato skins with bacon and sour cream

Cheese Fondue and breadsticks

Prawn cocktail

Spicy buffalo wings with blue cheese dip

Deviled eggs

Chips and French onion dip

Hedgehogs
Cocktails & drinks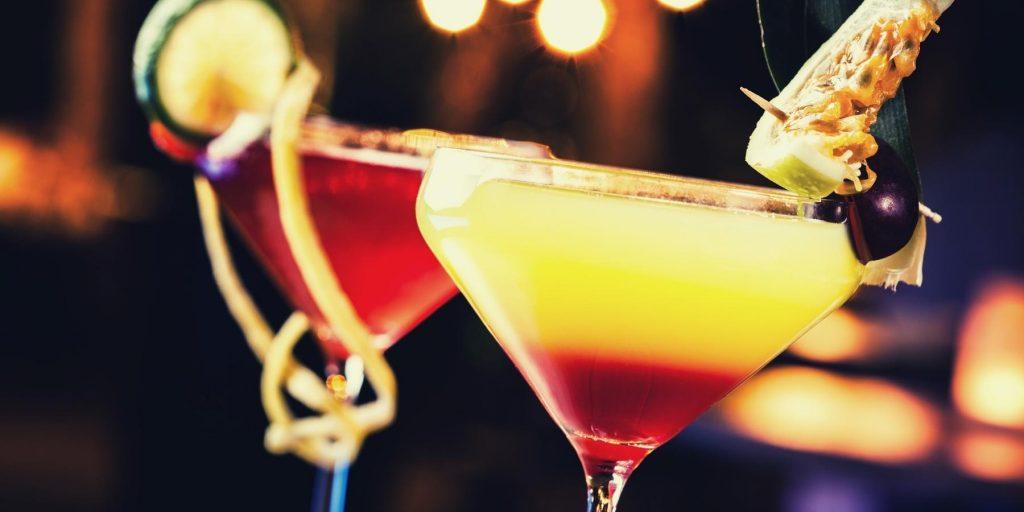 Serve up neon-colored cocktails! Some great 80s cocktails are Hurricanes, Blue Martinis, and Screwdrivers. Other classic 80s cocktails include the Slippery Nipple, Sex on the Beach,Tequila Sunrise, Long Island Iced Tea, and the very naughty (but very nice) Alabama Slammer.
Party games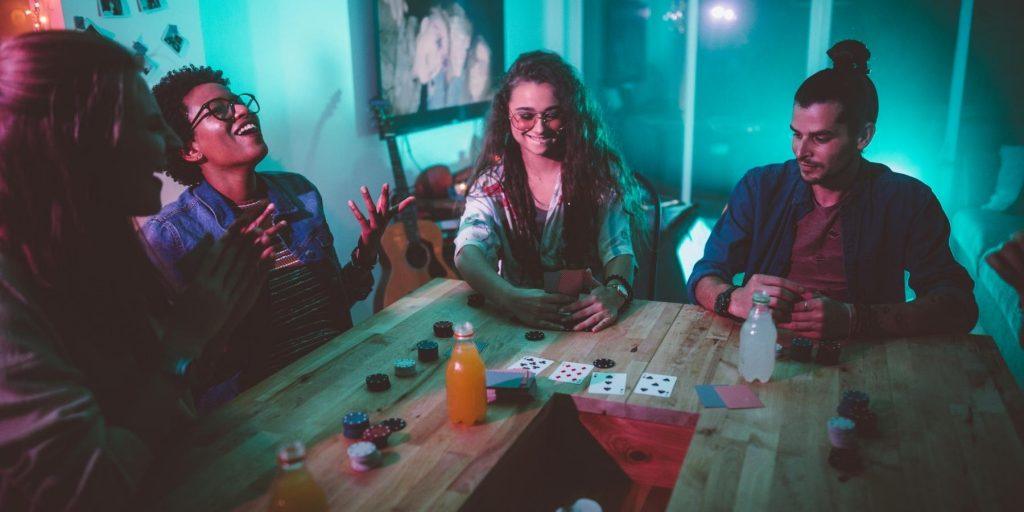 Your friends shouldn't have to fight for their right to party! Up the fun factor by hosting a few fun party games to keep everyone entertained.
80s pop quiz (trivia)
Who doesn't love an exciting game of trivia? Create and host a pop quiz about 80's music, movies, fashion, celebs, and big news stories. The winner gets a bottle of Aqua Net.
80s karaoke contest
Everyone loves karaoke—especially after a few drinks. Set the stage, make signs numbered 1 – 10 and have the 'audience' vote. Tally up their scores and declare the winner.
80s video games
Video game station, anyone? (And the crowd goes wild!).
Create a video game corner and rent some old-school video game consoles. The 80s were jam-packed with some of the most classic video games that will have your friends glued to the screen. A few fun ones you can try to rent are Jet Set Willy, Track & Field, Kung Fu Master, OutRun, and Super Mario Bros. If you don't have any luck finding these, the next best thing is to play these classics online.
80s dance contest
Want your friends to get jiggy with it? With the right music and the right amount of alcohol, they'll dance like they've never danced before (unless they grew up in the 80s). From break dancing to moonwalking and even air guitar, watch them dance and reach for the stars.
Next up, the 90s! How to Plan a 90s Theme Party That's More Than Aiight!
FREQUENTLY ASKED QUESTIONS
Plan, prepare, and deliver! The best-themed parties all have a solid plan in place and the 80s is no different. A great idea is to ask your guests to come in their best 80s getups.
There are loads of rad things to do at an 80s party. Have a dance contest, karaoke, play arcade games, get down on the dance floor and serve 80s food and cocktails to keep the party going.  
For the ultimate 80s eating experience, serve devilled eggs, hedgehogs, French onion dip, prawn cocktails and a cheese fondue.  
The Slippery Nipple is possibly one of the most iconic drinks of the 80s. Made as a shot with equal parts aniseed liqueur and Irish cream with a dash of grenadine, this shooter is a lot more innocent than it sounds.  
Sweet creations of this decade include tiramisu, pineapple upside down cake, lemon meringue pie and ice cream cake. And yes, we love all of them!  
There are loads of 80s party ideas for adults to add to your bash. From a retro photo booth, 80s-inspired dress code, glow-in-the-dark items, and neon lighting, the sky is the limit!  
Once you've found the perfect venue, create the 80s look with decor, food and drinks, a playlist for the dance floor, and an 80s-themed arcade.  
The 80s were all about bright, bold colors, so choose an outfit in neon pink, lime green, or electric blue. You can also mix and match bright colors for a fun, eye-catching look. Leg warmers were a popular accessory in the 80s and can add a retro touch to your outfit. Pair them with a mini skirt or shorts for a playful look. Shoulder pads were a must-have in the 80s and can be added to a blazer or top to create an exaggerated silhouette. Find more 80s party inspiration on The Mixer.