How To Plan a 90s Theme Party That's More Than Aiight!
July 22, 2022 by Helena Lombard
The 90s is known as the good decade, but if you ask us, it's more like the great one. So, if you're planning a 90s theme party, we've got some totally slay 90s ideas for you to use.
The best thing about this era has got to be that it seems to be repeating itself. From the music to the fashion, the drinks, and the food, this die-hard decade is making a comeback, and we're here for it! And apparently, so are you.
Welcome to your 1990s party! It's time to celebrate the generation who wore Doc Martens in the sun.
Popular 90s trends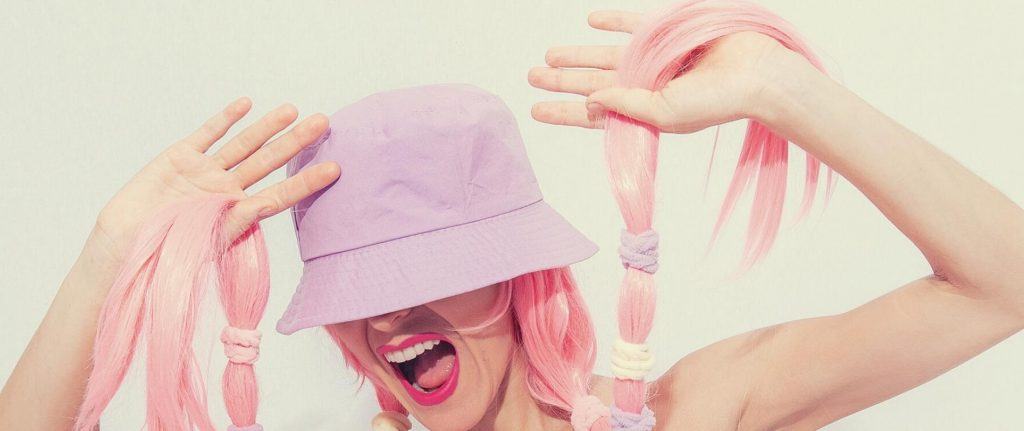 Different party themes come with different trends, and the 90s is no different. So, let's set the scene.
In the 1990s, grunge replaced 80s heavy metal. The Walkman was replaced by the Discman—and suddenly, everyone understood what recorded music could sound like thanks to the clarity of the compact disc (or CDs for the younger crowd reading this). It was a time of big-tech evolution and plaid. Lots and lots of plaid.
Other highlights include mom jeans, bucket hats, cargo pants, the first-ever Harry Potter book (yaaas!), and chain wallets. Yeah, you read that right. It was totally acceptable (and highly fashionable) to chain your wallet to your pants. Pure grunge class.
There were ravers (identifiable by their tight nylon shirts, shiny pleather, phat pants in bright neon colors, studded belts, bell bottoms, and dyed hair). There were yuppies (the opposite of hippies), and pop-culture-obsessed teen girls in short skirts and knee-high socks inspired by Britney Spears. Then there were the outsiders who were half-alternative and half-goth (often found staring longingly at the Britney Spears types in high school hallways).
In pop culture, there were some big names in music, movies, and TV, and you can use this as inspiration for some of your 90s party decoration ideas.
The 90s was da bomb, and any of these trends can be incorporated into your 1990s party theme.
90s Food for a decade party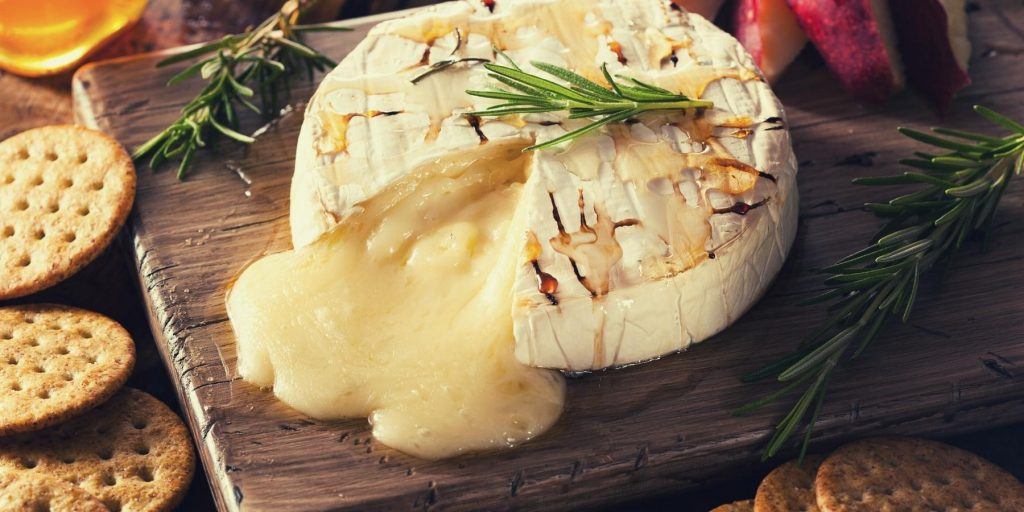 If it looks like the 90s, and it tastes like the 90s, then it must be the 90s! Take it to the max with the best food and cocktails from this decade and give your guests what they really really want.

A few quirky 90s food ideas:
Pizza bagels: Because when pizza is on a bagel, you can eat pizza anytime!
Baked Brie: Melted cheese served with toast. It's totally buggin'.
Doritos: Add some chicken, salsa, and cheese, and you've basically got nachos.
Hot pockets: Calzones made in the microwave. Mmmm. Melty perfection.
Cubes of cheese sticks: Add some pickles and sliced wieners, and you're winning.
Molten chocolate cake: Warm and oozing with melted chocolate, this 90s dessert is the shizniz.
With so many tasty treats to wash down, make sure you serve up some authentic 90s cocktails. We'll let you in on a secret. 90s cocktails are making a mega comeback.
12 classic 90s cocktails
1. Appletini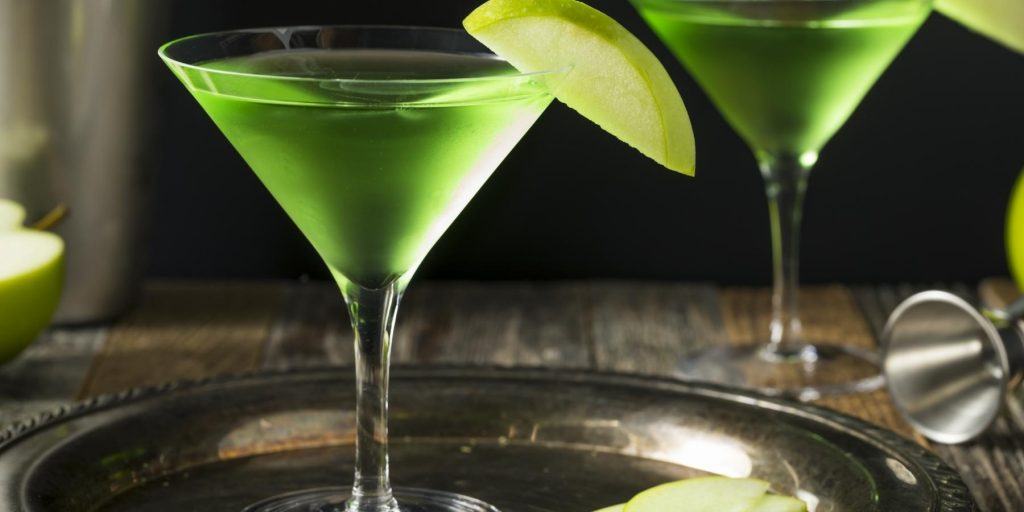 Sweet, sour, and bursting with apple candy flavor, this cocktail was on everyone's lips in 1997. Best of all, Apple Martini ingredients are pretty straightforward – SKYY vodka, apple schnapps, Grand Marnier, simple syrup, and lemon juice. If you can't resist a good apple, this Martini recipe was made for you!
More Martinis to master: 22 Types of Martinis You Should Know
2. Cosmopolitan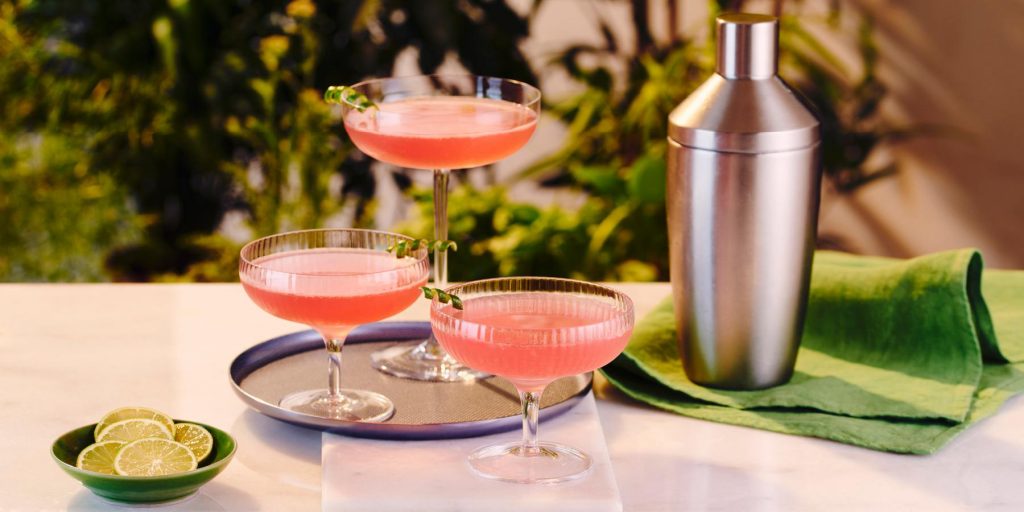 Citrus-infused vodka, orange liqueur, lime, and cranberry juice make up the famous Cosmo. Everyone wanted in on the pink-drink action after the first-ever episode of Sex and The City hit TV screens in 1998.
3. Mojito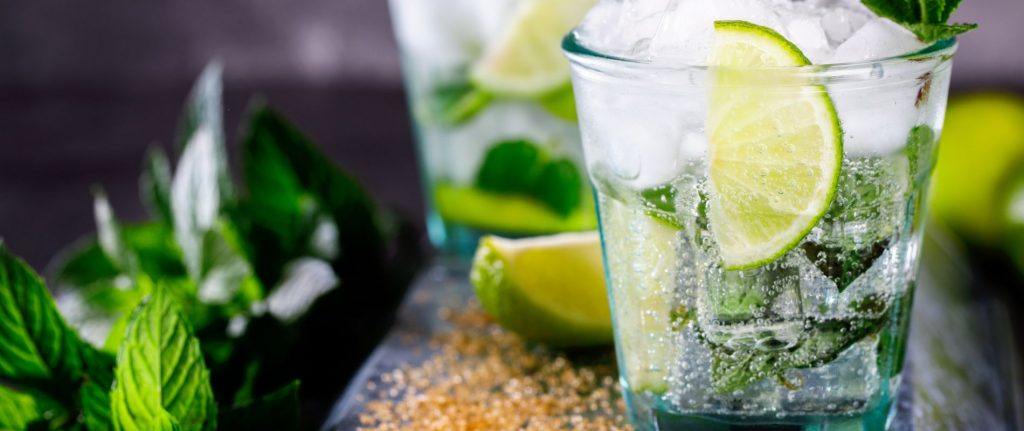 Fizzy, minty, and fresh, and easy to serve to your thirsty dancefloor posse to keep 'em going. For an authentic Mojito, you combine a few indigenous Cuban ingredients, and you'll have one sweet, sparkly sip. All you need is white rum, lime, mint, sugar, and a little club soda for a fizzy finish. Can you feel the sunshine yet?
Make it a virgin! Master How to Make a Virgin Mojito to up Your Mocktail Game
4. Espresso Martini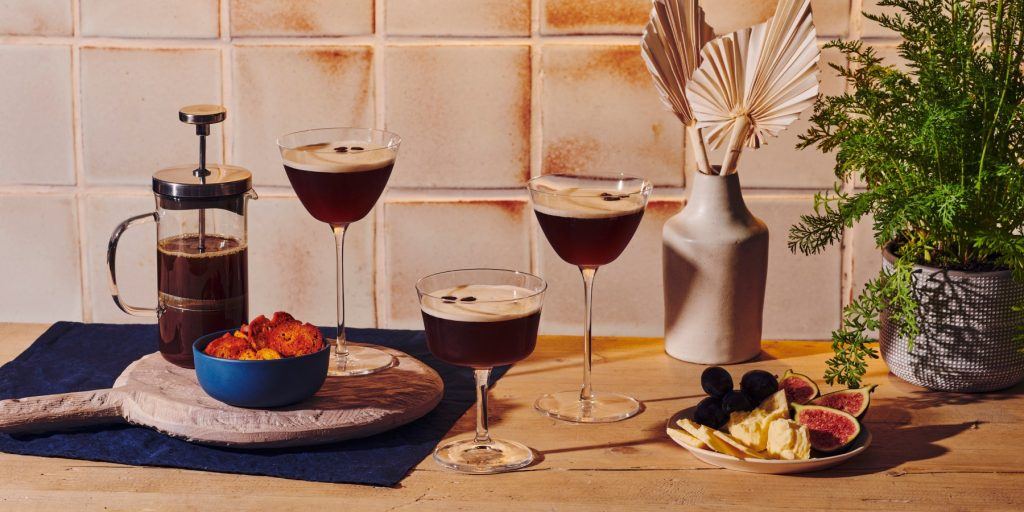 Speaking of keeping your friends awake, serve these coffee liqueur and vodka martinis if they start fading like flowers. Best served as a digestif or after-dinner drink due to its rich caffeine content, our simple Espresso Martini it easy to adapt to your guests' tastes, such as adding sweeter liqueurs like coconut or salted caramel for a more indulgent treat.
Coffee cocktails galore: 9 Best Coffee Cocktails to End Your Evening with a Kick
5. White Russian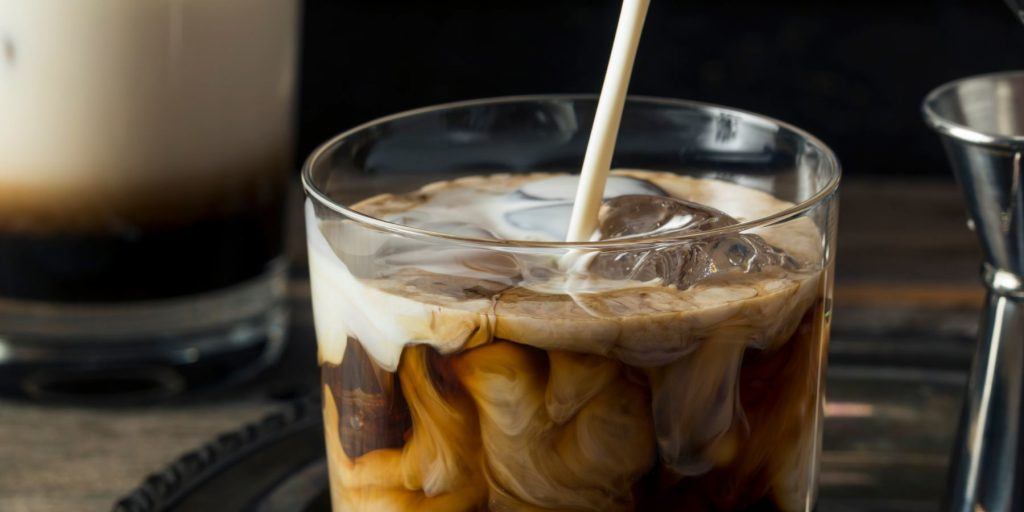 Thanks to the hit 90s film The Big Lebowski, we all know about and get to drink this creamy, decadent cocktail today. Even though the White Russian was actually first poured way back in the 60s, it wasn't until 'The Dude's' antics on-screen that this now-iconic cocktail soared to fame. During the film (which is a classic choice for a 90s party screening, FYI!), he slurps up no less than nine of these creamy drinks.
Up the ante: Tasty Tiramisu White Russians to Make at Home
6. Strawberry Daiquiri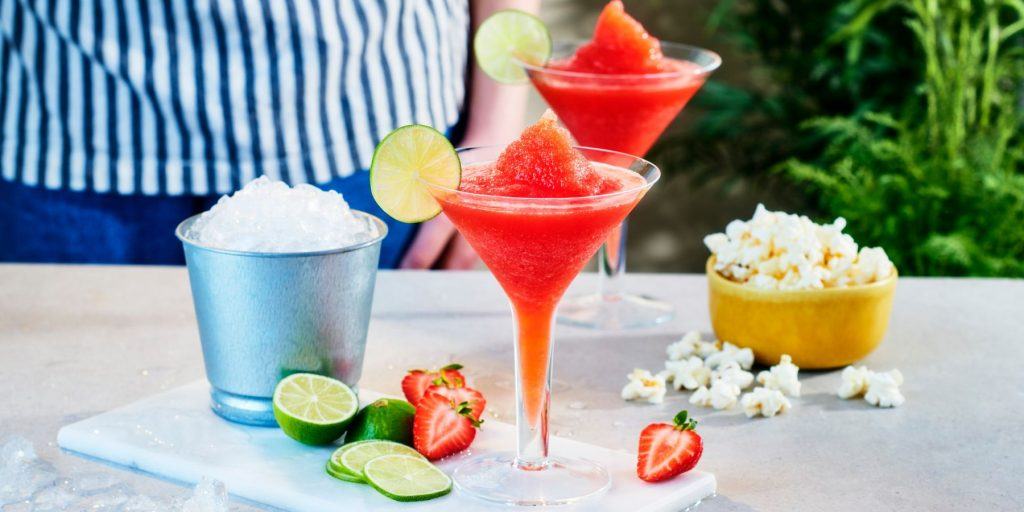 Everyone loves a slushie. Make an adult version with fresh strawberries and white rum. We recommend choosing a spirit like Wray & Nephew that is flavorful, full-strength, and full of character. The best kind of rum to use in a frozen Strawberry Daiquiri is crystal clear and has a fruity natural aroma with overtones of molasses. Rum with this type of complexity adds a unique character that makes for the best fruity cocktails.
Go tropical: Our Island-Style Strawberry Banana Daiquiri
7. Long Island Iced Tea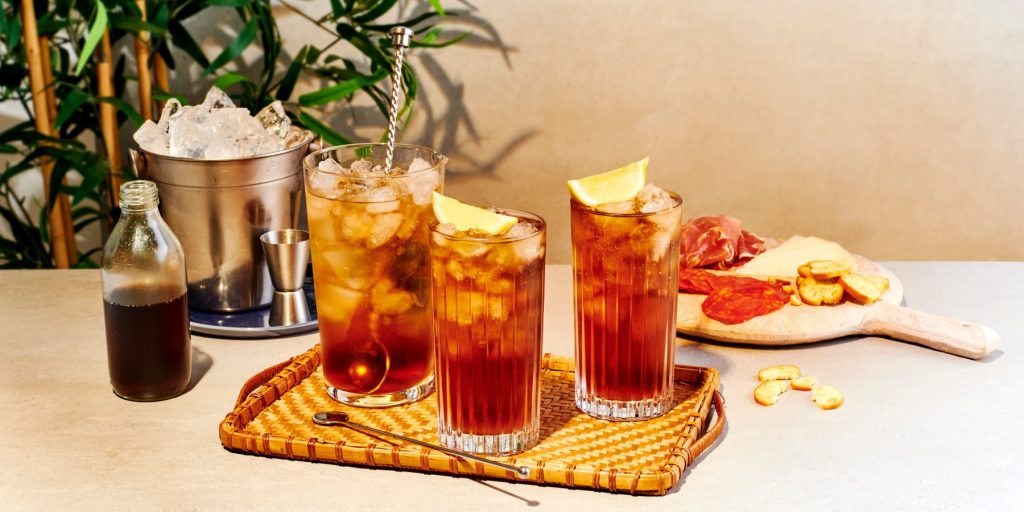 The ultimate party starter made with rum, tequila, vodka and gin. You can't go wrong with serving the iconic Long Island Iced Tea as a welcome drink. If you're feeling particularly playful, you could also opt to make the Blue Hawaiian Long Island Iced Tea.
This electric-hued drink boasts bright cerulean color thanks to the inclusion of blue curaçao, so it looks as lively and boisterous as it tastes. Even though it features a long-ish list of ingredients, it also comes together very easily, which makes it perfect for beginners.
8. Bloody Mary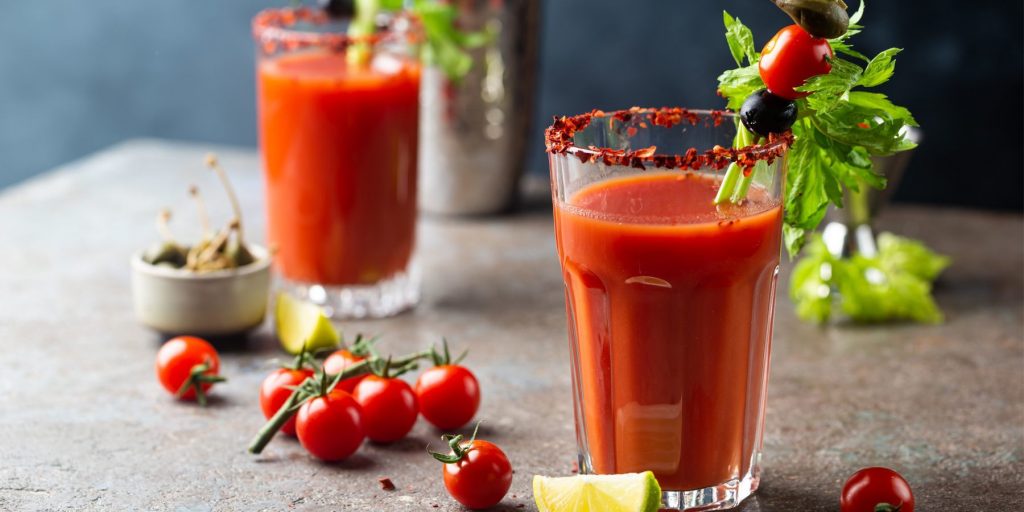 Savory, slightly sweet, and packed with spicy, zingy flavors, this classic brunchtime drink will put your crew in a celebratory mode in no time! To make your Bloody Mary recipe really great, choose good quality tomato juice—it should be thick and rich. You can also add freshly pressed red bell pepper juice for a fully rounded flavor.
9. Gin Bramble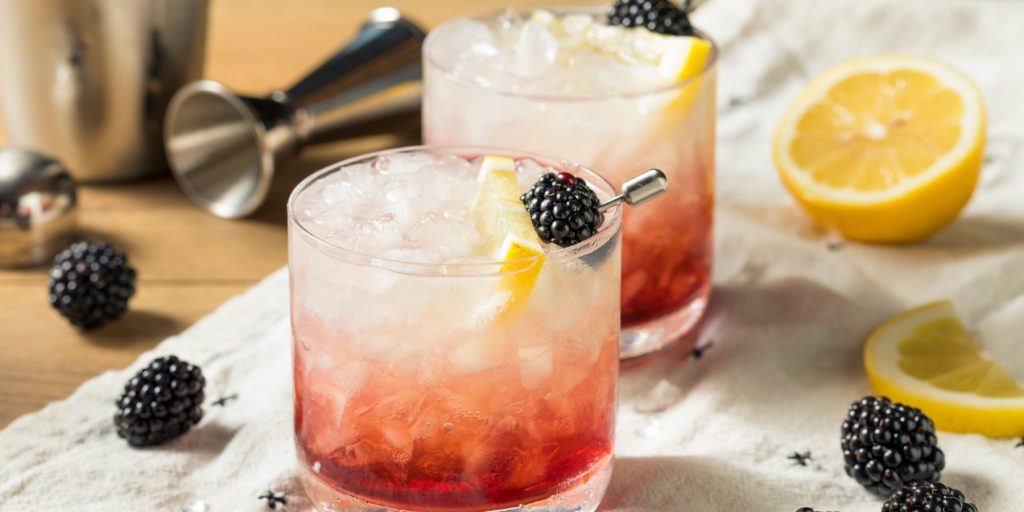 Our Gin Bramble cocktail is so easy to mix – simply combine Bulldog Gin, lemon juice, and simple syrup in a cocktail shaker with ice and shake until chilled. Strain into your chosen glass over ice and finish with blackberry liqueur for an ombre effect as the purple liqueur bleeds into the drink like a freshly pressed berry.
More gin vibes: 11 Effortlessly Elegant Summer Gin Cocktails
10. Mai Tai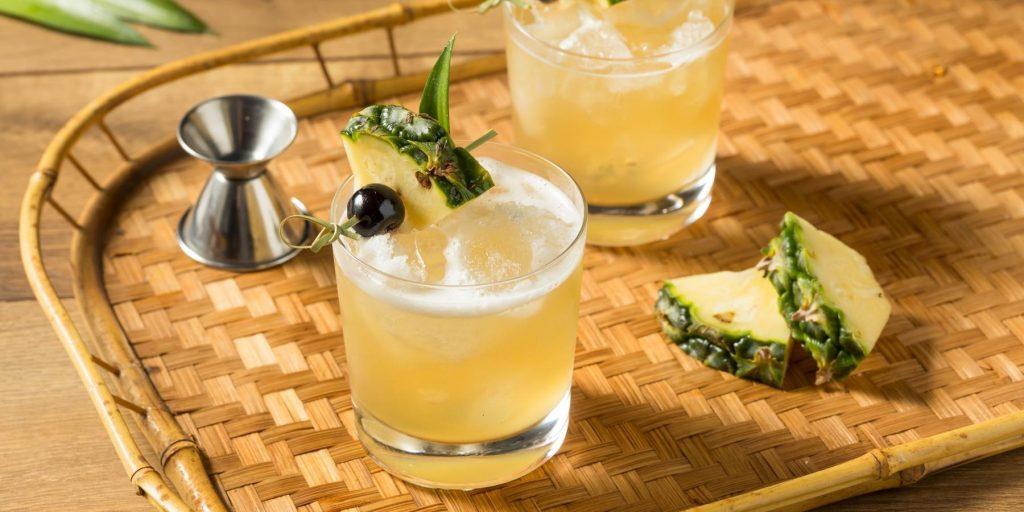 This super popular Tiki cocktail is a party-time classic if ever there was one! It is a very rum-forward drink, with hints of sweet orange liqueur and a subtle tartness from the lime juice. You can also easily scale a Mai Tai into a crowd-pleaser by making a pitcher in advance. Combine all ingredients (except the ice) and chill in the fridge before serving.
11. Sex on the Beach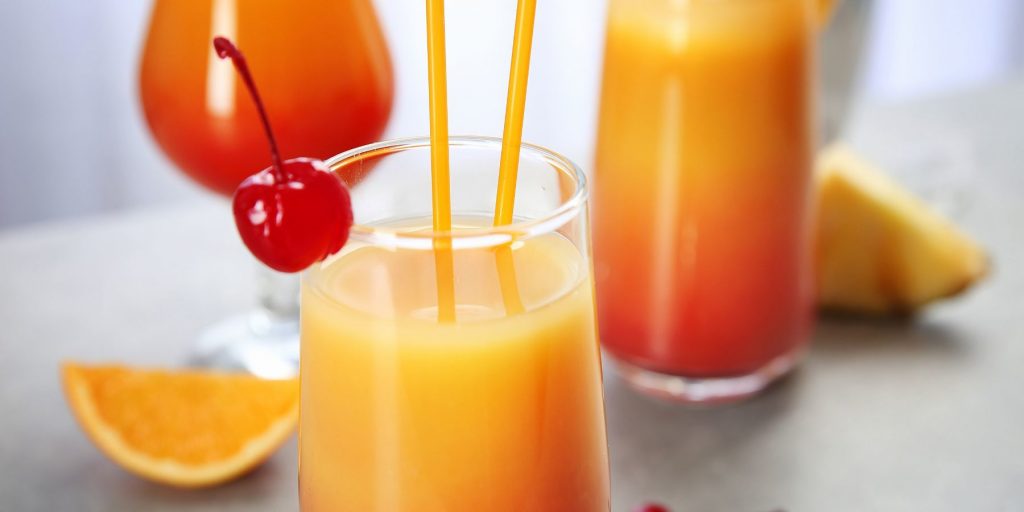 The first half of the tutti-fruity Sex on the Beach contains peach schnapps that is combined with orange and pineapple juice to push the flavor profile into a wonderfully tropical space. Then, on top of this, the next layer contains SKYY Vodka that is shaken with tart cranberry juice and a kiss of sweetness from the raspberry liqueur. Layered loving for days!
12. Caipirinha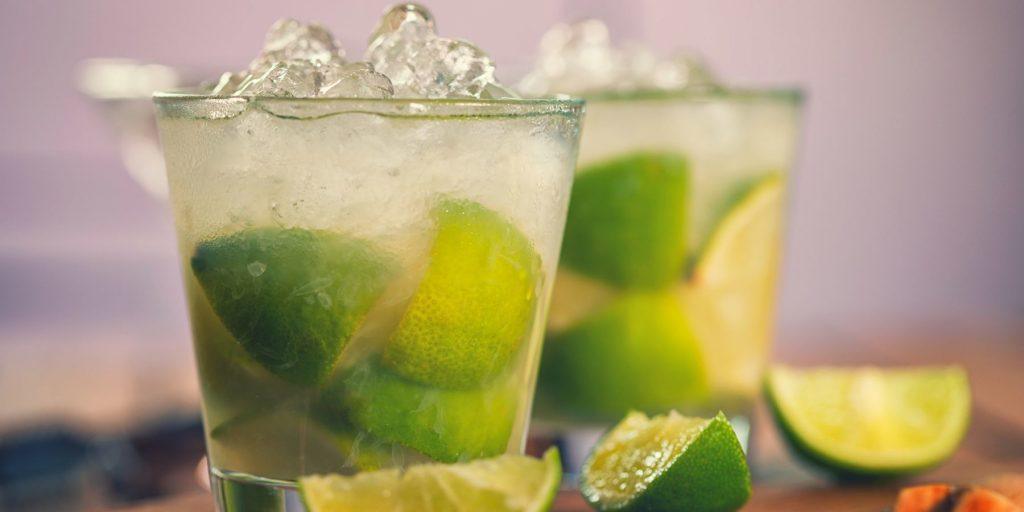 Made with fresh lime juice, sugar, and cachaça (a Brazilian rum distilled from sugar cane), this iconic summertime cocktail delivers the spirit of the fiesta in a glass. Another great thing about the Caipirinha is that you make it straight in the glass, which cuts down on washing up (great for a party situation!).
You might also like: 11 Sublime Lime Cocktails You Gotta Try
Popular 90s party themes (fashion, music + décor)
Planning a party is much easier once you've figured out your party theme. Here are a few of the most popular 90s party themes.
Grunge party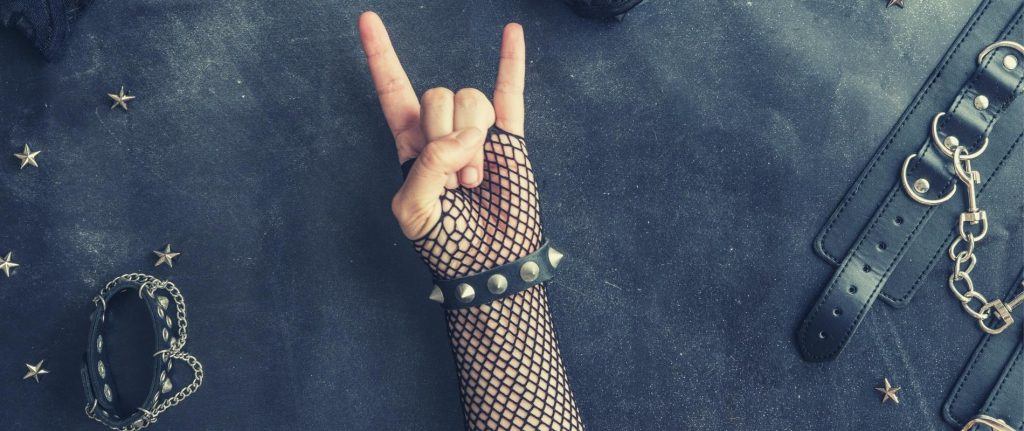 Their parents thought they were being untidy, moody, and a little extra, but that's because they didn't understand the deeper meaning behind 90s punk, hard rock, and heavy metal.
For the best 90s grunge ideas, you've got to start with the music. Get that wrong, and the party will be over before it starts. Create a playlist of all the grunge greats, like Nirvana, Pearl Jam, Soundgarden, Bush, and Stone Temple Pilots. Next up is the dress code. Ask your guests to dress up in their best grunge outfits. The look you're going for is a mix of "all my clothing is in the laundry" and "I just woke up, angry and confused." Go against the norm, and you're heading in the right direction.
There are loads of options to recreate the ultimate grunge outfit. Floral dresses and combat boots. Ripped jeans and old band t-shirts. Dark flannel shirts, messy dyed hair, smudged eyeliner, loads of mascara, dark lipstick, and Doc Martens.
Grunge it up with these 90s party decoration ideas:
Dark vintage couches and coffee tables.

Stick up posters of your favorite grunge icons like Gwen Stefani, Johnny Depp, and Kurt Cobain.

Play the hit 90s grunge movie

Empire Records

and the best grunge music videos on TV screens.

Create a music room and let your guests choose their favorite songs from your CD library.

Create a grunge photo booth with loads of celebrity cutouts, musical instruments, 90s props, and a trunk filled with grunge-inspired clothing.
Boy band party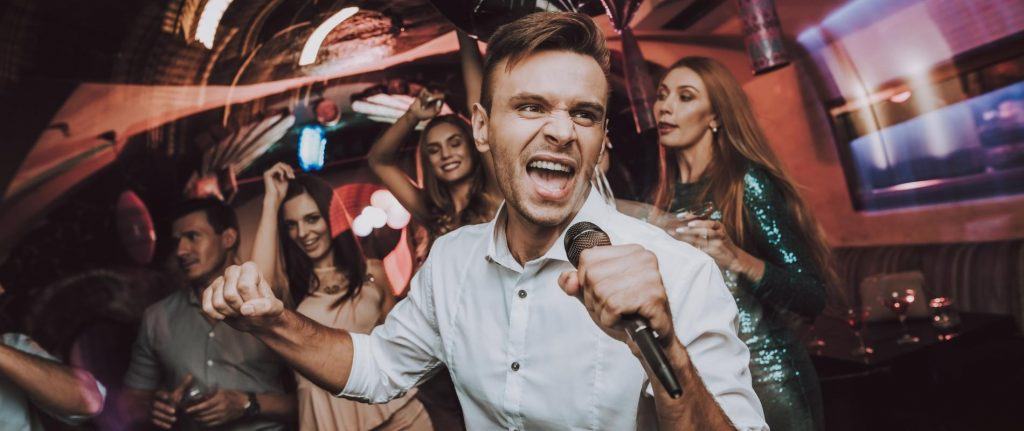 If you love a good episode of America's Got Talent, throwing a 90s theme boy band party will be right up your alley.
We're talking to all the 90s boy band fans! Yeah, we know you're out there. In the 60s, we had The Beatles; in the 70s, there was the Jackson Five; the 80s gave us New Kids on the Block; and in the 90s, the Backstreet Boys became a household name.
Let's start with the dress code for the ultimate 90s theme party. Guys go baggy while girls go tight. Here's a list of items you can mix and match for a great hip-hop outfit.
Timberland boots.

Bucket hats.

Baggy jeans.

Baggy t-shirts.

Caps (flipped backward) and big gold chains and fedoras.

Matching tracksuits.
A great idea is to ask your friends to team up and dress up as their favorite boy bands from the 90s. Think Backstreet Boys, Boyz II Men, New Kids on the Block, Westlife, and Hanson. And for your playlist, add all of the above.
For the décor:
If you go bold and bright, you know you'll be aiight.

Big boom boxes and even bigger speakers to blast your music.

A karaoke machine to let your friends take centre stage.

A photo booth with all the 90s props, cutouts, and backgrounds you can get your hands on.

A trunk filled with 90s hip hop and boy band paraphernalia.
90s movie party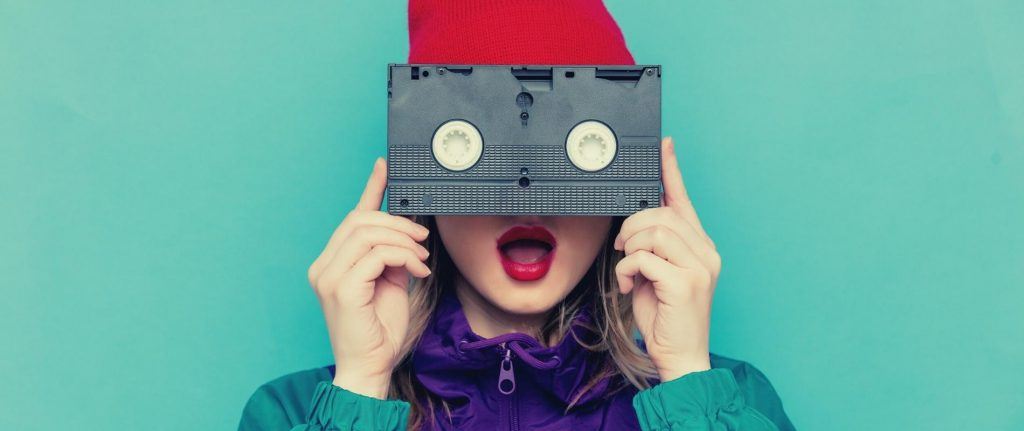 The 90s produced some really cool blockbusters, so you can't go wrong with a 1990s party that's all about the big movies of this colorful decade. Your guests can choose from many genres when getting dressed up, including rom-coms, teen comedies, horrors, thrillers, and indie classics.
A little research will go a long way in helping you create a really unique 90s theme party, so don't be afraid to jump down the rabbit hole.
Fashion from classic 90s movies to inspire your outfit ideas:
Pulp Fiction. Dress up as John Travolta's character, Vincent Vega, with a black suit, white dress shirt, black tie, and black loafers. Don't forget to add his signature hairstyle and a prop gun. Or go as Mia Wallace in a white button-up shirt, black pants, and black shoes. Add a short black wig, red lipstick, and a fake cigarette holder to complete the look.
Scream. The most iconic character from the Scream movie series is the masked killer, Ghostface. To dress up as Ghostface, wear a black hooded robe, black gloves, and a white mask with a screaming expression. You can purchase a Ghostface costume online or create your own using thrift store finds.
Edward Scissorhands. Dress up as the title character with a black leather bodysuit, black boots, and black leather gloves with fake scissors attached to the fingers. Add a wild black wig and pale makeup to complete the look. Winona Ryder's character, Kim Boggs, is the love interest of Edward Scissorhands. To dress up as Kim, wear a white dress with a pink cardigan, black boots, and a black wig. Add a pink ribbon to your hair and carry a small white purse.
The Matrix. To dress up as the movie's hero, Neo, wear a long black trench coat, black pants, a black shirt, and black boots. Add black sunglasses and carry prop guns or a toy katana sword. Carrie-Anne Moss's character, Trinity, is a skilled hacker and fighter. To dress up as Trinity, wear a black PVC catsuit, black boots, and black sunglasses. Add black gloves and carry prop guns or a toy katana sword.
Clueless. Alicia Silverstone's character, Cher Horowitz, is the fashion-savvy protagonist of the movie. To dress up as Cher, wear a yellow plaid skirt suit, white knee-high socks, and black Mary Jane shoes. Add a feather-topped pen and a flip phone. Brittany Murphy's character, Tai Frasier, is the new girl at school who Cher takes under her wing. To dress up as Tai, wear a tie-dye T-shirt, denim overalls, and white sneakers. Add a red beanie hat and a backpack.
Empire Records. To dress up as the store's manager, Joe, wear a plaid shirt, jeans, and work boots. Add a black apron and carry a cup of coffee. Liv Tyler's character, Corey, is a straight-laced employee who is determined to save the store. To dress up as Corey, wear a white blouse, a plaid miniskirt, and black boots. Add a red apron and carry a clipboard.
Forest Gump. To dress up as the title character, Forrest, wear a light blue plaid shirt, khaki pants, and white sneakers. Add a Bubba Gump Shrimp Co. baseball cap and carry a box of chocolates. Robin Wright's character, Jenny Curran, is Forrest's childhood friend and love interest. To dress up as Jenny, wear a floral dress, a brown leather vest, and brown boots. Add a feather headband and a guitar.
Romy and Michele's High School Reunion. To dress up as Mira Sorvino's character, Romy, wear a brightly colored suit, a printed blouse, and chunky heels. Add a curly blonde wig and carry a Post-it note with a fake business idea. Lisa Kudrow's character, Michele, is Romy's best friend and partner in crime. To dress up as Michele, wear a pink dress with a matching jacket, white boots, and white gloves. Add a blonde wig with bangs and carry a toy cell phone.
When it comes to décor, create old-school cinema vibes throughout your party venue. Play movies through a projector, stick posters of the biggest blockbusters on the wall, and create fun trivia games about 90s movies.
As for your playlist, include a 90s movie soundtracks to set the mood.
90s fads party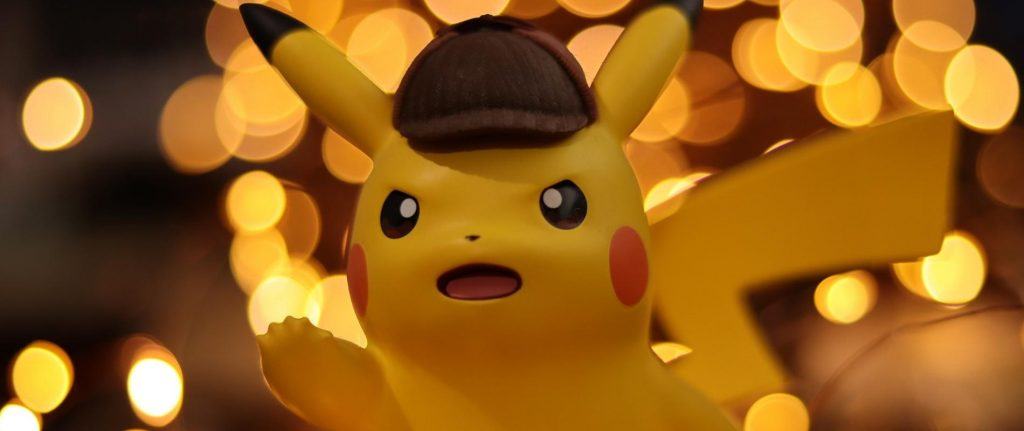 When you define a decade, it's a good idea to look at the fads that made it. Throwing a 90s fads party is excellent because there's so much variety. From chain wallets and gold chains to bowl haircuts, scrunchies, and skorts—everyone will be in for a hilariously good time. Hey Macarena, ay!
Fashion fads:
Starter jackets.

Turtlenecks.

Plaid.

Overalls.

The Rachel haircut.

Bleached tips.

Overalls.

Denim on denim.

Piercings

everywhere

High-waisted mom jeans.

Blue mascara and body glitter.

Grunge / hip hop / boy bands.
A few décor ideas:
Pogs.

Pokémon.

Troll and Furby dolls.

Discmans and boomboxes.

Printouts of fun 90s catchphrases for your walls.

Gameboys and yoyos.

Giant inflatable

everything.
Lastly, the music. It's time to bring out all the big pop stars. Some of the most iconic artists and songs of the 1990s include:
Britney Spears. Baby One More Time (1998), Sometimes (1999), (You Drive Me) Crazy (1999).
Backstreet Boys. I Want It That Way (1999), Everybody (Backstreet's Back) (1997), As Long As You Love Me (1997).
*NSYNC. Tearin' Up My Heart (1997), Bye Bye Bye (2000), It's Gonna Be Me (2000).
Spice Girls. Wannabe (1996), Say You'll Be There (1996), Spice Up Your Life (1997).
Christina Aguilera. Genie in a Bottle (1999), What a Girl Wants (1999), Come On Over Baby (All I Want Is You) (2000).
Boyz II Men. End of the Road (1992), I'll Make Love to You (1994), One Sweet Day (with Mariah Carey) (1995).