The 10 Best Memorial Day Party Ideas for 2023
May 10, 2023 by Anna-Bet Stemmet
Getting ready to host a Memorial Day party for family and friends? Good on ya. This federal holiday honors the brave men and women who sacrificed their lives while serving in the US Armed Forces; it's a great time to come together with those near and dear to you.
This year, The Mixer is waiting in the wings to help you plan a lively and memorable celebration with inspired decorations, tasty Memorial Day dishes, and refreshing cocktails. We've also got excellent ideas for games and activities to keep everyone entertained, while, of course, honoring the true meaning of the holiday.
Here are our 10 top Memorial Day party ideas to try out in 2023:
1. Host a BBQ at home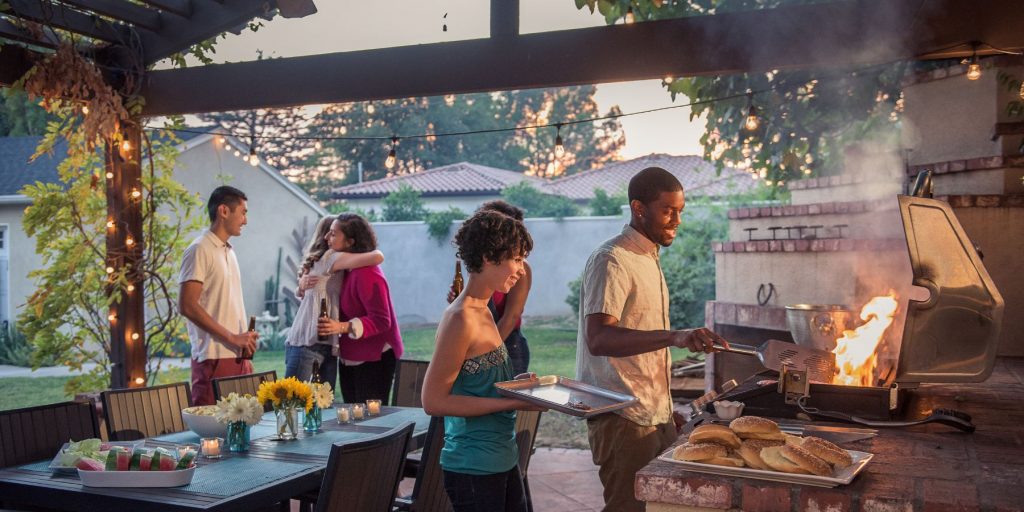 Sure, sure, this sounds a little obvious, but hear us out. There is a very good reason why so many people decide to celebrate Memorial Day with a cook-out at home – it's festive, easy on the pocket, relatively simple to organize, and makes the most of the warmer weather that's normally rolled around by the last Monday of May. Talk about a win-win!
Here are a few things to bear in mind when you host a BBQ for friends and family:
Plan ahead
Make a list of guests you would like to invite and create a timeline for the day's events. Consider factors such as food preparation, cooking, and serving time.
Food and drinks
Decide on a menu that will be appropriate for the size of your gathering. Offer a variety of dishes and remember to include vegetarian options. Have plenty of drinks on hand, including water, soda, and alcoholic beverages. More on this a little later…
Grilling safety
Make sure your grill is in good working condition and cleaned before use. Keep a fire extinguisher nearby, and never leave the grill unattended. Always grill in a well-ventilated area and keep children and pets away from the heat.
Seating and entertainment
Ensure that you have enough seating for all your guests. Consider renting tables and chairs if necessary. You can also provide lawn games or other forms of entertainment to keep your guests engaged. See our suggestions below.
Sun protection
Memorial Day barbecues are typically held outdoors, so it's important to provide sun protection for your guests. Set up a shaded area, provide sunscreen and sunglasses, and encourage your guests to wear hats.
Clean up
Make sure to plan for clean-up after the event. Provide plenty of trash and recycling bins and hire a cleaning service if necessary.
Read next: How to Host a BYOB Party & How to Attend One
2. Set up a DIY burger & hot dog bar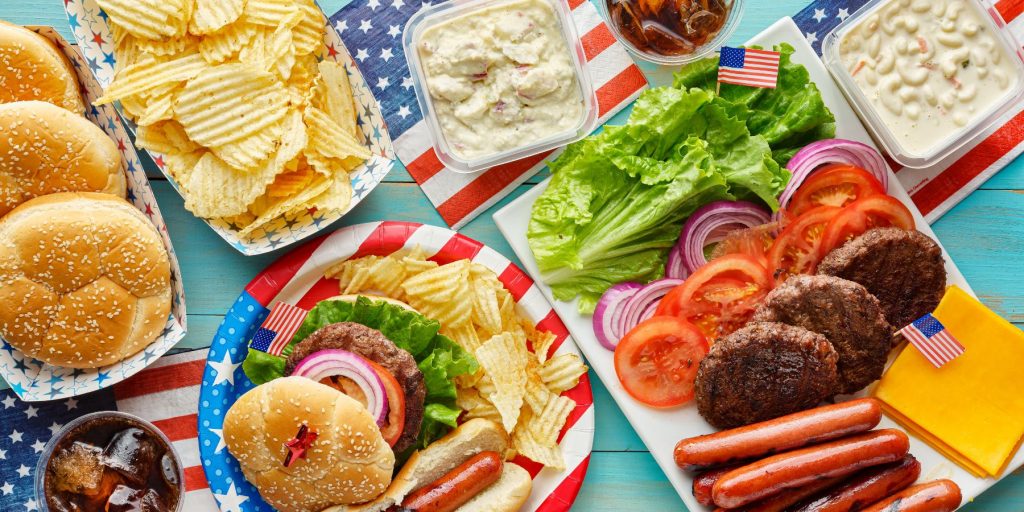 We love keeping party ideas for Memorial Day as simple as possible, while also ensuring that everyone has a ball of a time. One easy way to do so is to set up a burger and hot dog bar from which guests can serve themselves. Here are a few tips to keep in mind when you go this route:
Choose your meats & veggie-based options
For the burger bar, provide different meat options such as beef, turkey, or veggie patties. For the hot dog bar, offer traditional beef or pork hot dogs, as well as vegan and vegetarian options such as plant-based sausages or tofu dogs.
Provide toppings
Set out a variety of toppings so guests can customize their burgers and hot dogs. Classic options include lettuce, tomato, onions, pickles, and condiments such as ketchup, mustard, and mayo. You can also get creative with toppings like avocado, bacon, grilled onions, jalapeños, and a variety of cheeses.
Offer buns and rolls
Make sure to provide plenty of buns and rolls for your guests, including gluten-free options for those with dietary restrictions.
Provide side dishes
Offer a variety of sides to complement the burgers and hot dogs, such as potato salad, coleslaw, corn on the cob, baked beans, or a mixed green salad. For vegan and vegetarian options, consider grilled vegetables, hummus, or quinoa salad.
Set up the serving area
Arrange all the ingredients on a table or counter, making sure to provide plenty of serving utensils and plates. Label the different toppings so guests know what's available.
You could also provide a smaller grill or electric griddle for cooking the burgers and hot dogs on-site if you want to give your guests the option of being more hands-on. This option works best with a smaller crowd of ten or less.
More inspo: 11 Perfect Cocktail Party Appetizers for any Occasion
3. More food ideas for a Memorial Day party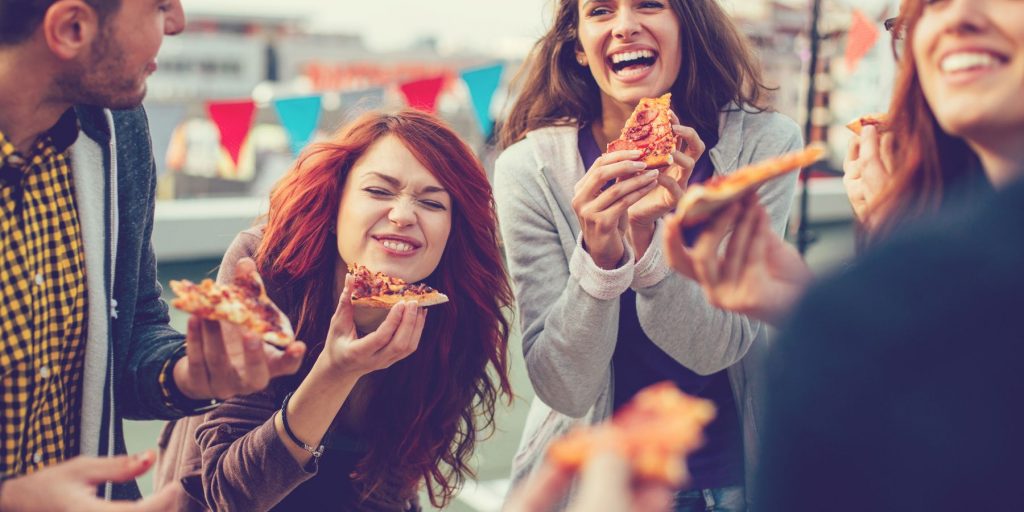 Not feeling the traditional BBQ approach? No problem. Here are a few alternative food ideas for Memorial Day parties:
Picnic-style lunch
A picnic-style lunch is a classic way to celebrate Memorial Day. Pack sandwiches, salads, and fruit and bring a picnic blanket to your local park or simply camp out in your backyard. It's a great way to enjoy the outdoors and the company of friends and family and makes it easy for guests to contribute to a shared spread.
Pizza party
A pizza party is a great way to get everyone involved in the cooking process and allows for the customization of toppings for each guest. You can also have a variety of different pizza bases like cauliflower or gluten-free.
Seafood boil
A seafood boil is a very tasty way to celebrate Memorial Day, especially if you live near the coast. It's a nice way to bring family and friends together to enjoy fresh seafood, such as shrimp, crab, and clams, along with vegetables like corn and potatoes.
Grilled kebabs
Grilled kebabs are a healthy and flavorful alternative to burgers and hot dogs. You can make them with a variety of vegetables and proteins, such as chicken, beef, shrimp, or tofu. They're easy to grill and serve, and you can provide a variety of sauces and dips to accompany the main dish.
4. Set up a drinks station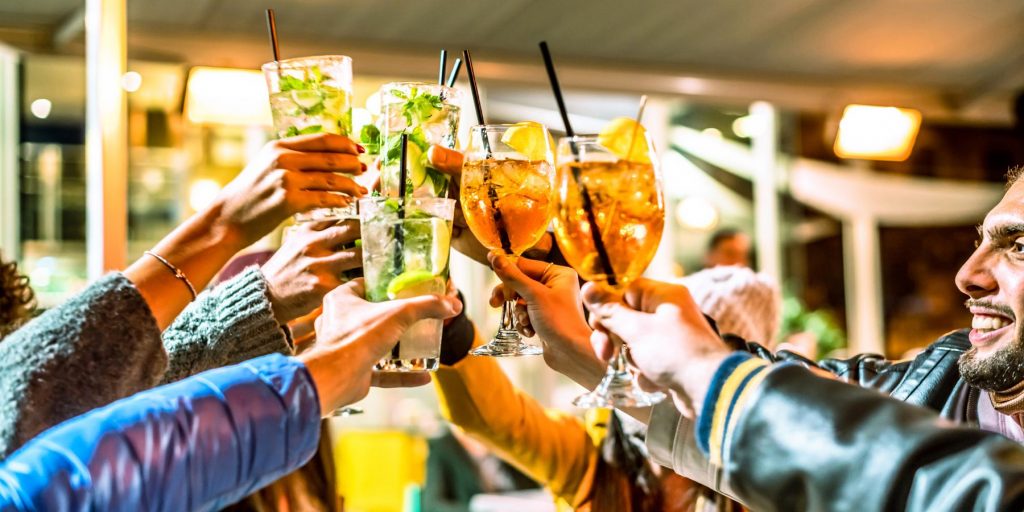 You don't need to be a multi-award-winning bartender to set up a DIY drinks station at home, but it does help to be prepared. Here are a few top tips from The Mixer team that will set you up for Memorial Day party hosting success:
Choose your drinks
Consider offering a variety of beverages that will appeal to a range of tastes, including non-alcoholic options like water, soda, lemonade, and iced tea. You can also provide alcoholic options like beer, wine, and cocktails. See our list of Memorial Day favorites below.
Provide ice and glasses
Make sure to have plenty of ice on hand to keep drinks cold throughout the day. Set out a variety of serving glasses. We love including reusable cups for guests to take home as a party favor.
Add a touch of decoration
Consider adding some décor to the drinks station to make it more festive. You can use colorful straws, drink umbrellas, or a Memorial Day banner.
Set up the station
Choose a central location for your drinks station, such as a table or a cooler. Make sure to provide a way to keep the drinks cold, whether it's a cooler, ice bucket, or refrigerator.
Label the drinks
Go the extra mile and label the different drink options so guests know what's available. You can use chalkboard labels or small signs to identify each drink.
Add some special touches
You can add some special touches to the drinks station to make it even more enjoyable for guests. Great options include a DIY cocktail station with different mixers and garnishes or a variety of flavored syrups for guests to add to their drinks.
5. Cocktail ideas for a Memorial Day Party


American cocktails and layered cocktails are popular choices for a Memorial Day celebration, but you could also consider the following:
Lime Margarita. A classic, refreshing cocktail that pairs perfectly with outdoor summer festivities. The combination of tequila, lime juice, and orange liqueur provides a tart and citrusy flavor that's perfect for hot weather.
Mai Tai. A tropical and fruity cocktail made with rum, lime juice, and orgeat syrup. It's a great option for those who want to transport themselves to a beachy paradise without leaving their backyard.
Bloody Mary. This savory cocktail is perfect for brunch or early afternoon events. Made with vodka, tomato juice, and a combination of spices and flavorings, it's a great way to start the day and keep the party going.
Piña Colada. Another classic tropical cocktail, the Piña Colada is made with rum, coconut cream, and pineapple juice. It's sweet, creamy, and a perfect option for a hot day.
Moscow Mule. This cocktail is made with vodka, lime juice, and ginger beer. It's a refreshing and spicy option that's perfect for any summer gathering.
Sangria. This Spanish-inspired cocktail is perfect for serving a crowd. It's typically made with red or white wine, chopped fruit, brandy, and a sweetener like sugar or honey.
Mint Julep. This bourbon-based cocktail is a traditional Southern favorite. Made with muddled mint, simple syrup, and crushed ice, it's perfect for sipping on a hot day.
Tom Collins. A classic cocktail made with gin, lemon juice, simple syrup, and soda water. It's an easy sipper that's perfect for a Memorial Day barbecue.
6. Set up a sweet station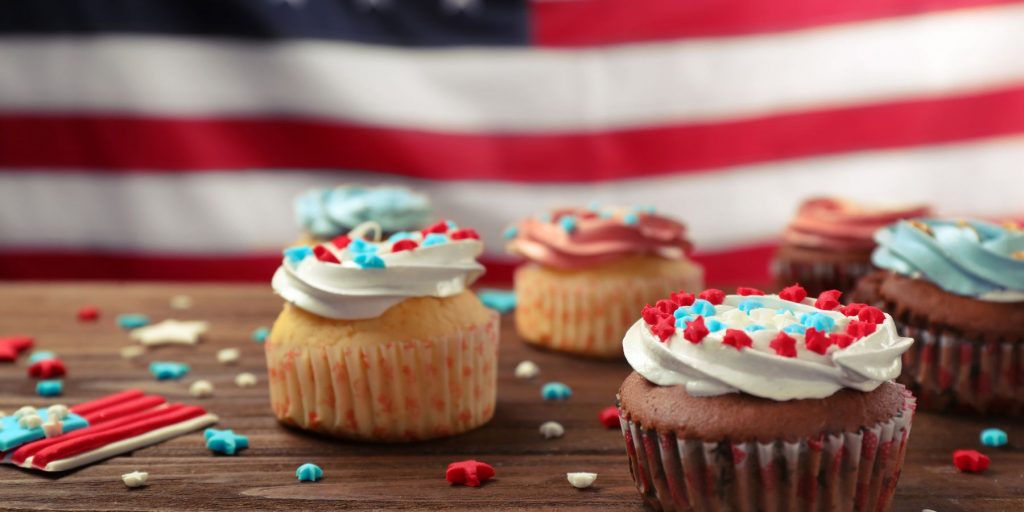 Setting up a sweet station in the colors of the American flag is a cute way to add a patriotic touch to your Memorial Day celebration. Here are some ideas to get you started:
Red, white & blue candy buffet. Fill jars and bowls with red, white, and blue candies such as M&Ms, jellybeans, and gumballs. Use decorative flags and ribbons to add a festive touch.
Patriotic cupcakes. Bake and decorate cupcakes with red, white, and blue frosting or sprinkles. Use star-shaped toppers for an extra patriotic touch.
Flag-shaped cookies. Use a cookie cutter to make flag-shaped sugar cookies, and decorate them with red, white, and blue frosting or sprinkles.
Berry skewers. Thread strawberries, blueberries, and peeled apple slices onto skewers for a colorful and healthy treat.
Ice cream bar. Set up an ice cream bar with red, white, and blue toppings such as strawberries, blueberries, whipped cream, and sprinkles.
7. Organize a photo booth or selfie station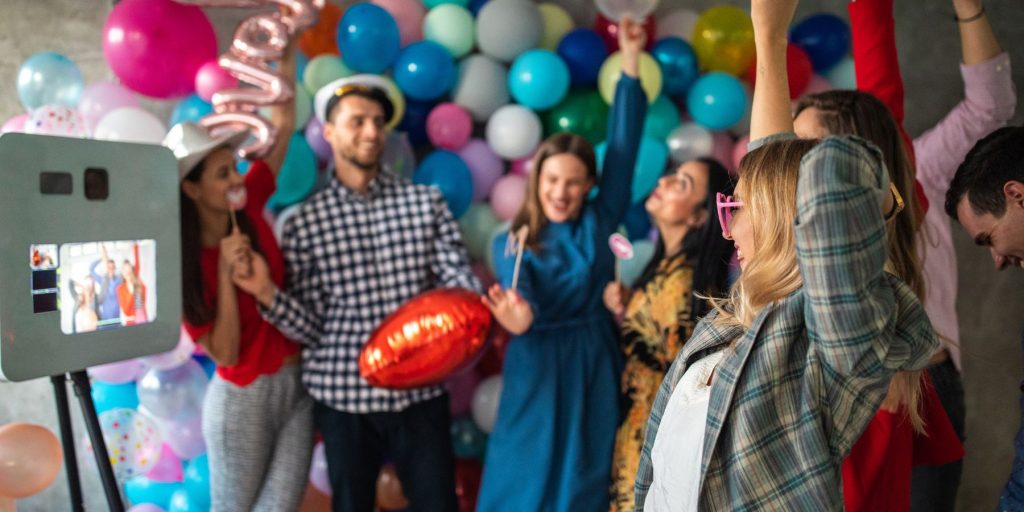 Setting up a photo booth or selfie station is an excellent way to capture memories and add some excitement to your Memorial Day celebration. Here are some ideas to help you create a patriotic photo backdrop:
DIY photo booth backdrop. Hang a large American flag or create a backdrop using red, white, and blue streamers, balloons, or paper decorations.
Patriotic props. Provide props such as hats, sunglasses, and little flags for guests to use in their photos. You can also print out classic photo booth props like mustaches, lips, and glasses.
Face painting. Hire a face painter to add a patriotic touch to your guests' faces. They can paint American flags, stars, or other patriotic designs. Or whatever the guests feel like, really! Cool-looking tiger, anyone?
Custom photo booth frame. Create a custom frame for guests to pose behind. You can decorate a large picture frame with patriotic colors and decorations.
Selfie station. Set up a selfie station with a tripod and a smartphone holder. Guests can take photos on their own, and you can include a special hashtag to encourage them to share their photos on social media.
8. Get the music sorted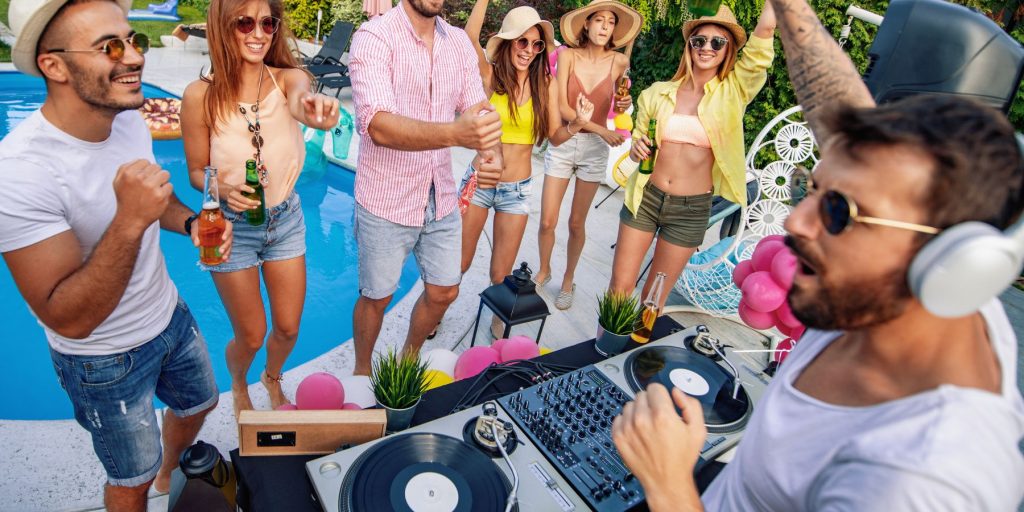 Music will always set the mood and add to the festive atmosphere of your Memorial Day celebration. Here are some ideas for organizing music:
Create your own playlist. Make a list of all your favorite 70s, 80s, 90s, and 2000s hits, and have it play on a loop from your go-to streaming service like Spotify or Apple Music using a digital speaker.
Get a DJ. Hire a DJ to provide music for your party. They can play a mix of patriotic songs and popular hits to get everyone up and dancing.
Karaoke. Set up a karaoke machine or use an app and let guests take turns singing their favorite songs. You can even provide patriotic song choices or have a contest for the best rendition of the national anthem.
Outdoor concert. If you have a spacious backyard, set up an outdoor concert with local musicians or bands. This can be a great way to celebrate Memorial Day and support local artists.
9. Organize some games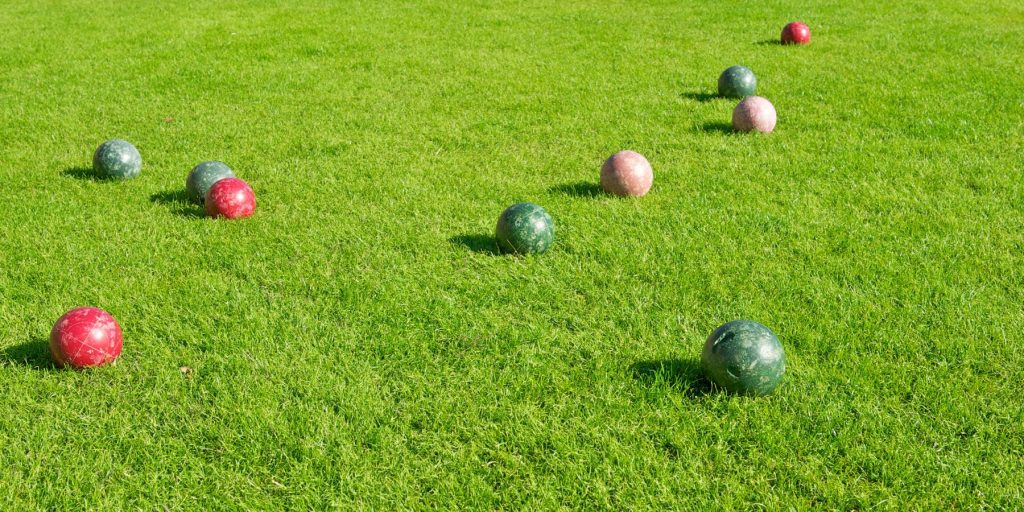 Organizing games is an engaging and enjoyable way to keep your guests entertained at your Memorial Day party. Here are some ideas for games to play:
Cornhole. Cornhole is a classic backyard game that is perfect for a Memorial Day party. Set up a cornhole board and beanbags and let guests take turns playing.
Bocce ball. Bocce ball is a lively and easy game to play. Set up a court and let guests take turns rolling the balls.
Horseshoes. Horseshoes is another classic backyard game that is easy to set up. Mark off a pitching area and let guests take turns tossing horseshoes at a stake.
Pie-eating contest. A pie-eating contest can be a delicious and messy game to play. Bake some pies and let guests compete to see who can eat theirs the fastest.
Water balloon toss. On a hot day, a water balloon toss can be an exciting and refreshing game. Fill some water balloons and let guests toss them back and forth. The last person with an unbroken water balloon wins.
Patriotic scavenger hunt. Create a scavenger hunt with patriotic items to find. Hide American flags, red, white, and blue balloons, or other patriotic items around the backyard and let guests search for them. First one to complete the hunt wins a prize!
10. Decoration ideas for Memorial Day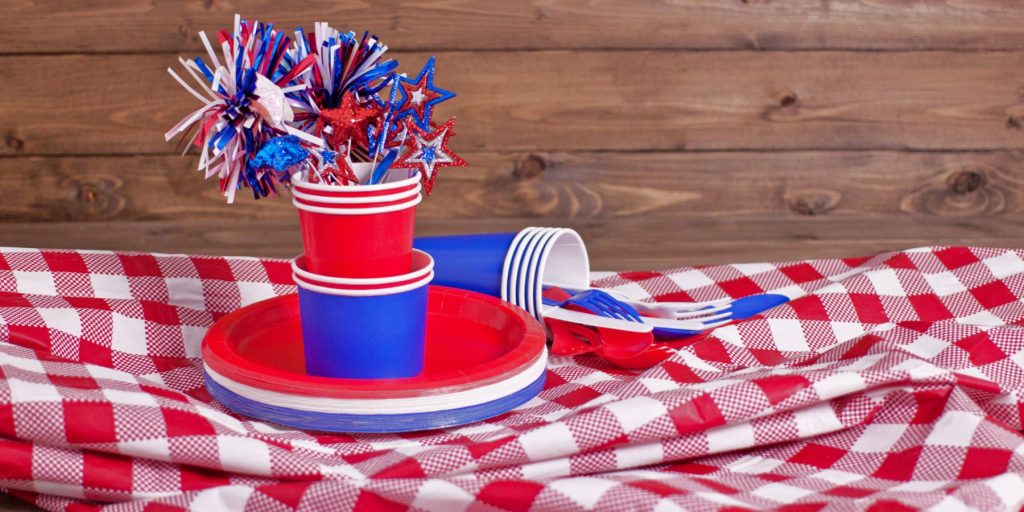 Here are some decoration ideas for a Memorial Day party at home that are both visually appealing and easy to make:
Patriotic balloon garland. Use red, white, and blue balloons to create a stunning balloon garland to hang across your party space. You can easily purchase balloon garland kits online or at party stores.
Flag bunting. Hang American flag bunting or banners around your party space. These are readily available at most party supply stores or online.
Mason jar candle holders. Fill mason jars with sand and place a tea light candle on top. Tie a ribbon around the jar in red, white, and blue to complete the look.
Paper lanterns. Hang red, white, and blue paper lanterns from trees or the ceiling. You can find these at party supply stores or online.
DIY centerpieces. Create your own centerpieces by filling clear glass vases with red, white, and blue candies. You can also add American flags or flowers to complete the look.
Outdoor lights. String outdoor lights around your backyard or patio in red, white, and blue colors to create a festive atmosphere.
Memorial Day wreath. Create a Memorial Day wreath using a wire wreath frame, red, white, and blue ribbon, and artificial flowers. You can find instructions online or at craft stores.
Table decorations. Set the table with patriotic placemats, napkins, and plates. You can also add American flag toothpicks to your appetizers or desserts for an extra touch.
FREQUENTLY ASKED QUESTIONS
The most popular Memorial Day party ideas include hosting a BBQ at home or setting up a hotdog and burger stand in your backyard. It's also nice to offer a drinks station where guests can help themselves, and to tailor a food and drinks menu that's easy to pull off, but also enjoyable and on theme. Add some music, decorations and party games, and you'll be good to go.
Here are some easy and visually appealing decoration ideas for a Memorial Day party at home: patriotic balloon garland, flag bunting, mason jar candle holders, paper lanterns, DIY centerpieces, outdoor lights, Memorial Day wreath, table decorations with patriotic placemats, napkins, and plates. These items are easily available at party supply stores or online, and you can create a festive atmosphere by using them in your party space.