11 Intriguing Variations on the Classic Whiskey Sour
August 01, 2023 by Anna-Bet Stemmet
If you're a fan of this classic cocktail, then our Whiskey Sour variations might be right up your alley. And, yes, we're technically not allowed to play favorites among our cocktails, but the classic Whiskey Sour has a very special place in our hearts here at The Mixer. So please feel free to mix up any of these 11 intriguing variations on this true-blue stalwart—and let us know which one was your fave!
1. Passion Fruit Sour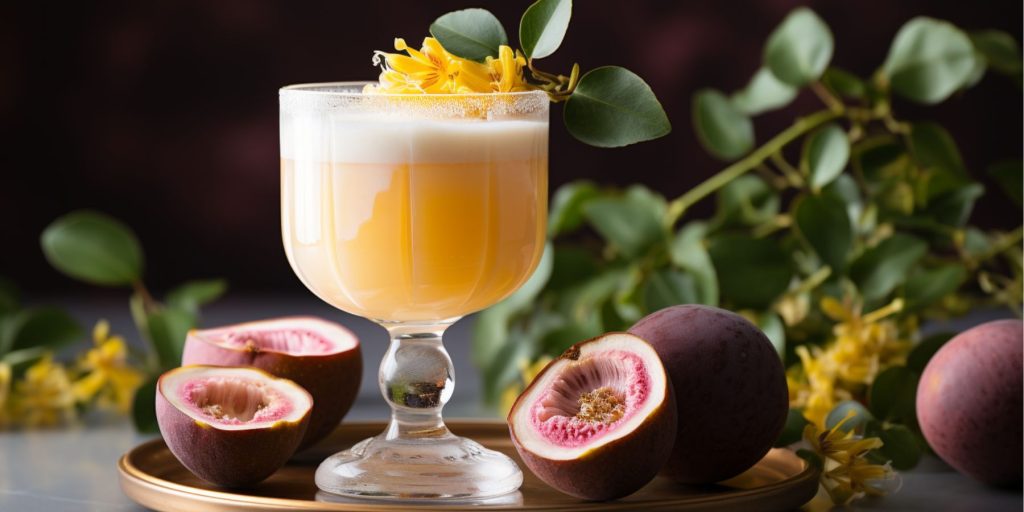 We're starting our list of classic Whiskey Sour variations with the Passion Fruit Sour, simply because it's so very extra. This is a drink you pour for your guests when you want to make a splash. Add 1.5 oz Wild Turkey 101 Whiskey, 1 oz passion fruit purée, 0.5 oz lime juice, 0.5 oz simple syrup, and one egg white to a cocktail shaker. Dry shake for 15 seconds. Now add ice, shake it for a further 15 seconds, and strain it into a chilled serving glass. Garnish with half a passion fruit and serve.
You might also like: Passion Fruit Gin Cocktail | Pornstar Martini
2. Cherry Point Sour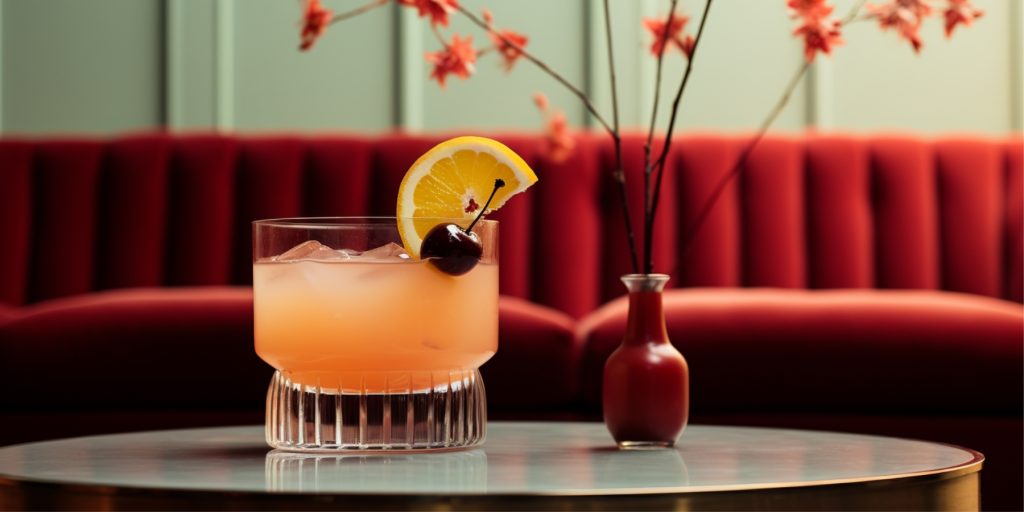 If you are on the lookout for fruity variations of the Whiskey Sour, the Cherry Point Sour should be at the top of your list. Cherry cocktails are enjoying a lingering moment in the limelight, and this drink is a great example of how you can allow these little stone fruits to shine as a garnish.
Combine 2 oz whiskey, 0.75 oz fresh lemon juice, and 0.75 oz simple syrup in a cocktail shaker with ice and shake. Strain into a rocks glass with ice. Float a measure of red wine (we like a Bordeaux blend) on top of the drink. Garnish with a brandied cherry speared through a lemon wheel.
3. Gold Rush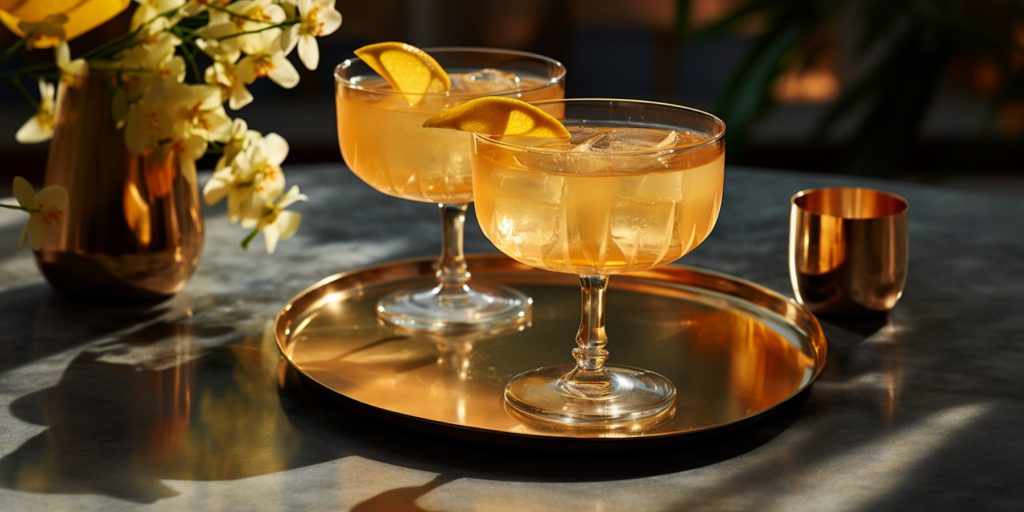 Variations on the Whiskey Sour with honey in the mix? Yes, please! First invented in New York before prohibition, the Gold Rush cocktail shares similarities with the Whiskey Sour and the buzzy Bee's Knees, featuring Wild Turkey 101 Bourbon as a base spirit. Straightforward, sophisticated, and refreshing, it's the perfect pre-dinner serve for your next party.
More amazzzzingness: Honey Syrup Recipe | 12 Honey Syrup Cocktails
4. Fall Spiced Whiskey Sour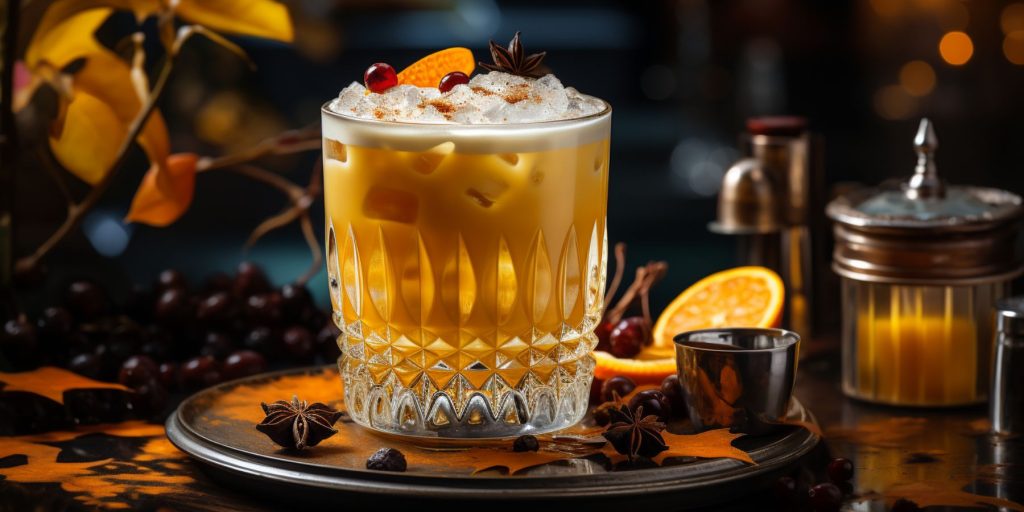 Arguably one of the best Whiskey Sour variations for folks who love fall, the Fall Spiced Whiskey Sour is a deliciously flavorful cocktail with lots of tasty layers to it. Combine 2 oz whiskey, 3 oz apple cider, 1.5 oz fresh lemon juice, and a pinch of pumpkin pie spice in a cocktail shaker with ice. Shake well until mixed and ice cold. Strain and pour into a cocktail glass filled with fresh ice. Garnish with an apple slice or a sprig of rosemary.
Speaking of spice… All the Spicy Cocktail Recipes You Need if You Like It Hot
5. Maple Rye Sour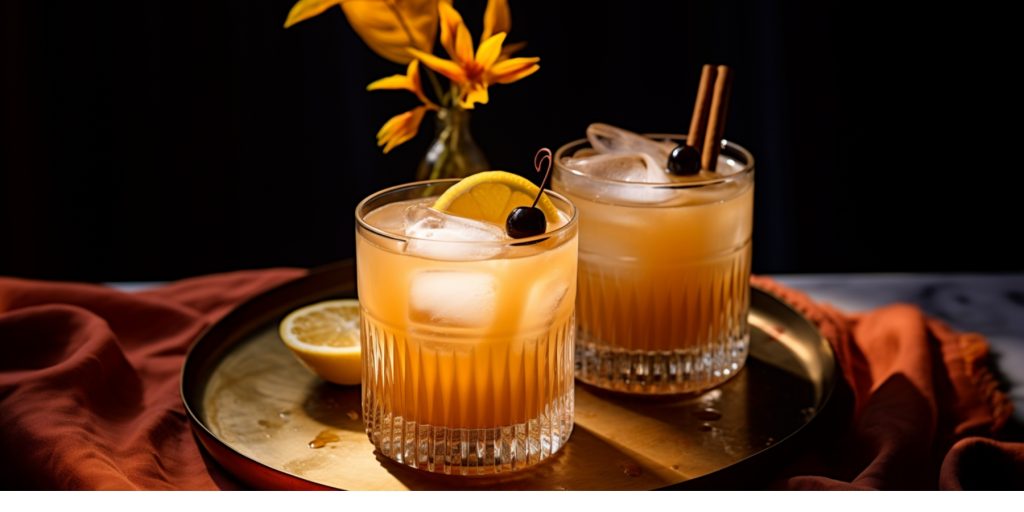 The best rye cocktails have a jaunty-yet-dapper vibe, and the Maple Rye Sour is certainly no exception. As far as Whiskey Sour cocktail variations go, this one is likely to quickly become a staple on your go-to DIY drink roster if you love a good rye. Combine 2 oz rye whiskey, 0.5 oz fresh lemon juice, 0.25 oz maple syrup, and 0.25 oz amaro liqueur in a cocktail shaker. Fill it with ice, cover it, and shake vigorously until chilled. Strain into a chilled sour glass and garnish with an orange peel.
6. Lychee Sour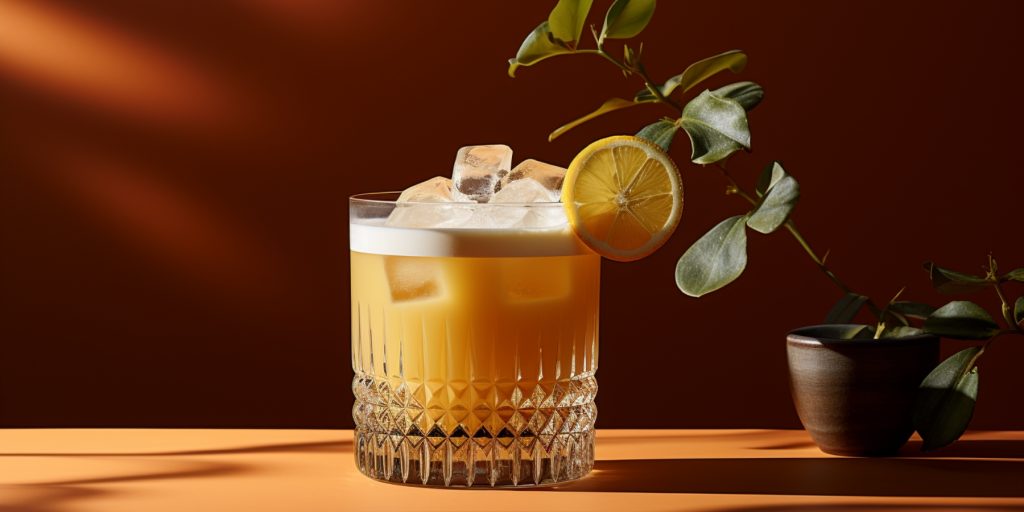 If you're in the mood for Whiskey Sour variations with a bit of a tropical slant, this is the drink you want to make! To make a Lychee Sour, add 1.5 oz whiskey, 0.25 oz fresh lemon juice, 0.25 oz simple syrup, and 1.5 oz lychee juice to a cocktail shaker with ice. Shake until chilled, strain into a rocks glass with fresh ice, and garnish with a lemon twist.
Love lychee? Shake up a Lychee Martini!
7. Pomegranate Whiskey Sour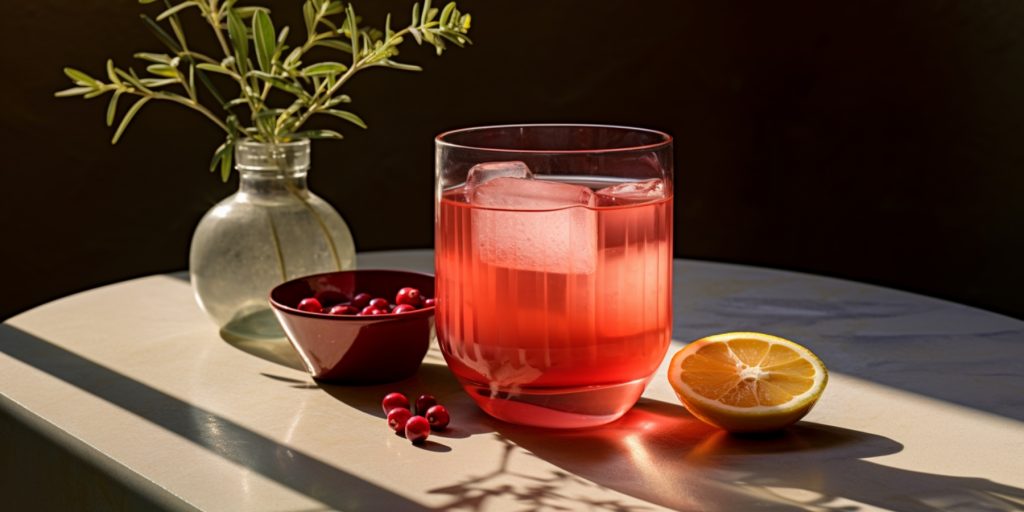 Pomegranate cocktails are super trendy right now, and this Pomegranate Whiskey Sour is a great example of how the unique taste of fruit can shine. This Whiskey Sour recipe calls for pomegranate simple syrup. You can choose to either buy a bottle of grenadine at the store or if pomegranates are in season, make your own syrup at home. It's super simple.
Making the cocktail is just as easy. Combine 4 oz Wild Turkey 101 Bourbon, 2 oz fresh lemon juice, and 2 oz pomegranate simple syrup in a shaker with ice. Vigorously shake until well combined, about 20 seconds. Strain into a serving glass over fresh ice and enjoy!
8. New York Sour
An IBA official cocktail, the New York Sour cocktail hails from the mid-19th century. Adding red wine to the classic Whiskey Sour imparts a deep red color and striking aromatic qualities that make for a wonderfully complex flavor profile without being too finicky to shake up on the fly.
What on earth is the IBA? 15 Drinks on the IBA's List of Official Cocktails You Gotta Try
9. Pickle Juice Whiskey Sour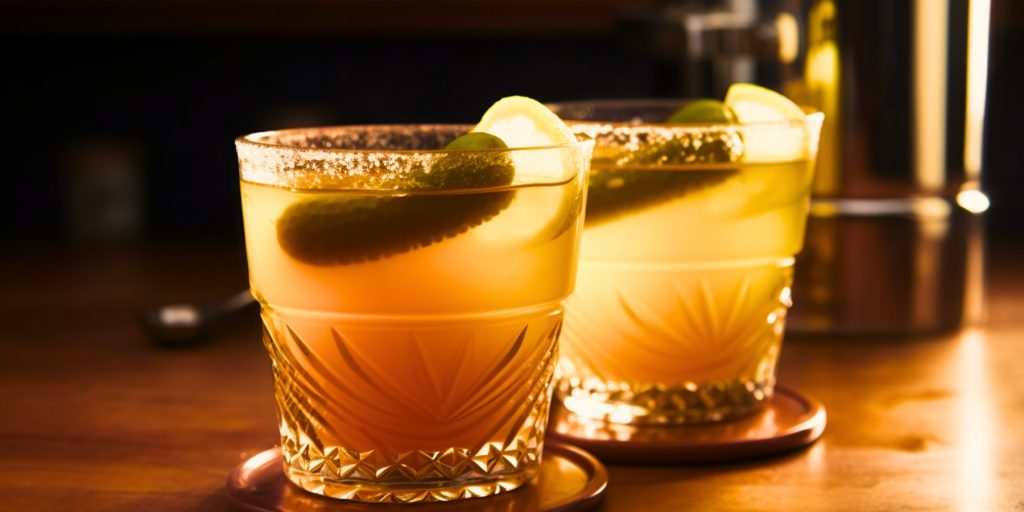 Prepare to embark on a flavor adventure like no other with the Pickle Juice Whiskey Sour. It's a tantalizing fusion of tangy pickle juice, smooth whiskey, and zesty citrus that will awaken your taste buds and leave you craving more.
10. Cranberry Orange Whiskey Sour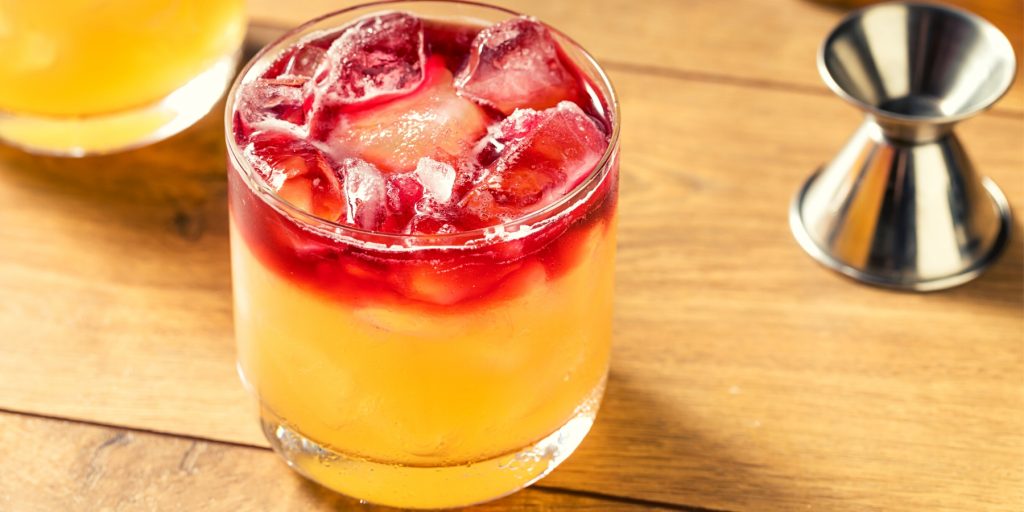 This Cranberry Orange Whiskey Sour is a thing of beauty. Add 1 oz unsweetened cranberry juice, 3 oz orange juice, 2 oz whiskey, 0.5 oz Grand Marnier, 0.5 oz lemon juice, 0.5 oz simple syrup, and two sprigs of thyme to a cocktail shaker with ice. Shake vigorously for 30 seconds and strain into a chilled glass. Top it off with ginger beer and garnish with an orange peel and fresh thyme.
11. Pisco Sour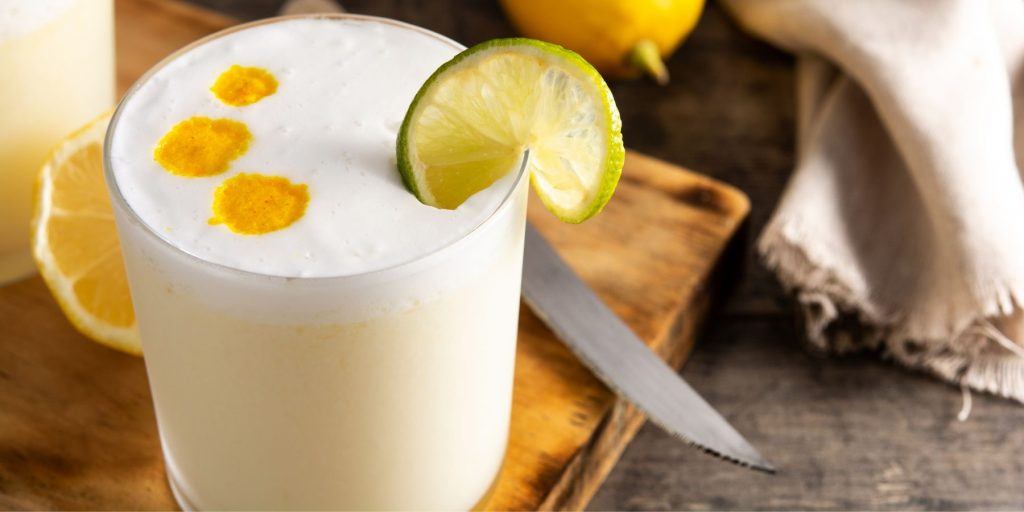 Hailing from pretty Peru, the Pisco Sour cocktail is an earthy and refreshing drink featuring pisco (a white Peruvian brandy made from Muscadel grapes), lime, egg white, bitters, and sugar as ingredients. It also happens to be the national cocktail of Peru and Chile.
There you have it – 11 sensational Whiskey Sour variations to try at home. If you loved this, we have plenty more awesomeness to share! Sign up for our newsletter to be the first to know when a new and exciting cocktail recipe lands…
FREQUENTLY ASKED QUESTIONS
If you love a Whiskey Sour, you might also enjoy a Pisco Sour, Cranberry Orange Whiskey Sour, Pickle Juice Whiskey Sour, or New York Sour. Find a full list of Whiskey Sour variations on The Mixer.
A Whiskey Sour and a Pisco Sour use different spirits and have different origins. The Whiskey Sour is made with whiskey (often bourbon), lemon juice, and simple syrup, originating in the United States. On the other hand, the Pisco Sour originates from Peru and Chile and uses Pisco, a grape brandy, mixed with lime juice, sugar, egg white, and bitters. While both are sours, the choice of base spirit and additional ingredients gives each cocktail its distinct flavor profile.