12 Rye Whiskey Cocktails to Make at Home
January 16, 2023 by Karl Tessendorf
If sugar, spice, and everything nice is your thing, you'll love our list of best rye cocktails. We've got everything from icons and stalwarts, to riffs upon riffs of new and exciting drinks. There's something for everyone, and even if the spicy edge of rye makes you nervous, we guarantee there's a cocktail in here for you. So, without further ado, let's see how you do with our best rye whiskey cocktails.
1. Sazerac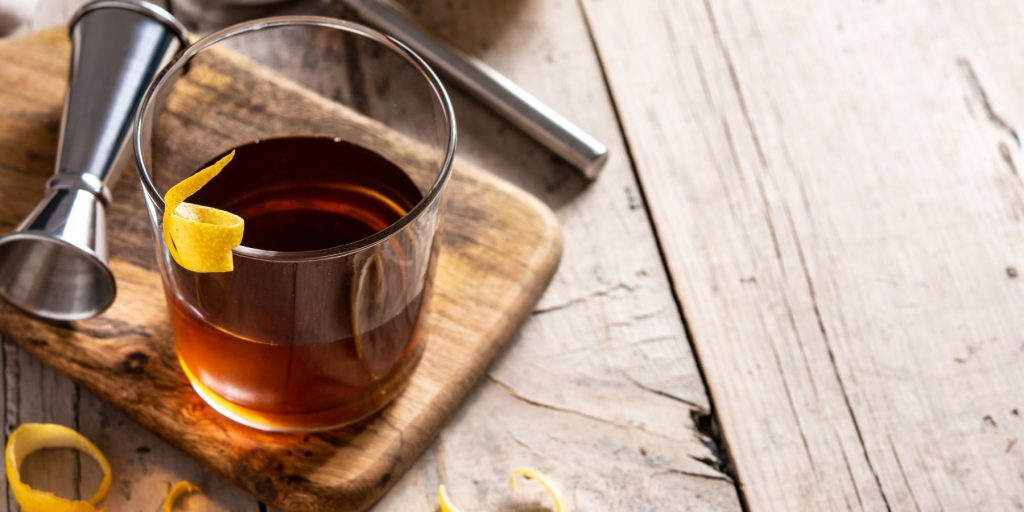 Cocktail history is often steeped in tall tales and fuzzy memories. It's understandable, considering the subject matter tends to blur the edges, but what's undeniable is Sazerac's claim to fame. The Sazerac is version 1.0 of the cocktail. The original prototype that's credited as being the first mixed drink recipe in the world. It was developed in the 1800s and features an absinthe rinse before the whiskey, sugar, and bitters are even mixed. The Sazerac is deep and complex, and it's still one of the most popular rye whiskey cocktails to date.
2. Boulevardier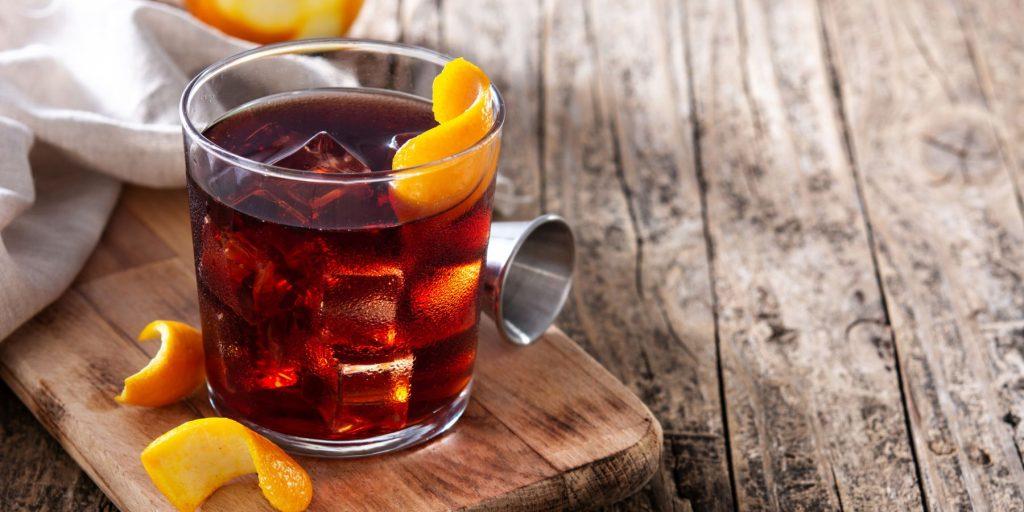 Invented by an American socialite living in Paris, the Boulevardier is the best rye cocktail to come out of the roaring 20s. It's based on the ever-popular Negroni and follows the same formula of equal parts Campari, gin, and sweet vermouth. But instead of gin, it uses whiskey— either rye or bourbon. The rye version smacks of spicy, peppery goodness that accentuates the bitter orange flavor of Campari, and the sweet herbal punch of vermouth. The Boulevardier is a deeply satisfying cocktail, and one just never seems to be enough.
You also might like: 15 Winter Whiskey Cocktails.
3. Manhattan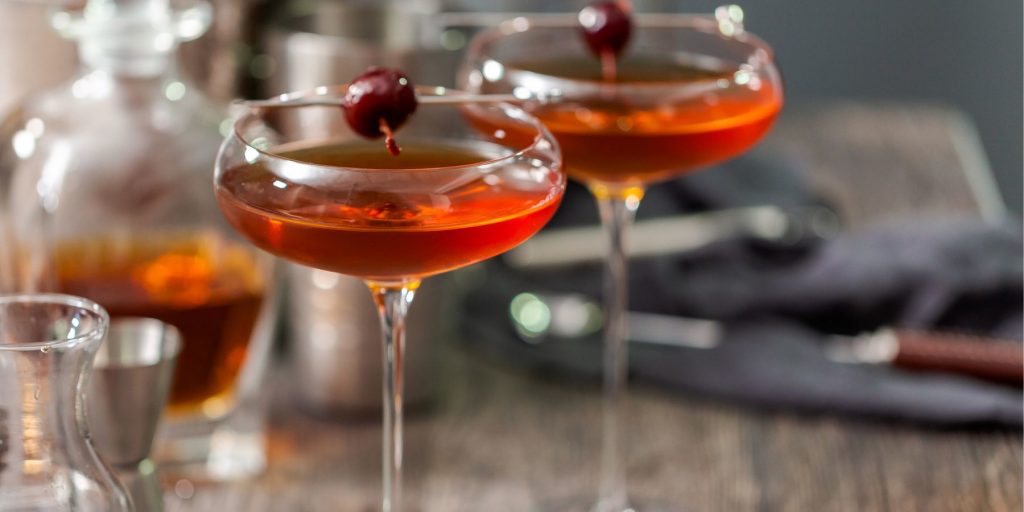 No list of best rye cocktails would be complete without the mighty Manhattan. It was the preferred sipping cocktail of every well-to-do 1800s socialite, and it's still popular today. At first glance, it may seem a little daunting because it's just booze served straight up, but don't be fooled. It has some kick—but when shaken over ice and enjoyed slowly, it's glorious. The bite of rye melds into the sweet and spicy vermouth, and the bitters add contrast and pep. It's not only on our best rye cocktail list, but it's also a candidate for our best-ever cocktail list.
4. Old Pal Cocktail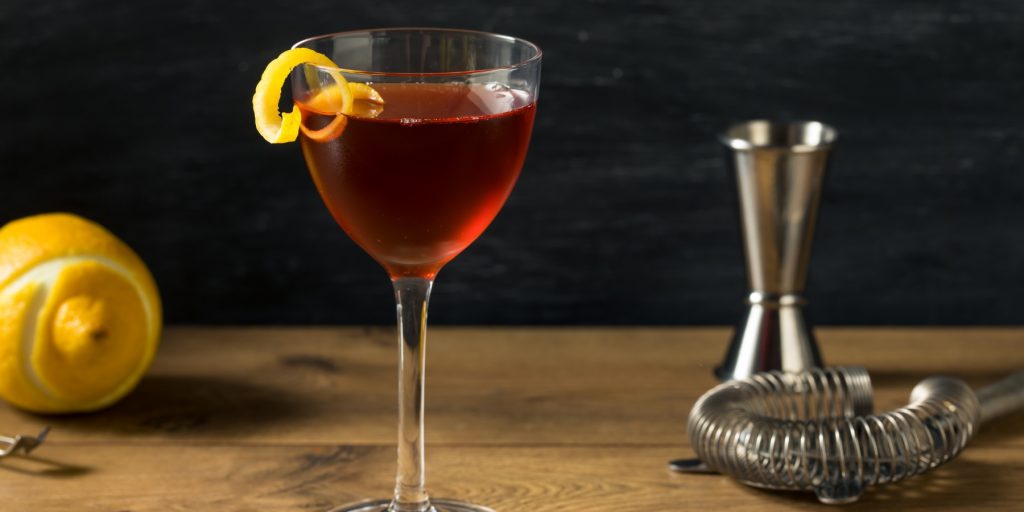 Do you remember the Boulevardier cocktail from earlier? Well, meet his cousin, Old Pal. If you haven't already guessed, the Old Pal is a spin-off of the Boulevardier. Much like its cousin, the Old Pal has almost an identical makeup, except that it features dry vermouth instead of sweet. The dry vermouth acts like a floral-laced citrus bridge between the rye whiskey and Campari. Even though they are both power flavor players, the dry vermouth lightens the overall tone. The result is a brisk and assertive cocktail that dances across the palate before leaving you with a lingering bitter finish.
5. Black Manhattan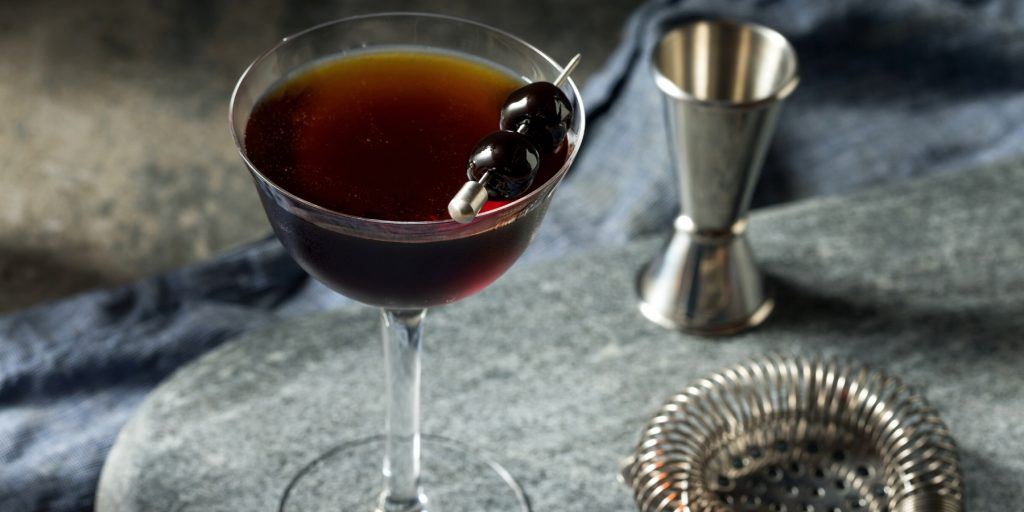 In keeping with our 'cocktails riffing on cocktails' theme, the Black Manhattan slides into our number five spot. It's a relatively new cocktail that was developed in 2005. Bartender Todd Smith decided that the Manhattan needed more revs, so he cranked the Italian influence up to 11. Instead of the traditional sweet vermouth, Todd added a hefty dose of the Italian amaro, Averna. The dark and bitter amaro has a secret blend of herbs, roots, and spices that are infused with caramel flavor. He dubbed his new creation the Black Manhattan, and the sultry and seductive cocktail was born.
6. New York Sour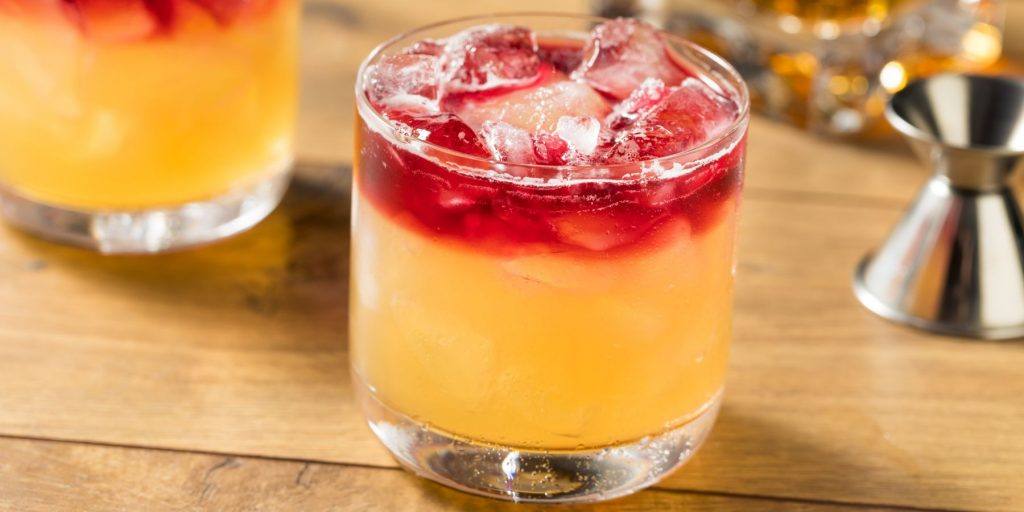 The Whiskey Sour is one of the world's favorite old-school cocktails, and for a good reason. It's the perfect blend of sweet and sour with a punchy bite of rye whiskey. The egg white seems strange at first, but after one sip, you'll understand its silky mouthfeel purpose. The New York Sour has all that good stuff, plus a float of red wine to finish it off. The wine lends fruity sweetness and acidity to the cocktail, as well as a lovely pink floating hue. It's not only one of the best rye cocktails to make, but it's also one of the most interesting.
7. Vieux Carré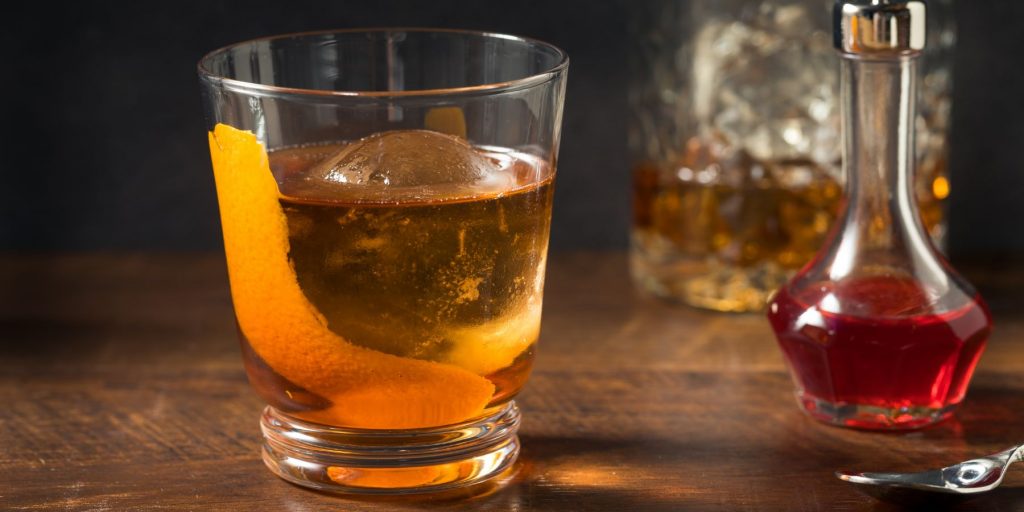 As the cocktail's birthplace, you'd think New Orleans would be happy to rest on the success of the Sazerac, but you'd be wrong. The Big Easy never sleeps, and since that fateful day, they've churned out more new cocktails than most countries ever will. The Vieux Carré is one such classic that blends the best of spicy rye and fruity Cognac. It's balanced with a potent blend of botanical sweet vermouth, a sweet and spicy herbaceous liqueur, and aromatic bitters. It's a heady cocktail that can rightly be summed up as a taste of New Orleans.
Thirsty for more? 10 New Orleans-Inspired Cocktails to Make this Mardi Gras
8. Bananarac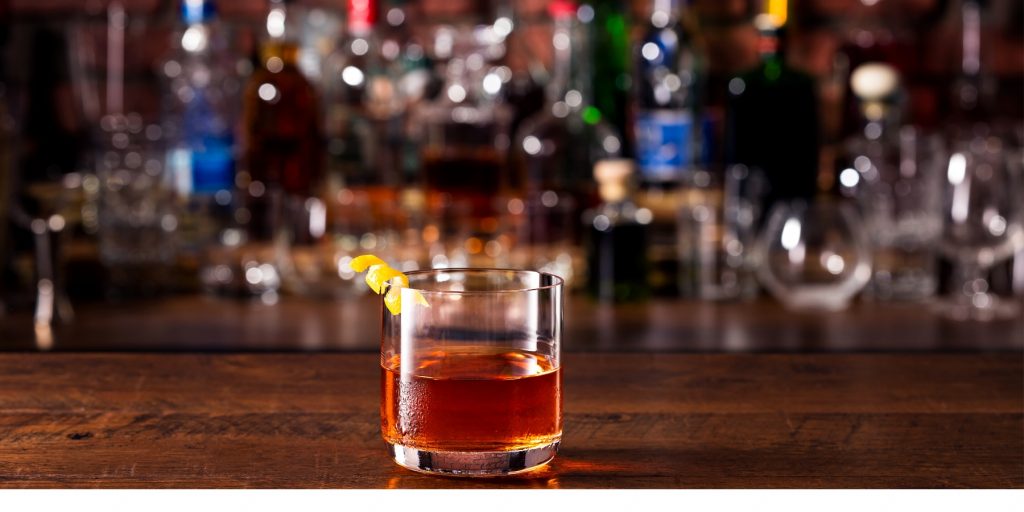 We may have left New Orleans for this next cocktail, but its influence lingers like a good rye whiskey. The Bananarac is a fruity riff on the famous Sazerac cocktail, featuring potent banana liqueur. It's joined by the classic rye and Cognac blend and seasoned with demerara sugar and aromatic bitters. The Bananarac has the soul of a Sazerac with a tropical banana spirit that's assertive enough to know it's there, but not strong enough to overwhelm your palate.
9. Monte Cassino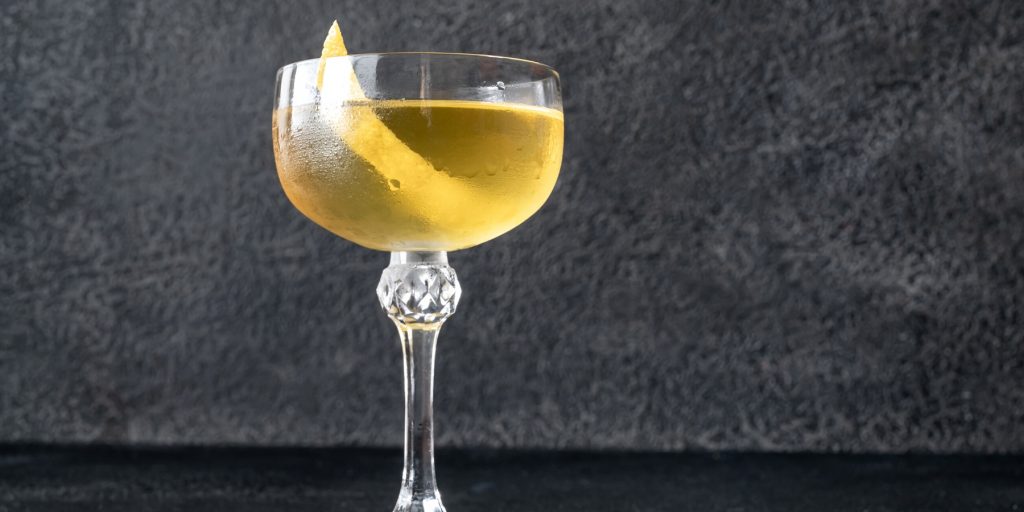 Based on the tried and tested formula of the famous Last Word cocktail, the Monte Cassino is a modern-day classic. It was developed in 2010 by bartender Damon Dyer, and features equal parts rye whiskey, herbal liqueur, yellow Chartreuse, and lemon juice. It's rich and rounded with generous floral and botanical notes, underpinned by the edgy spice of rye whiskey.
10. Preakness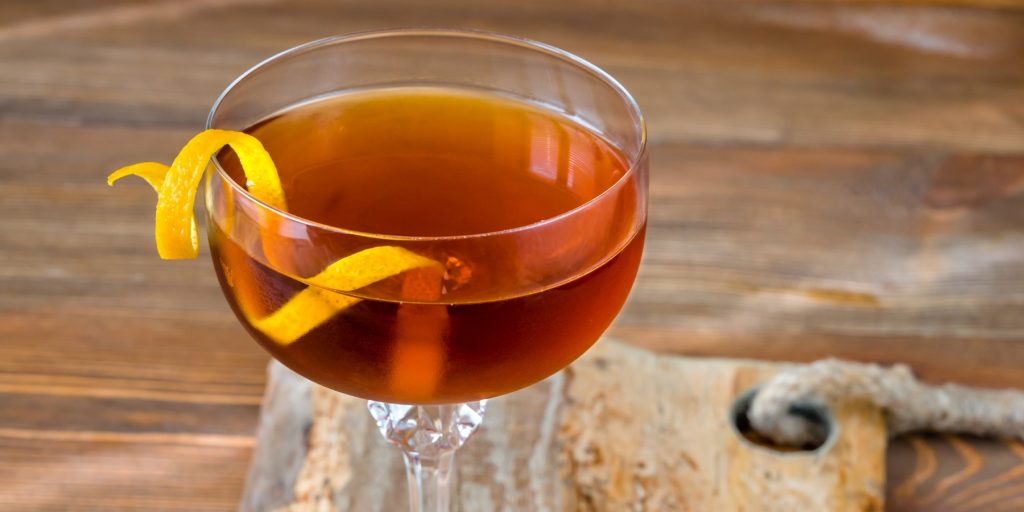 Horse racing and cocktails have a long history together. The Mint Julep and Kentucky Derby is probably the most famous example of this, but it's not the only winning ticket in town. The Preakness Stakes is Baltimore's annual race, and you better believe it has its own cocktail. The Preakness is a racing riff on the classic Manhattan cocktail with a French twist. A floral French liqueur adds a melange of citrus, honey, stone fruit, and warm spice flavors to the mix. This pairs perfectly with the sweet vermouth and creates an unforgettable contrast with the rye whiskey.
11. Jane Russell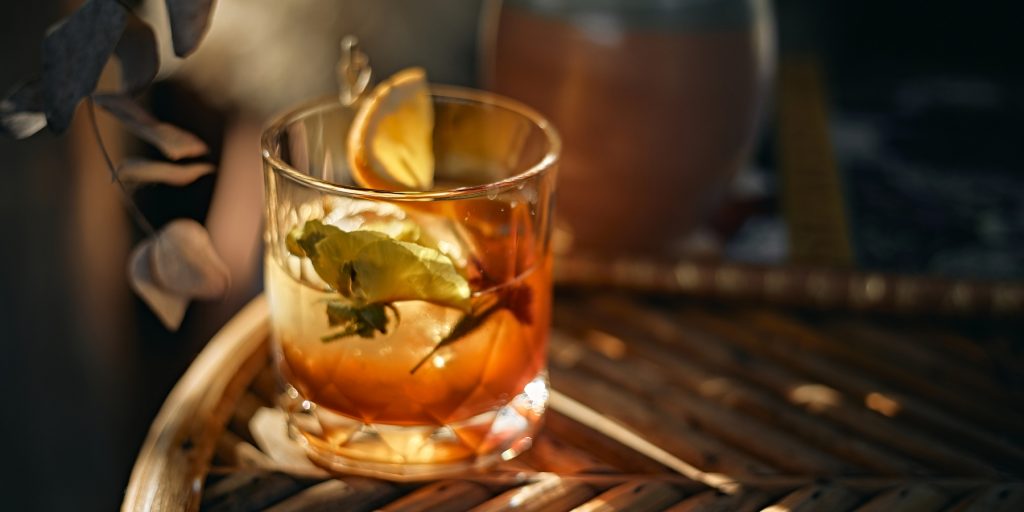 The Jane Russell sounds like a simple drink but this cocktail is anything but that. It features two types of rye whiskey, French herbal liqueur, Italian red vermouth, Grand Marnier, and a dash of specialty chocolate and cinnamon bitters. It's a complex beast of a cocktail that was invented by New York bartender, Brian Miller. With so many powerful ingredients, you'd think that it would be overpowering, but the opposite is true. It's a masterclass in flavor balance, with each ingredient enhancing the other to create something unique.
12. Whiskey Highball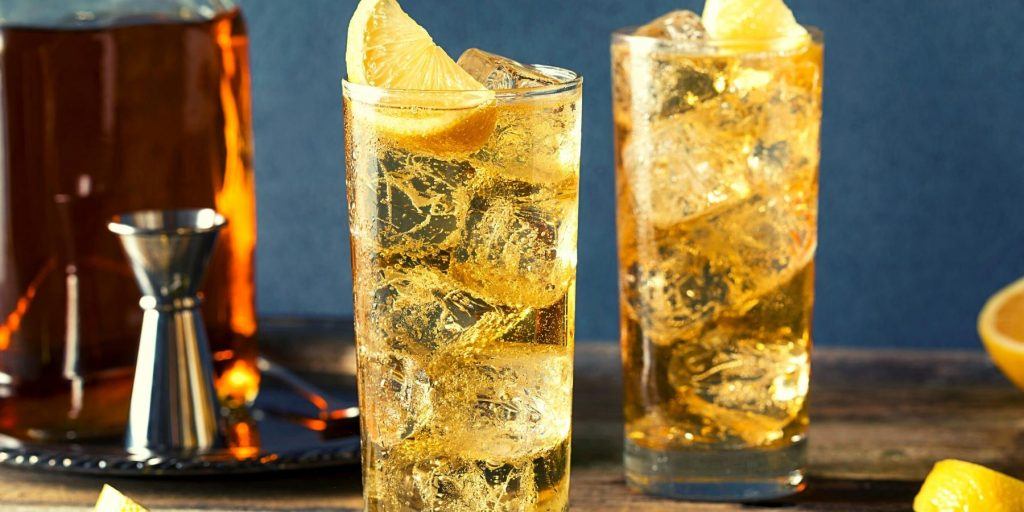 We've come to the end of our best rye cocktails list, and we couldn't think of a better cocktail to end on. Why do you ask? Because after so many complex cocktails with weird and wonderful ingredients, a Whiskey Highball is the ultimate palate cleanser. It's a straightforward, no-nonsense drink that champions the beauty of rye whiskey. With nothing but ice and club soda, there's nowhere to hide from the bold character of rye. It's simple, it's delicious, and there's never a bad time for a Whiskey Highball.
FREQUENTLY ASKED QUESTIONS
All whiskey is made from a mash of cooked grains. The type of grains used in the mash often determines the type of whiskey. The mash of grains for rye whiskey must contain at least 51% rye to be considered a rye whiskey.
Rye whiskey has a strong spicy and peppery flavor which is great for adding punch and character to cocktails. If you prefer something sweeter, opt for bourbon instead of rye.