10 Easy Thanksgiving Cocktails to Serve up This Holiday
October 11, 2022 by Anna-Bet Stemmet
Easy Thanksgiving cocktails are a completely essential hosting hack to have up your sleeve over the holidays. After all, when you are going through all the trouble of cooking up an amazing feast, you want lovely drinks to match.
So, to get you inspired to serve up incredible drinks this festive season (without going into a complete tailspin on Turkey Day!), here is our ultimate pick of easy cocktails for Thanksgiving.
1. Cranberry Orange Whiskey Sour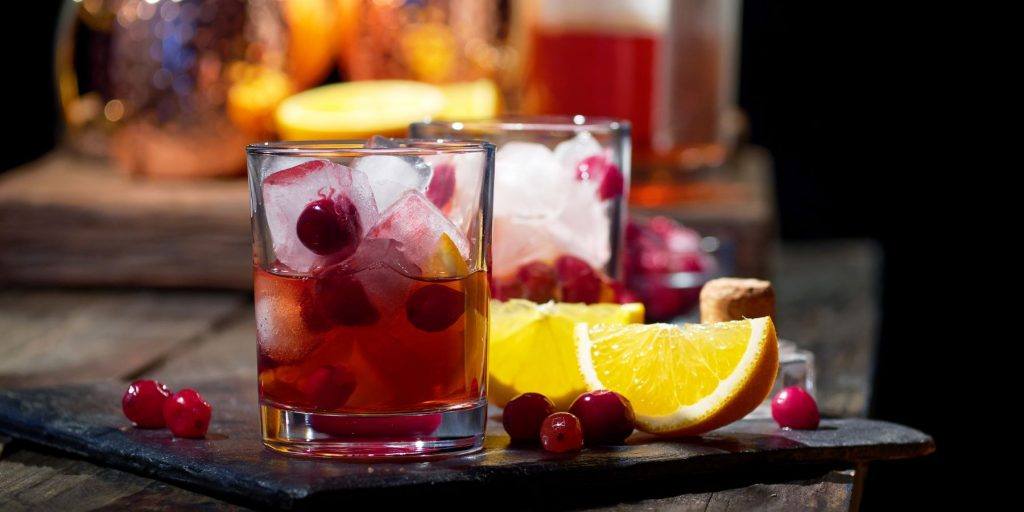 Simple thanksgiving cocktails can be easy to pour without compromising on flavor in the least. Take the Cranberry Orange Whisky Sour, for instance. This beautifully layered drink 2 oz Wild Turkey 101 Whiskey, 0.5 oz Grand Marnier, 1 oz unsweetened cranberry juice, 3 oz fresh orange juice, 0.5 oz fresh lemon juice, and 0.5 oz simple syrup, which is shaken and strained into a chilled glass. This is then topped off with 2 oz of ginger beer and garnished with something pretty like orange peel or fresh thyme.
Love ginger? All the Tangy Ginger Beer Cocktails You'll Ever Need!
2. Pecan Pie Martini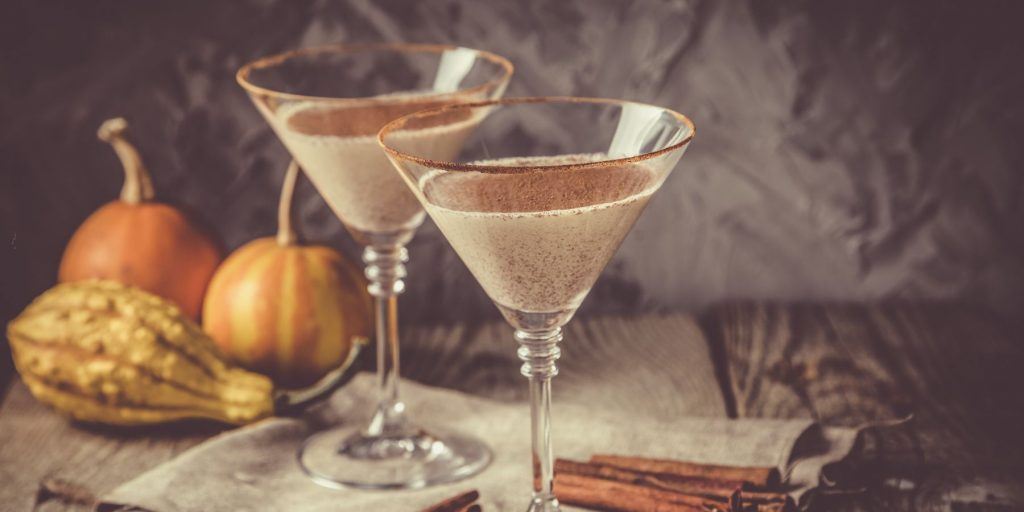 There are very few easy Thanksgiving alcoholic drinks that are quite as moreish as the Pecan Pie Martini cocktail. Creamy, sweet, and boozy, it's perfect to serve as a dessert or an indulgent nightcap at the end of the evening. The recipe calls for 2 oz cream liqueur, 2 oz creme de cacao, 1 oz bourbon, and 1 oz half-and-half, which is shaken with ice until cold, and then poured into martini glasses. If you really want to push out the boat, you can coat the rim of the glasses in caramel and dip it in chopped pecans beforehand.
3. Mulled Wine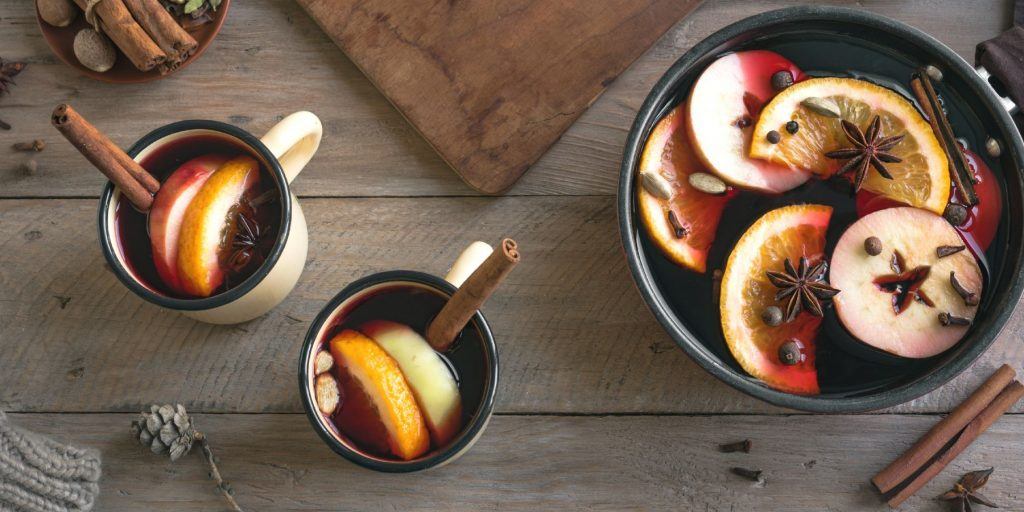 If easy thanksgiving cocktails for a crowd are on your list of things to master this season, look no further than the classic Mulled Wine cocktail. This spiced cocktail is so easy to serve a crowd and is a super popular sip across Europe in the winter. Simmer red wine, spices, brandy, fresh oranges, and little sugar in a pot for up to 3 hours, and then serve in mugs.
Read more: The Best Thanksgiving Cocktails for a Festive Feast
4. Appletini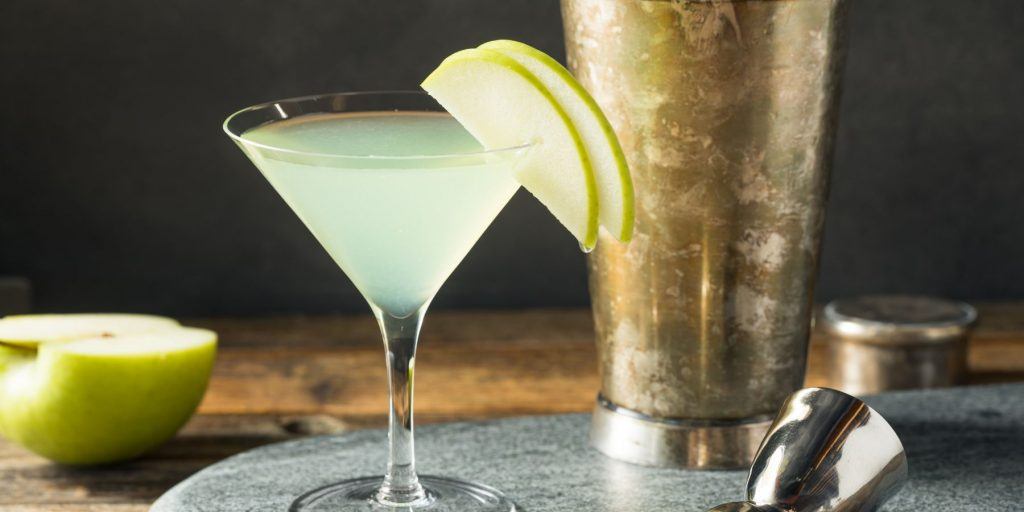 Easy thanksgiving cocktails recipes can also be completely stylish – just take the Appletini cocktail, for instance. You simply up equal measures of vodka and cloudy apple juice with a dash of lemon juice for a delightful sweet-and-sour cocktail. It's a smooth sip that offers a light counterpoint to heavier Thanksgiving dishes.
5. Maple-Bourbon Smash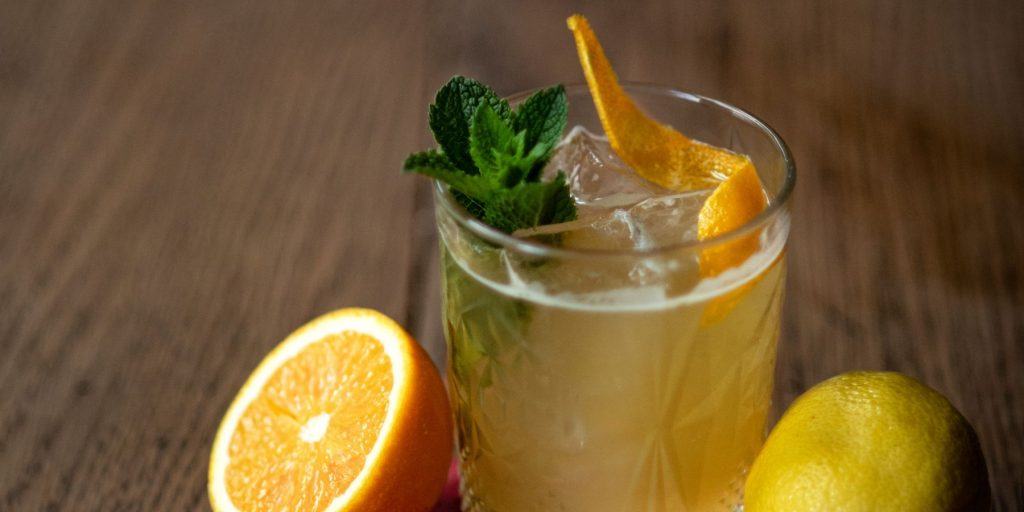 A delicious riff on the classic Old Fashioned, this refreshing drink combines 2 oz bourbon, 0.5 oz maple syrup, 0.5 oz fresh lemon juice, 0.25 oz fresh lemon juice, 4 dashes of bitters, half an orange wheel, and 1.5 oz chilled club soda. You add the syrup, orange juice, lemon juice, and bitters to a rocks glass, then you add the orange wheel and muddle it lightly. Pour in the bourbon and give it a stir before filling the glass with ice and topping it off with club soda.
Read more: 17 Very Merry Bourbon Christmas Cocktails
6. Apple Cider Mimosa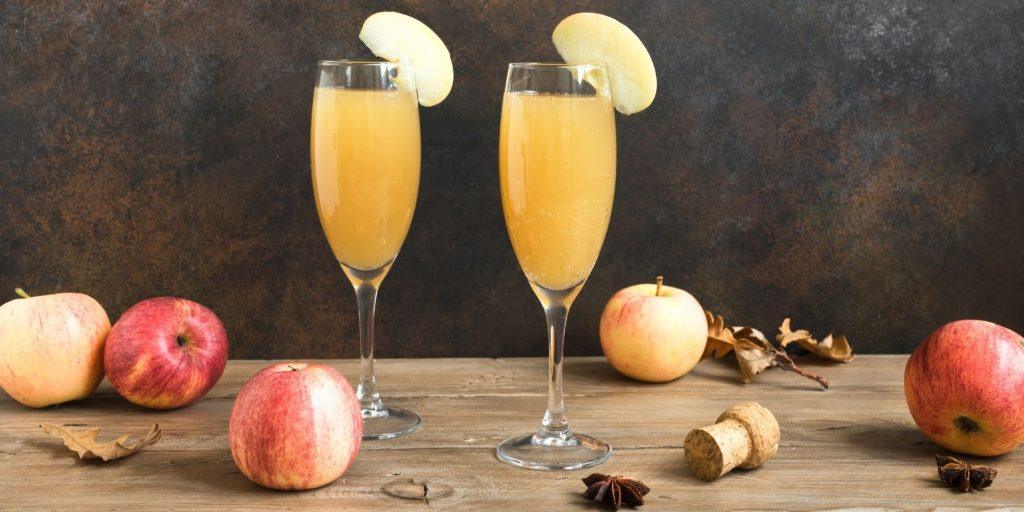 The Apple Cider Mimosa is arguably one of the best easy Thanksgiving cocktails for beginners. Featuring equal parts apple cider and Champagne, served with a sugar-and-cinnamon rim, it combines the festiveness of bubbles, with the warming flavors of harvest-time favorites.
7. Pumpkin Pie Moscow Mule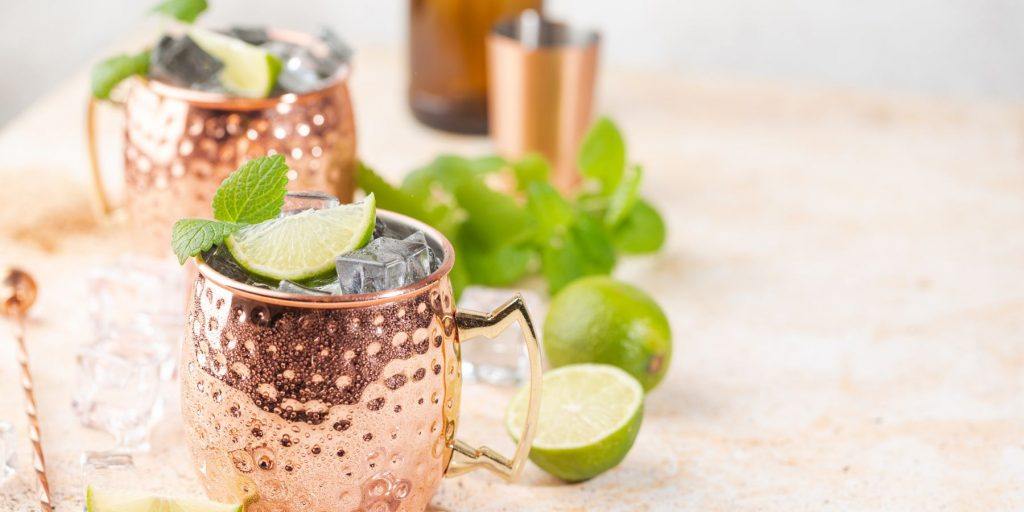 If you are a hardcore pumpkin spice fan, this one is for you! The Pumpkin Pie Moscow Mule follows the template of the iconic Moscow Mule, but brings it right into the Thanksgiving theme by adding that delectable hint of pumpkin pie deliciousness. There are quite a few variations on this recipe, but we like to keep it as simple as possible.
You'll need 2 oz SKYY Vodka, 1 large tablespoon of pumpkin puree, 0.5 teaspoon pumpkin pie spice, a squeeze of lime, and spicy ginger beer. Shake the vodka, pumpkin puree, pie spice, and lime juice together in a cocktail shaker with ice, then strain into a copper mule mug filled with ice and top it off with ginger beer. Garnish with another sprinkle of pumpkin pie spice before serving.
8. Big Apple Manhattan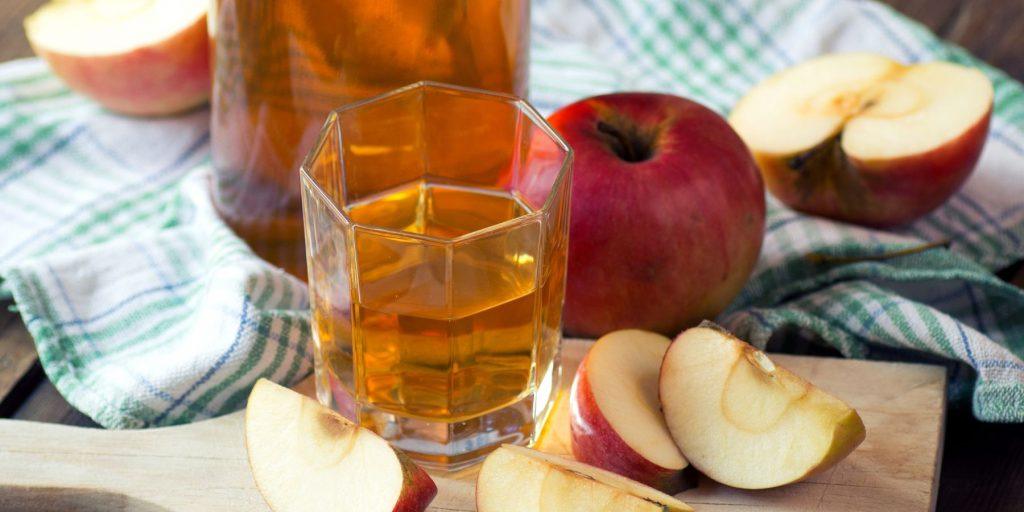 Apples are the ultimate fall fruit, and this variation on the Manhattan theme is a lovely way to incorporate it into your Thanksgiving drinks line-up. Add 2 oz Wild Turkey Rye Whiskey, 1 oz apple brandy, and 2 dashes of bitters to a cocktail shaker with ice and stir until cool. Strain into a glass and garnish with a single apple slice.
Hosting alcohol-free? How To Shake Your Best Cocktail into Mocktail
9. Cranberry Caipirinha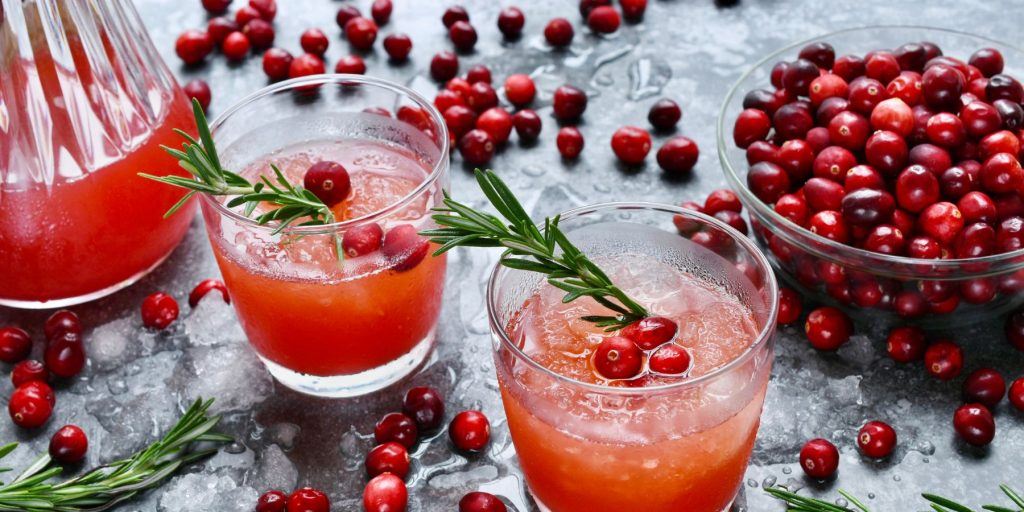 To make a Cranberry Caipirinha, you will need a quarter cup of fresh or frozen cranberries, half a lime, cut into quarters, a tablespoon of sugar, crushed ice, 5 oz cachaca, and chilled club soda. Muddle the cranberries, lime, and sugar together until the sugar dissolves. Fill the glass with crushed ice, and pour over the cachaca, stirring to combine. If you prefer a lighter drink, you can then top it off with some club soda as well.
10. Hot Toddy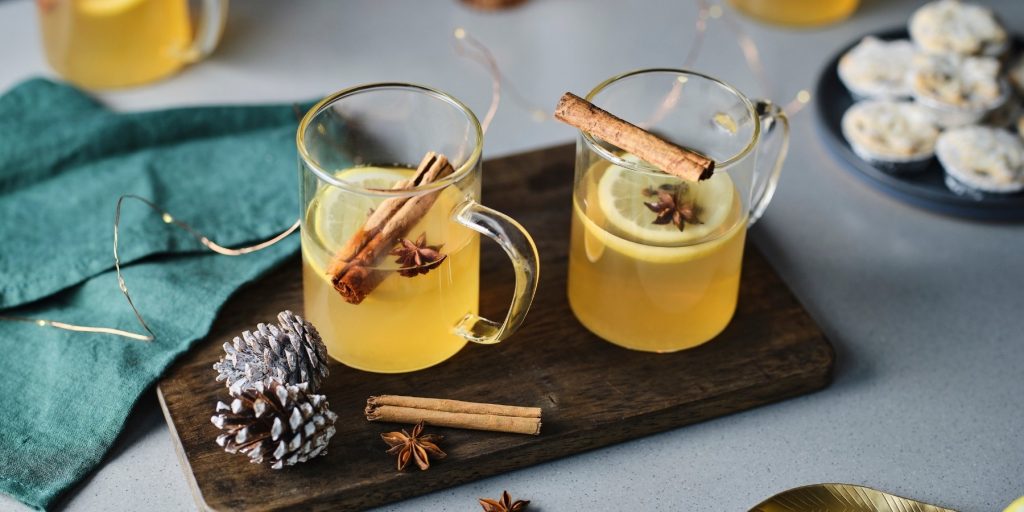 Easy big batch thanksgiving cocktails do not come any cozier than the always-classic Hot Toddy. Super simple to whip up for a crowd, and wonderfully mood-boosting to boot, it's like a holiday hug in a mug. Serve it up in front of a crackling fire for the ultimate snug and cuddly vibe.
More hot inspo: All the Hot Rum Cocktails You Will Ever Need
There you have it – 10 completely gorgeous, yet beautifully easy Thanksgiving cocktails to try at home this festive season. Happy holidays!
FREQUENTLY ASKED QUESTIONS
You'll find that traditional Thanksgiving drinks vary depending on where your region. The Maple-Bourbon Smash cocktail is an all-American taste sensation, but a good old Mulled Wine is a popular sip on chilly nights. You'll have to work on our list from top to bottom and find out which ones are your best Thanksgiving cocktails.
The best Thanksgiving cocktails are the drinks that are easy to serve when hosting a crowd. The kitchen gets busy, so choose Thanksgiving cocktails that suit your time frame. Whiskey, bourbon and rum are ideal Thanksgiving drinks that make a perfect warming sip on Thanksgiving when it's chilly outdoors.
We recommend serving easy cocktails that pair well with your Thanksgiving menu. Some of the simplest mixed drinks to pair with classic holiday dishes include the Hot Toddy, Appletini and Apple Cider Mimosa.