9 Best Christmas Cocktails You Can Make This December
May 02, 2022 by Helena Lombard
Oh sweet, sweet December. You are the only excuse we need to be together, to get festive, to create memories and to drink the best Christmas cocktails ever. From crowd-pleasers to cheerful old favorites and a few twists on the classics, we've got December covered with fun alcoholic drinks for Christmas.
1. Apple Butter Old Fashioned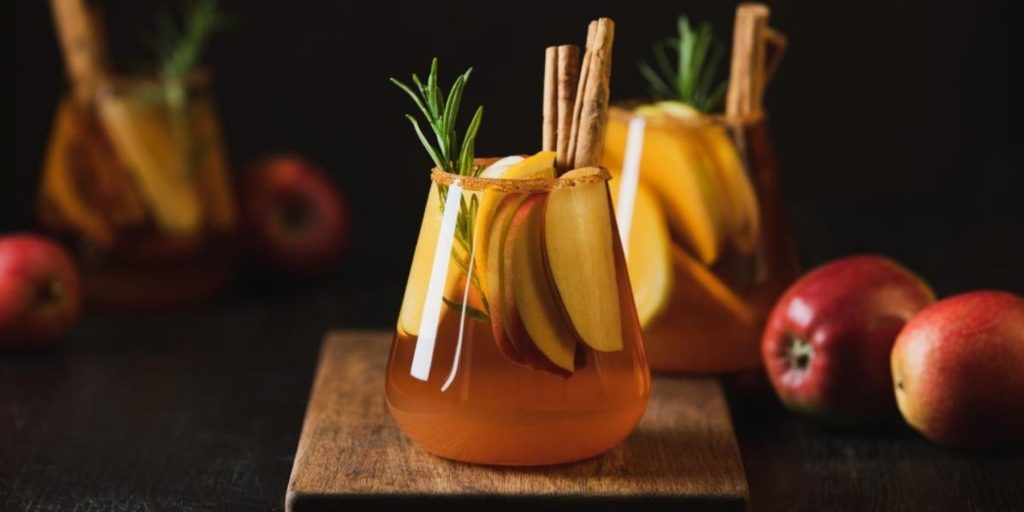 Call us old-fashioned, but doesn't the idea of homemade apple butter in a bourbon-based drink just make your mouth water? This is what cinnamon-scented Christmas dreams are made of. The Apple Butter Old Fashioned has a special place in our hearts, and after you've sipped one, you'll understand why it's at the top of our best of Christmas cocktails list.
2. Jack Frost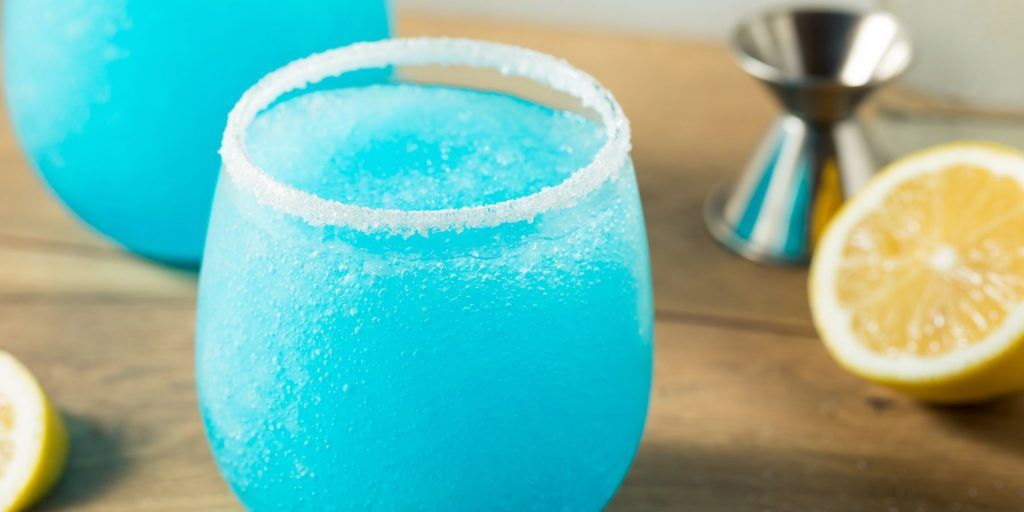 Jack Frost is famous in folklore and tales all over the world. In adult land, however, he is a mischievous frozen blue drink that spreads festive cheer. This is one of those fun alcoholic drinks for Christmas that will make your family and friends forget about the freezing temperatures outside while warming them up with a taste of the tropics inside. All you need is vodka or rum, pineapple juice, Blue Curaçao, coconut cream, corn syrup, ice, a decent blender, and your favorite people to share it with.
3. Hot Apple Cider Cocktail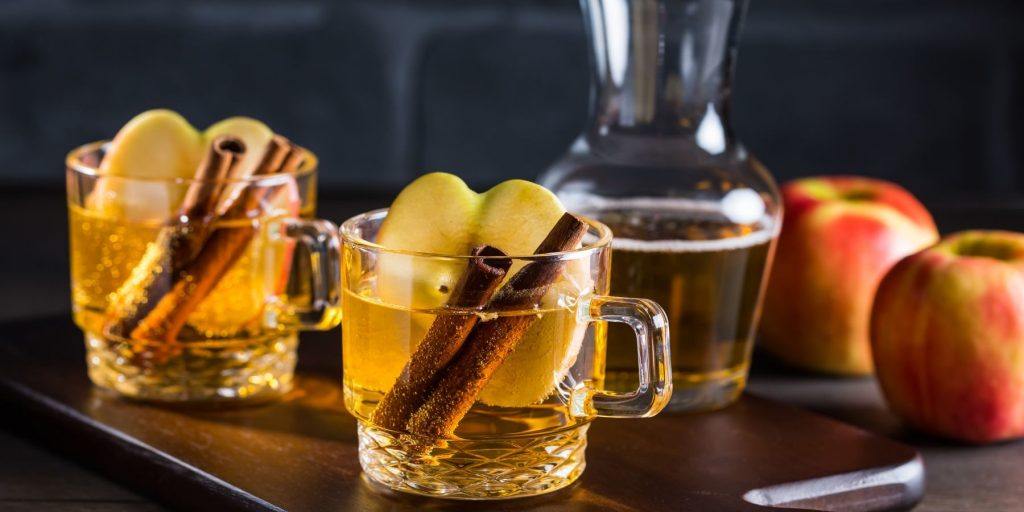 A Hot Apple Cider cocktail is one of the best Christmas cocktails. You're basically adding some festive season magic to a Hot Toddy recipe. This Christmas-themed cocktail will be a brandy or whiskey lover's delight. While apple cider is clearly the hero ingredient, the rest is up to your own taste. Spice it up with cinnamon, cloves, or star anise. Add some extra fruit flavors with orange, lemon, and even baked apple. It is a great Christmas drink to serve your guests as they spill through your doors.
4. Grasshopper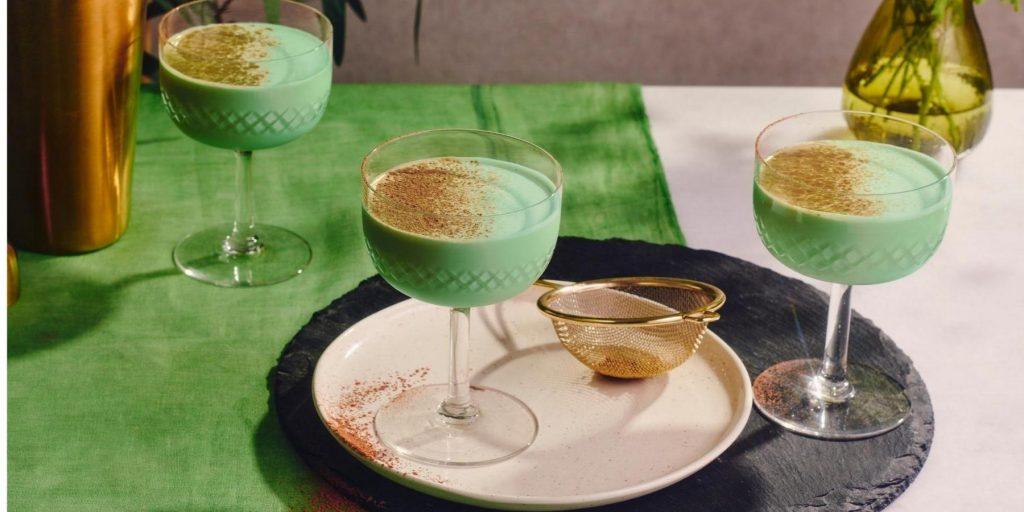 If you haven't yet, it's time you hop onto this holiday cocktail trend. The Grasshopper is one of the best simple Christmas cocktails you will ever make. This indulgent chocolate and mint cocktail dates back to the 1900s making it one of the oldest cocktails in the books and it's low-proof, so your guests can enjoy more than one. Taste-wise it's like creamy dessert in a glass so we suggest you serve it as the perfect sweet ending to your Christmas feast.
5. Eggnog Martini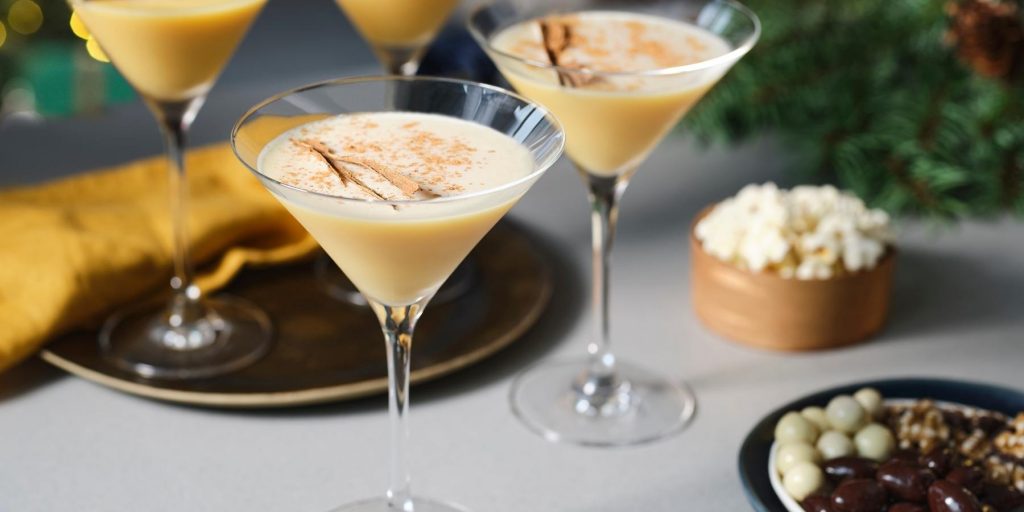 Speaking about the best of Christmas cocktails, another number one hit and family favorite is eggnog. But what happens if you skip the rum, add a vanilla vodka and amaretto twist, shake it up and strain it into a glass? The Eggnog Martini, that's what, and it's epic! As far as best vodka Christmas cocktails go, this one is packed with sweet and indulgent holiday cheer. You absolutely have to try it.
6. Mexican Hot Chocolate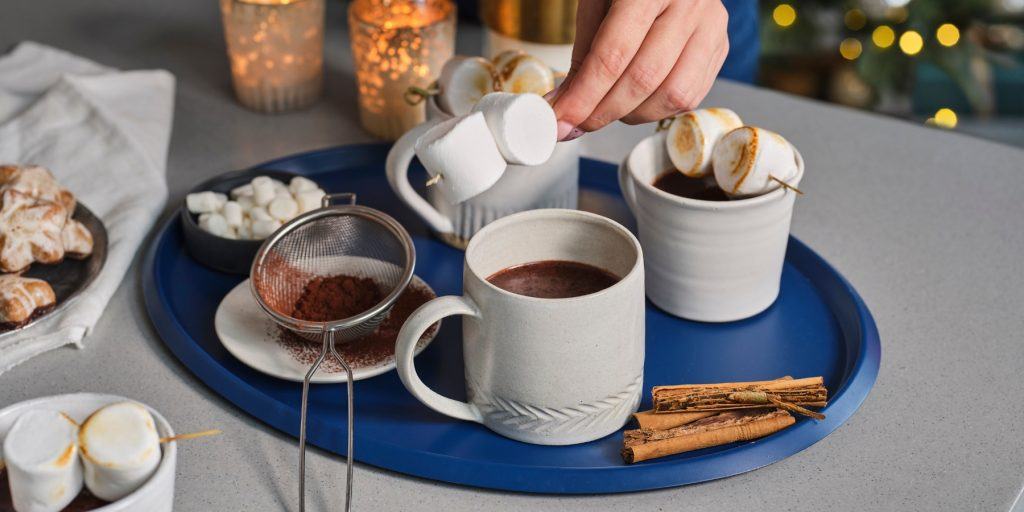 Cold Christmas weather is usually synonymous with comfort food. So, snuggle up with a mug of Mexican Hot Chocolate for the ultimate chocolate fix this holiday season. To serve it as a cocktail, you'll add tequila. Still, it's equally delicious as a mocktail—especially with the added sugar and spice to make it really nice. No matter how you choose to serve it, make sure you do it in a batch. It's a real crowd-pleaser.
7. Hot Toddy Cocktail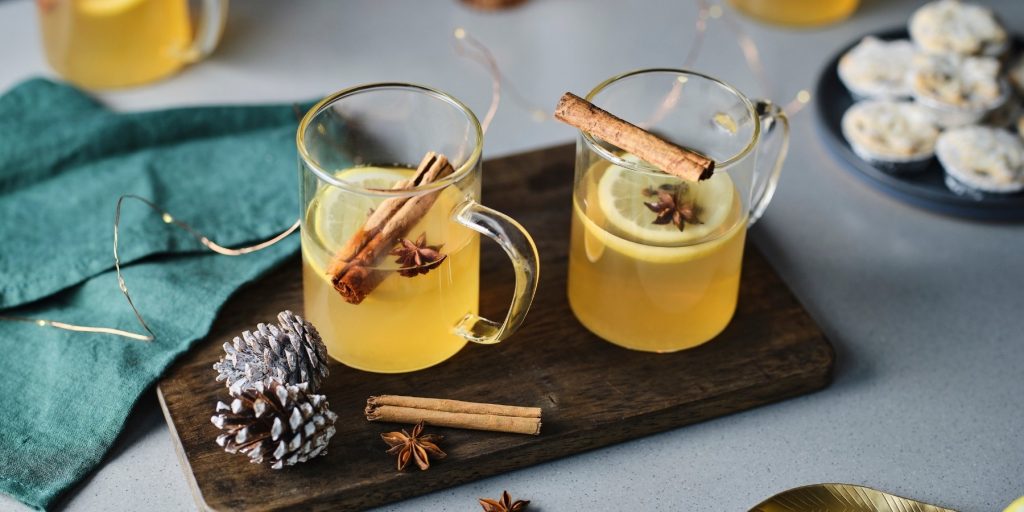 Sip on a Hot Toddy cocktail for a drink to soothe your soul after a long (long) day of family and Christmas activity chaos. It's the ideal drink to enjoy slowly for that fireplace feeling. Also, it will be just what you need if you feel yourself morphing into the Grinch about to steal Christmas gifts from sugared-up children. It's in our book of easy winter cocktails, and you can customize it with your favorite alcohol and flavorings.
8. Winter Manhattan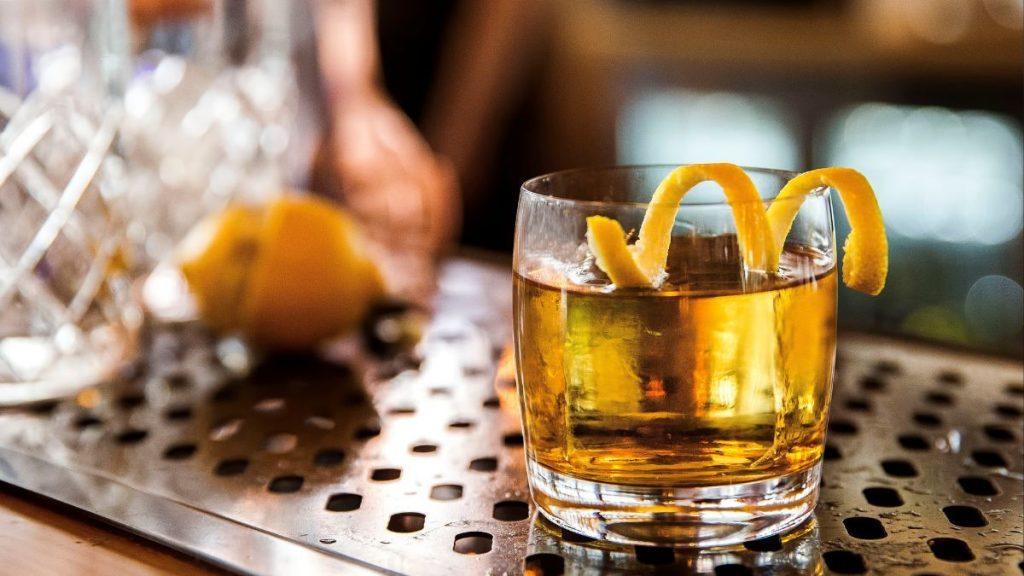 Spice up your Christmas-themed cocktails with a Winter Manhattan. To make these, you simply stir up three ingredients: whiskey, sweet vermouth, and apple sours. Like almost any cocktail, there are variations, including the festive Mistletoe Manhattan that calls for cherry juice, sugared cranberries, and rosemary, or a less sour version using bourbon, bitters, and sweet vermouth. We suggest testing a few options and choosing your favorite.
9. Chocolate Martini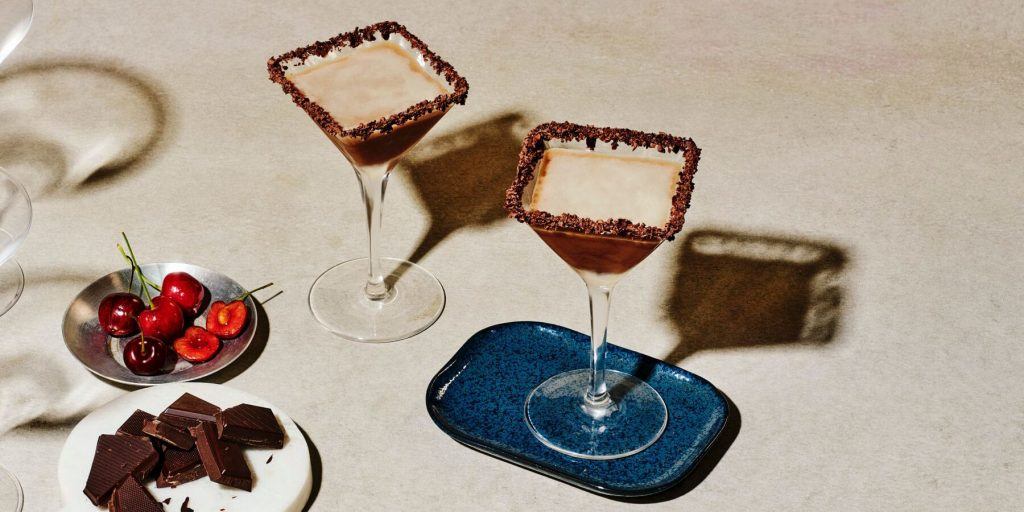 There's a lot of hype around the Chocolate Martini, and for a good reason. It is delicious! But it gets even better because it's effortless to make too. All you need is vodka, chocolate liqueur, ice, cocoa powder, and a few martini glasses. It's one of those decadent dessert drinks that is so moreish that your guests will probably ask for a second one, so stock up and be prepared!
FREQUENTLY ASKED QUESTIONS
Eggnog, and it's enjoyed in over 27 states across the US every year. There are loads of different eggnog recipes you can try, so make sure to check them out. Hot buttered rum anyone? Yum!  
Hot chocolate makes it to the top of the list in America. Check out our boozy hot chocolate recipes for some indulgent inspiration.