24 Easy Winter Cocktails to Warm Your Home
November 14, 2022 by Sonja Edridge
Baby, it's cold outside! We've something for everyone! From pre-dinner warmers to dessert replacements, the 'super simple to make' and a few with a little more effort to impress. We have plenty of easy winter cocktail recipes to choose from, just take your pick.
1. French 75 Cocktail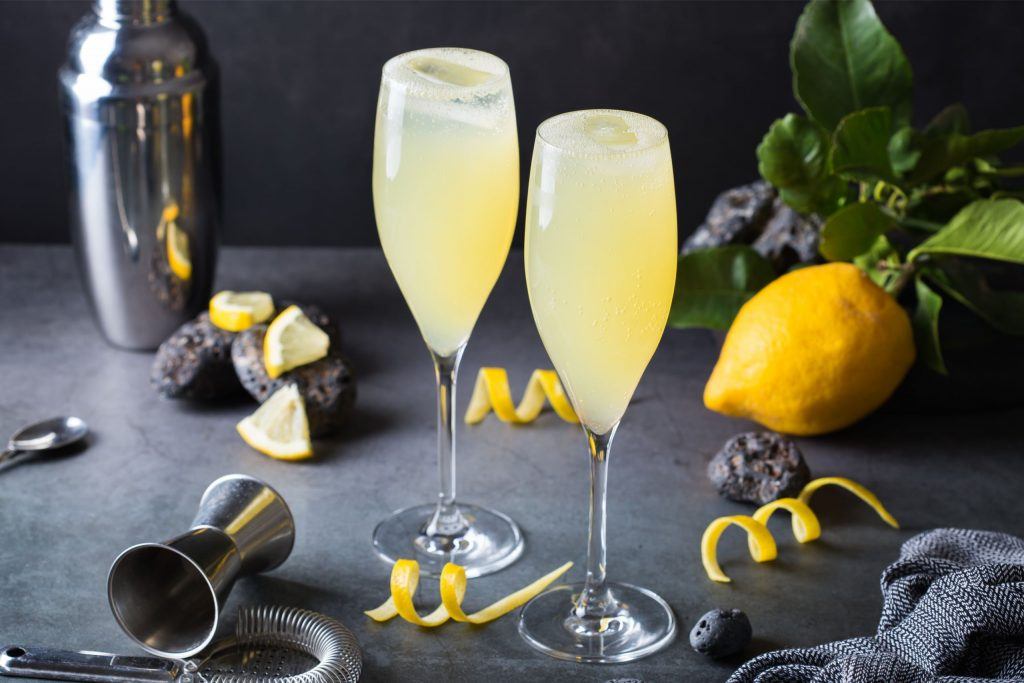 The dapper French 75 cocktail is named after a French field gun used in World War I. This cocktail has the facade of a delicate drink with a deceptively strong kick. Created in New York, this prohibition classic is made with gin, Prosecco (or Champagne), lemon juice and simple syrup. Simply shaken up over ice and strained into a sugar-rimmed flute for all the glamor a French lady deserves.
Encore, s'il vous plaît: Be a Little Extra With These 9 French Cocktails
2. Mulled Wine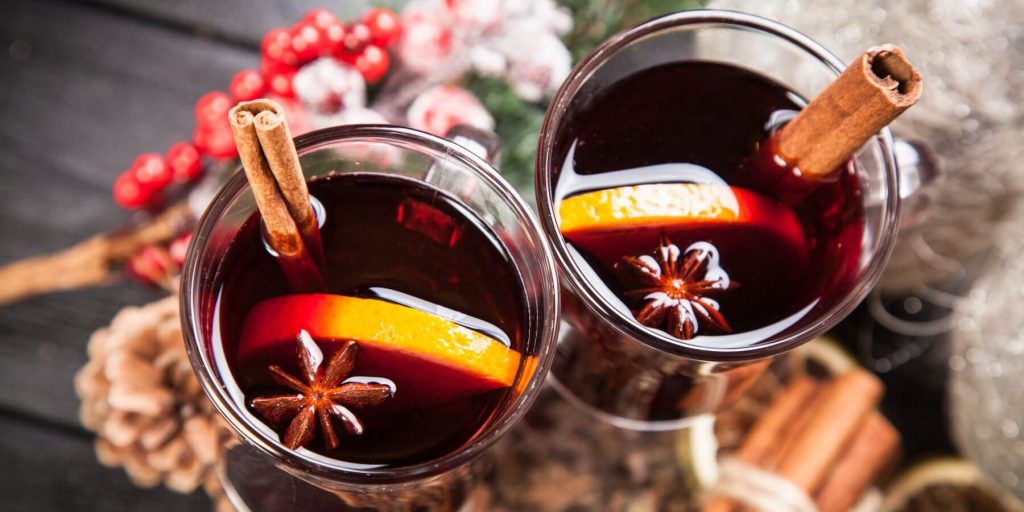 Winter is the season for long chilly walks, plates of comfort food and a glass of something delicious. Have you tried our Easy Mulled Wine recipe yet? It's one of those easy to make winter cocktails. Simply simmer red wine in a crockpot with baking spices, a splash of brandy and sliced citrus. It's tasty, warming and takes almost no effort to make. The bonus? It's light on your pocket, which means it's the perfect drink to serve if you're on a festive season budget. Fuss-free hosting at its best!
You might also like: 10 Easy Thanksgiving Cocktails to Serve up This Holiday
3. Hot Toddy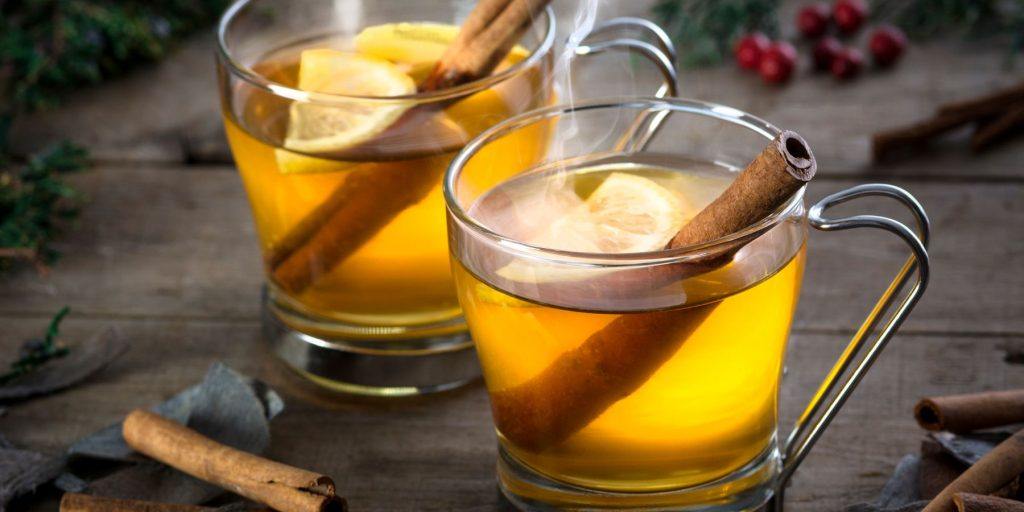 Your list of easy winter cocktails should include the classic Hot Toddy. This simple cocktail can be whipped up in no time and is easy to make for a crowd. Bourbon gives this warm sip a comforting caramel flavor, especially when mixed with honey and spice. If bourbon isn't your cup of tea, try it with rum or cognac. All the best cocktails are invented when you go off piste.
Fall favorites: 8 Apple Brandy Cocktail Recipes to Get You in the Mood for Fall
4. Big Apple Manhattan
Any Manhattan cocktail will warm you from the inside out. Made with three familiar parts; whiskey, vermouth and aromatic bitters, our Big Apple Manhattan brings a tasty apple pie twist. To make this easy three-part cocktail, follow our classic recipe, swap the vermouth for apple brandy and garnish with a thin slice of apple.
5. Caramel Irish Coffee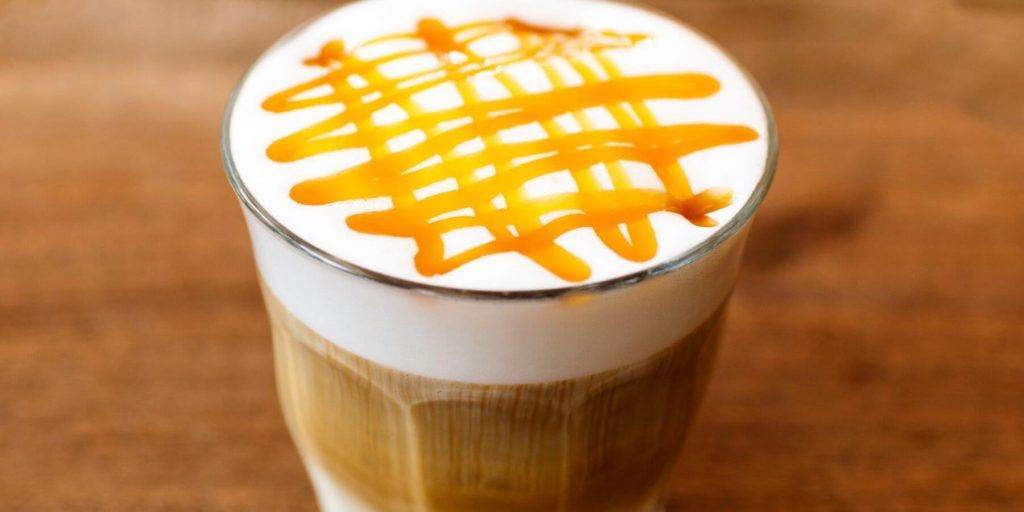 Kick the winter blues to the curb with this indulgent nightcap. To make a Caramel Irish Coffee, use our recipe for Irish Coffee. Before adding the whipped cream topping, stir in a cheeky ounce of Irish cream liqueur along with an ounce of butterscotch schnapps (or butterscotch sauce). Make this drink for your most deserving friends and family.
6. Sidecar cocktail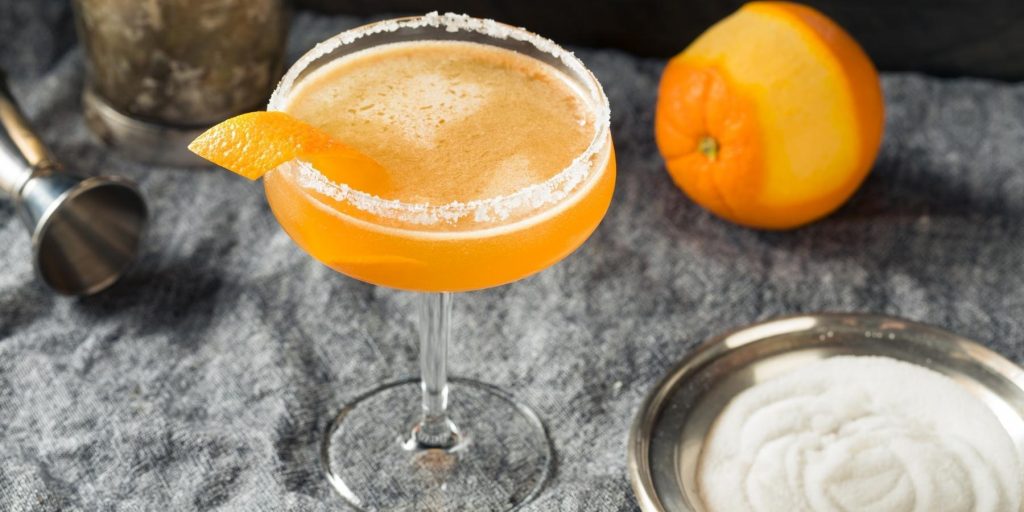 This delicious, citrusy Sidecar cocktail combines cognac, orange liqueur and fresh lemon juice. It's a downright delicious drink which is said to be the inspiration to a host of other classic cocktails, like the Margarita and the Cosmo.
You might also like: 8 Orange Liqueur Cocktails That Zest the Best
7. Cranberry Orange Whiskey Sour

Make a gorgeous, layered Cranberry Orange Whisky Sour with 2 ounces of Wild Turkey 101 Whiskey, half an ounce of Grand Marnier, 1 ounce of unsweetened cranberry juice, 3 ounces of fresh orange juice, 0.5 ounces of fresh lemon juice and simple syrup. Shake all the ingredients over ice and strain into a chilled glass. Top with ginger beer and garnish with an orange twist.
You might also like: 18 Sour Cocktail Recipes to Add to Your DIY Drinks Repertoire
8. White Russian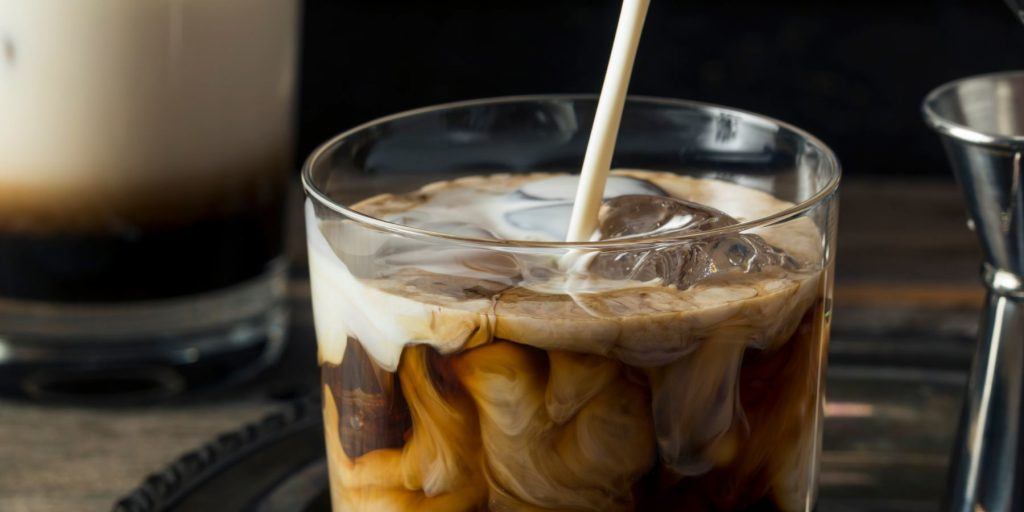 A creamy White Russian is sure to stop a sweet craving in its tracks. To make this dreamy cocktail, you only need five minutes and three ingredients: coffee liqueur, SKYY Vodka and proper heavy cream. This classic cocktail will be a decadent treat any time of year.
Vegan options: Your guide to making creamy vegan cocktails
9. Irish Mule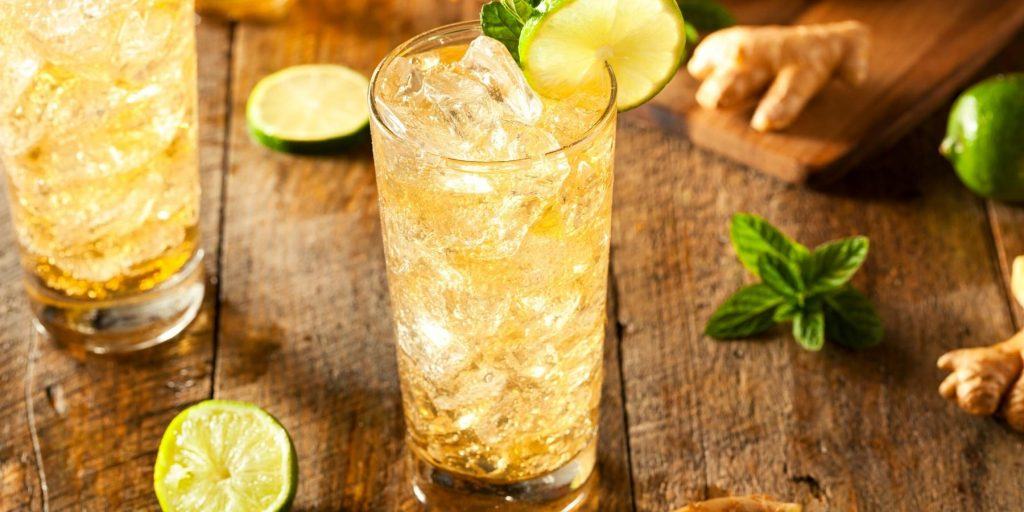 If you love Irish whiskey's strong vanilla and fruity flavors, then put a spin on the zesty Moscow mule. For something entirely different, just replace the vodka with whiskey to make an Irish Mule. The whiskey and ginger will warm you right up, which makes it a brilliant drink for chilly days.
10. Snowball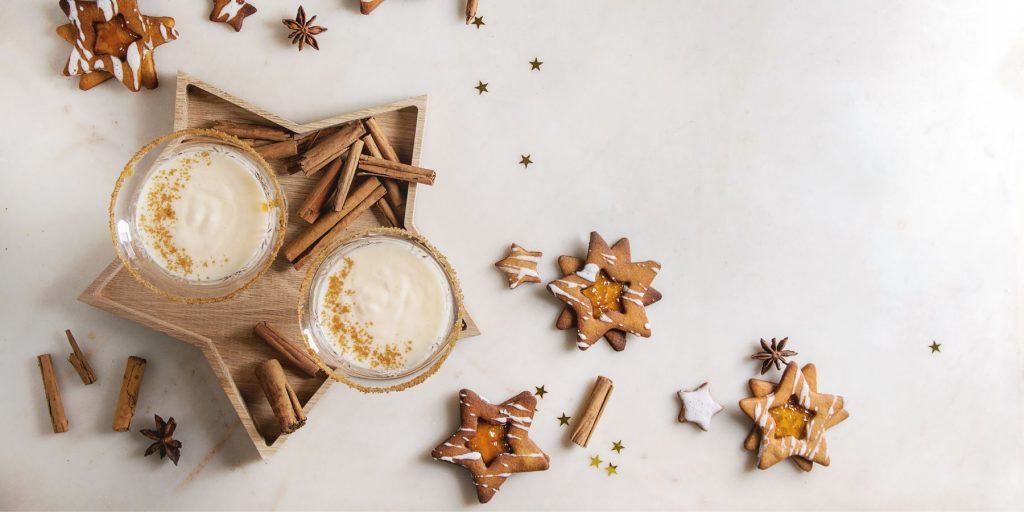 The Snowball cocktail is a seriously retro cocktail loaded with indulgence. It's an easy mix of just three ingredients; advocaat, lime and sparkling lemonade. For those of you who don't know, advocaat is a Dutch spirit made with brandy, sugar and eggs. Making a Snowball cocktail is perfect for the novice drink maker as it doesn't require any fancy bar tools. Simply pour the ingredients into a tall glass and garnish with a bright red cherry.
11. Pumpkin Pie Martini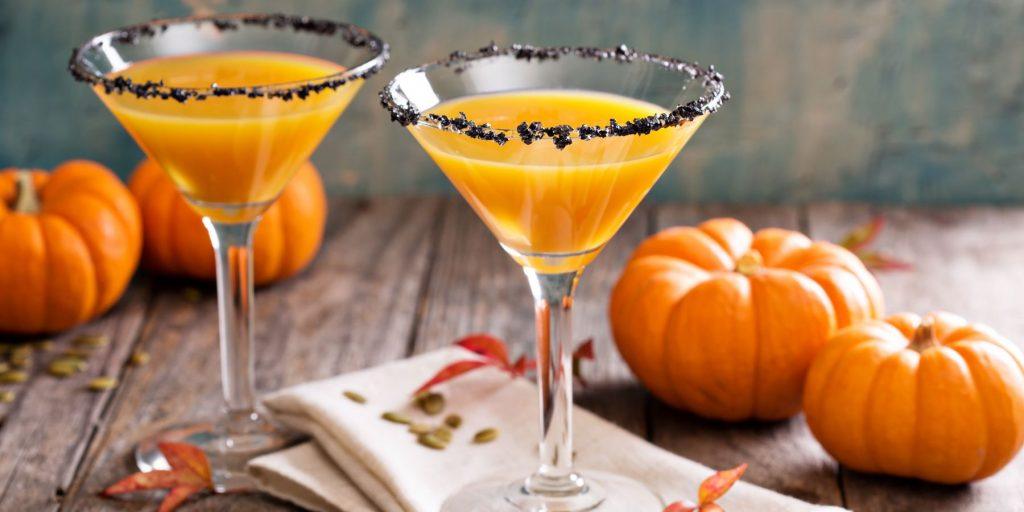 Calling all pumpkin pie lovers! Learn how to make our spiced Pumpkin Pie Martini this winter. This tasty dessert cocktail is packed with decadence, with luscious Irish cream playing a starring role. This is combined with vanilla vodka, pumpkin purée and your favorite baking spices, and the result is the perfect after-dinner treat on a cold evening.
More pumpkin love: An Indulgent Hot Pumpkin Pie Cocktail for Thanksgiving
12. Tiramisu White Russian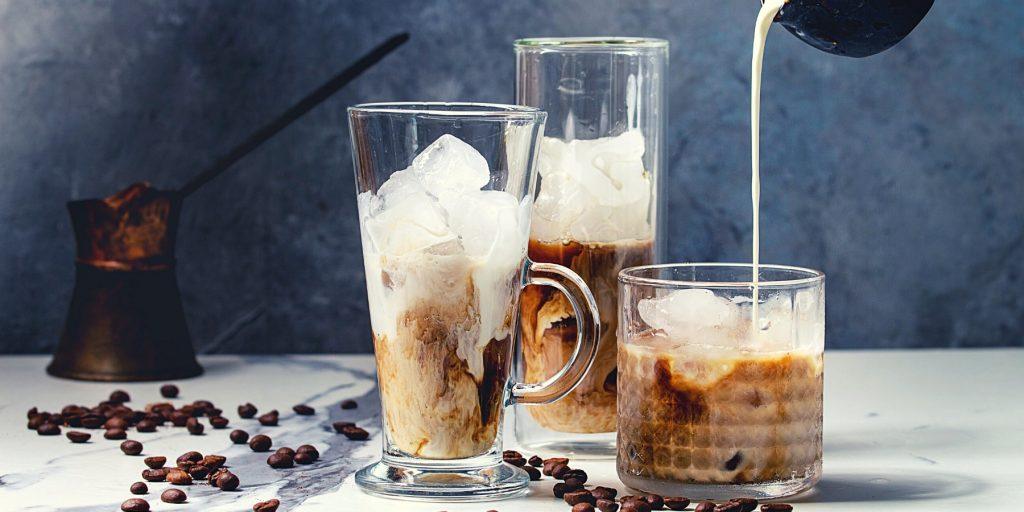 If you love a White Russian, you're going to want to try the Tiramisu version, it's one of those easy cocktails for winter. It's part cocktail, part dessert! Shake up 2 ounces of heavy cream and a teaspoon of sugar in a mason jar until it's soft and peaky. Fill a tumbler with a handful of ice and stir in 2 ounces of both coffee liqueur and Appleton Estate Signature rum. Top with sweetened cream, dust with cocoa powder and dunk a ladyfinger cookie right into the middle of the drink.
More winter warmers: 11 Best Winter Cocktail Recipes (with Bourbon, Whiskey, Gin & More)
13. Easy Rum Eggnog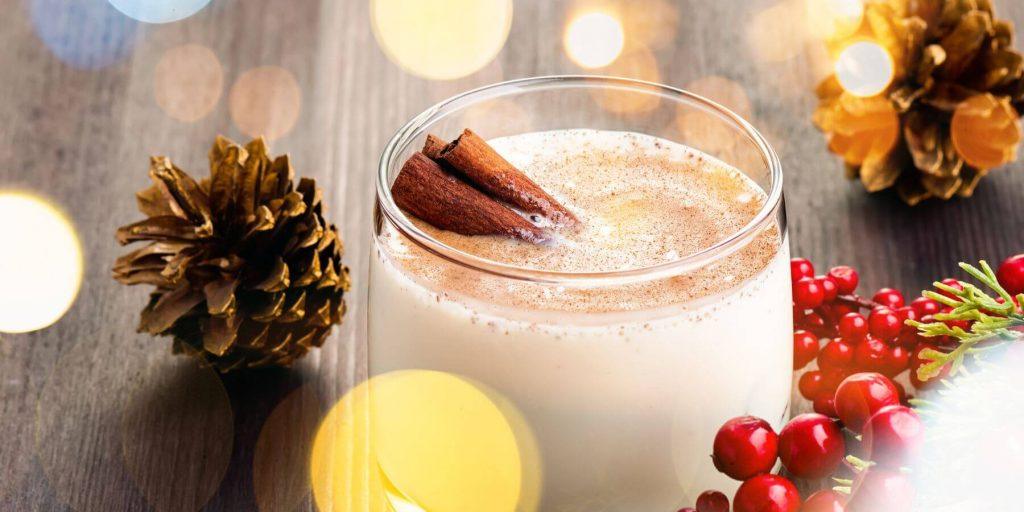 For a quick and easy eggnog with extra depth of flavor, this is the recipe to try. It's a quick dry shake of 1 ½ ounces of both Appleton Estate Signature rum and ruby port, half an ounce of simple syrup and a whole egg. Then add a handful of ice and shake again before straining into a wine glass with a good dusting of nutmeg. All that's left to do now is to find a comfy place in front of the fire.
More festive inspo: 9 Best Christmas Cocktails You Can Make This December
14. Pomegranate Margarita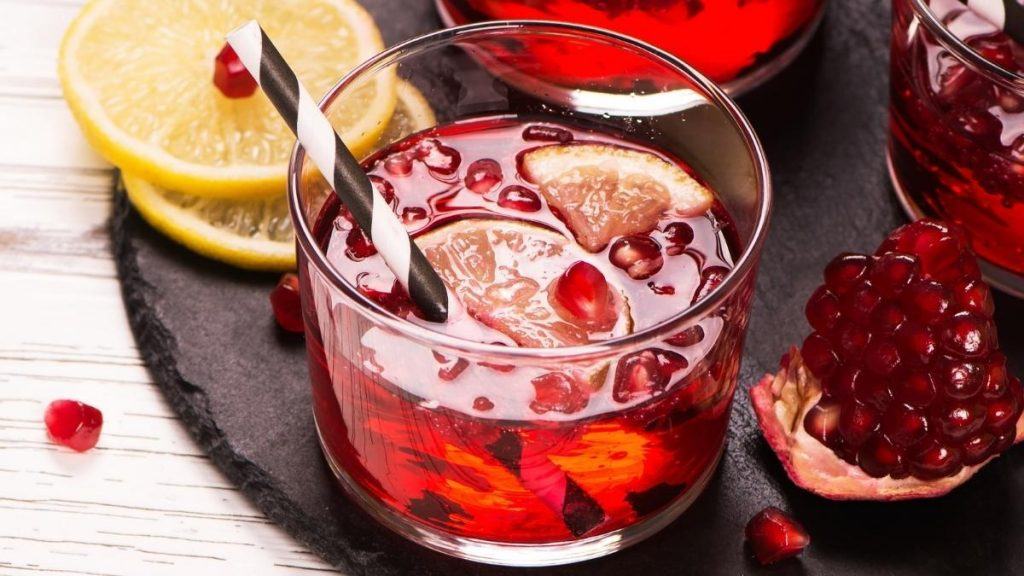 A Pomegranate Margarita is a perfectly tart sip that offers relief from comfort food, making it great for festive time indulgence. To make this tangy sweet cocktail, mix up our Lime Margarita, with 2 ounces of pomegranate juice. The vibrant festive pink adds a special touch to any winter table.
15. Paloma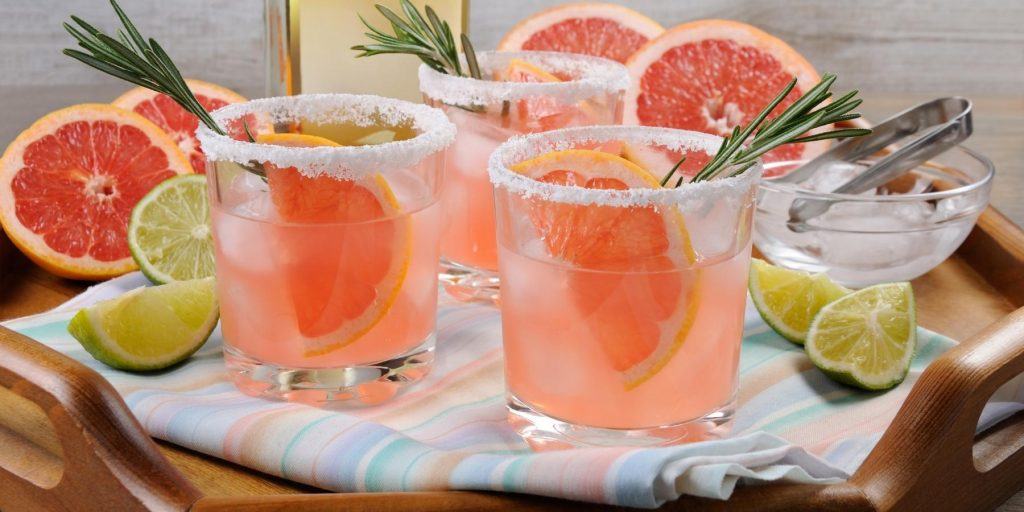 The Paloma is another zesty cocktail with plenty of tang. It's a light, bubbly cocktail made with tequila, grapefruit, lime juice and club soda. It's the perfect serve with winter roasts, festive feasts or any indulgent comfort food. The sparkly citrus fizz of a Paloma also makes it ideal to pair with spicy food. One of the easy winter cocktail recipes you'll want to make again and again.
Tequila time: 13 Easy Tequila Summer Cocktails for Beginners
16. Brown Sugar Old-Fashioned

Looking for easy winter bourbon cocktails? Give our favorite Old Fashioned extra wintery richness. For an ultra-cozy cocktail, mix in the dark caramels of a brown sugar syrup and pair it with vanilla, pear and spiced Wild Turkey Bourbon. The rich sweet flavors will keep the winter blues at bay and it just feels downright old-fashioned.
More winter warmers: 11 Best Winter Cocktail Recipes (with Bourbon, Whiskey, Gin & More)
17. Hot Buttered Rum

A Hot Buttered Rum will wrap you up in its cozy warm blanket, and is best enjoyed fireside with friends, after long wintery walks. This sweet rum concoction can be made in a batch, so whip up the spiced caramel butter ahead of time and store it for a cold day. To make a Hot Buttered Rum, beat up some butter with brown sugar to sweeten along with your favorite wintery spices. Ready the kettle and add a spoon of spiced butter to each mug. Just pour in an ounce of rum with a little boiling water. Stir as it all melts into perfection. So moreish!
More rum drinkspiration: All the Hot Rum Cocktails You Will Ever Need
18. Blood Orange Margarita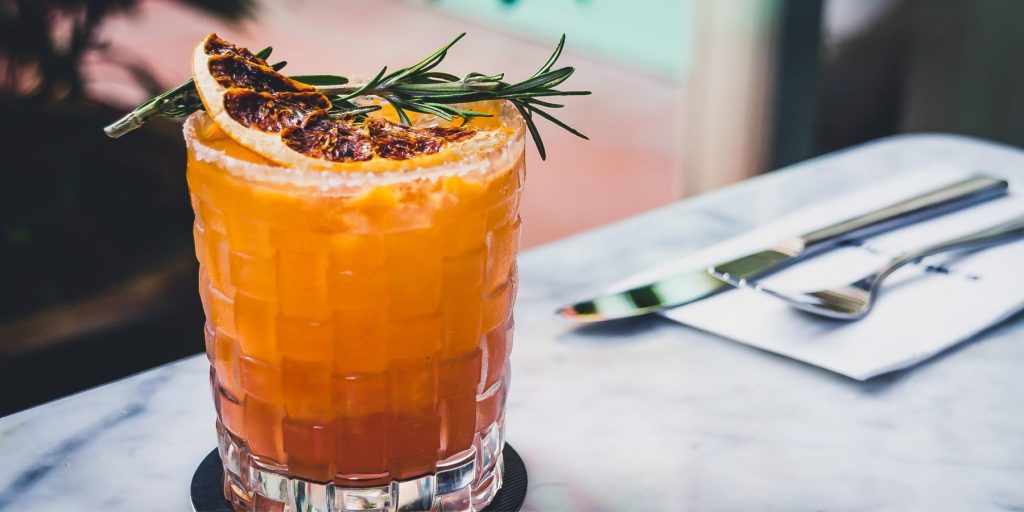 The blend of sweet blood orange juice and cheeky bitter Campari makes for a heavenly Margarita. Our Blood Orange Margarita is perfect to enjoy when the winter season is abundant with this crimson fruit.
You might also like: What is the Best Margarita Recipe? 10 Ways to Make a Margarita
19. Negroni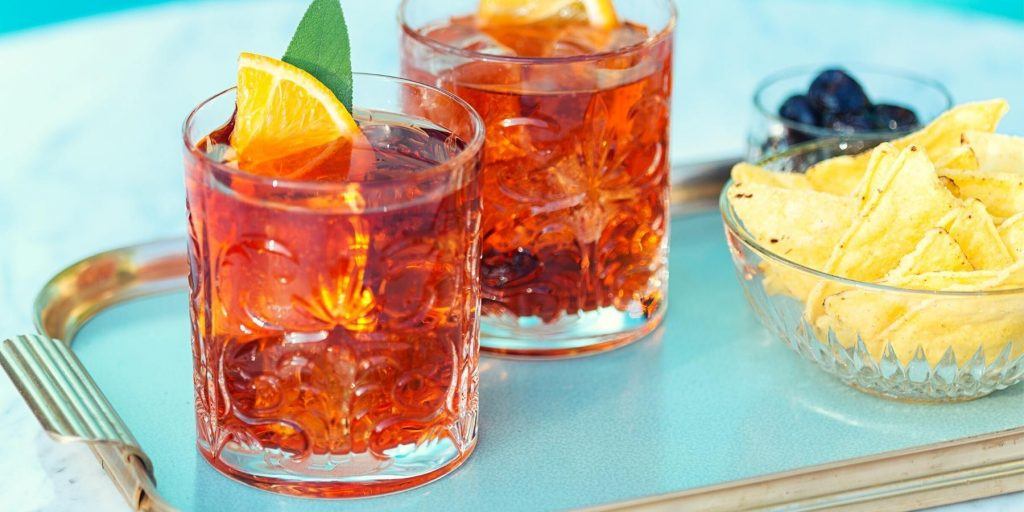 The quintessential (and much-loved) Negroni is a must on our quick cocktail list! Just the kind of easy gin cocktails winter evenings need. It's seriously simple to make with an easy to remember recipe of equal parts gin, Campari and sweet red vermouth. Don't miss out. Celebrate this cocktail with the rest of the globe!
You might also like: The Best 3-Ingredient Cocktails to Try at Home
20. Classic Martini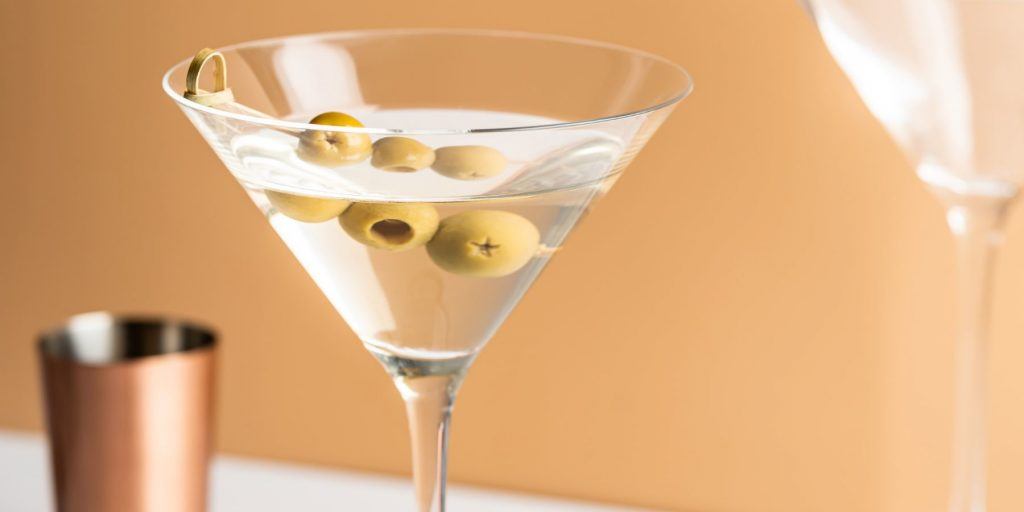 If you are a newbie to the whole cocktail making game, then the Classic Martini is an excellent place to start. You'll look like a pro without breaking a sweat! It's a simple mix of gin and vermouth, with a garnish of either cocktail olives or a lemon twist. It loves being served icy cold, so give it a vigorous shake (or stir). Pour into a chilled V-shaped glass to experience its full deliciousness.
More Martini love: 14 Types of Martinis You Should Know
21. Caipirinha

Brighten up the day with a Brazilian Caipirinha cocktail. This zesty, fizzy drink is perfect to sip alongside rich comfort food. If you're cooking up something spicy then, this cocktail is a perfect match to douse chili-fueled flames.
22. Moscow Mule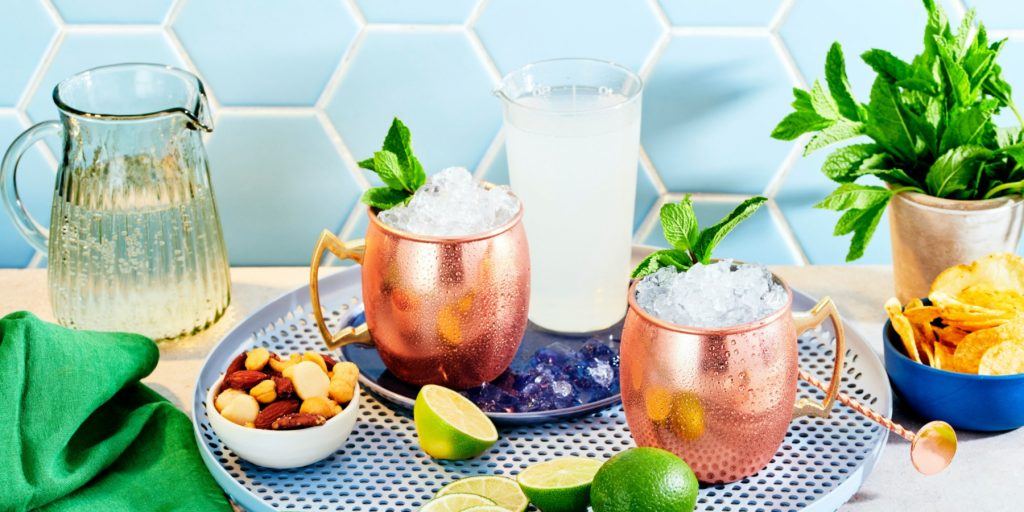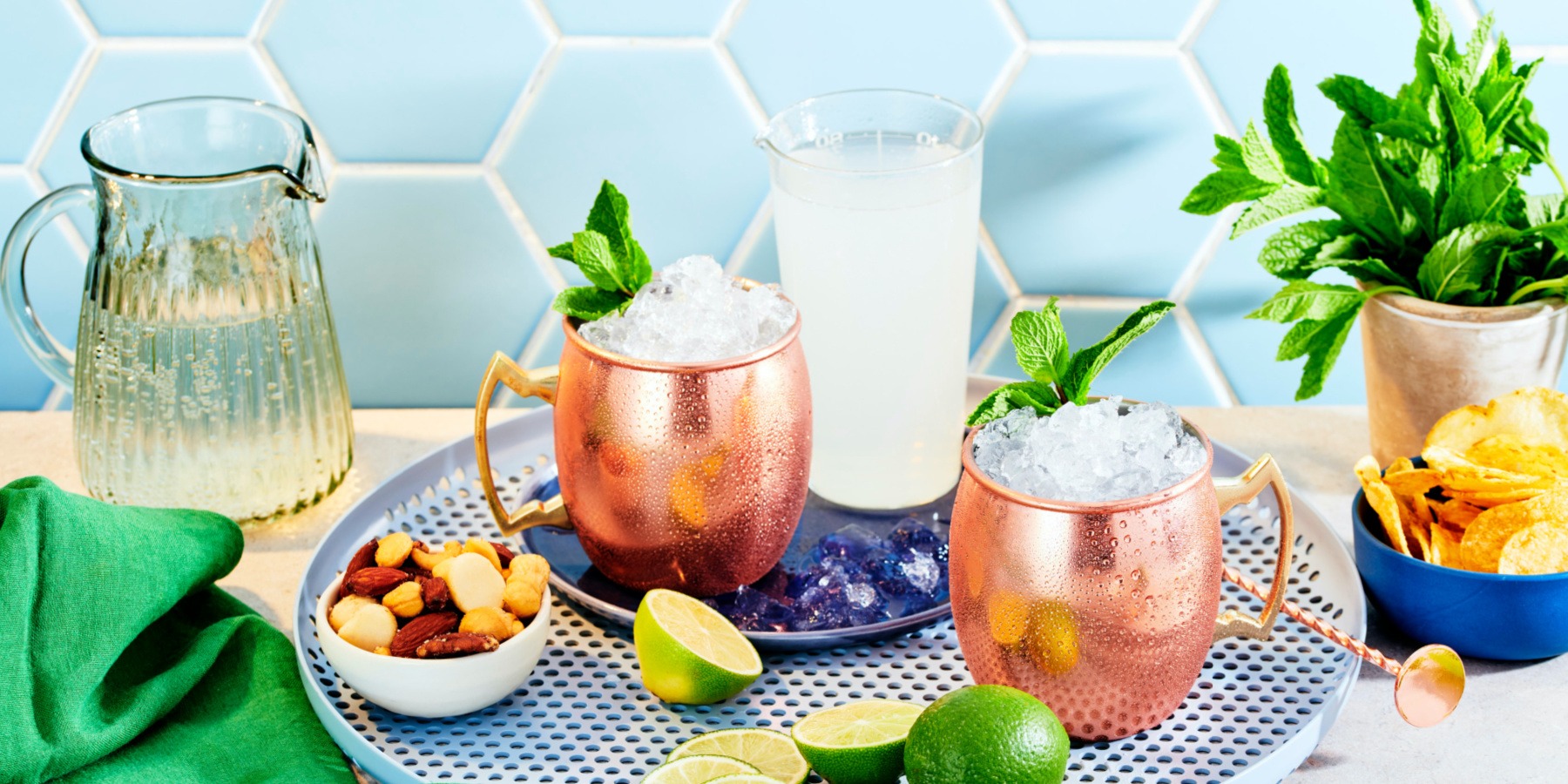 The Moscow Mule is a delicious bubbly mix of ginger beer, lime and vodka. You can spot it a mile away in its traditional copper mug with plenty of fresh mint poking over the top. The warming effect of ginger beer makes this cocktail great for chilly winter evenings around the fire with friends.
You might also like: All the Tangy Ginger Beer Cocktails You'll Ever Need!
23. Chocolate Martini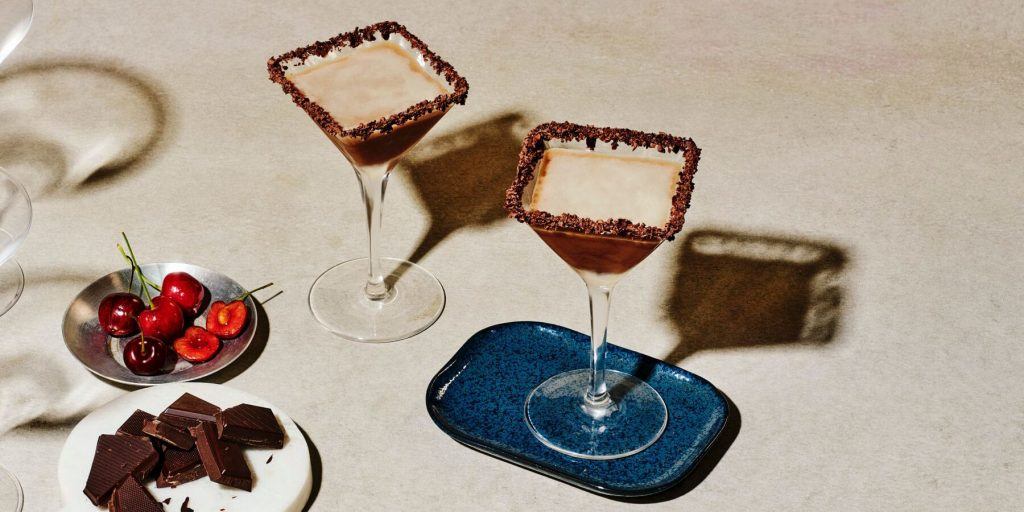 When it's cold out and the chocolate cravings start, it's time to whip up a Chocolate Martini. This cocktail is the indulgent treat you can skip dessert for. It's a quick martini to prepare with just three ingredients; chocolate liqueur, crème de cacao and SKYY Vodka. Serve it in a cocktail glass with cocoa-powder rim.
24. Amaretto Sour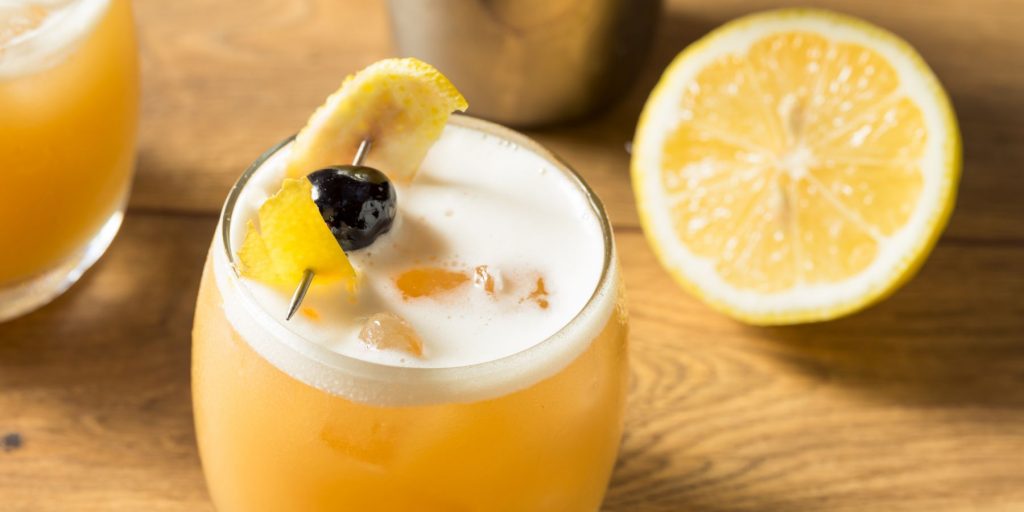 If you love a classic Whiskey Sour as much as we do, then try our lovely Amaretto Sour. This classic winter cocktail is a blend of nutty almond-flavored liqueur, a good bourbon, lemon juice, bitters and an egg white froth. Serve this classic winter after-dinner drink with a gorgeous cheeseboard.
There you have it – 24 completely easy winter cocktail recipes to try at home when you need warming from the inside out!
FREQUENTLY ASKED QUESTIONS
See where the mood takes you. Choosing a cocktail that suits you is quite personal. We have all the options here for you, some indulgent creamy dessert cocktails for chilly winter nights as well as zesty light cocktails that are perfect to serve with rich plates of comfort food. Take your pick :)