How to Throw the Best Mexican Themed Party, Ever
July 13, 2022 by Sonja Edridge
Wanting to plan a Mexican-themed party and feeling a little lost about where to start? Pull up a chair, we love fiesta vibes and all the vibrance that goes with it! Along with insider cocktail tips, we'll take you on a (figurative) journey south of the border!
Why choose a Mexican-themed party?
Truthfully, we'd ask why not choose a Mexican party theme? It'll elevate your mood and fill the room with sunshine. A Mexican-themed party brings with it unique foodie combos and flavors, tasty cocktails, and bold dopamine-inducing colors to stimulate the senses and keep guests dancing all night long. Having a bold theme like this one will guarantee your guests an unforgettable night filled with bucketloads of heart and heritage, and a little tequila. If this sounds like the party you want to host then a Mexican theme is the way to go.
When it comes to Mexican party decoration ideas, our best friend Pinterest concurs that you need bold, bright, and beautiful décor. Shopping for Mexican-themed party goodies is so easy and accessible, but make sure to allocate a budget so you don't go overboard.
Mexican food is tasty and so easy to prepare, and Mexican cocktails always pack a punch. Traditional Mexican parties have no shortage of activities to keep the troops entertained.
Setting up the venue for your Mexican-themed party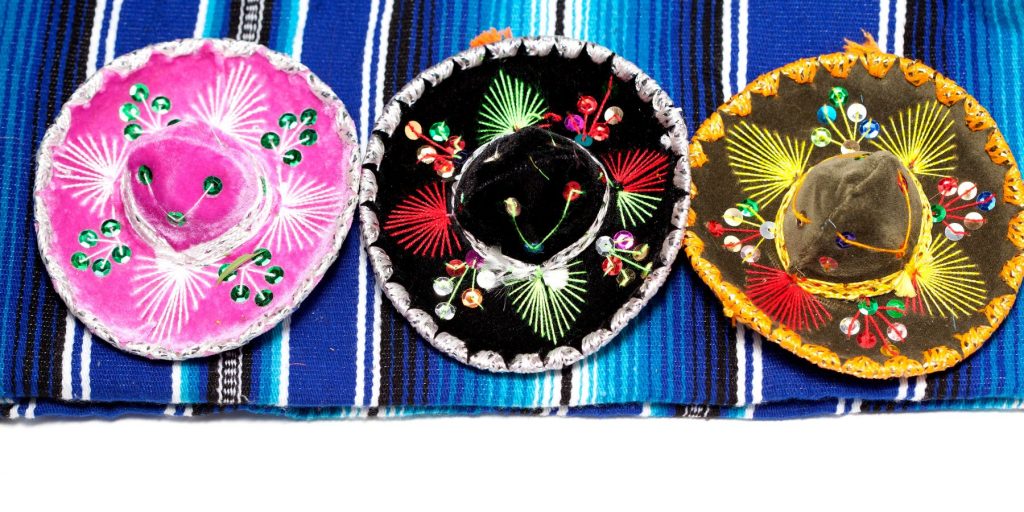 When choosing a venue, find a neutral background and take out competing colors and objects that may distract you. Choose four or five of your favorite colors and repeat these several times for maximum effort. Here are a few ideas to enhance your space:
The welcome: Decorate your gate, doorways, or trees for an entrance with hanging bright flowers or tissue pom poms. Why not pop a clothes rail with a few serapes, sombreros and bright-colored shirts for a last-minute Mexican glow-up?
Ceilings: Hang various colored paper lanterns or flower pom poms at different heights. Stretch papel picado (perforated paper) or tissue paper, tie bandanas end to end for bunting or hang parasols upside down from above, just keep them high enough out of reveling folks reach!
Lighting: String up fairy lights in between the papel picado or banners
On the walls: Drape Mexican blankets in strips to cover paintings. Hang up sombreros over paintings and hooks, make some fringed balloons colorful hats to hang in clusters
Work on your Mexican tablescapes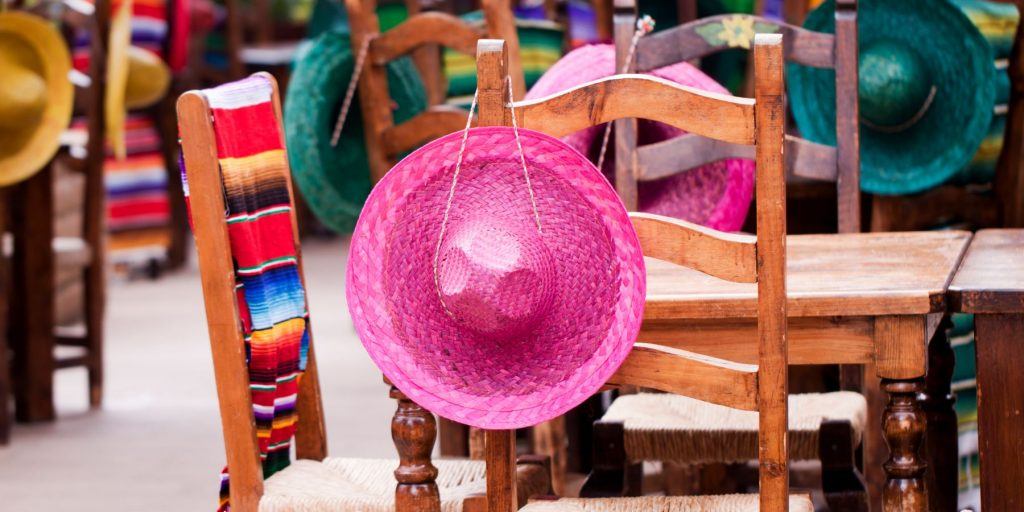 Our Mexican fiesta theme party is starting to take shape! Next up, whether you are planning a sit down affair or a grazing board vibe for your guests to stand and snack, say adios to boring plain old white napkins and paper plates and go flamboyant. Check out our other table setting tips below:
Eye catching centrepieces: fill large glass vases with cut limes, oranges, or lemons or bright red chillies
Food stands: Build raised tiers for your spicy bites with down-turned terracotta flower pots topped with their saucers
Trim: add a pom pom fringing to your serving platters
Cutlery: Stack wooden cutlery and napkins in empty Mexican or Spanish labelled cans
Lighting: Fill empty tequila or Corona bottles with those cute fairy lights
Glasses: Ask your friends for extra glasses if you need, for all the margaritas and tequilas you'll be pouring
Set the vibe with Mexican music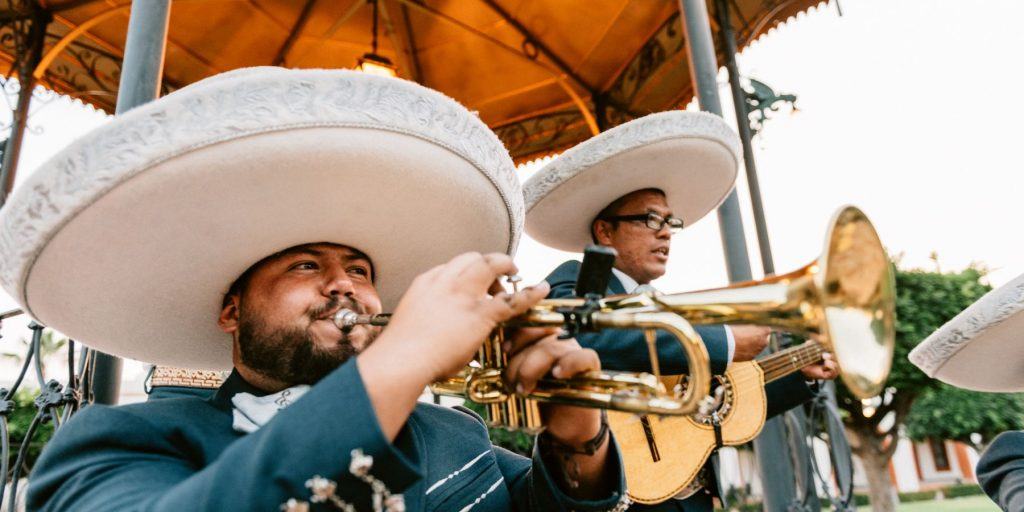 At all traditional Mexican parties, hiring a Mariachi band would be first prize, so consider your budget and see if you can afford to splash out. If not, get your Spotify playlist lined up with some good Latino tunes. Whether you're going old school with Ritchie Valens or more contemporary with Selena Gomez, get this ready in advance with enough songs to fill the dance floor for a few hours.
Fill your guests up with the taste of Mexico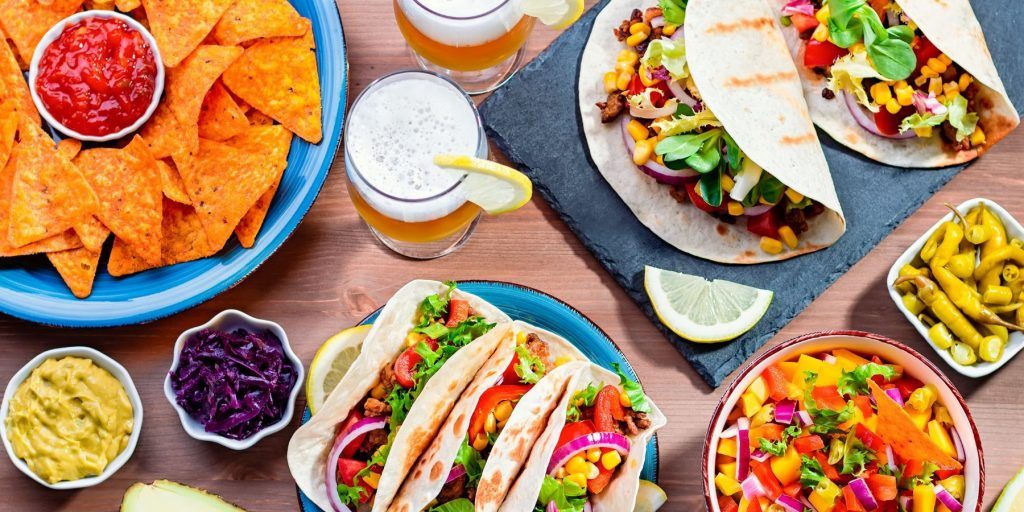 If you are hosting at home, a self-serve station allows guests to pick all their favorite foods. Here are a few simple Mexican party food ideas that always please a crowd:
Tortilla chips with spicy guacamole and salsas
Fajitas (especially the build-you-own kind!) and
Nachos oozing with cheese
Shredded beef or lamb cooked on the BBQ to load into tortillas and nachos
Hot sauce and little dishes of chopped chilli
A taco or tortilla buffet with bowls of shredded salad, salsa, shredded chicken, sour cream and plenty of lime wedges for garnish
For dessert, plates of gorgeous of churros and cut watermelon
Mexican Cocktail Heaven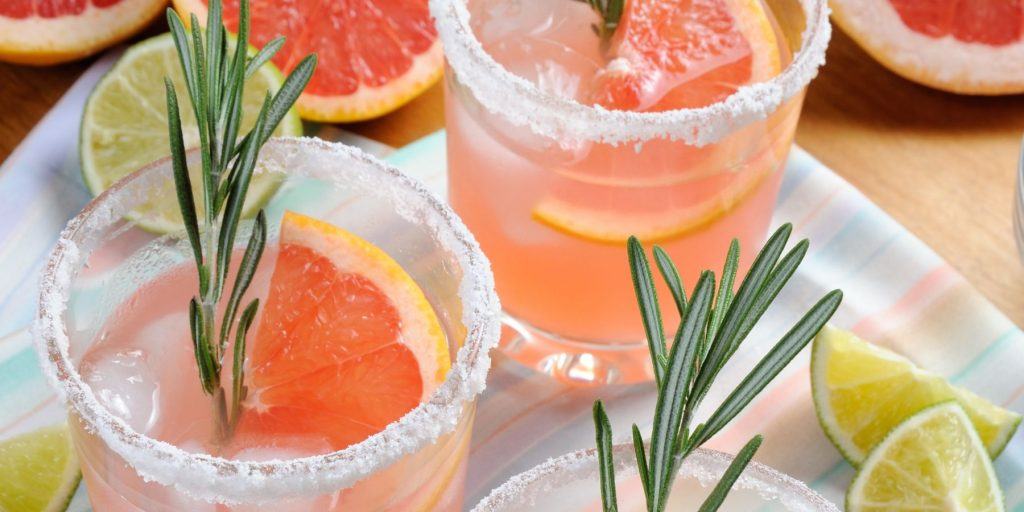 Let us help you plan your Mexican fiesta theme party with these bar cart essentials, but just saying we'd include a Paloma and a few a Margaritas:
Tequila & liquor: a good bottle of tequila, choose a decent one within your budget as you'll need a few. Take a look at a few cocktail choices to determine whether a white blanco, reposado or añejo is what you need. Some light Mexican beers, too if you keen on a few icy Micheladas
Citrus: all Mexican cocktails need a healthy measure of fresh lime juice so get prepared and squeeze a few in advance. Alternatively, you can buy lime juice ready squeezed, but we believe fresh is best for the ultimate zesty fiesta vibes
Grapefruit juice: Mexico's favourite cocktail is the Paloma, which needs plenty of gorgeous grapefruit juice
Watermelon: For an effortless self serving, carve out a watermelon for punchbowl of Watermelon and Tequila
Caffeine fix: To round of the party, a warm coffee cocktail may be in order
Easy inspo: If someone in your gang fancy's playing bartender look at these easy Tequila cocktails or more boozier Mexican cocktails
Garnish & décor: Make a sweet Tajín-style mix for glass rimming, bowls of cut lime and fill jars with plenty of colorful straws and umbrellas
What to wear for a Mexican themed party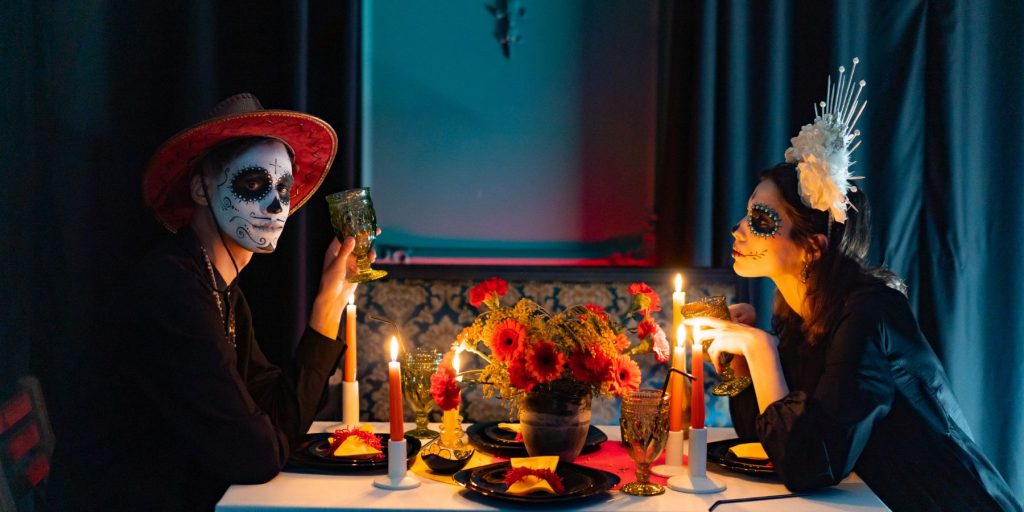 If you are attending a Mexican-themed party, here are some outfit ideas that you can consider:
Traditional Mexican attire. You can wear a colorful, flowy dress called a 'fiesta dress' or a guayabera shirt, also called a 'Mexican Guayabera'.
Sombreros. A sombrero is a traditional Mexican hat that is often worn at parties. It is wide-brimmed with a high crown and is usually made of straw or felt.
Bright colors. Mexican culture is known for its vibrant and bold colors, so go for clothing with bright hues like primary red, green, yellow, and blue.
Embroidery. Embroidery is a common feature of Mexican clothing, so you can don clothing with colorful embroidery to add a Mexican touch to any outfit.
Accessories. Play with accessories like serapes, ponchos, or shawls. You could also consider accessories like flowers, feathers, or jewelery with skulls, crosses, or other traditional symbols.
Sugar skull makeup. One of the most iconic looks for the popular Mexican festival of Día de Muertos is sugar skull makeup. This involves painting your face white, adding black around the eyes, and decorating the face with colorful patterns, such as flowers and swirls.
Overall, the key to a Mexican themed outfit is to have fun with colors and patterns, and embrace the festive and celebratory nature of Latin-American culture.
Activities for a Mexican themed party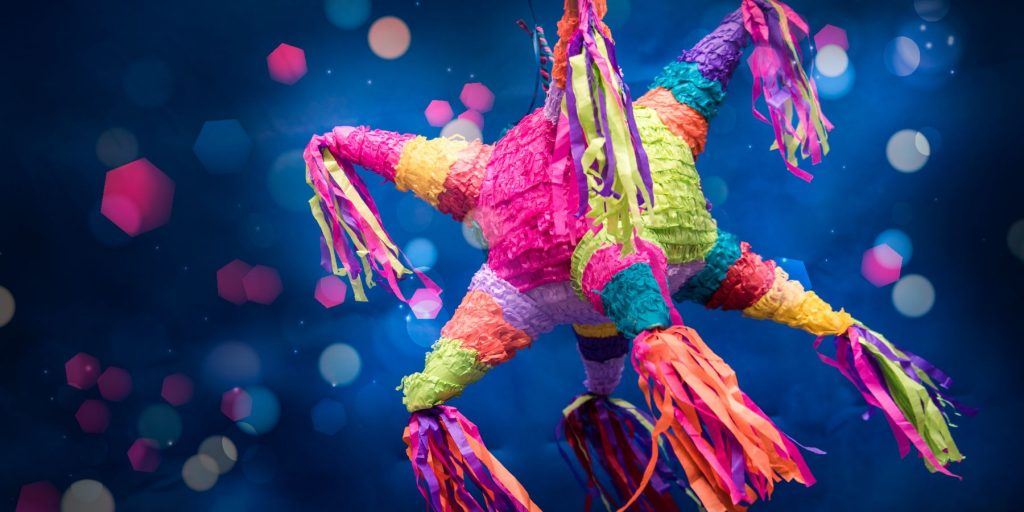 A Mexican fiesta theme party is never complete without a game that includes everyone, no matter what the age:
Hang a piñata: a colourful papier-mâché shape decorated in bright tissue paper filled with trinkets and treats. Guests get blindfolded and spun around before being allowed three attempts to hit the piñata.
Let's limbo: Two guests hold a long pole high enough for friends lining up to pass or dance underneath easily while the Mariachi band play. With each lap, the pole is lowered, challenging your guests to shuffle, squat or shimmy underneath without their hands touching the ground. You will have a ton of hilarious pics for your Insta page (with consent of course).
Photo booth: Include some silly sunglasses, sombreros and feather boas, hang up a vibrant backdrop for people to snap away for memorable pics to capture all the fiesta vibes.
If it's your birthday, then you might need rad birthday party planning support, alongside these Mexican party ideas for adults a plenty. Otherwise, off you go; go big and go bold!
Luckily, when you're looking for ideas for a Mexican-themed party, there is no shortage of inspo out there to fashion a memorable party, within easy reach too! We all agree that a Mexican fiesta is all about the color, so look for the boldest and brightest when you're browsing décor.
FREQUENTLY ASKED QUESTIONS
For Mexican fiesta theme party, we have all the best ideas and advice in our article to guide you with your party planning. With our tips and tricks, we will make hosting a Mexican themed party a breeze.
A Mexican themed party is normally called a Fiesta and is filled with vibrant colorful décor, tasty food and drinks, and heart and soul.
Our expert Mexican party planning article will assist you in all things needed for a Mexican fiesta theme party. To get you started, you'll need piñatas of course, plenty of sombreros, serapos and colourful décor, flower pom poms and tasty bites along with a bucket load of energy! Oh, and a bottle of tequila or two!
Mexican fiesta theme party normally includes lots of music, dancing and food, made unique by the mixture of vibrant color that normally surrounds a fiesta. Traditional Mexican parties will always feature a Mariachi band. Tasty bites normally included at Mexican parties are tortilla chips, salsas, pastries like sopapillas, rolled up tacos called taquitos and lots of guacamole. Traditional Mexican drinks include Margaritas, Palomas and other Tequila based drinks.
A Mexican fiesta is a party or festival. Mexico celebrates many different festivals, some religious, others national and, of course local ones, but they are all referred to as fiestas.
Contemporary and traditional Mexican parties are never dull! They are filled with color and vibrance, and there is always plenty of entertainment to engage guests of all ages. The delicious food is always tasty and crowd pleasing and, if tequila is involved, guests will keep dancing the night away!
A Mexican themed party table is super exciting! Say adios to boring plain old white décor and choose flamboyant napkins and paper plates a plenty. Fill the table with eye catching centrepieces of large vases with cut or whole citrus or brightly colored chillies. Make tiered food stands with upturned terracotta flower pots, using the saucers for plates filled with delicious treats and trim the edges with pom pom fringes for extra bold color. Stack your cutlery and napkins in empty Mexican or Spanish labelled cans and light up your table with empty tequila or Corona bottles filled with cute fairy lights.