9 Best Coffee Cocktails to End Your Evening with a Kick
May 29, 2022 by Helena Lombard
People around the world wake up to the smell of coffee every morning, but when it comes to how to prepare a cup of Joe, we are spoilt for choice—and sometimes left a little confused by the endless options. From Americanos to Affogatos, cappuccinos, and flavored lattes, coffee is, without a doubt, a vital part of our morning ritual.
When it comes to the best coffee cocktails, it's a similar story, with loads of confusing options to choose from. Some like their coffee alcohol drinks hot, while others prefer them to be strong and cold; some enjoy the classics like Irish Coffees or White Russians. Others are more trend-conscious and sip on Espresso Martinis and Long Island Iced coffees instead.
Whatever your preference and flavor, we have you covered with classic coffee cocktails packed with bold flavors to serve as the perfect after-dinner drink at the end of the night.
1. Mexican Coffee Cocktail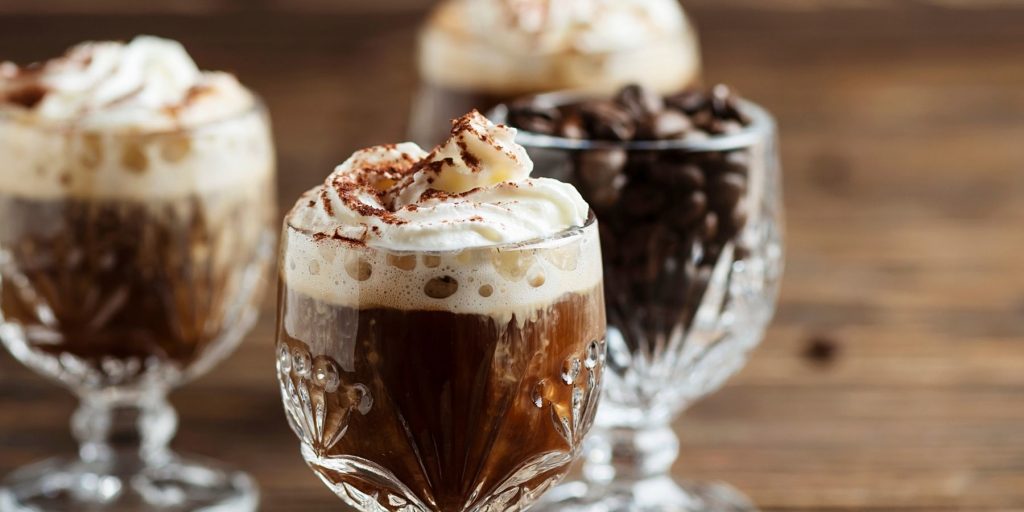 Also known as a Carajillo, this is a classic coffee cocktail that you can make with just a few ingredients. We're talking about tequila, coffee, and coffee liqueur. The tequila gives this coffee a decent kick, and the coffee liqueur balances out the flavor and adds sweetness.
For the best Mexican Coffee cocktail, choose proper coffee (not the instant kind!), a good quality coffee liqueur, and an aged reposado tequila to add extra vanilla and caramel notes. If you're feeling indulgent, top these coffee liqueur cocktails with fresh cream, and if you're feeling brave, add a dusting of cayenne pepper.
You can also turn this Mexican favorite into an iced coffee by cooling down the brewed coffee before pouring it over ice, perfect for a warm summer evening
2. Iced Coffee Margarita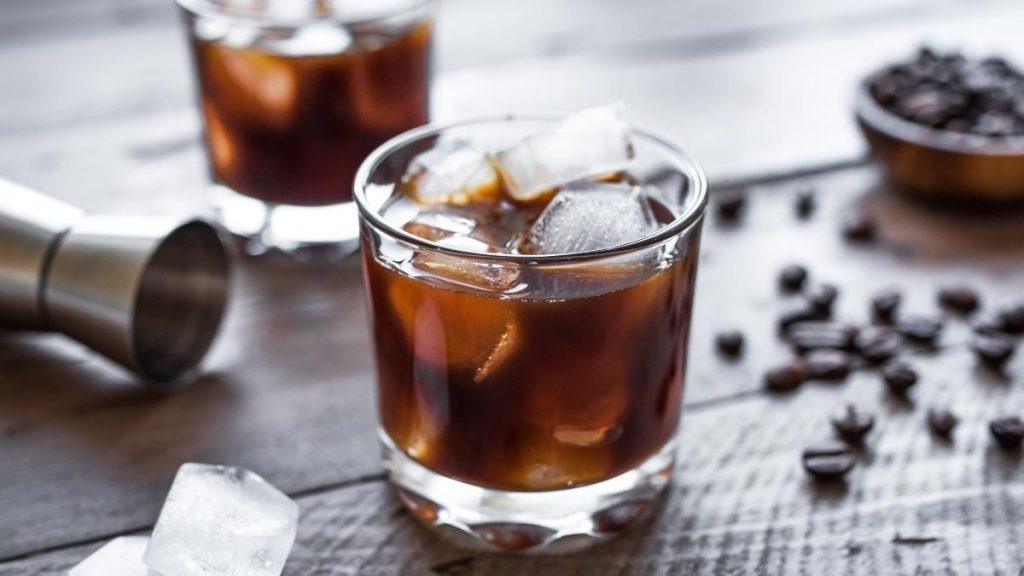 While we're having some fun in Mexico, let's make some space for a fairly new arrival: the Iced Coffee Margarita. These coffee alcohol drinks are a great alternative to the usual mimosas at brunch and will undoubtedly excite the coffee-holics at your breakfast table.
To make this brunch-time fiesta, you will need your favorite tequila, cooled brewed coffee, lemon peel, honey, ice, and a mixture of granulated coffee and sugar to rim the glass.
3. Espresso Martini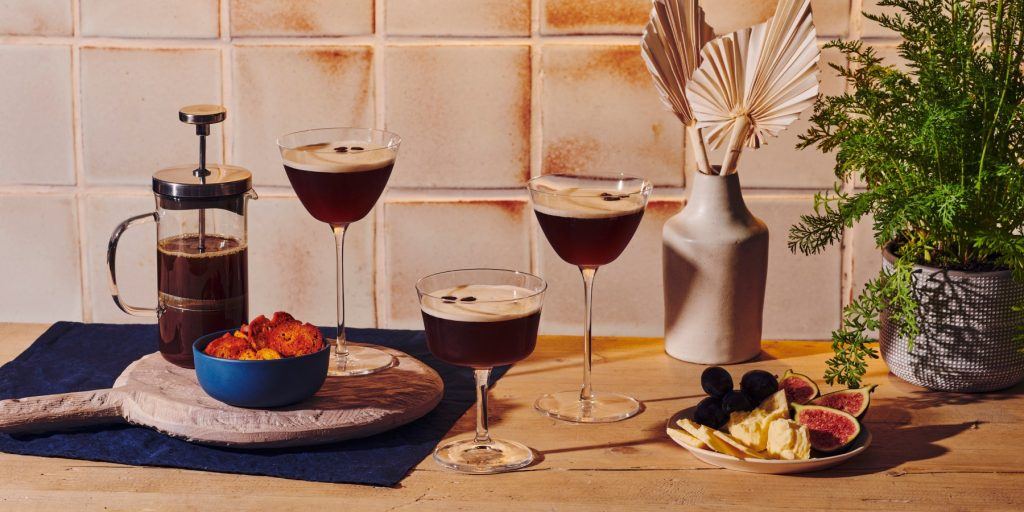 The Espresso Martini seems to be the cocktail of choice at the moment. Even though this trendy drink was invented back in the 80s, it still packs a punch today and is massively popular across the globe. These crowd-pleasing coffee drinks with liquor are best enjoyed as digestifs or after-dinner drinks due to their rich caffeine content.
Traditionally, an Espresso Martini is made with four ingredients: vodka, coffee liqueur, espresso, and simple syrup, but you can adapt this to your friends' tastes by adding coconut or salted caramel for a more indulgent drink. We think that the foam that floats on top is the most enjoyable part, and to get that perfect foam, you'll be shaking your cocktail vigorously for at least 20 seconds. The natural oils in the coffee combine with the air bubbles, creating a foam that's aesthetically pleasing and tasty.
The final part of this cocktail is the garnish of three coffee beans, and although it's pretty simple, we love its meaning. When floating on top of the foam in the shape of a triangle, they represent health, wealth, and happiness—and who doesn't want a decent dose of that?
4. White Russian Cocktail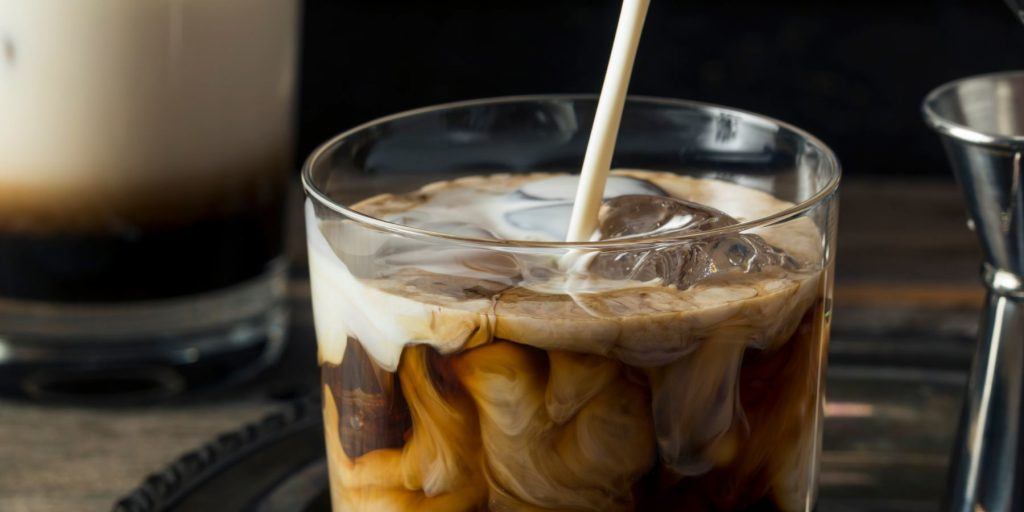 Made famous by Jeff Bridges in the 90s hit film, The Big Lebowski, the White Russian cocktail is one of the best coffee cocktails you can serve. It is made with coffee liqueur, vodka, and cream, tastes like melted coffee-flavored ice cream, and goes down an absolute treat. Make these classic cocktails with just three ingredients in four easy steps within five minutes flat!
5. Black Russian Cocktail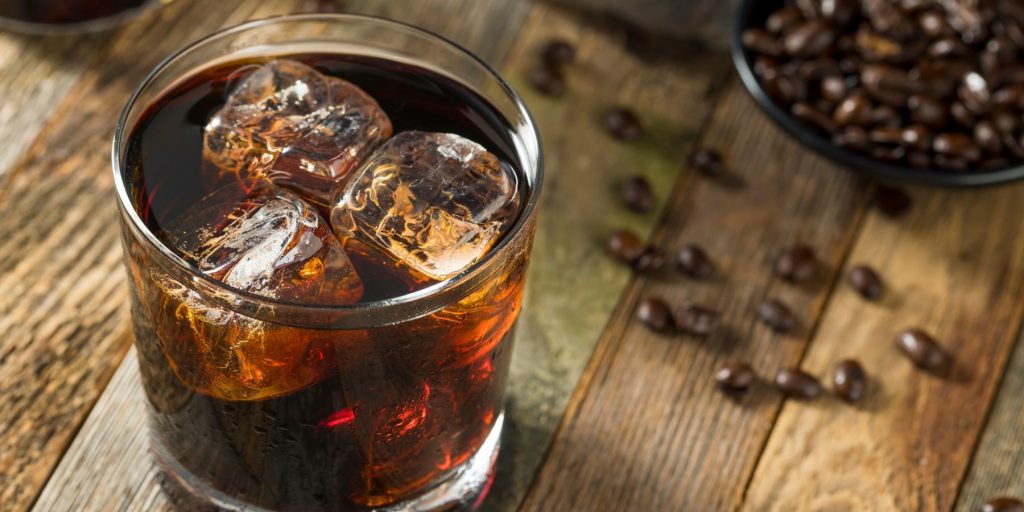 The Black Russian cocktail is the White Russian's skinny cousin and is made with just 2 ingredients: vodka and coffee liqueur. Invented in Brussels in the 1940s, the Black Russian cocktail is making a comeback. While it is not as popular as a White Russian, it's totally drinkable, and we suggest you give it a go.
To make one of these coffee liqueur cocktails, simply pour vodka and coffee liqueur over ice in an old fashioned glass. If you prefer a more potent cocktail, add more vodka. If you like it sweeter, add more coffee liqueur. Stir until cold and garnish with a maraschino cherry.
There are a few variations of this cocktail, so jump on over and take a look.
6. Mocha Martini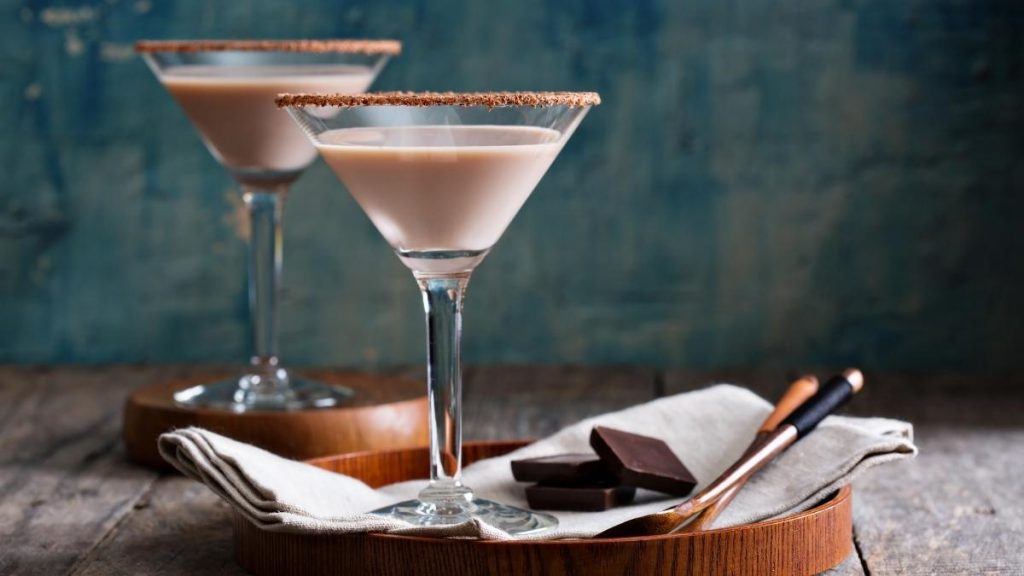 If you love a cafe mocha, this vodka-based Mochatini might be the perfect cocktail to end your evening. It's a coffee and chocolate lover's delight and is so indulgent that you can serve this instead of dessert. We promise your guests won't mind. In fact, they'll probably want another round.
To make one, shake together ice, vanilla vodka, coffee liqueur, and chocolate (which can be anything from chocolate syrup to chocolate liqueur). Strain into chilled chocolate-rimmed martini glasses and serve. It's quite a potent cocktail and will either get the party started or put your guests to bed.
7. Long Island Iced Coffee
Remember that Long Island Iced Tea you had? Probably not. Well, this classic boozy drink has been revamped and changed into an iced coffee version—and will possibly have the same effect on your memory.
Swop out the cola and triple sec of the traditional LIIT for cold-brewed coffee and Irish cream liqueur, and you're good to go. A staggering amount of alcohol goes into this potent drink, so easy does it!
8. Irish Coffee Cocktail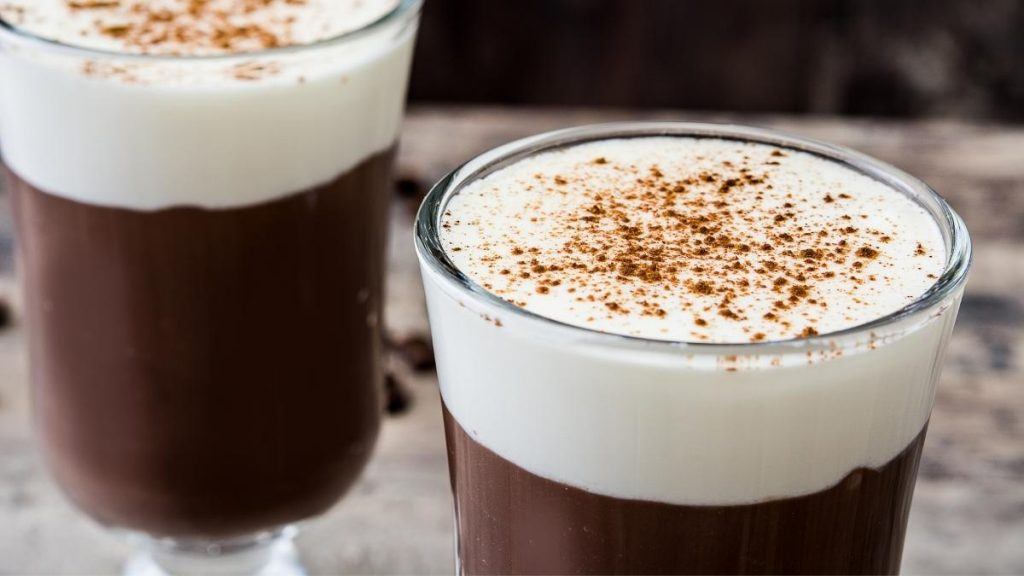 Chances are that the first time you were introduced to an Irish Coffee cocktail was when you saw your old man drinking one. And he probably liked it because he used to watch his dad drink it. It's an iconic cocktail that has been popular in many households for many years. But it's no longer just dad's drink.
Whiskey and coffee is a classic combination. The addition of brown sugar and cream makes it one of the most famous coffee alcohol drinks out there. Serve these classic coffee cocktails to your coffee-loving friends to end the perfect night.
9. Cold Brew Bourbon Cocktail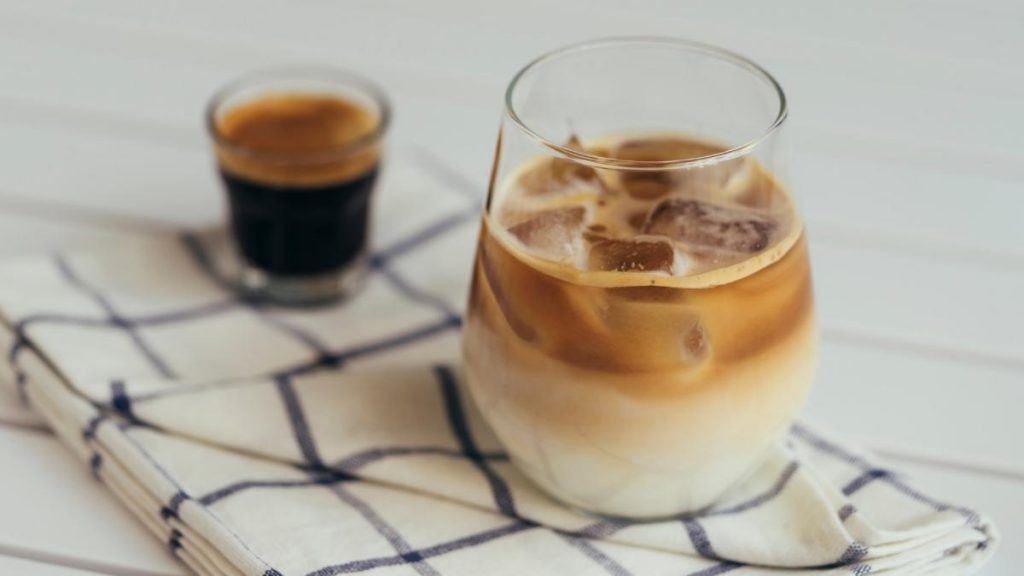 A refreshing summer drink that will perk up your guests, the Cold Brew Bourbon cocktail is basically an iced coffee spiked with bourbon and triple sec, sweetened with maple syrup, and made really indulgent by adding heavy cream.
This drink is all about bold flavors mingling and complementing the taste of the coffee. The vanilla notes in the bourbon love the dark rich flavors of the coffee, while the orange flavor from the triple sec adds citrus notes for a lovely finish and mouthfeel. If you prefer a warm coffee cocktail, serve it with a warm coffee brew in a mug.
FREQUENTLY ASKED QUESTIONS
Brandy, rum and whiskey are popular choices for the best coffee cocktails. For something sweeter and more indulgent, various liqueurs work well, including coffee liqueur, chocolate liqueur, amaretto, and Irish cream.  
A coffee with alcohol is called a liqueur coffee, and is a shot of liqueur mixed with coffee. Sugar is added if the alcohol is unsweetened and the liqueur coffee is often topped with cream.