14 Refreshing Peach Cocktails to Try in 2023
July 26, 2023 by Anna-Bet Stemmet
We adore peach cocktails when the weather is balmy and Mother Nature is showing off all her prettiest colors. Sweet, juicy and aromatic, the blushing peach has inspired countless amazing bakes, eats and treats over the centuries, and it also makes a gorgeous base for warm-weather libations. Here are a few of our favorites you can try at home:
1. Peachy Old Fashioned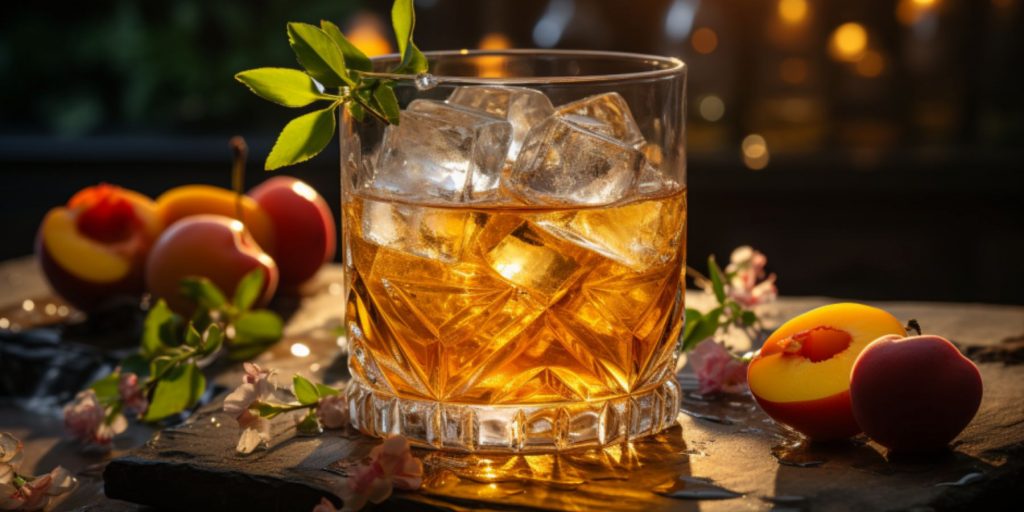 To make this superbly satisfying riff on the classic Old Fashioned, start by muddling one ripe peach, pitted and diced, with 0.5 oz of simple syrup in a mixing glass. Add 2 oz of Wild Turkey 101 Bourbon or rye whiskey and 2 dashes of bitters. Stir well with ice. Fill an Old Fashioned glass with ice cubes and strain the cocktail over it. To finish it off, garnish with an orange twist or slice (optional but recommended).
2. Bourbon Peach Smash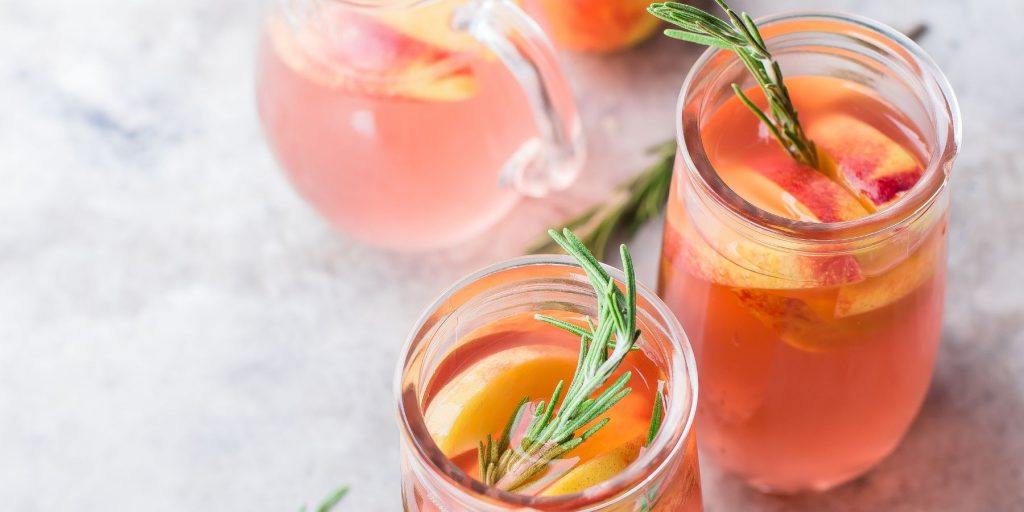 The spice of a good bourbon pairs beautifully with the sweetness of peaches. To enjoy this exceptional combo, shake up a Bourbon Peach Smash cocktail. In a cocktail shaker, muddle one ripe peach, pitted and cubed, with 4-5 fresh mint leaves. Add 2 oz of bourbon, 0.5 oz of simple syrup, and 0.5 oz of freshly squeezed lemon juice. Shake vigorously with ice for 10-15 seconds before straining into an ice-filled rocks glass. For an optional finishing touch, garnish with a peach slice and mint sprig. Then, all that's left to do is sip and savor the refreshing blend of peach, bourbon, and mint in this summer-inspired drink.
More bourbon goodness: 13 Bourbon-Based Summer Cocktails to Beat the Heat
3. Peach Margaritas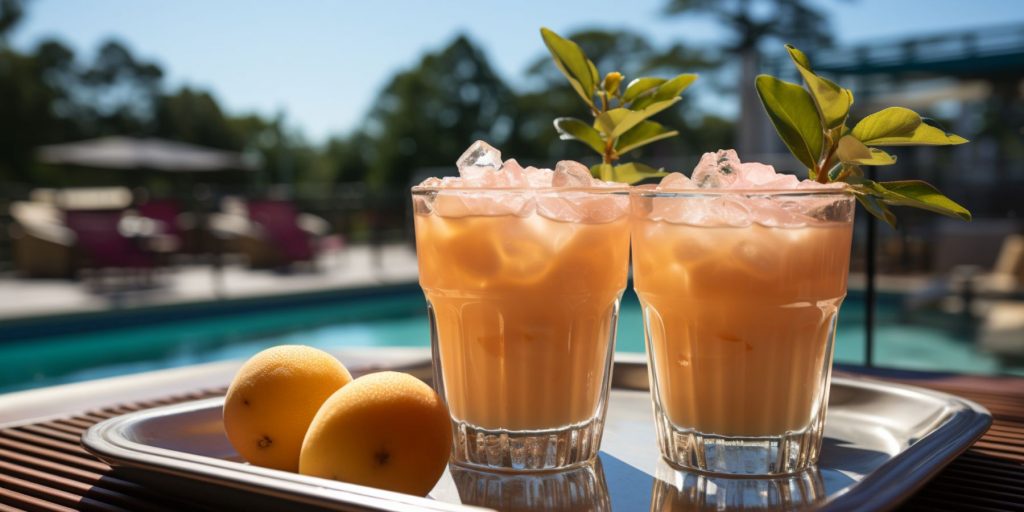 If you're always on the lookout for the best Margarita, you've got to try your hand at the Peach Margarita. When made with a top-tier tequila for Margaritas like Espolòn Tequila Blanco, it has a strong Latin backbone and the perfect amount of seasonal swagger.
In a blender, blend one ripe peach (peeled and pitted) with 2 oz of tequila, 1 oz of Grand Marnier, 1 oz of freshly squeezed lime juice, and 0.5 oz of simple syrup until smooth. Optionally, rim a margarita glass with salt (if you're a traditionalist) or sugar. Fill the glass with ice cubes and pour in the Peach Margarita mixture. Add a peach slice or lime wheel for garnish if desired.
4. Fuzzy Navel
Love peach vodka cocktails? Then you've got to try a Fuzzy Navel, bestie! So easy, so delicious. Fill a cocktail shaker with ice, then add 1 oz of peach schnapps and 3 oz of orange juice. Shake well, strain the cocktail into a serving glass filled with fresh ice, and garnish with a slice of peach or orange.
Ice, ice, baby! How to Make Clear Ice for Your Favorite Summer Drinks
5. Bellini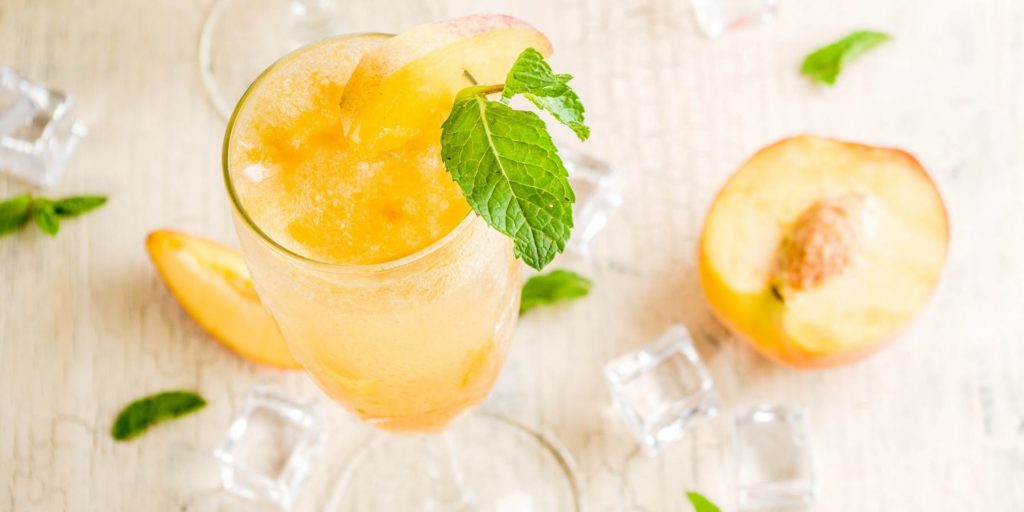 Of all the peach purée cocktails doing the rounds, the Bellini is arguably the most famous – and with good reason. This good old girl is simultaneously super approachable and a little bougie. If you adore a brunchtime Mimosa, you'll have heart eyes for this spiffy drink. Fresh, fizzy, and fruity, it combines peach purée and the zest of Prosecco to arrive at a sweet sipper with a pretty scent and amazing mouthfeel.
6. Sex On The Beach Cocktail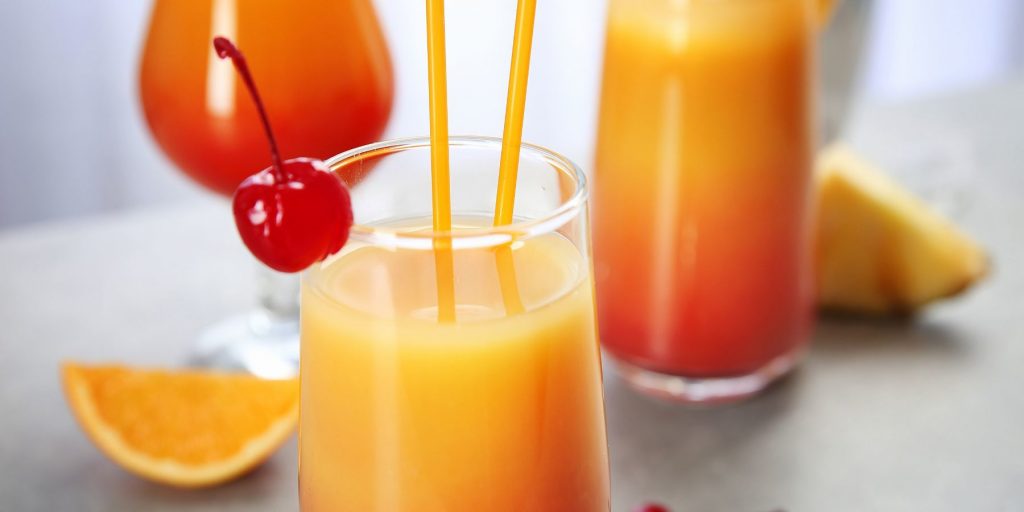 Peach schnapps cocktails do not come any more tongue-in-cheek than the Sex on the Beach cocktail. The first half of the drink contains intensely fruity peach schnapps, which are combined with orange and pineapple juice to push the flavor profile into a tropical space. The next layer contains SKYY Vodka shaken with tart cranberry juice and a splash of raspberry liqueur – simply delicious.
7. Peach Martini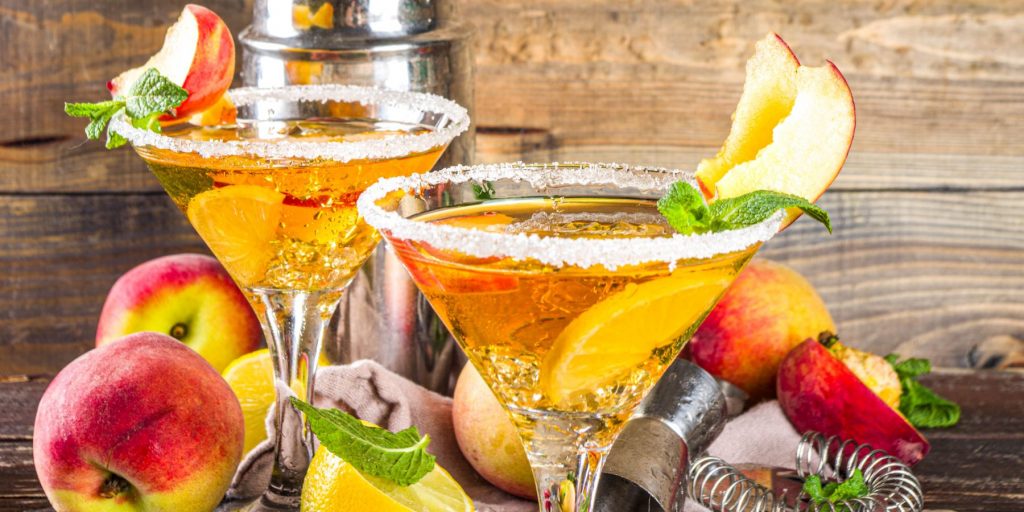 Love experimenting with different types of Martinis? Take the Peach Martini for a spin! This drink is nice and light but full of flavor. Add 2 oz of SKYY Infusion Peach Vodka, 1 oz of SKYY Infusion Vanilla Vodka, 1.5 oz of peach purée, 1 teaspoon of stevia, and the juice from a quarter of a lemon to a cocktail shaker with ice. Shake up, strain into a frosty serving glass, and serve.
8. Peach Mojito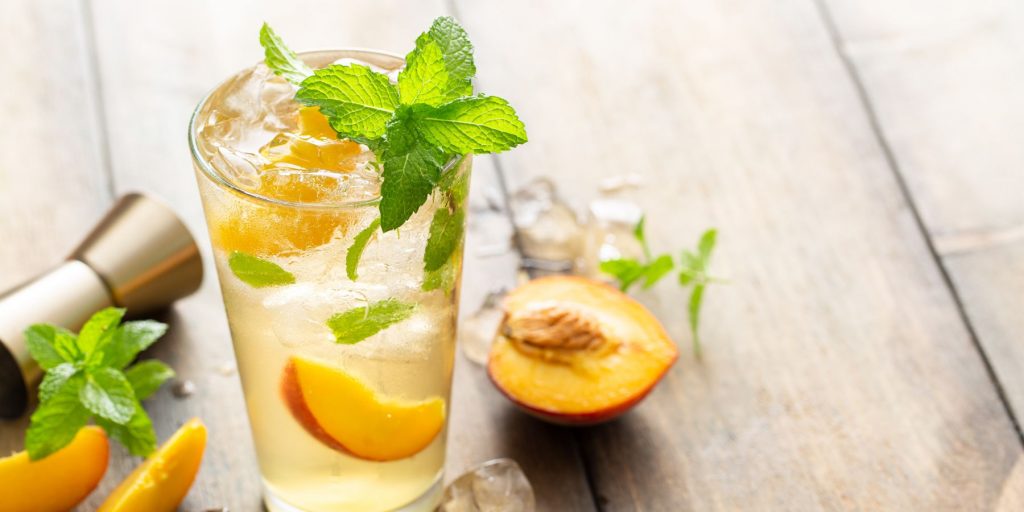 The classic Mojito is one of those delightful drinks that can be easily given a summery upgrade using fruit. In a shaker or mixing glass, muddle one diced, pitted peach with 6-8 fresh mint leaves. Add 2 oz of Wray & Nephew White Overproof Rum, 1 oz of freshly squeezed lime juice, and 0.5 oz of simple syrup.
Shake well with ice for 10-15 seconds before straining into an ice-filled highball glass. Top up with club soda. Optionally, garnish with a peach slice and mint sprig. Stir gently and relish the fruity and minty goodness of this Peach Mojito.
More fruity vibes this way: 12 Easy Grapefruit Cocktails Recipe to Try
9. The Georgia Peach Cocktail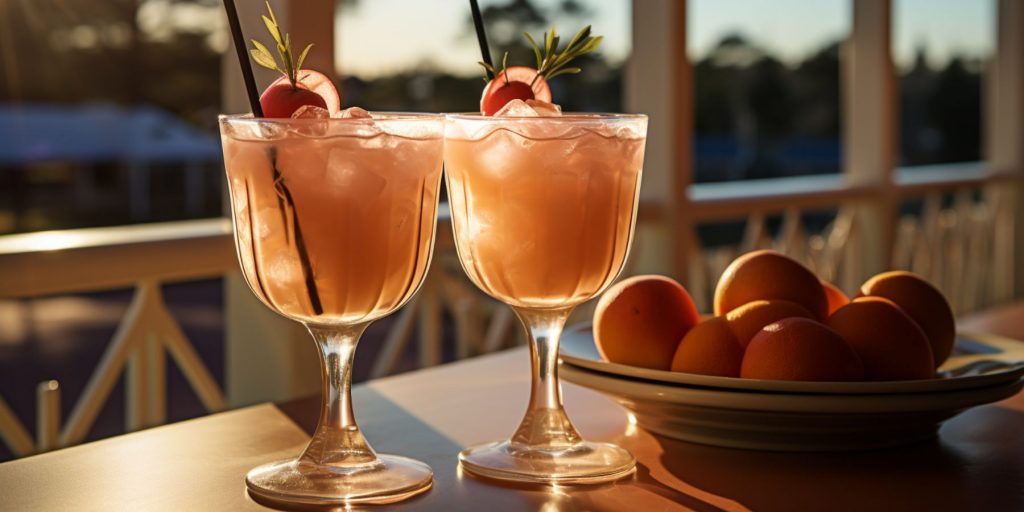 This Georgia Peach Cocktail is a dream. In an ice-filled highball glass, stir together 1 oz of peach schnapps, 1 oz of white rum, and 2 oz of orange juice. Carefully pour 1 oz of cranberry juice into the center. Garnish with a fresh peach slice and a mint sprig for optional flair. Sip and enjoy the sweet and tangy flavors of this refreshing cocktail.
10. Bourbon Peach Schnapps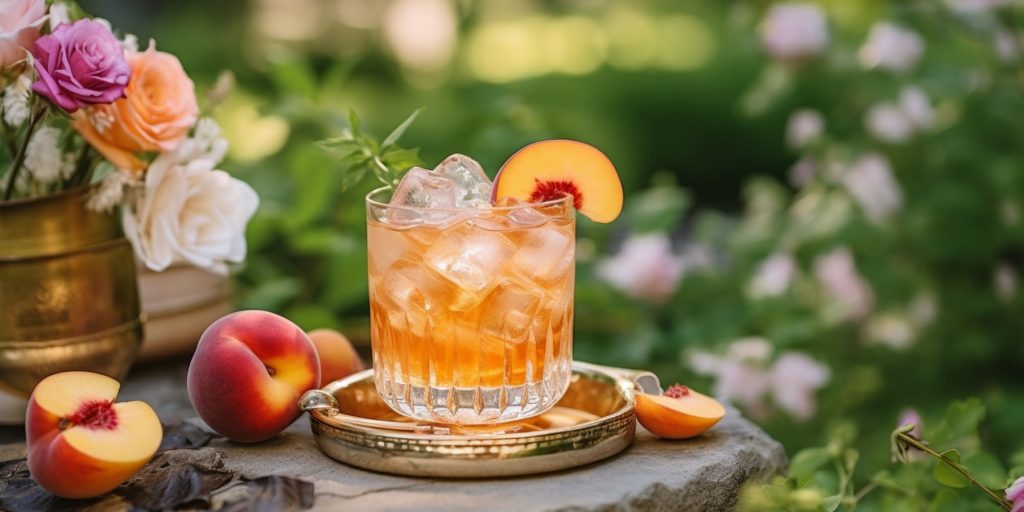 More easy cocktails with peach schnapps? Yes, please! The Bourbon Peach Schnapps cocktail is a delightful combination of two beloved spirits, Wild Turkey 101 Bourbon and peach schnapps, resulting in a smooth and sweet drink. With its rich flavors and hints of fruity sweetness, this cocktail is perfect for those looking to enjoy a sophisticated, refreshing, and easy-to-pour beverage.
11. Peach Daiquiri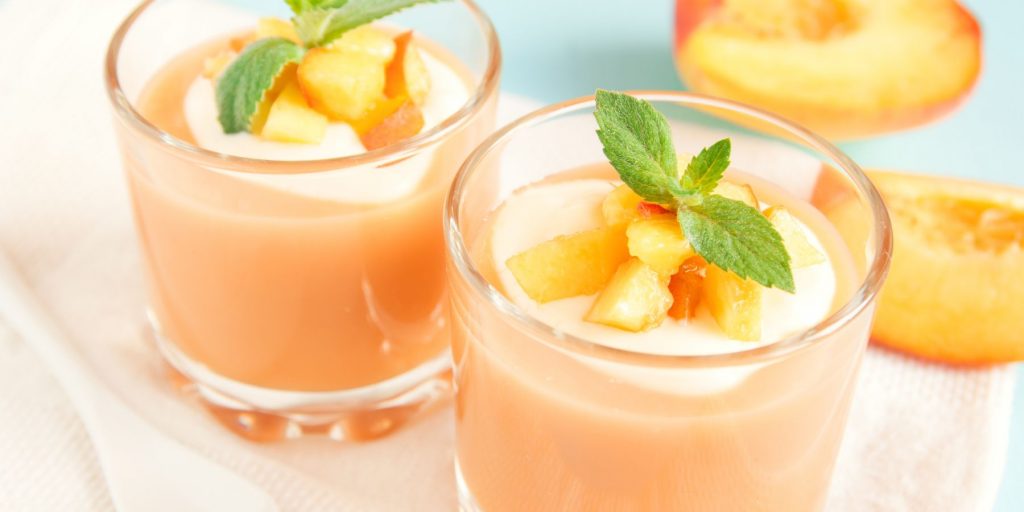 Let's go a little tropical, shall we? In a blender, blend 1 diced, pitted peach, 2 oz of white rum, 1 oz of freshly squeezed lime juice, and 0.5 oz of simple syrup until smooth and creamy. Optionally, rim a chilled cocktail glass with sugar. Pour the Peach Daiquiri mixture into the glass. Garnish with a peach slice or a lime wheel, if desired.
More delicious Daiquiris: Mango Daiquiri | Strawberry Daiquiri
12. Peach Mule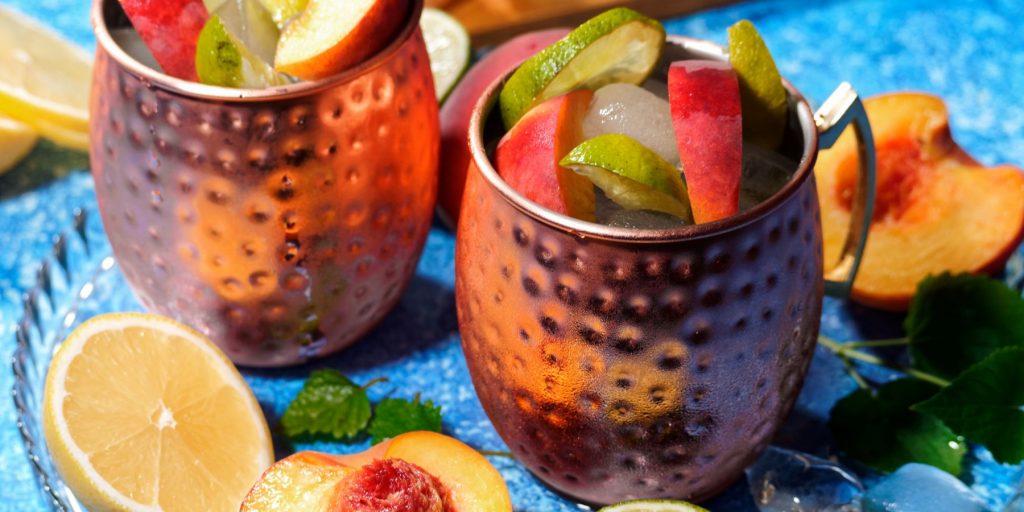 Mule cocktails are made for summertime sipping, and the Peach Mule is certainly no exception. In a copper mule mug or highball glass, muddle a few slices of ripe peach with 0.5 oz of freshly squeezed lime juice. Fill the glass with ice cubes, then add 2 oz of SKYY Vodka and give it a gentle stir. Top it off with 4-6 oz ginger beer to your liking. Optionally, garnish the cocktail with a peach slice and a sprig of mint.
13. Peachin' Mimosa
The Mimosa is a brunchtime staple that has stood the test of time, and we love this peachy spin-off just as much. It comes together effortlessly and always goes down a treat. Pour 1 oz of SKYY Infusions Peach Vodka and 2 oz of chilled Prosecco into a Champagne flute. Top with 1 oz of orange juice and serve.
14. Peach Sangria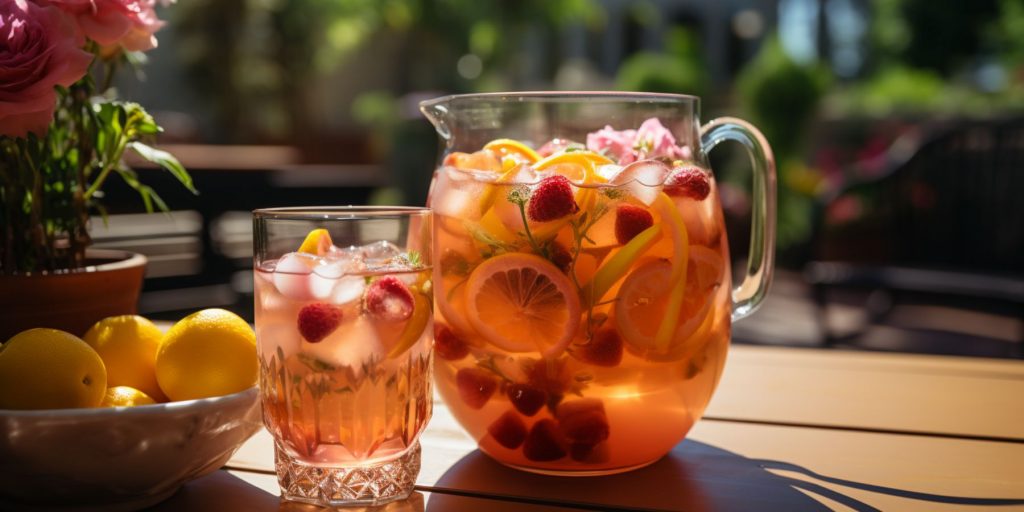 Peach cocktails for a crowd? We've got you covered. In a large pitcher or sangria dispenser, mix 1 bottle (750 ml) white wine (such as Sauvignon Blanc or Pinot Grigio) with 1 cup of peach schnapps, 0.5 cups of brandy, 0.25 cups of Grand Marnier, and 0.25 cups of freshly squeezed lemon juice. Add slices of 2 ripe peaches, 1 orange, and 1 lemon to the mixture. Sweeten with 0.25 cups of simple syrup (adjust to taste).
Chill the Peach Sangria for at least 2-4 hours or overnight. Before serving, add 2 cups of sparkling water or lemon-lime soda. Serve over ice, garnish with fresh mint leaves, and toast to good times with this fruity and refreshing Peach Sangria.
There you have it – fourteen super tasty peach cocktails to try at home. If you would like more tasty inspiration delivered right to your inbox, go sign up for our delicious newsletter!
FREQUENTLY ASKED QUESTIONS
Start by peeling and pitting ripe peaches, then blend them until smooth. Add a splash of lemon juice to enhance the flavor and prevent browning. For some sweetness, mix in a bit of simple syrup. Voila! Your peach purée is ready to shine in refreshing cocktails like Bellinis or Peach Margaritas. Experiment and enjoy the fruity goodness in your drinks!
Peach schnapps opens a world of delightful cocktail possibilities. Mix it with orange juice for a classic Fuzzy Navel or add cranberry juice to create a tempting Woo Woo. For a tropical twist, combine it with rum and pineapple juice in a Sex on the Beach. Don't forget the creamy goodness of a Frozen Peach Daiquiri or the bubbly fun of a Peach Bellini. With peach schnapps, your cocktail repertoire just got peachier!