Tailgate Party Ultimate Guide (2023)
July 21, 2023 by Anna-Bet Stemmet
What is a tailgate party? Only the best way to enjoy a pre-game celebration during football season! If you're brand new to hosting or attending this type of event, don't worry; The Mixer is here to help you ace tailgate parties from the get-go. Let's dive right in.
What is tailgating exactly?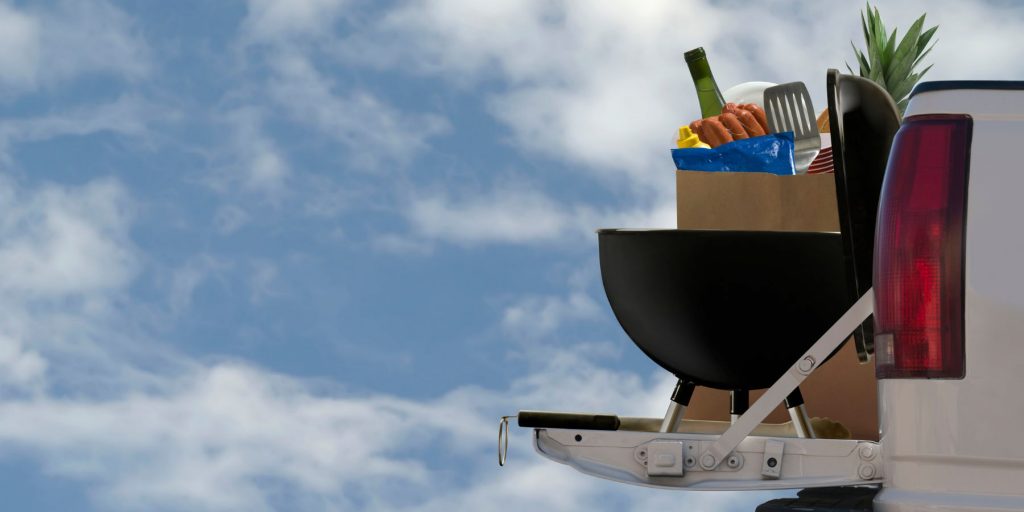 The wonderful world of tailgate parties is where camaraderie, sports, and good times come together like never before. Tailgating is the art of throwing a pre-game celebration in the parking lot, often using the back of a truck as part of your entertaining set-up and transforming this unlikely venue into a setting fit for a lively shindig.
It's essentially hosting a fun soirée on wheels, with sports fans gathering to support their favorite teams and have an absolute blast before the big game. But don't let the term 'tailgate' fool you – this party isn't just for truck owners; it's for everyone who loves to revel in the magic of sports and good company!
So, how did this fabulous tradition come to be? Well, legend has it that tailgating originated in the early 1900s at college football games. Fans would arrive at the stadium early, bringing snacks and drinks to share with fellow sports enthusiasts. Since then, the tailgate party has evolved into a grand celebration, becoming a cherished tradition at sporting events across the nation.
In fact, this form of entertaining has become so popular that folks are now using it as a format for office tailgate parties and even tailgate birthday parties! You can also tailgate out in nature, on a beach, or in any natural setting really.
How to throw a tailgating party
Before we get super excited about discussing fun tailgate party ideas, there are a few logistical aspects to consider. Yes, yes, it's a snooze fest, we know, but once you have all the must-dos out of the way, you can get stuck into the less meh stuff, we promise.
When planning a tailgate party, start by checking on legalities, and then move on to tailgating essentials, food and drinks, and entertainment.
Tailgating legalities & permissions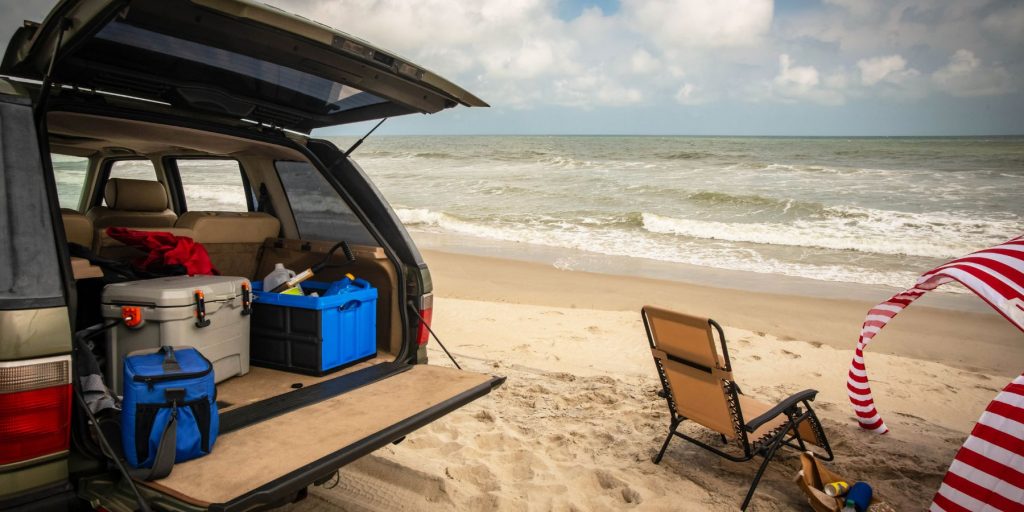 Tailgating itself, in the context of hosting pre-game parties in parking lots, is generally legal in the United States. However, there are some important caveats and regulations to consider:
Private property vs. public property. Tailgating is commonly done in parking lots, which can be either private or public property. Private property owners, such as sports stadiums, usually have their own rules and guidelines regarding tailgating. On public property, tailgating is often allowed unless explicitly prohibited.
Alcohol consumption. Alcohol regulations can vary significantly depending on the state, city, or venue. Some places may allow alcohol consumption in designated areas, while others may have strict rules prohibiting it. Many states and venues have banned open containers of alcohol in public areas, which could include tailgating lots. Always check local laws and regulations before bringing alcoholic beverages to a tailgate.
Safety and nuisance regulations. Tailgating parties are expected to adhere to safety and nuisance regulations. This means that excessively loud music, rowdy behavior, or other activities that disrupt the peace may be subject to penalties.
Cleanup and trash disposal. Leaving the tailgating area in a clean condition is typically required. Failure to clean up after a tailgate may result in fines or restrictions for future events.
Fire code and grill use. If grilling is part of your tailgate setup, you should be aware of local fire codes and restrictions on the use of open flames in certain areas.
Tailgating permits. In some cases, large tailgate gatherings may require permits, especially if they involve blocking off sections of a parking lot or street.
Since tailgating regulations can vary by location, it's essential to research and understand the specific rules and guidelines of the venue or location where you plan to host a tailgate party. Always prioritize safety, be respectful of others, and follow local laws to ensure a fun and legal tailgating experience.
Read next: How to Host a BYOB Party & How to Attend One
Tailgate essentials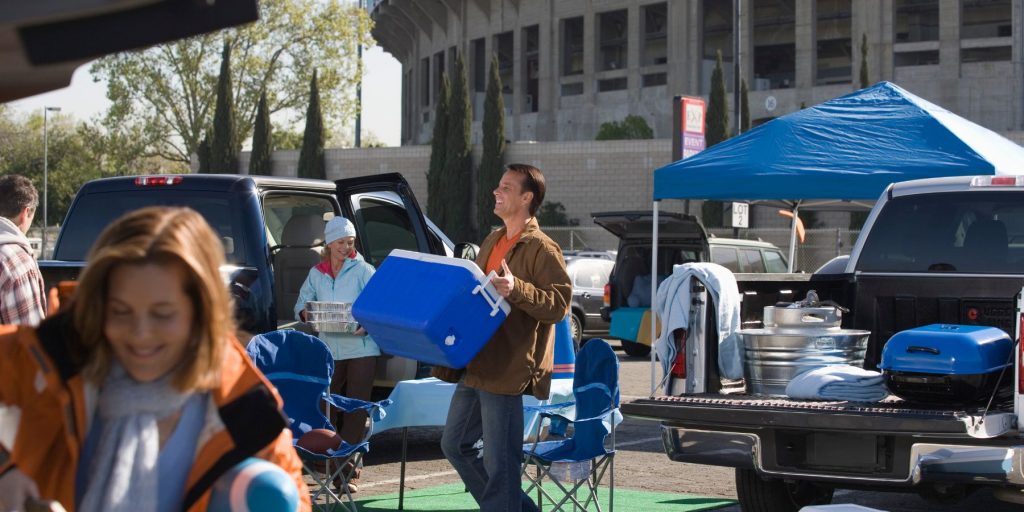 When hosting a tailgating party at a game, it's essential to come prepared with everything you need for a fun and enjoyable experience. Here's a checklist of things you should bring along:
Game day things. Don't forget the most crucial items – your game tickets and parking pass! Also remember to carry your ID, credit cards, and some cash for any unexpected purchases.
Party set-up items. Comfortable seating is a must for your guests. Bring along folding chairs and tables for a relaxed and inviting setup. If the game is during the day, a tent or canopy will provide much-needed shade and protection from the elements. Also bring along cups, plates, and utensils. We like to use disposable, eco-friendly tableware for easy cleanup after the party.
Team gear & decorations. Show off your team spirit with flags, banners, and other team-themed decorations. Bring along team merch such as hats or shirts to support your team and create a festive atmosphere.
Food prep items. A portable grill is typically the heart of any tailgate party. Don't forget the charcoal, propane, or other fuel needed to fire it up. Also bring along spatulas, tongs, grilling brushes, and any other utensils you'll need for cooking and serving.
Drinks essentials. Keep your drinks and perishable foods cold by packing a well-insulated cooler with plenty of ice. Don't forget the glasses! Pack a variety of beverages, including water, sodas, sports drinks, and some cocktails for the adult guests. More cocktail inspo below…
Cleaning & clear-up items. Stay hygienic with hand sanitizer and wet wipes, especially when handling food. Keep the tailgating area clean and tidy by bringing trash bags for easy disposal of waste.
Portable Bluetooth speaker & music. Bring a portable speaker to keep the party vibes going with your favorite music. Bonus points if you put together a game-day playlist with your guests' top tunes.
Camera or phone. Capture the memorable moments with a camera or smartphone to document the tailgate fun.
In-case things. Have a basic first aid kit on hand for any minor injuries. We also like to bring sunscreen and bug spray. If the game is in the evening or it's cold out, have blankets or jackets available to keep warm.
Learn more: The Easy-Peasy Guide to Hosting an Outdoor Cocktail Party
Tailgate party food ideas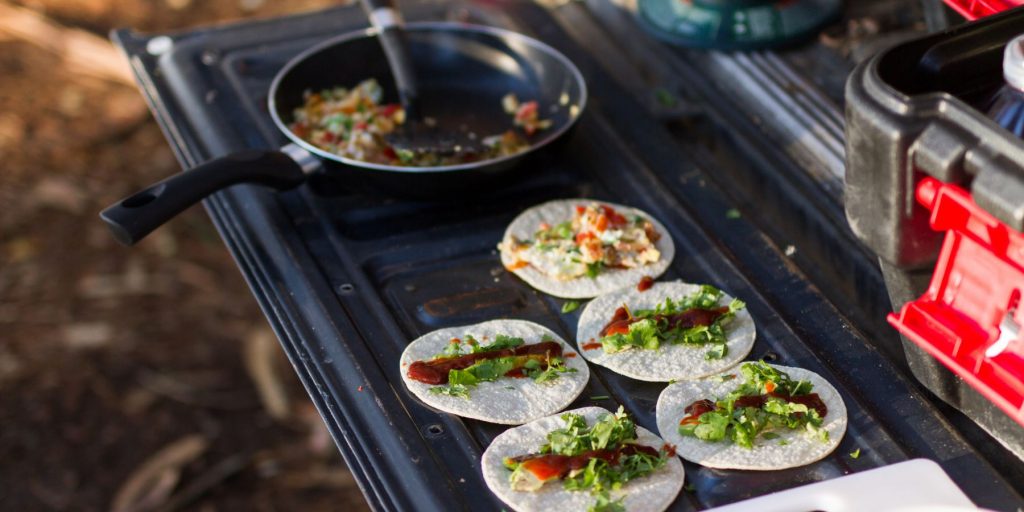 When it comes to classic tailgate food, it's all about hearty, delicious, and easy-to-eat dishes that are perfect for outdoor gatherings and sports events. Here are some classic tailgate food ideas that will surely be a hit with your guests:
Buffalo chicken wings. Crispy chicken wings, tossed in spicy buffalo sauce, served with celery sticks and blue cheese or ranch dressing for dipping. Instead of chicken wings, you could also serve crispy buffalo cauliflower bites coated in spicy sauce. Serve them with celery sticks and vegan ranch or blue cheese dressing.
Cheeseburgers. Juicy grilled burgers topped with cheese, lettuce, tomato, and pickles, served on soft buns. Offer veggie burgers made with plant-based ingredients like black beans, chickpeas or Beyond Meat patties. Provide a variety of plant-based cheeses and toppings for customization.
Hot dogs. Classic grilled hot dogs served with an array of toppings like mustard, ketchup, relish, onions, and sauerkraut. Include vegetarian or vegan hot dogs made from soy, tofu, or veggies.
Chili. Hearty and flavorful chili made with ground beef, beans, tomatoes, and spices – perfect for topping hot dogs or enjoying on its own. Prepare a hearty vegetarian chili using beans, lentils, or textured vegetable protein (TVP) as the protein base. Offer vegan shredded cheese and sour cream as toppings.
Nachos. A mountain of tortilla chips topped with melted cheese, jalapeños, guacamole, salsa, and sour cream. Create loaded vegetarian nachos with plant-based cheese, black beans, and vegan sour cream.
BBQ ribs. Tender and succulent ribs slathered in tangy barbecue sauce and cooked to perfection on the grill. Grill cauliflower or jackfruit marinated in barbecue sauce for a delicious vegan alternative.
Macaroni and cheese. Offer a classic macaroni and cheese with vegetarian-friendly cheese options or a vegan version made with cashew-based or plant-based cheese.
Sausage and peppers. Grilled sausages, and veggie sausages made from soy, tofu, or vegetables, served with sautéed bell peppers and onions, all tucked into a soft roll.
Pulled pork sandwiches. Slow-cooked pulled pork seasoned with barbecue sauce and served on soft buns with coleslaw. Prepare jackfruit in the same way with vegan barbeque sauce for a fantastic vegan option.
Popcorn. A simple and crowd-pleasing snack that's easy to munch on during the game.
Cookies and brownies. Sweet treats like chocolate chip cookies and fudgy brownies provide a delightful dessert option.
Fruit platter. A refreshing assortment of fresh fruits, such as watermelon, pineapple, grapes, and berries.
Chips and dips. Various dips like guacamole, salsa, spinach-artichoke dip, served with tortilla chips and vegetable sticks.
More appetizer inspiration: 11 Perfect Cocktail Party Appetizers for any Occasion
Tailgate party drink ideas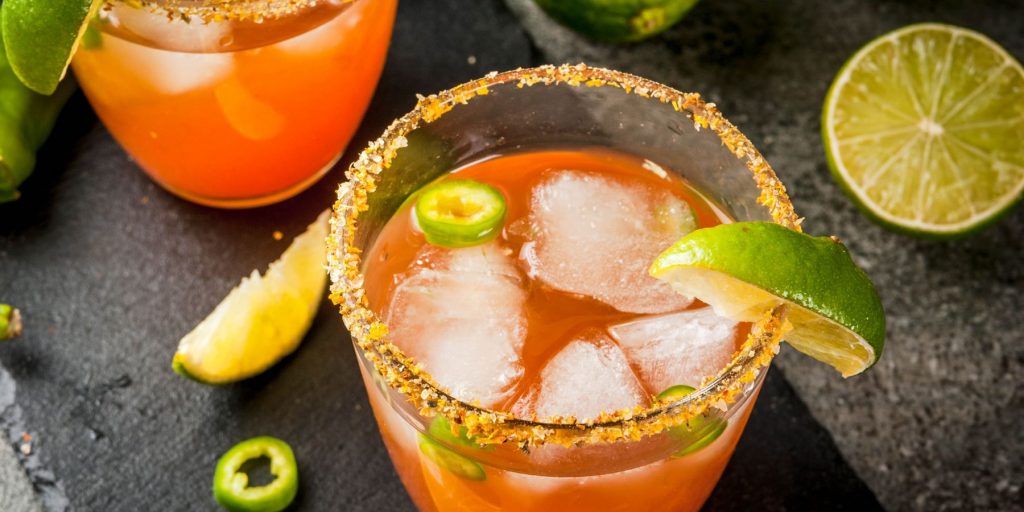 A tailgate party might be synonymous with beer and soft drinks, but you can 100% also push the boat out and add a few cocktails to the lineup. Here are the 10 easy cocktails you can serve at a tailgate party, along with a tip for preparing them outside:
Michelada. Pre-mix the tomato juice, lime juice, and hot sauce at home and bring it in a spill-proof container. Simply pour it over a chilled beer at the tailgate for an instant Michelada.
Rum Punch. Create the punch base by mixing the rum and fruit juices at home. Store it in a large, sealable container ready to pour into a cooler with extra ice and soda at the tailgate for a quick and refreshing batch of punch. Find more big-batch drinks HERE.
Margarita. Prepare a pitcher of Margarita mix in advance by combining tequila, lime juice, and Grand Marnier. Bring a portable shaker to quickly mix individual cocktails at the tailgate.
Mojito. Muddle fresh mint leaves with lime juice and simple syrup at home and pack the mixture in a spill-proof container. Add rum and soda water to create easy-to-serve, tailgate-friendly Mojitos.
Moscow Mule. Bring canned ginger beer and small bottles of vodka to the tailgate. Serve the Moscow Mules in portable plastic cups for easy cleanup. Unless you're feeling bougie and want to show off your copper cups, of course.
Sangria. Pre-cut fruits and soak them in wine and brandy at home. Store the mixture in a secure container, then add soda water and ice at the tailgate for a refreshing Sangria.
Gin and Tonic. Pre-slice limes and bring them in a sealed container. Carry mini bottles of gin and small cans of tonic water for effortless Gin and Tonics on the go.
Paloma. Mix tequila and grapefruit juice at home and transfer it to a leak-proof container. Rim the cups with salt in advance for a hassle-free Paloma experience.
Virgin Pina Colada (non-alcoholic option). Create a premade mix of pineapple juice and coconut cream, then chill it in a portable cooler. Serve over ice at the tailgate for a non-alcoholic tropical delight.
Non-Alcoholic Lemonade. Squeeze fresh lemons and prepare a simple syrup beforehand. Bring it in separate containers and mix the lemonade on-site by adding cold water and ice.
More great cocktails to consider: 35 BBQ Cocktail & Food Pairings for Summer (2023)
Tailgate party games & entertainment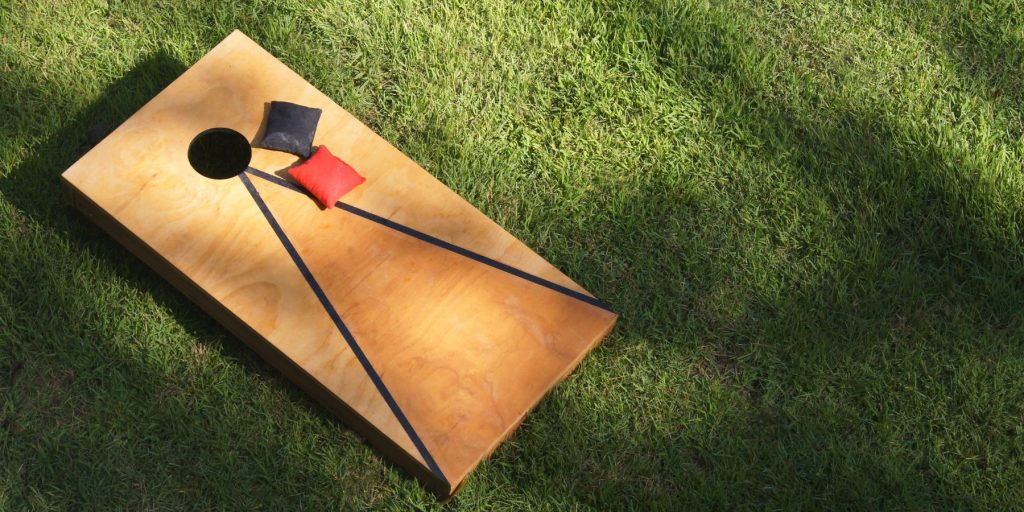 Wondering how to keep your guests entertained between hot dogs, cold beers, and heading in to watch the game? Here are a few fun ideas:
Cornhole (bean bag toss). Set up a cornhole game with two boards and bean bags. Guests can take turns tossing the bean bags, aiming to land them in the holes for points. It's a classic tailgate game that is always a hit!
Football toss challenge. Create a football toss challenge with a target set up at different distances. Guests can test their throwing skills by aiming to hit the target and score points. Offer small prizes for successful throws to add excitement.
Tailgate trivia. Prepare a list of fun sports-related trivia questions. Divide guests into teams and host a tailgate trivia contest. The team with the most correct answers wins a prize or gets bragging rights!
DIY team face painting. Set up a face painting station with washable paint in the colors of the teams playing. Encourage guests to paint their faces, create team mascots or draw fun football-themed designs on each other.
Music & karaoke. Bring a portable Bluetooth speaker and create a tailgate playlist with everyone's favorite songs. Encourage karaoke sessions for those who are willing to show off their singing skills and make it a memorable musical tailgate experience.
Love hosting? Get our latest hosting tips and tricks delivered straight to your inbox by signing up for The Mixer newsletter.
FREQUENTLY ASKED QUESTIONS
Tailgate parties are all about celebrating the joy of sports, supporting your team, and connecting with fellow fans. It's a fantastic way to share unforgettable moments with friends and family.
Tailgate parties are a lively mix of delicious food, thirst-quenching drinks, friendly games, and enthusiastic team spirit. People come together to have fun, enjoy the pre-game excitement and create a sense of community with their fellow fans.
Tailgate parties typically start a few hours before the game and continue until kick-off. Some fans might pack up and head into the stadium, while others continue the festivities throughout the game, cheering on their team from outside.