11 Hot Christmas Cocktails for an Extra Festive Holiday
May 29, 2022 by Helena Lombard
It's Christmas, which means cosy nights in and lots of Christmas charades with friends. If it is so cold that even your jumper needs a jumper, it's time to mix up some hot Christmas cocktails to bring back the festive cheer. These 11 cocktails are served warm and are sure to be a hit with your guests. You never know—it might even warm the cockles of your mother-in-law's heart.
1. Hot Toddy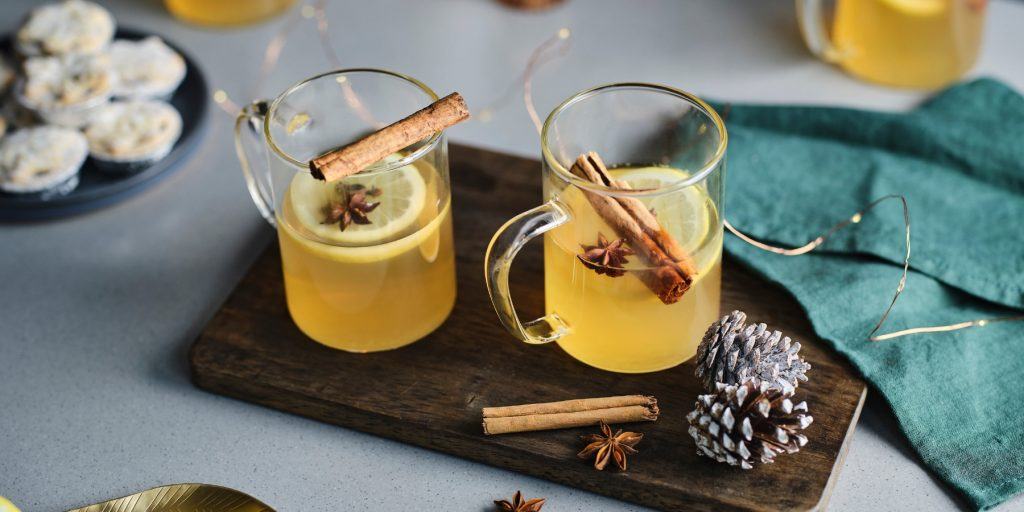 Take a step back from the Christmas chaos and make a Hot Toddy cocktail. It will give everyone that lovely glowy feeling and is the ideal drink to sip on slowly while you recover from the day's compulsory family holiday itinerary. Made with bourbon, lemon, sugar, spices, and boiling water, this warm holiday drink can be customised with your favourite alcohol and fruit flavours. It's the perfect nightcap to serve just before sneaking off to the privacy and quiet of your bedroom.
2. Mexican Hot Chocolate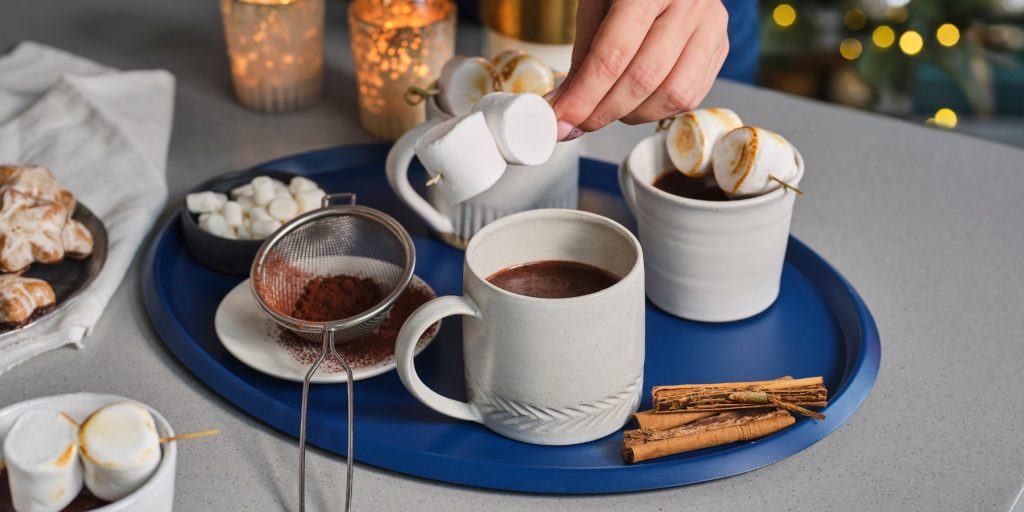 If it's extra chilly outside, we suggest making a velvety smooth Mexican Hot Chocolate. Made with reposado tequila, real Mexican chocolate, and spiced milk, this recipe is everything if you're looking for delicious warm Christmas cocktails that can be made in a batch. It's rich, warm, very inviting, and one of the best after-dinner drinks you'll make this season.
The magic ingredient for this warm Christmas drink is authentic Mexican chocolate. It's made with cacao nibs, cinnamon and a hint of sugar, so it's not overly sweet but richer in flavour. We also have options for you to turn this into a vegan's dream cocktail, so you can score some brownie points and cater for them too. Intensely rich and packed with all the right spices, this dessert cocktail will melt away the cold
3. Hot Pumpkin Pie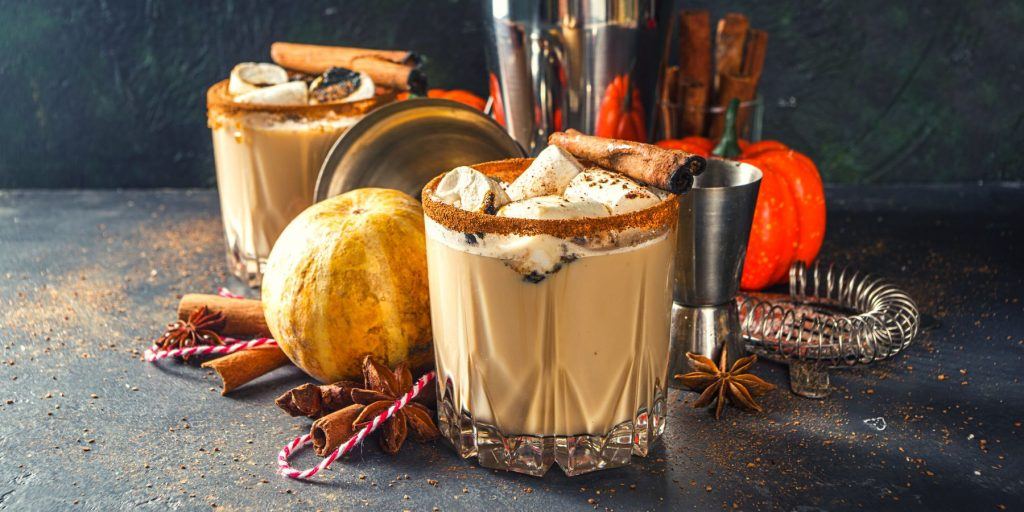 The Hot Pumpkin Pie is the happy ending (to Christmas) that you've been looking for. Up your festive season game with a thick and creamy dessert cocktail that basically tastes like liquid pumpkin pie. To make one, warm up milk, Irish cream, and vodka or rum in a pot. Once simmering, stir in pumpkin puree and pumpkin spice, then ladle into mugs and top with cool whip or whipped cream. Simple, delicious, and very moreish, it might be the most comforting thing you've ever tasted.
4. Hot Apple Cider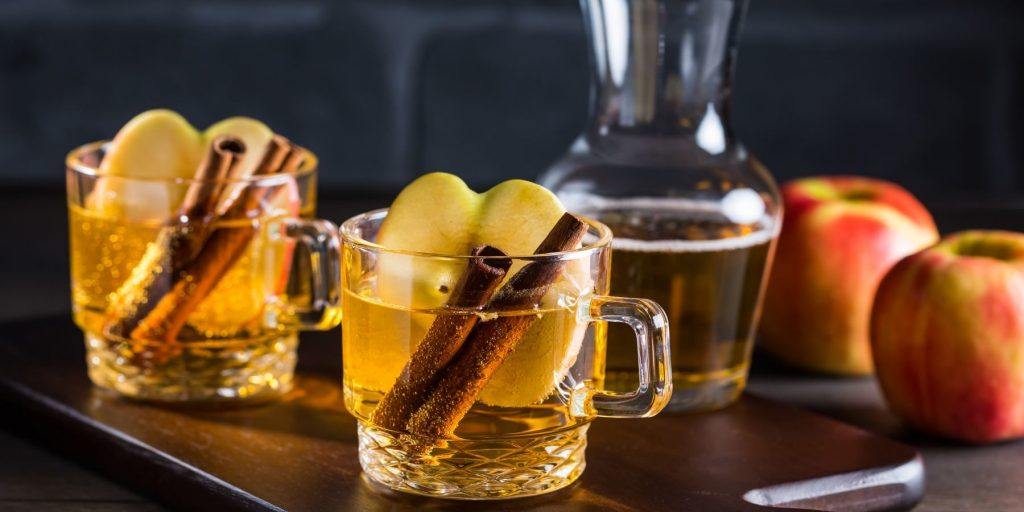 Cosy up with a mug of Hot Apple Cider and bourbon. As far as warm alcoholic Christmas drinks go, it's one of our favourites. We love it for its rich caramel and vanilla flavours that blend perfectly with the sweetness of apple cider and the tartness of the lemon. Spice it up with cloves, star anise, cinnamon, and even thyme.
5. Classic Hot Buttered Rum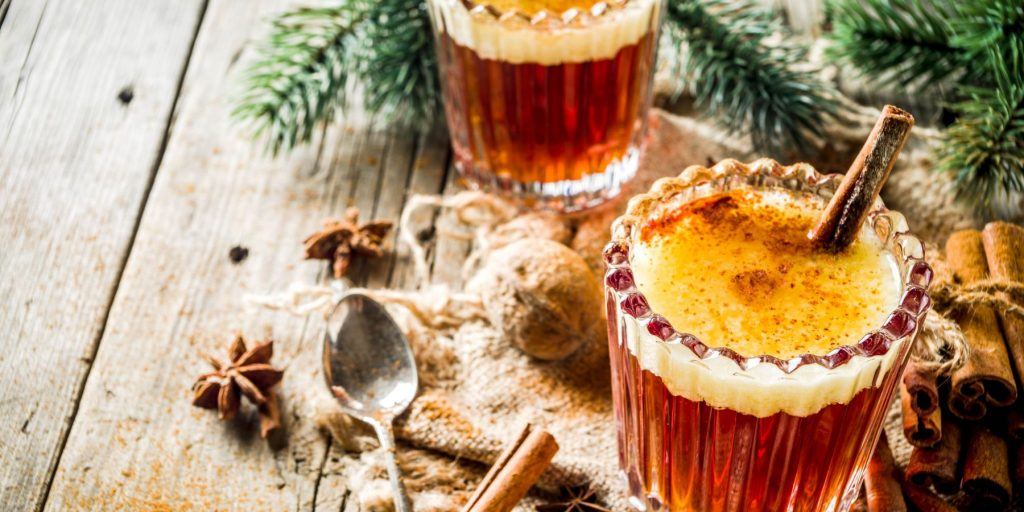 Mmmm. Hot buttered rum. The name alone makes our mouth water. Rich, creamy and sweet, it's a cosy cocktail best enjoyed next to a roaring log fire. Made with salted butter, sugar, cinnamon, nutmeg, allspice, dark rum, and boiling water, it's a recipe that begs to be adapted. We have a few varieties of Hot Buttered Rum that you can experiment with.
The taste might remind you a little bit of spiked apple cider. The addition of dark rum and spiced butter gives this after-dinner cocktail its fantastic depth of flavour. Adding butter to a cocktail might seem over the top, but it is Christmas after all! You can even go as far as topping this drink with whipped cream. So be a little extravagant and surprise your guests with this super satisfying drink.
6. Warm Christmas Cocktail
Warm Christmas cocktails are great for the masses because you can make a batch and keep it warm on the stove, ready to ladle up when your guests arrive. This indulgent bourbon-based cocktail is packed with coconut, caramel, and vanilla flavours.
In a pot and warm up milk, coconut milk, brown sugar, and vanilla pods to make a batch. Once it's simmering, whisk the mixture until frothy. Next, add bourbon to a mug, pour over the warm milk mixture and sprinkle over some nutmeg. Serve this warm holiday drink if you're looking for something a little different that everyone will love. And if they're picky, let them pour their own with a choice of their favourite liquor—rum and brandy work just as well as bourbon.
7. Hot Milk Punch
If you're not feeling the eggnog vibes this year (no judgment here), try your hand at something new. We're talking about one of the oldest cocktails out there, and once you have your first sip, Hot Milk Punch might become your go-to warm drink of the season.
As rich in history as it is in taste, you need very basic ingredients to pull it off. Milk, bourbon, brandy, simple syrup, vanilla, and nutmeg are the stars of the show, and you can choose to serve it creamy or clarified. We prefer the creamy version because it takes a little less effort and will leave you more time to mingle with (or hide from) your family.
8. Mulled Wine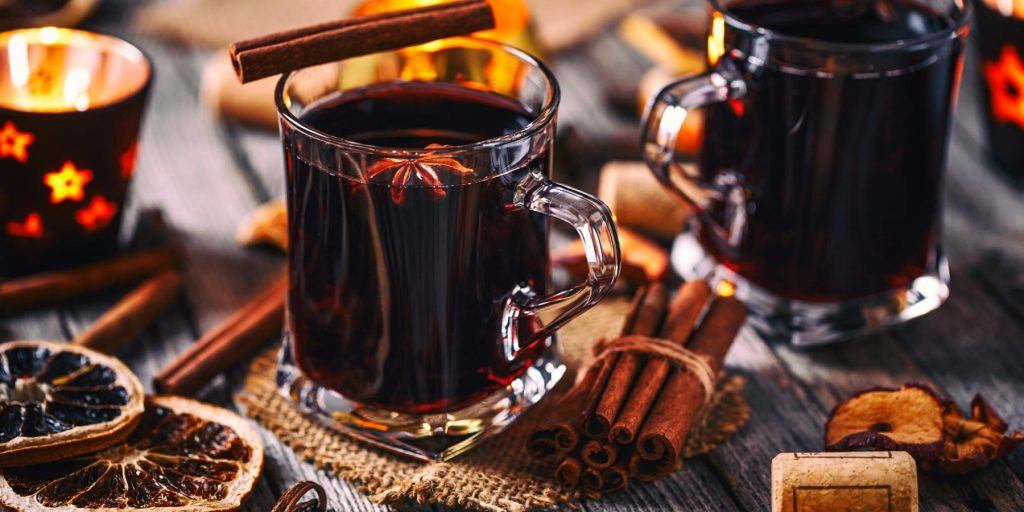 Mulled Wine is a classic cocktail with a long history dating back to Roman times. It's a well-travelled drink popular across the world. In Germany, it's known as Glühwein. In Scandinavian countries, they glug down some Glögg. In Italy, they drink Vin Brule, and Bisschopiswijn is the Dutch version of this warm holiday drink.
As far as hot holiday alcoholic drinks go, this is one of our favourites for its simplicity. For a drink that will put the merry back into Christmas, combine dry red wine, brandy, fresh oranges, and spices in a pot. Sweeten to your preference, and once bubbling away, turn down the heat and ladle into mugs as your guests arrive.
9. Irish Coffee
Although not technically Christmassy, the Irish Coffee is on our list of best hot festive drinks because we love whiskey, and we love coffee. When combined with sugar and topped with cream, every sip will make you feel like the order has been restored. This iconic cocktail is the perfect serve to perk up everyone's Christmas spirits at the end of a long day.
10.

Werther's Hot Todd

y

 
You're doing it wrong if you're not unbuttoning the top of your trousers after a Christmas meal. Go on and give in to the indulgence (it's only once a year) and make a Werther's Hot Toddy.  
This one is for the sweet tooth in your family. Made with Werther's Original candies and caramel, this is one indulgent hot toddy, and it's easy to do. Rim serving mugs with crushed candies. Combine water, more candy, and cinnamon sticks in a saucepan over medium heat and simmer until the candy has melted. Take off the heat and add lemon juice and bourbon. Pour into prepared mugs and enjoy! 
11.

Tom and Jerry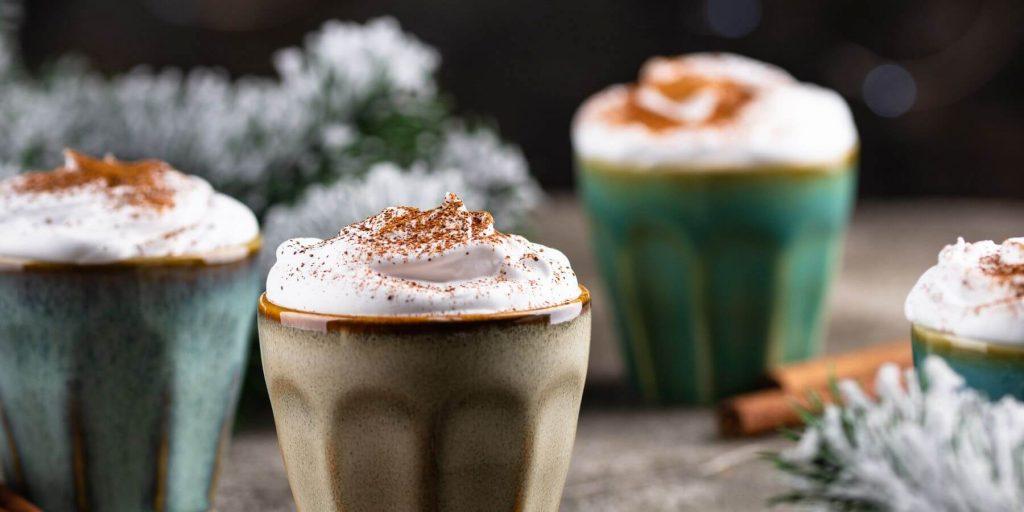 If you love eggnog, you're in for a treat with the Tom and Jerry cocktail. This old-fashioned drink combines a creamy and delicious batter with dark rum and brandy – and it's packed with all the spices and warmth of the holiday season. Serve it as a meal starter paired with savoury flavours like a charcuterie board to balance out its creamy notes.
FREQUENTLY ASKED QUESTIONS
For your Christmas morning pick-me-up we suggest: the Buck Fizz (Champagne paired with freshly squeezed orange juice), Bellini (prosecco and peach purée), the Snowball (a citrusy mix of advocaat, lemonade and lime) and the traditional mulled wine with all the spices and dried fruits you love.