Winter Gin Cocktails to Sip by the Fireside
May 24, 2022 by Anna-Bet Stemmet
The notion of winter gin cocktails can be quite a novel idea to wrap your head around. After all, most of us associate this herbaceous spirit with summer gin cocktails that are all bubbly and refreshing.
That's the beauty of a multifaceted cocktail ingredient—you can create a drink that speaks to the seasons without having to swap out the base spirit! To get you inspired to create cosy gin cocktails for winter, we've rounded up a few amazing drinks that are tailormade for sipping fireside all throughout the frosty season.
1. Aviation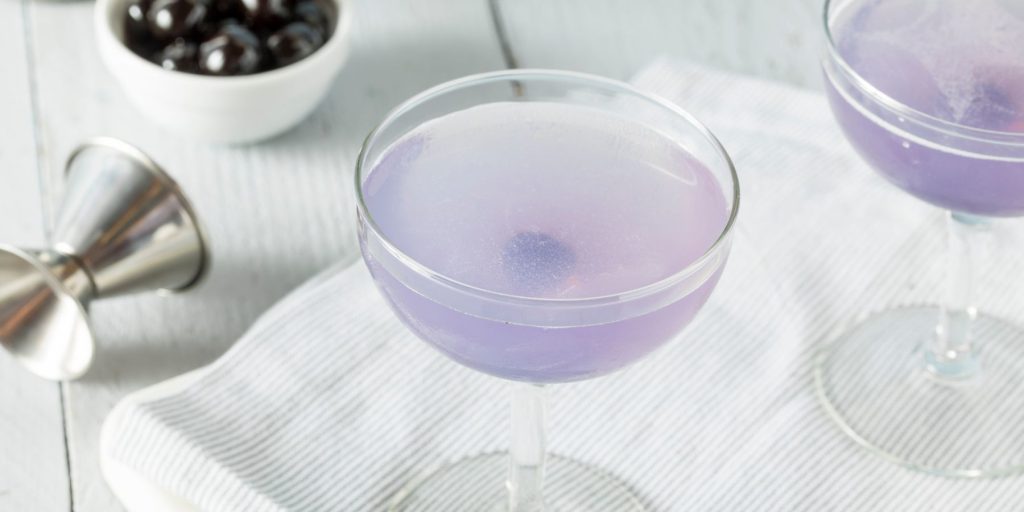 The best gin cocktails come to the party with a dapper dash of swagger, and the Aviation cocktail is certainly no exception. Featuring gin, maraschino liqueur, crème de violette, and lemon juice as ingredients, this purple-hued drink is very much on-trend at the moment. It has a very interesting flavour profile that combines floral and earthy notes with green notes from the gin and a lingering sweetness that echoes its lovely colour on the palate.
2. Clover Club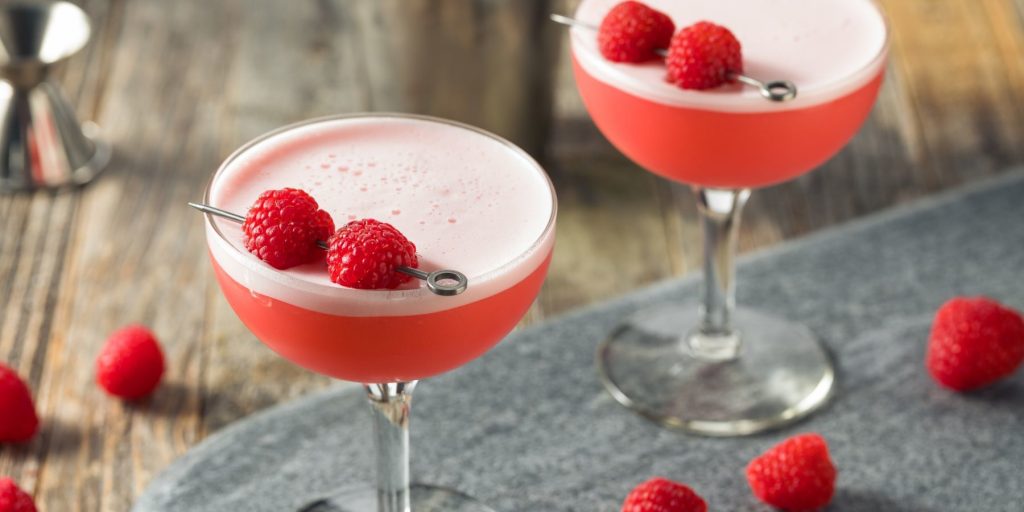 The Clover Club cocktail is one of those classic drinks that have stood the test of time. The first recipe for the Clover Club was published in 1901, featuring an ingredient list of gin, lemon juice, sugar, raspberry syrup, and an egg white.
The result is a frothy pink drink that goes down smoothly and leaves a lingering taste of raspberries—a gorgeous reminder of summery flavours that can take the bite out of even the nippiest winter evening.
3. Last Word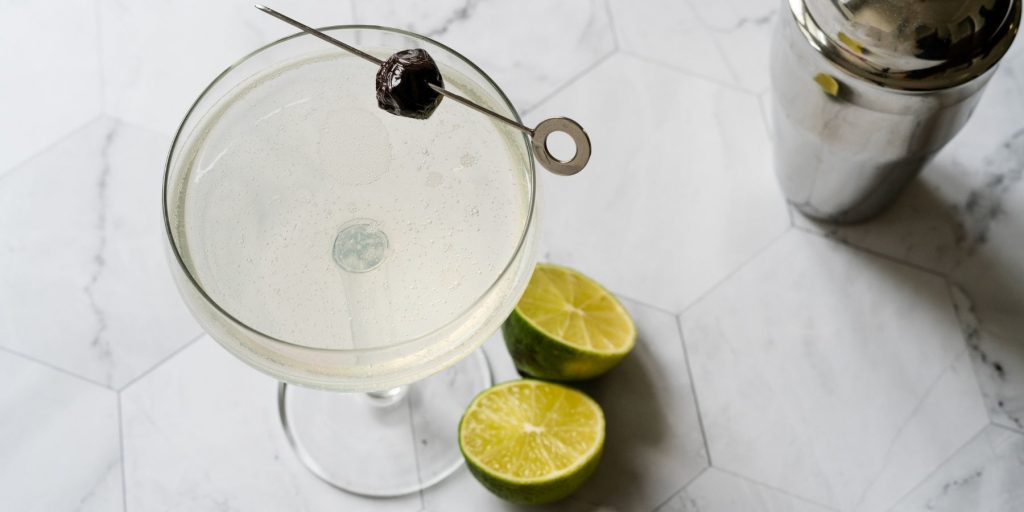 The Last Word cocktail combines gin, green chartreuse, lime juice, and maraschino liqueur to arrive at a sweet, sharp drink with a lovely green colour and a deceptively strong kick. It is sweet and rich with a bright citrus tone that is sure to impress wintertime guests. Try this winter cocktail with gin at home. Here's our easy recipe for beginners.
4. Hanky Panky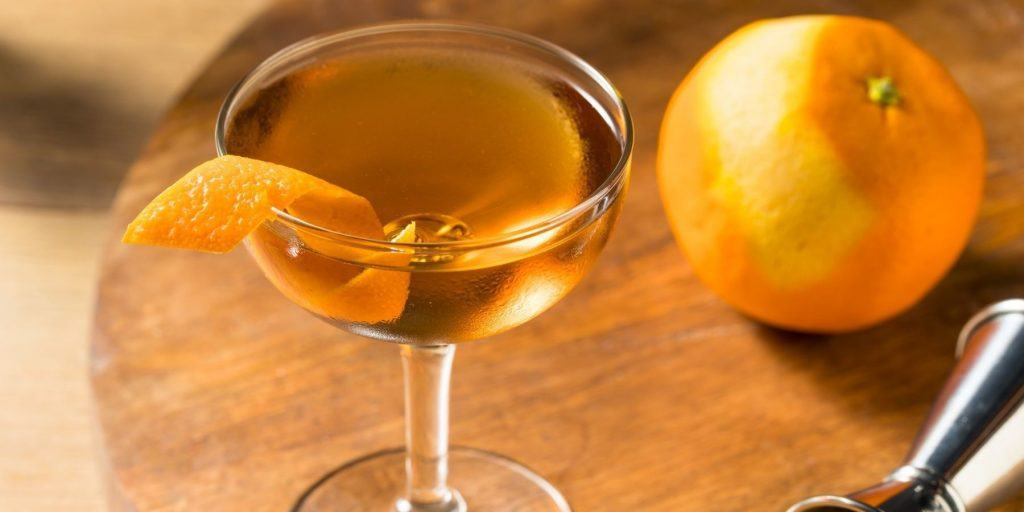 Winter gin cocktails call for something with a little bit more substance, and this is why we love the Hanky Panky. With zesty orange flavours and herbal undertones, the Hanky Panky is an amazing drink for a wintery evening. Given its strong taste, it's best served before or after a meal on festive nights at home.
5. Bronx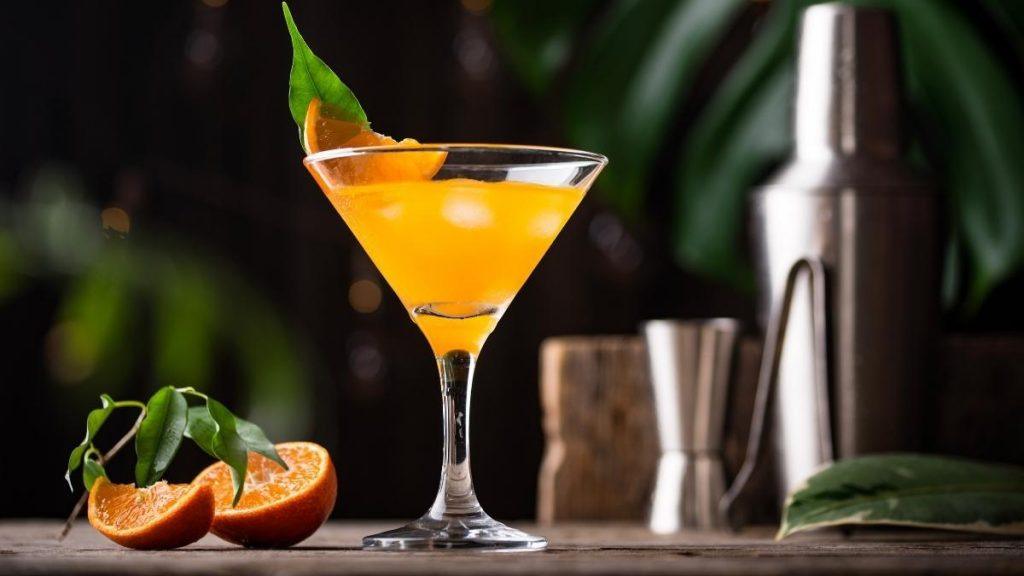 The Bronx cocktail also plays in the citrus space but is nicely dry and quite complex. This makes it a great addition to a cocktail line-up that caters to more sophisticated palates that have ventured beyond sweet and fruity, and crave something a little different.
Layered upon gin, sweet vermouth, and extra dry vermouth, the Bronx cocktail recipe gets its trademark zing from freshly squeezed orange juice, orange bitters, and orange zest. You can also swap the orange juice with blood orange juice to make a bold Bloody Bronx.
6. French 75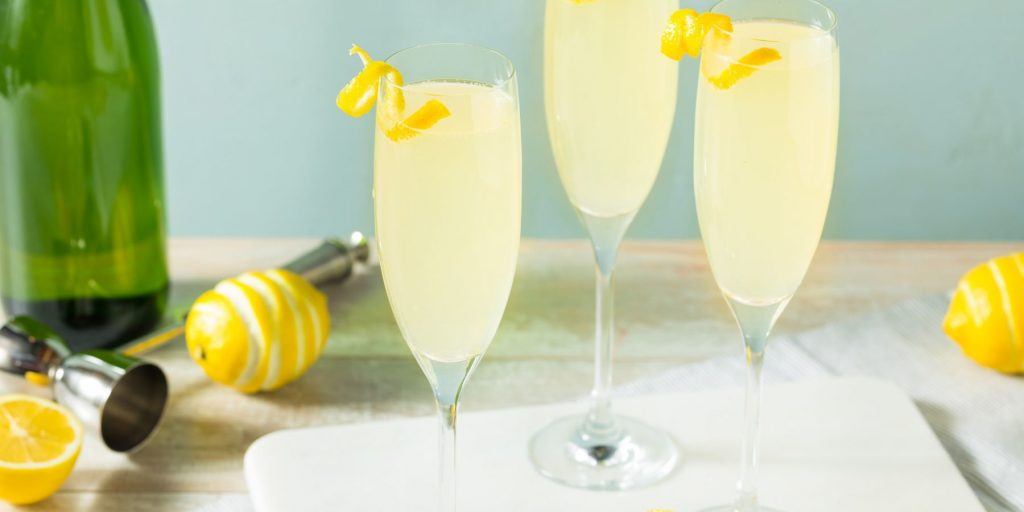 If you're on the lookout for pretty Christmas gin cocktails that will add some sparkle and festivity to your yuletide celebrations, the French 75 comes highly recommended. This picture-perfect drink is served in a classy Champagne flute and .to zesty perfection.
7. Gin Bramble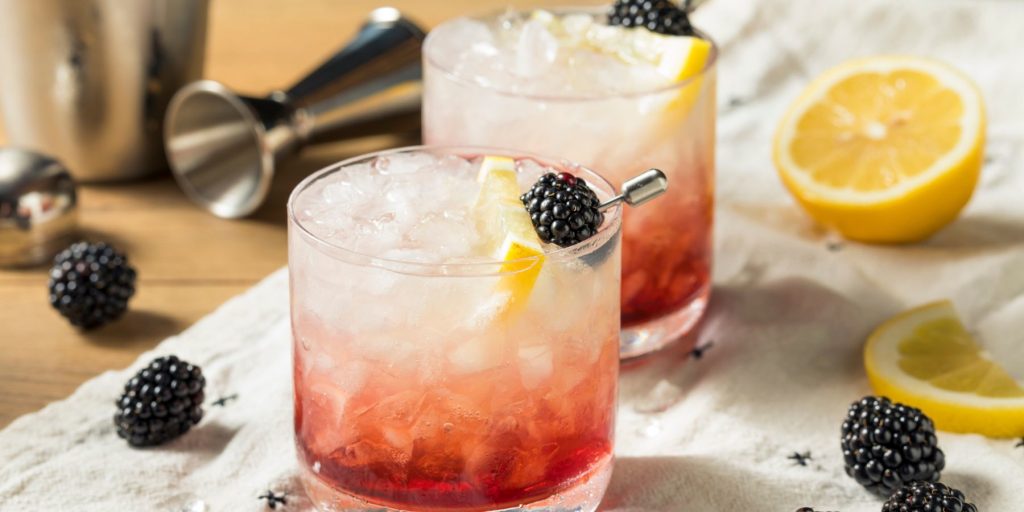 The Gin Bramble cocktail ingredients list reads like the who's who of classic drinks elements. Featuring dry gin, lemon juice, sugar syrup, crème de mûre, and crushed ice, it's tart and dry, which has a clear gin character.
Although crème de mûre is not something everyone will have in their home bar, investing in a bottle of this sweet blackberry liqueur is definitely a good idea if you want to whip up these lovely pink cocktails to liven up a winter-time shindig.
8. Tom Collins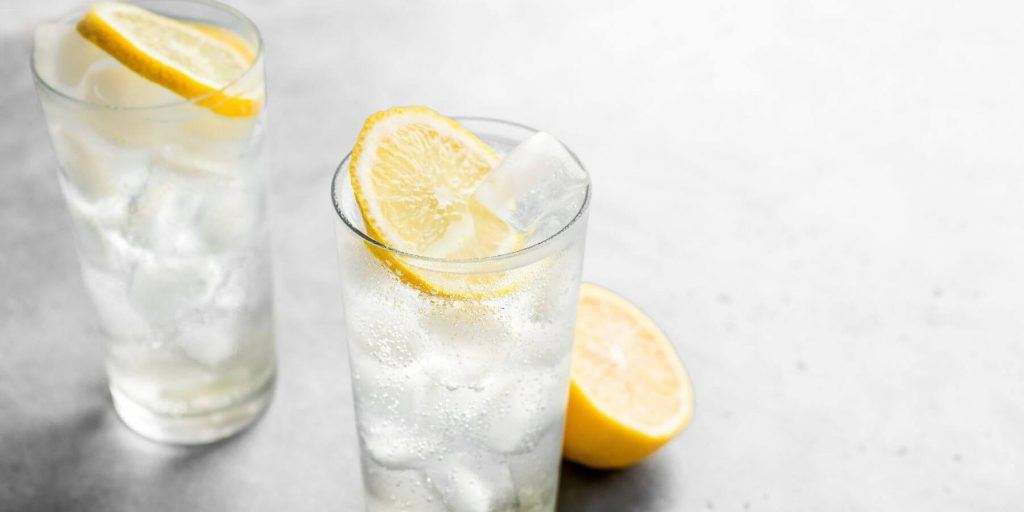 The Tom Collins cocktail recipe is a spin-off of a true-blue classic, based on a drink that dates back all the way to the mid-1800s. It contains gin, lemon juice, simple syrup, and club soda. Served as a highball drink, it's the gin-based version of the John Collins, which was made with bourbon. We love the addition of gin as the spirit base in this version because it makes for a more delicate flavour profile that offers a refined counterpart to robust winter dishes.
9. Gin Old Fashioned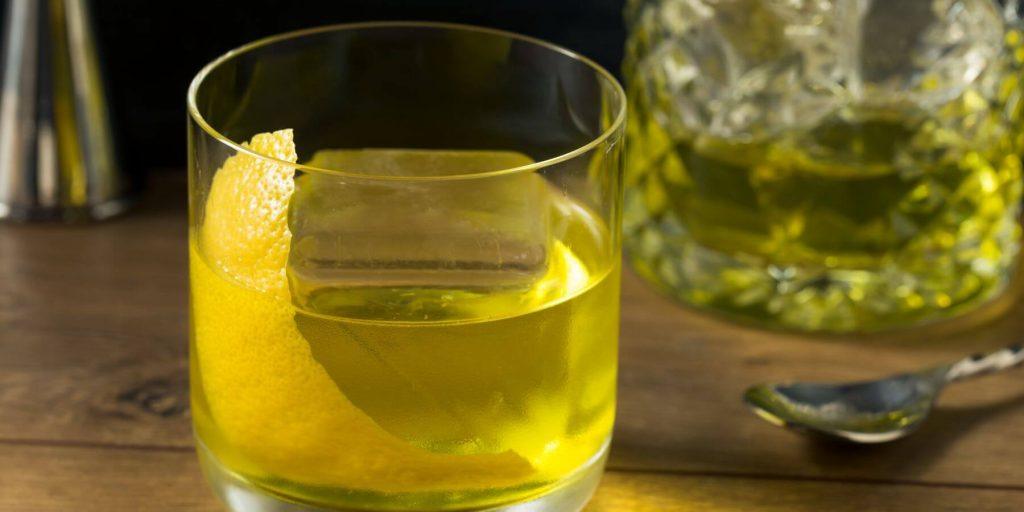 The Gin Old Fashioned is a wonderful gin cocktail for winter. It's your basic Old Fashioned made with gin, orange bitters, simple syrup, and a lemon peel. This stripped-down drink recipe makes for a very elegant cocktail that is perfectly tailored for sipping at the end of an evening, watching the rain streak down the windows while it's nice and toasty inside.
10. Hugo Spritz
The Hugo Spritz cocktail contains prosecco, gin, elderflower cordial, mint leaves and club soda, garnished with a lime wedge. While some may say that this is quite a summery flavour profile, we like to argue that a refreshing drink of this kind is a nice change of pace in the middle of winter, when food and drink tend to be on quite the heavy side. Go on, pair it with a hearty fish chowder, and see what an amazing winter gin cocktail it makes.
Blood Orange Gin & Tonic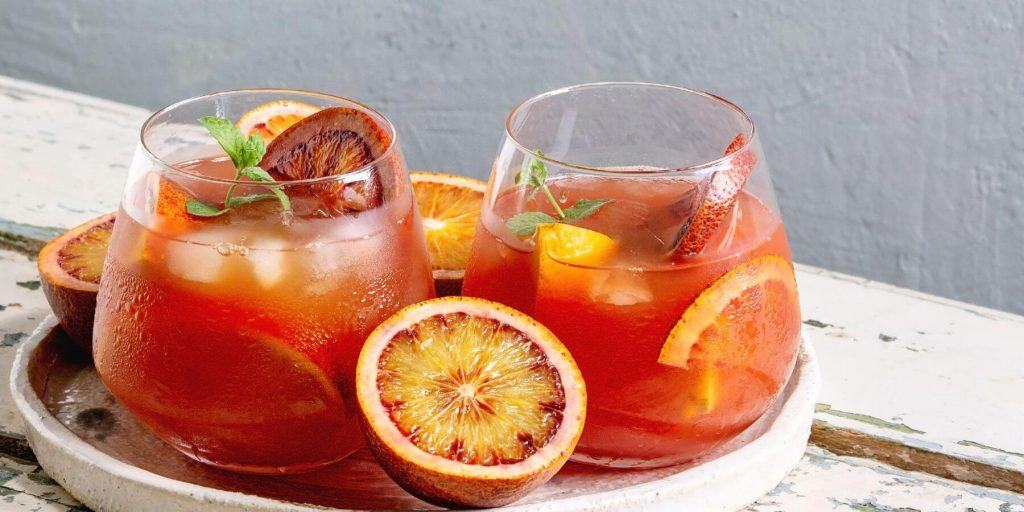 When you're in the mood for a simple gin cocktail for winter, why not pour a Blood Orange Gin & Tonic? A seasonal twist to your basic G&T made with London Dry gin and tonic with a splash of blood orange juice swirled in (about 60ml). This easy-to-pour cocktail brings vibrancy to a chilly night in. It's perfectly suited for sipping at the end of an evening while being hypnotised by the flames dancing in the hearth.
FREQUENTLY ASKED QUESTIONS
Gin cocktails are mostly easy, build-in-the-glass cocktails that require no major mixologist skills. Try any of our amazing Winter Gin Cocktails. We promise you won't break a sweat.
When the snow settles, a wintery cocktail is wonderful to sip fireside. Try the Aviation cocktail, a Gin Bramble, or any of the other cocktails on our list of amazing Winter Gin Cocktails to see how delightful it can be. If you're wanting to wrap your icy cold hands around a mug of something warm, opt for one of our hot rum cocktails. We have a list of tasty concoctions to try, of course!
Gin is by no means a seasonal drink. Although bright, fresh and fruity gin cocktails are the epitome of summer drinking. We love a gin cocktail with a citrus base in winter. The zesty notes of citrus in drinks like the French 75 and Bronx cocktail give it a wintery flavour profile while still being refreshing rather than heavy. 
Gin is refreshing all year round, as is vodka. Play around with your mixers and add a seasonal spin with citrus juice or zest. Try one of the winter gin cocktails on this page to jump-start your imagination.  The warming caramel notes of bourbon and whiskey based drinks make for perfect wintery sipping too.
Most of the cocktails on this list are a doddle to make although if you're a newbie cocktail shaker, you may not have all the ingredients in your home bar. Try A French 75 calls for basics like gin, Champagne or prosecco, lemon juice, and simple syrup. Or a Hanky Panky that just needs Bulldog gin, Cinzano Rosso and a dash of bitters. Then of course there is the fail safe G&T; add a wintery spin with a twist of orange.