13 Best Mexican Cocktails To Make At Home
April 24, 2022 by Sonja Edridge
If you're looking for a cocktail that's guaranteed to transport you to the beach, look no further than our selection of Mexican cocktails. With bold bright colours that wake the senses and flavours so fresh and zesty, Mexican drinks promise fiesta vibes by the bucket load.
Here's our go-to guide for all the best Mexican cocktails recipes you will ever need. Who's in? Grab your favourite Mexican snacks for the table and get shaking! Olé!
1. Lime Margarita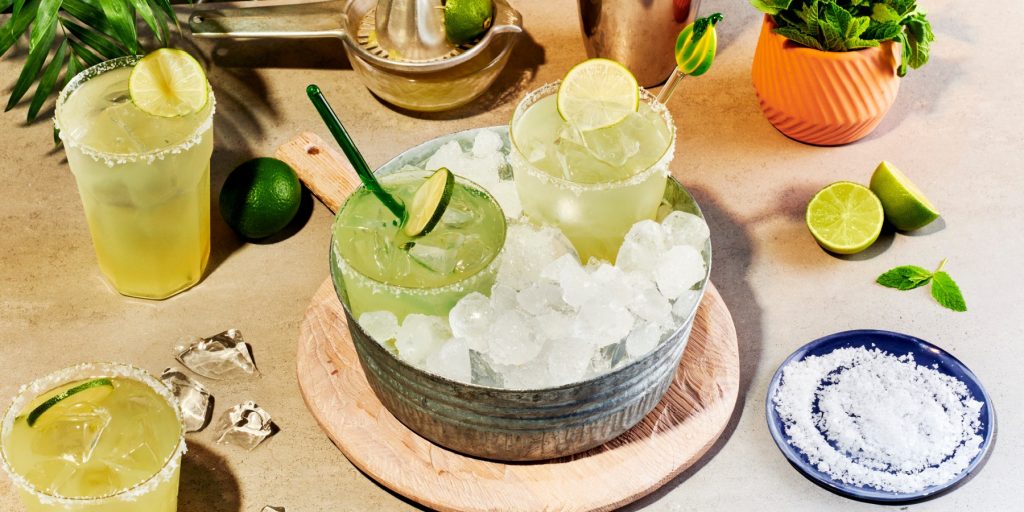 Can a classic Margarita recipe get any more Mexican? Absolutely – and the classic recipe is ideal for tweaking. For a twist that really ups the zingy factor, add more lime juice with crushed ice. A sprinkle of sugar will balance out the sharpness easy cocktail is one of the best cocktails for beginners and perfect to upscale into pitchers for a crowd. What are you waiting for? Those limes won't squeeze themselves!
2. Paloma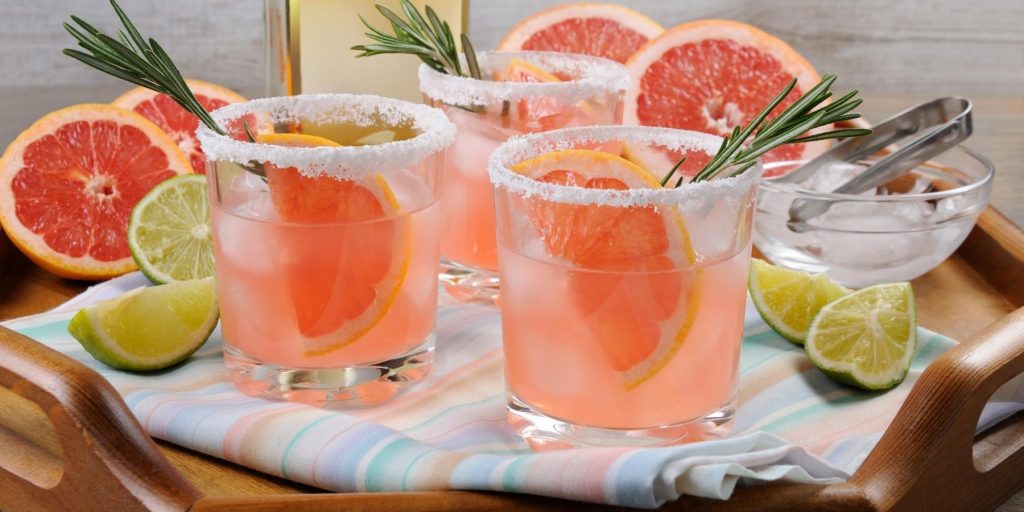 First up, as real as Mexican cocktails get, a Paloma is oh-so refreshing and the perfect shade of Instagram-able pink for your party pics. This cocktail is a buzz of flavour, with an extra tangy mix of pink grapefruit and lime juices, a little soda to fizz on the tongue and a nice kick of good quality tequila. This tropical number actually outranks the margarita in Mexico and, once you've tried it, it's easy to see why. Don't worry if this isn't on your Hispanic drink recipes radar yet – if you like sweet citrus flavours, then this is definitely the one for you.
3. Mexican Martini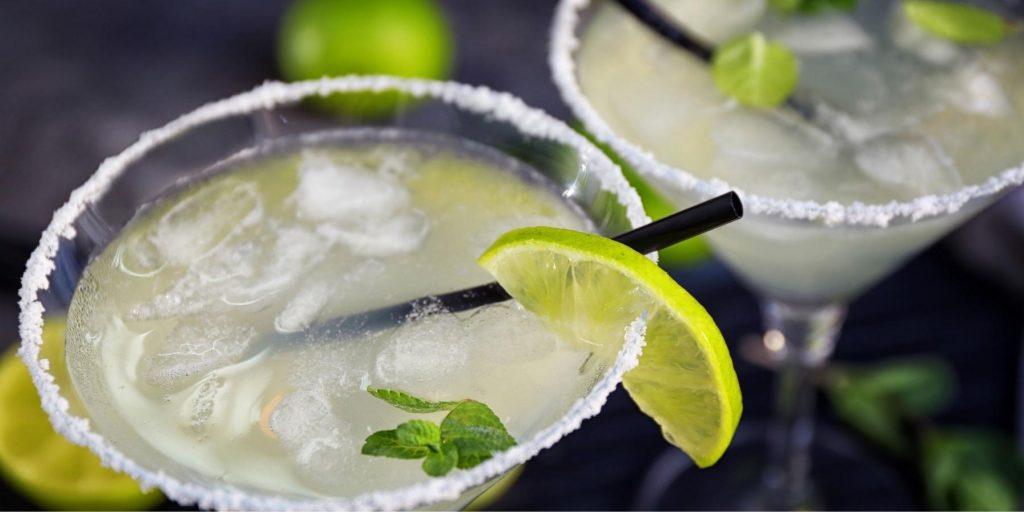 A Tex-Mex classic, Austinites say the Mexican Martini is a perfect marriage. Take a super-sweet classic margarita and mix it with the tang of a dirty martini. Flavour wise, it's got that magical sweet-savoury thing going on, salty hint of olive juice toned down the sweetness of the lime and orange liqueur and complemented by the crisp spiced vermouth. An unusual combination, well worth a try. Definitely, one of the best easy Mexican cocktails out there and, in true lone-star state fashion (everything is bigger in Texas), one shaker is enough for a refill. Sharing is caring, after all.
4. Mexican Mule Cocktail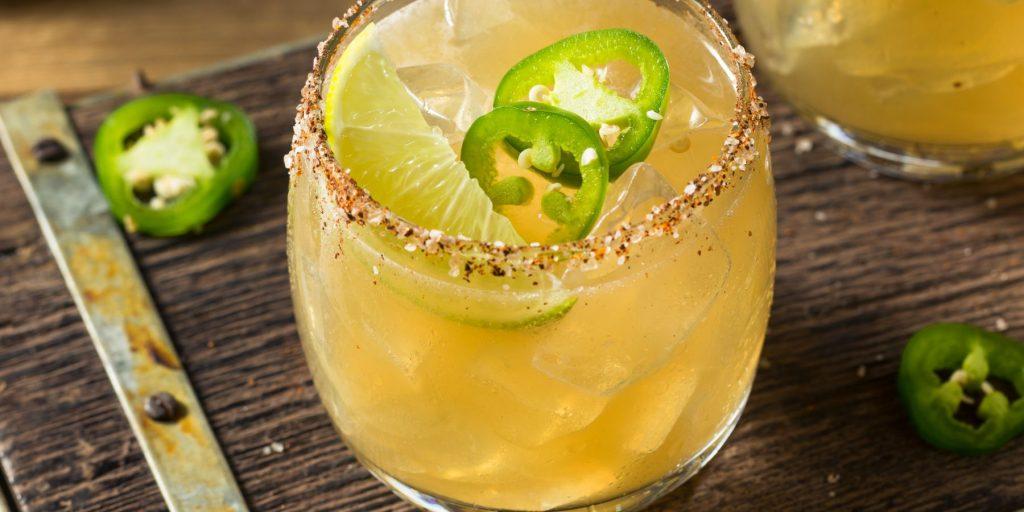 A twist on the traditional Moscow Mule, this guy is smokin' hot. Can you guess the twist? Tequila kicks vodka to the curb and joins the usual suspects of lime juice and extra fiery ginger beer for an earthy alcohol kick. But we're not done with the surprises yet! This Mexican Mule gets a dash of orange liqueur to stir things up and a few cheeky jalapeño slices to really bring the heat. Ready to give this spicy cocktail a go? Ditch the copper mug and pre-freeze your glass – trust us, you'll need the cool down!
5. Carajillo – Mexican Coffee Cocktail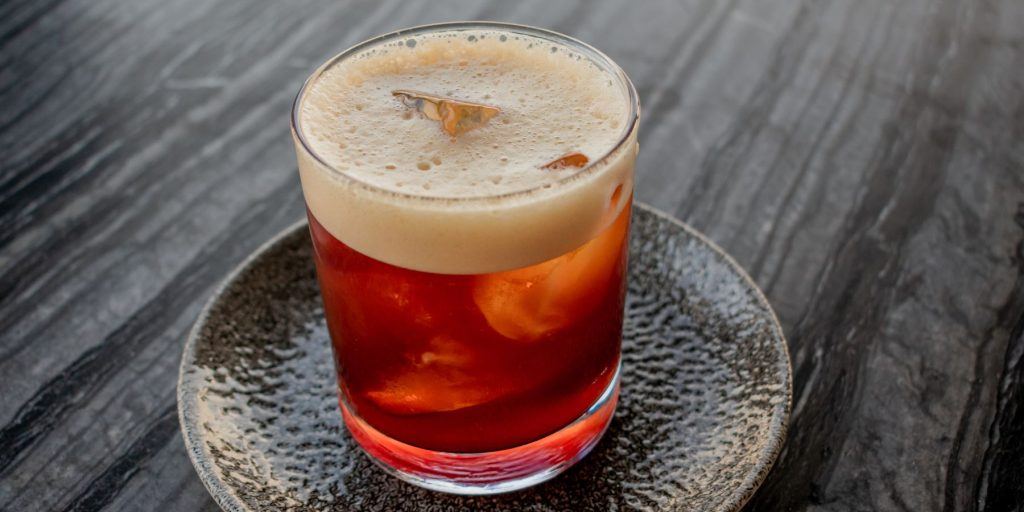 Love a coffee cocktail with a twist? Try making a Carajillo. Pronounced kah-rah-hee–yoh from the Spanish word for courage, coraje, this Mexican Coffee cocktail – made with Licor 43, a sweet vanilla and citrus liqueur and topped up with a shot of delicious espresso and – is a delicious dose of liquid courage. One sip, and we've lost you, you'll know what I mean. Heavenly vanilla and coffee… Hello!
6. Mexican Hot Chocolate Cocktail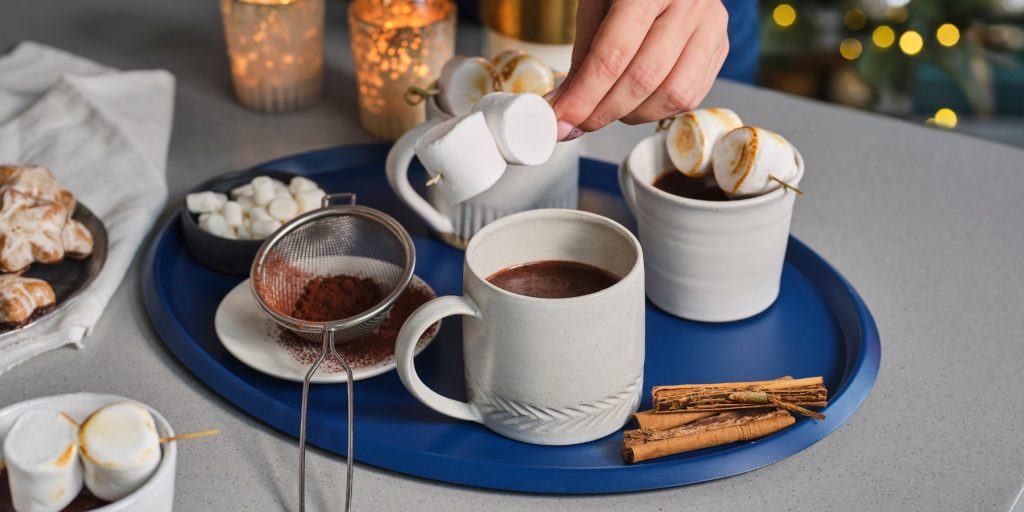 Intensely rich, a spiced tequila Mexican Hot Chocolate will warm you up when the colder weather sets in. A time-honoured tradition, Mexicans have been making spiced hot chocolates since Mayan and Aztec times, believing cacao was a gift from the gods. Adding tequila is a natural progression. Velvety Mexican chocolate melted into cinnamon and lip-tingling, cayenne spiced milk along with a good measure of reposado to warm the bones. Easily made dairy-free or mocktail, this dessert in a glass is a definite crowd-pleaser.
7. Tequila and Tonic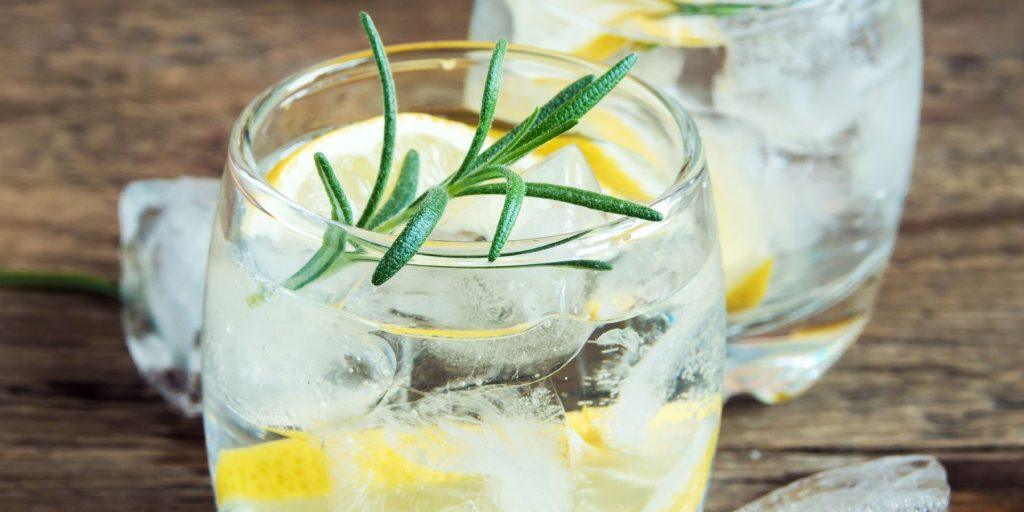 Bored of your usual G&T? For your next Mexican dinner party, choose this refreshing twist on the classic recipe by replacing gin with good quality tequila. There's endless flavour combinations to be had, based on what tonic you choose and what garnish you go for, so you can make this long drink really personal to your palate. This Mexican cocktail is super simple to knock together – after making this once, you'll barely need the recipe!
8. Mexican Manhattan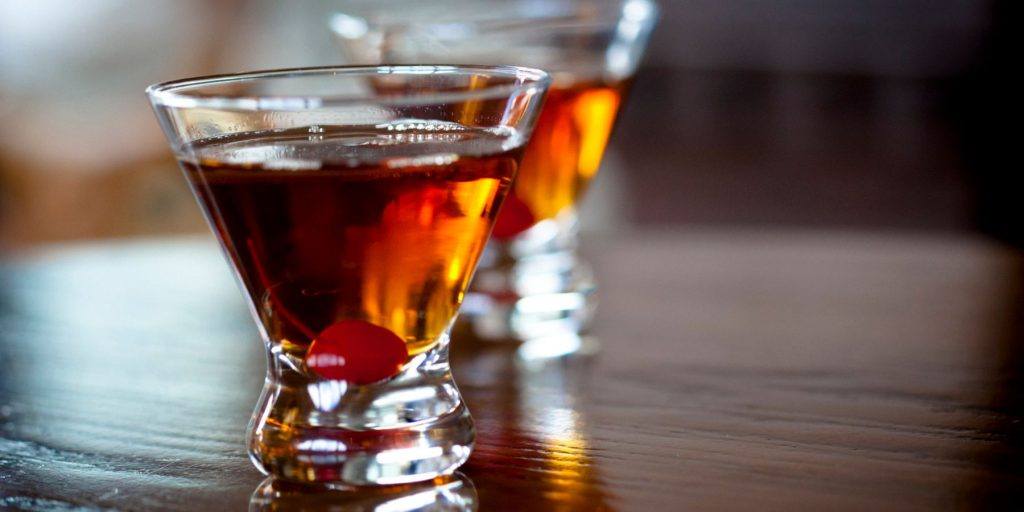 Although the OG Manhattan's origin stays an unsolved mystery, come and get to know this Mexican version. Boot the whiskey for an aged añejo tequila, pronounced ane ho. If you're a fan of the original, sharing the same spiced caramel and vanilla notes, the tequila won't veer it too far off target. You literally just top up this city slicker with the spicy sweet and crisp Italian vermouth and a dash of orange bitters. Not overly sweet, thirst-quenching deliciousness. It doesn't get much easier than this!
9. Mexican Firing Squad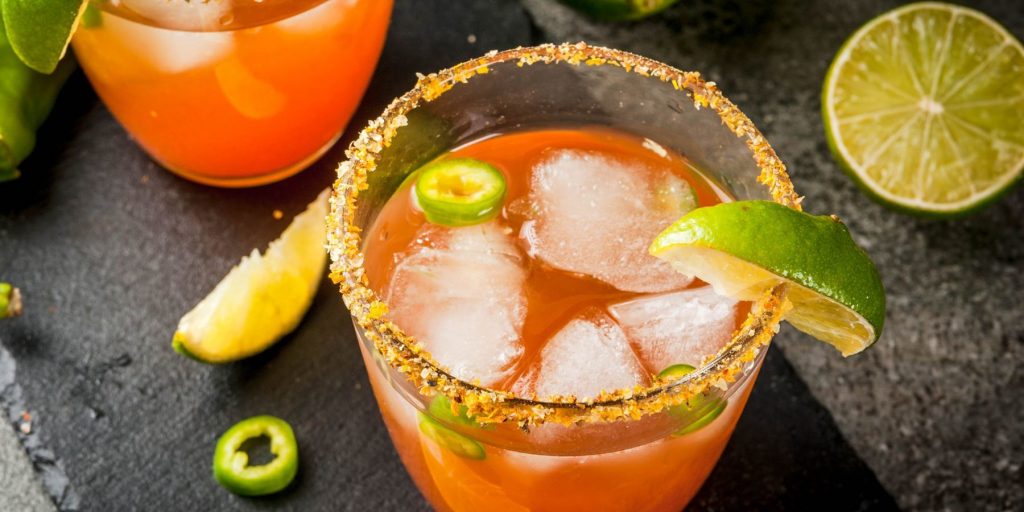 According to history, world traveller Charles H. Baker famously wrote in "The Gentlemans' companion" about ditching his chaperones on a night out in Mexico City in 1937 and discovering this tart yet fruity, divine cocktail in a vibrant, somewhat less reputable club. Made with tequila, lime and bitters for a striking combo, the Mexican Firing Squad cocktail is thankfully sweetened through with a dash of grenadine. So, if you're looking for a cocktail that really packs a punch, then stop right here.
10. Mexican Candy Shot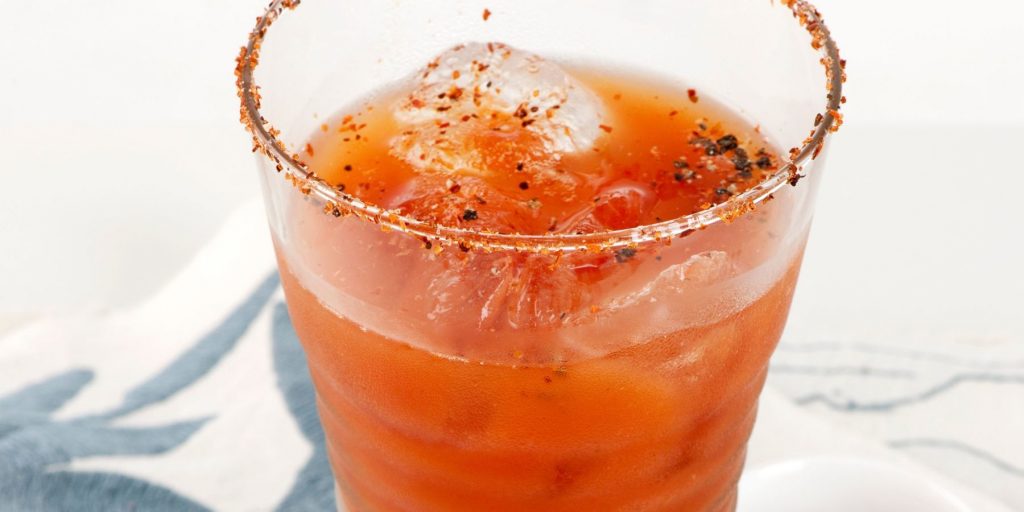 For those who like their cocktails extra sweet, the Mexican Candy cocktail does what it says on the tin. With a lip-smackingly delicious burst of candy flavour from juicy sweet watermelon and zingy lime, this tequila cocktail it will definitely appeal to your sweet tooth. The sweetness doesn't end there, however – for a traditional serve, the rim of your glass gets dipped in lime juice and sugar. For those feeling brave, why not coat the rim in a little kick of chilli? Some even brave adding hot sauce to the mix – but we'll let you try that at home!
11. Mexican Breakfast Cocktail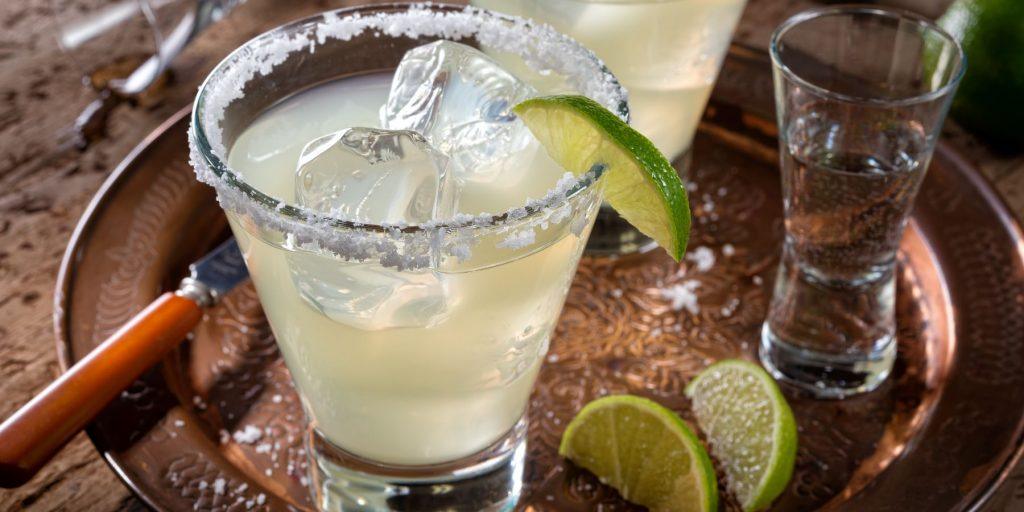 When we say breakfast cocktail, think 'hair of the dog' rather than eggs on toast. If you're hosting a boozy brunch with friends, this Mexican Breakfast Cocktail is not for the faint hearted. Made simply with liquid gold reposado tequila and sugar syrup, it's a strong flavour that true tequila lovers will adore. For a true breakfast experience, some choose to blitz this cocktail into a 'hard smoothie' with avocado and lime.
12. Michelada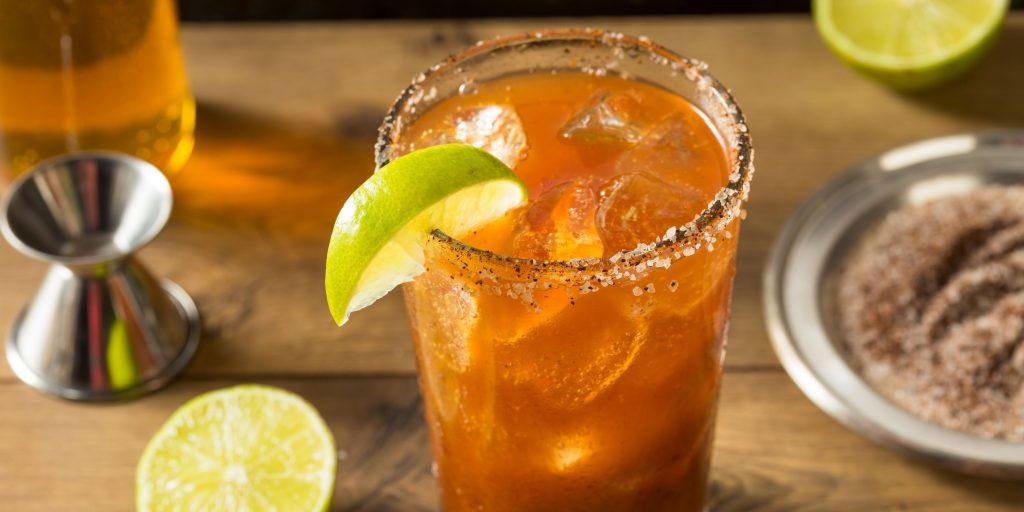 Do you like your drinks to be hot and spicy? Meet the Michelada cocktail – a combination of ice-cold Mexican beer, a chilli and salt-rimmed glass and topped up with clamato (yip, clam and tomato juice – the clam part is optional), a good squeeze of lime, Worcestershire sauce and some hot sauce. Like a Bloody Mary, this is one of the best thirst-quenching easy summer cocktails. We're leaving this one for last, as the rumours go, this cures hangovers! Only one way to find out!
13. Mexican Coffee Cocktail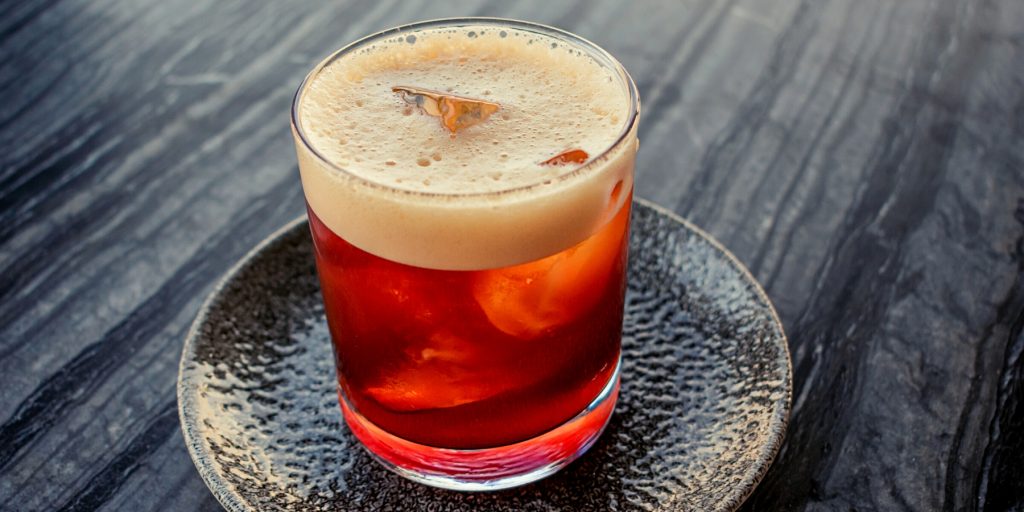 Don't have the wedding list cocktail set yet. No problemo! This cheeky spiked coffee needs serving in a mug. Chase the winter blues away with your favourite cup of joe and his friends, tequila and coffee liqueur. If whipped cream makes you smile, then dollop a spoon on top. Another one to save on the easy Mexican cocktails list. Buenas noches!
FREQUENTLY ASKED QUESTIONS
If there was one cocktail to represent colourful and fun Mexican nights, the Paloma wins as Mexico's most popular cocktail. Translated as 'dove' in Spanish, this zesty pretty-in-pink drink gives you wings after a few sips (metaphorical ones of course!). All the sparky and uplifting flavours mixed with tequila into one refreshing drink – it's one for summer evenings at sunset. In Mexico, it's made with a fizzy grapefruit drinks (such as Jarito's, Fresca or Squirt) but use soda and fresh grapefruit juice for an easy at home version.
The quintessential Margarita and Paloma top of the list of the most popular cocktails in Mexico. As the spirit of the nation, other popular tequila-based cocktails include the Charro Negro, the hangover-curing Vampiro, the citrus trio Cantarito and the after-dinner Carajillo. Similar to Caribbean cocktails, they are typically vibrant and citrusy. Mezcalita shouldn't be forgotten, then beer cocktails like the Michelada are also a big thing.
For boozy drinks, tequila is the most popular shot - all flavours blanco, reposado and añejo, followed by its smoky cousin Mezcal will definitely get the party started. Craft beers should also get a mention here too, as a refreshing way to end a hot and humid day. On the cocktail front, Paloma, Margarita, Carajillo and Michelada are on most menus. For non-alcoholic drinks, the refreshing Agua de Jamaica (a Hibiscus tea) and fruity Agua Frescas are very typical, keeping you hydrated in the hot Mexican sun. For chilly nights, the Aztec-inspired Mexican Hot Chocolate is there to warm you up. Typically made on Dia de los Muertes, Atole is a popular drink made with cornmeal, vanilla and cinnamon.