15 Totally Tropical Pineapple Juice Cocktails
March 30, 2023 by Anna-Bet Stemmet
Get ready to treat your taste buds to 15 delectable pineapple juice cocktails that will transport you to a tropical paradise! But before we dive into the world of fruity libations, let's take a quick trip down memory lane and explore the rich history of the ostensibly humble pineapple.
Originally hailing from South America, the ancient Mayans and Aztecs considered this sweet and juicy fruit a symbol of hospitality and wealth. Later, European explorers brought pineapple back to their homelands where it became a luxurious delicacy. Today, pineapple is enjoyed all around the world and is a staple in many tropical cocktails.
So, let's raise a glass and celebrate this delicious fruit in all its glory!
1. Pineapple Margarita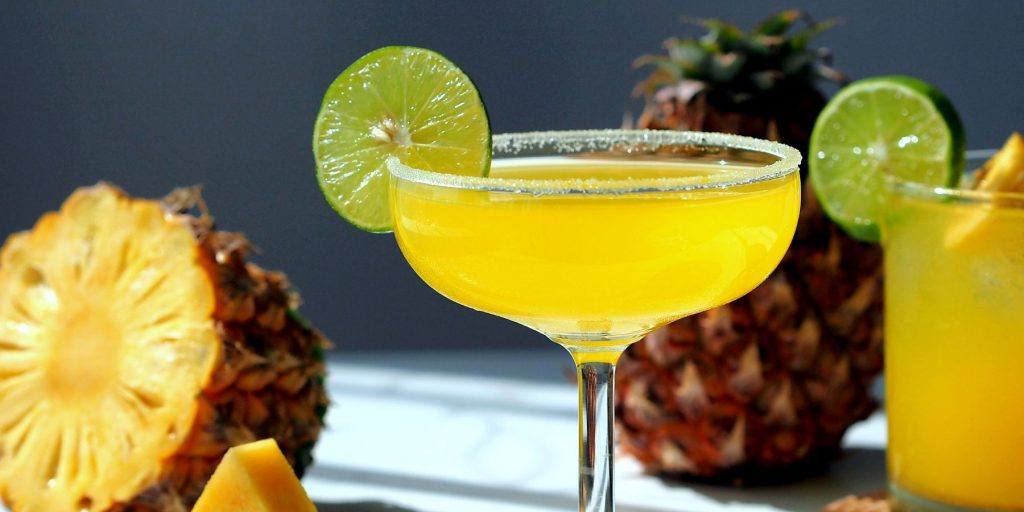 The best Margarita cocktails tend to have a little tropical swagger, and when it comes to top pineapple cocktails, the Pineapple Margarita will always rank at the top of our list. To make one, add 45ml Espolòn Tequila Blanco, 60ml pineapple juice, 20ml Grand Marnier, and 20ml lime juice to a cocktail shaker with ice. Shake until frosty, strain into a salt-rimmed Margarita glass, top it with fresh ice, and serve.
2. Piña Colada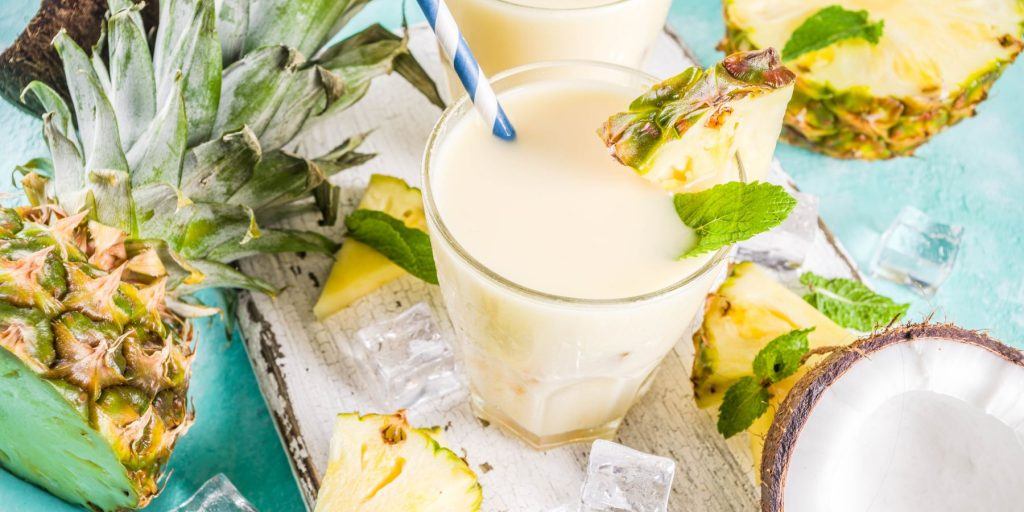 Probably one of the most famous cocktails with pineapple juice around the globe, the dreamy Piña Colada is very drinkable. Packed with tropical and white rum flavour, it conjures memories of outdoor parties and lazy summer days.
3. Pineapple Mojito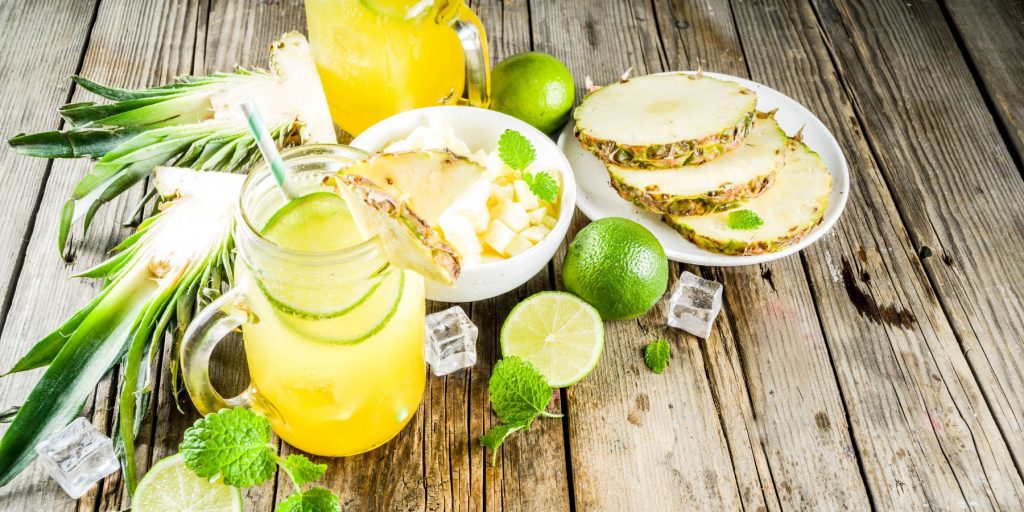 This delightful pineapple rum cocktail is an island-style riff on the classic Mojito that never fails to impress. In a cocktail shaker, muddle 6 – 8 mint leaves. Add 60ml Wray & Nephew Overproof Rum, 30ml lime juice, 30ml pineapple juice, and 30ml sugar syrup. Fill the cocktail shaker with ice, give it a good shake, and strain it into a serving glass over fresh ice. Charge with soda water and serve.
4. Painkiller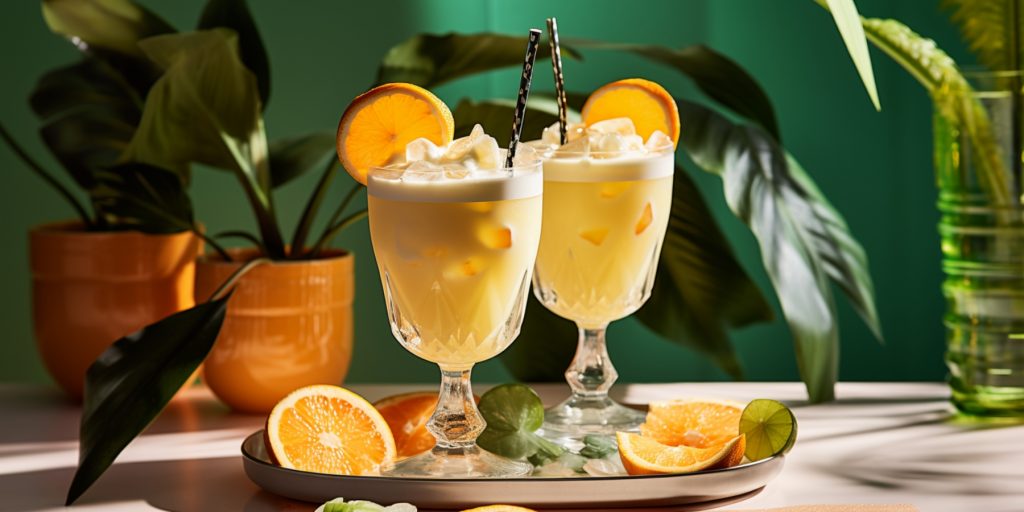 Dreamed up in the British Virgin Islands in the 1970s, the Painkiller cocktail is said to cure pretty much anything that ails you, and we tend to agree. To make this pineapple juice cocktail, add 60ml Appleton Estate Rum, 120ml pineapple juice, 30ml orange juice, and 30ml cream of coconut to a shaker with ice. Shake vigorously but briefly to combine, and strain into a serving glass over crushed ice. Garnish with grated nutmeg and a pineapple wedge and serve.
5. Jungle Bird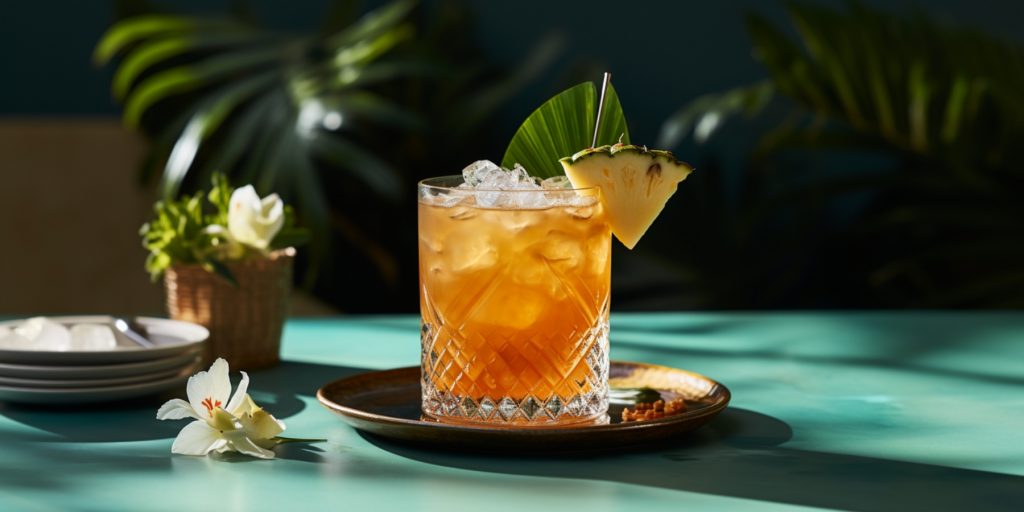 The Malaysian Jungle Bird cocktail is known for its unique blend of flavours that make it a favourite drink among locals and tourists alike. Despite containing Campari, typically associated with bitter cocktails like the Negroni, the Jungle Bird recipe offers a much sweeter taste that sets it apart from other Campari-based drinks.
6. Pineapple Vodka Cocktail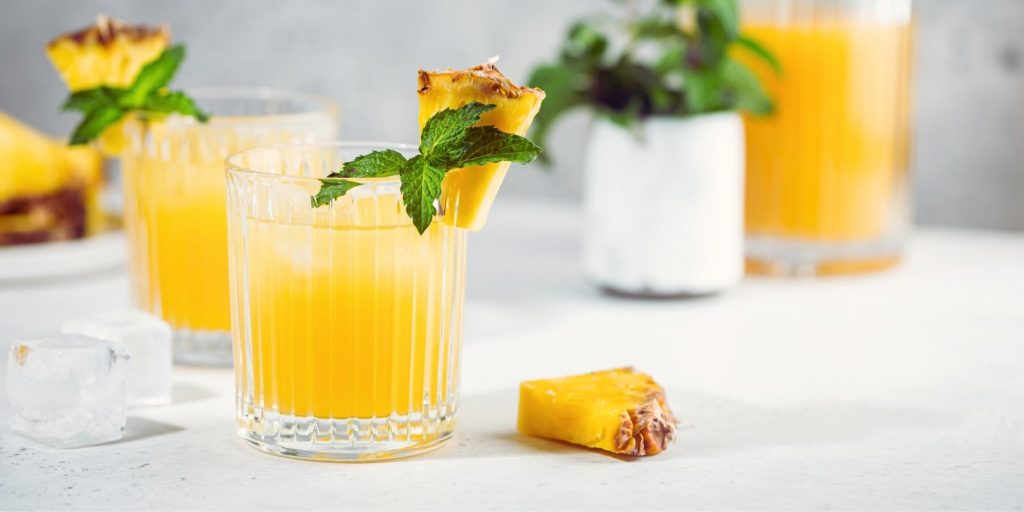 If you're ever wondering what to mix with vodka, pineapple juice is a good place to start. To make a Pineapple Vodka cocktail start by filling the serving glass with ice. Then add 90ml pineapple juice, 30ml vodka, and 15ml lime juice and stir to combine. Finally, pour a splash of grenadine along the side of the glass so it sinks to the bottom and makes a pretty red layer at the base. Garnish as you please, and serve.
Read next: 17 Must-Try Cocktails with Flavoured Vodka
7. Mary Pickford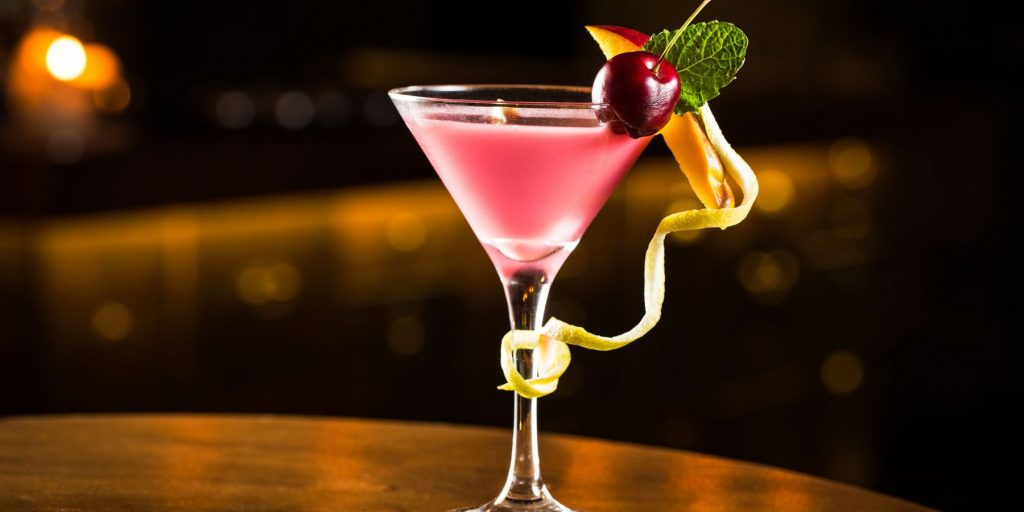 Hailing from the 1920s, the kicky Mary Pickford was named after a popular starlet at the time. To make one, add 45ml Wray & Nephew Overproof Rum, 45ml pineapple juice, 1 teaspoon of grenadine, and 6 drops cherry liqueur to a cocktail shaker with ice. Shake until frosty, strain into a chilled serving glass, and enjoy.
8. Pineapple Rum Cocktail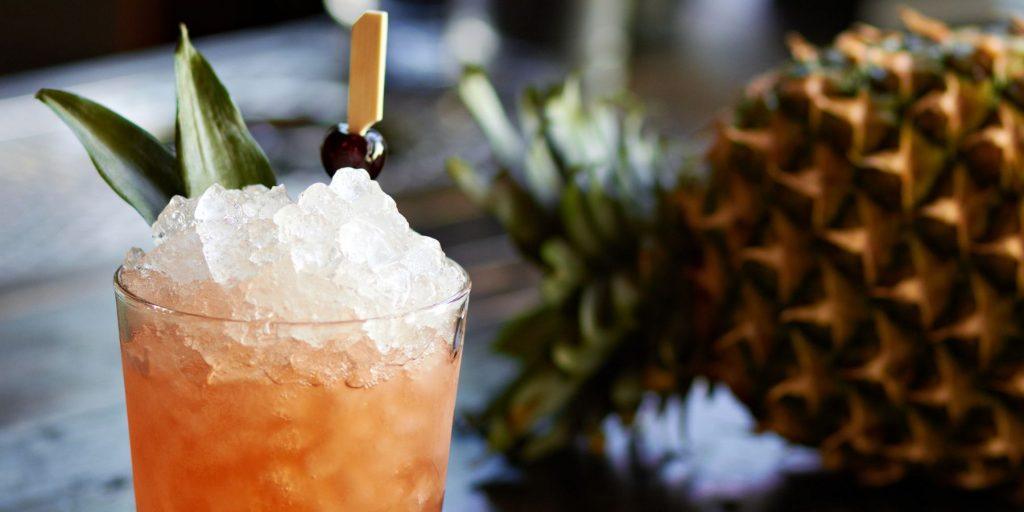 Got a nice bottle of rum hanging around, but not sure what to mix it with? Pour your crew a Pineapple Rum cocktail, honey! Muddle 6 – 8 mint leaves, a teaspoon of sugar, and two lime wedges in a cocktail shaker. Add 60ml Appleton Estate Rum, 45ml pineapple juice, and 10ml cherry liqueur to the shaker, fill it with ice, and shake until cold. Strain into a serving glass and add a few drops of orange bitters if preferred.
9. Island Oasis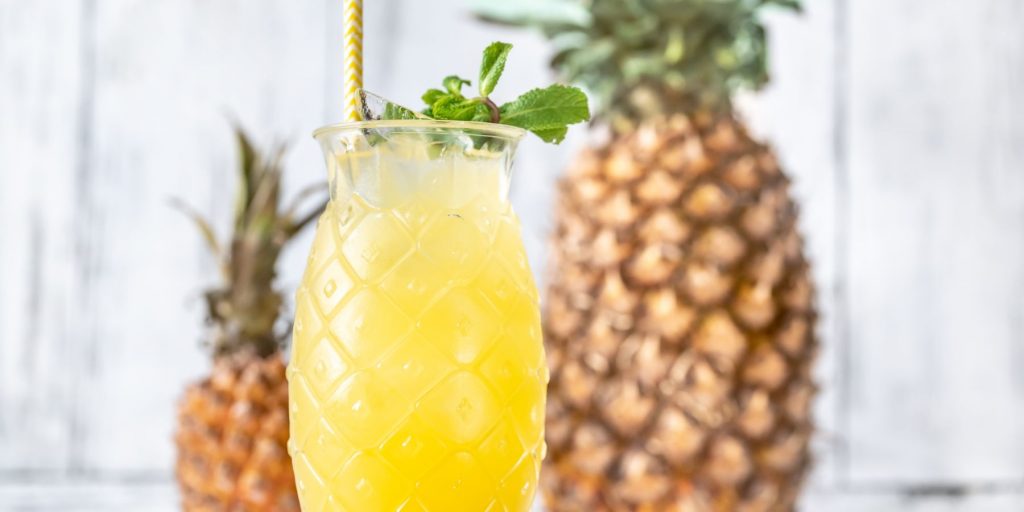 Shrub cocktails are having a moment, and we are here for it! This low-ABV drink is ideal for occasions when you feel like a refreshing drink but don't want it to be too strong. Combine 60ml Appleton Estate Rum, 60ml coconut water, 30ml pineapple juice, and 30ml pineapple shrub in a shaker with ice and shake until cold. Strain into a serving glass with fresh ice, and enjoy!
Learn more: What exactly is ABV?
10. Malibu Sunset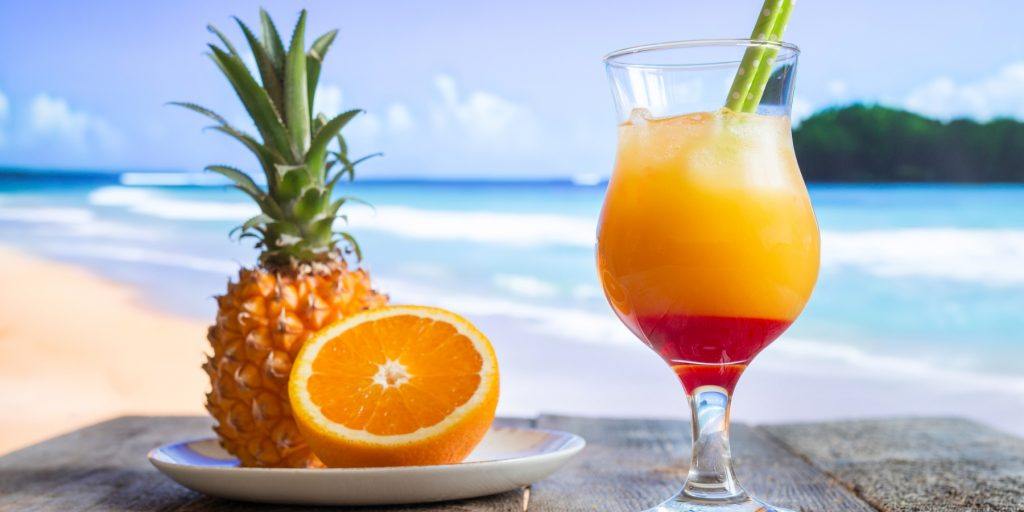 Cost-effective cocktails are where it's at in today's economy, so if you're trying to keep the purse strings tight, treat yourself to a Malibu Sunset. All it takes is 60ml coconut rum, 90ml pineapple juice, 30ml orange juice, and the secret ingredient, a teaspoon of grenadine. Simply mix the rum and fruit juices in a glass with ice, and slowly add the grenadine into the centre of the glass. It will sink to the bottom but give it a gentle stir to create a gorgeous gradient.
11. Singapore Sling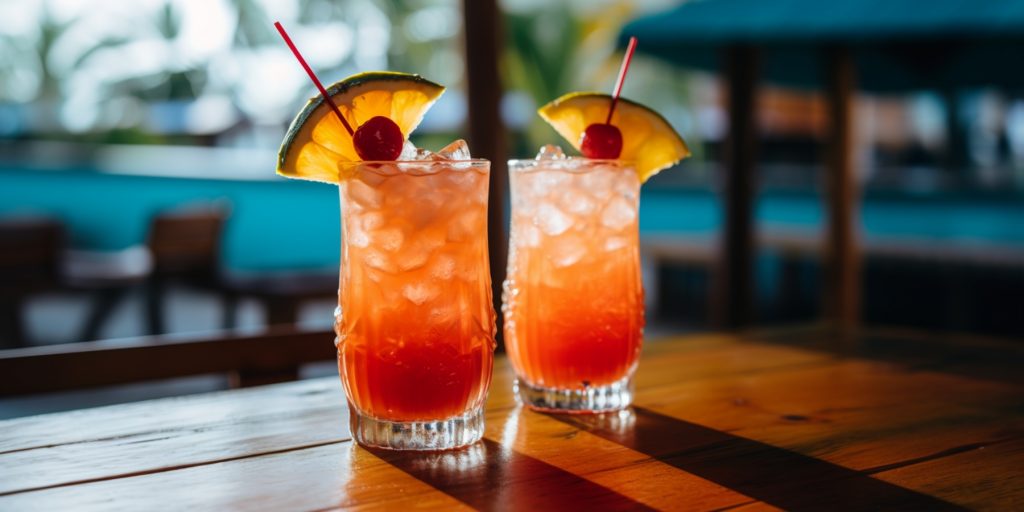 Well-balanced and delectably boozy, our recipe for a Singapore Sling yields a subtly sweet drink with herbal undertones and a fair bit of kick from several different liqueurs. Happy pouring and Yam Seng!
12. Pineapple Mimosa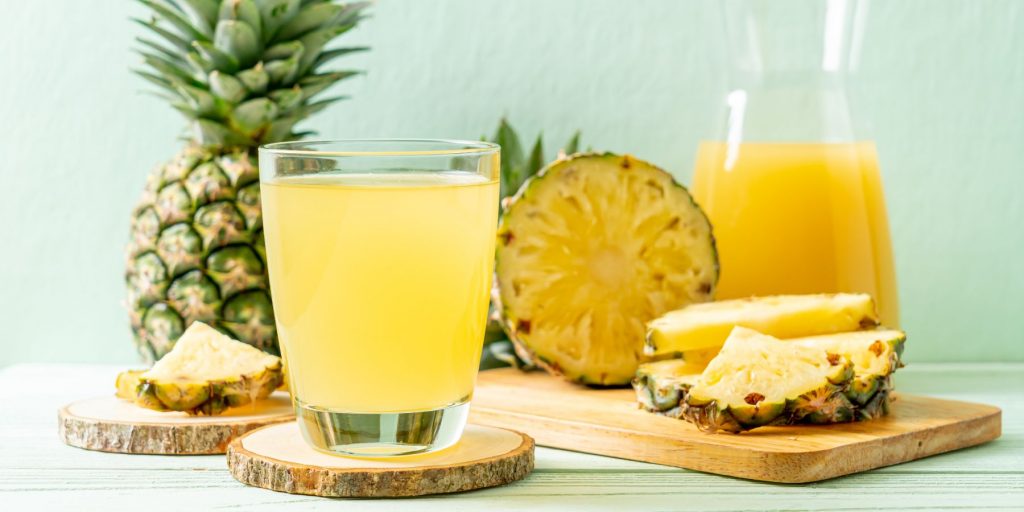 Arguably one of the best party cocktails around, the Pineapple Mimosa is like the sultry sister of the OG (or is that OJ) Mimosa. To make one at home, pour 120ml Champagne or Prosecco into a flute or glass of your choice and top it off with 60ml of chilled pineapple juice. Pour in 30ml unsweetened coconut milk over the back of a teaspoon, so that it settles on top of the drink. Ta-da!
13. French Martini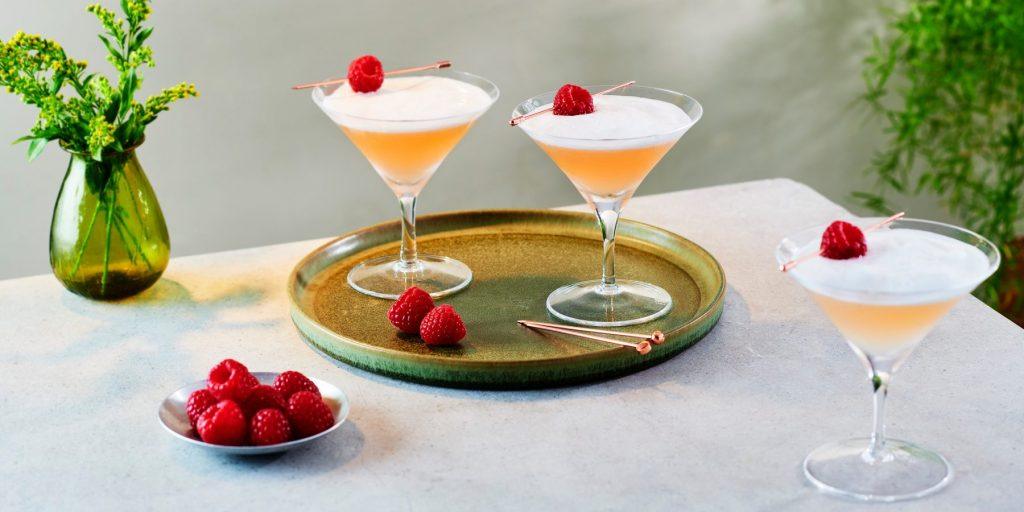 Oui, mon ami! The iconic French Martini is always très chic, and super simple to pour. This vodka cocktail is sweet, smooth, sophisticated, and perfect for impressing at your next get-together. Easy to drink and finished with a creamy foam top for an extra indulgent serve, it's like a dessert in a glass.
14. Bahama Mama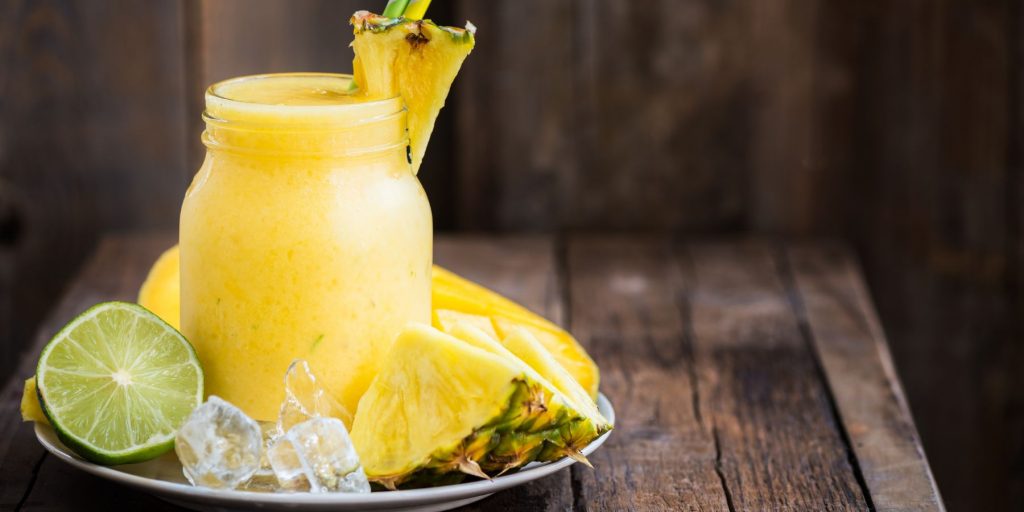 Who doesn't love a sun-drenched moment of bliss? Caribbean cocktails always add a dash of sunshine to any occasion, and the Bahama Mama is one of our faves. Add crushed ice, 30ml orange juice, 30ml pineapple juice, 15ml Wray & Nephew Rum, 15ml coconut-flavored rum, and 15ml grenadine to a blender. Blitz until the drink's consistency is like that of a slushy, decant it into your serving glass, and serve.
15. Zombie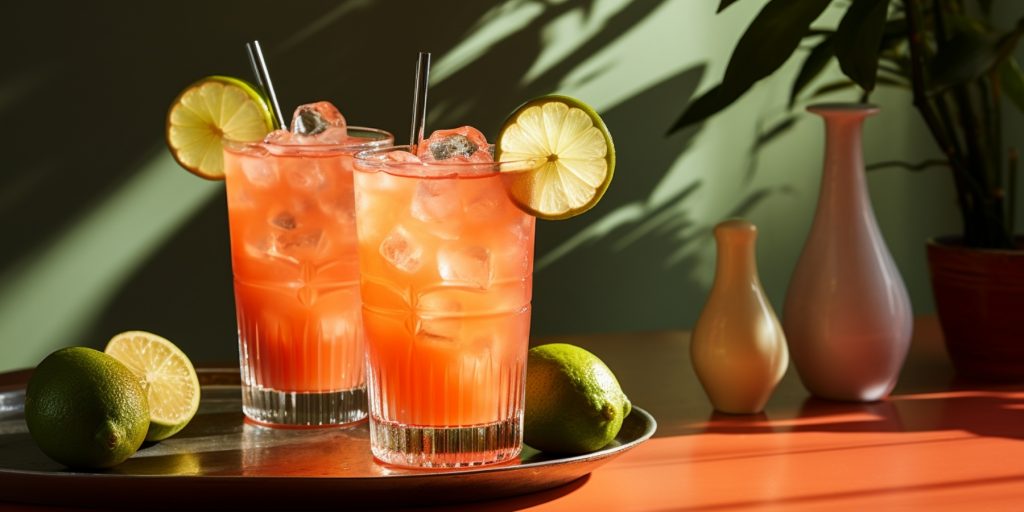 The Zombie cocktail features an alluring blend of fruity and tropical flavours that packs a powerful punch. With its potent combination of rum, citrus juices, and a hint of spice, this delicious cocktail is the perfect choice for anyone craving a strong drink. Garnished with tropical fruits, the Zombie is the ultimate party starter and a must-try for anyone looking to add a bit of excitement to their cocktail repertoire.
More fabulously fruity cocktail recipes to adore
Can't get enough of pineapple juice cocktails? Get ready for a treat! Here are some more fruity mixed drinks that'll satisfy your tropical-tinged cravings and quench your thirst for holiday-vibes-in-a-glass:
FREQUENTLY ASKED QUESTIONS
Many types of alcohol pair well with pineapple juice, including rum, tequila, vodka, and gin. Appleton Estate Rum is a popular choice and is often used in tropical cocktails, while Espelòn Tequila is commonly used in Margaritas. SKYY Vodka will add a clean and crisp taste to the sweetness of the pineapple juice, and Bulldog Gin will add a herbal and floral twist. Ultimately, it depends on personal taste and preference.
There are many alcoholic drinks made from pineapple, but one of the most popular is Piña Colada. It's a tropical cocktail made with pineapple juice, cream of coconut, and rum, and is typically served blended or shaken with ice. Another popular option is Pineapple Margarita, which is made with pineapple juice, EspelònTequila, lime juice, and Grand Marnier.
Yes, canned pineapple juice can be used for cocktails. While fresh pineapple juice is preferred for its bright and sweet flavour, canned pineapple juice can be a convenient substitute when fresh pineapples are not available. Canned pineapple juice can also be a cost-effective option for blended cocktails, punches, and large batch drinks.