Our Favourite Mango Cocktails Everyone Must Try
October 13, 2022 by Sonja Edridge
Mango cocktails recipes are the perfect partner for a warm summer's day and brings the tropical vibes to the table. Not only are they sweet and tangy, did you know that sipping sweet mango cocktails is the ideal sip to accompany spicy foods? So next time the Vindaloo brings on a sweat, pick any of our fantastic cocktails to douse the flames! For the burst of mango flavour, use ripe and juicy mangoes to muddle into your recipes or opt for frozen pieces if you like. If you are planning on using mango juice, pick fresh 100% pure mango juice or puree.
Here are all the summer ready mango cocktail recipes you'll need:
1. Mango Daiquiri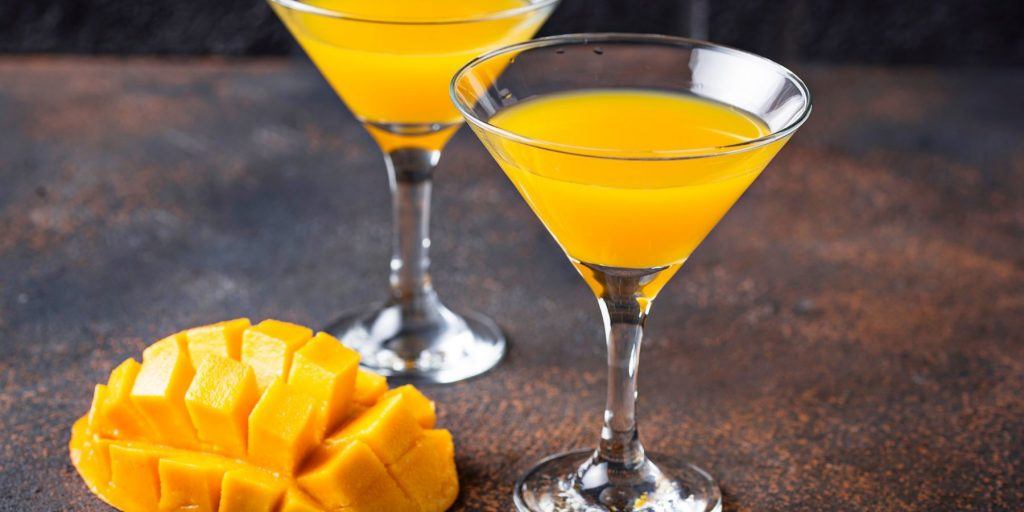 If you're in need of fruity cocktail that will take you on a virtual holiday, meet our Mango Daiquiri cocktail recipe. It dishes up all the tropical vibes, looks fancy served in cocktail glasses and is an easy summer sip to make at a moment's notice! If you're impressing a crowd, bulk up this recipe and serve it in a jug. For a showstopper cocktail, wipe the rim of the cocktail glasses in a little lime and dip the edges in granulated sugar and maybe even a little toasted desiccated coconut for extra sparkle.
2. Frozen Mango Margarita Cocktail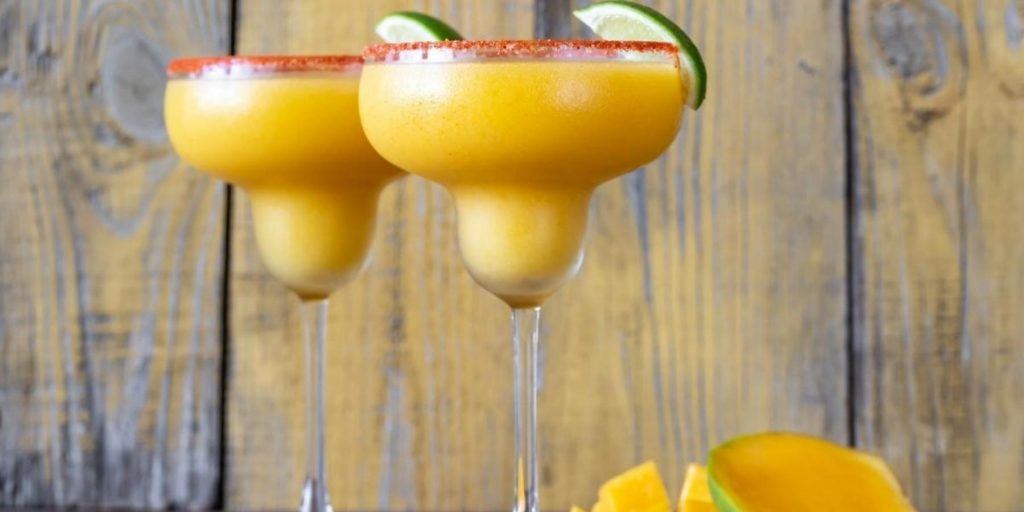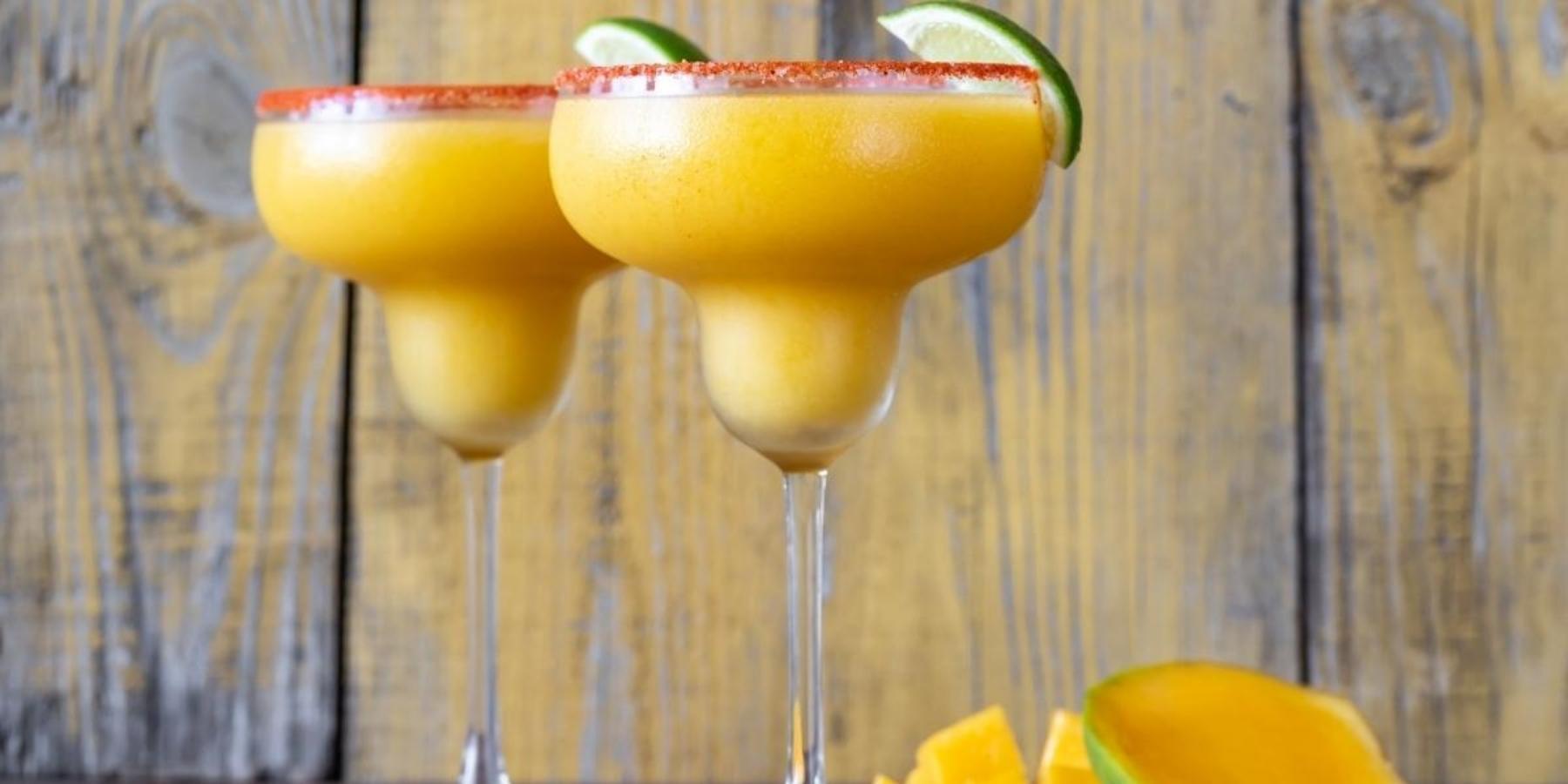 Tequila lovers, come and try our fruity Mango Margarita. The delicious, sweet mango with zesty lime and a good quality tequila delivers the ultimate tropical Margarita with all the sweet, sour and salty flavors. Our grown up boozy slushie is simple to make in a bigger quantity to serve in a jug for backyard BBQs and get-togethers when hosting friends. What are you waiting for?
3. Mango Gin cocktail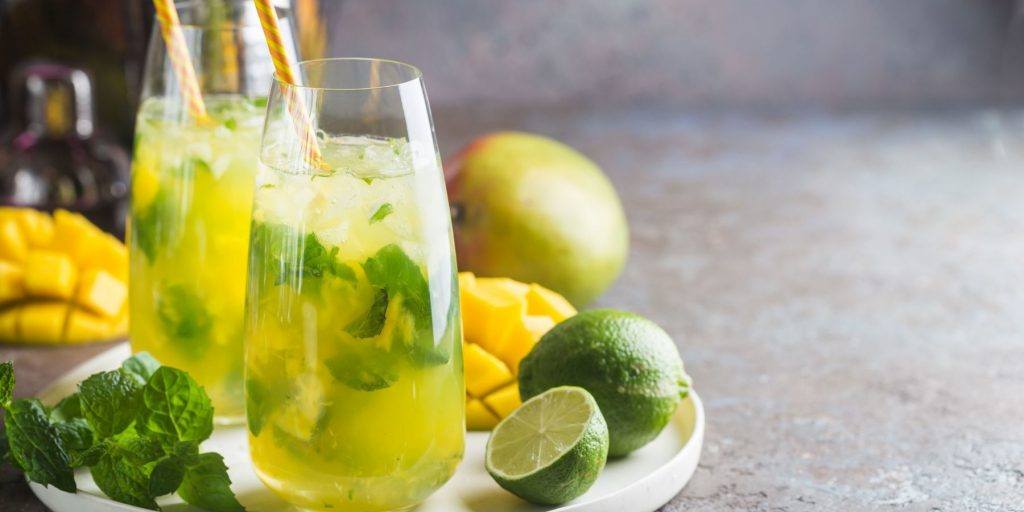 If you are looking for a drink that's light and sweet with a little fizz, try a Mango Gin Cocktail. This easy-to-make gin cocktail is a refreshing mix of your favorite gin (O'ndina Gin is an ideal choice with its zesty citrus base) muddled with fresh mango and mint and topped up with soda. It's a simple recipe to bulk up and serve in a jug, ideal for garden barbecues or summer weddings. And light enough for everyone to enjoy the refills.
4. Mango Colada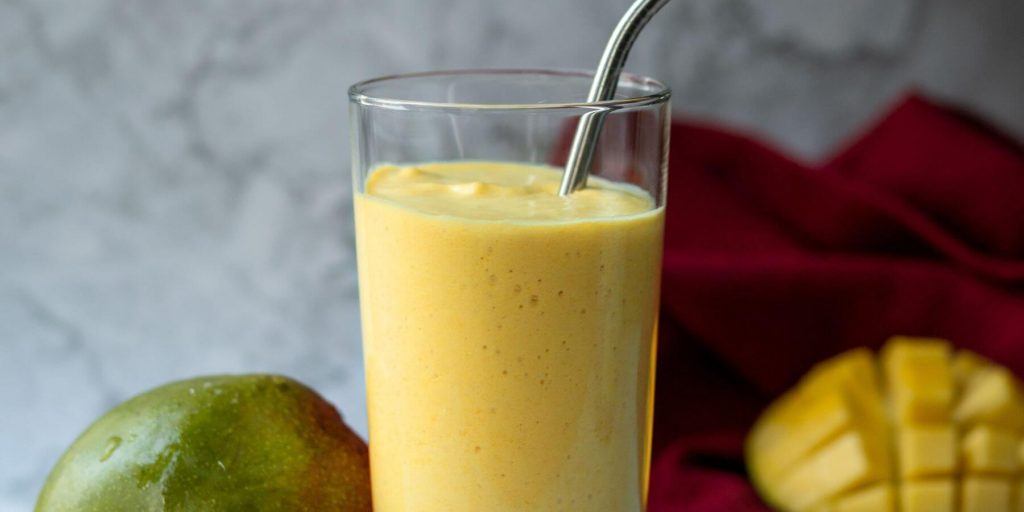 Dreaming of a little Caribbean getaway but the reality is you're bound to your desk? Mango rum cocktail recipes offer a good compromise. To make a Mango Colada cocktail recipe, grab your blender and add 125ml of mango juice with 125g fresh or frozen mango chunks. Add 60ml of Wray and Nephew rum, 60ml of coconut milk or cream of coconut and a good squeeze of lime juice. Add in a handful of ice and whizz to perfection.
5. Mango Monster Mash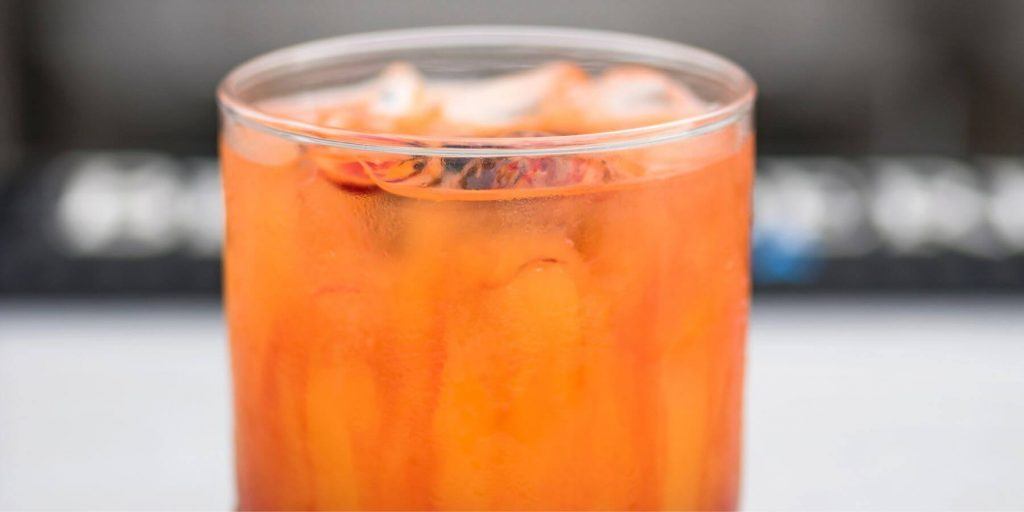 Our Mango Monster Mash cocktail recipe will make you feel like you're (still) on the Italian Riviera, even if the rain is lashing against your windows! Just pour 60ml of Campari into a highball glass with a good handful of ice. Add in 30ml of zesty O'ndina gin and top it up with fresh mango juice. Give it a darn good stir and garnish with fresh mint leaves. Let's live la dolce vita!
6. Mango Tango
This tangy Mango Tango cocktail recipe will give you all the fancy footwork – it's a mixture of rum, fruity mango, orange and lime and a hint of coconut. To make one, brush the rim of a chilled glass in a little agave nectar, then dip the edge into toasted shredded coconut for a tiki style rim. Add 30ml of Trois Rivières rum and 1 tablespoon of Grand Marnier over ice, top it up with 90ml of mango juice, 30ml of orange juice and a good squeeze of fresh lime. Let's dance!
7. Mango Mojito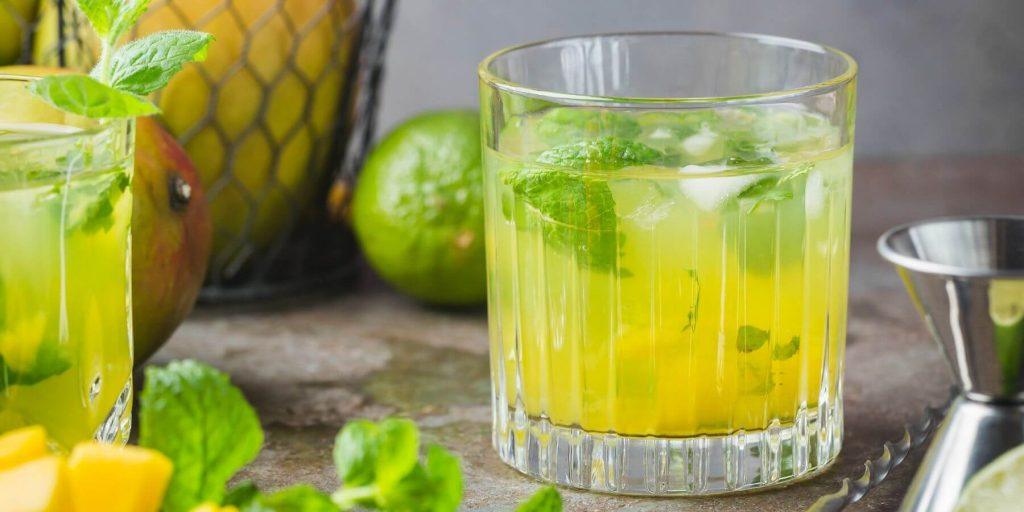 Calling all Mojito fans! Add a tropical twist to the classic recipe with our Mango Mojito cocktail recipe. It is a little sweeter than the original and serves up the tiki feels. To make one, follow our Mojito recipe but add a handful of fresh mango chunks, before muddling in the mint and sugar. Alternatively, add a 100-120ml of fresh mango juice along with your soda water. Balance out the sweetness with a good squeeze of fresh lime. Delicious!
8. Mango Bellini
Fancy a cocktail with a little fizz, why not make a Mango Bellini cocktail recipe? Follow our simple Peach Bellini recipe with a chilled prosecco, just swap out the peach with some mango puree. Choose a Riccadonna Prosecco D.O.C that suits your palette, they have a range of bubbles from dry to sweet. You'll need this mango puree cocktail recipe in your life! Salut!
9. Mango Collins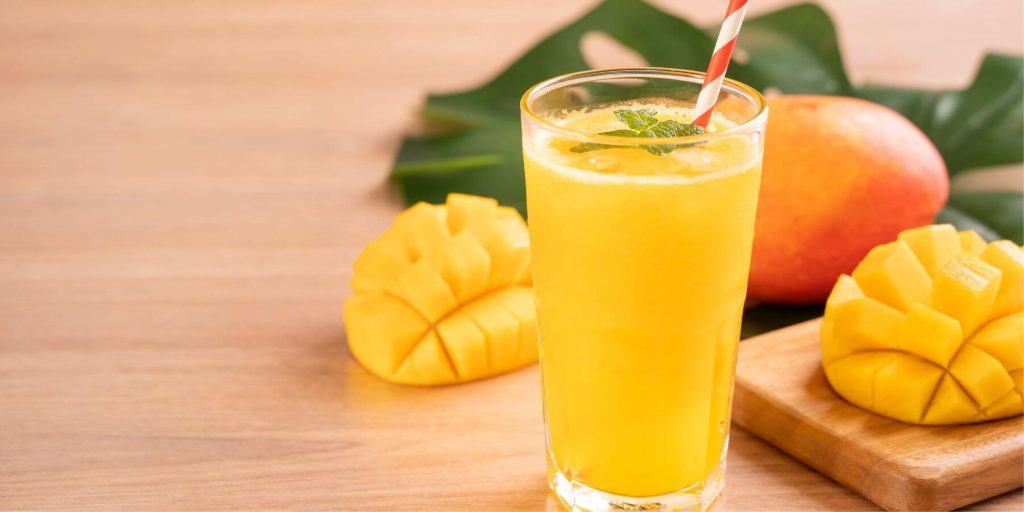 Our easy-peasy Mango Collins cocktail recipe is ideal to mix up when you're expecting a few guests. It's light and bubbly, and not overly sweet with the addition of soda water. For a grapefruit twist, pour this with Bickens pink gin, it's a tasty blend with the sweet mango. If you're making it in bulk, add the soda just before serving. This easy-drinking fresh mango cocktail recipe is best served in a tall Collins glass, rain or shine.
FREQUENTLY ASKED QUESTIONS
The sweetness of mango makes it a perfect partner to any alcohol. Mix it with the blank canvas of SKYY vodka, a decent quality tequila, or gin. It's all divine. Mango blends really well with the caramel notes of rum and whiskey too. We'll leave the final decision up to you.