13 Finest Cranberry Cocktail Recipes
December 01, 2022 by Karl Tessendorf
A festive spread just wouldn't be complete without the tell-tale reddish-pink hue and tart flavour of cranberry. It's the official festive berry and now that we think about it, they kind of remind us of Rudolf the red-nosed reindeer. They get used in everything from salsas and salads to roast dishes, desserts and, of course, drinks. Today we're counting down our list of cranberry cocktail recipes for you to serve this festive season. Some are naughty, some are nice but they're all absolutely delicious.
1. Sea Breeze

The Sea Breeze cocktail might have been born on balmy summer beaches but it's the perfect festive season cocktail. It's bursting with cranberry goodness and just a touch of grapefruit juice for balance. It's the ultimate thirst quencher and it scales up brilliantly if you're catering for a festive crowd. Add a little summer flavour to your festive season this year with this cranberry juice cocktail recipe.
2. Cranberry Mojito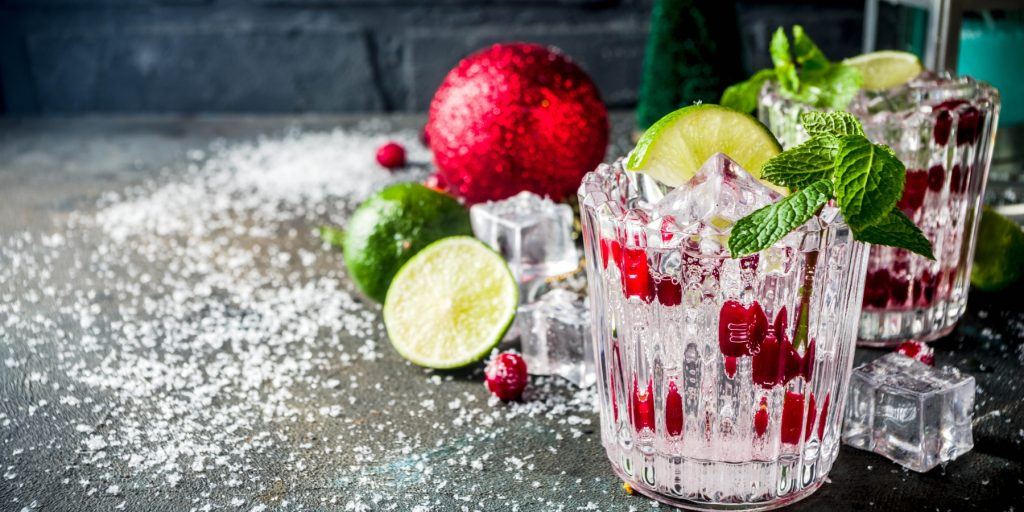 If you've never tried mint and cranberry together, then make sure you're sitting down when you take your first sip of the Cranberry Mojito. It's an absolute blast of tart freshness with a lingering, effervescence afterglow of cooling mint. It pairs perfectly with the heavy flavours of festive roasts, and you could even serve it with a cranberry dessert to wow your guests.
3. Cosmopolitan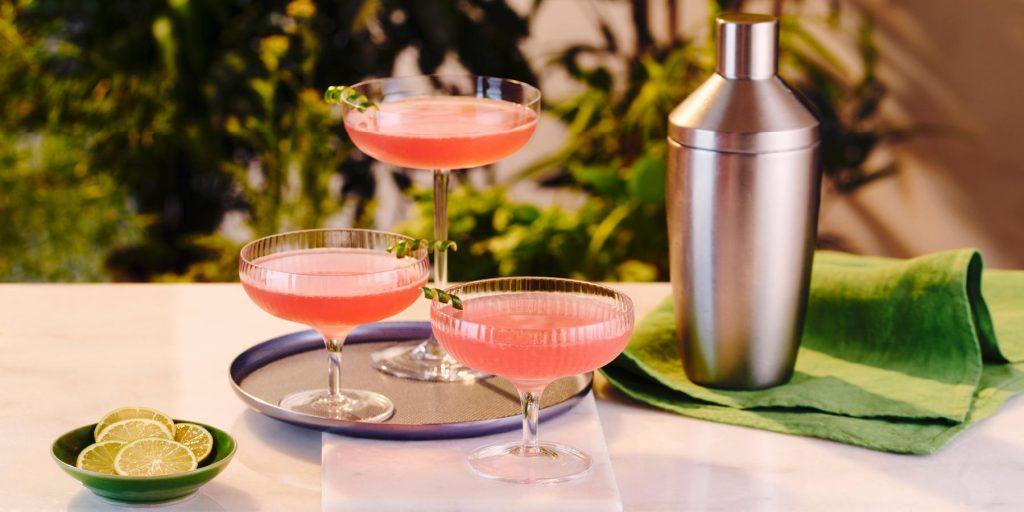 As far as elegant festive cranberry cocktail recipes go, it doesn't get much better than the classic Cosmopolitan cocktail. It's been the belle of the ball since the 90s and it'll bring a touch of class to your holiday festivities. Its unmistakable blend of orange, cranberry, and lime is tart, refreshing and moreish. Serve Cosmopolitans as a welcome drink or impress your foodie friends by serving it between courses as a zesty palate cleanser.
4. Vodka Cranberry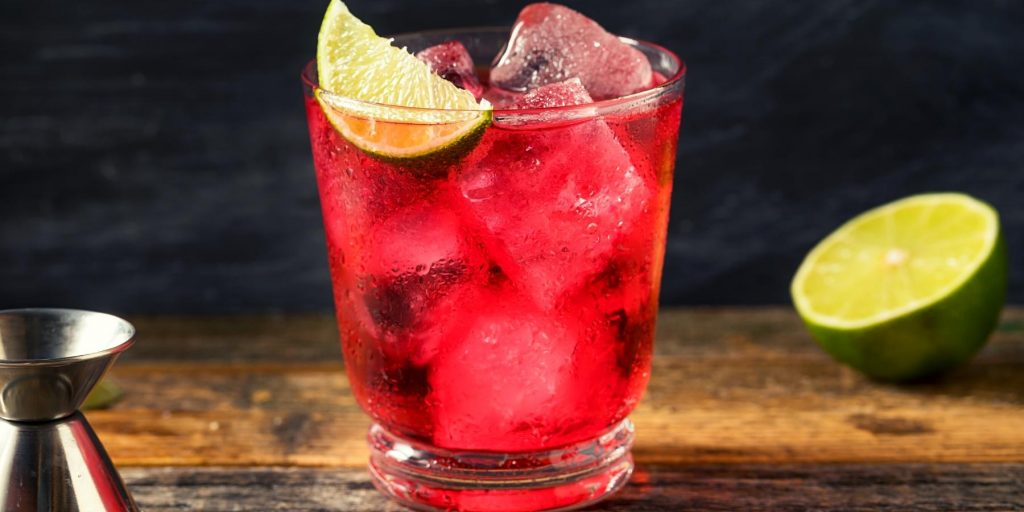 If you're planning a festive party and looking for a simple cocktail to fit the theme, then it's time you meet the Vodka Cranberry cocktail recipe. It's an easy blend of vodka, cranberry, and orange juice that thrives in any occasion. Serve it over lots of ice or mix it up in batches and serve it in jugs. Simple, festive and delicious.
5. Cranberry Margarita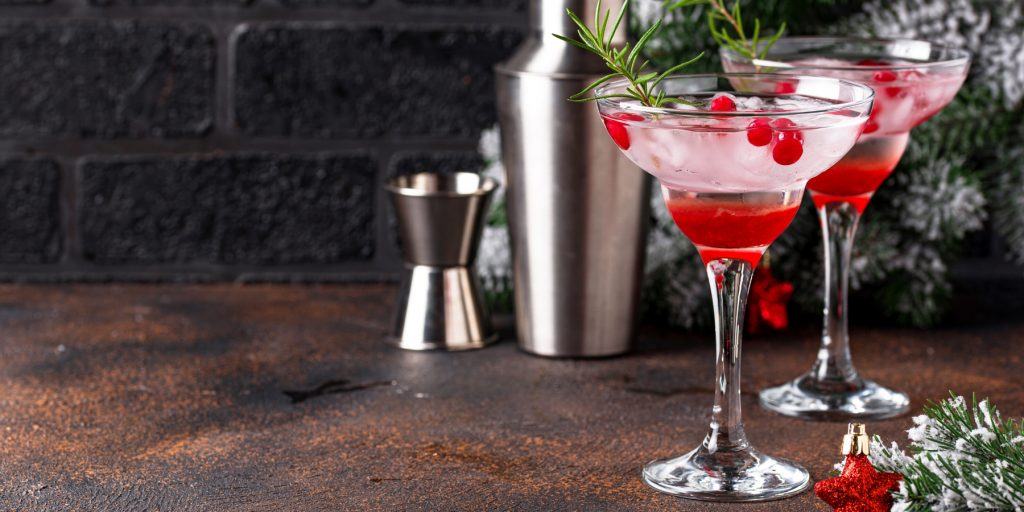 The festive season should always be a fiesta and with Cranberry Margaritas in the mix, it's impossible to have a bad time. They're a literal party in a glass and the cranberry adds another layer of zesty tartness to the flavour profile. Keep it classic and rim the glass with salt for a sweet and salty contrast, or opt for a sweet and festive cinnamon sugared rim.
6. Long Beach Iced Tea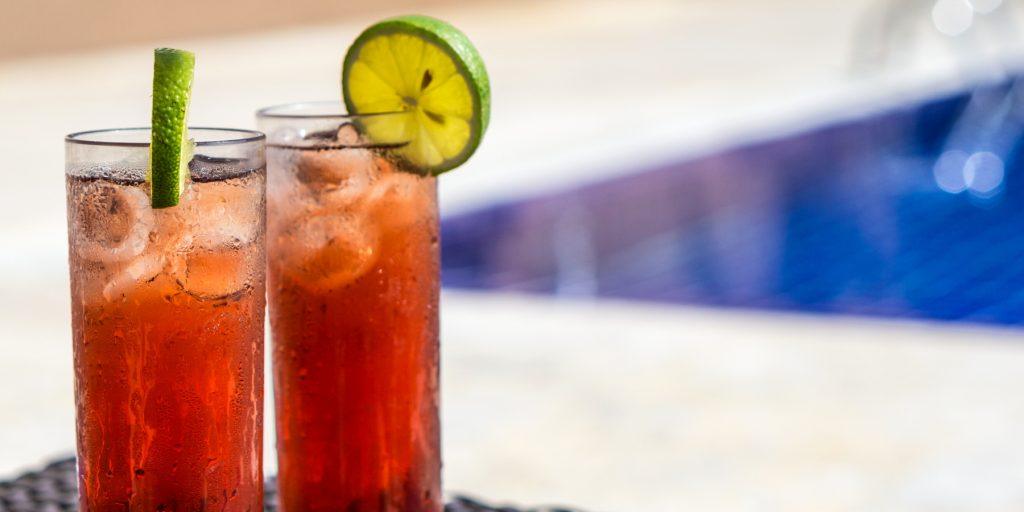 If Long Island Iced Tea is your thing, then you have to try the Long Beach Iced Tea. It's the cranberry version of the classic cocktail and it's got all the kick plus a lingering tart cranberry finish. It's a sure-fire party starter that's guaranteed to make your cocktail party the talk of the season. Make sure you serve it with lots of ice and plenty of party snacks.
7. Cranberry Zombie Cocktail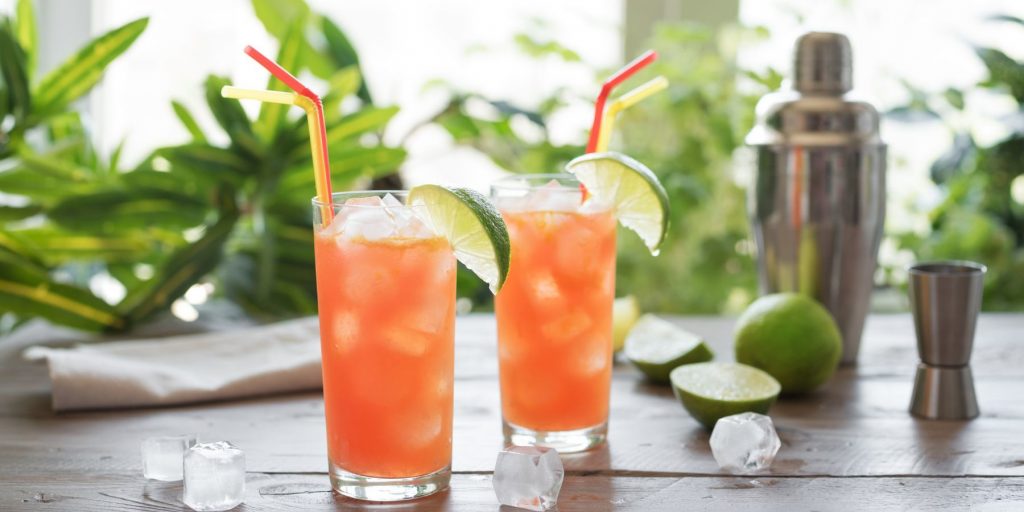 The Zombie cocktail might seem a tad aggressive for the festive season but it's actually a delightful rum-based drink. It's a tiki bar classic that's known for its boozy kick and features a hefty list of ingredients including three types of rum. Our version is a little easier to make and if you switch out the pineapple juice for cranberry, you've got a rum-fuelled festive party starter.
8. Cranberry Moscow Mule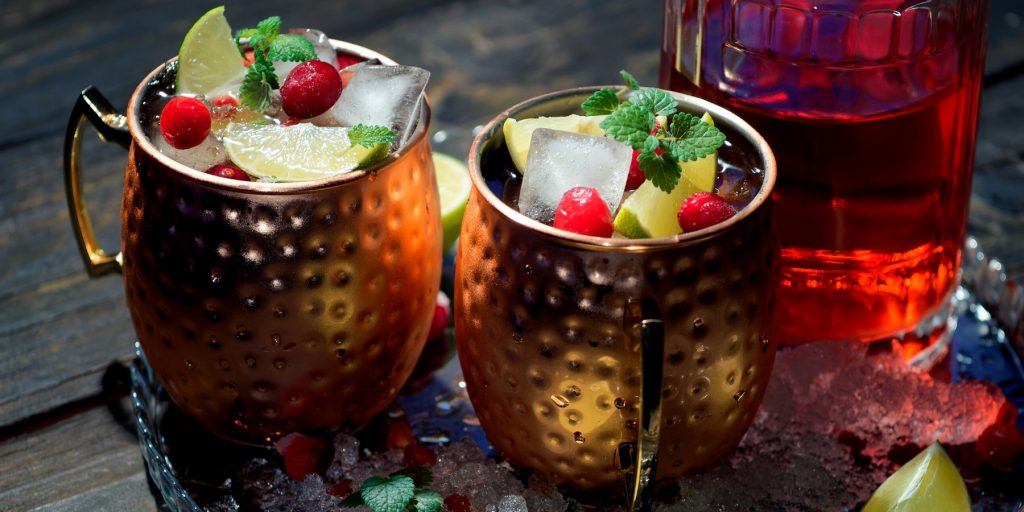 The Moscow Mule is the ultimate jack-of-all-trades cocktail. It fits into any and every occasion and it pairs excellently with most dishes. Add a splash of copper to your festive décor this year with the Cranberry Moscow Mule. It has all the original mule flavours of citrus and ginger beer but with a zippy tartness of cranberry. Go classic with vodka for a smooth sipper or add some spicy cheer with a dark rum or bourbon version.
9. Cranberry Mimosa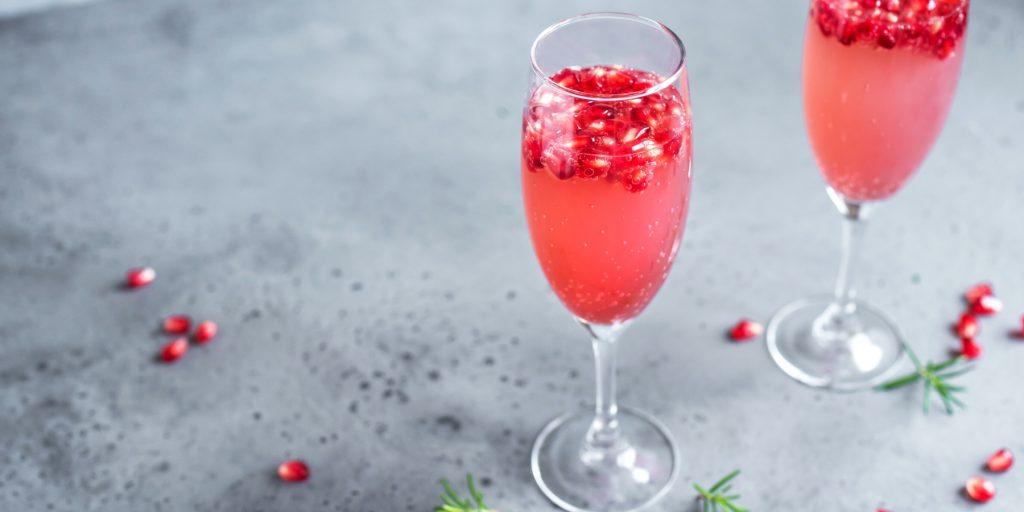 If you're planning a festive brunch this year, then make sure you invite the cocktail queen of brunch— the Mimosa. The elegance of a Mimosa lies in its simplicity and this cranberry version adds a splash of colour and holiday charm. It's sweet, dry, and tart all at the same time and it's ready in a flash. Make sure the cranberry juice and champagne are well chilled and garnish with fresh or frozen cranberries for extra flair.
10. Cranberry Whiskey Sour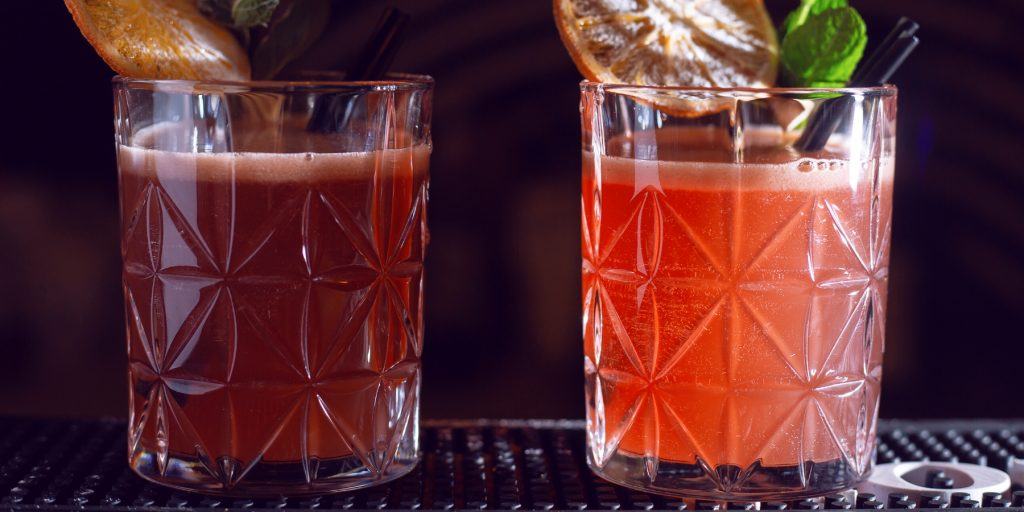 At first glance, a Whiskey Sour can feel a little intimidating, but it's pretty simple. If you can separate an egg, you can make a whiskey sour. While egg white might seem out of place in a cocktail recipe, it does wonders. Egg white has proteins that emulsify when shaken which creates a luxuriously smooth almost meringue-like mouthfeel. But don't take our word for it. Whip up some festive Cranberry Whiskey Sour cocktails and let your guests do the talking.
You might also like: Making Egg White Cocktails the Easy Way
11. Cranberry Martini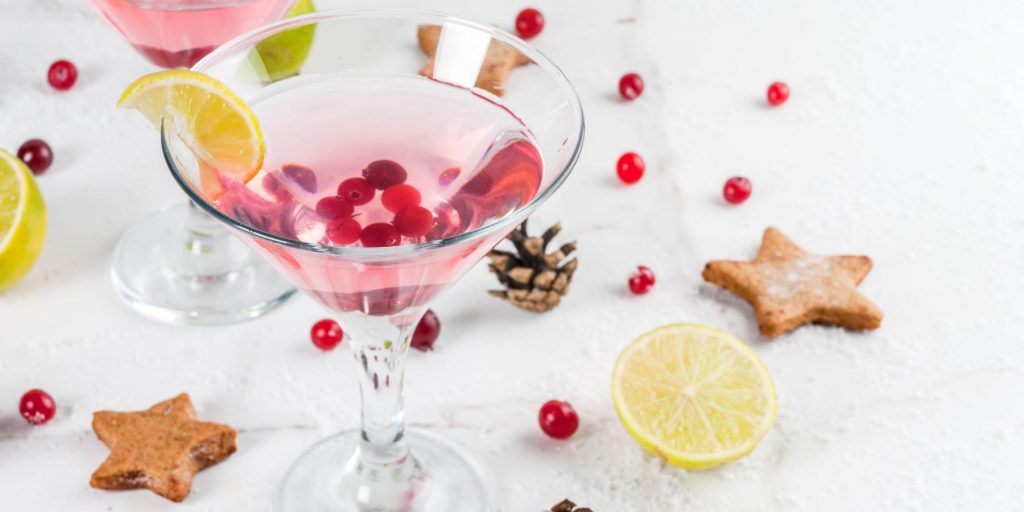 Whatever the festive theme or occasion, the one cocktail you can always count on is a Cranberry Martini. They're easy to shake up and your guests will always feel like you've gone the extra mile. You can use sweetened or unsweetened cranberry juice depending on your preference. If you want to make it extra fancy, then rim the glass with sugar and a touch of cinnamon.
12. Poinsettia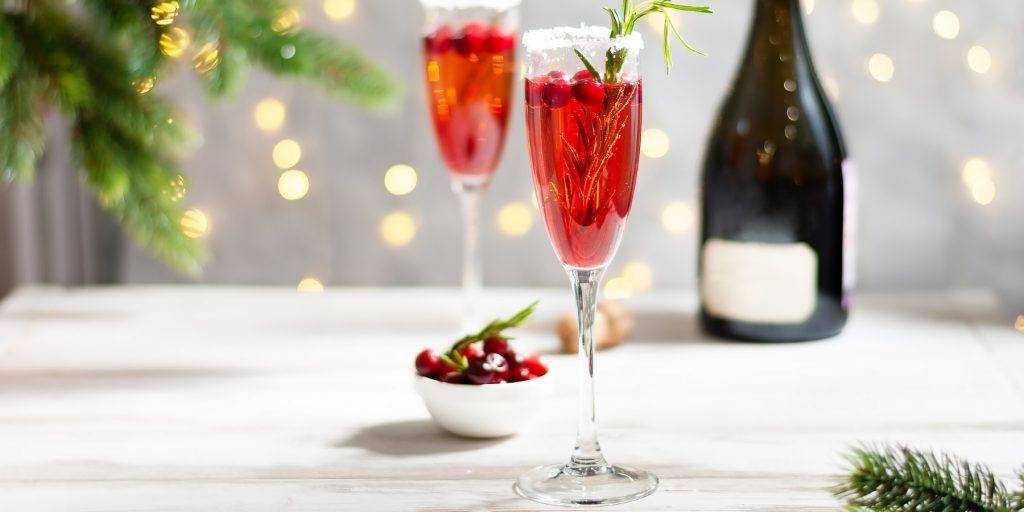 If you're looking for an easy and impressive welcome drink this festive season, then meet the Poinsettia. This cranberry juice cocktail recipe uses orange liqueur and Champagne to create a gorgeous holiday cocktail. It's named after the flowering plant of the same name that's often used in Christmas floral arrangements. Pair the two on your festive table this year and create a cocktail party to remember.
13. Spiced Cranberry Hot Toddy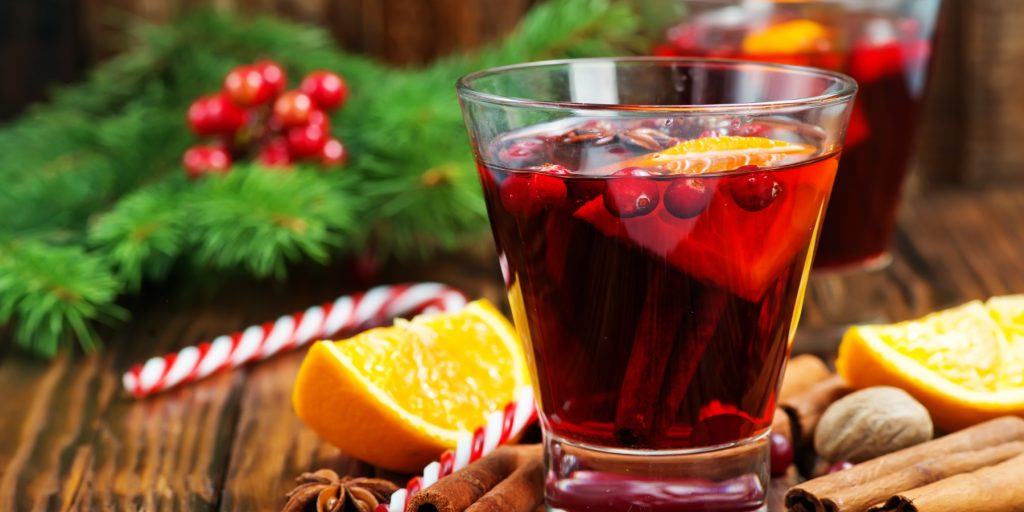 It just wouldn't feel like the festive season without a Hot Toddy cocktail. It's the original winter warmer and the cranberry version adds a festive layer of flavour and colour to the mix. Give your version a personalised touch by using your favourite spices and your choice of bourbon or whiskey. You can sweeten it with maple syrup to complement the bourbon or go for honey if you want an extra floral note.
FREQUENTLY ASKED QUESTIONS
There's a plethora of cranberry juices on the market these days and things can get a little confusing. The easy way to remember the difference comes down to the sugar used to sweeten the juice. Cranberry juice labelled 100% juice is cranberry juice mixed with other fruit juices like apple or grape to add sweetness. Cranberry juice cocktail is pure cranberry juice that's been sweetened with sugar or high fructose corn syrup. You can also get pure cranberry juice that is unsweetened but it's very tart and usually needs to be sweetened.  
This comes down to personal preference. Cranberry juice or cranberry juice cocktails are both great options if you don't mind the added sugar. If you feel that the cranberry juice is a touch too sweet, you can always water it down until you find the right balance for you. Just remember to consider that your cocktail will dilute over time if it has ice in it. Pure cranberry juice also works well but you will need to balance the flavour with sugar syrup. You could also sweeten your cocktails with maple syrup or honey if you prefer a more natural sweetener.
Many cocktails use vodka and cranberry as a base. The Cape Codder and the Madras cocktail are both examples, but the Madras also has a splash of orange juice.
Cranberry simple syrup couldn't be any easier to make at home. Just add fresh or frozen cranberries to a classic 1:1 ratio of sugar and water, then simmer and strain into a bottle.