11 Watermelon Cocktail Recipes to Impress a Crowd
June 30, 2022 by Sonja Edridge
Get all the summer feels by whipping up a tasty Watermelon Cocktail or three. With this handy guide, we've got you covered for cocktails for the entire summer season, from the classics to the lesser-known watermelon drinks that deserve some limelight. Dust off the BBQ, prep the picnic baskets and slice the melon – it's time to have some fun.
Top tip: For the juiciest cocktails, we recommend making your own watermelon juice using fresh melons. Use what you need and pour the excess juice into ice cube trays to freeze for the next party. It's oh-so worth it and will taste so much better than shop bought juice. Remember to keep a few cubes or wedges of melon aside to garnish your lovely drinks!
1. Watermelon Gin Fizz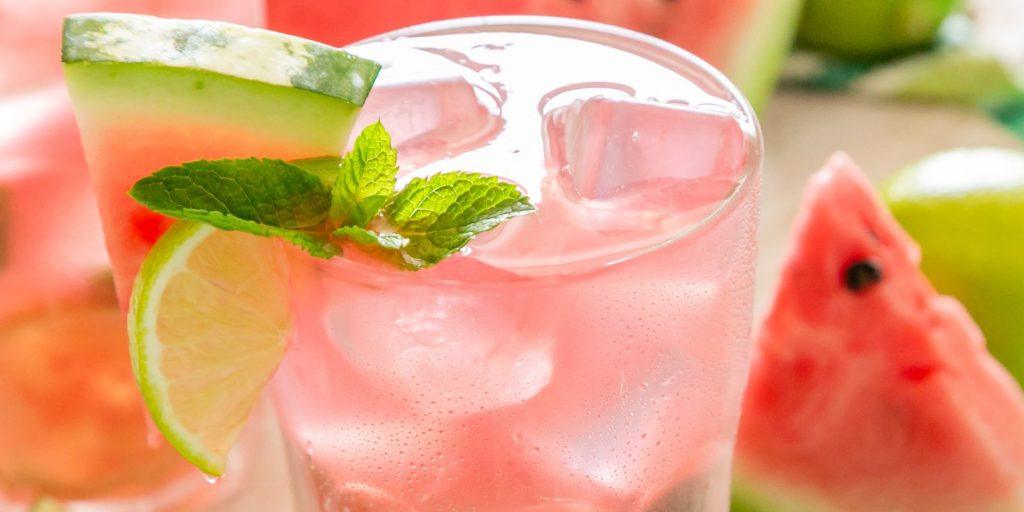 The Watermelon Gin Fizz is your perfect summer-ready watermelon cocktail; it's light, sweet and fizzy and is BBQ ready or for sipping at picnics on a hot day. What's more, it's jug friendly to make in big batches, a good choice for effortless entertaining! It's made easily by mixing watermelon juice with gin, a dash of lime juice, simple syrup and mint, before topping up with soda water for the final fizz. The pretty in pink vibes make it a popular choice for bridal showers or girlie get-togethers — just magical!
2. Firecracker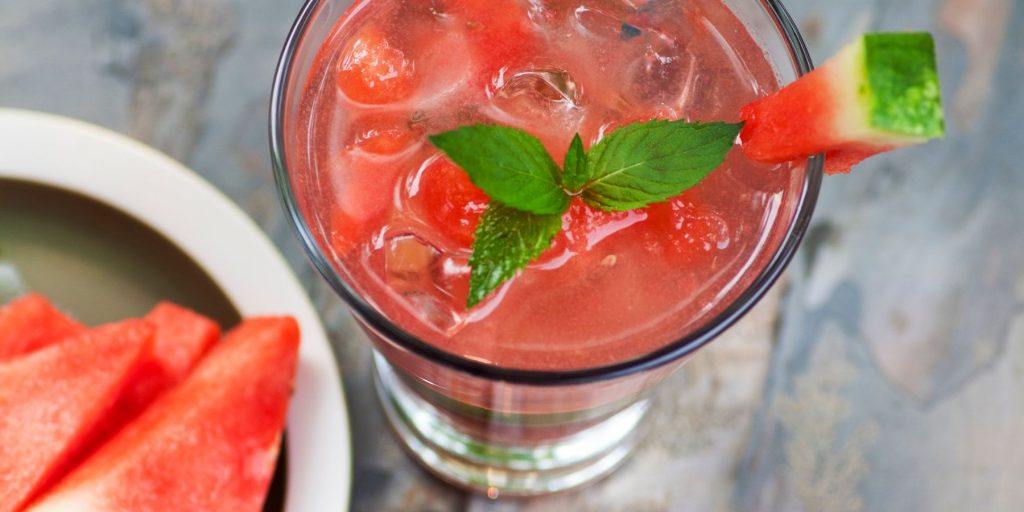 Wet your whistle with this spicy Firecracker, a watermelon cocktail that's both sweet and savoury all in one with a unique and delicious combination of rum and orange liqueur. It's also a super easy drink to master: simply muddle a few chunks of watermelon and add 45ml of rum and 15ml orange liqueur, freshly squeezed lime juice, and simple syrup, then to tame the sweetness with a good measure of cayenne, about 1/6 of a teaspoon. Shake well over ice and strain into a cocktail glass. We think you'll love it!
3. Bourbon Watermelon

Bourbon and watermelon is not your everyday partnership, but the unusually tasty combination of this Bourbon Watermelon cocktail is a must-try! At first glance, one could imagine this drink to be super sweet, especially as the bourbon is blended with a sweet elderflower liqueur. But, when it's muddled with a good measure of lemon juice, fresh basil leaves and black pepper, it makes for an interestingly balanced cocktail that'll really impress.
4. Watermelon Tequila Cocktail

When you're in the mood to celebrate the good life, a Watermelon Tequila cocktail is the quintessential summer drink you should be sipping on. It's easy to make at a moments notice for a crowd, bulked up in jugs to share with friends. To make this delicious drink, mix up watermelon juice with tequila, simple syrup and a good measure of lime juice for a well-balanced zesty drink! Pull out the umbrellas, big and small, one to relax in the shade and one for the festive garnish.
5. Watermelon Gin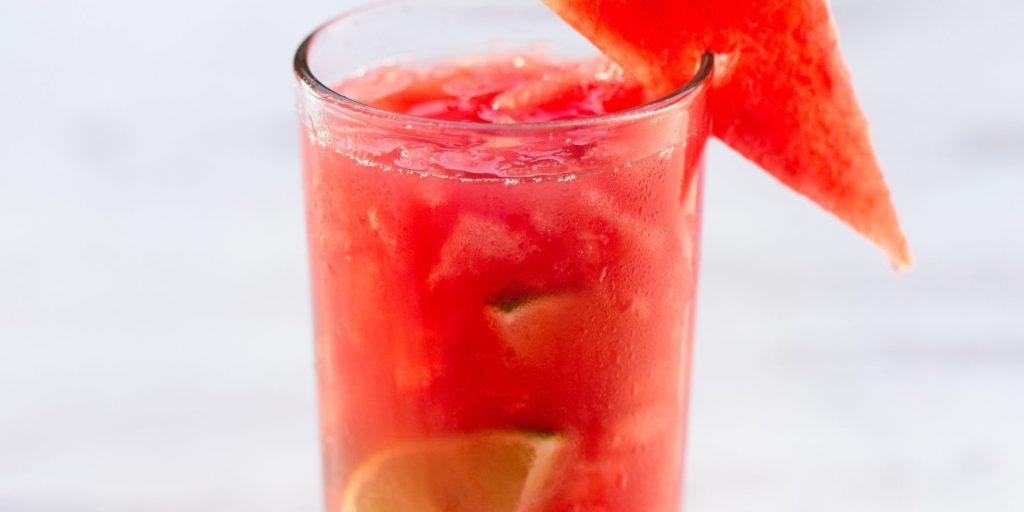 Wanting a change from your usual G&T? Try a fresh watermelon cocktail that'll transport you straight to the beach. This Watermelon Gin cocktail does just that with every sip. Watermelon and gin are a match made in heaven, especially combined with lime juice, for a sweet and zingy drink to enjoy under the midday sun.
6. Watermelon Daiquiri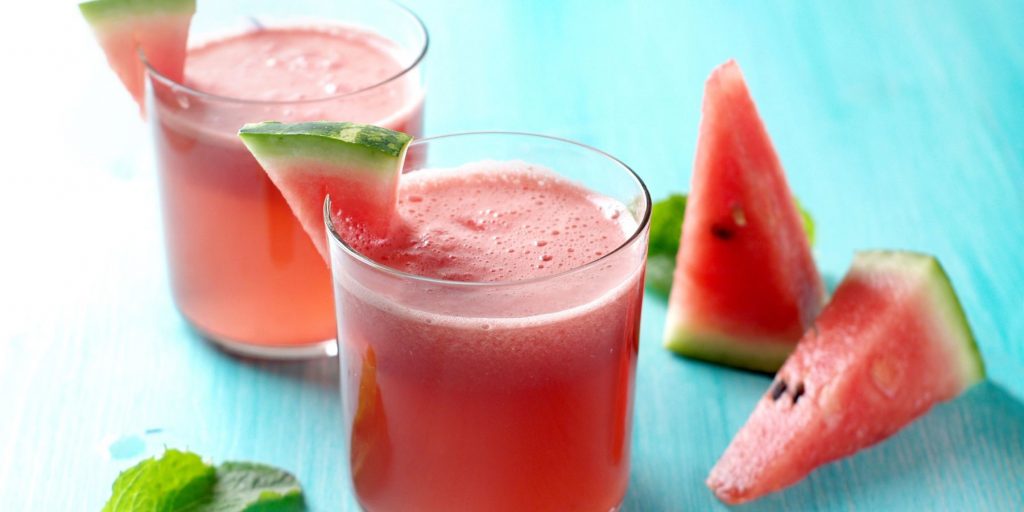 Get the party started with this vibrant showstopper! The Watermelon Daiquiri is made with rum and flavoured watermelon gin, which makes it oh so sweet and a perfect cool down when you're sweltering around the BBQ. You can pin this as one of the best beach cocktails, for sure — it also makes a delicioso mocktail if you ditch the rum and gin.
7. Watermelon Cosmo

A sweeter and pinker version of the classic Cosmo, this fruity Watermelon Cosmo brings all the flavours you'd expect but with a refreshing melon twist. Mix vodka with freshly squeezed lime juice, a dash of orange bitters, cranberry juice and the bonus freshly muddled watermelon and a splash of watermelon liqueur. Cheers!
8. Peppermelon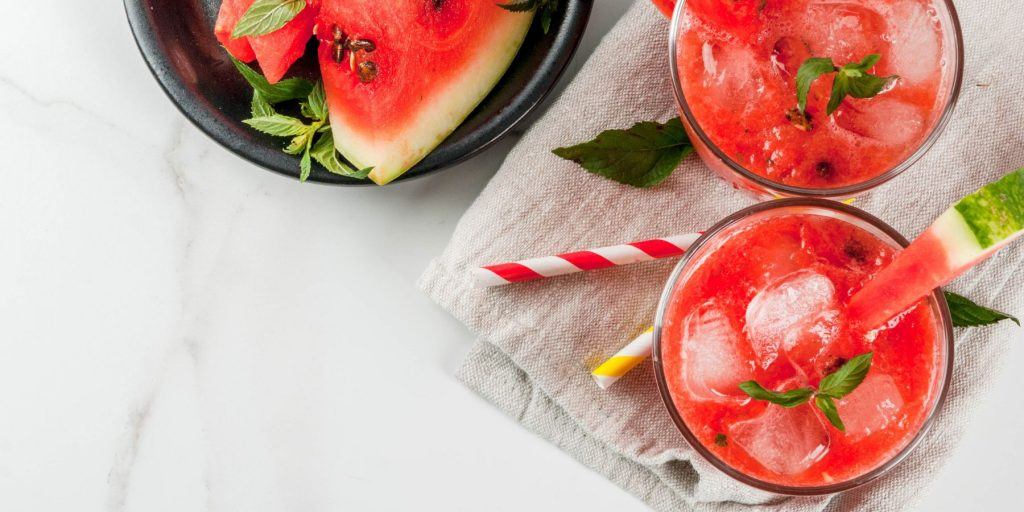 For a watermelon cocktail recipe with a difference, meet the Peppermelon cocktail. It's made with sugar, spice and all things nice and so easy to put together! The only ingredient to prep in advance is the signature pepper and honey syrup, which involves heating peppercorns (black or pink) with water and honey and allowing to cool. This is then muddled with watermelon, lemon juice and a top shelf gin. For fun, dip a melon wedge in crushed black pepper to slide onto the edge of your cocktail glass to garnish.
9. Watermelon Punch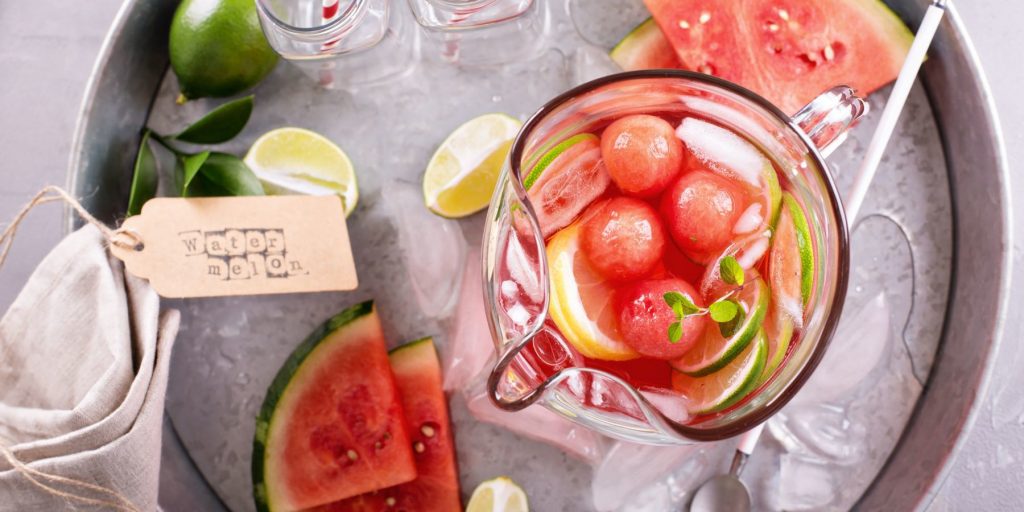 Looking for a crowd-pleasing punch for your next party? This Watermelon Punch is a real winner – it's jug friendly or, for some pure kitsch style, you can even serve it in the watermelon bowl! This recipe is a blender beauty: whizz up your melon with a dash of vodka, some mint leaves and a good squeeze of fresh lime juice before pouring it into your scooped-out melon half along with a good handful of ice. Add a dash of simple syrup and top up with sparkling wine for fizzy fun!
10. Watermelon Vodka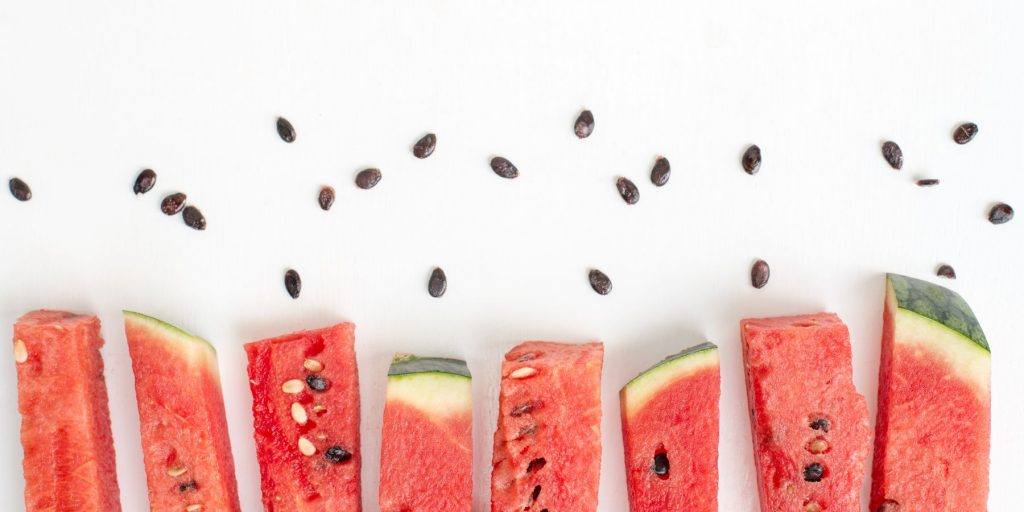 Technically, this Watermelon Vodka cocktail is not strictly a drinkable cocktail but it's still good fun to make for summer parties. All you need is a small ripe watermelon, a bottle of fabulous vodka and a small paring knife. To create this 2-ingredient party pleaser, use the paring knife to cleverly carve a hole into the melon to fit the vodka bottle cap so you can invert your bottle into the melon and allow the fruit to soak up all the vodka overnight. The next day, let your guests snack on these boozy melon bites – they're like a vodka shot you can eat!
11. Frozen Watermelon Margarita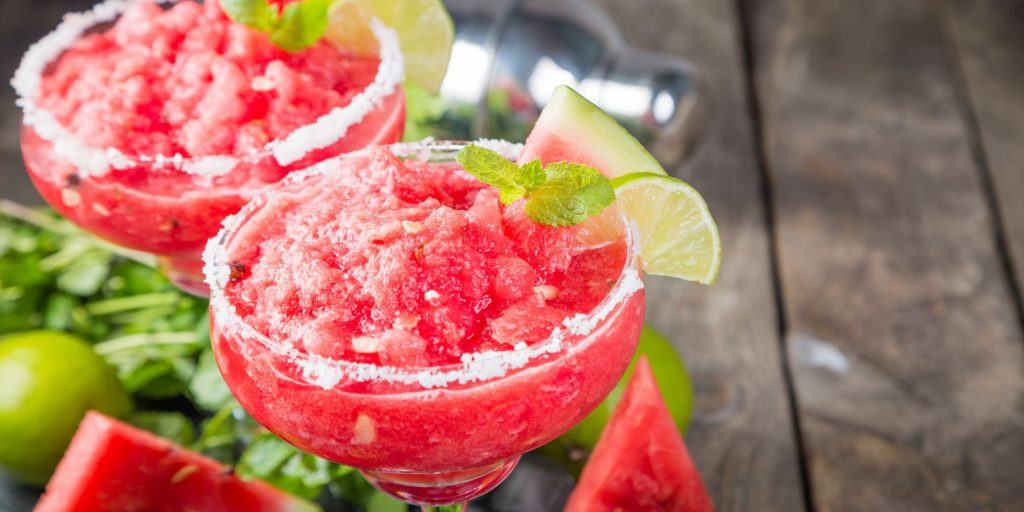 Did you know that watermelon and tequila are besties? Margaritas are already loved far and wide but bring in frozen watermelon and we raise the stakes! It's easy to prep this in advance, freezing the juicy watermelon chunks the night before for easy cocktail making in a blender, whizzing it up with tequila and a dash of orange liqueur! For extra points, dip your glasses in salt mixed with lime zest for added flavour. Just heavenly!
FREQUENTLY ASKED QUESTIONS
Watermelon is super sweet, so it characteristically blends well with most spirits. Our favourite pairings are gin, rum, tequila, and vodka.
Flavours that will enhance your watermelon cocktail include cucumber, chilli or herbs like rosemary, coriander and mint. If you want to serve food to go with your cocktail, oysters are a fabulous match, as are nibbles with salty feta cheese or halloumi.
Yes definitely! Watermelon blends fantastically with alcohol. Try out any of our recipes to test it out. You can even blend it up in a slushie-style drink or strain the juice for a more delicate cocktail.
Lime is one of the best fruit flavours to pair with watermelon as the zesty lime really transforms the flavour. Other top pairings include berries like strawberries, cherries, blueberries, raspberries and blackberries. Tropical fruits like banana, mango and pineapple also taste great, as well as other melon varieties like cantaloupe and honeydew melon.
Acidity brings out the best in your watermelon so adding a squeeze of lime transforms the flavour. Adding salt and pepper also raises the game. Did you know that watermelon loves spice? Give it a go by adding cayenne pepper or hot sauce!
Pink watermelon vodka is not overtly sweet, as usually no extra sugar is added.  It's smooth enough to sip on the rocks or mixes really with vodka-based watermelon cocktails. Divine!