10 of the Best Holiday Martinis for Your Friends & Family to Enjoy 
November 04, 2022 by Sonja Edridge
If you're home for the holidays this year, double down with a staycation party and our list of festive and tasty holiday martinis! It's the ultimate antidote after a crazy year. Start compiling your best Christmas playlist, and invite your friends and family to join in the fun. Get creative with the best holiday martinis and enjoy the holiday cheer. Cheers!
1. Eggnog Martini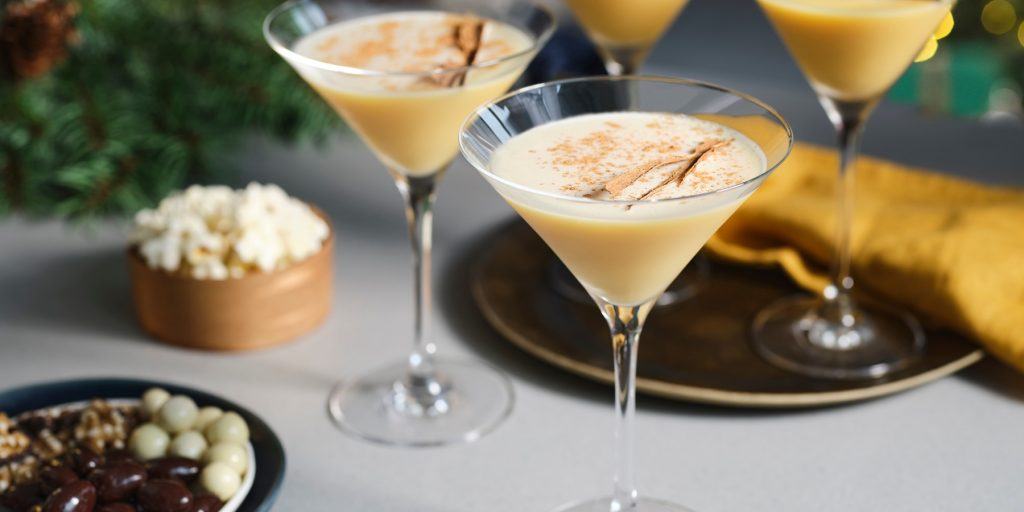 Nothing says holiday season more than eggnog! So, first on the list is one for the eggnog fans. Introducing the Eggnog Martini! We get it, eggnog is an acquired taste, but you can't go wrong with a festive holiday martini that tastes just like Christmas! This spiced sip is the most comforting mix of vanilla vodka (yum!), amaretto liqueur spicy cinnamon and nutmeg. Keep your festive entertaining effortless and serve it as a dessert or enjoy this rich, sweet sip around the Christmas tree (while sneakily looking for gifts that have your name on them).
Festive dessert in a glass: Play cat and mouse with our Tom and Jerry Cocktail
2. Cranberry Martini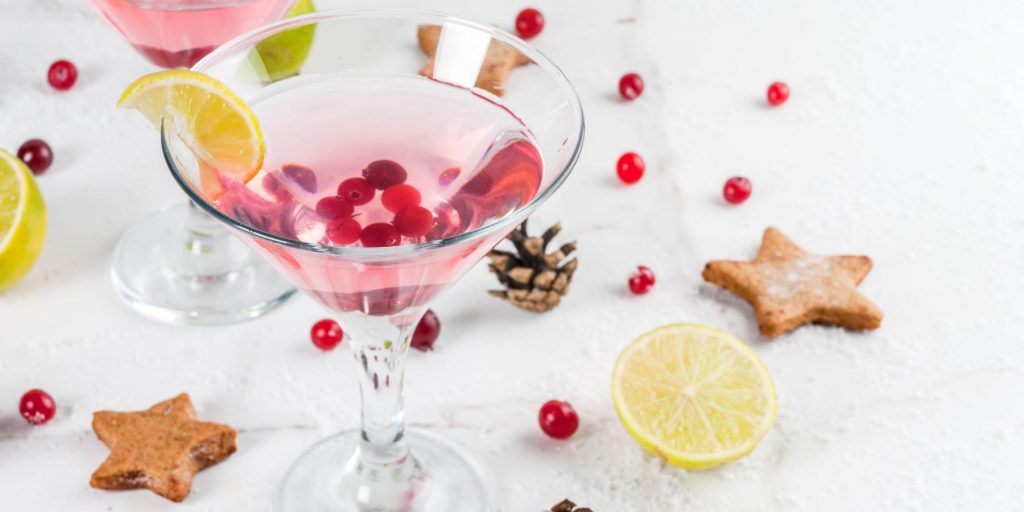 Christmas wouldn't be Christmas without a little cranberry and falling in love with our Cranberry Martini recipe is easy! We all love a knockout cocktail that's effortless to shake up, looks sophisticated (more so than a martini should) and will totally impress. Cranberry juice adds a zingy bite of sweetness to balance the fresh lemon juice and bittersweet Grand Marnier. For all the glitter and sparkle Christmas demands, brush the side of your chilled martini glass with a cut lemon and roll it in a saucer of sugar mixed with a little edible gold dust. Feel the fancy.
3. Peppermint Vodka Martini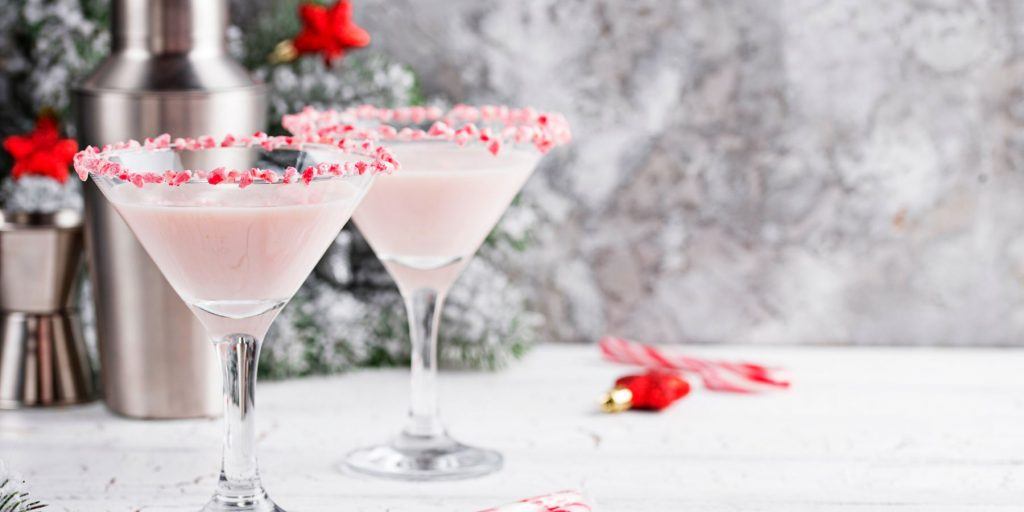 Our Peppermint Martini is a real crowd-pleaser and if you're looking for an easy dessert alternative , we've got you! And who wouldn't like a sweet and creamy cocktail that's minty and fresh? A delicious swirl of crème de menthe, SKYY Vodka, crème de cacao and heavy cream; a magical combo! Pour this festive delight into a chilled martini glass. And if you're looking for extra festive flair, paint the edge of the martini glass with a little grenadine and dip it in crushed candy cane. Christmas has arrived.
Give more thanks: The Best Thanksgiving Cocktails For a Festive Feast
4. Sugar Cookie Martini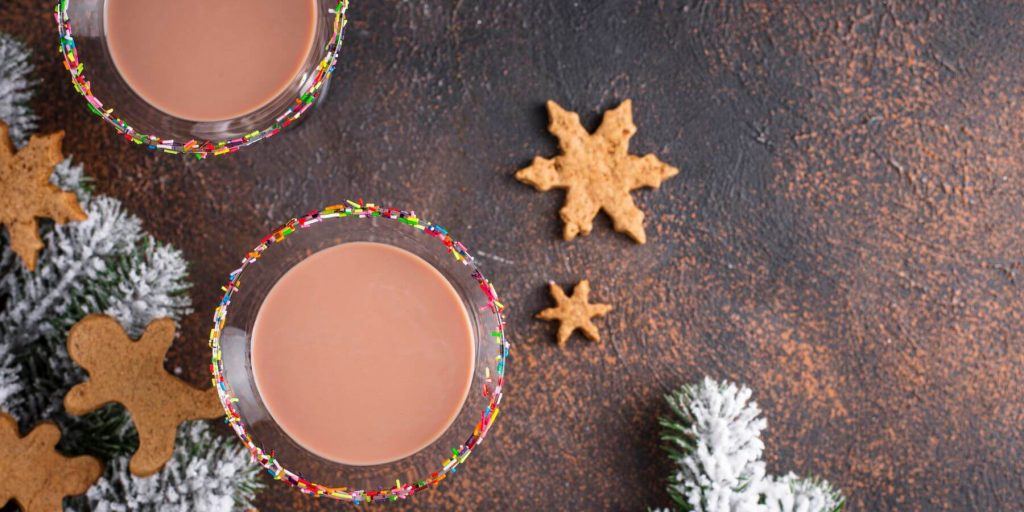 Grab your holiday martini glasses and get creative with our Sugar Cookie Martini! To make this irresistible showstopper, add 45 ml of vanilla vodka, 45 ml of Irish cream liqueur and 30 ml of amaretto to a shaker. Add ice and give it a decent shake before straining it into a martini glass. Now decorate your holiday martini like a Christmas tree! adorn your martini with red and green sprinkles. For an extra merry twist, dip your glass in a saucer of amaretto or Irish cream and adorn with red and green sprinkles. Serve with candy cane shaped cookies hanging off the edge of the glass.
5. Mistletoe Christmas Martini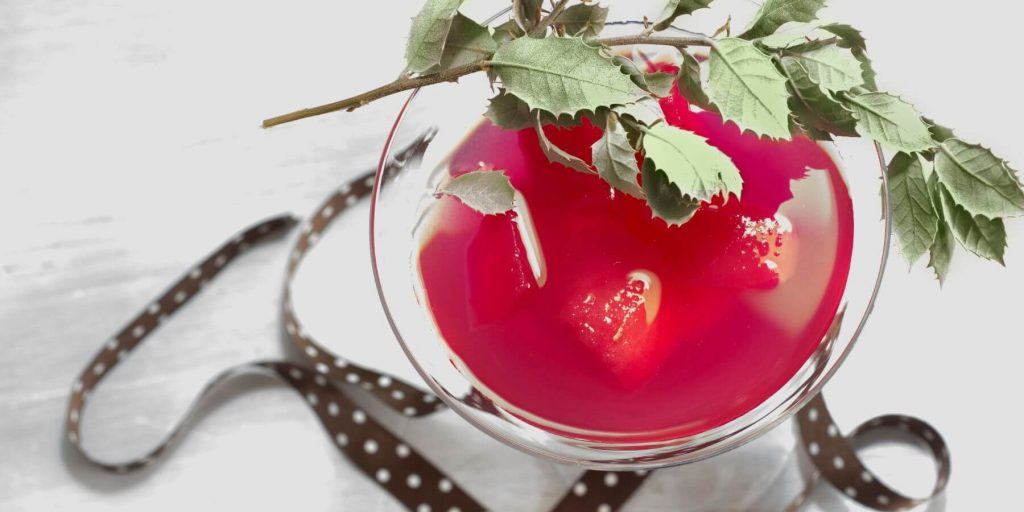 Put on your fave Christmas playlist. We're guessing you'll want to break into song as you mix up this holiday martini. A Mistletoe Christmas Martini is one of the simplest holiday martini recipes to master. To make one, you'll need 60 ml of vodka, 30 ml of cherry brandy (regular will do, just add a dash of cherry juice), 30 ml of freshly squeezed lime juice and a tablespoon of simple syrup. For all the festive feels, skewer three raspberries onto a cocktail stick to balance over your chilled martini glass, along with a sprig of rosemary.
Brandy love: 8 Apple Brandy Cocktail Recipes to Get You in the Mood for Fall
6. Candy Corn Martini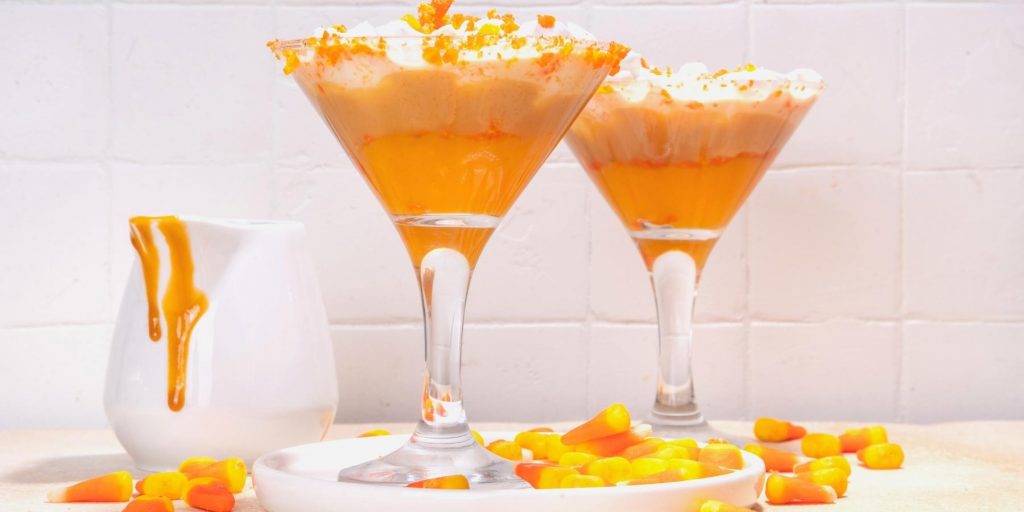 We're loving all the nostalgia this over-the-top sweet Candy Corn cocktail delivers. We're talking neon-coloured candy corn kernels soaked in vodka. The fun really starts when you mix up the Candy Corn-infused vodka with fresh sweet pineapple juice and heavy cream! Time to get your festive on, ignore the chores and make this cheeky holiday martini.
Candy love: Trendy Candy Cocktails for the Ultimate Sugar Rush
7. Pear Martini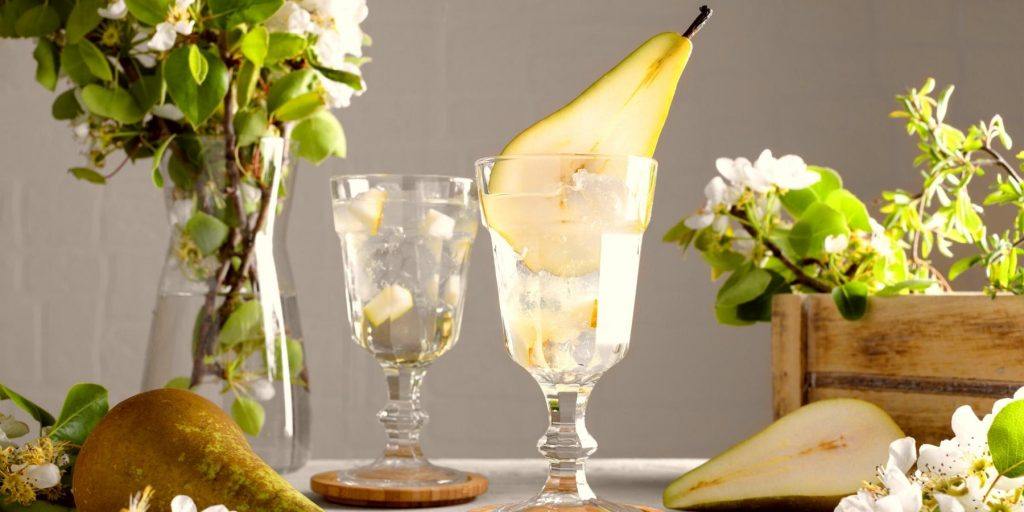 Strictly speaking, to follow the seasons, our Pear Martini is a fall cocktail. But who's keeping track if you love it as much as we do? It may just become a permanent fixture in your repertoire as the signature drink over the holidays. Let this irresistible sip be the delight of your holiday feasts. It's easy to make and only requires four ingredients, and the combination of elderflower and pear is utterly delicious. A quick ice shake blends it all into something magical; a sweet, crisp and refreshing drink. It's the perfect combination to restore calm after hours of prep in the kitchen.
More fall fodder: Snuggle Up with These 10 Irresistible Fall Cocktails
8. Pumpkin Martini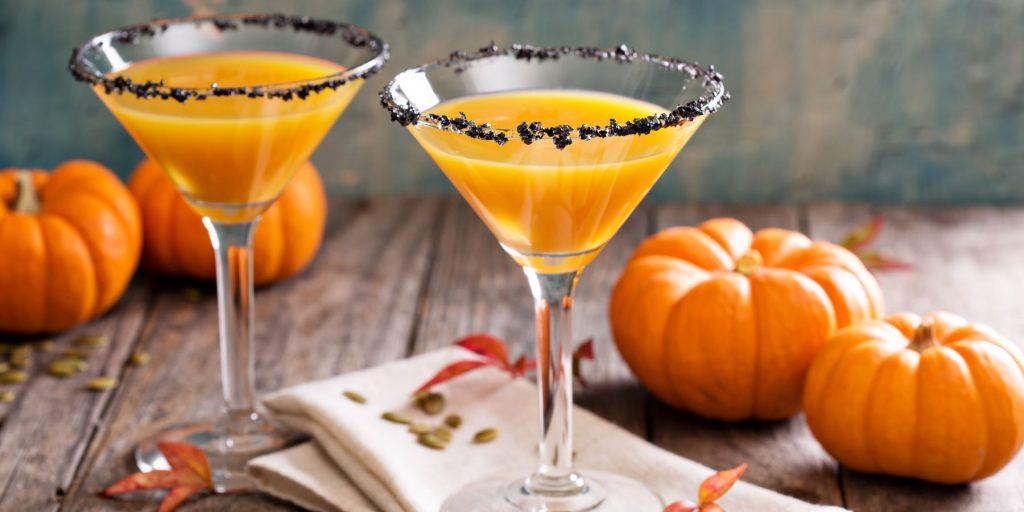 Our Pumpkin Martini is filled with pumpkin spice and all things nice, and it's up there with the best holiday martinis to enjoy this season! You'll like it so much, you'll find yourself ordering a little more pumpkin purée to get you through the festive season, all the way into summer! No judgement here! With an indulgent combination of vanilla vodka, Irish cream, pumpkin purée and spice, this might just become your favourite dessert cocktail this season.
Pumpkin love: An Indulgent Hot Pumpkin Pie Cocktail for Thanksgiving
9. Chocolate Martini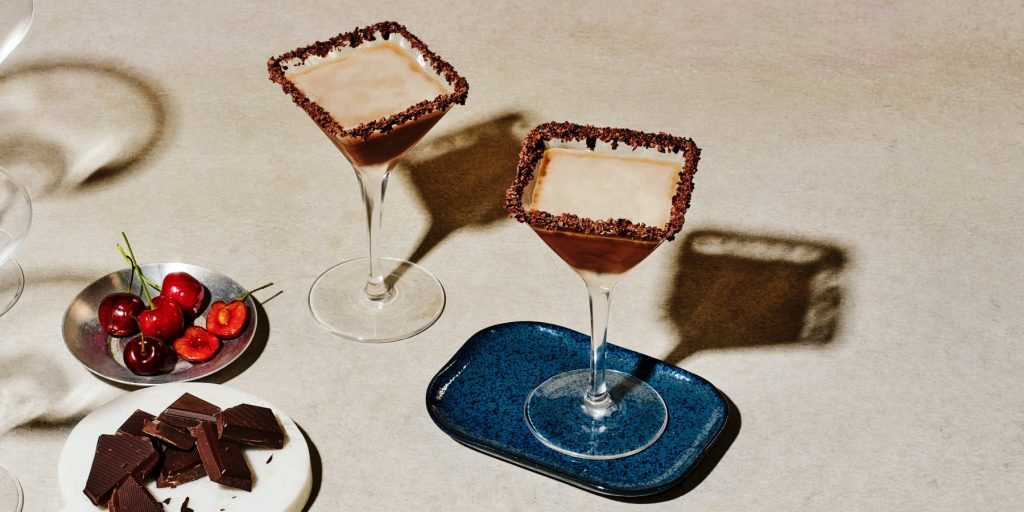 Calling all the chocoholics! The Chocolate Martini is the ultimate Christmas cocktail to sip on in icy cold weather ,It's aaaall comfort. Not only is it an indulgent treat, but it's a quick and easy holiday martini to prepare! It's simply a matter of shaking up chocolate liqueur, crème de cacao and SKYY Vodka with ice. Strain into a martini glass with a cocoa-powder dipped rim and sip your way to warmth.
For the love of martini: 14 Types of Martinis You Should Know
10. Holiday Espresso Martini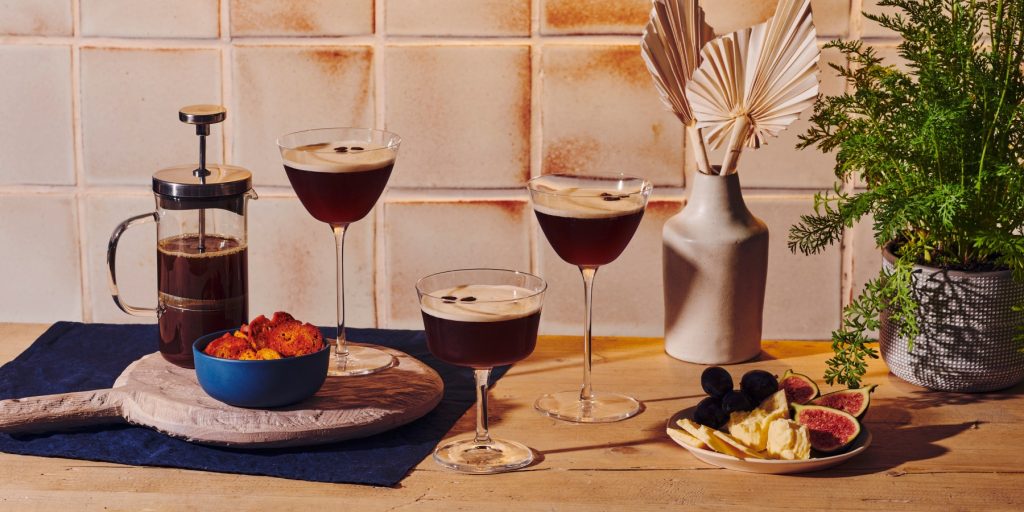 When the festive social calendar gets overwhelming, reach for a coffee cocktail for a kick of caffeine. Coffee lovers will fall in love with this Espresso Martini. It's a rich sweet cocktail made with fresh espresso and coffee liqueur that's best served as after dinner. Sip the delicious, foam-topped cocktail instead of dessert. Offer to make it with decaf for those who love their sleep as much as their sweet.
Caffeinated cocktails: 11 Effortlessly Elegant Summer Gin Cocktails
FREQUENTLY ASKED QUESTIONS
Typically, when we think about the holidays, the weather is chilly and what's top of mind is sipping a comforting eggnog around a crackling fire. Other festive faves have to be the Tom and Jerry cocktail, Brandy Alexander or Hot Buttered Rum, all with a healthy dose of comfort to warm us up while the snow settles outside.
A freezer Martini is a genius make ahead martini for effortless entertaining! No need for ice. It also circumvents the debate whether to shake or stir a martini! To make a bulk batch of freezer martini, choose a bottle that fits in your freezer. Then mix up two parts gin to one part vermouth and one part water. Pop it in the freezer to chill. Because it's booze it won't freeze into a solid mass. Take it out of the freezer for a minute or two before you're ready to pour. Genius!