How to Plan a Pride Party in 2023
June 14, 2023 by Anna-Bet Stemmet
Wondering how to plan a Pride party to celebrate the season of unconditional authenticity, love, and acceptance this year? Happy news, bestie! We've rounded up a few great Pride party ideas so you can spruce up your go-to party format to set the scene for a memorable occasion.
Before we dive face-first into the party planning, here's a quick look at the wonderfully inclusive movement we'll be celebrating, and how it all got started.
What is the Pride movement exactly?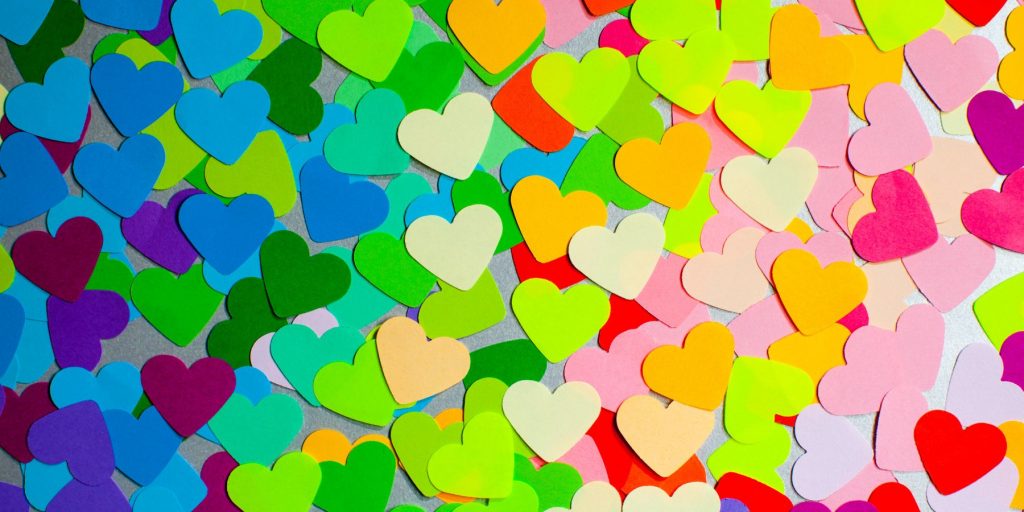 The Pride movement is a vibrant and empowering celebration of the LGBTQIA+ (lesbian, gay, bisexual, transgender, queer, intersex, and asexual) community's diversity, history, and ongoing struggle for equality and acceptance. It serves as a beacon of hope, fostering a sense of pride, joy, and unity among individuals of all sexual orientations and gender identities.
The Stonewall Riots of 1969 were one of the most notable and significant turning points of the movement, which has since gone on to promote safe spaces, advocate for LGBTQIA+ rights, and promote inclusivity and love globally. Pride events, parades, and festivals serve as powerful platforms for education, visibility, and celebration, where people come together to embrace their authentic selves, challenge societal norms, and champion equal rights for all.
The Pride movement not only celebrates progress made but also inspires continued efforts towards a world that embraces diversity, respects individual identities, and ensures the fundamental rights and dignity of every person, regardless of their sexual orientation or gender identity.
Why throw a Pride party?
Throwing a Pride party is a wonderful way to celebrate authenticity, community, and the sacrifices of those who have fought for LGBTQIA+ all around the world.
The colorful history of Pride & Rainbows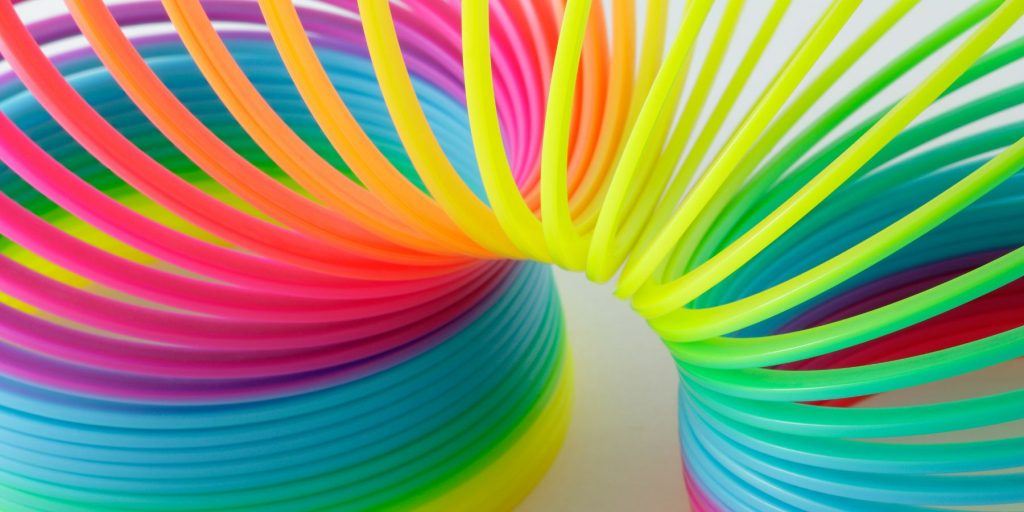 The rainbow became symbolic of the Pride movement due to its association with diversity and inclusivity. The flag was designed by Gilbert Baker in 1978, and each color represents a different aspect of the LGBTQIA+ community.
Red signifies life, orange is for healing, yellow represents sunlight, green symbolizes nature, blue stands for serenity, and purple represents spirit. The rainbow flag became a powerful and recognizable symbol, representing the unity and visibility of the LGBTQIA+ community.
The flag was also recently updated to more fully embrace all LGBTQIA+ rights. Called the Progress Pride flag, it now features new colors and refreshed design elements that represent people of color, as well as people who are transgender, intersex, or non-binary.
Pride party food ideas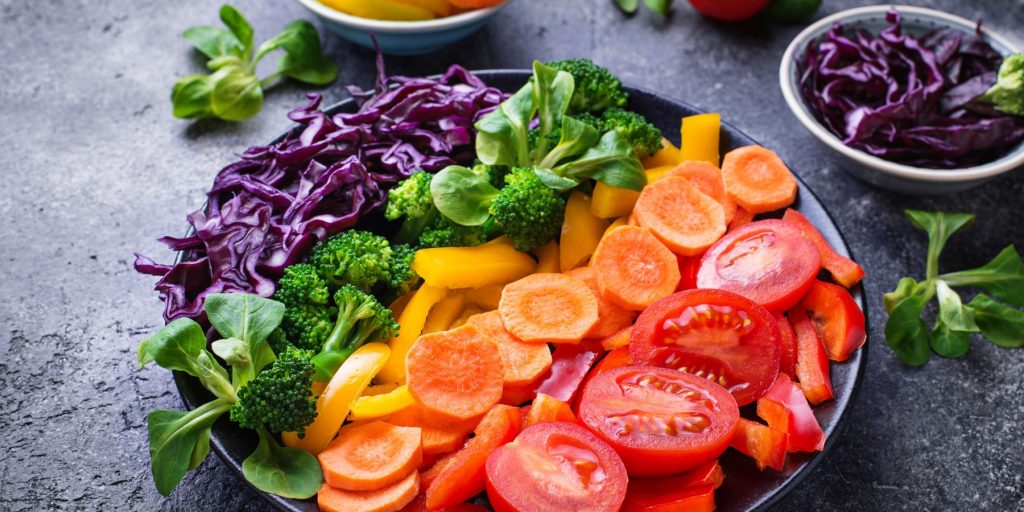 Leaning into the rainbow theme is a great way to find inspiration for Pride party food. We suggest a variety of bite-size appetizers that can be enjoyed in between bouts of dancing and other party games, and all the better if they come in all colors of the rainbow, of course!
Red party snacks
Caprese skewers:

Skewer cherry tomatoes, fresh mozzarella balls, and basil leaves.

Watermelon salsa:

Dice watermelon, red onion, and jalapeño, then dress with lime juice and cilantro.

Red velvet mini cupcakes:

Bake bite-sized red velvet cupcakes topped with cream cheese frosting.

Mini tomato bruschetta:

Top toasted baguette slices with diced tomatoes, garlic, basil, and balsamic glaze.

Red pepper hummus:

Serve vibrant red pepper hummus with pita chips or vegetable sticks.
Orange party snacks
Mango salsa:

Combine diced mango, red onion, jalapeño, cilantro, and lime juice.

Mini carrot dogs

: Wrap baby carrots in puff pastry, bake until golden, and serve with mustard or dipping sauce.

Orange glazed meatballs:

Make meatballs glazed with a tangy orange sauce for a savory treat.

Orange bell pepper nachos:

Slice orange bell peppers into rounds and top with melted cheese, salsa, and guacamole.

Sweet potato fries:

Bake crispy orange sweet potato fries and serve with a spicy dipping sauce.
Yellow party snacks
Pineapple skewers:

Skewer pineapple chunks and alternate with yellow bell pepper pieces for a tropical twist.

Lemon bars:

Make classic lemon bars with a buttery crust and tangy lemon filling.

Corn fritters:

Prepare crispy corn fritters seasoned with herbs and spices.

Yellow tomato gazpacho:

Blend yellow tomatoes, cucumbers, bell peppers, and herbs for a refreshing chilled soup.

Honey mustard pretzel bites:

Bake soft pretzel bites and serve with a tangy honey mustard dipping sauce.
Green party snacks
Guacamole:

Mash ripe avocados with lime juice, cilantro, tomatoes, and spices for a classic dip.

Cucumber roll-ups:

Roll sliced cucumbers with cream cheese and smoked salmon, or your choice of fillings.

Green goddess dip:

Blend avocado, Greek yogurt, herbs, and garlic for a creamy, herbaceous dip.

Edamame hummus:

Make hummus using edamame, lemon juice, garlic, and tahini.

Spinach and feta phyllo triangles:

Fill phyllo pastry triangles with a mixture of spinach, feta cheese, and herbs, then bake until golden.
Blue party snacks
Blueberry bruschetta:

Top toasted baguette slices with blueberries, goat cheese, and a drizzle of honey.

Blue corn tortilla chips:

Serve blue corn tortilla chips with your favorite salsa or guacamole.

Blue cheese-stuffed mushrooms:

Stuff button mushrooms with blue cheese, and bake until bubbly and golden.

Blue Jello cups:

Prepare blue-colored gelatine cups and top them with whipped cream or fresh berries.
Indigo party snacks
Blackberry crostini:

Spread goat cheese on crostini and top with blackberries and a drizzle of balsamic glaze.

Fig & prosciutto bites:

Wrap fresh figs with prosciutto and serve as a sweet and salty appetizer.

Purple cabbage slaw:

Toss shredded purple cabbage with a tangy dressing and serve as a vibrant side dish.

Blackberry yogurt parfait:

Layer blackberries, Greek yogurt, and granola in parfait glasses for a colorful treat.
Violet party snacks
Beet hummus:

Blend cooked beets, chickpeas, tahini, and lemon juice for vibrant purple hummus.

Purple potato skewers:

Roast purple potatoes and thread them onto skewers for a fun and colorful appetizer.

Mixed berry skewers:

Skewer a variety of purple and red berries, such as grapes, blackberries, and raspberries.

Lavender shortbread cookies:

Bake delicate shortbread cookies infused with lavender for a floral twist.

Purple cauliflower bites:

Roast purple cauliflower florets and serve with a creamy dip or aioli.
Remember to arrange these colorful snacks in a rainbow-inspired display for a visually stunning Pride party!
Read next: How to Host a Color Cocktail Party
Pride party drinks ideas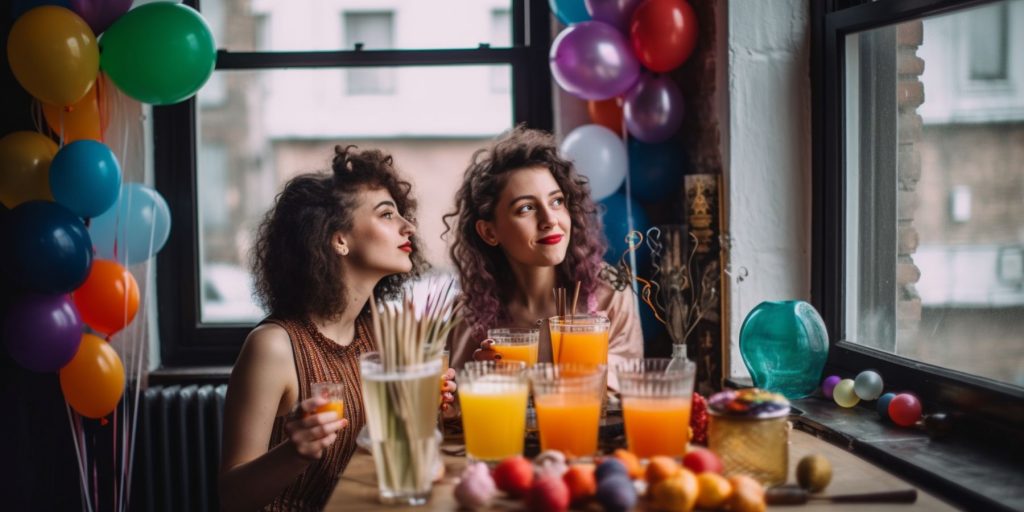 Ah, drinks for a Pride party! Now there is a bit of a conundrum. The Pride community is a diverse bunch, and it all comes down to who you're inviting and what they like.
The good news is we've got a whole bunch of inspirational articles for you to explore! Here you go:
You might also like: How to Host a BYOB Party & How to Attend One
Pride party game ideas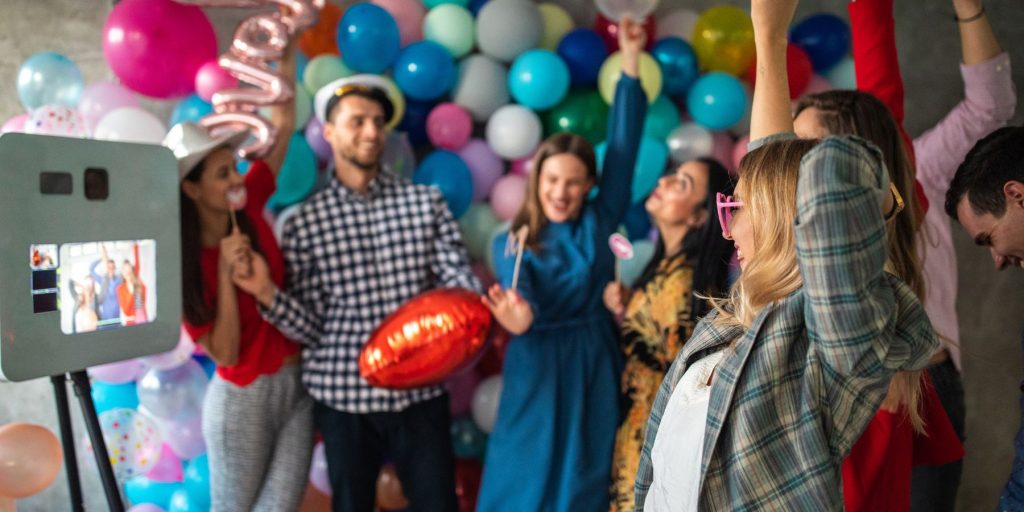 Once your food, drinks, and décor are good to go, it's time to think about Pride party game ideas, if you're going this route. Here are a few options to get your creative juices flowing:
DIY Pride crafts. Set up a craft station where guests can create their own Pride-themed accessories, such as rainbow friendship bracelets, colorful face paint, or personalized Pride t-shirts. It's a fantastic way to engage everyone in the celebration and let their creativity shine.
Dance party. Create a playlist of LGBTQI+ anthems and hits that celebrate love, acceptance, and diversity. Clear some space for a dance floor and let the music inspire joyous moments of uninhibited dancing and celebration. See our playlist suggestions below.
Drag queen performances. Hire local drag performers or encourage your guests to showcase their own drag personas. Drag performances are not only entertaining but also celebrate the artistry, creativity, and self-expression within the LGBTQIA+ community.
Drag queen makeup tutorials. Organize a makeup tutorial session led by a professional drag artist, where they can share tips and tricks for creating fabulous looks. It's an interactive and educational activity that allows guests to explore their own unique styles.
LGBTQIA+ movie marathon. Set up a cozy corner with pillows and blankets for a movie marathon featuring LGBTQIA+ films and documentaries. Choose a mix of classics and contemporary films that explore diverse stories and experiences within the community, such as Milk, Moonlight, Call Me by Your Name, and more.
Photo booth. Set up a photo booth area with Pride-themed props and backdrops. Encourage guests to strike a pose, capture memories, and create unforgettable snapshots of the celebration.
Pride party playlist ideas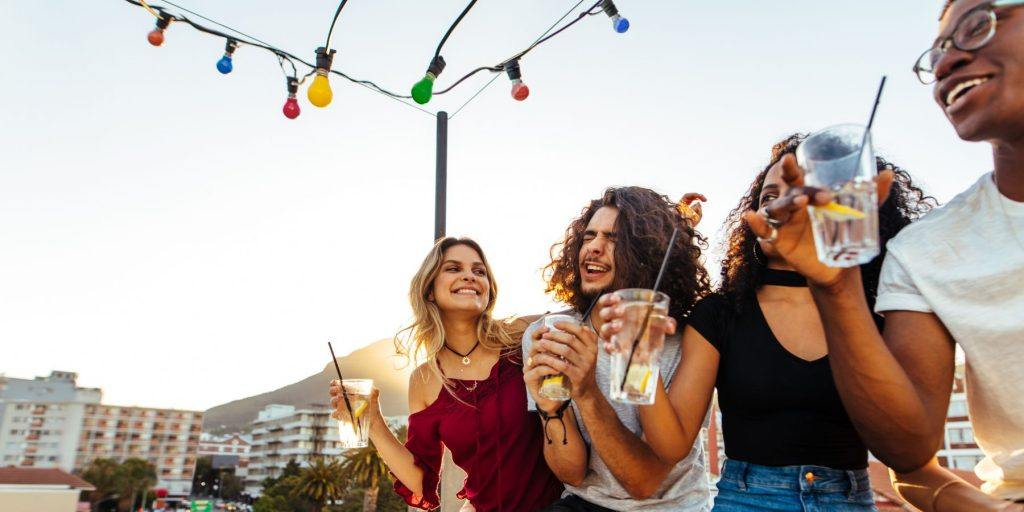 If there is one thing every Pride party should have, it is a rip-roaring playlist of amazing tunes that will keep everyone on the dancefloor all night long. Here are a few of our top picks:
Pride classics
I Will Survive

by Gloria Gaynor

YMCA

by Village People

It's Raining Men

by The Weather Girls

Dancing Queen

by ABBA

I Want to Break Free

by Queen
LGBTQI+ icons
Vogue

by Madonna

Freedom! '90

by George Michael

Believe

by Cher

I'm Coming Out

by Diana Ross

True Colors

by Cyndi Lauper
Modern LGBTQ+ artists
Girls/Girls/Boys

by Panic! At The Disco

Unholy

by

Sam Smith

and Kim Petras

Sissy That Walk

by

RuPaul

Make Me Feel

by Janelle Monáe

Bloom

by Troye Sivan

Honey

by Kehlani

Pynk

by Janelle Monáe ft. Grimes
Celebration of love tunes
Same Love

by Macklemore & Ryan Lewis ft. Mary Lambert

All You Need Is Love

by The Beatles

I Wanna Dance with Somebody

by Whitney Houston

We Found Love

by Rihanna ft. Calvin Harris

Love on Top

by Beyoncé
Inspirational ballads
This Is Me

from The Greatest Showman soundtrack

Rise Up

by Andra Day

Beautiful

by Christina Aguilera

A Million Dreams

from The Greatest Showman soundtrack

Imagine

by John Lennon
Empowering anthems
Born This Way

by Lady Gaga

Express Yourself

by Madonna

Brave

by Sara Bareilles

Confident

by Demi Lovato
FREQUENTLY ASKED QUESTIONS
To celebrate Pride, you can engage in various activities that honor and support the LGBTQIA+ community. One idea is to organize a pride-themed cocktail party. Decorate the venue with rainbow colors and serve signature pride cocktails. Consider inviting LGBTQIA+ speakers or performers to share their experiences. Another idea is to participate in pride parades, marches, or community events. Show your support by wearing pride-themed clothing or accessories. Additionally, you can educate yourself by reading LGBTQIA+ literature, watching queer films, or attending educational workshops. Donating to LGBTQIA+ organizations and volunteering for queer-friendly initiatives are other impactful ways to celebrate Pride.
Make Pride 2023 memorable by hosting a vibrant pride-themed cocktail party. Create a festive atmosphere with rainbow decorations and serve pride-inspired drinks. Encourage guests to dress up in their most colorful and expressive outfits and contribute their favorite rainbow-themed drinks and snacks. Consider collaborating with local LGBTQIA+ organizations and donating a portion of the proceeds to support their initiatives. Celebrating Pride with a joyful and inclusive event is a fantastic way to honor the LGBTQIA+ community in 2023.