The 12 Best Brunch Cocktails for Easy Entertaining
February 04, 2023 by Anna-Bet Stemmet
Brunch is such an effortless social occasion, and we believe the best brunch cocktails should follow suit. Cheerful, sociable, and enticing, a brunch can be a completely low-key situation, or full-on extra with all the bells and whistles. It's adaptable, fun, and a great way to spend a morning.
This is why we love to pair easy social events like these with easy brunch cocktails that look super fancy, but are secretly very simple to prepare. Here's our list of classic brunch cocktails to make when you want to impress your guests without breaking a sweat.
1. Mimosa cocktail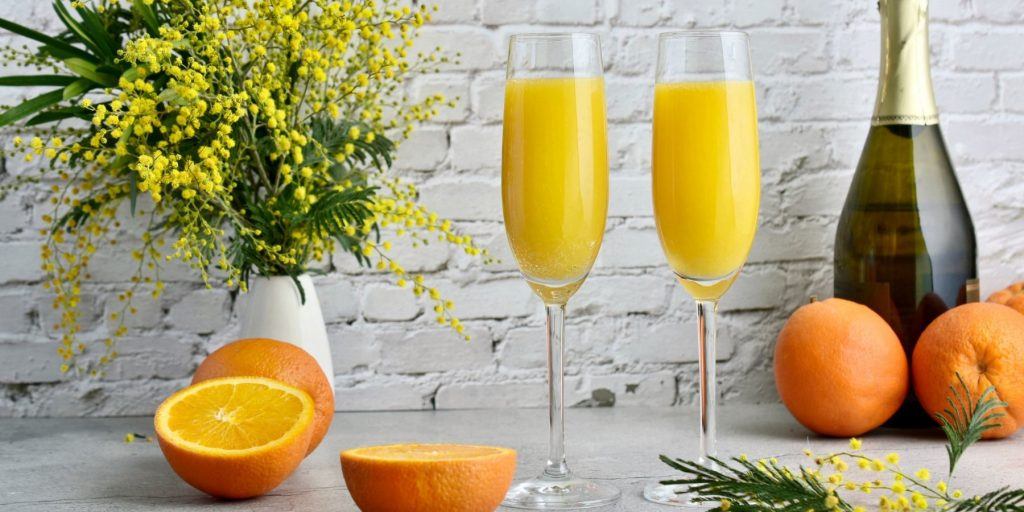 No list of morning cocktails would be complete without a Mimosa cocktail recipe. This zesty drink pairs well with everything from fully loaded omelets to tapas-style breakfast treats. The best mimosa recipe calls for a 50/50 ratio of sparkling wine to orange juice. However, depending on your personal taste, this ratio can be switched up for a lower-alcohol drink, or one with a bit more kick.
2. Bellini cocktail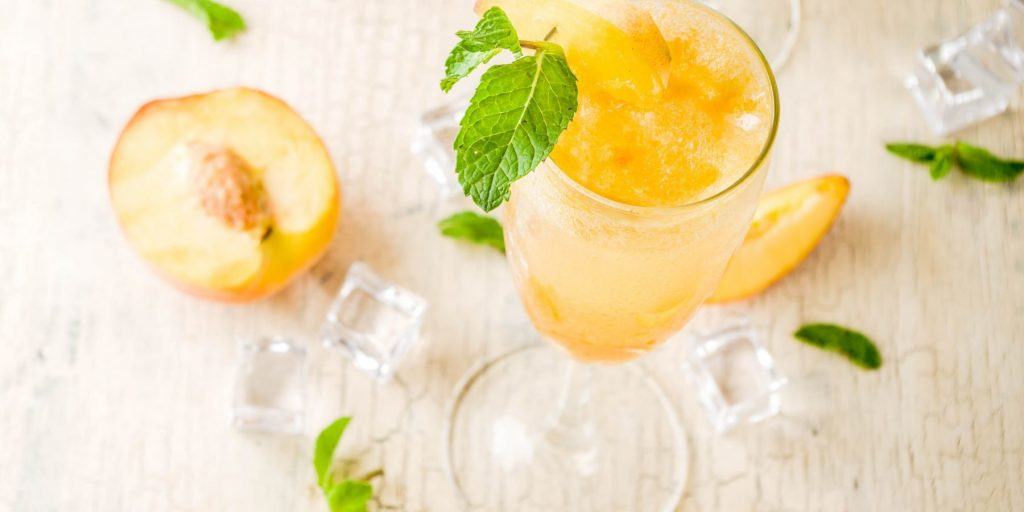 When you read up on how to plan a bachelorette party, you are likely to come across the Bellini, which is often the morning cocktail recipe of choice at parties of this kind. It's pretty as a peach (no pun intended!) and adds a touch of class to just about any event.
Best of all, the Bellini cocktail recipe features only three ingredients—peach puree, prosecco, and bitters. This refreshing drink is sweet and fruity with a beautifully delicate flavor that makes it the perfect welcome drink or summer cocktail.
3. Tequila Sunrise cocktail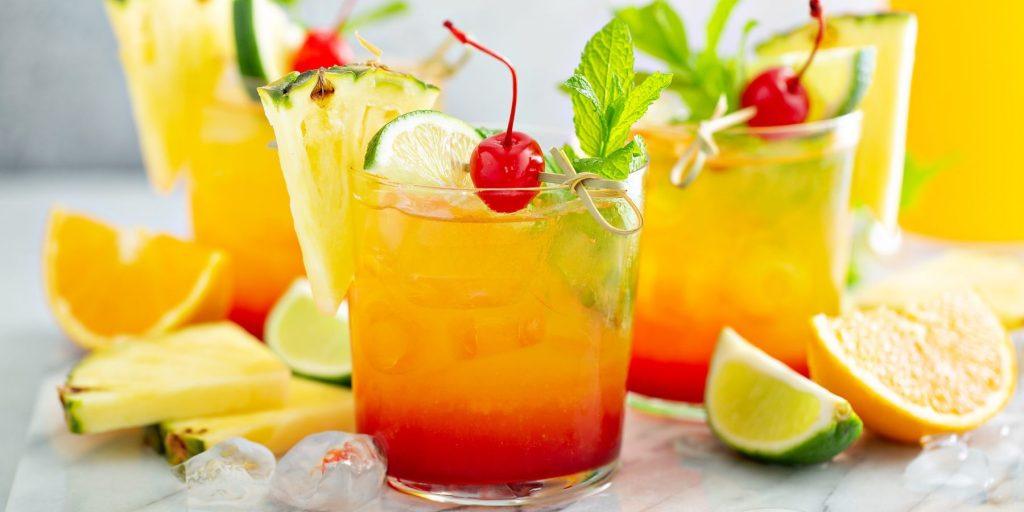 Arguably one of the best fruity cocktails ever, the Tequila Sunrise recipe calls for orange juice, grenadine, and tequila that layers prettily in a glass to look like a sunrise. It has a bright, citrusy taste—the sweetness of grenadine combines with the tang of the orange juice for a serve that's fresh and fruity, and pairs well with brunch-time staples like bacon and eggs.
4. Kir Royale cocktail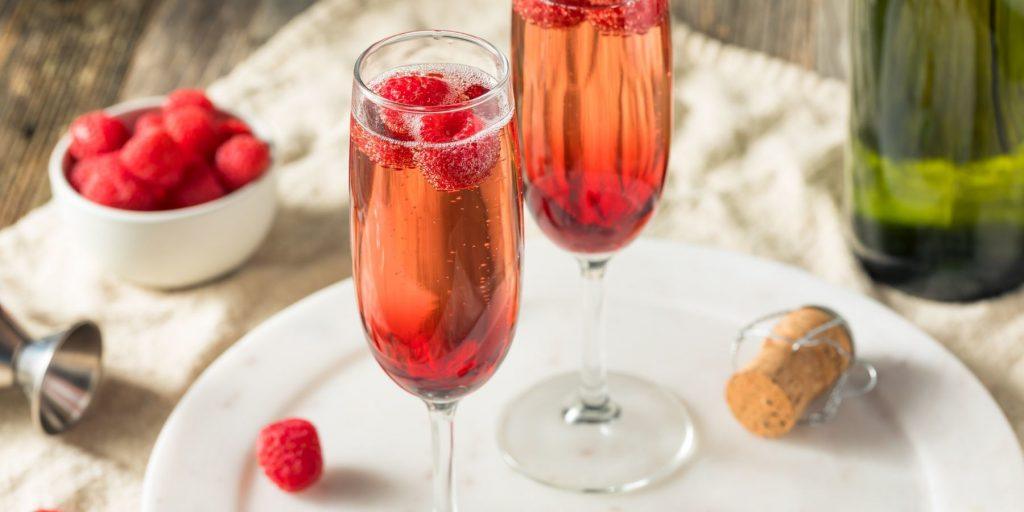 The Kir Royale is a French-inspired spinoff of the classic Kir, which features white wine as a base. Instead, this pretty drink consists of crème de cassis topped with champagne, which turns it into a delightful shade of pinkish-red. Often garnished with fruit like raspberries or blackberries, it's a top choice for fancier brunches that call for something quite refined.
5. Bloody Mary cocktail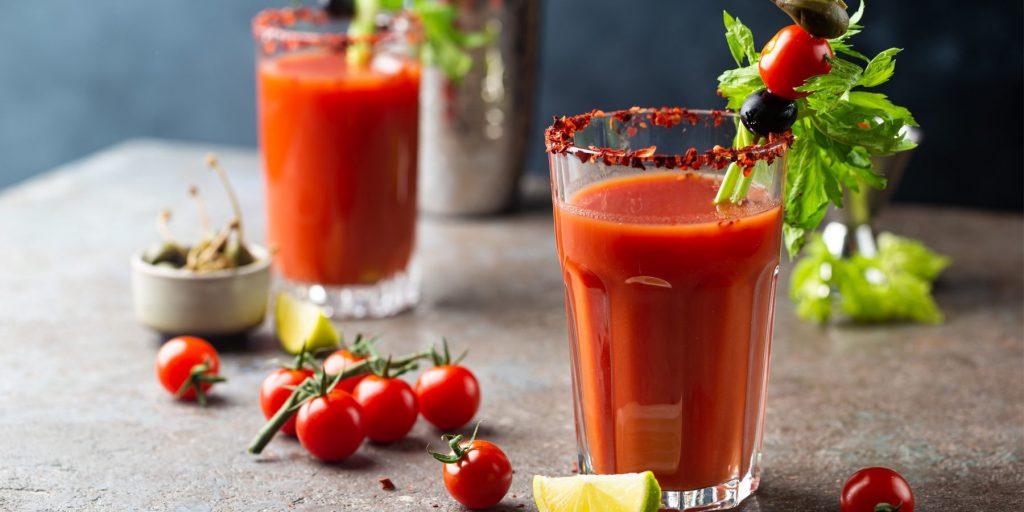 If you are on the lookout for good breakfast alcoholic drinks to enjoy after a night out on the town, the Bloody Mary recipe is a classic choice. This well-known hangover cure features vodka, tomato juice, horseradish, Tabasco sauce, Worcestershire sauce, and pickle juice as ingredients.
There are also loads of Bloody Mary garnish variations, so have some fun! From classic celery and lemon to stuffed olives, crispy bacon, shrimp, and even buffalo wings. If you stick to hors d'oeuvre-style garnishes, the sky is the limit.
6. Bloody Maria cocktail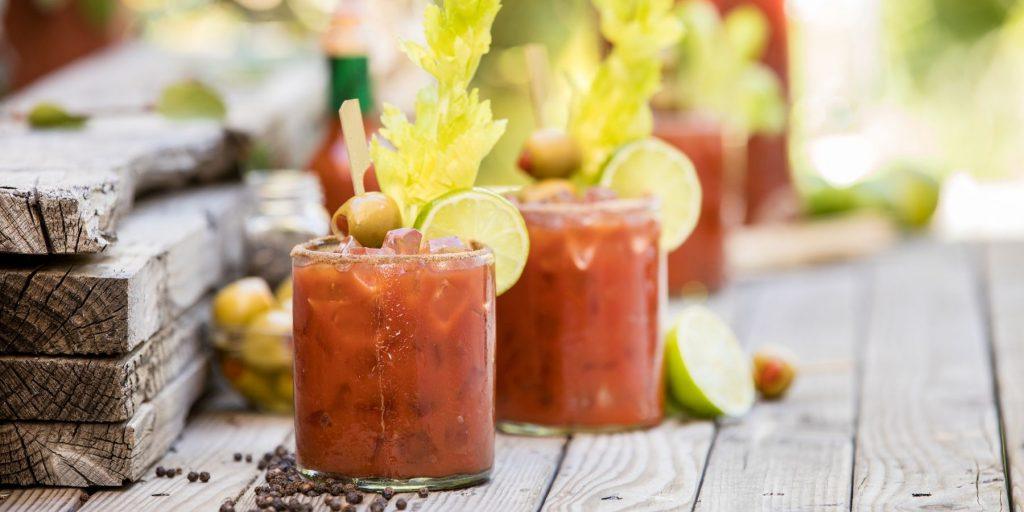 The Bloody Maria recipe is a cool spin-off of the Bloody Mary, which features tequila as a base rather than vodka. There are also a bunch of ways to customize it to your liking, with the addition of interesting ingredients like clam juice and Dijon mustard. This means you can tailor the drink profile to suit your brunch menu.
7. Michelada cocktail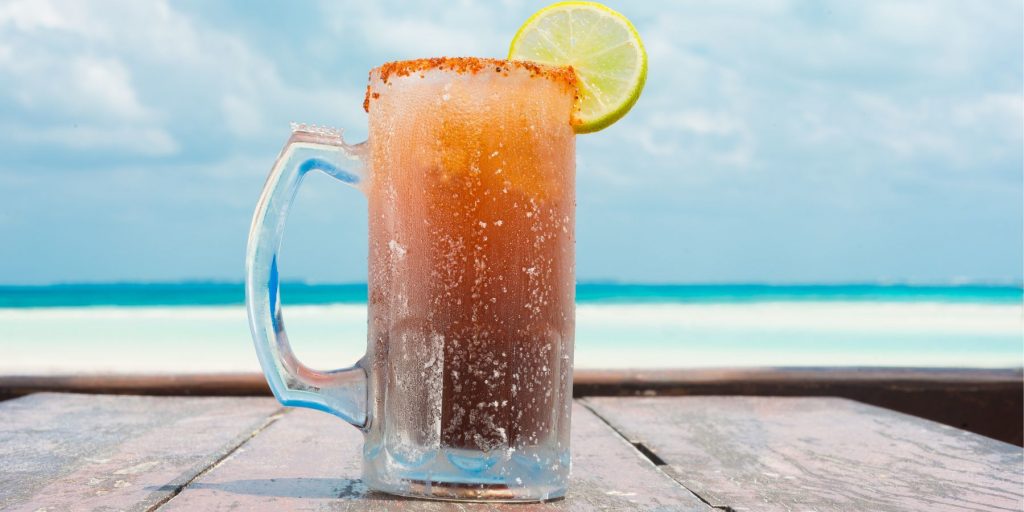 The Michelada is also similar in style to the Bloody Mary and Bloody Maria, with beer, lime juice, assorted sauces, spices, tomato juice, and chili peppers as its ingredients. However, while it plays in the same savory space as the previous two cocktails, it also has a delightful bubbly profile thanks to the fizziness of the beer.
8. Sangria cocktail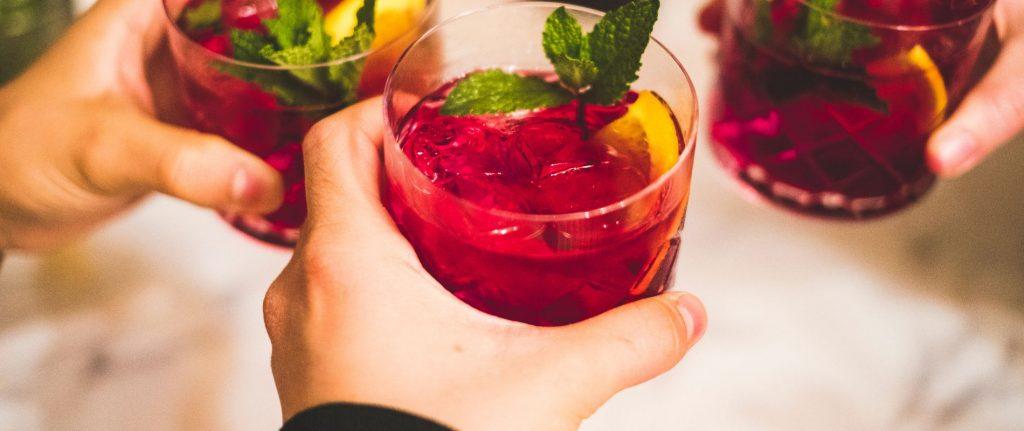 Often cited as one of the best morning cocktails for warm-weather entertaining, Sangria is a crowd-pleaser of note. Traditionally a Spanish drink, the age-old Sangria recipe features red wine, water, herbs, spices, and fruit. However, these days Sangrias have a wide variety of ingredients, which can be adapted to suit your style. Soda and brandy are common modern additions. Fruit choices range from apple and orange slices to daintier options like raspberries.
9. Irish Coffee cocktail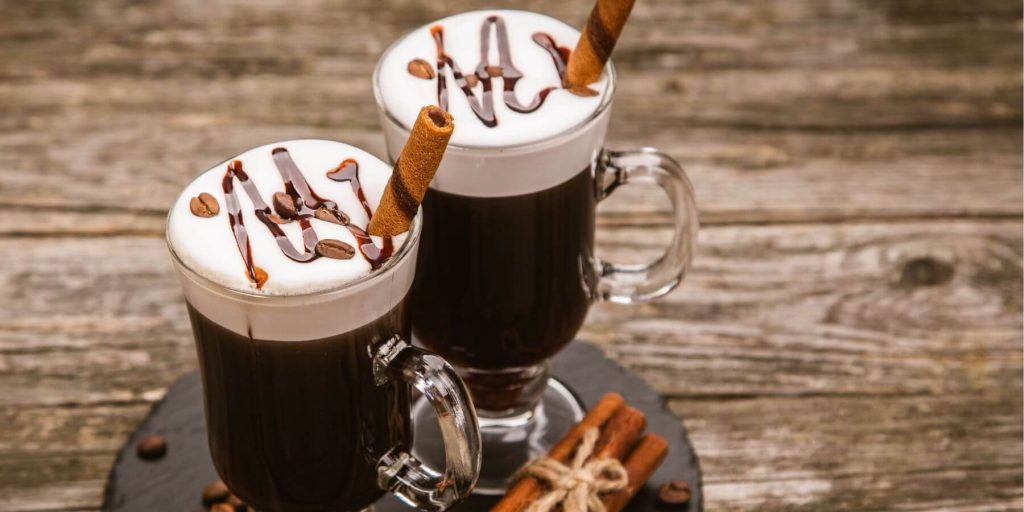 As far as brunch cocktail recipes go, the Irish Coffee recipe is perhaps a bit of an outlier choice. However, we love it because it has that distinctive coffee vibe, with an extra hint of swagger. Hot coffee, whiskey, brown sugar, and heavy cream combine for a hearty drink that's ideal for cooler days when it's nice to wrap your hands around something warm.
10. Long Island Iced Coffee cocktail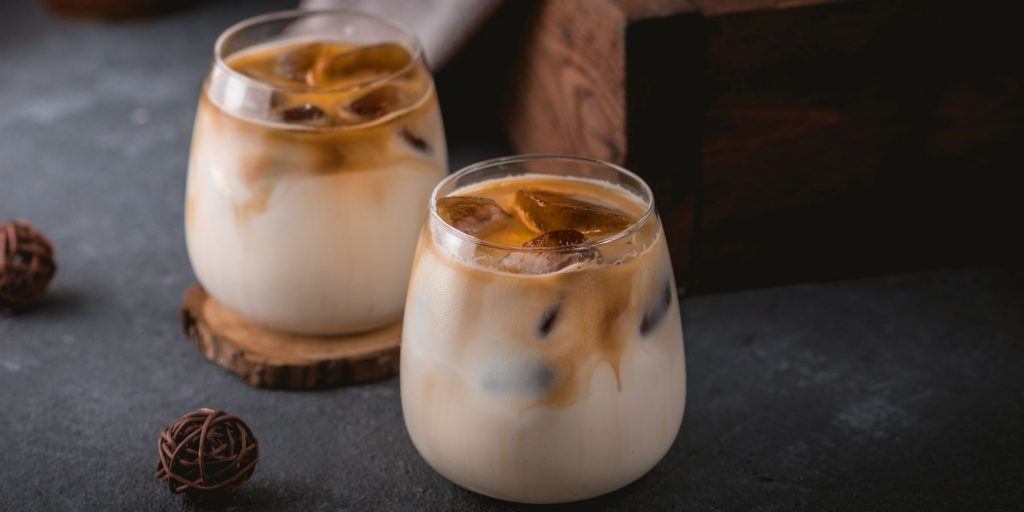 The Long Island Iced Coffee cocktail also leans into the coffee theme. Combining Irish cream liqueur, coffee liqueur, vodka, rum, tequila, and cold brew coffee, it's rich and creamy to the max. As such, it's normally best suited to wintertime brunches when a more robust drink goes down a treat.
11. Espresso Martini cocktail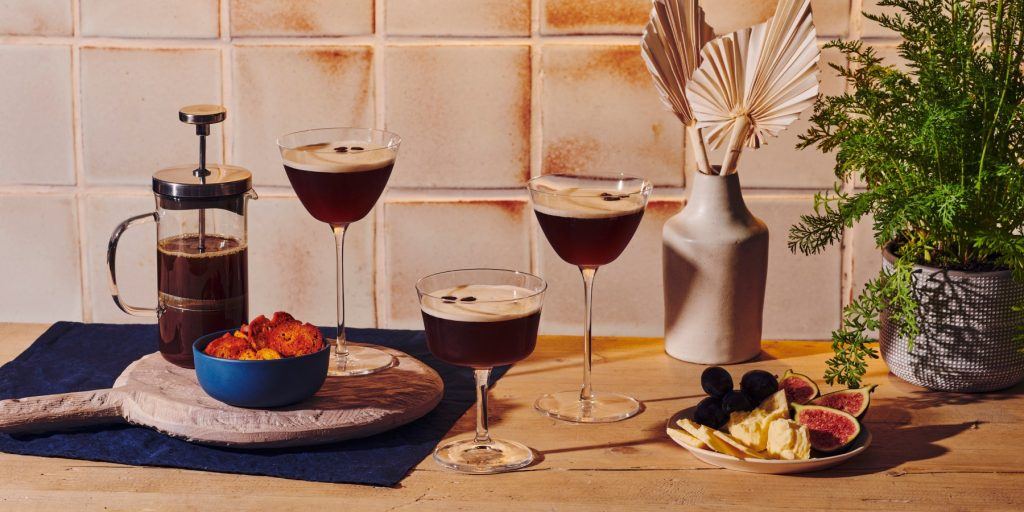 This traditional after-dinner cocktail is effortless to make and makes a great addition to a brunch line-up as well. The simple Espresso Martini recipe uses only four ingredients and is typically garnished with three coffee beans atop the foam, laid out in a triangle shape to represent health, wealth, and happiness. Simply shake together chilled espresso, coffee liqueur, and vodka for that instant wow factor.
12. Virgin Strawberry Daiquiri cocktail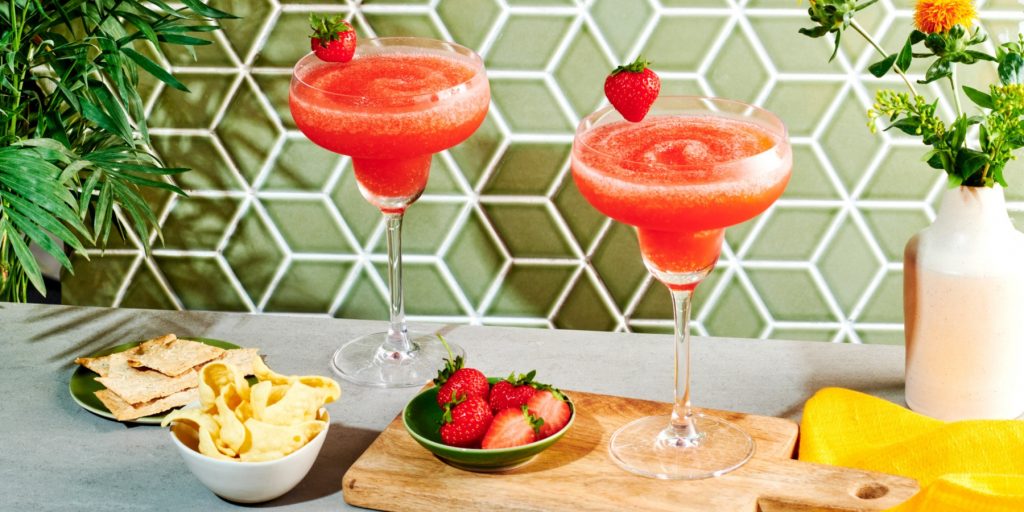 This Strawberry Daiquiri is a simple but beautiful drink that only calls for four ingredients: rum, strawberry puree, simple syrup, and lime. To make a virgin version of the drink, you simply use apple juice instead of rum. Serve it shaken on the rocks, or frozen on balmy days. Either way, this non-alcoholic drink is sure to make a splash.
FREQUENTLY ASKED QUESTIONS
Summer champagne cocktails are a classic choice. As such, the Mimosa is likely to feature at just about any brunch.  
Brunch is such an easy social occasion that everyone is free to drink what their heart desires. Some folks might stick to breakfast drinks like coffee, tea, and juice, while others may enjoy classic brunch cocktails like a Bloody Mary or Tequila Sunrise.
If you love a Mimosa, but feel keen for a change of scenery, we recommend a Bellini or Kir Royale.  
The Mimosa, Bellini, and Kir Royale are very easy to assemble and serve. However, all of the morning cocktails listed here will go down a treat at a convivial brunch.