20 Fourth of July Cocktails to Celebrate the Red, White & Blue
June 23, 2023 by The Mixer Team
As the summer heat rises and the air fills with excitement, it can only mean one thing: Independence Day, and Fourth of July cocktails, is right around the corner! The Fourth of July is a time for us to come together and celebrate the birth of our great nation. And what better way to toast to freedom and patriotism than with a line-up of dazzling cocktails that pay homage to the red, white, and blue?
Whether you're hosting a backyard barbecue, heading to a beach party, or simply enjoying a quiet evening with loved ones, incorporating festive and refreshing drinks into your celebrations is a must. From vibrant crimson hues to pure white and brilliant blue, these Fourth of July cocktails embody the spirit of the holiday and offer a delightful and visually stunning experience for your taste buds.
We explore classic concoctions with a patriotic twist, discover creative combinations that pay tribute to iconic American flavors, and even uncover a few surprises that are sure to impress your guests. So, gather your ingredients, raise your glasses,, and let's dive into the world of Fourth of July cocktails!
1. Strawberry Margarita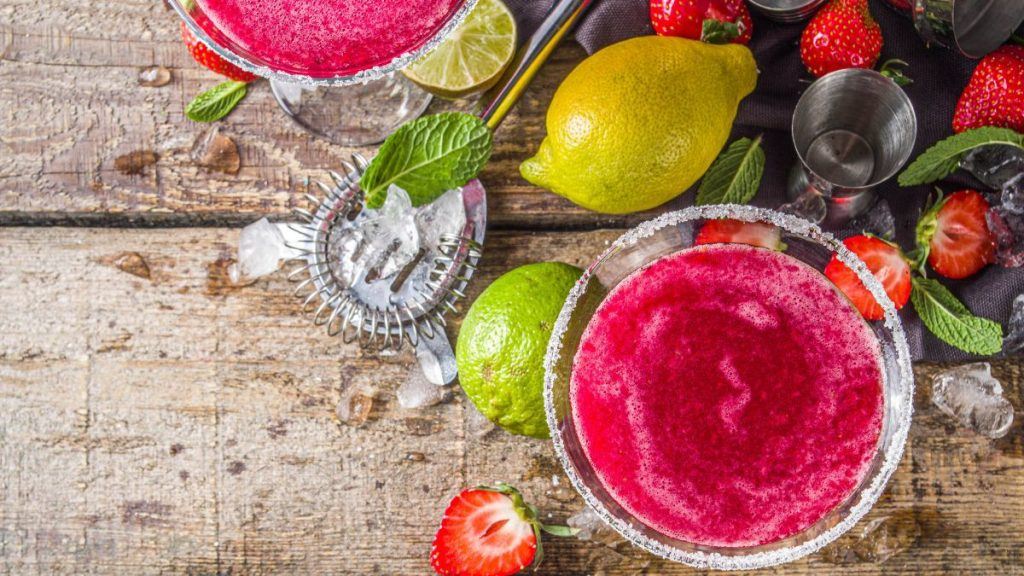 The Strawberry Margarita is a delightful twist on the classic margarita that captures the essence of summer in a glass. This vibrant and refreshing cocktail combines fresh strawberries with the zing of lime and the smoothness of tequila, creating a perfect balance of sweet and tart.
To create this enticing cocktail, fresh strawberries are muddled to release their natural juices and aromas. The addition of lime juice adds a burst of citrusy brightness, while the tequila brings a subtle warmth and depth to the mix. A touch of orange liqueur is added to achieve the perfect balance, imparting a hint of sweetness and complexity.
Read next: 14 of the Freshest Strawberry Cocktails to Make All Year Round
2. Aperol Spritz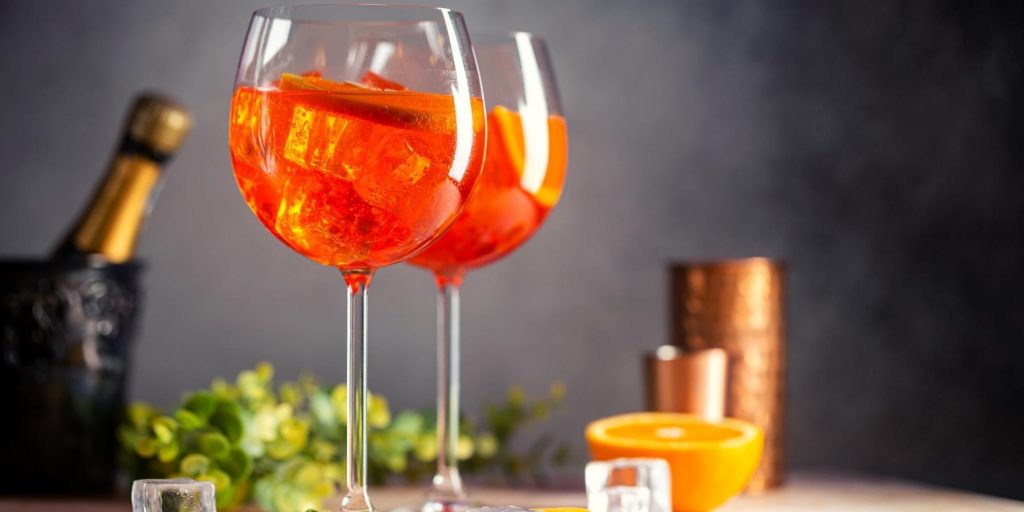 Originating from Italy, the Aperol Spritz is a delightful blend of Aperol, a bittersweet orange liqueur, Prosecco, and a splash of club soda. It's a light and bubbly concoction that exudes a sense of effortless elegance, making it an ideal choice for those warm summer days or festive Fourth of July celebrations.
The Aperol Spritz has taken the world by storm, becoming a beloved and trendy cocktail that's perfect for a summer party. Served over ice and garnished with a slice of orange or a refreshing sprig of mint, this cocktail is as aesthetically pleasing as it is delicious.
With its vibrant orange hue, this refreshing drink has captured the hearts (and taste buds) of cocktail enthusiasts everywhere, including the lively TikTok community. It's the perfect accessory for your Fourth of July festivities, adding a vibrant touch of color to your celebration.
Read next: How to Plan a Color Cocktail Party
3. Long Island Iced Tea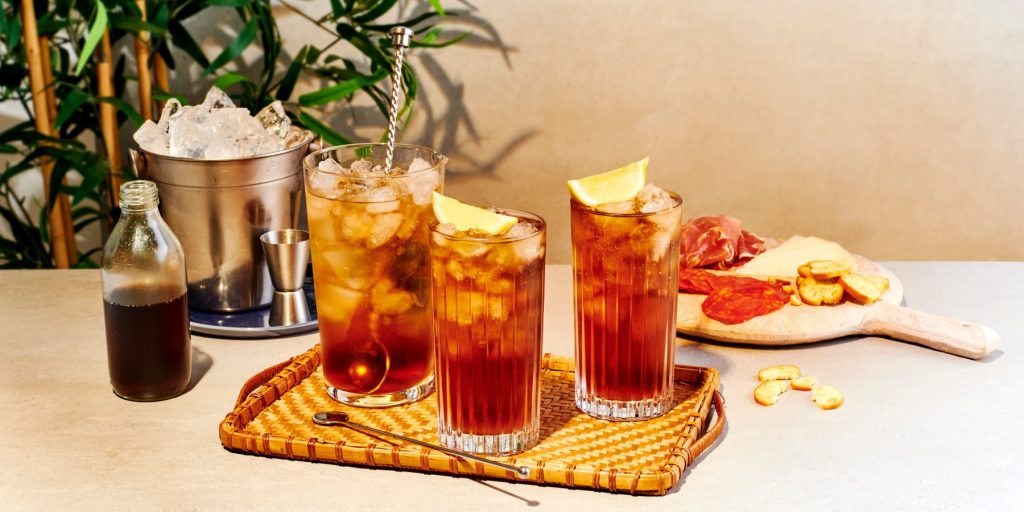 The Long Island Iced Tea is a legendary cocktail known for its potent combination of spirits and deceptive resemblance to a refreshing glass of iced tea. This iconic drink has gained a reputation as a party favorite, delivering a punch of flavors that will make any Fourth of July celebration unforgettable.
Despite its name, the Long Island Iced Tea contains no tea at all. Instead, it blends a medley of spirits, including vodka, rum, tequila, gin, and triple sec, resulting in a robust and complex profile. To balance the powerful mix of liquors, a splash of cola and a squeeze of fresh lemon juice are added, creating a harmonious marriage of sweet, citrusy, and fizzy elements. This cocktail is without a doubt, the ultimate party starter.
4. Aviation Cocktail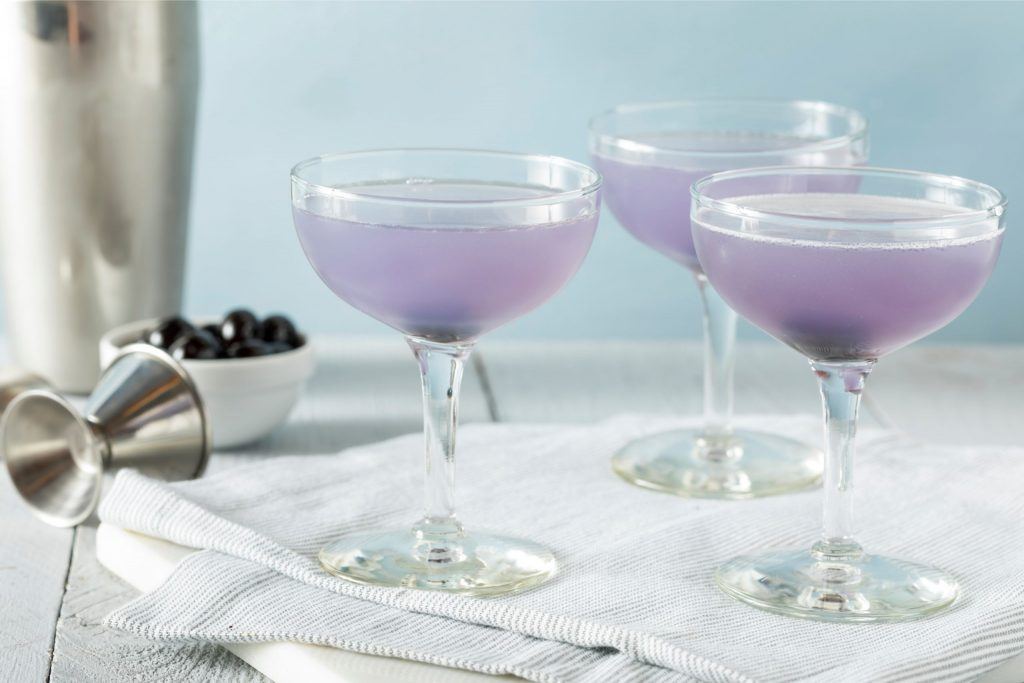 Sipping on an Aviation Cocktail is like taking a journey back in time, immersing yourself in an era of elegance and grace. It's a drink that exudes sophistication and offers a delightful complexity that unfolds with each sip.
The Aviation Cocktail combines Bulldog Gin, maraschino liqueur, lemon juice, and a touch of crème de violette, resulting in a beautifully balanced drink that's both floral and citrusy. The gin serves as the backbone of the cocktail, providing a crisp and botanical base, while the maraschino liqueur adds a subtle sweetness and complexity. The addition of lemon juice adds a bright and tangy note, and the touch of crème de violette gives the drink its signature purple color and delicate floral undertones.
Whether you're hosting an intimate gathering or simply looking to enjoy a moment of refined indulgence, the Aviation Cocktail is a perfect choice.
Read next: 12 of the Best American Cocktails You Need To Know
5. The Americano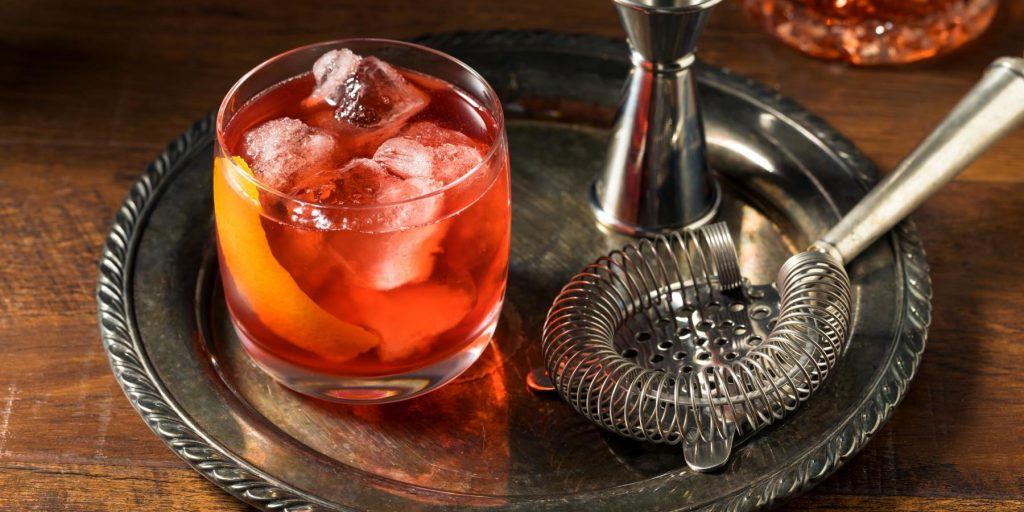 What originated in Italy quickly became an American go-to cocktail. Known for its classic and refreshing taste, the Americano's name is a nod to its popularity among American tourists visiting Italy in the early 20th century and became famous after being featured in the first James Bond novel, where it was the character's signature drink.
To create an Americano cocktail, Campari, a bitter Italian liqueur with notes of citrus and herbs, is mixed with sweet vermouth, adding a touch of richness and complexity. The mixture is then topped with a splash of club soda, which adds a light fizz and a refreshing quality to the drink. The result is a beautifully layered and well-balanced cocktail that is both bitter and bright. Celebrate the Fourth of July with this timeless classic that perfectly combines Italian flair with American allure.
6. Blue Hawaiian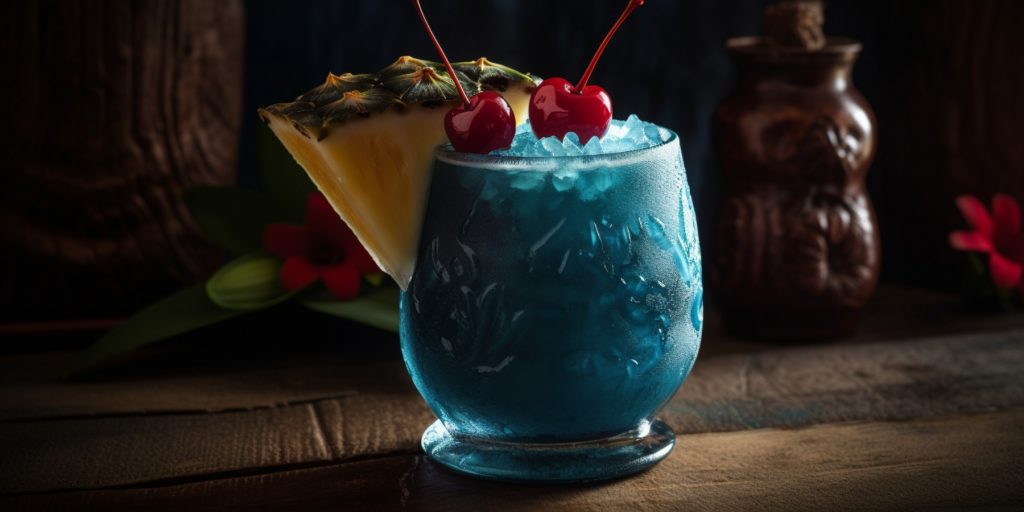 Sipping on a Blue Hawaiian evokes images of swaying palm trees, warm ocean breezes, and the gentle sound of waves crashing on the shore. This exotic cocktail combines the tropical notes of rum, the citrusy tang of pineapple juice, the creamy sweetness of coconut cream, and a splash of blue curaçao for that signature azure shade.
The blue curaçao not only gives the cocktail its mesmerizing color but also adds a subtle orange note that complements the other ingredients. It's a vacation in a glass, allowing you to unwind and embrace the laid-back vibes of a tropical paradise, even if you're celebrating at home.
Learn more: 9 Freezer Door Cocktails for Easy Hosting
7. Vodka and Coke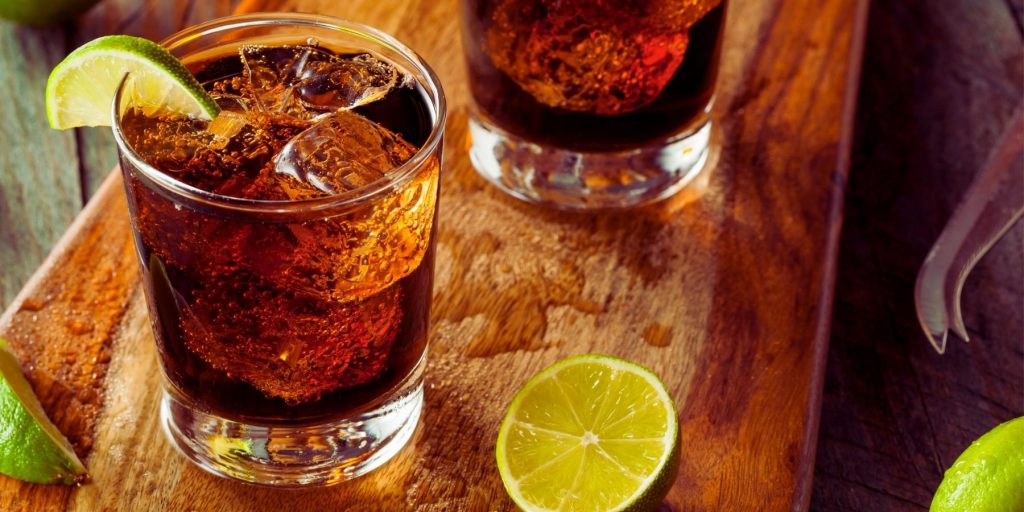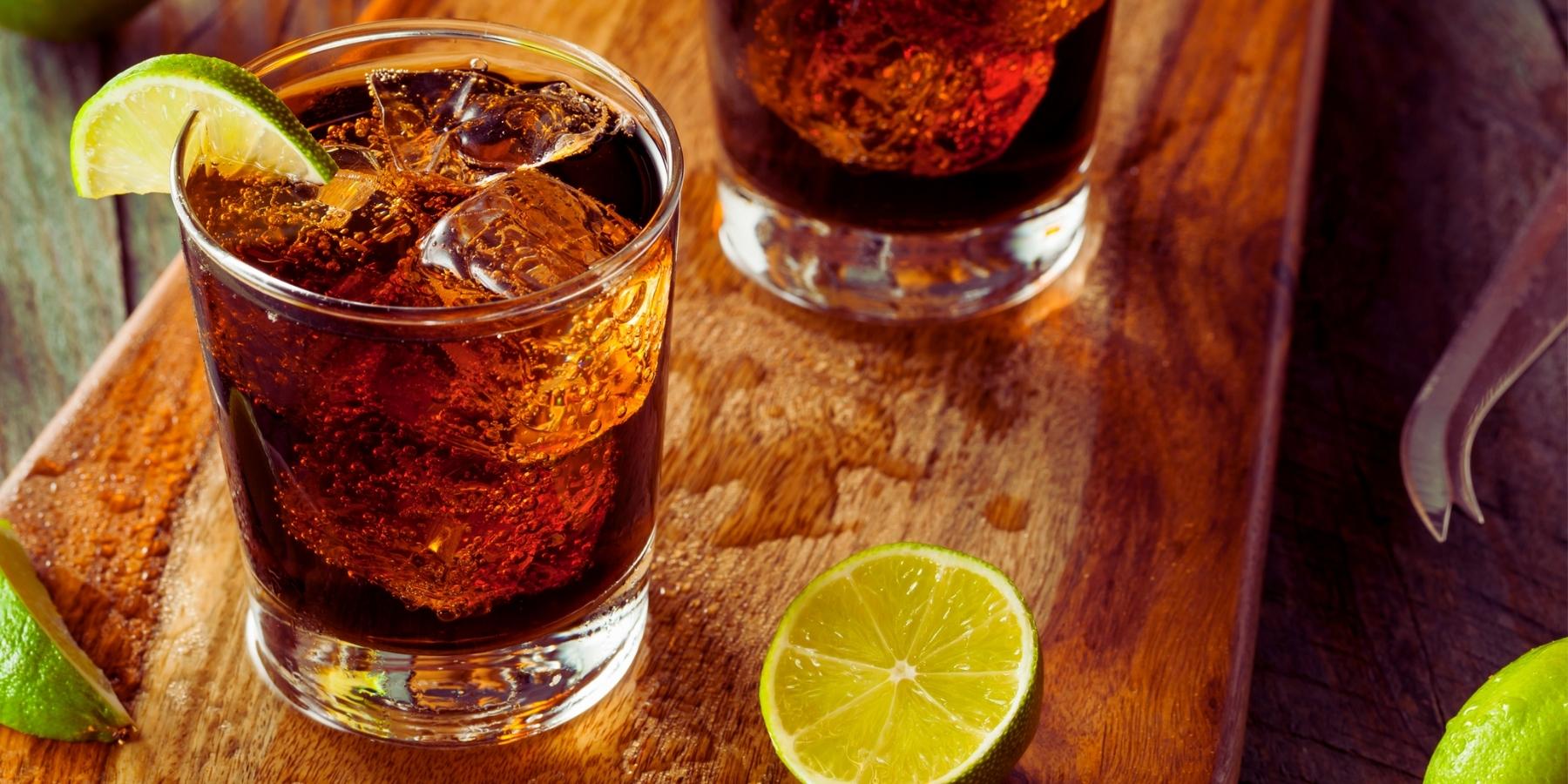 The Vodka and Coke cocktail is a go-to option for those who appreciate the clean and crisp character of vodka, paired with the rich and sweet tang of cola. The vodka adds a subtle kick and a touch of sophistication, while the cola brings a familiar sweetness and a delightful fizz to the mix.
The recipe is simple, yet incredibly versatile, and you can adjust the ratio of vodka to cola to suit your taste. Serve these if you're looking for refreshing and uncomplicated Independence Day drinks.
8. Michelada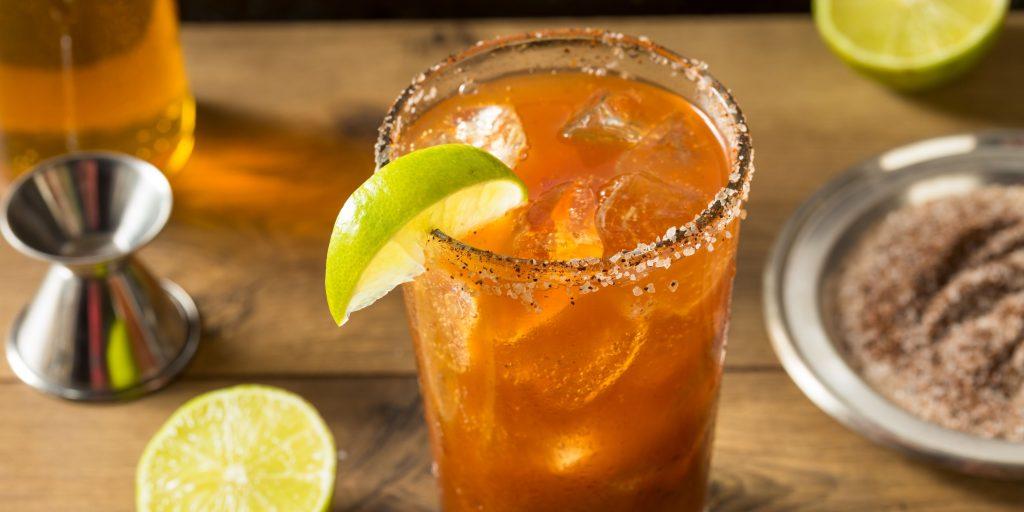 The Michelada is a Mexican beer cocktail that is known for its zesty and refreshing essence. This beloved concoction combines beer, lime juice, hot sauce, Worcestershire sauce, and various spices to create a unique and invigorating drink that is perfect for summer gatherings, including Independence Day celebrations.
It's a fizzy, tangy, and spicy beverage that pairs perfectly with Mexican dishes or barbecued delights.
You might also like: 10 Beer Cocktails for the Win
9. Ranch Water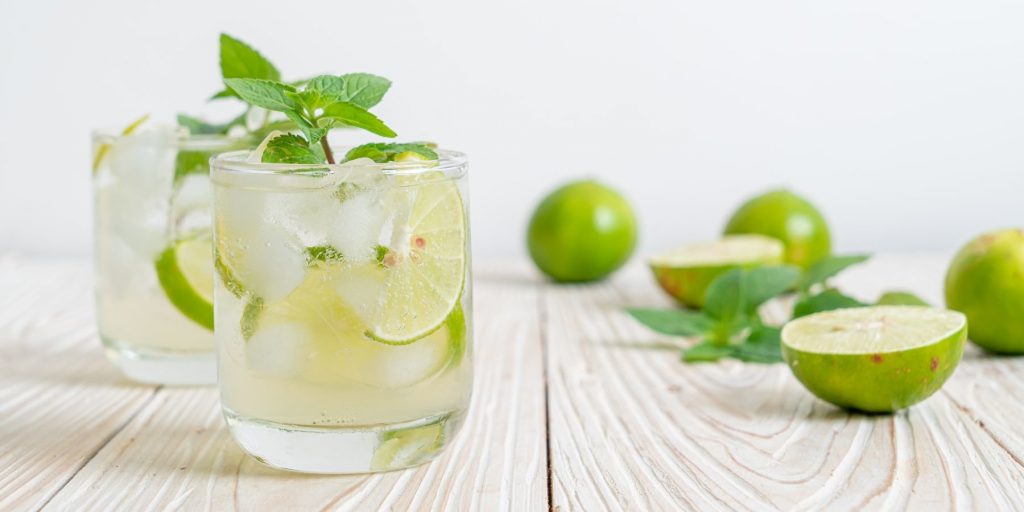 The Ranch Water cocktail is a Texan delight that captures the essence of the Lone Star State with its refreshing blend of tequila, lime juice, and sparkling mineral water. This crisp and invigorating cocktail is a perfect choice for those seeking a light and thirst-quenching drink to enjoy on a hot summer day, including Independence Day celebrations.
Originating in West Texas, the Ranch Water cocktail has gained popularity for its simplicity and ability to cool you down with each sip. It starts with a base of Espolòn Tequila Blanco, which provides a smooth and subtle earthy undertone. Freshly squeezed lime juice adds a bright and tangy element, perfectly balancing the tequila's richness. The cocktail is then topped with sparkling mineral water, which lends a gentle effervescence and a refreshing finish.
Serve Ranch Water cocktails to guests who prefer a lighter and less sweet cocktail option.
10. Strawberry Daiquiri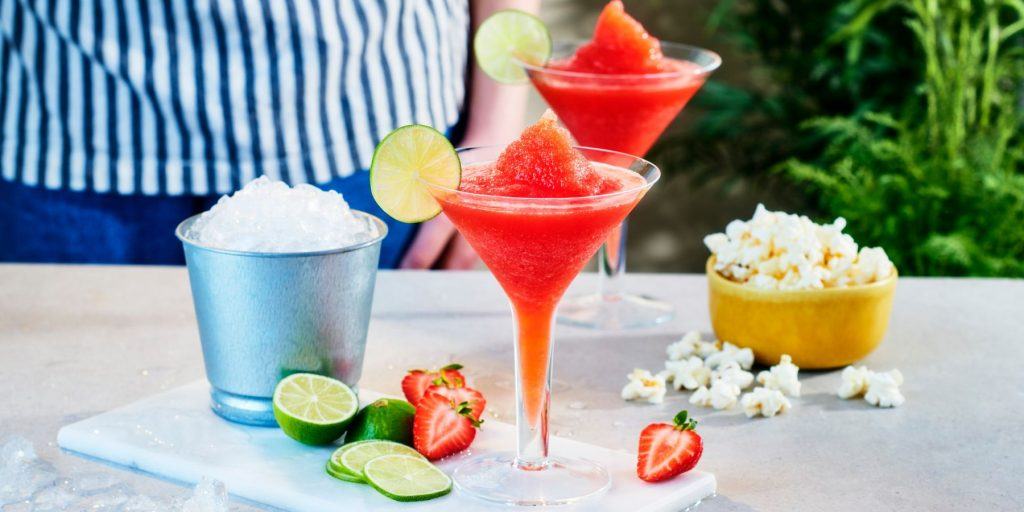 The Strawberry Daiquiri is an indulgent taste of summer. To create a Strawberry Daiquiri, fresh strawberries are blended with Wray & Nephew white rum, lime juice, and a touch of simple syrup or sugar to enhance the sweetness. The mixture is then poured over crushed ice, creating a chilled and slushy consistency that is both refreshing and visually appealing.
With its vibrant red chroma and luscious flavors, this classic cocktail is a perfect choice for celebrating Independence Day with a touch of tropical charm.
More inspo: The Easy-Peasy Guide to Hosting an Outdoor Cocktail Party
11. Bloody Mary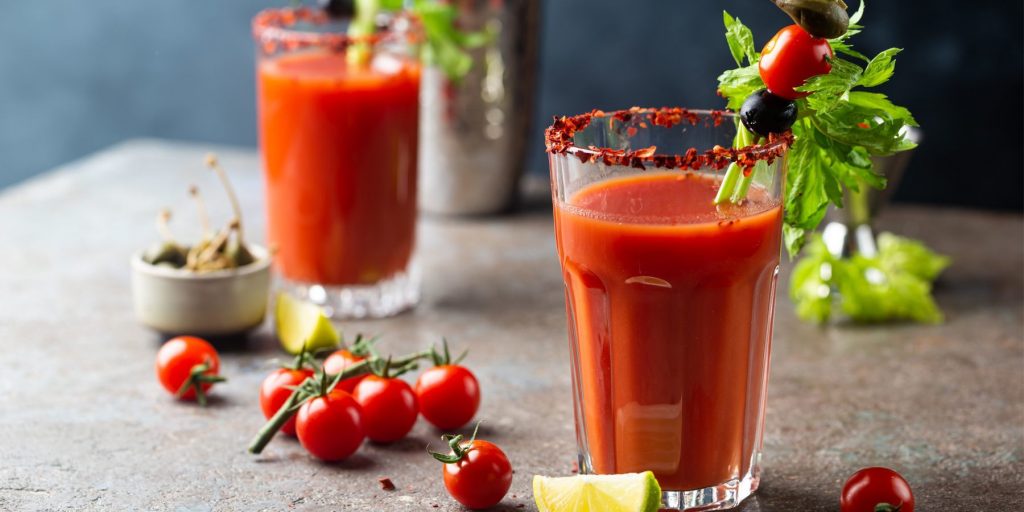 The Bloody Mary cocktail is a classic and iconic drink that is known for its bold and savory flavors.
The foundation of the Bloody Mary is tomato juice, which gives the cocktail its rich and tangy base. SKYY Vodka adds a smooth kick, while Worcestershire sauce, hot sauce, and spices like celery salt, black pepper, and horseradish contribute to its distinctive savory profile. The beauty of a Bloody Mary lies in its versatility, as you can adjust the level of spiciness and seasonings to suit your taste. It's also an easy cocktail to batch up if you're hosting an Independence Day brunch.
Garnishes are crucial to a good Bloody Mary, and you can get creative with your choices. Common options include celery stalks, pickles, olives, lemon, or lime wedges, and even bacon. These add an extra layer of nuance and visual appeal, making each sip an experience to remember.
12. Italian Sunrise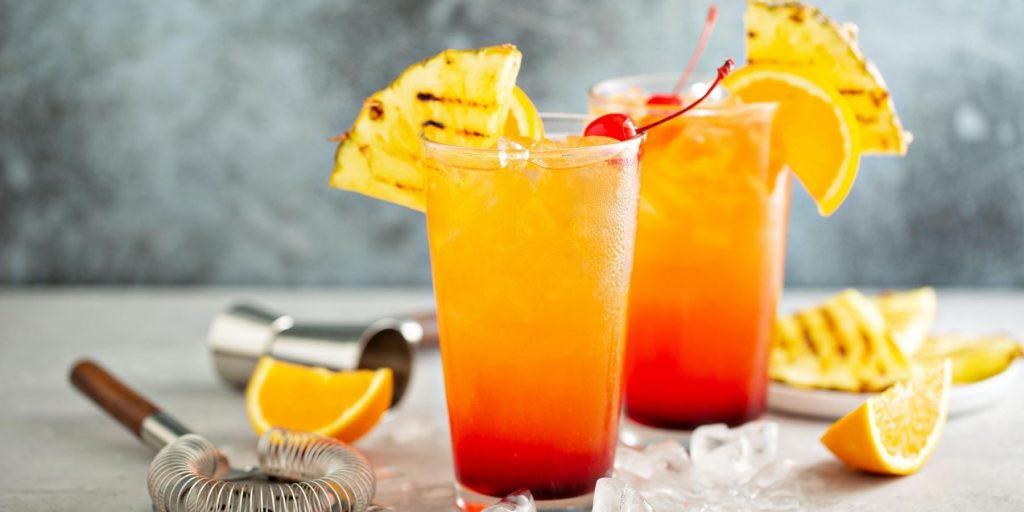 The Italian Sunrise cocktail is a vibrant and refreshing drink that brings together the essence of Italy in a delightful way. With its blend of amaretto liqueur, orange juice, and grenadine, this cocktail offers a beautiful sunrise-like appearance and a taste that is both sweet and citrusy.
The Italian Sunrise gets its name from the stunning gradient of colors that resemble a picturesque sunrise. The deep orange hue at the bottom gradually transitions to a lighter shade as you move toward the top of the glass, creating a visually captivating cocktail.
13. Bourbon Peach Schnapps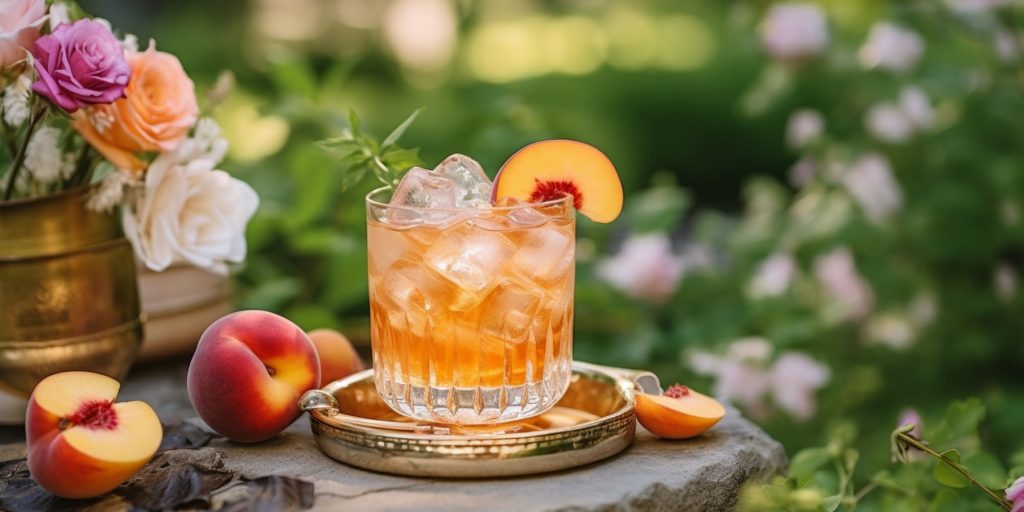 The Bourbon Peach Schnapps cocktail is a delightful combination of two beloved spirits, Wild Turkey 101 Bourbon, and peach schnapps, resulting in a smooth and sweet drink. With its rich flavors and hints of fruity sweetness, this cocktail is perfect for those looking to enjoy a sophisticated and refreshing beverage on Independence Day.
The Bourbon Peach Schnapps can be enjoyed in various ways. Some prefer to savor it over ice, allowing the blend to slowly meld together. Others may choose to strain it into a chilled glass for a more refined presentation.
Regardless of the serving method, this fruity cocktail is best enjoyed with a garnish of fresh peach slices or a sprig of mint.
14. Kentucky Mule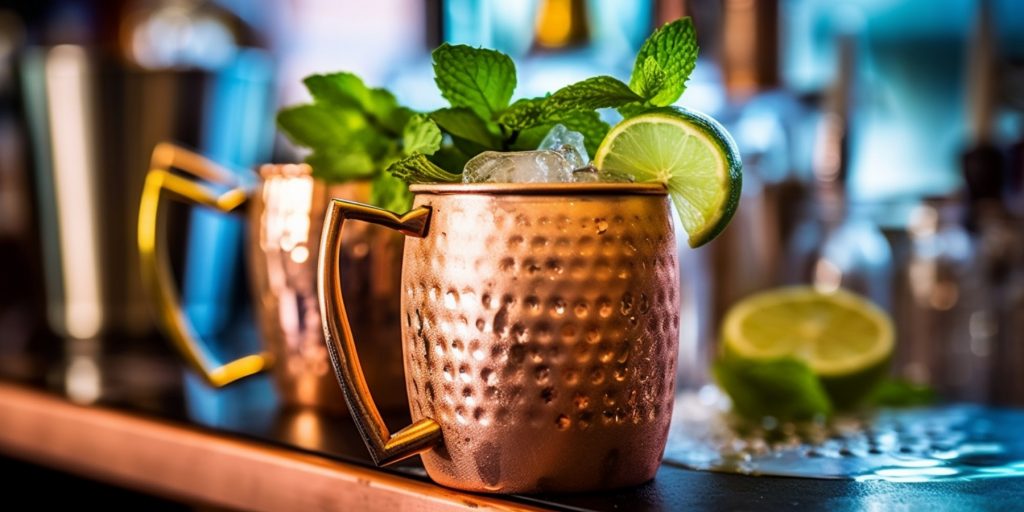 Bourbon steals the show in this Kentucky Mule cocktail and is the perfect companion for fresh lime juice and spicy ginger. That being said, bourbon can be on the overpowering side, so get a strong ginger beer mixer to level out the playing field. The result is a refreshing bourbon mule cocktail perfect for sunset sipping in your backyard.
You might also like: 9 Bourbon-Based Summer Cocktails to Beat the Heat
15. Dirty Shirley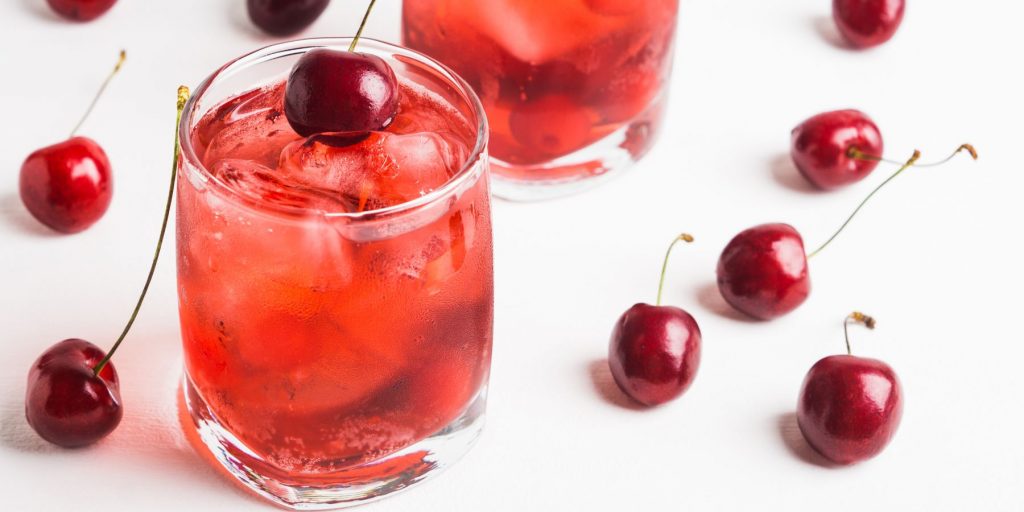 A classic Shirley Temple mocktail is a great option if you want to offer your 4th of July guests a non-alcoholic option, and then it's as simple as adding 2 oz of SKYY Vodka to the glass to turn it into a nostalgic Dirty Shirley. When you have quite a few people over it's nice to have an easily upscaled drink like this on the menu that can be scaled to suit various tastes.
More mocktails: 8 Easy Mocktails for Simple and Clean Sipping
16. Hurricane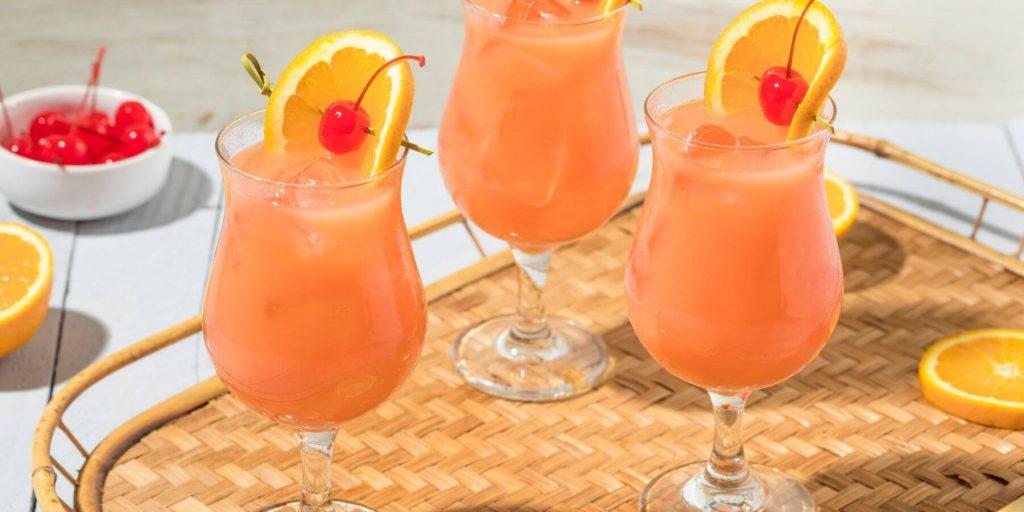 Featuring light rum, dark rum, lime juice, orange juice, passionfruit purée, simple syrup, and grenadine as ingredients, the Hurricane cocktail is one of the best tropical drinks to serve to a crowd. It is traditionally garnished with a slice of orange and a maraschino cherry (just in case you need any more fruit in there!), which is said to mimic Mardi Gras décor.
17. Gin Rickey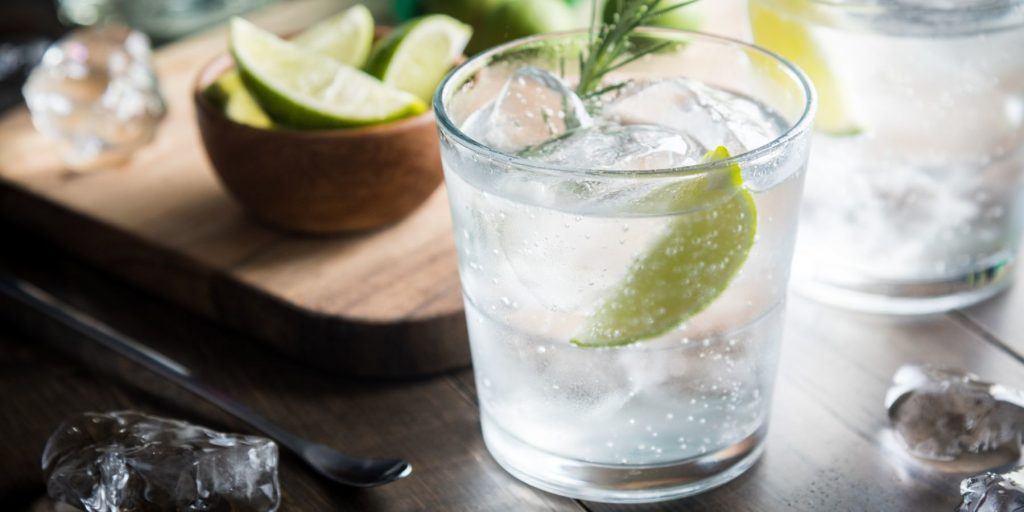 Keep it light and lovely with this low-cal cocktail option. Capturing some of the same notes as a gin and tonic, the crispy and clear Gin Rickey features gin, club soda, and a squeeze of fresh lemon juice. It's the ideal gin cocktail recipe to have up your sleeve for those who prefer to keep their sugar intake to a minimum, but still want to enjoy a delightful cocktail.
18. Miami Vice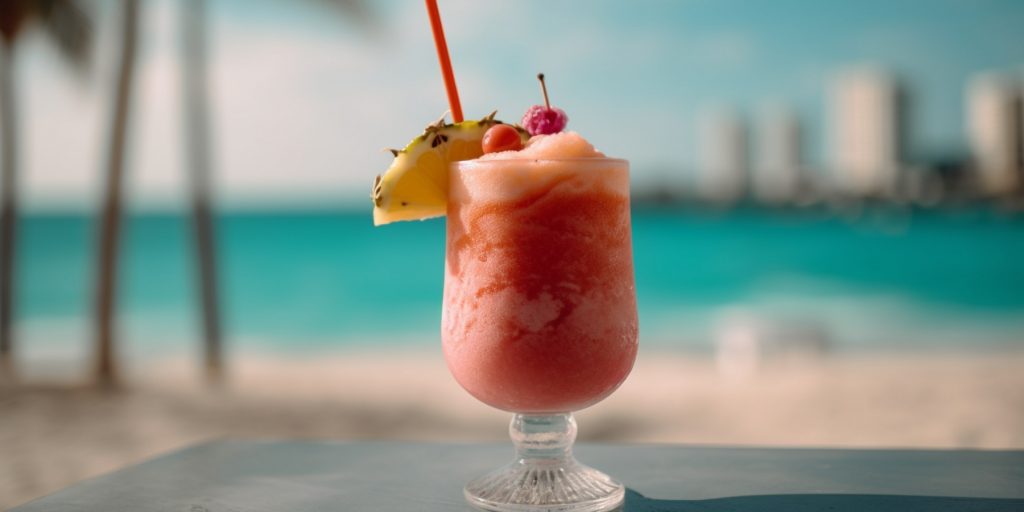 Sometimes you just got to have the best of both worlds – that's where the Miami Vice cocktail comes in. Combining a Strawberry Daiquiri and a Piña Colada in one captivating drink, it's smooth, cold, and deliciously over the top – everything you want on at a summery Independence Day party.
Also yum: 11 Perfectly Frosty Frozen Cocktails for Any Season
19. Mint Julep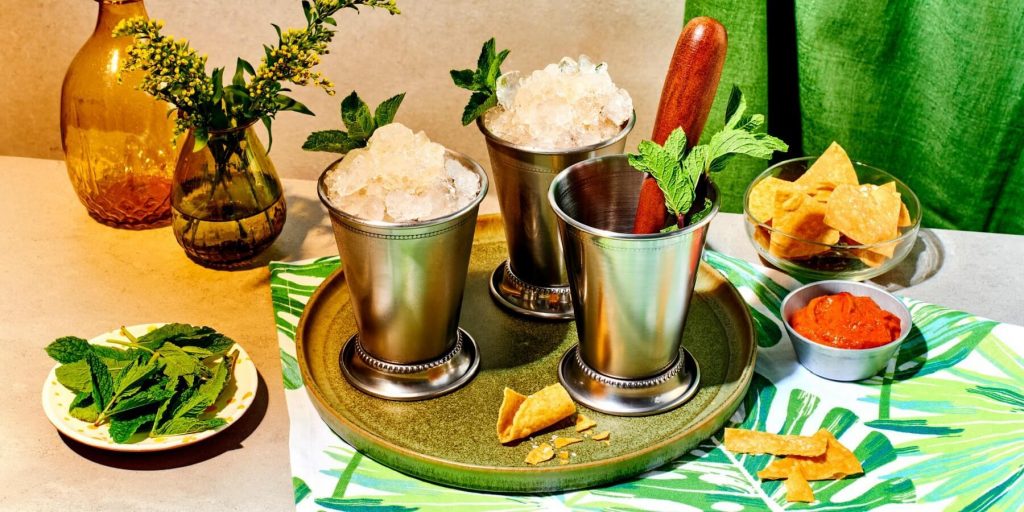 This minty-cool drink is a superb serve on warm afternoons and pairs wonderfully with rich BBQ meats. Since it's poured over crushed ice, it is best to prep a Mint Julep for your guests one at a time, but you can set also up the bourbon, simple syrup, and mint leaves, and allow guests to help themselves throughout the day.
20. Strawberry Mimosa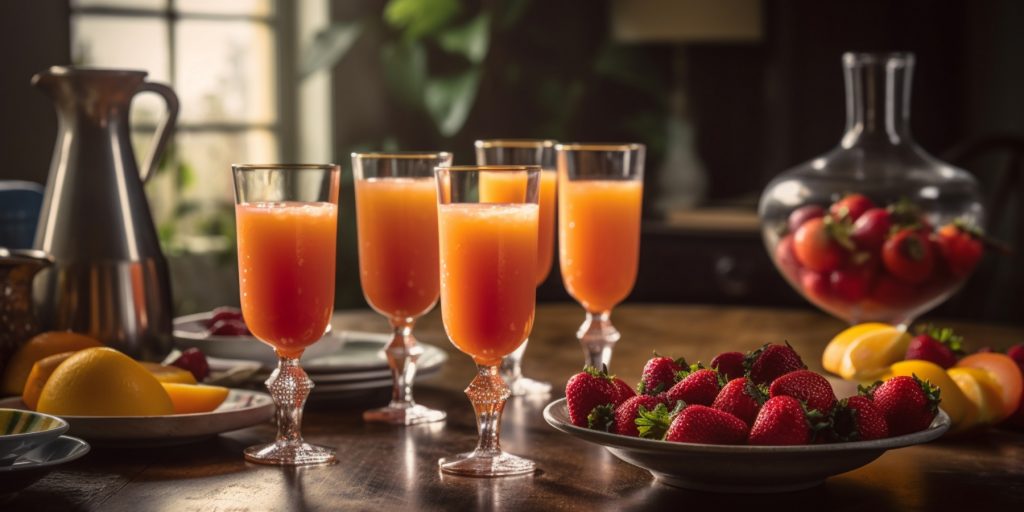 Our bright and vibrant Strawberry Mimosa is a super simple cocktail to add to your Independence Day breakfast table or to whip up for any last-minute celebrations. To make one, just follow our classic mimosa recipe and just swap out the orange juice with fresh strawberry juice for an easy variation And if you're feeling fancy you can use a strawberry purée for cocktails. Tasty!
Keep it simple: 2-Ingredient Champagne Cocktails to Delight Your Guests
FREQUENTLY ASKED QUESTIONS
On Independence Day people enjoy a wide range of beverages to celebrate the occasion. Many people tend to enjoy refreshing cocktails and cold beers while gathering with friends and family at backyard barbecues and picnics on Independence Day. Classic summer cocktails such as Margaritas, Daiquiris, and Mint Juleps are always crowd-pleasers, offering a perfect balance of flavors and a refreshing kick. These cocktails often incorporate fresh fruits, herbs, and spirits to create vibrant and delicious drinks that complement the festive atmosphere of the holiday.