Celebrate at Home with these Labor Day Party Ideas
August 21, 2023 by Anna-Bet Stemmet
Get ready to celebrate the end of summer in style with our ultimate guide chock full of Labor Day party ideas. From mouthwatering menus to exciting activities, we've got your back. Whether you're gathering with family, friends, or neighbors, our tips and ideas will ensure your Labor Day bash is a memorable and enjoyable event for all.
Choosing a theme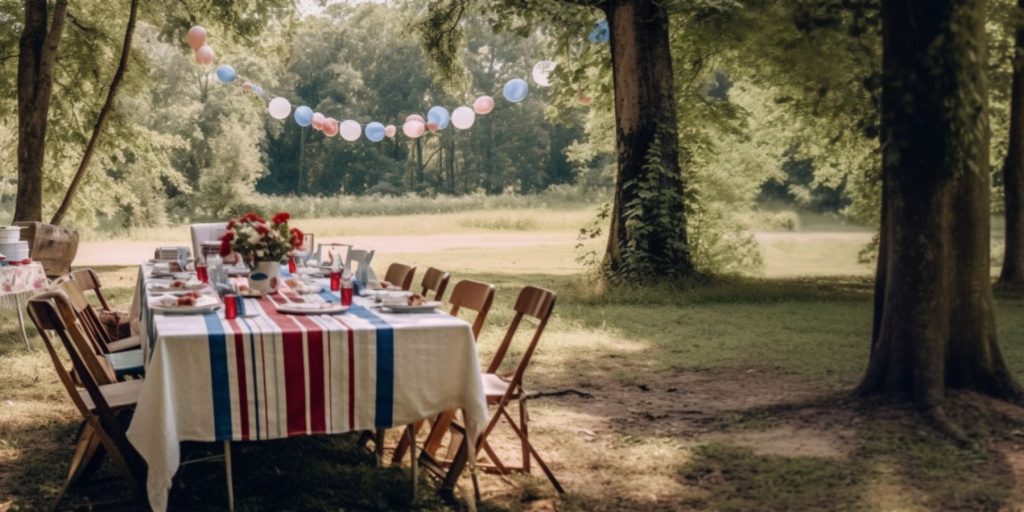 This popular American holiday is often seen as the last hurrah of summer, so Labor Day theme party ideas that embrace the end of the season tend to work well. Here are a few ideas to consider:
Endless summer luau. Transport your guests to a tropical paradise with a luau-themed backyard Labor Day party idea. Decorate with tiki torches, leis, and vibrant colors. Serve tropical cocktails, BBQ, and a variety of fruits. Play some Hawaiian music and encourage guests to wear their favorite summer attire.
All-American BBQ bash. Celebrate the holiday with a classic BBQ theme. Set up grills and picnic tables and serve up traditional American BBQ favorites like burgers, hot dogs, ribs, and corn on the cob. Decorate with red, white, and blue colors and add patriotic touches like American flags and bunting.
Carnival extravaganza. Create a fun carnival atmosphere with games, booths, and classic carnival treats. Set up stations for games like ring toss, duck pond, and bean bag toss. Serve cotton candy, popcorn, and funnel cakes. This theme works well for both kids and adults.
Beach bonfire party. If you're near a beach or have outdoor space, consider a beach bonfire party. Set up a cozy fire pit, provide marshmallows for roasting, and create a relaxed atmosphere with beach chairs and blankets. Play beachy music and have beach games like beach volleyball or frisbee.
Patriotic picnic. Embrace the patriotic spirit of Labor Day with a picnic in the park. Encourage guests to wear red, white, and blue. Serve picnic-style foods like sandwiches, salads, and fruit. Organize games like sack races, tug-of-war, and a patriotic costume contest.
Outdoor movie night. Create a cinema under the stars by setting up an outdoor movie screen. Choose a classic or a family-friendly film to watch. Provide cozy seating, like blankets and cushions. Offer popcorn, candy, and refreshments to complete the movie-night experience. You could even consider serving cocktails inspired by movies!
DIY ice cream social. Beat the late-summer heat with an ice cream social. Set up a station with various ice cream flavors, cones, and a variety of toppings. Guests can create their own delicious ice cream concoctions (perhaps even creamy drinks…). Provide games like ice cream trivia or a topping taste test challenge.
Retro Labor Day. Take your guests back in time with a retro-themed party. Choose a specific decade (e.g., '60s, '70s, '80s) and ask guests to dress accordingly. Play music from that era, decorate with retro items, and serve foods that were popular during that time.
Sports and games tournament. Organize a friendly sports and games tournament for your guests. Set up stations for activities like sack races, three-legged races, cornhole, and more. Offer small prizes for winners and encourage everyone to participate.
Harvest feast. Love all things fall? Embrace the start of the seasonal transition by hosting a farm-to-table feast. Decorate with rustic elements and autumnal colors. Serve dishes made from locally sourced, seasonal ingredients. Create a warm and cozy atmosphere with candles and soft lighting.
Remember to consider the preferences and interests of your guests when choosing a theme. Whichever theme you decide on, make sure to provide a comfortable and enjoyable environment for everyone to relax and celebrate Labor Day together.
More party theme inspo: Great Party Themes for Every Occasion
Labor Day party food ideas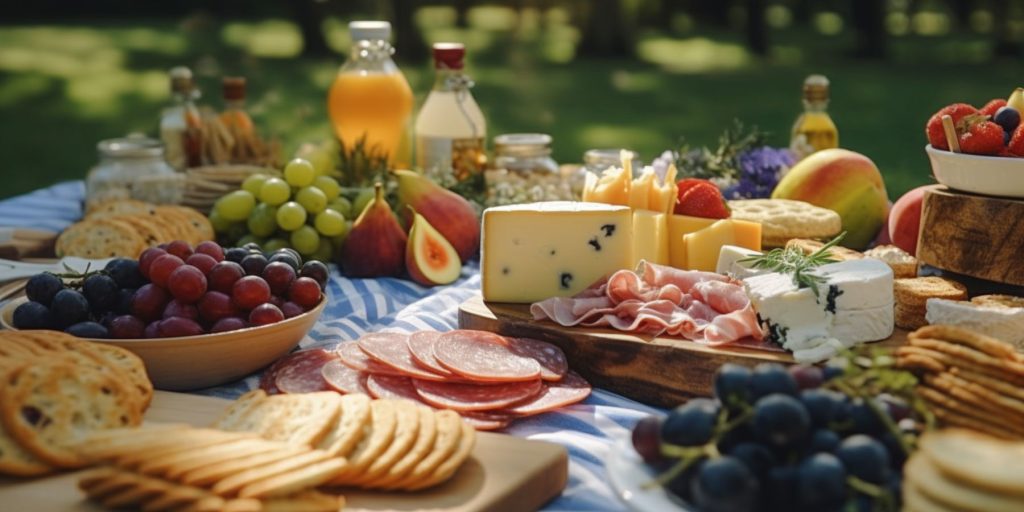 There are many ways to go about tailoring a menu for your Labor Day bash, so we've gone ahead and given you a variety of options for different kinds of holiday get-togethers.
Fancy sit-down lunch or dinner
Grilled Filet Mignon with a red wine reduction

. Tender filet mignon steaks cooked to perfection on the grill served with a rich red wine reduction sauce. Accompanied by truffle mashed potatoes and grilled asparagus.

Lobster tail with herb butter

. Succulent lobster tails are brushed with a fragrant herb butter, then grilled to showcase their delicate flavor. Served alongside wild rice pilaf and roasted Brussels sprouts.

Seared ahi tuna steak

. High-quality ahi tuna steak crusted with sesame seeds and seared for a rare center. Presented over a bed of mixed greens, drizzled with a citrusy soy-ginger vinaigrette.

Artichoke and mushroom risotto

. Creamy risotto infused with white wine, sautéed artichokes, and a medley of wild mushrooms. Garnished with shaved Parmesan and fresh chives.

Grilled vegetable Napoleon

. Layers of grilled eggplant, zucchini, and roasted red pepper stacked with herbed goat cheese and balsamic glaze. Served with a side of quinoa salad with arugula and sun-dried tomatoes.
Picnic snacks
Mini sandwiches.

Assorted mini sandwiches with turkey, ham, cheese, and veggies.

Veggie crudité platter

: Carrot sticks, celery, bell peppers, and cherry tomatoes with dip.

Fruit skewers

. Skewers of mixed fruit like watermelon, grapes, and pineapple.

Cheese and crackers

. A variety of cheeses with crackers and some fresh grapes.

Popcorn

. Flavorful popcorn in different seasonings, like caramel or spicy.
Family-friendly eats and treats
Macaroni and cheese

. Creamy and cheesy mac 'n' cheese is always a hit with both kids and adults.

Mini sliders.

Miniature burgers with a selection of toppings for customization.

Chicken tenders.

Crispy chicken tenders with dipping sauces for kids and the young at heart.

Fruit popsicles.

Homemade popsicles made with real fruit juices or blended fruits.

Mini pizza bites.

Bite-sized pizza slices with a variety of toppings.
Vegetarian Labor Day food ideas
Stuffed bell peppers.

Bell peppers filled with a mix of quinoa, black beans, corn, and cheese.

Spinach and feta stuffed mushrooms.

Mushroom caps filled with spinach, feta, and breadcrumbs.

Veggie stir-fry.

A colorful mix of stir-fried vegetables served over rice or noodles.

Mediterranean platter.

Hummus, falafel, olives, pita, and roasted red peppers.

Lentil salad

. A hearty salad made with cooked lentils, diced veggies, and a tangy vinaigrette.
Vegan Labor Day food ideas
Grilled vegetable skewers

. Skewers of marinated and grilled veggies like zucchini, bell peppers, and onions.

Vegan chickpea salad.

A salad made with chickpeas, diced veggies, and a lemon-tahini dressing.

Vegan sliders

. Mini plant-based burger sliders with all the classic toppings.

Guacamole and salsa with tortilla chips.

Fresh guacamole and salsa served with crispy tortilla chips.

Vegan fruit tart.

A dessert tart with a nut-based crust filled with a creamy vegan fruit filling.
Extra patriotic dessert ideas
Red, white & blueberry parfait.

Layers of yogurt, strawberries, blueberries, and granola.

Patriotic watermelon salad.

Cubes of watermelon, feta cheese, and blueberries, drizzled with balsamic glaze.

American flag fruit platter

. Arrange strawberries, blueberries, and banana slices to create an American flag design.

Red, white & blue popsicles.

Layered popsicles using red and blue fruit juices.

Star-spangled mini pies.

Mini fruit pies with star-shaped crusts, filled with mixed berries.
These ideas should provide a wide range of options for your Labor Day celebration, whether you're planning a sit-down meal, a picnic, a family-friendly event, or catering to specific dietary preferences.
Learn more: 25 Creative Cocktail Party Menu Ideas
Labor Day cocktail menu ideas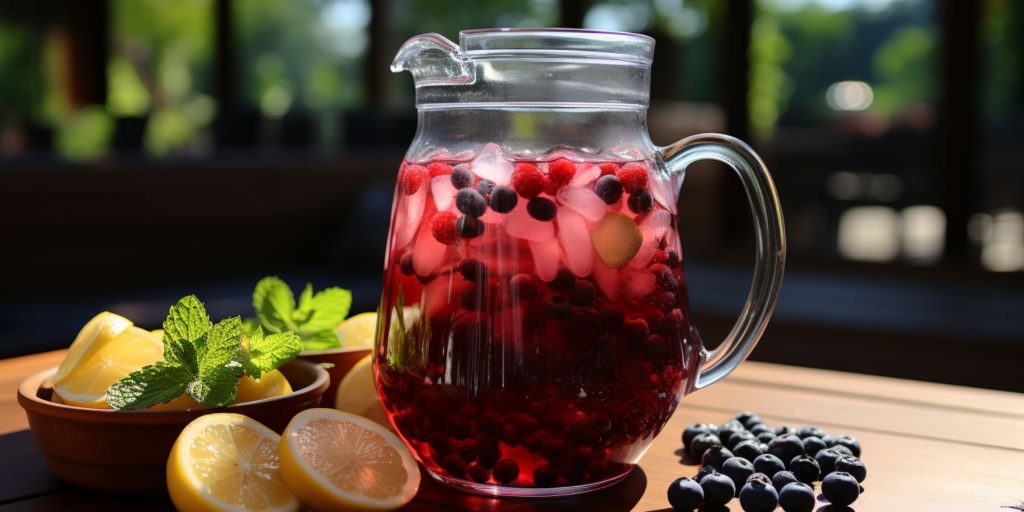 American cocktails and layered cocktails are popular choices for a Labor Day celebration, but you could also consider the following:
Lime Margarita. A refreshing blend of tequila, lime juice, and orange liqueur, served on the rocks with a salted rim.
Piña Colada. Transport guests to a tropical paradise with this mix of rum, coconut cream, pineapple juice, and ice. You can also offer the non-alcoholic version.
Mojito. A minty delight featuring white rum, fresh lime juice, mint leaves, simple syrup, and soda water. You can also offer Virgin Mojitos.
Blue Lagoon. A vibrant blue cocktail made with blue curaçao, vodka, and lemonade, garnished with a lemon wheel.
Strawberry Daiquiri. Blend together strawberries, white rum, lime juice, and simple syrup for a fruity and refreshing treat.
Paloma. A refreshing mix of tequila, grapefruit juice, lime juice, and soda, served over ice and garnished with a lime wedge.
Sangria. Prepare a large pitcher of red wine, brandy, orange liqueur, sliced fruits, and a touch of soda for a crowd-pleasing sangria. Here are some more Sangria recipes to consider.
Gin and tonic station. Elevate the classic G&T by setting up a station with various mixers and garnishes you can mix with gin.
Tequila Sunrise. A visually striking cocktail made with tequila, orange juice, and a splash of grenadine for that sunrise effect.
Mai Tai. Combine light and dark rum, orange liqueur, lime juice, orgeat syrup, and a splash of grenadine for a tropical delight.
Moscow Mule. A zesty concoction of vodka, ginger beer, and fresh lime juice, served in a copper mug with ice.
Red, White & Blue Cocktail. A patriotic drink with layers of red cranberry juice, white coconut cream, and blue curaçao. Pour this drink carefully to keep the layers distinct.
Clarified Milk Punch. This one is a little tricky to make and requires some skill, but the result is a punch that will be the talk of the town, guaranteed.
These cocktail and mocktail options provide a diverse range of flavors and styles to suit your Labor Day party and cater to various tastes and preferences. Don't forget to offer a variety of non-alcoholic options for those who prefer not to drink alcohol.
Read next: 16 Best Party Cocktails That Are Real Crowd-Pleasers
Labor Day party decoration ideas (red, white & blue)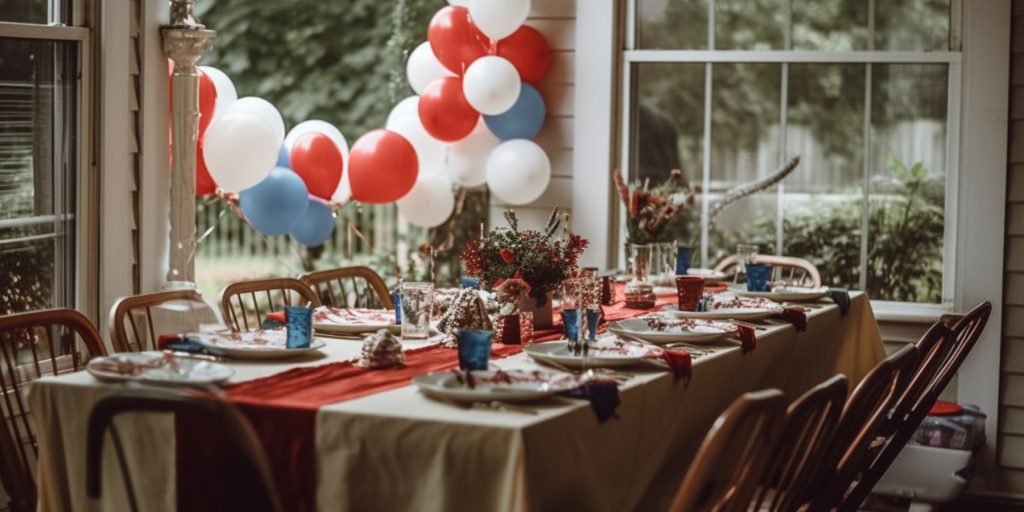 Wondering how to bring your theme to life in terms of décor? No worries, darling; we've got you sorted. Here are some insider tips from The Mixer team to help you set the scene for the celebration:
Table settings. Elevate your party's atmosphere by using red, white, and blue tablecloths, placemats, and napkins. The combination of these patriotic colors creates a visually appealing and cohesive table setting that effortlessly aligns with the celebratory theme.
Balloons. Infuse the air with festivity as you adorn your space with a cascade of red, white, and blue balloons. Craft clusters or arches of balloons in these spirited colors to punctuate the ambiance with a sense of joy and excitement.
Bunting and flags. Ignite a sense of national pride by festooning your party area with patriotic bunting and fluttering American flags. These simple yet impactful decorations instantly conjure an atmosphere of unity and celebration.
Food and drinks. Delight your guests' senses by integrating the color theme into your culinary offerings. Incorporate vibrant strawberries and blueberries, perhaps paired with tantalizing whipped cream, for a dessert bar that captures the essence of the occasion. Alternatively, craft eye-catching cocktails using berries and edible flowers, ensuring that even the drinks harmonize with the festive colors.
Vintage Americana. Transport your gathering back in time with thoughtfully placed vintage red, white, and blue accents. Reimagine nostalgia by incorporating weathered soda bottles, classic posters, and rustic wooden crates, adding a layer of sentimentality to your decorations.
Nautical elements. Enrich your theme with a touch of maritime charm by weaving ropes, anchors, and seashells into your décor. Fusing these elements with the red, white, and blue color scheme creates an inviting coastal ambiance that resonates with the spirit of adventure.
Candlelit ambiance. As the sun begins to set, kindle an enchanting atmosphere by introducing red, white, and blue candles in elegant holders. The warm glow from these flickering flames envelops your gathering in a cozy embrace, fostering an atmosphere of relaxation and enjoyment.
Patriotic photo booth. Invite your guests to capture memories in a playful yet thematic photo booth adorned with props that echo the color theme. Craft a backdrop using vibrant streamers or ribbons in shades of red, white, and blue, ensuring that each snapshot exudes a spirited and celebratory vibe.
Lanterns and lights. Extend the festivities into the evening hours by suspending red, white, and blue lanterns or string lights overhead. The luminous glow cast by these carefully placed lights infuses the surroundings with enchantment, creating an inviting setting for post-sunset revelry.
Colorful ice cubes. Elevate the refreshment experience by freezing red and blue fruit juices into whimsical ice cubes. As these colorful cubes swirl and meld with beverages, they inject a touch of playfulness that leaves guests charmed and refreshed.
Patriotic flower arrangements. Elevate floral arrangements to artistic levels by layering colored sand (red, white, and blue) within clear vases. This innovative approach not only showcases the theme's colors but also introduces an element of texture and depth that enhances the visual appeal.
Artistic paint splatters. Infuse creativity into your decor by creating an abstract backdrop with splatters of red, white, and blue paint on a blank canvas or fabric. This unconventional canvas becomes a captivating focal point, inspiring conversations and admiration. You could even invite your guests to contribute to the painting during the party.
Patriotic chalkboard. Engage guests with an interactive touch by painting a chalkboard in the red, white, and blue color scheme. With inspiring quotes or messages rendered in vibrant chalk hues, this artistic chalkboard serves as a visual centerpiece that resonates with the festive theme.
Colorful seating. Elevate comfort and aesthetics by incorporating the color theme into your seating arrangement. Enhance the allure of your chairs by using cushions or covers in shades of red, white, and blue, creating a cohesive and inviting seating area that complements the overall ambiance.
More color inspo: How to Throw a Color Cocktail Party
Entertainment & game ideas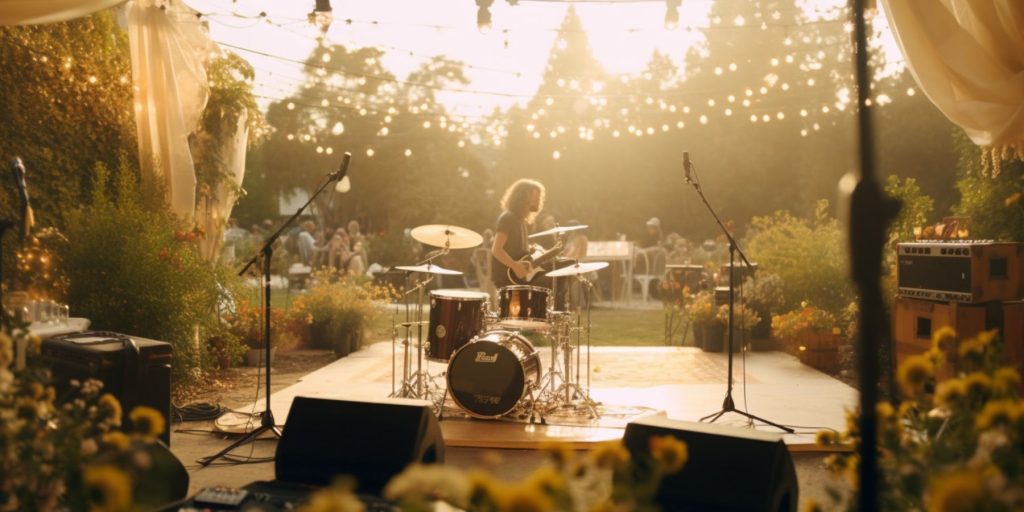 Here are some entertainment and game ideas to keep your Labor Day party fun and engaging.
Backyard Olympics. Organize a series of friendly outdoor competitions, such as sack races, three-legged races, tug-of-war, frisbee throwing, and a water balloon toss. Keep the score and award small prizes to the winners.
Cornhole tournament. Set up cornhole boards and host a tournament with teams competing against each other. You can have a casual round-robin or bracket-style competition.
Lawn games. Provide a variety of lawn games like horseshoes, bocce ball, giant Jenga, and ladder toss for guests to enjoy throughout the day.
DIY tie-dye station. Set up a tie-dye station with plain white t-shirts, bandanas, or tote bags. Guests can create their own tie-dye masterpieces to take home.
Patriotic trivia. Create a trivia game with questions related to Labor Day, American history, and patriotic themes. Divide guests into teams and have a friendly trivia competition.
Karaoke. Set up a karaoke station with a variety of songs, including patriotic tunes. Let guests take turns belting out their favorite songs.
Charades. Create a list of Labor Day-themed words or phrases and play charades. This game is always a hit and can lead to lots of laughter.
Water balloon piñata. Hang water-filled balloons from a tree, and blindfolded participants take turns trying to break the balloons with a bat or stick.
Scavenger hunt. Design a scavenger hunt with clues and hidden items around your party space. You can make it patriotic-themed or related to your party location.
Live music or DJ. Hire a live band or DJ to provide music throughout the event. Encourage guests to dance and enjoy the tunes.
Outdoor cooking demonstrations. If you're having a barbecue, consider having a chef or grill master give cooking demonstrations, sharing tips and techniques for the perfect grill.
Remember to tailor the entertainment and games to the preferences of your guests and the overall vibe of your party. A mix of active games, creative activities, and relaxed entertainment will ensure that everyone has a great time.
More star-spangled fun: The 10 Best Memorial Day Party Ideas for 2023
There you go, all sorted! Did you know you can get your party-planning advice delivered fresh to your inbox? Sign up for The Mixer newsletter today so we can send you the good stuff.
FREQUENTLY ASKED QUESTIONS
Labor Day is synonymous with outdoor gatherings and delicious food. Popular choices for the holiday include classic American barbecue fare such as hamburgers, hot dogs, grilled chicken, and ribs. Sides like coleslaw, potato salad, and corn on the cob are commonly enjoyed. Fresh fruit platters, watermelon, and refreshing beverages like lemonade or iced tea are also staples. Desserts often feature berry pies, cupcakes, and ice cream treats. The menu revolves around casual, flavorful dishes perfect for celebrating the holiday with friends and family.
On Labor Day, people typically engage in various leisure activities to celebrate the end of summer. These activities may include hosting barbecues or picnics with family and friends, enjoying outdoor games, attending parades, and relaxing at the beach or in parks. It's also a time for shopping during Labor Day sales, and some communities organize events to honor workers' contributions. Overall, Labor Day offers a chance to unwind and enjoy quality time with loved ones while reflecting on the achievements of the labor movement.