13 of the Freshest Strawberry Cocktails to Make All Year Round
November 04, 2022 by Sonja Edridge
Drink pretty-in-pink with our best blushing strawberry cocktails line-up. A few sweet, some tangy and others on the savoury side. Whatever you're in the mood for, we've got you covered! Just grab a few punnets of ripe, fresh berries (or frozen will do) and your favourite spirit and let's get mixing. Berry-licious cocktails await!
1. Strawberry Gin Cocktail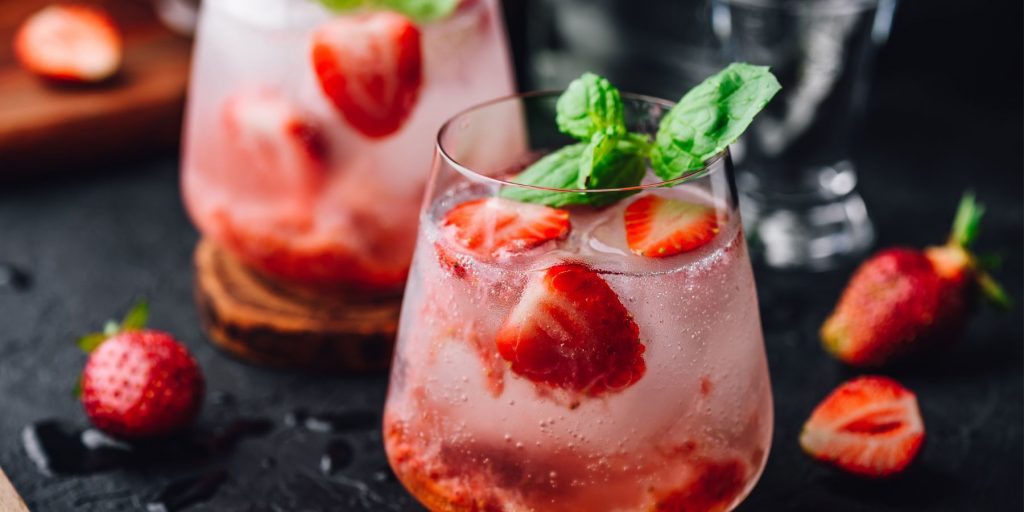 Be effortlessly on trend, with our Strawberry Gin cocktail this summer. Shake things up, and serve this refreshing cocktail as a welcome change to your regular gin and tonic. It's brilliantly simple to master and is oh-so-pretty! Our strawberry gin recipe is really a fruity martini, without  the vermouth, and with a little extra fizz. All you need is a bottle of good gin (like O'ndina Gin), perfectly ripe strawberries, fresh lemon and soda water for topping up. Easy-peasy, lemon squeezy.
More gin drinkspiration: 11 Effortlessly Elegant Summer Gin Cocktails
2. Strawberry Banana Daiquiri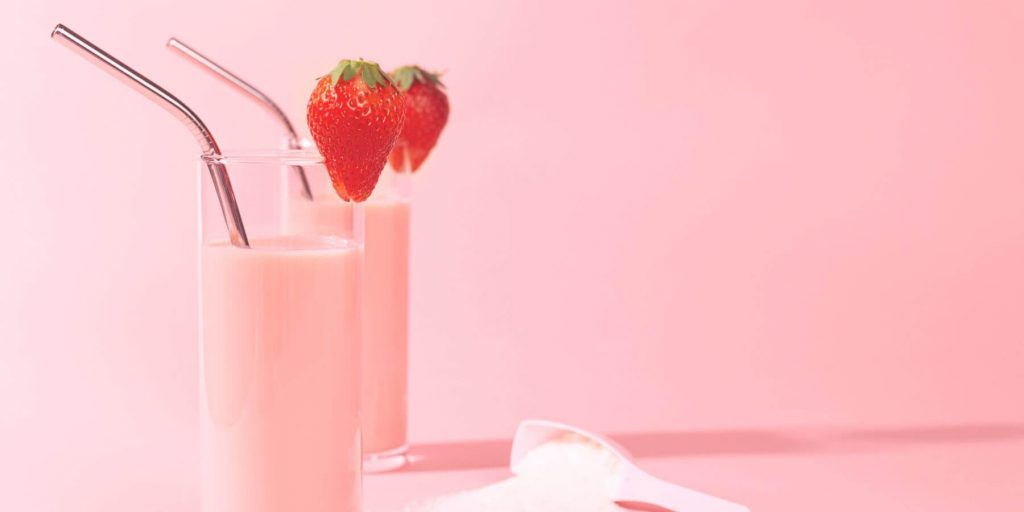 Satisfy all your sweet cravings with this sweet tiki bar classic. Obviously, we'd all rather sip a Strawberry Banana Daiquiri under the shade of a cabana. Sigh. But, if a trip to the islands is off the cards, then our Strawberry Banana Daiquiri recipe is a great solution to those holiday cravings. To reach your destination, you'll need a blender, a handful of delicious strawberries, a ripe banana, some Maison La Mauny Rum, and a little simple syrup and orange juice for sweetness. This sweet Daiquiri will make all your tiki-bar cocktail dreams come true.
Need more tiki: 10 of the Best Tiki Cocktails
3. Strawberry Lemon Drop Martini
Dial up the sweetness of our tangy Lemon Drop Martini and give it all the summer vibes with a cheeky muddle of strawberries! Pour with SKYY Vodka Citrus Infusion to keep its perky attitude, and add some glam with a glittery sugar rim. Wow your crowd with this sophisticated cocktail and watch their troubles melt like lemon drops!
More sour vibes: 18 Sour Cocktail Recipes to Add to Your DIY Drinks Repertoire
4. Strawberry Bellini
The classic Bellini, an iconic 40's Venetian cocktail, was inspired the white peaches of Venice and named for the antique pink colours of a toga in a Renaissance painting by Giovanni Bellini. Enjoy this simple twist on the Harry's Bar traditional peach version, and pour a blushing berry one using a strawberry purée for cocktails or muddling a few ripe strawberries with a little sugar. Either way, you'll end up with delightful sweet fizz. It will be love at first sip.
Prosecco love: 10 Sparkly Prosecco Cocktails for Festive Celebrations
5. Strawberry Daiquiri Vodka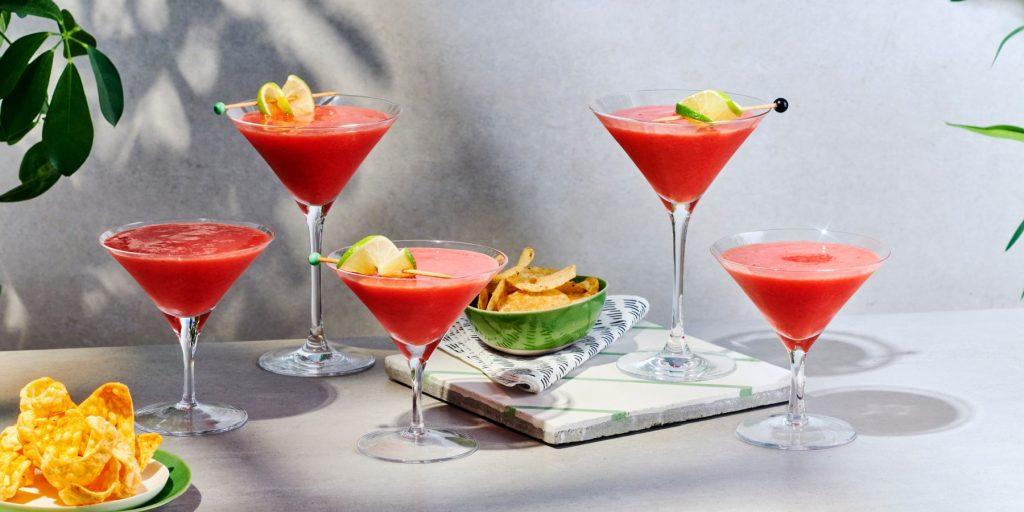 This fresh, fruity, zesty drink is a holiday staple for good reason —it's a strawberry vodka cocktail that just has a laid-back vibe about it. Learn how to make this easy Strawberry Daiquiri with vodka and a few other basic ingredients. It's a shortcut to effortless entertaining when all you want to be doing is relaxing with friends and family on a lazy afternoon.
Winter vodka cocktails: 7 Effortless Winter Vodka Cocktails for Easy Entertaining
6. Strawberry Basil Cocktail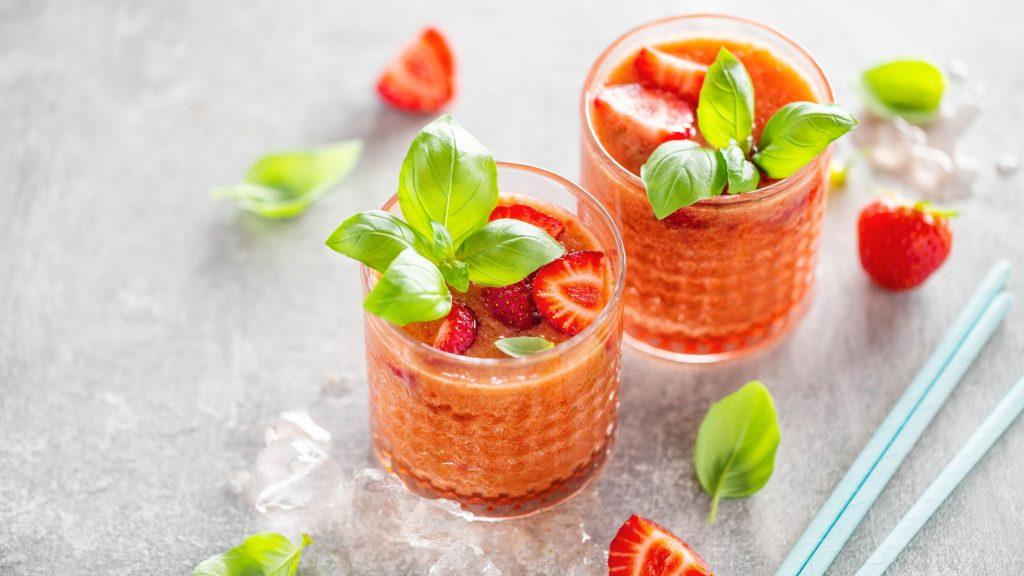 If you're looking for a drink that spells sunshine, look no further than our lip-smacking 'picnic in a glass', Strawberry Basil cocktail! The intoxicating aromas of sweet and peppery basil mixed with ripe strawberries is heavenly enough, but along with a squeeze of fresh lime it makes for a perfect combination. This refreshing drink will guarantee smiles all round—regardless of the weather! So, pour some drinks, and line up the playlist!
What is Gin Made From: The Ori(gin) Story & More
7. Strawberry Champagne Cocktail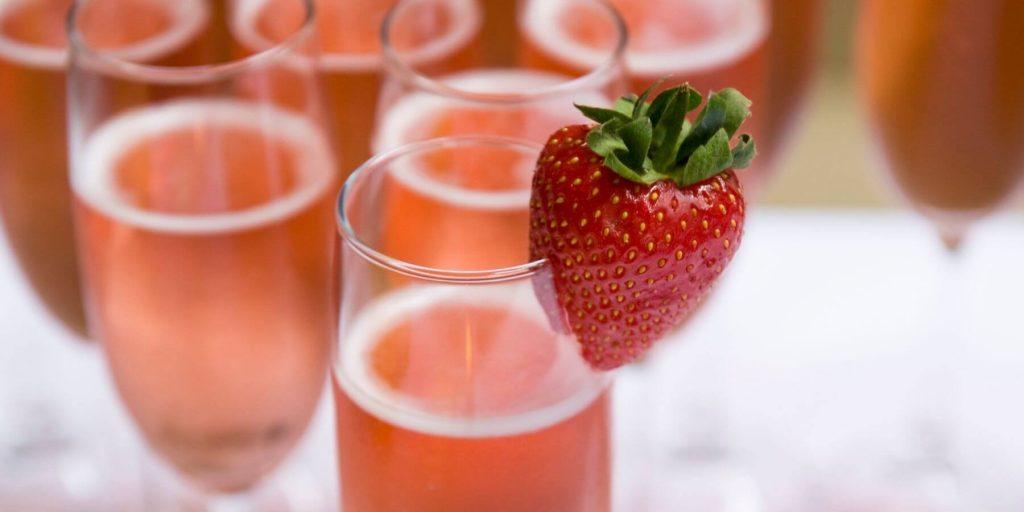 Our Strawberry Champagne cocktail dishes up all the romance and glamour. It's a gorgeous bubbly drink with plenty of fruity flavour. The strawberry, with its heart-shaped form and aphrodisiac associations, often stood as a symbol for Venus, the goddess of love. Champagne and strawberries are a marriage made in heaven. Not overtly sweet, just a little tart, and totally perfect! This blushing pink recipe is simple to prepare and even easier to sip. An elegant drink that adds a hint of sophistication to just about any occasion.
Pop the Cork: Our Best Cocktails with Champagne
8. Classic Strawberry Daiquiri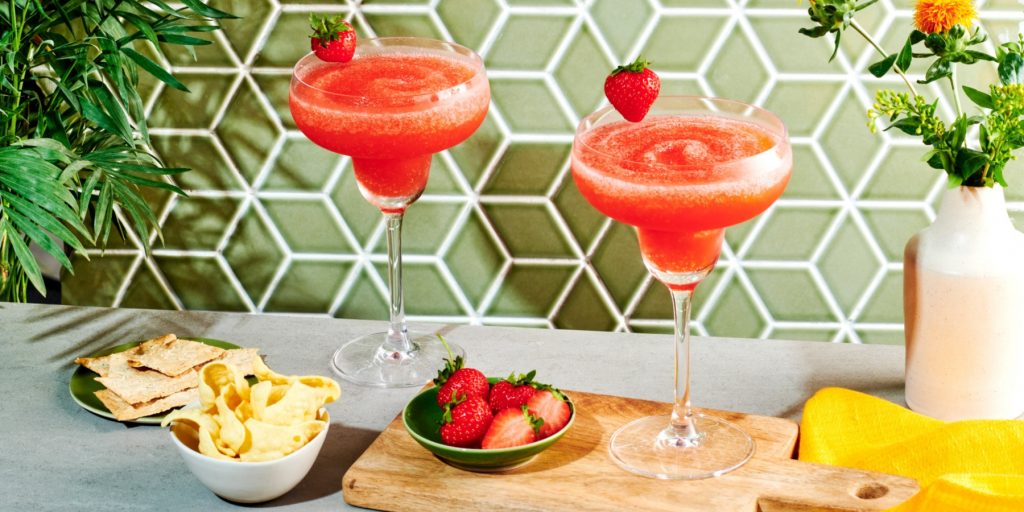 A Classic Strawberry Daiquiri is the cocktail we'd expect to see in all your summer selfies. This cocktail is best enjoyed poolside on holiday, but it will also bring you sunshine when you're relaxing on a dreary day! This popping pink daiquiri is full of flirtatious strawberries and Jamaican rum. Packed with berry sweetness and zingy lime, this Daiquiri is best served on warm sunny days, outdoors, with tasty spicy snacks. Just delicious!
9. Strawberry Margarita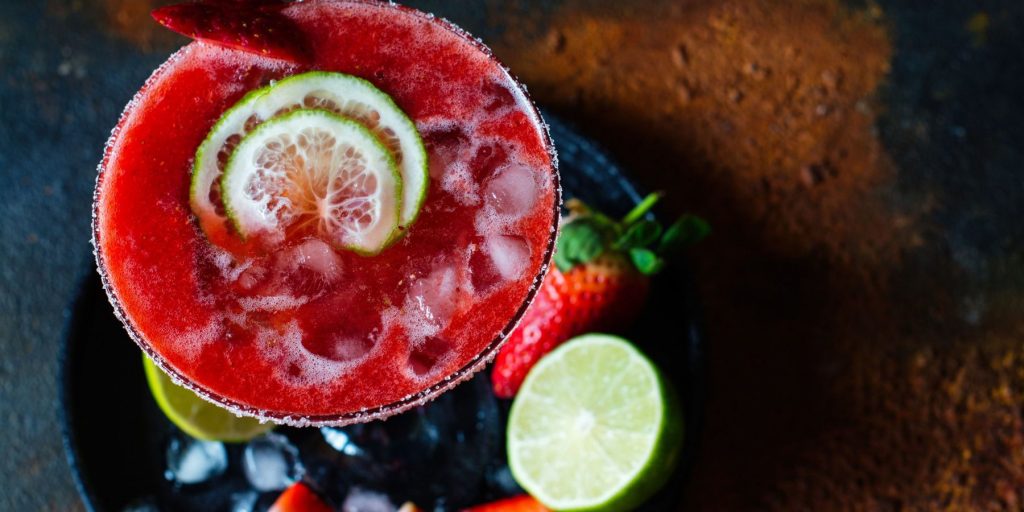 Calling all Margarita fans! If you're keen to try a fruity Marg, then get mixing and try our Strawberry Margarita. It delivers all of the tangy sour and sweet flavours you'd expect from the classic, it's super easy to make, and perfect for big cocktail batches when the BFFs come round. Serve it in large jugs for parties or sundowners all summer long.
Margarita love: 10 Ways to Make a Margarita
10. Frozen Strawberry Daiquiri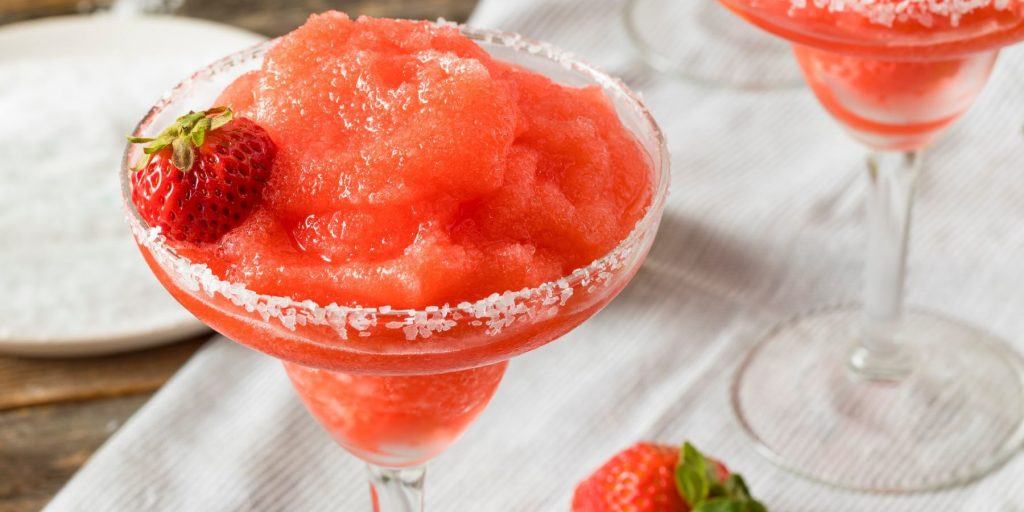 Prefer your Strawberry Daiquiri icy cold? Come and learn how to make this grown-up, spiked slushy. Our Frozen Strawberry Daiquiri is an ideal summer drink to cool you down on hot balmy days or when the nostalgia for long lazy days in the garden hits you. Whip up this simple recipe in jugs for a crowd. It's zero effort if you have a blender, leaving you with plenty of time to prepare the all-important plates of tasty treats to serve up for your crew.
11. Strawberry Vodka Martini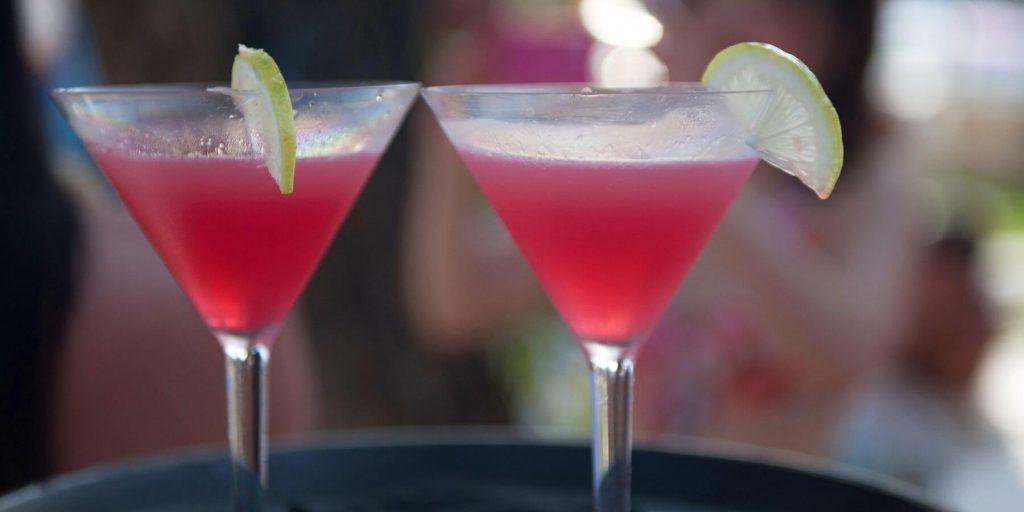 For all the Insta-appeal, make this simple, yet classy Strawberry Vodka Martini. With just three ingredients to grab, this is quick and easy recipe is ideal to master for the summer season garden parties and lazy brunches. It's on the sweeter side (compared to a classic Martini) made with SKYY Vodka, a simple syrup, and replacing the vermouth with a handful of muddled strawberries. If you're hooked on this sip, be fancy and make a strawberry simple syrup for easy mixing at a moments notice, no muddling required. What are you waiting for? Let's get shaking!
Fancy more strawberry and vodka: Juicy and Delicious Strawberry Vodka Cocktails
12. Strawberry Mimosa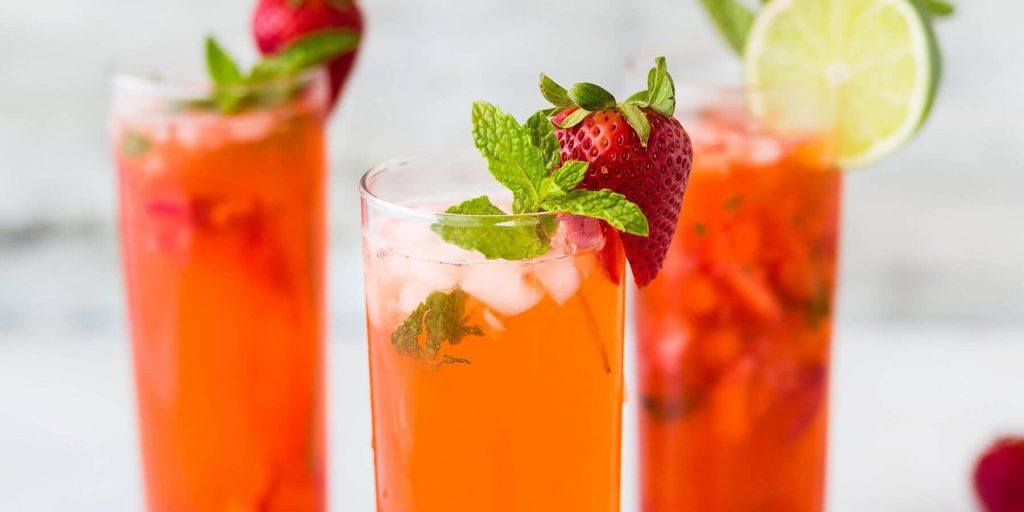 Switch things up this summer and make a change from the regular Orange Juice Mimosa. Our bright and vibrant Strawberry Mimosa is a super simple cocktail to add to your weekend breakfast table or to whip up for any last-minute celebrations. To make one, just follow our classic mimosa recipe and just swap out the orange juice with a fresh strawberry juice for an easy variation that's perfectly pink! And if you're feeling fancy, you can use a strawberry purée for cocktails. Tasty!
Keep it simple: 2-Ingredient Cocktails to Delight Your Guests
13. Strawberry Tequila Sunrise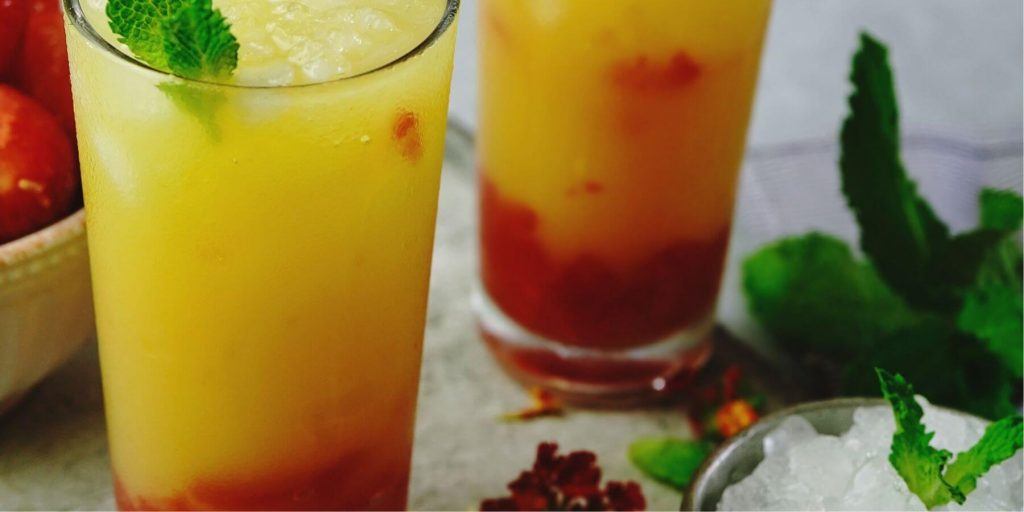 If you don't love the whole 70s sunrise effect and prefer a slightly sweeter drink, put a fruity spin on your regular retro Tequila Sunrise. Just follow our easy recipe and funk it up with a little berry. All you need to do is ditch the grenadine and replace with a few strawberries muddled with sugar. Your muddled strawberries will sink, giving you a messy sunrise.
A merry mocktail: Make Our Summer Ready Virgin Strawberry Mojito
FREQUENTLY ASKED QUESTIONS
Strawberries (in fact, most berries) are so versatile to muddle and mix into most cocktails. Our list is sure to include a cocktail that takes your fancy. Whether it's a champagne cocktail, Margarita or Daiquiri, we've got you covered!
If you want to soak your berries in alcohol, this is called maceration, you can soak them in any booze you fancy. The best way to do it is to cut the berries in half before soaking. They only need a brief soak, so go gently as they can pack a punch!