10 Christmas Mocktail Recipes To Please A Crowd
December 08, 2022 by The Mixer Team
No alcohol? No problem! Take your Christmas cocktail party up a notch with our selected Christmas mocktails Featuring all our favourite festive flavours, these Christmas-themed mocktails will be a real crowd pleaser. We bet you a piece of pumpkin pie that no one will notice the difference!
1. Italian Blood Orange Soda
Kickstart the festive season with this wintery Christmas mocktail that features ruby-red blood orange juice, honey, vanilla extract, and a dash of lime-flavoured sparkling water for extra fizz. If you love spices, you can add fresh ginger, basil, rosemary, and mint to the bottom of your glass and muddle these flavours together before adding the rest of the ingredients. You can also replace sparkling water with a dash of kombucha for a healthier option. And if you're looking for a boozy version, try our refreshing Blood Orange Vodka cocktail.
2. Christmas Cranberry Spice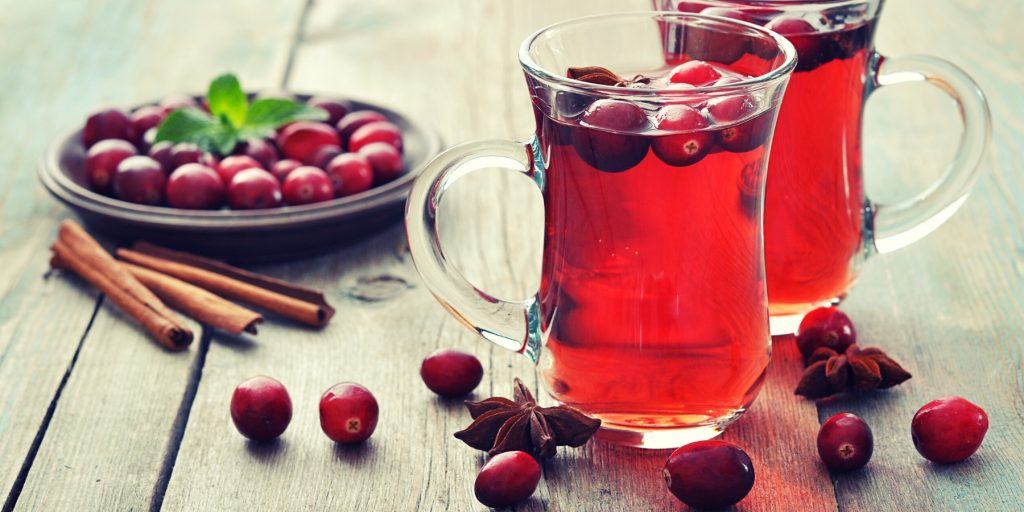 Spent a long day on the slopes? Then this is one of the best Christmas mocktails to warm you up. To make an alcohol-free taste of Christmas, you'll simply simmer cranberry and orange juice, cinnamon, cloves, ginger and honey. This Christmas mocktail recipe resembles mulled wine but is more delicate and fruity.
3. Toasted Marshmallow Campfire Mocktail

If you love chocolate and marshmallows, get excited because this Christmas mocktail recipe will have you saying "s'more please!". Whether you're sipping it in front of the campfire or in the comfort of your home, this lavish combination of chocolate milk, marshmallow and graham crackers will definitely warm up your heart.
4. Non-Alcoholic Mulled Wine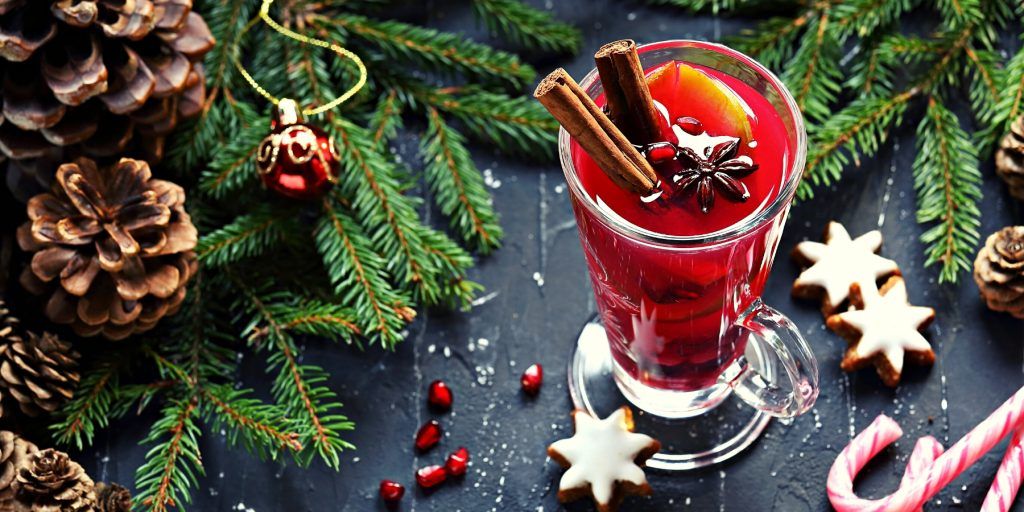 Mulled wine is a Christmas classic, and this non-alcoholic version will make it to the top of your list of Christmas mocktail recipes. Make it in a saucepan or slow cooker and let the aroma of the spices fill your home. Your best friend here is non-alcoholic wine, and for this we suggest Cabernet or Merlot, which you will slow-cook with pomegranate or cranberry juice and comforting baking spices, like cinnamon, star anise and cloves. Serve in a warmed mug with a cinnamon stick garnish to stir.
5. Cranberry Pomegranate "Bellinis"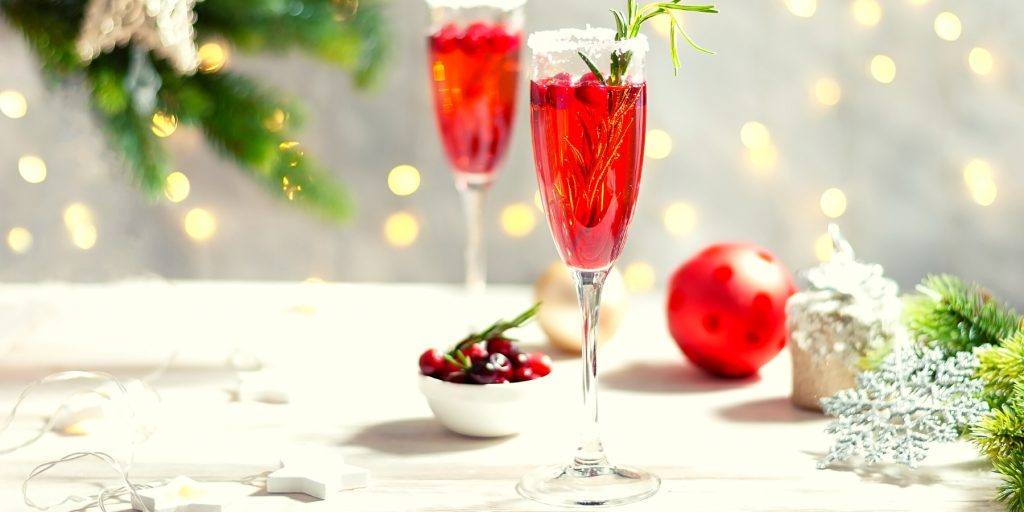 Toast to Christmas with crimson Cranberry Pomegranate Bellinis, free from alcohol but rich in taste! They're super easy to make and you can prepare them in large batches, perfect for fuss-free parties. What's more, you only need three ingredients! Combine cranberry juice, pomegranate juice, lime juice and non-alcoholic Prosecco or white wine and serve it in a flute glass. Get ready for your new holiday brunch favourite.
6. Apple Cranberry Spritzer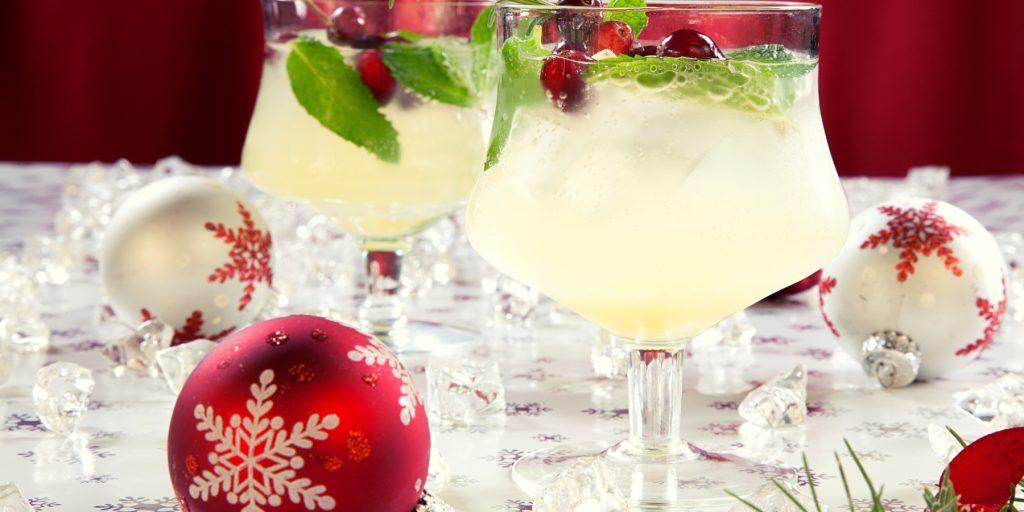 If you like your Christmas drinks with a little pizzazz, the Apple Cranberry Spritzer will more than deliver. This cranberry Christmas mocktail combines all the winter fruit flavours we love, with a bright and fizzy undertone from by the sparkling water. You can also use non-alcoholic white wine to enrich the flavour profile for the perfect aperitif.
7. Grinch Punch
Holiday chaos and stress getting too much? Then the colourful Grinch Punch is sure to make you jolly! This is a very easy Christmas mocktail that only needs a few ingredients, which you should find in your kitchen. To make a Grinch Punch worthy of Christmas, simply combine Kool Aid (available at speciality stores or online), soda water, pineapple juice, ginger ale and ice.
8. Non-Alcoholic Amaretto Sour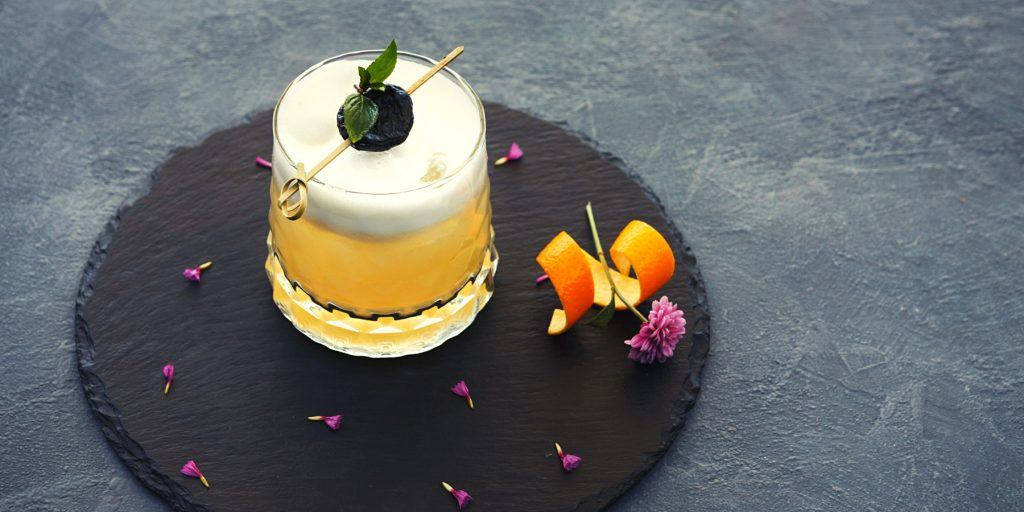 Want all the nutty deliciousness of an Amaretto Sour minus the booze? The non-alcoholic Amaretto Sour is the perfect Christmas mocktail for a crowd. For this recipe, you'll need fresh pineapple juice, lemon juice, egg whites (or aquafaba for a vegan version) and almond extract. Shake all the ingredients together, pour into glasses, top with a maraschino cherry et voilà!
9. Non-Alcoholic Eggnog

Did somebody say 'indulgent dessert drink-in-a-glass'? This non-alcoholic eggnog recipe is what you need. Creamy, cosy and filled with memories of Christmas past, eggnog is a quintessential holiday drink across the globe. What's more, if you have lactose intolerant or vegan friends, you can easily adapt it into a plant-based recipe using non-dairy milk and cream. Festive fun for everyone!
10. Non-Alcoholic Hot Buttered Rum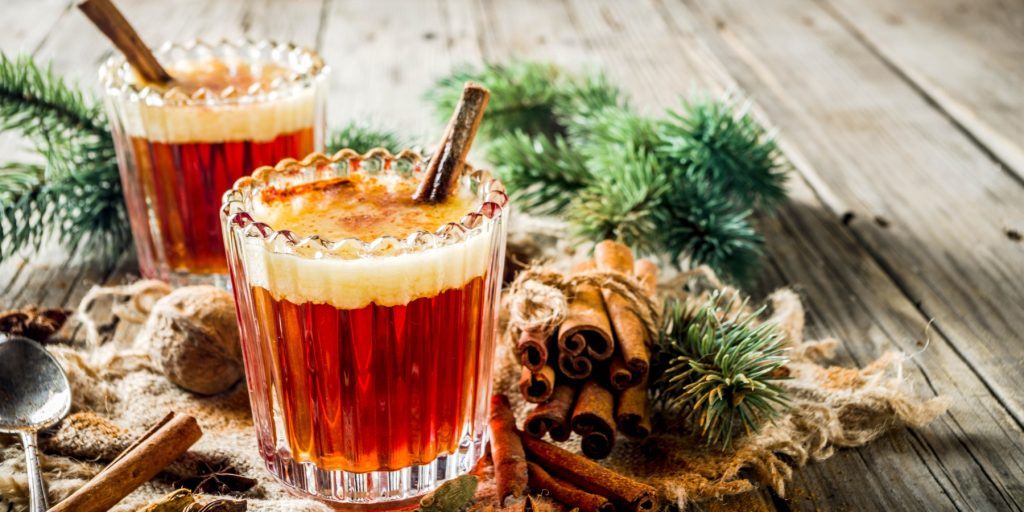 Your Christmas table won't be complete without this buttery spiced Christmas drink, and you can whip up a non-alcoholic version in less than 15 minutes. The trick is replacing the rum in the recipe with rum extract, which will give this mocktail the same signature flavour without any added alcohol. The rich creamy taste of this non-alcoholic hot buttered rum will be pure delight at the end of your festive feasts!
FREQUENTLY ASKED QUESTIONS
Exactly like cocktails, mocktails can be made ahead of time to ensure your party or dinner goes as smoothly as possible. Simply start from a single-serving recipe and do some maths to work out the quantities based on the number of people you want to serve. Store in the fridge, and add ice just before serving.
Sure! Mocktails are a great way to please a crowd and meet all your guests' needs. Many cocktail recipes can easily be converted to non-alcoholic versions. You can also offer your guests the choice to spike their drinks by providing spirits alongside your mocktail batch.