13 Halloween Cocktails to Trick or Treat
April 26, 2022 by Helena Lombard
Halloween isn't just for kids. In fact, it's become one of the most popular times of year to entertain and serve up some creatively creepy Halloween cocktails. If you're stuck on ideas, don't worry—we have some easy Halloween cocktails you can try. So, if you want a tasty treat, be sure to holler trick or treat! (Or just read all our awesome Halloween cocktail ideas below).
1. Candy Corn Martini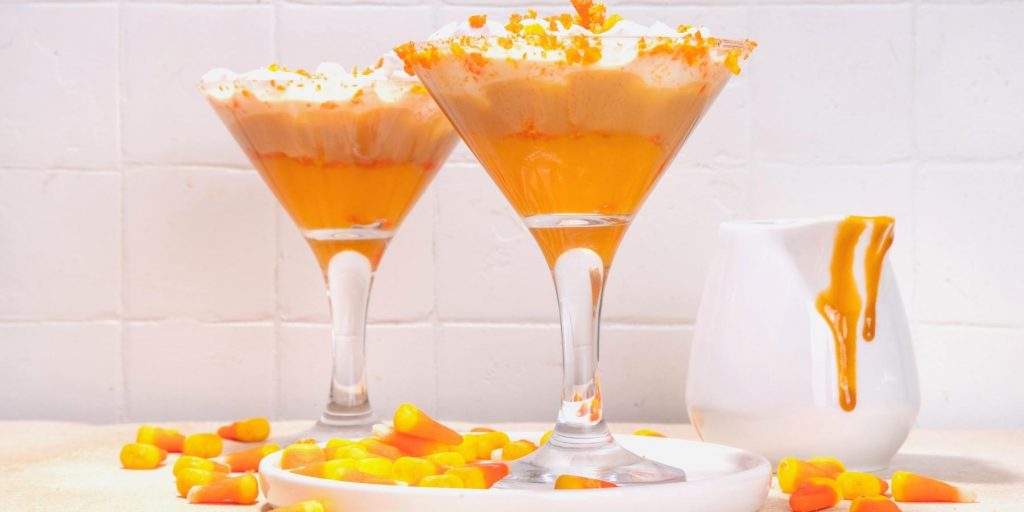 If you want to add some childhood flavors to your Halloween party, mix a Candy Corn Martini, inspired by the traditional orange and white corn-shaped Halloween treats that have been a popular addition to trick-or-treat bags since the 1800s.
For the adult (drinkable) version, you'll need candy corn flavored vodka (easy to make your own!), grenadine, pineapple juice, whipped cream, and ice. The trick is to keep it all layered, just like the candy, and the treat is the notes of vanilla, butter, and caramel you'll taste with every sip. This Halloween cocktail is best-enjoyed bottoms up!
2. Bloody Mary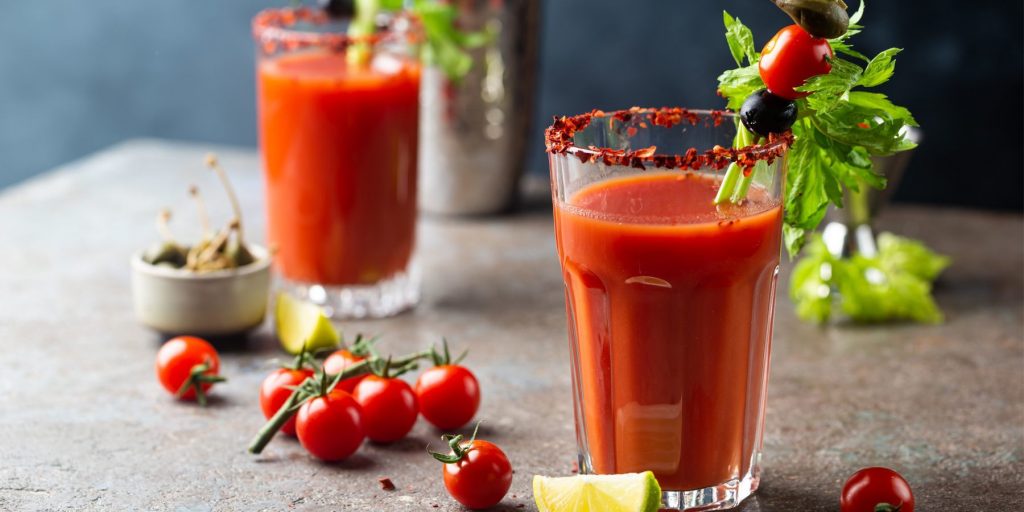 As far as Halloween cocktail recipes go, the name alone makes a Bloody Mary a classic choice. While this drink is more of a pick-me-up with your friends after a night on the town, it's equally delicious when served as a pre-dinner drink as part of your Halloween-themed cocktails. Made with uncomplicated ingredients like vodka, tomato juice, Worcestershire sauce, tabasco, lemon, salt, and pepper, this is one of the more straightforward and sophisticated Halloween cocktails to mix.
3. Poisoned Apple Cider Cocktail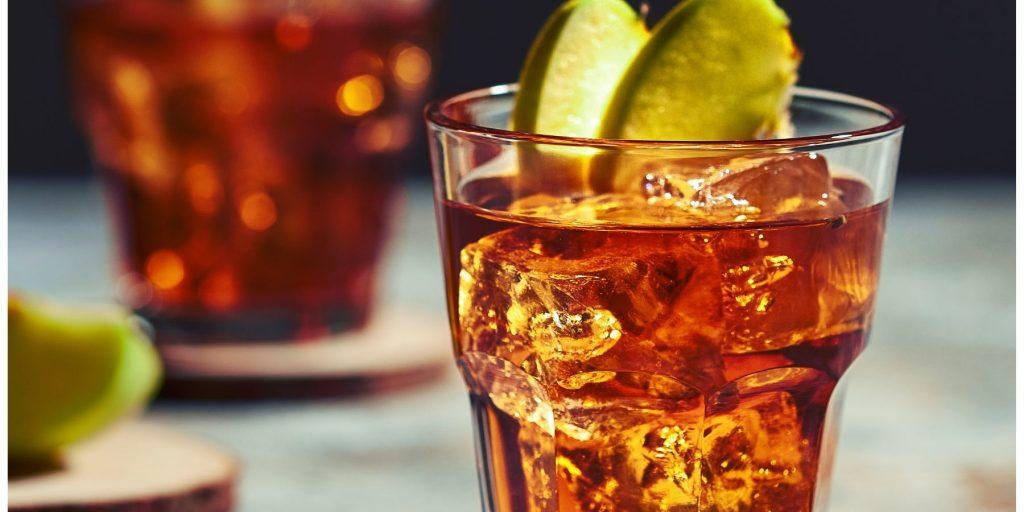 Remember when you were a little kid, and you saw the story of Snow White? And how, in your mind, you begged her to not eat the apple, and she just munched on it anyway? And then she fell into a poison-apple-induced sleep? Well, this Poisoned Apple Cider cocktail is inspired by that story, but we promise you it won't have the same effect.
This eerie-looking easy Halloween cocktail is made with apple cider, cranberry juice, fireball, grenadine, and a sprinkling of glitter to create a magical red and golden swirly cocktail that is pretty enough to tempt your friends to take a sip. It's definitely up there on the list of apple cider cocktails you should try.
4. Witches Brew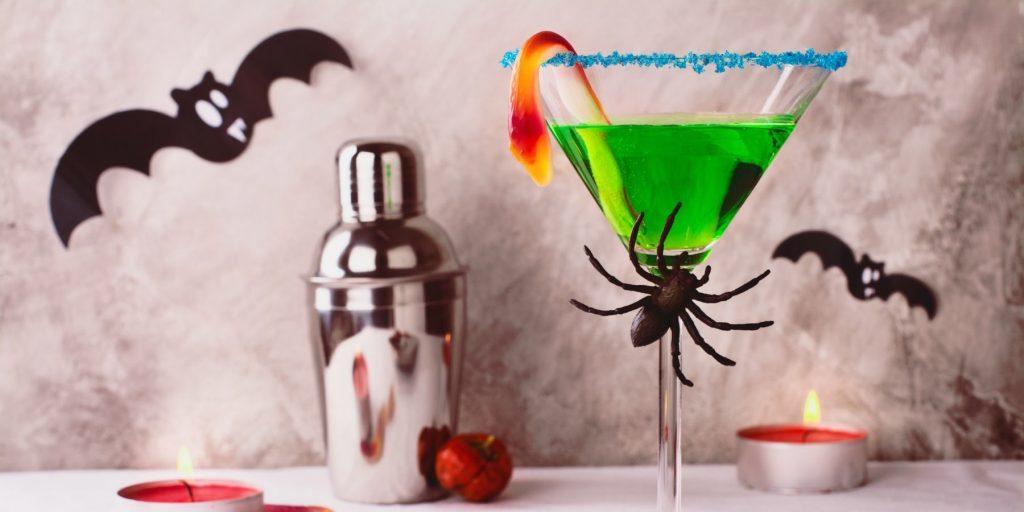 Double, double toil and trouble; Fire burn and cauldron bubble… Introducing the Witches Brew cocktail—a fun, scary-looking green concoction (that actually tastes amazing!) This is one of the spookiest Halloween cocktail ideas you can conjure up—and if you add a dry ice cube to the drink, you are sure to impress your friends. Just make sure you know how to safely use dry ice in cocktails.
While it's super impressive looking, making a Witches Brew is equally simple: All you need is melon liqueur, triple sec, lemon juice, and a cackle worthy of the witchiest witches to make this Halloween cocktail the star of the night. And don't worry about the taste. The honeydew melon-flavored liqueur is the base of this drink, making this brew one that is really easy to swallow.
5. Green Monster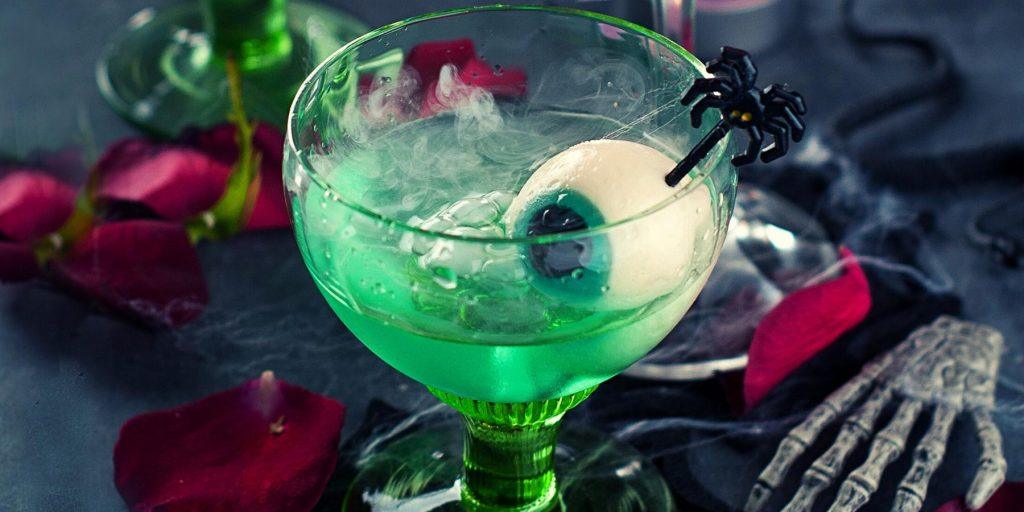 Speaking of green drinks, this guy is another one you can invite to your Halloween party. The Green Monster is one of the perfect cocktails for beginners, and while it's great to add to your Halloween cocktail ideas, it will be equally enjoyable as part of your St. Patrick's Day Cocktails menu and leap year parties.
It's a short drink with just three ingredients: tequila, banana liqueur, and melon liqueur are poured over ice in a lowball glass and stirred. Simple and impressive.
6. Black Magic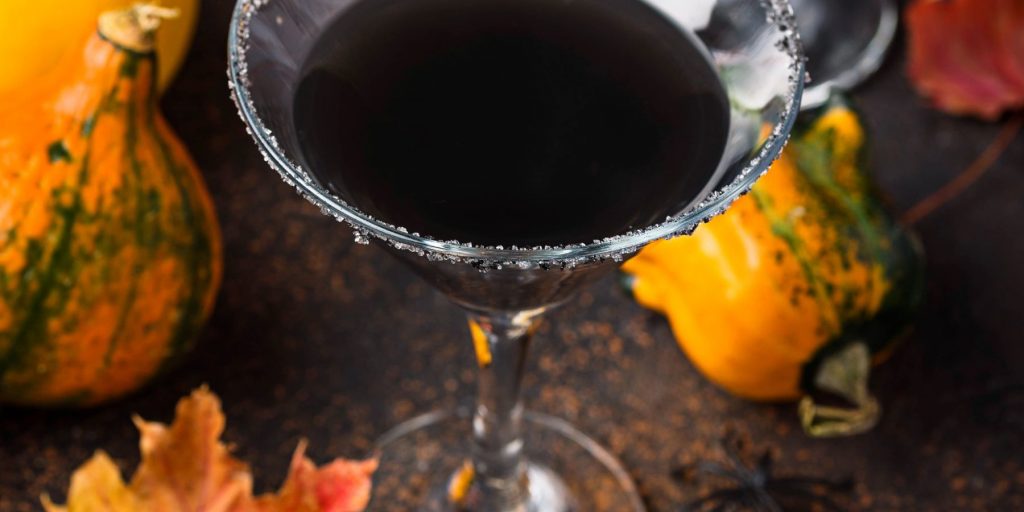 Add a bit of spectacle to your evening with the Black Magic cocktail—a spooky drink packed with delicious flavor. Made with black vodka, grenadine, and lemon-lime soda, this Halloween cocktail gets its ink-like appearance when you stir in the black vodka.
Taste-wise, it's like Shirley Temple basically walked into a bar and drank a shot of vodka. We suggest you serve it in a highball glass filled with ice, unstirred, to let your friends create some black magic of their own. It's a thrilling surprise that everyone is sure to enjoy!
7. Baby Yoda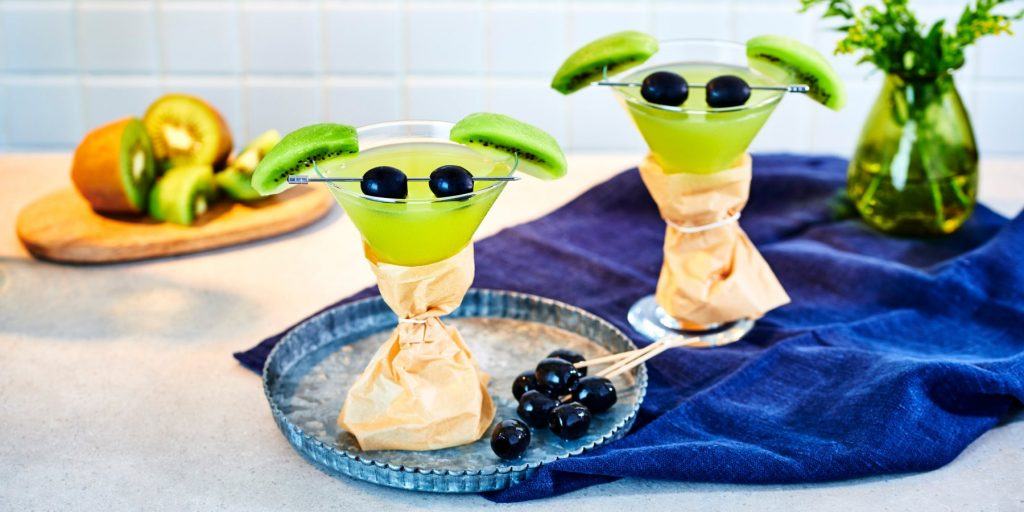 Baby Yoda became all the rage with the release of The Mandalorian in 2019. Thanks to Jennifer Aniston, a Baby Yoda cocktail inspired by the series rose to Instagram fame when she posted a picture of it in 2019. This is the ultimate cocktail for every Yoda fan and is a must-have if you ever throw a Star-Wars Halloween cocktail party.
It's a bit of a crafty Halloween cocktail that calls for vodka, simple syrup, and kiwi fruit to be shaken together with ice before straining into martini glasses. The crafty bit? Making Baby Yoda's ears and eyes using sliced kiwi fruit, black olives, and toothpicks. Make this cocktail, you must.
8. Squashed Frog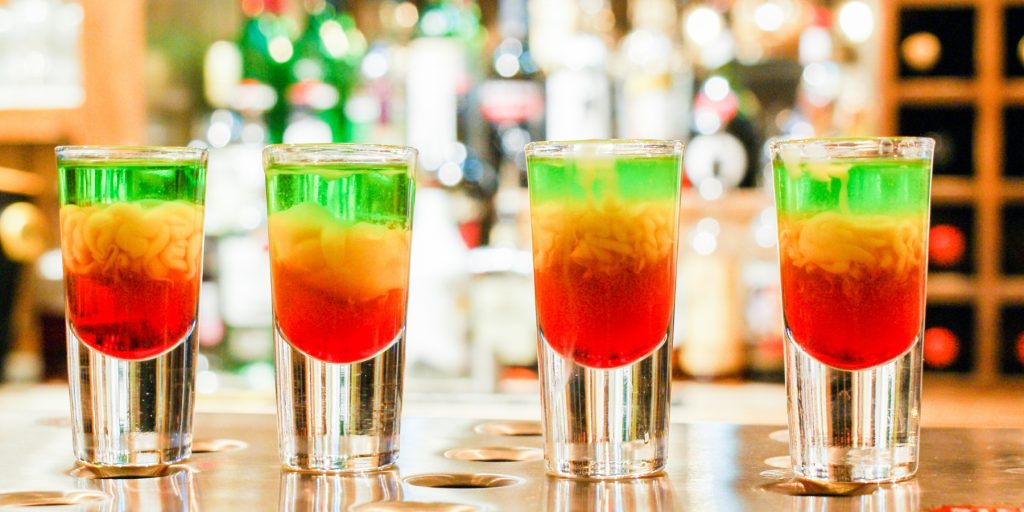 Two disclaimers! One, this Halloween cocktail recipe doesn't actually contain a squashed frog. And two, it's really more of a shot than a cocktail. Layered into a shot glass, from the bottom up, a Squashed Frog contains grenadine, melon liqueur, and Advocaat (a liqueur made with brandy, egg yolks, and sugar). Because the Advocaat is quite heavy it sinks into the green melon liqueur creating the illusion of something green and squashed (and frog-like) in the center of the shot. The final result is pretty gross-looking and it tastes delicious, which makes it one of the ultimate Halloween cocktail recipes.
9. Swamp Water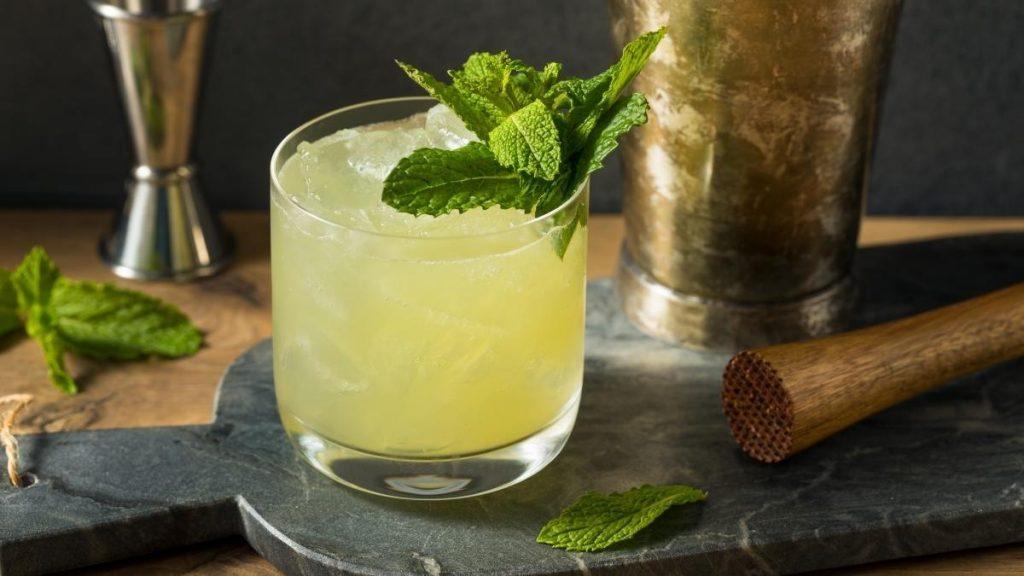 The Swamp Water cocktail became popular during the golden years of the good old Rusty Nail and Harvey Wallbanger. While the appearance of Swamp Water lives up to its name, it thankfully does not do the same in taste. It's one of the most straightforward Halloween cocktail ideas to pull off, and you make it by stirring green Chartreuse, pineapple juice, and lime with ice in a tall glass.
Top tip? One bottle of green Chartreuse will give you about a gallon of Swamp Water, making it the perfect crowd-pleaser for your next Halloween party.
10. Apple Pie Moonshine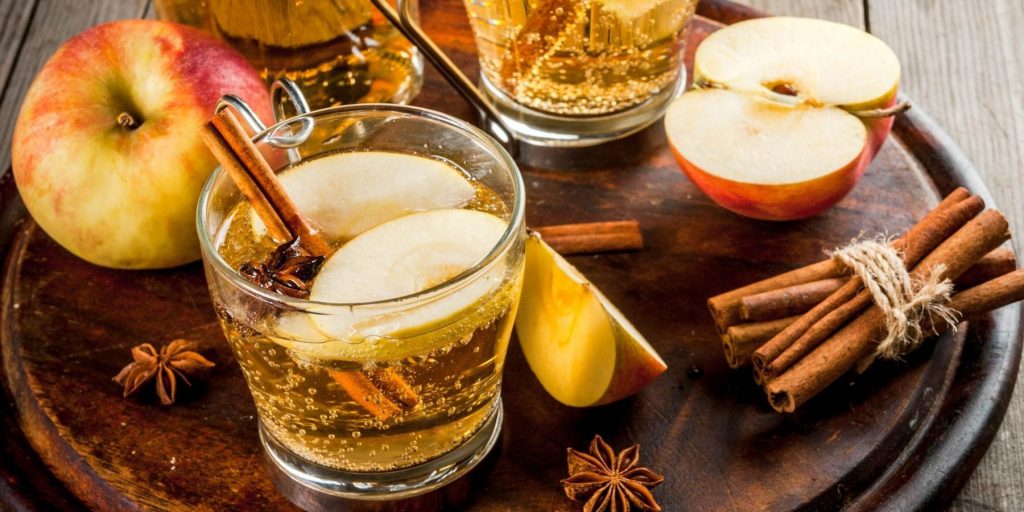 Speaking of things that remind you of swamp life, why not add a bit of moonshine to your Halloween cocktail ideas? All you need is apple liqueur, apple cider, moonshine whiskey (the legal kind), cinnamon, vanilla, and caramel sauce. Before you know it, y'all will be having a real good time. The Apple Pie Moonshine cocktail is sweeter than honey and stronger than moonshine, so proceed with caution.
11. French Maid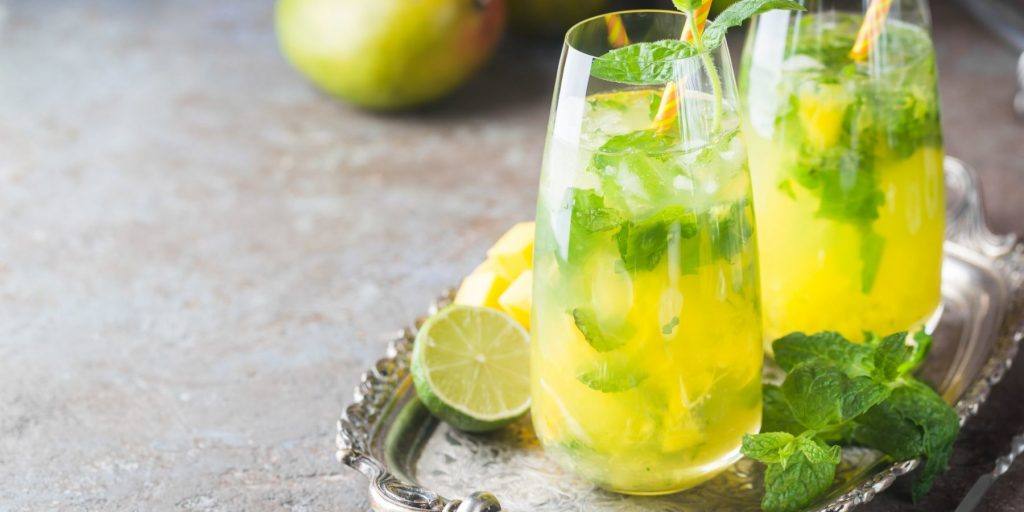 This lady is French because she contains cognac. If your Halloween theme is less spook and more sophistication, this cocktail is a more polished pre-dinner drink option.
To make a French Maid, muddle cucumber, mint, and simple syrup in a cocktail shaker. Add cognac, ginger beer, lime juice, and easy homemade falernum syrup. (The addition of this syrup takes this cocktail to a whole new flavor level, so it is well worth the effort). Shake until chilled and strain into a coupe for that extra French twist, and garnish with a sprig of mint and sliced cucumber. À ta santé! 
12. Clockwork Orange Cocktail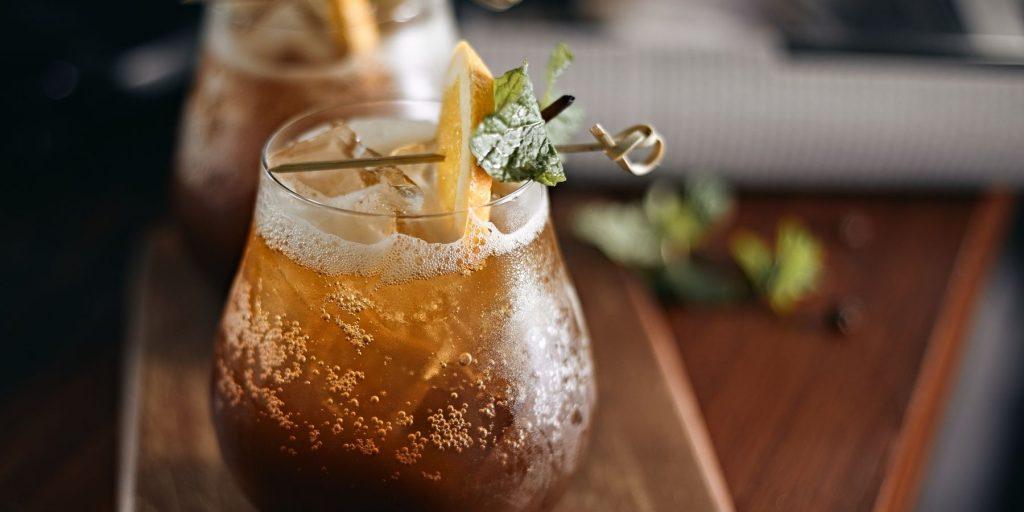 If you've watched Stanley Kubrick's A Clockwork Orange, you'll understand why this one makes our list of best Halloween-themed cocktails. While this cocktail is nowhere near as sadistic as the characters in the movie, aesthetically, it exudes a similar red-orange as seen throughout the film.
To make one, shake together aquavit, coffee, Aperol, simple syrup, and bitters. Strain into a lowball glass over one large ice cube. Garnish with flamed orange peel. Serve as an after-dinner cocktail.
13. Blackjack Cocktail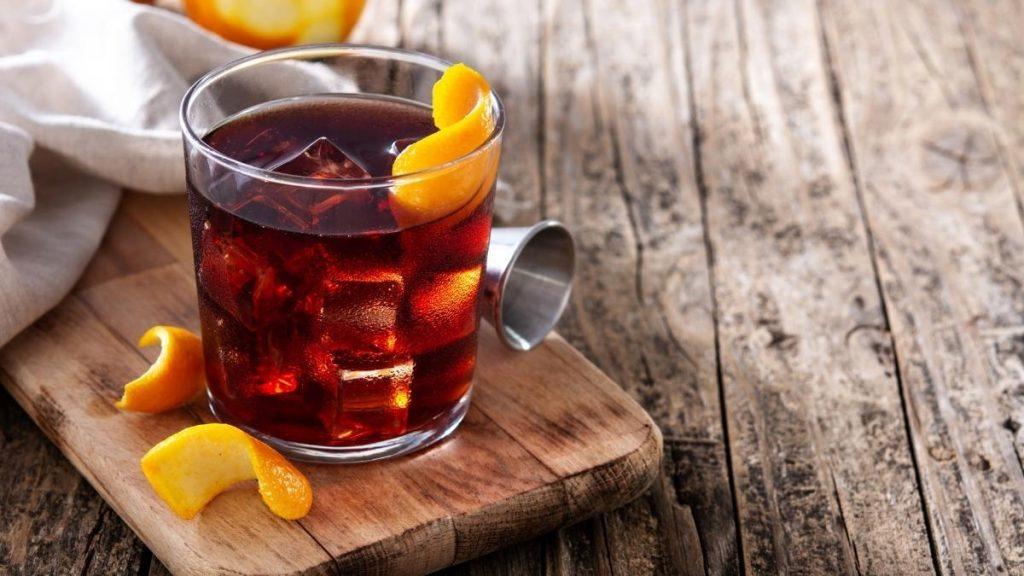 Say you decide to throw a haunted casino party—and why not, there are no rules on All Hallow's Eve—then this is the Halloween cocktail to place your bets on. Named Blackjack because of its color, this is the ultimate cocktail to serve your cognac and coffee-loving friends. The added cherry liqueur gives it a unique twist that is hard to resist. A great choice to end off the evening.
FREQUENTLY ASKED QUESTIONS
In short, a lot of them. Some of our favorite choices are Apple Martinis, Bloody Marys, and a Vampire's Kiss. Take a look at all of our vodka cocktails for more inspiration.
If gin is more your flavor, go for a Black Cat Martini, Bloody Good Gin Fizz, or some Brain Freeze. As always, we have a whole lot of gin cocktails, so check them out.