11 Elegant Canapés for Your Next Cocktail Party 
October 07, 2022 by Helena Lombard
12If you're planning a cocktail party and looking for some snack satisfaction, you've come to the right place. Welcome to 'The Mixer's cocktail party canapés kitchen!' If you thought that was a mouthful, wait until your taste our delicious canapés! We give you two of our favourite recipes to get you started, loads of other mouth-watering cocktail party canapé ideas, and the cocktails to pair them with.
So, pour yourself a drink, put on your apron, and let's get cooking!
1. Crispy Fried Calamari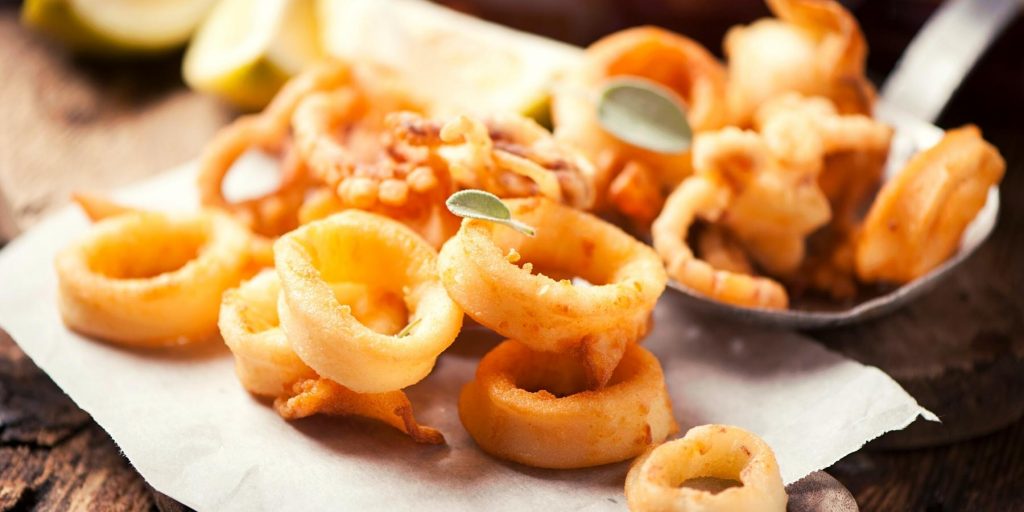 Yields: 12 portions
Serve with: Moscow Mule
Top Tip: Serve your crispy fried calamari in paper cones and cocktail forks for easy eating!
Crispy fried calamari are hearty canapés for a cocktail party that everyone will love. The best part? You can pull it with just a few inexpensive ingredients that are probably lurking in your pantry. This is our favourite recipe, but feel free to play around and use different herbs and spices. Make sure you soak the squid in buttermilk or whole milk for perfectly tender calamari.
Ingredients
2kg cleaned calamari rings

1 litre buttermilk

200g all-purpose flour

140g polenta

1 Tbsp paprika

1 Tbsp dried oregano

2 Tbsp coarse salt

2 Tbsp cracked black pepper

Vegetable oil for frying

Aioli for dipping

Lemon wedges
Method
Place calamari rings in a large bowl, cover with buttermilk and leave to soak for 20 minutes

Add flour, seasoning spices and herbs to a bowl and set aside

Add vegetable oil to a large skillet and let it heat up

Take a large handful of the calamari letting the excess buttermilk drip back down into the bowl, then toss it in the prepared flour until evenly coated.

Carefully place the first batch in the hot oil and fry for about 3 minutes until golden and crispy

Remove the fried calamari with a slotted spoon, and place it on paper towel to dry

Pop into the oven to keep warm while you fry the rest, batch by batch

To serve, sprinkle with salt, scoop into paper cones, add a cocktail fork and serve with lemon wedges and aioli on the side
2. Bacon and Date Canapés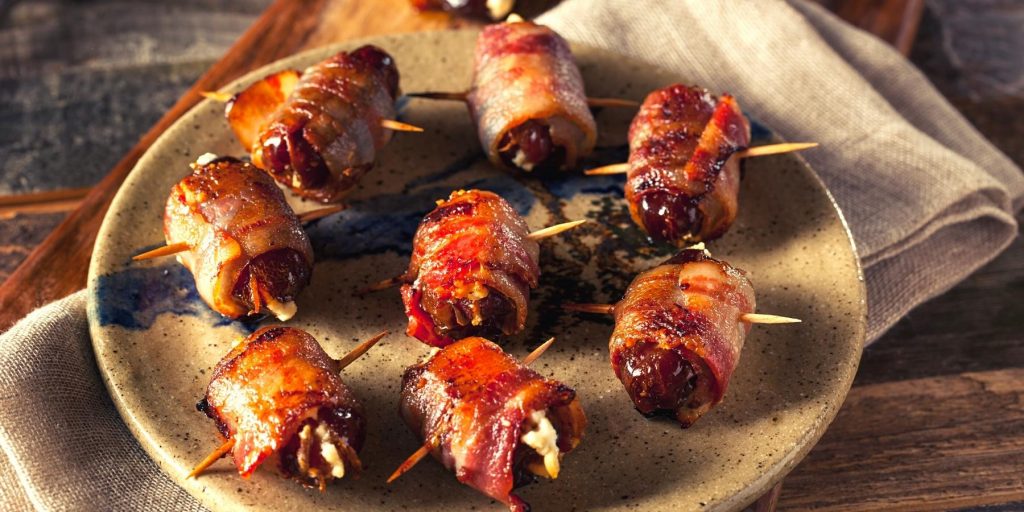 The combination of bacon and dates might sound strange, but we promise you that these are the most amazing salty and sweet canapés for a cocktail party!
Yields: 24 servings
Top Tip: Don't like dates? Replace them with maraschino cherries! Absolutely delicious.
Serve with: Old Fashioned
Ingredients
500g pitted dates

250g raw almonds

2 packets of streaky bacon

Toothpicks
Method
Preheat oven to 200°C

Using a small knife, make a slit in each date

Slide an almond inside

Wrap with a bacon rasher and secure in place with a toothpick

Pop in the oven and cook for about 10 minutes or until the bacon is crispy.

Leave to cool slightly then stick in toothpicks and serve.
3. Swedish Meatballs with Gravy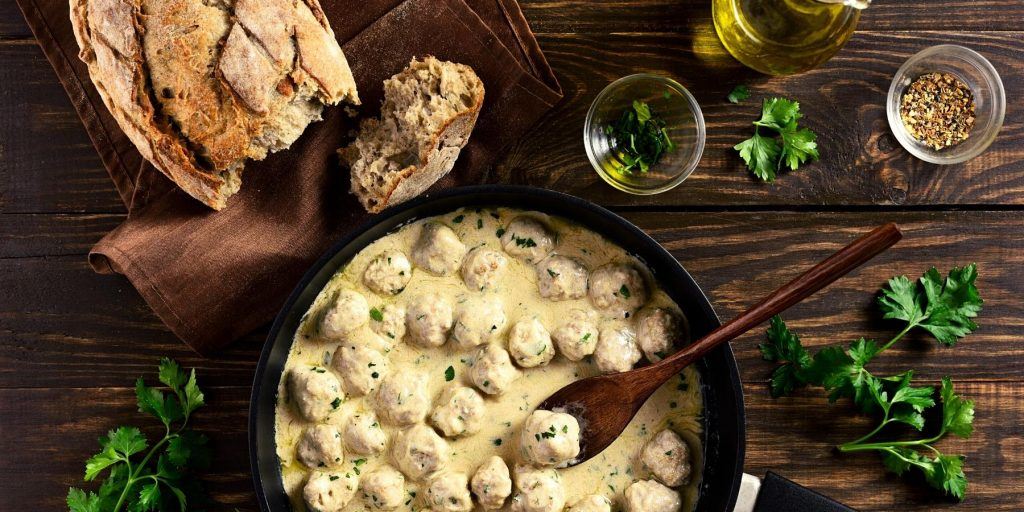 These classic old-school meatballs and gravy canapés are made with beef, pork, allspice, white pepper and chopped onion. Serve them on cocktail sticks with the gravy on the side for easy dipping! Swedish meatballs require a little labour of love, but the effort is well worth it. These meaty bites are definitely one of the heartier finger food cocktail party canapés and they're very moreish, so be sure to make enough! For a cocktail pairing, we suggest a refreshing Mexican Mule to cut through the richness of the meatballs.
4. Baked Crab and Artichoke Dip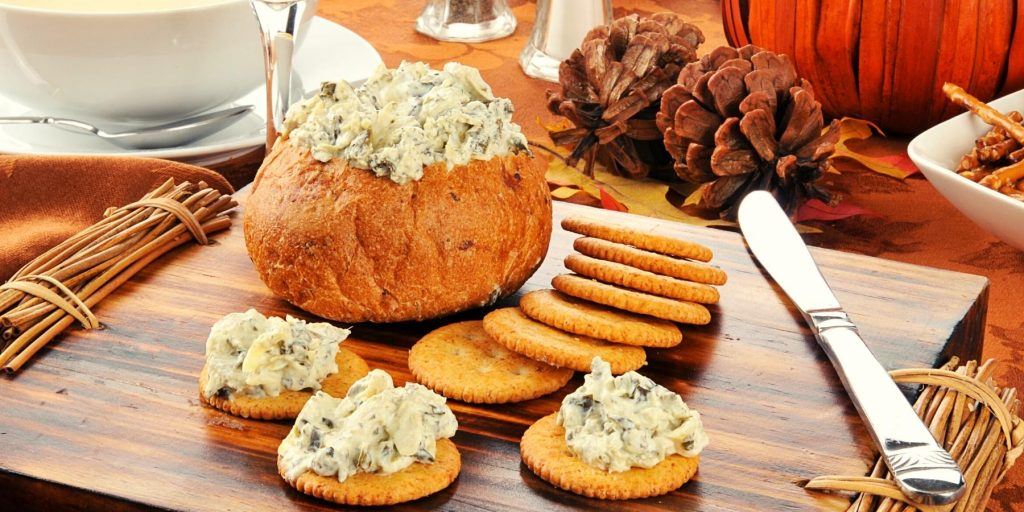 This classic old school dip is baked in the oven and served straight inside a bread bowl (which is basically hollowed out bread buns). The best part is that you won't have to do any dishes! It's one of the more heavy canapés for a cocktail party, but will go down a total treat. To make a Baked Crab and Artichoke Dip combine cream cheese, sour cream, crab meat, artichokes, mozzarella and other goodies. Hollow out a sourdough loaf and cut the excess bread into cubes. Add the dip to the bread bowl, and bake in the oven for around 30 minutes. Serve with cubed bread on the side for easy dipping and classic Mojitos.
5. Chicken Liver Pâté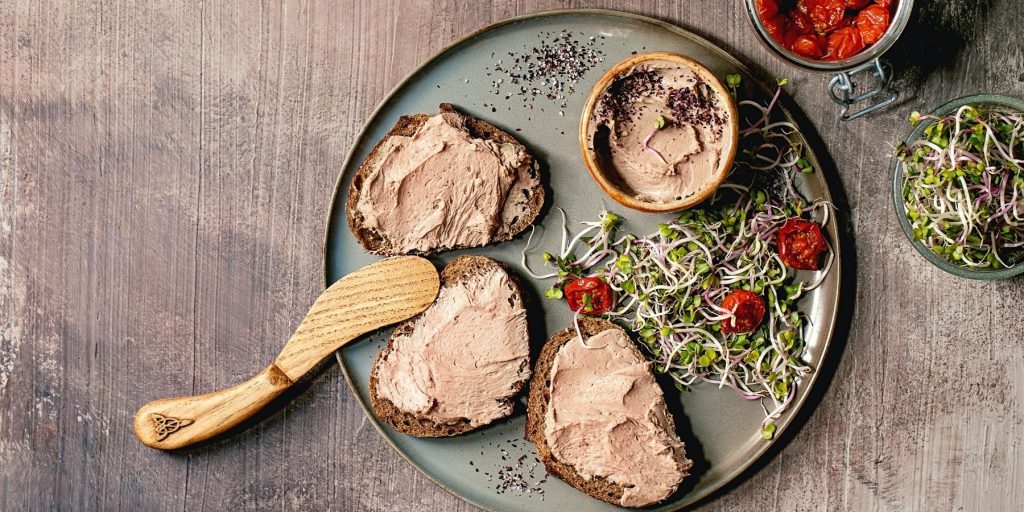 A lot of people don't like chicken livers, but we think that's because they don't know how to make them taste amazing. A classic chicken liver pâté is made with cream, white wine, butter, garlic, capers and fresh herb. Served on crispy crostini and topped with balsamic onion reduction, it's easy to turn chicken liver into elegant canapés for a cocktail party. Serve some classic Gin Martinis for an equally elegant drink that will cut though the buttery richness of the pâté.
6. Black-Eyed Pea Bruschetta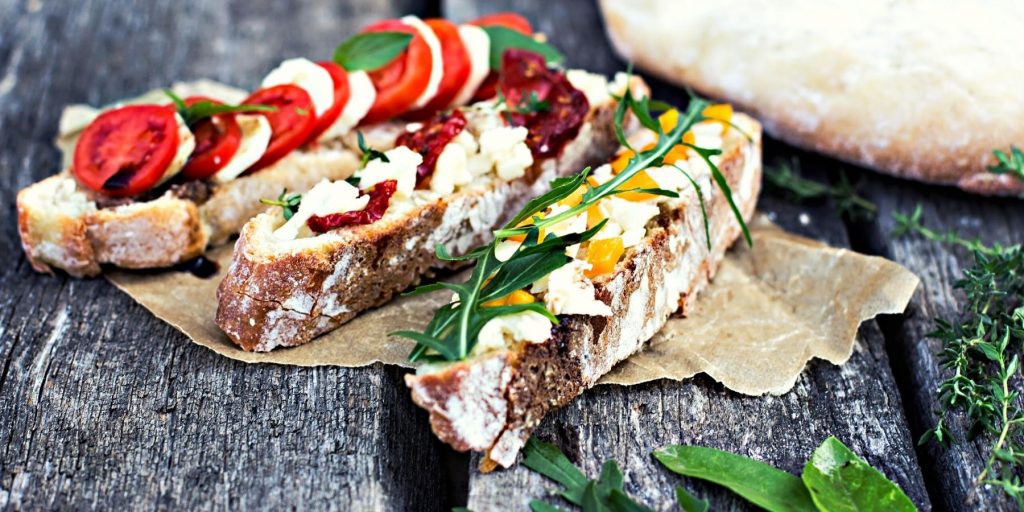 Bruschetta is a popular cocktail party canapé, often ignored because of its simplicity. But these tasty treats are more than just toast with toppings. They are packed with flavour and when it comes to topping ideas you'll be spoilt for choice. For this version, you'll be tossing together black-eyed peas, Swiss chard, peppers, garlic, onion, apple cider vinegar and olive oil. Scoop this delicious topping onto toasted baguette slices, and then for the pièce de résistance top with crispy sliced pork. It's a lovely summer canapé packed with flavour, and we suggest you serve it with a summery Aperol Spritz.
7. Bacon Jalapeño Popper Puffs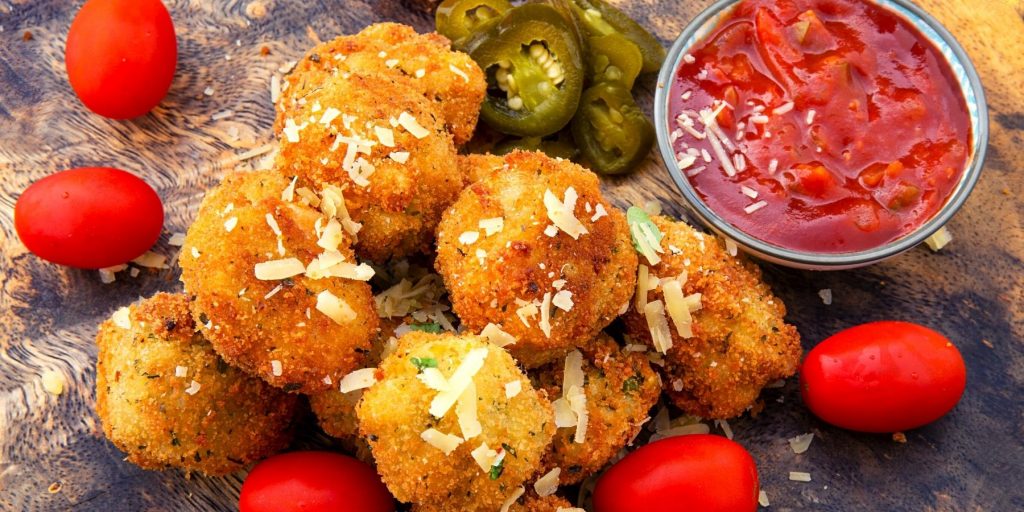 If you're a fan of spicy food and jalapeños poppers, then these popper puffs will more than satisfy your tastebuds. The ingredients are very similar to the classic jalapeño poppers, but is worked into a dough, deep fried and served with a cream cheese dipping sauce on the side. These spicy cocktail party canapés are easy to make ahead of time and can be turned into veggie-friendly versions if you leave out the bacon. Serve classic Lime Margaritas on the side to cool down burning mouths.
You might also like: How to Pair Cocktails with Spicy Food
8. Baked Feta Bites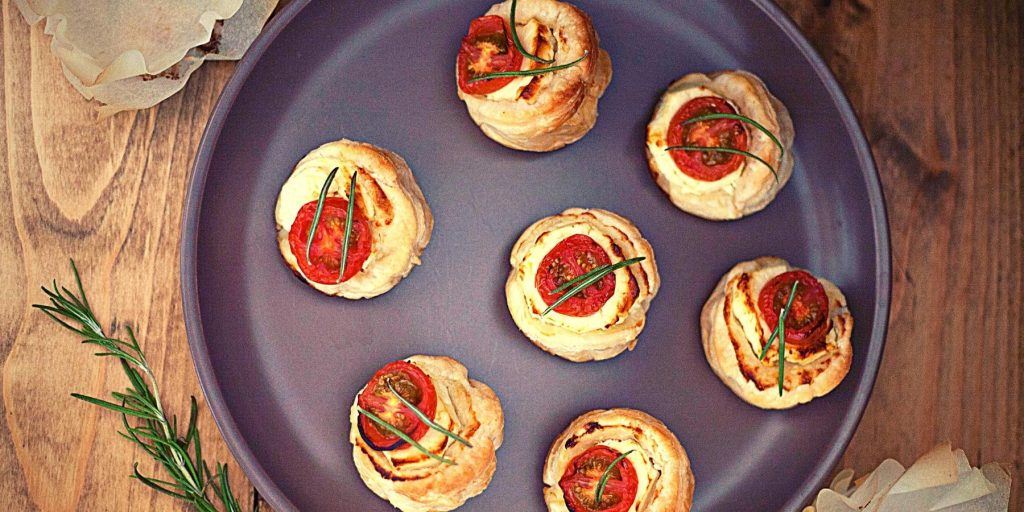 Speaking of light bites, these flavourful cheesy finger food cocktail party canapés will be a total hit. If you're making these over the festive season, go ahead and add some cranberries to the recipe. To make Baked Feta Bites, fill crescent dough squares with crumbled feta, roasted peppers, thyme and shallots, then bake in the oven until golden. Simple and delicious! Gin pairs well with feta and we suggest serving refreshing Pornstar Martinis with gin.
9. Pigs in a Blanket
What's not to love about these fancy-looking mini hot dogs? Making Pigs in a Blanket is quick and easy, and they always please the crowd. Simply wrap cocktail wieners in puff pastry, brush them with melted butter, sprinkle over coarse salt and bake in the oven for about 10 – 15 minutes. Serve with a tomato and sweet chilli dipping sauce and some refreshing ginger beer cocktails to wash them down.
10. Arancini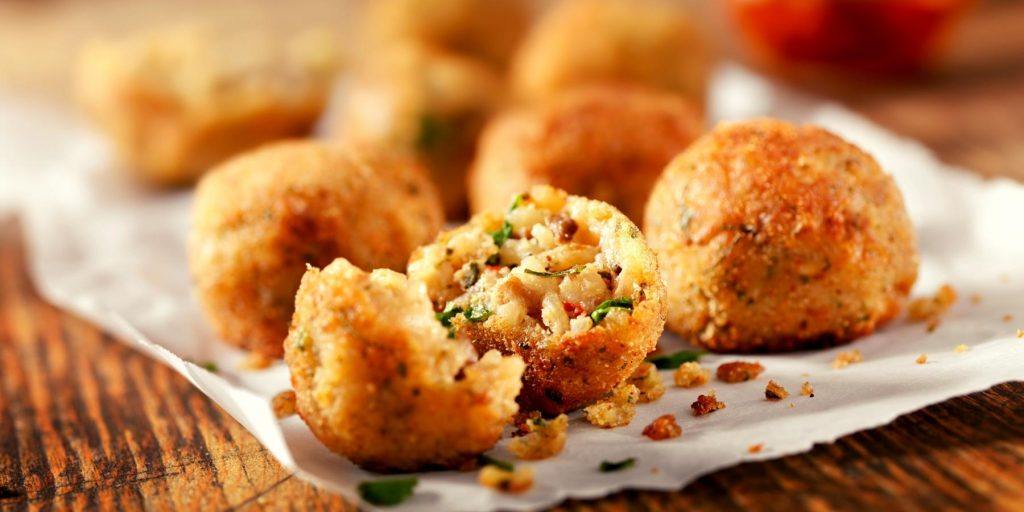 These famous fried Italian risotto balls are cheesy, crispy and super easy to make at home. To make these you'll combine cooked Arborio rice with butter, eggs, mozzarella, ricotta and parmesan, fresh parsley and seasoning. Once mixed, roll them into bite-size balls and coat them in seasoned flour, egg and breadcrumbs. Fry them in batches until golden and heated through. Serve on a platter on top of a rich tomato marinara sauce. Because Arancini is a classic Italian dish, we suggest pairing it with an equally classic Hugo Spritz.
11. Blue Bacon Stuffed Mushrooms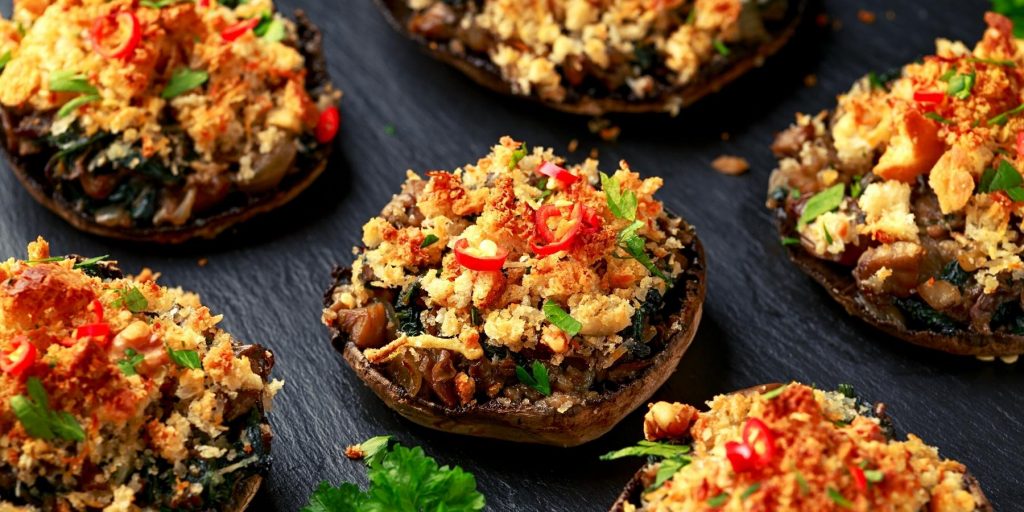 Whoever said that life's too short to stuff a mushroom definitely had the wrong recipe! Making these delicious 'fun-guys' couldn't be easier. All you'll need are large portobello mushrooms, which you'll stuff with a mixture of crispy bacon, butter, onion, garlic, cream cheese, blue cheese and then top with breadcrumbs. The stuffed mushrooms are baked in the oven until the cheese has melted and breadcrumbs are crispy. To complement the strong taste of the blue cheese we suggest serving a sweet Manhattan cocktail. It's the perfect match.
FREQUENTLY ASKED QUESTIONS
The last thing you want is not enough food to feed the crowd. So, follow this rule: If you're having a dinner party, stick to 6 canapés per person, but if you're having a cocktail party, around 10-12 per person will do nicely. 
There are loads of tried and tested canapés to serve at your cocktail party. Some of the most popular dishes include pigs in a blanket, crispy calamari, chicken liver pâté and bruschetta. 
You can either create a canapés buffet, where guest can help themselves, or serve them straight to guests while they mingle around. The best way to serve canapés is so that it can be held and eaten with ease.