The Best Friendsgiving Ideas for this Festive Season
November 16, 2023 by Anna-Bet Stemmet
Righto, let's dive feet first into the ultimate collection of Friendsgiving ideas! This easy guide is all about good times and great vibes. We're talking mouthwatering dishes, festive décor, and activities that'll have everyone ROLF-ing like it's the 2000s. Get set for a Friendsgiving where the warmth of your chosen family takes center stage!
What is Friendsgiving exactly?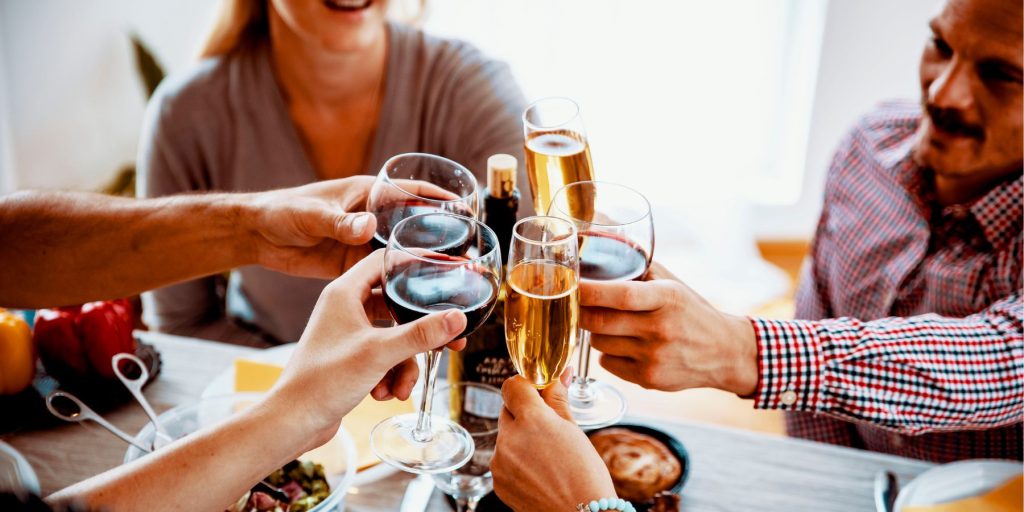 Friendsgiving is a casual, Thanksgiving-inspired gathering among friends. It typically takes place in the weeks surrounding Thanksgiving Day and involves sharing a meal with close friends.
Unlike traditional Thanksgiving, Friendsgiving allows individuals to celebrate with their chosen family, sharing gratitude and creating cherished memories together. It often involves potluck-style meals, creative dishes, and various activities to foster a sense of camaraderie and thankfulness among friends.
Friendsgiving invitation ideas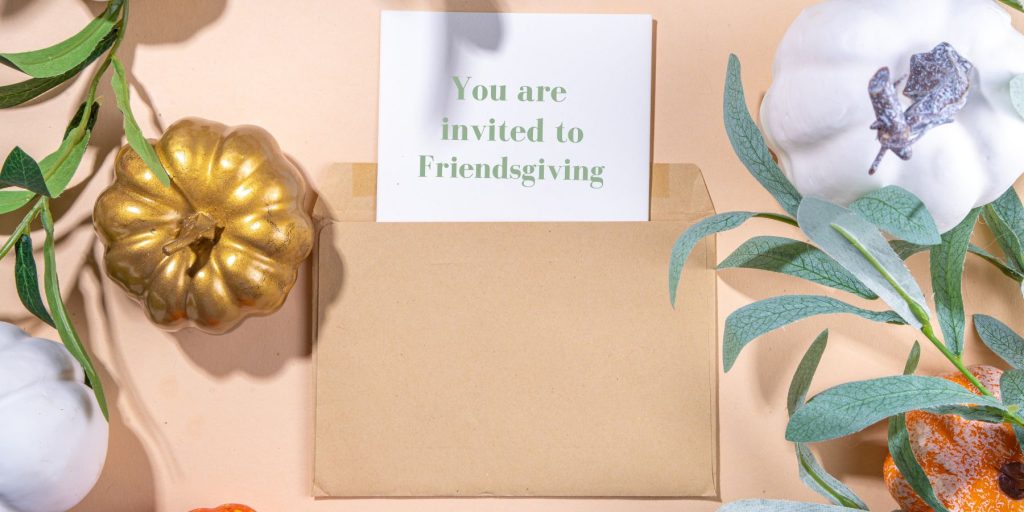 Before we get to the tasty and clink-y part of our Friendsgiving party ideas line-up, let's talk logistics.
When to host Friendsgiving?
Choose a Friendsgiving date close to Thanksgiving, in the weeks leading up to or following the holiday. Check in with your friends to find a date that works for everyone, considering work schedules and travel plans.
Some folks opt for the weekend before Thanksgiving, so that everyone can still enjoy the holiday with their families. Ultimately, the best time is when it feels convenient and inclusive for your friend group to come together for a festive and memorable celebration.
What time should the event be?
Typically, it's considered best to host a Friendsgiving event in the early evening to accommodate both lunch and dinner preferences. Starting around 16:00 or 17:00 strikes a balance. How long Friendsgiving lasts is totally up to you and your crew. Plan for a relaxed gathering with enough time to mingle, eat, drink, and play some games at leisure. Flexibility is key when figuring out what time to host your Friendsgiving party, so check in on your friend group's preferences and schedule.
Fun invite ideas
Customized e-invites. Design a personalized digital invitation featuring playful graphics and emojis, capturing the casual and fun spirit of Friendsgiving.
Puzzle invitations. Mail puzzle pieces to each friend with a note saying, "We're better together. Put the pieces together for Friendsgiving details."
Friendsgiving passport. Design an invite resembling a passport with essential details stamped inside.
Fortune cookie invites. Slip Friendsgiving details into custom-made fortune cookies. Encourage recipients to break open the cookie for the exciting news.
Friendsgiving food ideas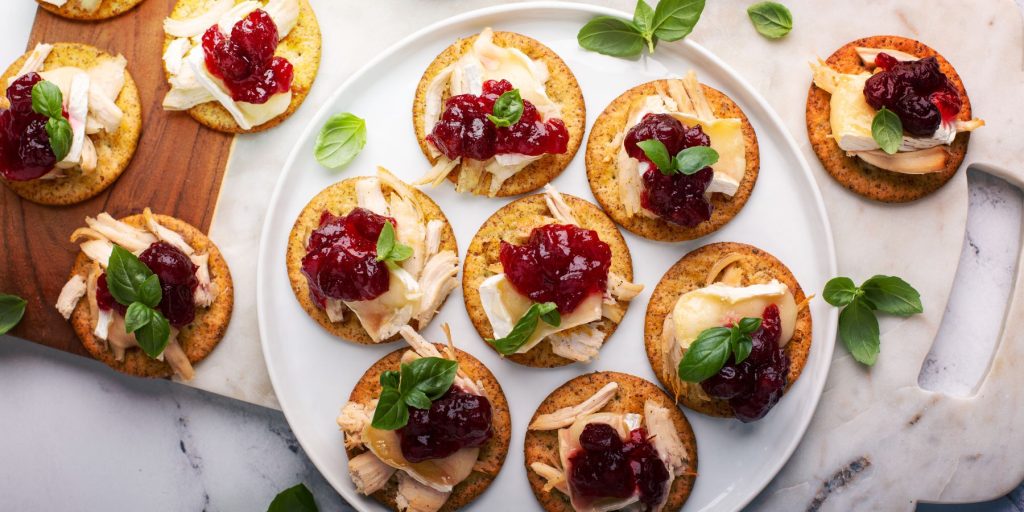 For us, Friendsgiving meal ideas are all about sharing, and planning a Friendsgiving party with a potluck table pretty much always turns out to be a wonderful idea. It doesn't have to be the late-80s version of a potluck either!
Here are a few top-tier Friendsgiving menu ideas that are perfect for a communal feast:
Turkey tacos. Instead of a traditional whole turkey, consider preparing turkey tacos with all the fixings. Guests can customize their tacos with various fillings, like cranberry salsa, stuffing, and gravy.
Mashed potato bar. Set up a mashed potato bar with a variety of toppings, such as shredded cheese, chives, bacon bits, sour cream, and gravy. It's a comforting and customizable side dish.
Cranberry brie bites. Create bite-sized appetizers by wrapping brie cheese and cranberry sauce in puff pastry. These can be easily shared and enjoyed as a delightful pre-dinner treat.
Stuffing muffins. Bake individual servings of stuffing in muffin tins. This not only makes for a visually appealing dish but also ensures that everyone gets a portion of that coveted crispy top.
Fall harvest salad. Prepare a colorful salad using seasonal ingredients like mixed greens, roasted butternut squash, cranberries, and pecans. Provide a variety of dressings for guests to choose from.
Sweet potato casserole bites. Turn the classic sweet potato casserole into bite-sized portions. Top them with a pecan streusel for that perfect blend of sweetness and crunch.
Pumpkin risotto. Elevate your Friendsgiving table with a creamy pumpkin risotto. It's a rich and flavorful dish that's sure to be a hit among guests.
Apple-cranberry-stuffed acorn squash. Halve acorn squashes and stuff them with a mixture of apples, cranberries, and spices. This dish not only tastes delicious but also serves as a festive centerpiece.
Brussels sprout skewers. Roast Brussels sprouts and thread them onto skewers for a convenient and shareable side dish. Drizzle with balsamic glaze for added flavor.
Pecan pie bars. For dessert, consider making pecan pie bars. These are a portable and shareable alternative to a whole pie, allowing guests to indulge in a sweet treat without the need for utensils. Just gorgeous when paired with Irish Coffee or Hot Buttered Rum, FYI…
Early does it! How to Host a Brunch Party at Home
Friendsgiving drink ideas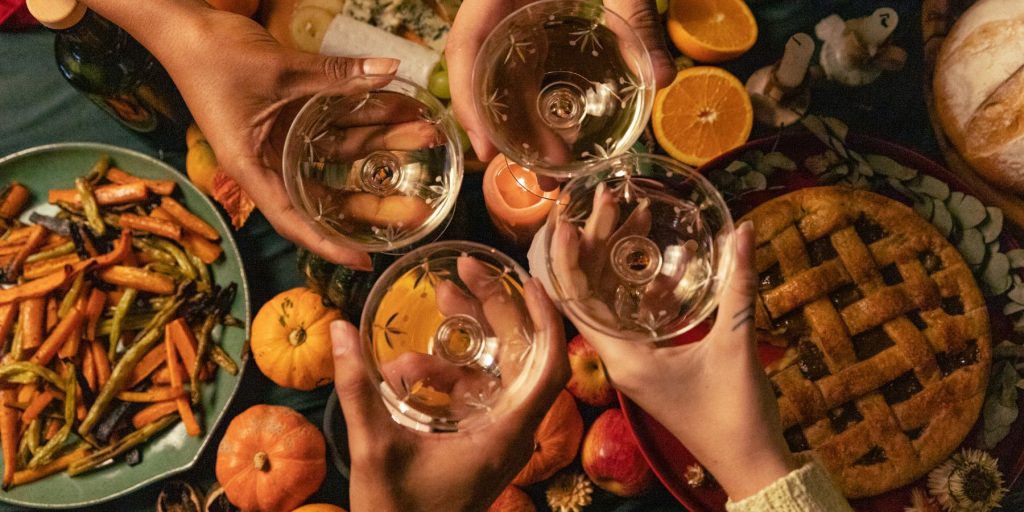 Of course, The Mixer team has you sorted with a great drink line-up as well, friend. Here you go:
Blood Orange Margarita. This deeply flavorful spin on the classic Margarita is as pretty to look at as it is superb to sip on.
Paloma. Yet another tequila favorite that is also easy to turn into a batch drink.
Cranberry Mimosa. The always-festive Mimosa dressed up in its holiday best!
Freezer Door Espresso Martini. This year's trendiest drink in a super handy, easy-to-pour format. Gotta love it!
Sangria. Spanish flair in a big old jug that makes hosting a cinch. Batching cocktails has never looked this festive!
Bellini. Dainty and impressive looking, yet super simple to assemble – this is one of our top afternoon cocktails for a reason…
Mezcal Mule. We love a Mule cocktail, and this one has an extra bit of swagger thanks to the inclusion of some smoky mezcal.
Highball. Keen to keep it simple and budget-friendly? Go with a Highball – tasty, refreshing, and easy on the pocket to boot.
Clover Club. An outlier choice to be sure, but if you adore a retro vibe when hosting, this time-honored clinker is sure to make an impression.
Friendsgiving décor ideas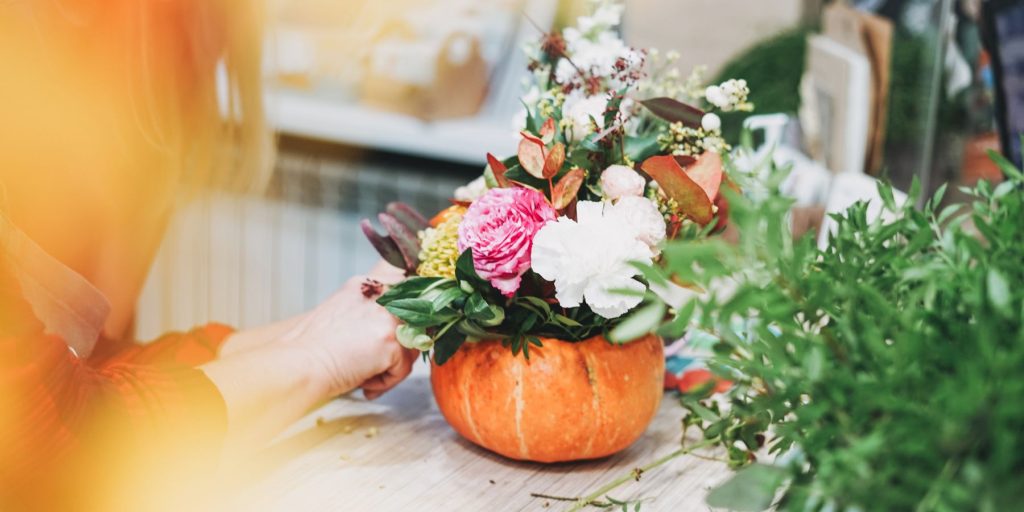 Creating decorations that friends can make together or assemble at the shared venue adds a collaborative and personalized touch to your Friendsgiving celebration. Here are some DIY decoration ideas:
Thankful tree. Ask each friend to bring a small branch or gather branches together to create a makeshift tree. Provide tags and markers for everyone to write what they are thankful for and hang them on the tree.
DIY garland. Set up a crafting station with materials like construction paper, twine, and scissors. Friends can create their own paper leaf garlands with personalized messages or drawings.
Pumpkin centerpieces. Ask friends to bring small pumpkins or gourds and provide paint, markers, or decorative materials. Guests can then decorate their pumpkins, and these can be arranged as a charming centerpiece for the table.
Fall wreath-making station. Supply a variety of fall foliage, wreath forms, and decorative elements like ribbons and pinecones. Friends can create their own unique wreaths to hang on doors or walls.
Candle votives. Decorate plain glass votive holders with autumn-themed designs. Arrange them on tables for a warm and inviting atmosphere. You can use paints, markers, or even decoupage with fall-themed images.
Tablecloth or table runner painting. Provide a plain white tablecloth or table runner along with fabric paints or markers. Friends can collaborate on creating a festive and personalized table covering.
Cornucopia of thanks. Encourage friends to bring small items that represent what they're thankful for. Arrange these items in a cornucopia as a unique and shared expression of gratitude.
These DIY decoration ideas not only make the space visually appealing but also provide a fun and collaborative activity for friends to enjoy together.
Friendsgiving gift ideas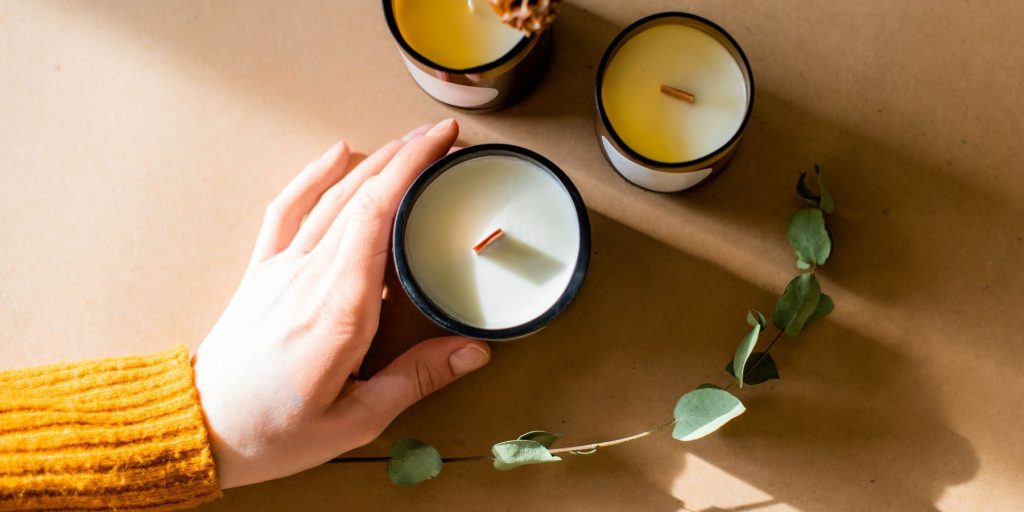 Choosing fun and inventive gifts for Friendsgiving adds a thoughtful touch to the celebration. Here are some sustainable Friendsgiving gift ideas in the spirit of being kind to the earth as well:
Herb-growing kit. Give the gift of fresh herbs with a compact herb-growing kit. It's a sustainable and useful addition to any kitchen.
Sustainable candle. Choose candles made from soy or beeswax in reusable or recyclable containers. Bonus points if they come in a Thanksgiving scent like pumpkin spice or cinnamon.
Fair trade chocolate or coffee. Support fair trade by gifting ethically sourced chocolate or coffee. Pair it with a reusable coffee cup for a complete set.
Personalized recipe book. Create a custom recipe book with favorite recipes from each friend. Include personal notes and anecdotes to make it a cherished keepsake.
Customized friendship bracelets. Craft personalized friendship bracelets with colors or charms that represent each friend. It's a meaningful and stylish gift.
Reusable produce bags. Help friends reduce plastic waste with reusable produce bags made from sustainable materials.
Beeswax wrap set. Gift a set of beeswax wraps as an eco-friendly alternative to plastic wrap for food storage.
Reusable coffee cup or water bottle. Choose stylish and durable reusable coffee cups or water bottles to encourage sustainable beverage habits.
Seed bombs. Give the gift of wildflowers with seed bombs that can be planted to promote bee and butterfly-friendly habitats.
Friendsgiving game ideas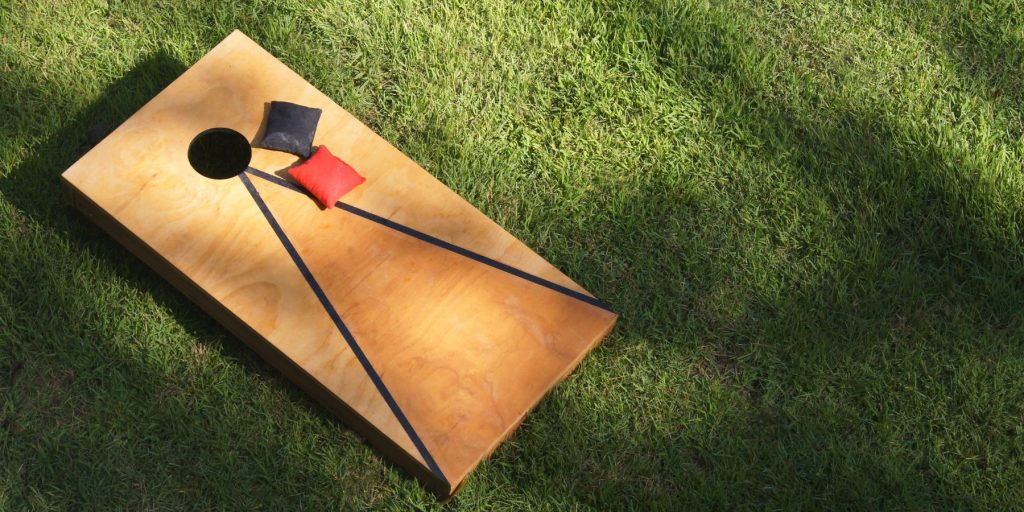 Incorporating games into your Friendsgiving celebration can add a lot of fun and laughter to the gathering. Here are a few ideas to get you started:
Friendsgiving trivia. Create a trivia game with questions about your friend group, shared memories, and Thanksgiving traditions. It's a great way to reminisce and learn new things about each other.
Pumpkin Pictionary. Put a Thanksgiving twist on the classic game. Use a whiteboard or paper to draw and guess holiday-related words or phrases.
Cranberry toss. Set up a target area and have friends take turns tossing cranberries into it. Award points based on accuracy and add a fun twist with blindfold rounds.
Thanksgiving charades. Act out Thanksgiving-themed words or phrases without speaking. It's a classic game that always brings laughter and entertainment.
Fall bingo. Design bingo cards with fall or Friendsgiving-related themes. Use candy corn or small pumpkin markers for added fun.
Name that dish. Blindfold participants and have them taste various Thanksgiving dishes. Challenge them to guess the dish based on taste alone.
Cornhole tournament. Set up a cornhole tournament with custom-designed boards featuring Thanksgiving or Friendsgiving themes.
Guess the Thanksgiving song. Create a playlist of Thanksgiving or fall-themed songs. Challenge friends to guess the song title or artist for each track.
Mix and match these games based on your group's preferences, and you'll have a Friendsgiving filled with laughter and friendly competition.
Ready, set, host! With these fuss-free hosting tips you'll be all set to enjoy a festive get-together with your besties without missing a beat. Do tag us in your Insta snaps, will you? And remember to sign up for our newsletter to get more awesome inspirational articles like this shimmying right into your inbox.
FREQUENTLY ASKED QUESTIONS
To up the fun factor at Friendsgiving, try creative dishes like turkey tacos or a DIY mashed potato bar. Set up games like Thanksgiving Charades or add a karaoke session for a lively atmosphere. Personalized touches, from decorations to gifts, make the celebration uniquely enjoyable and memorable.
Friendsgiving is celebrated by close buddies sharing a Thanksgiving-inspired feast. Potluck-style meals, where everyone contributes a dish, foster a sense of camaraderie. Festive decorations, themed games, and personalized gifts amplify the joy. It's an opportunity for chosen family to gather, express gratitude, and create lasting memories in a relaxed, friendly setting.