10 Delightful Apple Brandy Cocktail Recipes
September 02, 2022 by Sonja Edridge
After a gorgeous long summer, cooler weather is something to look forward to. And warm cocktails to sip slowly will definitely help with the transition to colder weather. With apples being the hero seasonal fruit, cocktails with apple brandy (or Calvados, as the French call it) are always a pleasure!
1. Apple Brandy Negroni
The dependable deliciousness of the classic Negroni gets a tasty seasonal twist when stirred with apple brandy. Known as a Mela d'Alba in Italy, this apple brandy recipe is rich and spicy with all the usual Negroni feels. Classically, this is an equal shot of gin, Campari and vermouth, but to make an Apple Brandy Negroni, just swap out the gin for double apple brandy for all the warmth and richness. What is not to like?
2. Jack Rose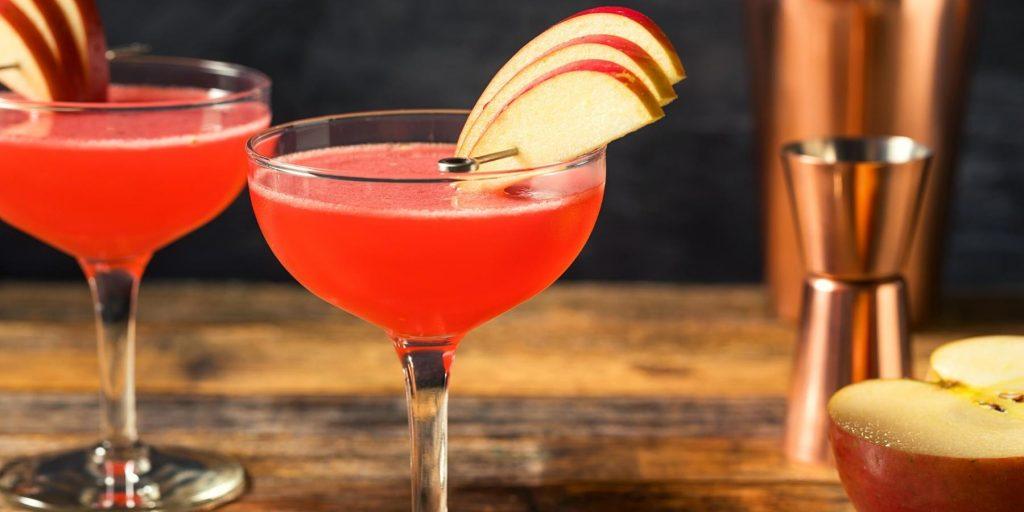 The Jack Rose is an elegant prohibition cocktail that's stood the test of time. This pretty-in-pink drink is a shake of apple brandy with a squeeze of fresh lime or lemon juice for acidity, finished with a dash of grenadine and occasionally a dash of bitters. It was the go-to favourite sip for prominent authors like John Steinbeck and Hemingway. With or without bitters, this apple brandy recipe is a quick cocktail to whip up – simply shake a shot and a half of apple brandy with ¾ shot lemon or lime juice with a handful of ice and a dash of grenadine. It's definitely one of those perfect cocktails with apple brandy for chilly night in with friends.
3. Apple Brandy Old Fashioned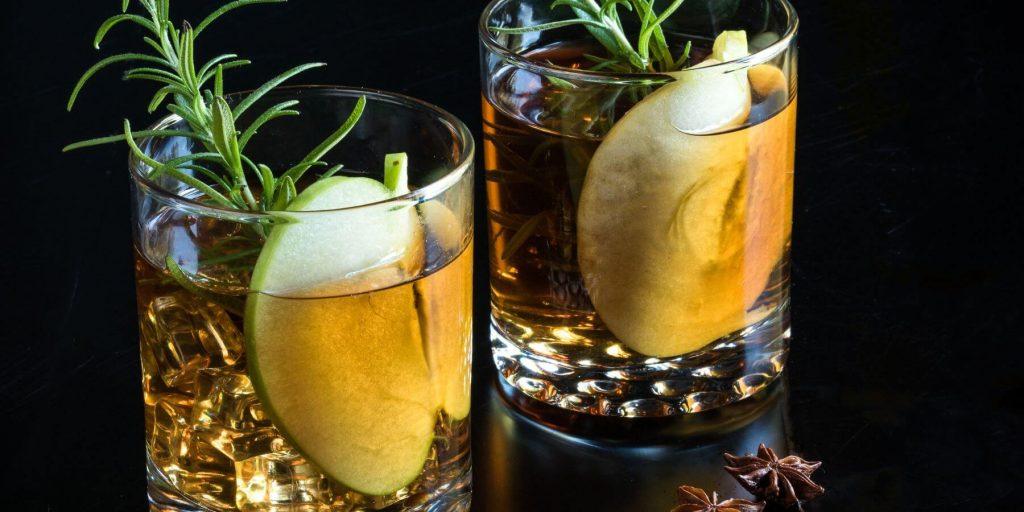 An Old Fashioned is utterly delicious classic cocktail, typically with a whiskey base and of Scottish heritage. Mix in a little sugar, bitters and a citrus peel and you have a deliciously simple vintage style drink. Switching the oaky whiskey for warm caramel apple brandy can only enhance this fantastic combination. What can go wrong? Just sip slowly, it's one of the apple brandy drinks that's spirit-forward and packs a punch.
4. Hot Apple Cider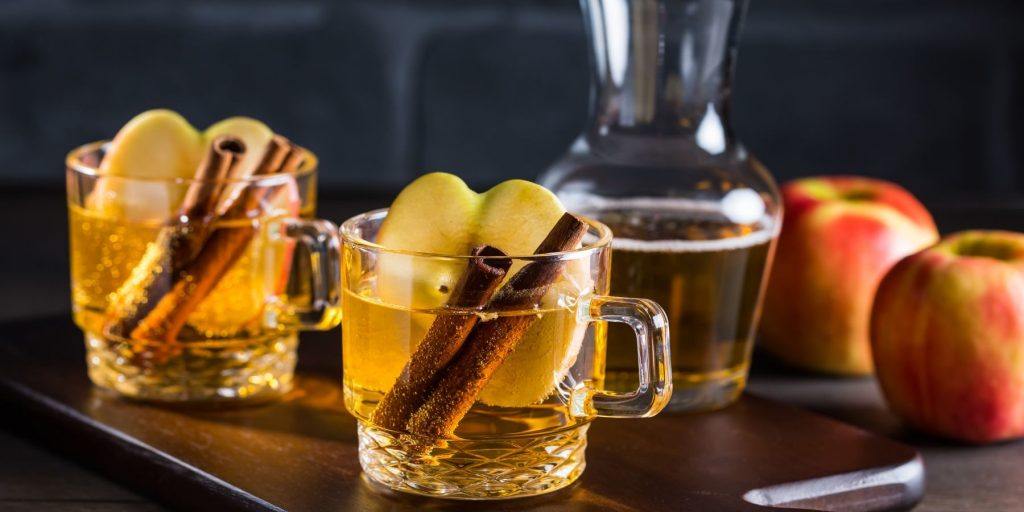 This tasty hot sip has all the quintessential autumn flavours of apple, cinnamon and honey. It's easily everyone's favourite apple brandy cocktail. Get this hot toddy on the go easily in a slow cooker for chilly nights in with friends. Mix your favourite apple cider (or perry) with honey and lemon, spice it up with cinnamon and apple brandy and it's mug ready. It will give you all the apple pie feels in just one sip.
5. Apple Brandy Hot Toddies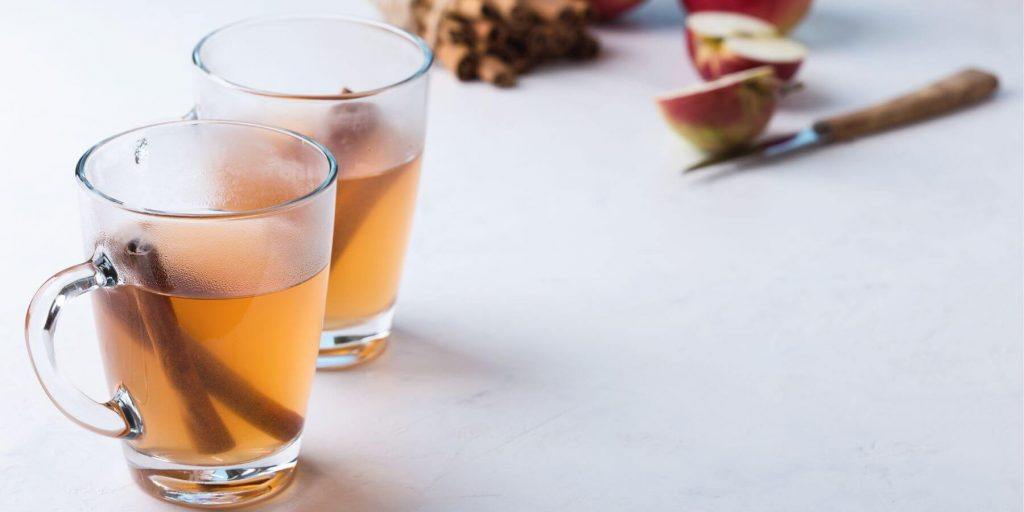 Looking for a simple hot toddy to warm you up? This apple brandy cocktail is so simple to make in a slow cooker too, for easy sipping fireside with friends. Warm up a couple of cups of water with the same quantity of your favourite apple brandy. Add a few cinnamon sticks for some spice and sweeten with a few tablespoons of honey. Simmer for a short while, add a squeeze of lemon juice and off you go!
6. Apple Brandy Sidecar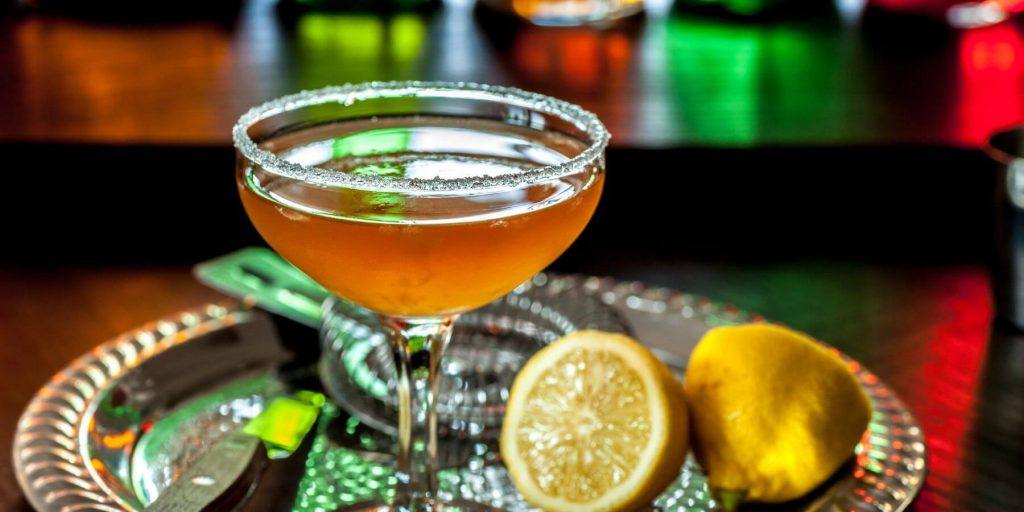 The normally citrusy orange Sidecar cocktail gets an autumn twist when poured with apple brandy. For a Calvados Sidecar, you'll also need a tasty orange liqueur like Grand Marnier. Mix equal parts (1 shot) Grand Marnier, lemon juice and apple brandy for a tangy sip. Add a spiced cinnamon and sugar rim to round off all the autumnal flavours. Garnish like the original with an orange twist. Bottoms up!
7. The Bardstown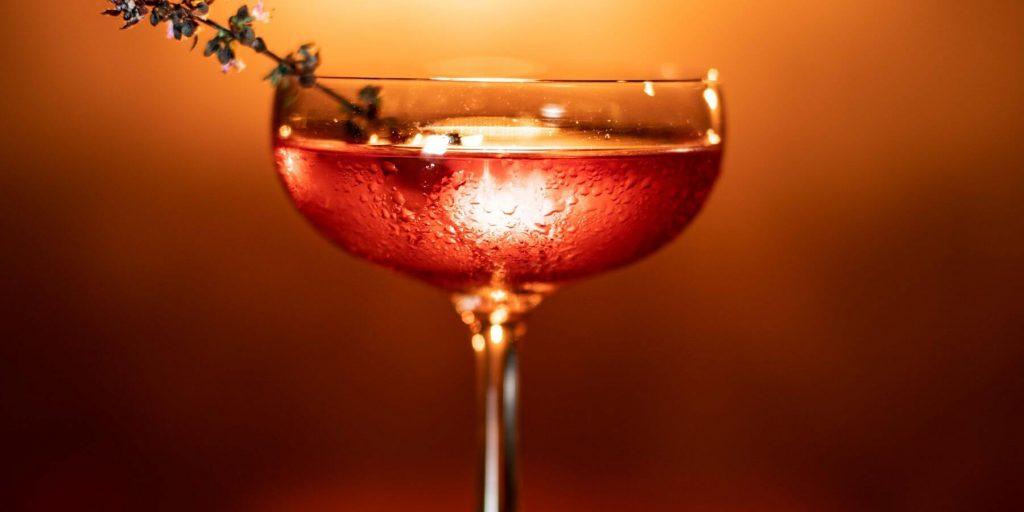 The Bardstown is yet another zesty cocktail blending apple and orange liqueur. This autumnal spirit forward drink is made with an equal mix of apple brandy and rye whiskey. It's mixed with a shot of Grand Marnier and a dash of orange bitters, a little water before being well chilled and served in coupe glasses with a twist of orange. A perfect prep-in advance, apple brandy recipe to make when friends are coming round.
8. Spiced Apple Brandy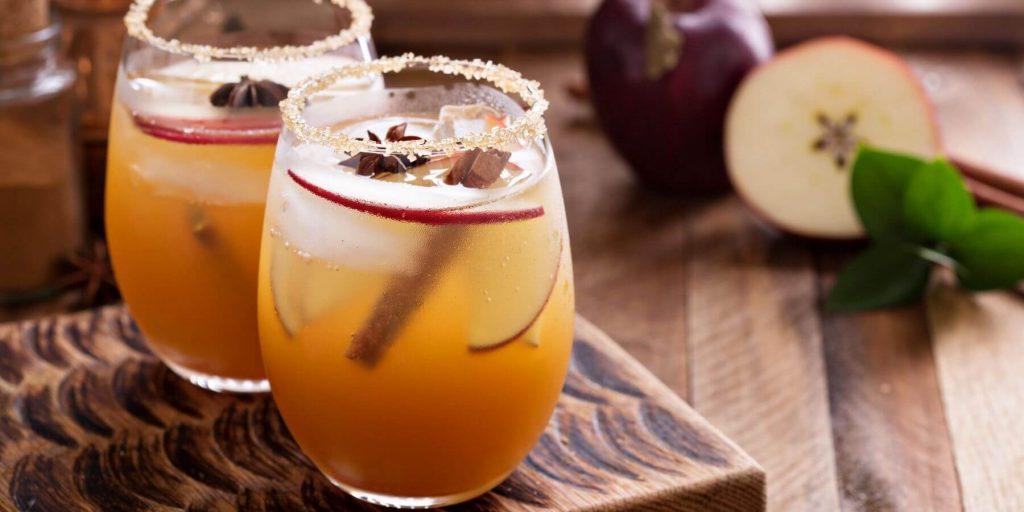 Channeling sugar, spice and all things nice, this apple brandy cocktail is oh-so tasty. Chilly nights in welcome the warmth that spices like ginger and cinnamon bring. Mix a pinch of your favourite autumn spices with 2 shots of apple brandy and apple juice and a squeeze of lemon. Shake it up with a handful of ice, a dash of simple syrup if desired. Make it pretty with a sugar and spice rim and apple slice garnish.
9. Michigander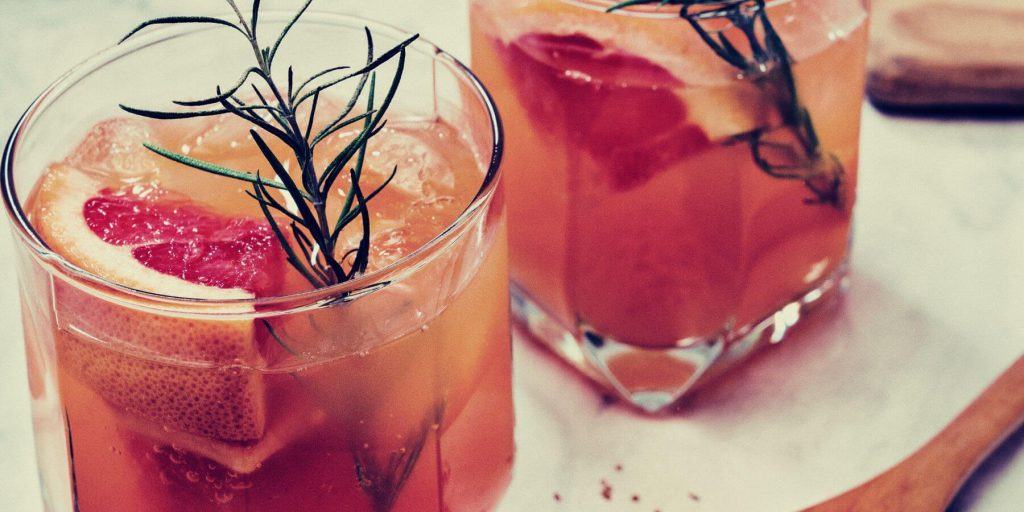 If you're not from Michigan (and don't consider yourself a Michigander) then you may not be familiar with this drink. This lesser-known zesty cocktail is a mix of 1 shot each of apple brandy and botanical amaro Cynar (made from artichoke leaves), ¾ shot each of lemon juice and honey syrup and finished with a tangy twist of grapefruit. Impress your Michiganders and serve up their go to autumn apple brandy cocktail.
10. Apple Brandy Sour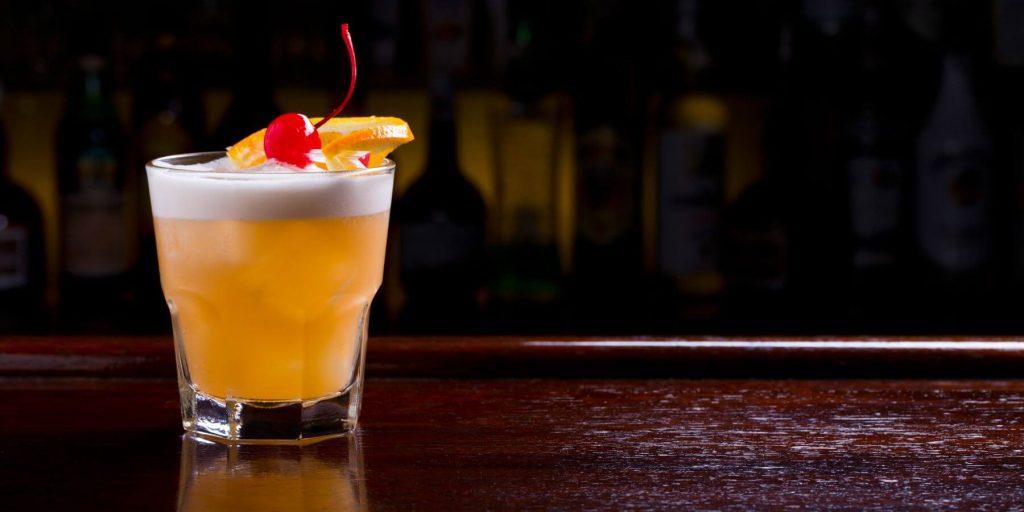 When you're on the hunt for a fall apple brandy cocktail that's not overtly sweet, an Apple Brandy Sour is a perfect find! Sour by name and sour by nature, this drink is tangy but with the sweet undertones of caramel apple brandy. Mix one up with 2 shots of apple brandy, 1 shot of freshly squeezed lemon juice for all the tang, ¾ shot simple syrup, 3 dashes of aromatic bitters and a tablespoon of egg white or aquafaba (for a vegan version). Shake with a little ice and strain into an old fashioned glass. For a full retro look, garnish with a slice of lemon skewered with a maraschino cherry!
FREQUENTLY ASKED QUESTIONS
Alcohols like an apple brandy will evaporate when exposed to oxygen so it's best to store apple brandy upright and make sure you have sealed it tightly. Keep it in a dark cool cupboard away from the sun and heat.
An aged apple brandy has perfectly crisp, juicy apple notes. Depending on its age and mature it is, some develop a deliciously rich oaky flavour with hints of vanilla and clove.
Apple brandy and Calvados are one and the same thing. However, there may be small flavour profile differences depending on the area it's distilled in.