5 of the Best Oscar Party Ideas + 10 Cocktails for the 2023 Awards Night
January 01, 2023 by Anna-Bet Stemmet
Calling all movie and cocktail lovers! The Mixer has rounded up the best Oscar party ideas for 2023. After all, your Academy Awards viewing party has got to be the talk of the town, honey! From Oscar cocktails that really lean into the theme, and after-party approved snacks (from the official 2023 Oscars celeb chef himself) we've got you covered.
Dive right in to get ready to host the ultimate red-carpet celebration at home on the 13th of March.
1. Oscar-themed party decoration ideas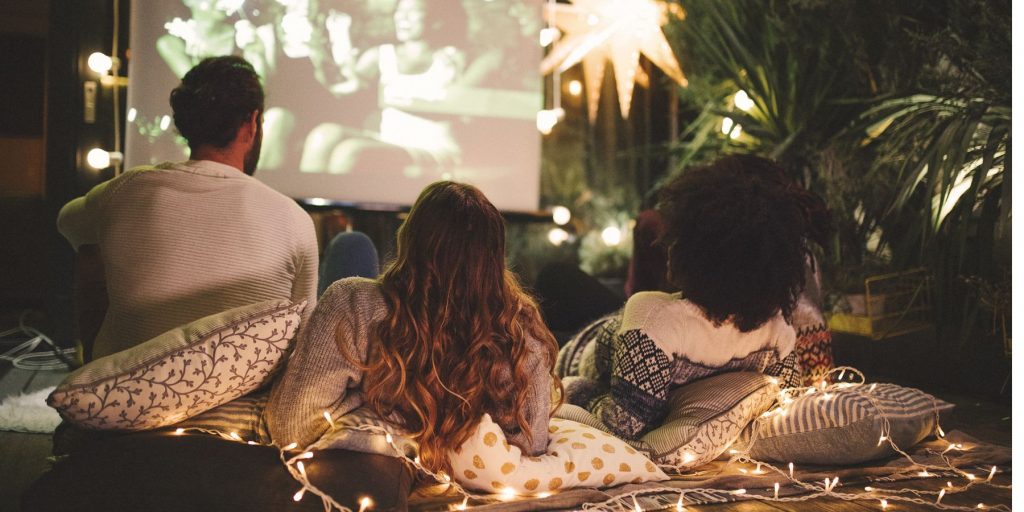 We like to start with Oscar party décor because it's the backdrop of your party. Sure, you could just put out a few napkins and snacks and be done with it, but where's the fun in that? You look like the kind of person who goes all out, and we respect that. So here are a few ideas to get your hosting space looking party-ready, without breaking the bank.
Color schemes
Okay, so gold. Yes, yes, it's been done, we know, but some things are classic for a reason. When in doubt, go with metallic shades as a nod to the little golden statues the Academy Awards revolve around.
However, if you've got a favorite movie you're backing for the win, you could use the look and feel of the film itself to inspire your décor. The Fabelmans, for example, is all about the nostalgia of old-school filmmaking and has a gorgeous mid-century American vibe. If you want to go with this look, rent some vintage serving trays or pick some up at your local thrift store. Add a few other household items you would have commonly seen in the home, like rotary phones, bar carts, vintage LIFE magazines, or anything starburst.
Alternatively, you could go with an Everything Everywhere All at Once theme and stick googly eyes on pretty much everything. This film also has some nice Asian themes that can be used to inspire décor elements.
Think laterally and have fun!
Movie posters & décor inspiration
Movie posters, along with strings of naked bulbs or fairy lights will always be a classic choice for an Oscar viewing party. You can also rent an actual red carpet and velvet ropes to usher your guests into your home. While it can get a bit pricey, it really sets the scene for star-studded glamor.
For a fun gift idea, you can go super creative and get an AI platform like Dall-E to create images of your guests in movie-inspired themes. For instance, portraits of your guests as Na'vi from Avatar: Way of Water. Or 1950s heartthrobs as a nod to Elvis! Put the images in some dime-store frames, and then pass them out as party favors when everyone heads home.
Viewing arrangements
Another important thing to consider when hosting your viewing party for the 95th Academy Awards in 2023, is how the viewing will work. If you're watching on television, make sure that there are plenty of comfortable seats for all your guests. If you want to go big, set up a projector and create a cinema-like ambience in your garage, or set the scene outdoors if the weather allows.
2. What to wear on your own red carpet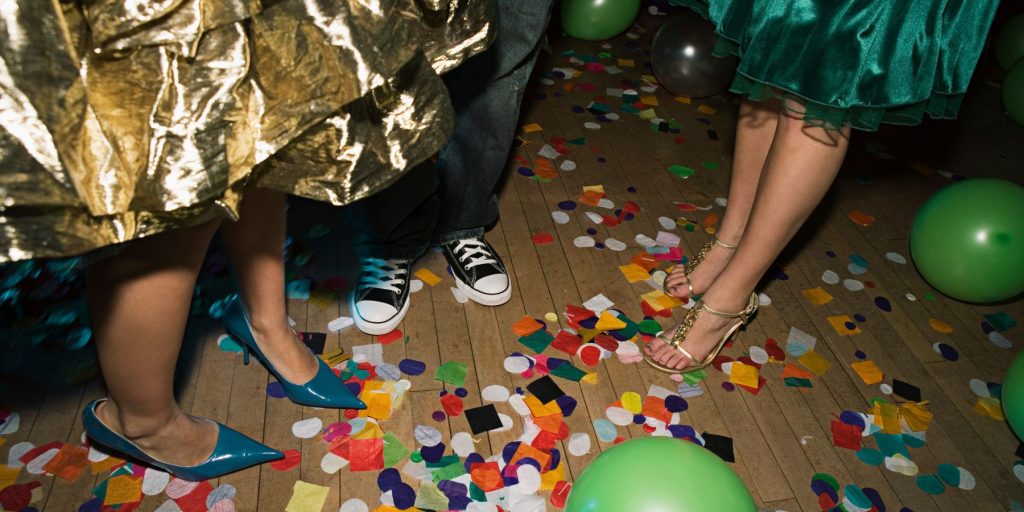 Looking for Oscar party costume ideas? Let's get you kitted out! After all, if you're doing the décor, pouring the cocktails, and making the snacks, it's only fair that everyone looks the part as well.
Sequins & sparkles
The Oscars are all about glitz and glamor, babes. So, the simplest dress-up solution for a viewing party is to go with sequins and sparkles. This way, guests can add a sparkly top or tie to some jeans and a shirt, or go all-out with a full-on glitter dress and heels if they feel like it.
Classic glamor
Classic Oscar cocktail dresses and suits can also be a vibe. Invite your guests to pull out their go-to wedding party outfits, or even old prom dresses and suits that might be hanging out at the back of their closets.
TOP TIP! Get a professional hair stylist and make-up artist to set up shop at your house, so guests can get dolled up on-site. Bonus points if you get a professional photographer so everyone can score some epic profile pics…
Celeb-inspired looks
Our final Oscar party dress code idea is to invite guests to come dressed as nominees, whether that be in the guise of their 2023 film characters, or earlier ones. For example:
Tom Cruise

as Maverick in

Top Gun

(aviator glasses and flight jacket), or Joel Goodsen in

Risky Business

(white dress shirt and socks).

Angela Basset

as Queen Ramonda in

Wakanda Forever

(futuristic regal), or Reva Styles in

Boyz in the Hood

(no-nonsense 90s power dressing).
3. Oscar party food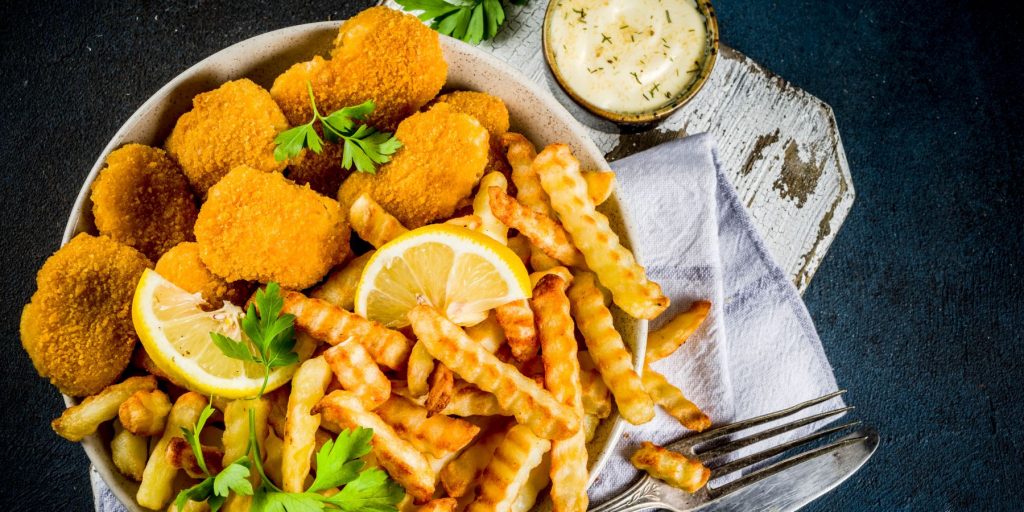 When it comes to Oscar party food ideas, the world is your oyster. You could go with classic at-the-movies snacks like popcorn, hotdogs, and Slurpees, or you could push the boat out a little further if you feel like it.
The official Oscar after-party menu has been shared by British celeb chef Elliot Grover who was invited to feed the stars after the official awards ceremony. If you want to dine on the same nosh as the stars, go with bite-size versions of the retro British classics Elliot will be dishing up. These include:
Fish & chips.

Chicken pie.

Trifle.
British cocktail inspiration >> Feel Like Royalty with these 10 Classic British Cocktails
Alternatively, use the nominated films to serve as inspiration. Here are a few ideas to get your creative juices flowing:
Avatar: Way of Water

: Spaghetti dyed blue with food coloring and speckled with glow-in-the-dark food glitter.

Tár

: Cucumber salad.

Everything Everywhere All at Once

: Everything bagel bites (or pretty much anything with Everything Bagel seasoning on it).

Elvis

: Peanut butter and banana sandwich sliders.

The Fabelmans

: Latkes.

The Whale

: Meatball subs with extra cheese.
Read next >> How to Slay Cocktail and Appetizer Pairings Like a Pro
4. Oscar cocktail menu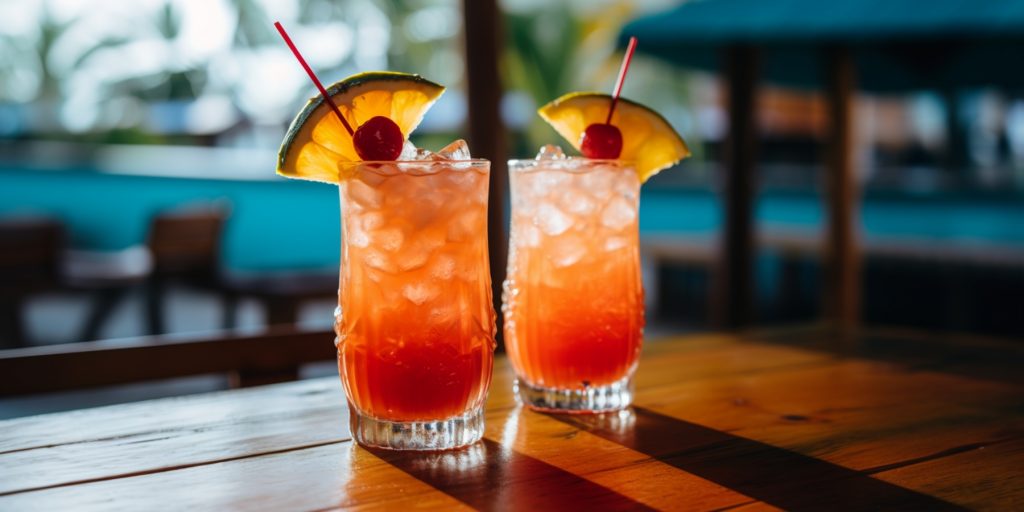 Naturally, The Mixer team has got you sorted in terms of Oscar party cocktails as well. This is our favorite part, after all! Here are 10 award-worthy mixed drinks to try on for size:
1. Singapore Sling
In the original Top Gun, Tom Cruise's character, Maverick, and his love interest, Charlotte 'Charlie' Blackwood, are shown drinking Singapore Slings together in a bar. The drink is served in a tall glass with a pinkish-red hue and is garnished with a cherry and a slice of pineapple. The Singapore Sling is also often associated with the glamorous era of aviation and travel in the early 20th century, and perfect to toast the revival of the classic film.
2. Ancho Old Fashioned
In 2019, the Ancho Old Fashioned was one of the official cocktails created for the Oscars after-party by mixologist Charles Joly. It may be a few years down the line, but we still love this drink for an awards party.
Stir 1.5 oz Espolon Tequila Reposado, 1 oz Ancho Reyes Chile Liqueur, 3 drops of coffee bitters, and 0.25 oz demerara syrup over ice. Pour into an Old Fashioned glass over fresh ice, and garnish with an orange twist.
3. Champagne Margaritas
You've got to have at least one sparkling cocktail at your Oscar party. We nominate the Champagne Margarita, a cocktail that walks the fine line between bougie and full-on fun. Part French, part Mexican, and all-out gorgeous with plenty of citrus zest and a suave tequila backbone, this tempting drink can always be counted on to get the party started.
4. French 75
For classically clink-able Oscar cocktails, look no further than the French 75. Named after a field gun used in WWII, this gorgeous riff on the iconic Mimosa has a fair amount of kick but sips easily, nonetheless.
5. Hollywood Martini
Los Angeles cocktail recipes don't get more classic than the Hollywood Martini. We love all the different Martinis, but this one is absolutely perfect for an Academy Awards fete. In a cocktail shaker, add 2 oz SKYY Vodka, 0.75 oz black raspberry liqueur, and 0.5 oz pineapple juice. Fill with ice, shake well, strain into a chilled cocktail glass, serve, and enjoy.
6. Blood and Sand
One classic Oscar night cocktail that has indisputable ties to the silver screen is the Blood & Sand. Cherry brandy and Cinzano Vermouth Rosso represent the blood, and whiskey represents the sand. It was named after the 1922 bullfighting movie that launched Rudolph Valentino as a star, and the official Oscars blog cites it as the cocktail to make for your awards night party.
7. Vesper Martini
Oscar party cocktails inspired by that most classic movie hero of them all, 007? Yes, please! Slightly sweet and bitter with herbal tones and a dry finish, the Vesper Martini is named after Vesper Lynd, a fictional character and double agent in Ian Fleming's Casino Royale. She was the first Bond Girl, and legend has it she was his first true love as well…
8. Strawberry Mimosa
Rouge-hued like the red carpet, and with plenty of effervescent appeal, the Strawberry Mimosa is a classic clinker. Tailor–made for celebratory occasions, this lovely drink calls for a teensy bit of prep work, but always goes down like a mouthful of sunshine.
9. Blue Lagoon
For Oscar-themed cocktails for 2023, we love the Blue Lagoon cocktail to celebrate the Na'vi and their home planet of Pandora. SKYY Vodka gives this cocktail a fresh base and blue curaçao liqueur adds the bright and crazy hues along with a deep, sweet citrus flavor, enhanced by bubbly lemonade.
10. Mai Tai
Pour a classic Tiki cocktail in honor of Elvis. The King loved Hawaii and all things tropical so much that he styled his man cave at Graceland to be a Jungle Room. The Mai Tai is a quintessential tiki drink poured with dark and light rum. This tropical sip is both tart and sweet and is shaken with fresh lime juice, orange liqueur like Grand Marnier Cordon Rouge, and orgeat syrup.
5. Oscar party activities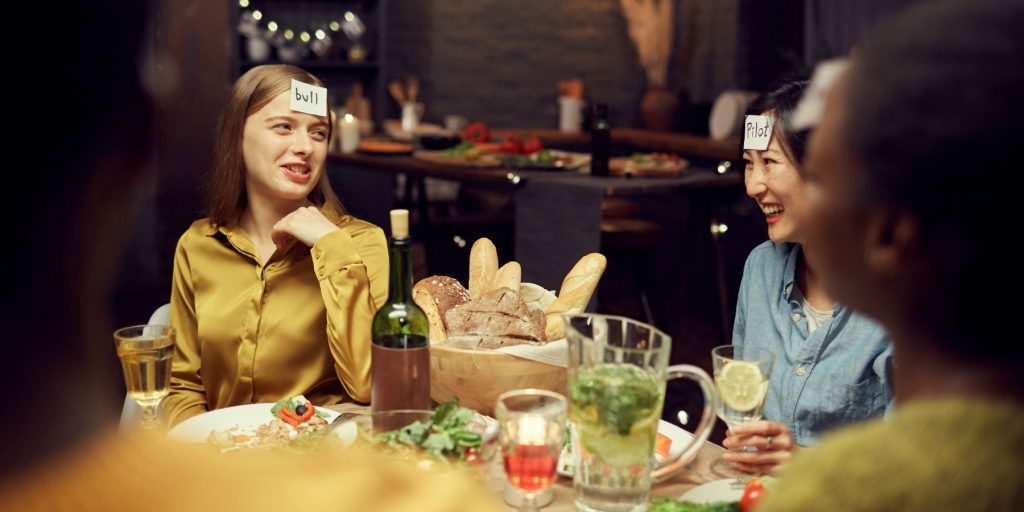 A round-up of Oscar theme party ideas would not be complete without a few game ideas. Here are some ways to get your guests in on the action:
Oscar bingo

(free 2023 printable

here

).

Who am I?

Stick a celebrity name card on everyone's back or forehead when they come through the door and have them strike up conversations with each other to figure out who they are.

DIY awards

. Create personalized awards for each of your guests and conduct a ceremony of your own.
Lights, camera, Oscars! Remember to tag us in your Oscar night celebrations @themixerdotcom 🥂
FREQUENTLY ASKED QUESTIONS
An Oscar viewing party is a gathering of friends who come together to watch the Academy Awards, which is an annual ceremony that honors achievements in the film industry. During the party, guests typically watch the broadcast of the ceremony, which features presentations of various awards, including Best Picture, Best Actor, Best Actress, and many others. Oscar viewing parties can be hosted in a variety of settings, such as homes, restaurants, bars, or theaters, and may also feature themed decorations, food, and drinks related to the nominated films or Hollywood glamour.
The Oscars is a formal event, and the dress code is typically black tie or formal evening wear. For men, this means a tuxedo, black bow tie, and formal dress shoes. Women have a bit more flexibility in their outfit choices, but generally wear formal gowns or cocktail dresses.