Feel Like Royalty with these 10 Classic British Cocktails
March 19, 2023 by Karl Tessendorf
Friends, cocktail drinkers, and countrymen! Lend us your taste buds because we're about to embark on a boozy journey of discovery around the United Kingdom. That's right, we're talking British cocktails today, and by Jove, are you in for a tasty treat! We've got whiskey, vodka, bourbon, and, as you'd expect from the British, a boatload of delicious gin. So, sit back, relax and let's get this British cocktail party started.
1. Martini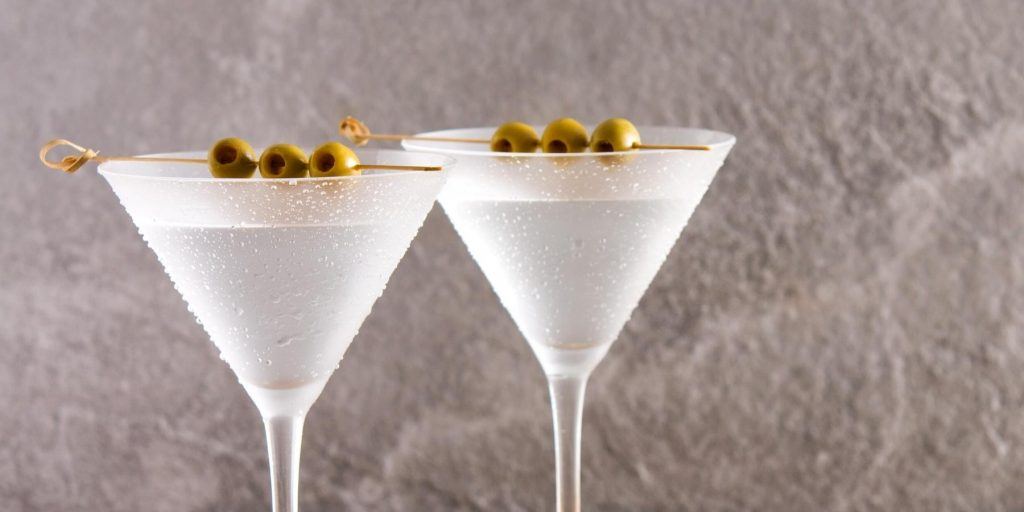 Kicking off our list of British cocktails is the iconic Martini. Although this cocktail was first shaken up in America, the first iterations of the drink mainly consisted of vermouth. It was only when the British brought us dry gin and added it to the Martini that it really started to shine.
Today, the modern-day Martini is known as a classic British cocktail that can be tailored to the liking of each drinker in turn. Keep it classic with gin, or mix it up with vodka. Have it wet, dry, extra dry, or dirty, or add a fruity twist to suit any occasion. The Martini is up for anything, anytime.
2. Sloe Gin Fizz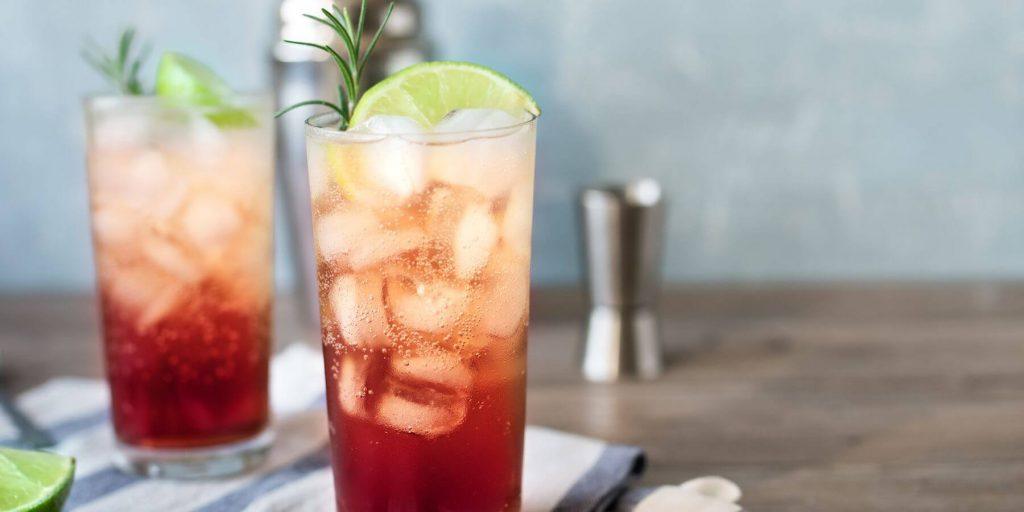 The English summer may be short-lived, but for a brief moment, it's warm and glorious. The gardens burst into life, flowers bloom, and sloe berries are abundant in the countryside hedgerows. The sloe berry looks kind of like a blueberry, but that's where the similarity ends. They are intensely sour and astringent on their own, but great in jams, preserves, and, most importantly, gin. Sloe gin has a rich reddish-purple color and a tart flavor that's perfect for a summer or winter drink. The Sloe Gin Fizz is balanced with lemon juice and simple syrup, then topped with club soda. It's tart and refreshing, and it'll inject a little fizz into any occasion.
3. Gimlet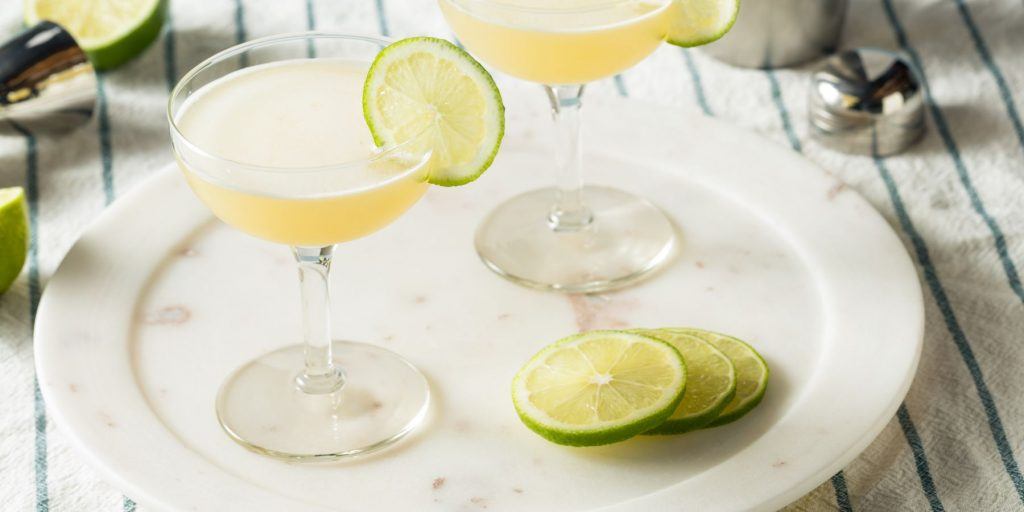 The Gimlet is a classic British cocktail with roots in the 19th-century Royal Navy. Scurvy was a big problem back in those days. After much trial and painful error, some clever sausage figured out that vitamin C was the cure. Citrus juice was prescribed to sailors, and they spiked it with a touch of gin. The drink took off, and the Gimlet was born. These days a touch of simple syrup is added for balance, but the soul of the cocktail remains the same as it was on the high seas. As for the strange name, the story goes that it was named after the surgeon who prescribed the juice—Admiral Sir Thomas Gimlette.
4. Whiskey Ginger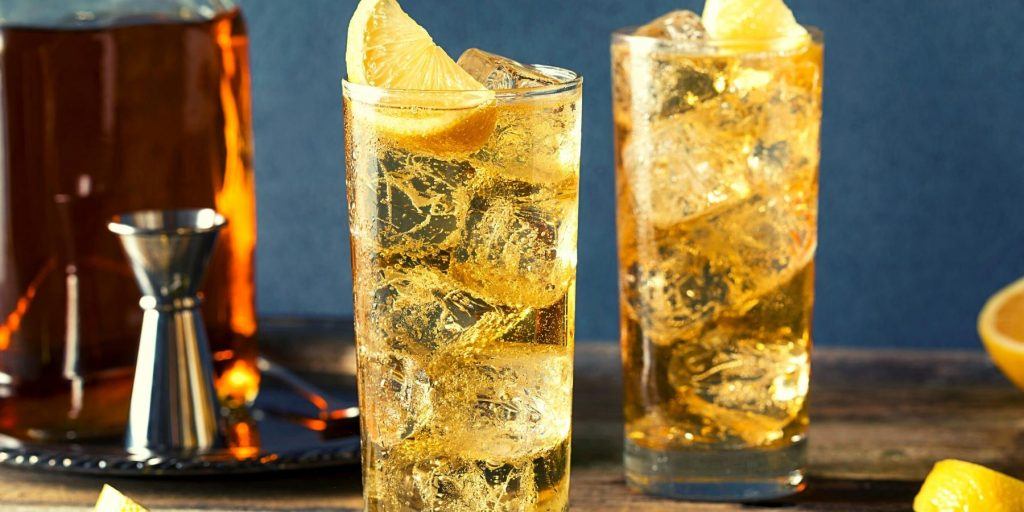 Whether it's English, Scottish or Irish whiskey, the 'water of life' has always been big business in the UK. Ever since the first barrel was tapped and tasted, the English have loved this golden nectar. For years it was enjoyed neat, but in the early 1900s, the Highball cocktail was invented. This opened the floodgates for more Highball cocktails, and the Whiskey Ginger is one of the most famous. Sure, it's just a simple blend of whiskey and ginger ale, but it's super refreshing and more popular than ever. Pair it with traditional British cocktail party food, and you've struck gold.
You also might like: 10 Ginger Beer Cocktails.
5. Red Dragon Cocktail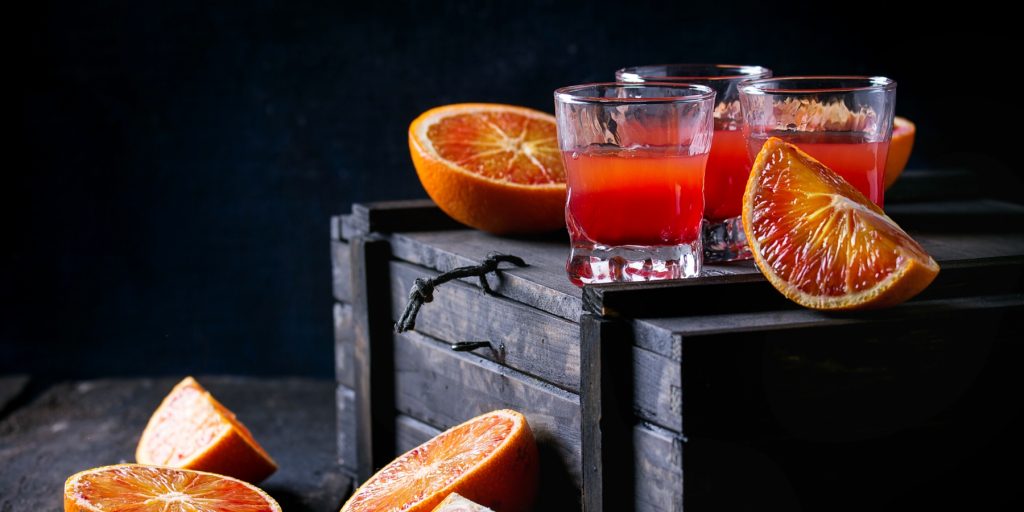 Inspired by the iconic dragon on the Welsh flag, the Red Dragon cocktail is a roaring mix of sweet and tart flavors. The base spirit is a vibrant and herbaceous gin, which is topped with Grand Marnier, blood orange juice, lemon juice, and grenadine. It was crafted in honor of St. David, the patron saint of Wales, who lived during the 6th century. It's bright and fruity but don't be fooled by its sweet nature—the Red Dragon has a zesty bite.
6. Bramble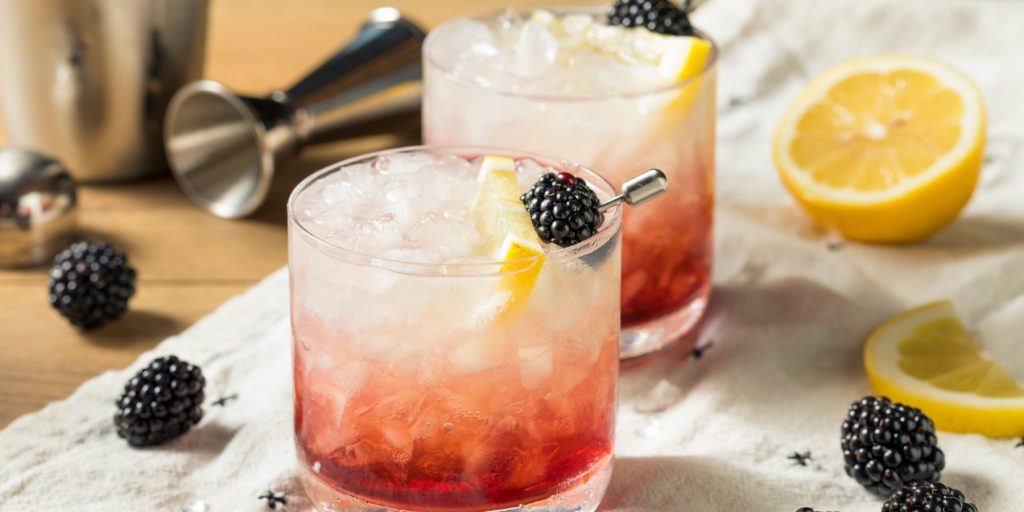 As far as British cocktails go, gin reigns supreme. Call it a hangover from the gin craze of the 17th and 18th centuries, but the English cannot get enough of sweet, sweet Geneva. The Bramble is yet another gin cocktail on our UK list, but one that gets its name from a French liquor. Crème de Mûre is made from plump blackberries, and it gives the Bramble its signature purple hue and taste. It has lemon juice and simple syrup for sweet and sour notes, and it's garnished with a blackberry and lemon slice. The British Bramble cocktail is a 1980s classic, but it always feels modern—whatever the era.
7. Espresso Martini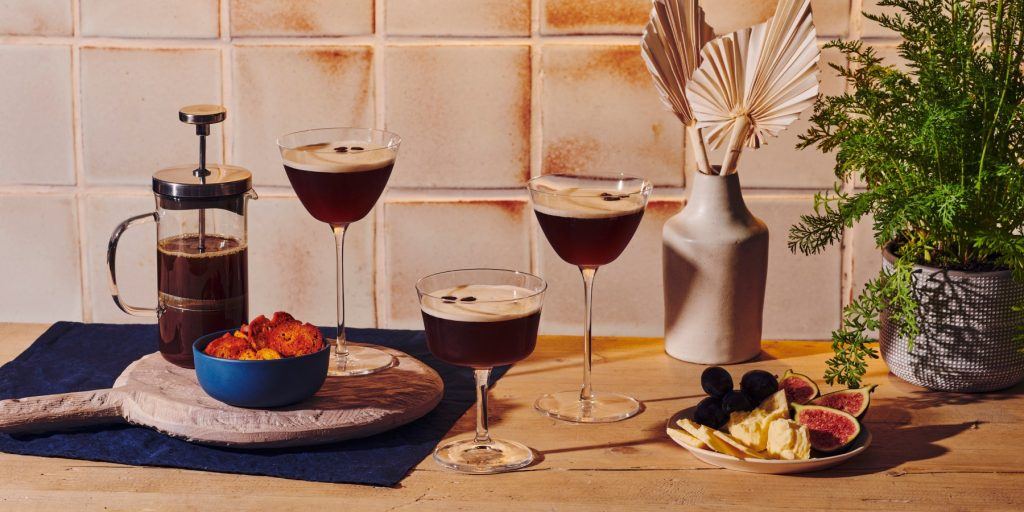 Coffee and booze are best friends, and there's no greater example of this than the Espresso Martini recipe. It was invented in the 1980s at Fred's Club in London. Legend has it bartender Dick Bradsell mixed it up for a top model. She wanted something with a kick that would wake her up, and this classic British cocktail was born. It's a gorgeous blend of vodka, coffee liqueur, espresso, and a touch of simple syrup. It's sexy and seductive, and you can start your night with a few or end it with one. This coffee bomb is a modern classic, and everyone should try the Espresso Martini at least once in their lifetime.
8. John Collins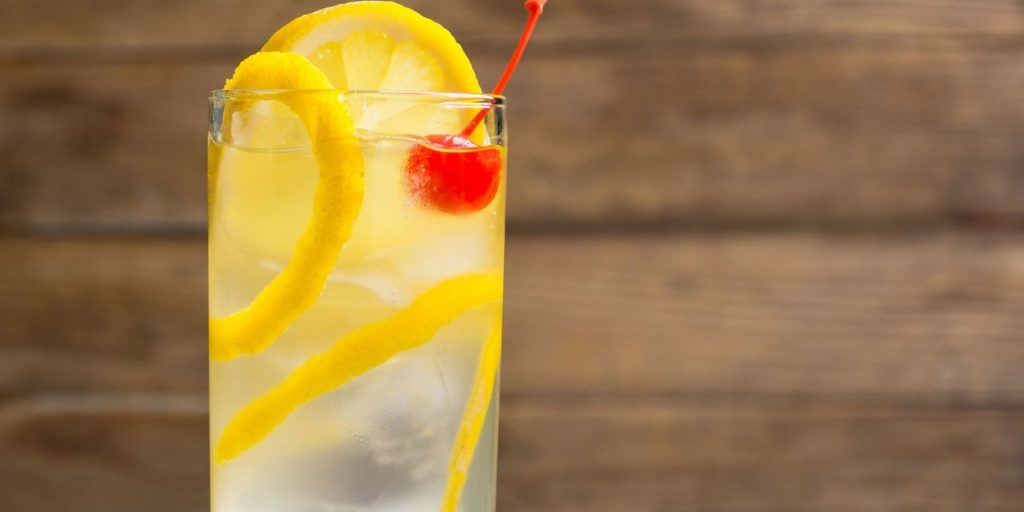 If you're ever in the mood to go down the hazy rabbit hole of cocktail history, read up on the family of Collins cocktails. We'll spare you the details, but here's the TL; DR version. John and Tom are the two most popular varieties of the drink, but there's still confusion between them. The John Collins originally featured gin, but when the recipe was written down, Old Tom gin was used, and the name changed to Tom Collins. So, John became Tom and they both featured gin, but Tom's gin was sweetened, and John's gin was dry. And then at some point, the gin-based John Collins was modernized, and it became a bourbon John Collins. Now there's a divide between gin John fans and bourbon John fans. Simple, right? We think both versions are awesome, and if anything, it shows the versatility of a great cocktail recipe—spirit, lemon juice, simple syrup, and club soda.
9. Buck's Fizz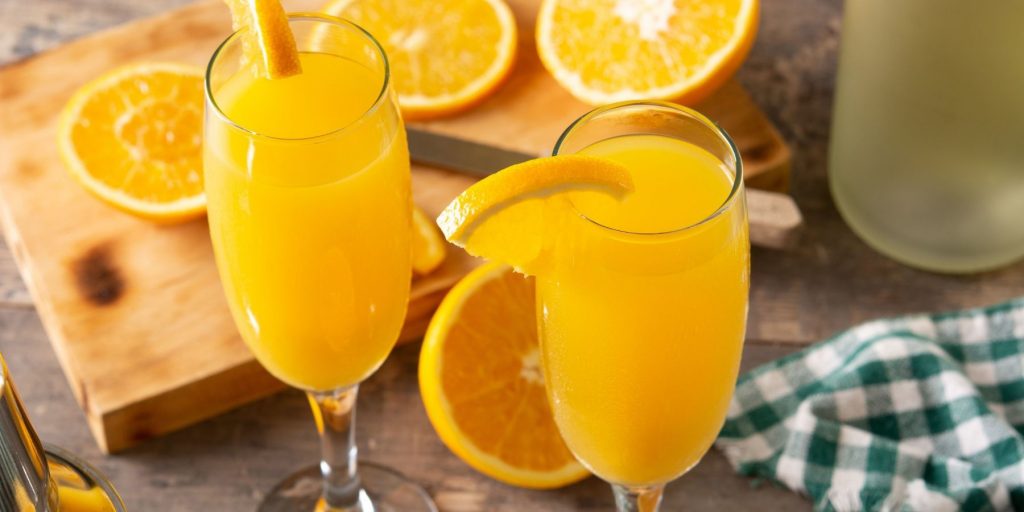 They say that great minds often drink alike, and Buck's Fizz is a classic example of this. It was invented in 1921 at Buck's Club in London. And then invented again four years later in Paris and called a Mimosa. For whatever reason, the rebranding took off and today no brunch is complete without them. But never forget that if it wasn't for good old grandpappy Buck, brunch would not be as appealing as it is today!
10. Vesper Martini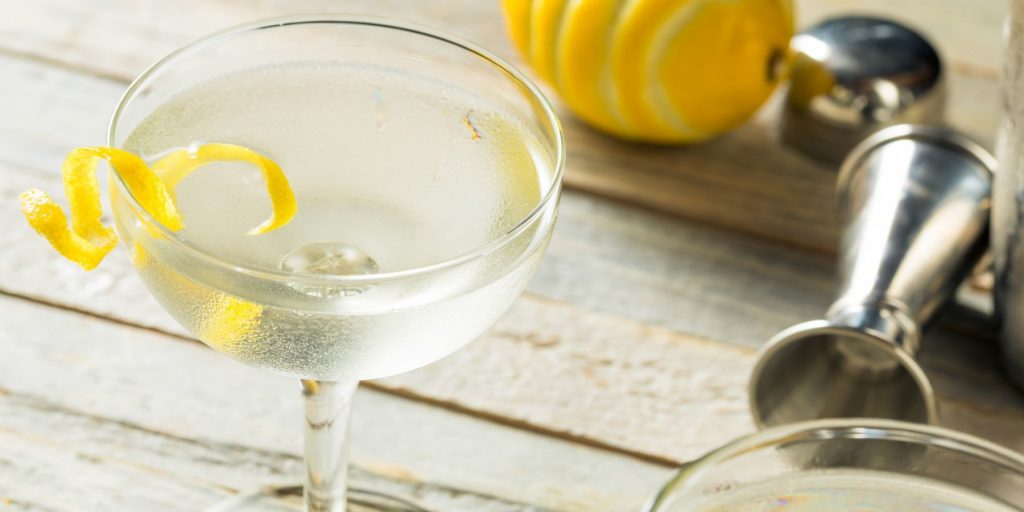 We started this list with a James Bond Martini reference, so it's fitting that we end with his own creation— the Vesper Martini. In true over-the-top style, 007's Martini features both gin and vodka with a splash of vermouth. As always, he prefers it shaken to stirred, even though stirring is the preferred method for mixing a Martini. Shaking produces too many ice crystals, dilutes the drink, and it changes the overall texture of the cocktail—sorry, James. As always, don't forget a thin slice of lemon and serve the Vesper Martini as cold as possible.
FREQUENTLY ASKED QUESTIONS
The title of the most popular cocktail seems to change every year, but the Pornstar Martini has been a constant favorite. The Negroni, Piña Colada, and Mojito are also always among the top-rated cocktails across the UK.
England is the birthplace of many great cocktails, and we recommend working down our list to find your favorite.