16 Christmas Mocktail Recipes: Non-Alcoholic Drinks Full of Festive Cheer
December 08, 2022 by The Mixer Team
No alcohol? No problem! Take your Christmas cocktail party up a notch with our selected Christmas mocktails. These holiday-themed mocktails will be a real crowd-pleaser featuring all our favorite festive flavors. We bet you a piece of pumpkin pie that no one will notice the difference!
1. Italian Blood Orange Soda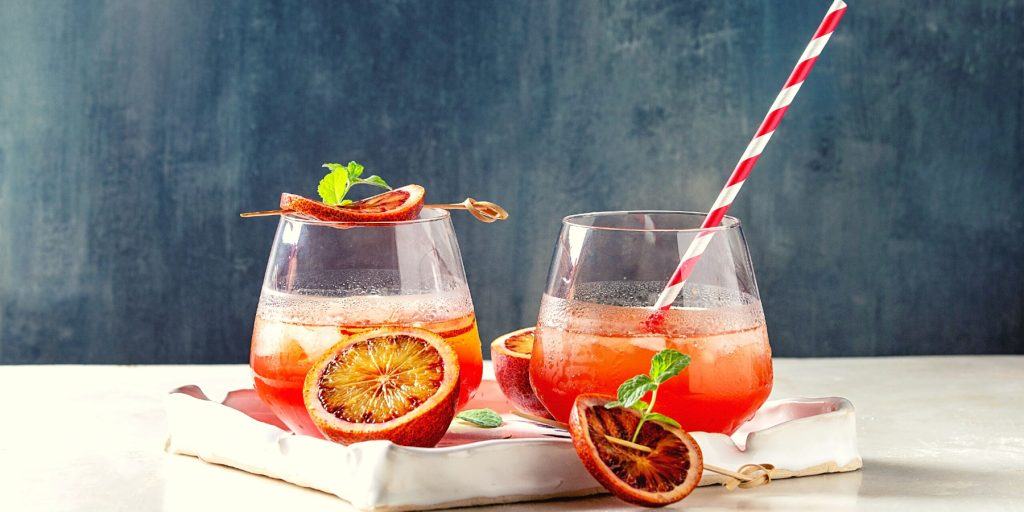 This is one of those delicious December cocktails that can also be mocktails. Typically served with a measure of vodka for some kick, it's equally amazing without. To make the non-alcoholic version, add 4 oz of fresh blood orange juice, a teaspoon of honey syrup, and a dash of vanilla extract to a cocktail shaker with ice. Strain into a serving glass, top off with 2 oz of sparkling water (plain or lime flavor), float a slice of blood orange on top, and serve.
2. Christmas Cranberry Spice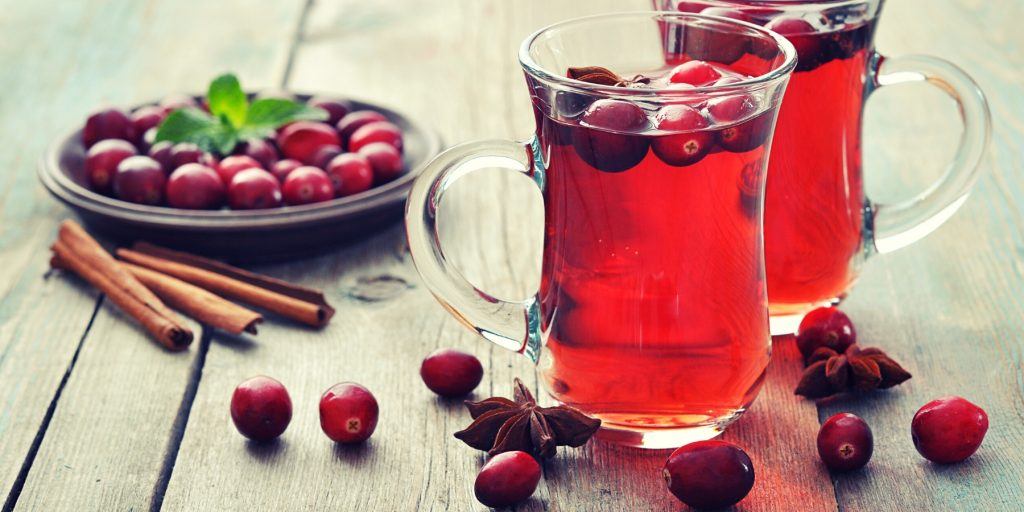 Spent a long day on the slopes? Then this is one of the best non-alcoholic Christmas cocktails to warm you up. To make a batch of this alcohol-free taste of Yuletide, you'll simply simmer equal parts cranberry and orange juice (e.g. a quart each), along with a stick of cinnamon, a few cloves, a thumb-sized piece of ginger, and honey. Strain before serving, and pour into heat-proof mugs. We like to garnish it with a few fresh or sugared cranberries.
3. Toasted Marshmallow Campfire Mocktail
If you love chocolate and marshmallows, get excited because this zero-alc sipper will have you saying "s'more please!". To make one, simply warm a cup of chocolate milk (store-bought, or made with whole milk and a spoonful of hot chocolate powder, or raw cacao and a smidge of honey). The real magic lies in dressing up your cup or heat-proof mug. You can either add a toasted marshmallow, straight off the embers or pile it high with a bunch of mini marshmallows. Either way, it's magic.
4. Non-Alcoholic Mulled Wine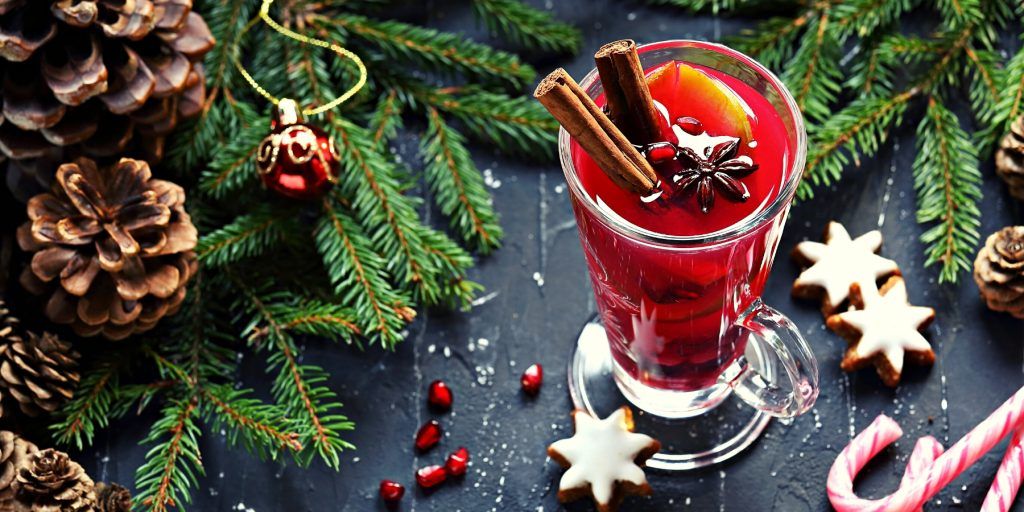 Mulled wine is a festive classic, and this non-alcoholic version will make it to the top of your list of hot mocktails. Make it in a saucepan or slow cooker and let the aroma of the spices fill your home. Our go-to Non-Alcoholic Mulled Wine recipe features pomegranate and apple juice, but you can also use a non-alcoholic wine like Cabernet or Merlot, which can be slow-cooked with cranberry juice and comforting baking spices, like cinnamon, star anise, and cloves. Serve in a warmed mug with a cinnamon stick garnish to stir.
5. Cranberry Pomegranate 'Bellinis'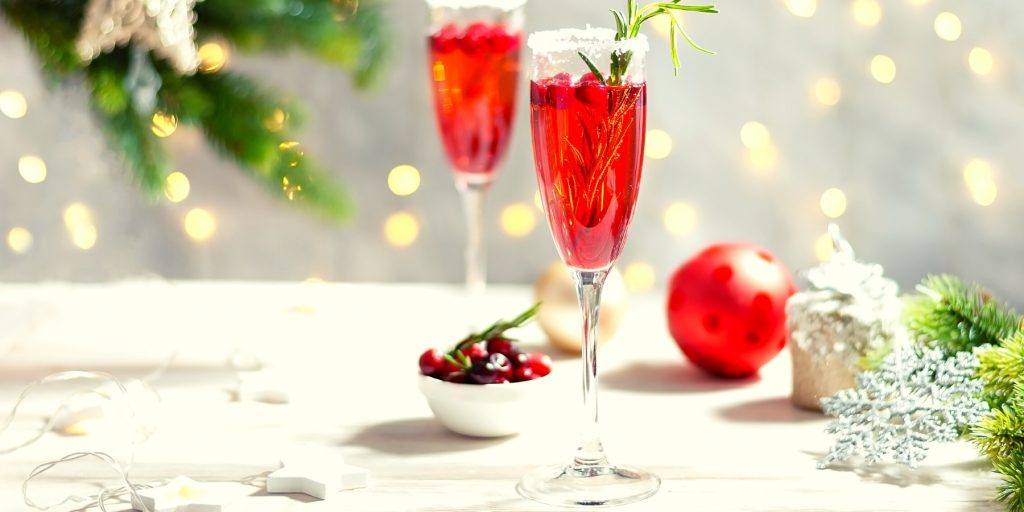 Toast to the holidays with crimson Cranberry Pomegranate Bellinis, free from alcohol but rich in taste! They're super easy to make and you can prepare them in large batches, perfect for fuss-free parties. To make 8 servings, combine 1.5 cups of simple syrup, 1.25 cups of unsweetened, chilled pomegranate juice, and 1 cup of unsweetened cranberry juice in a large pitcher with 2 cups of ice, and stir well. Slowly pour in a bottle of chilled sparkling water, and garnish with lime slices and mint leaves. Add pomegranate arils to Champagne flutes, and allow guests to serve themselves.

6. Apple Cranberry Spritzer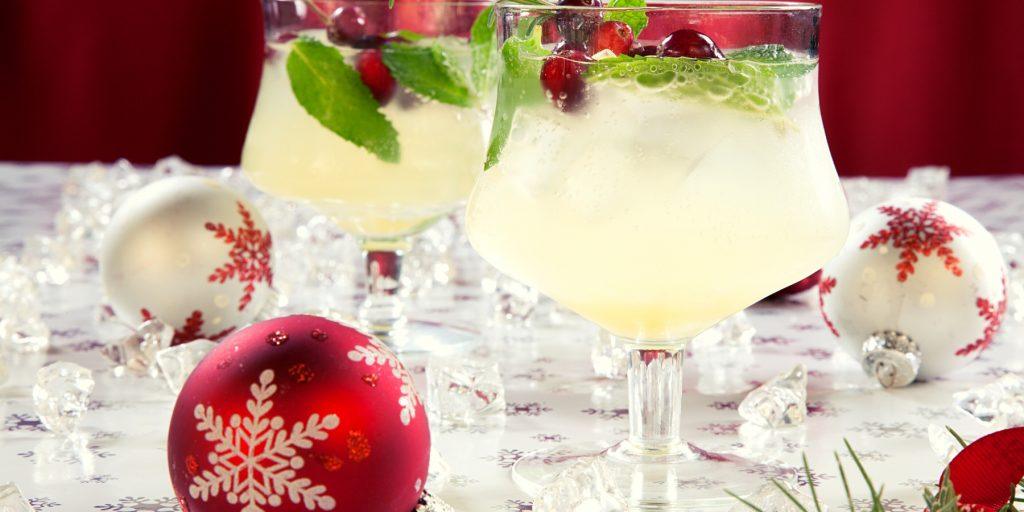 If you like your Christmas drinks with a little pizzazz, the Apple Cranberry Spritzer will more than deliver. This cranberry mocktail combines all the winter fruit flavors we love, with a bright and fizzy undertone from the sparkling water. To make 6 servings, combine 2 cups of apple juice or non-alcoholic white wine, 1 cup of cranberry-apple juice, and 1 cup of sparkling water in a pitcher. Add fresh ice to serving glasses along with some apple slices and fresh mint, and allow guests to serve themselves.

7. Grinch Punch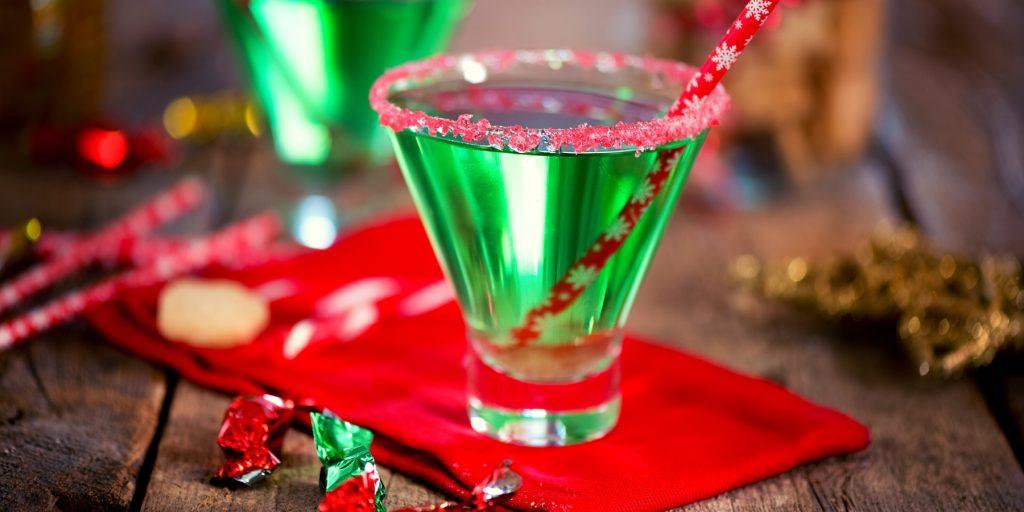 Is the holiday chaos and stress getting to be too much? Try a non-alcoholic take on the colorful Grinch cocktail to make you jolly! This is a very easy batch drink that only needs a few ingredients, which you should find in your kitchen. To make one, add a scoop of lime ice cream to a serving glass. Top it off with 2 oz of lemon-lime soda, 2 oz of Hawaiian punch, and 1 oz of pineapple juice. Bonus points if you add sparkly red rimming sugar to your glass!
8. Non-Alcoholic Amaretto Sour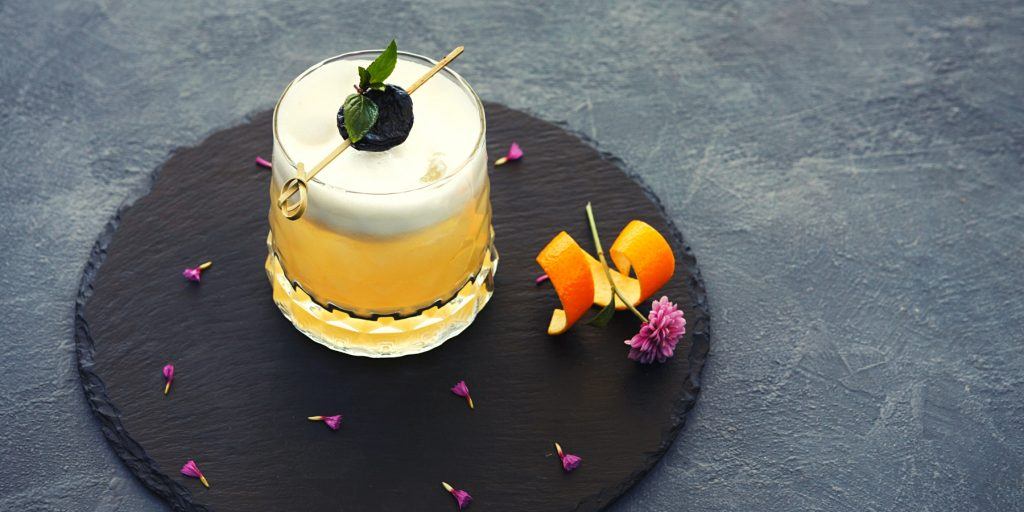 Want all the nutty deliciousness of an Amaretto Sour minus the booze? The non-alcoholic Amaretto Sour is the perfect festive mocktail for a crowd. Add 3 oz pineapple juice, 1 oz lemon juice, half an egg white and half a teaspoon of almond extract to a cocktail shaker without ice. Shake to combine, then add ice, and shake again to emulsify. Decant into your serving glass and garnish with some pretty cherries.
9. Non-Alcoholic Eggnog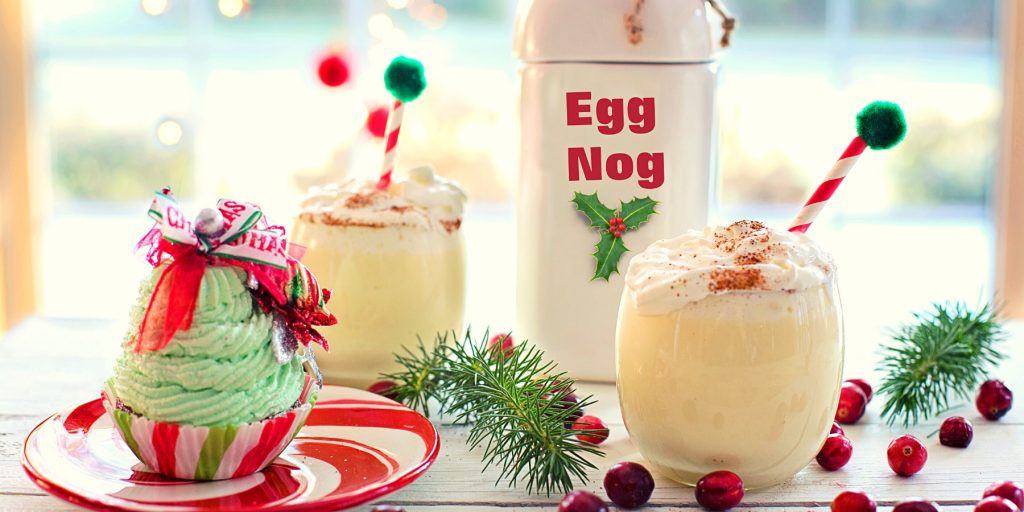 Did somebody say 'indulgent dessert drink-in-a-glass'? Then this non-alcoholic eggnog recipe is what you need. Creamy, cozy, and filled with memories of Christmas past, eggnog is a quintessential holiday drink across the globe. To make a batch to serve four, combine 4 egg yolks, 3 oz simple syrup, and the seeds of one vanilla pod using an electric whisk, until frothy and pale. Then add 3 oz double cream, and 15 oz whole milk, and beat again until combined. Strain into a pitcher filled with ice, stir gently until cool, add a sprinkling of cinnamon on the top, and allow guests to serve themselves.
10. Non-Alcoholic Hot Buttered Rum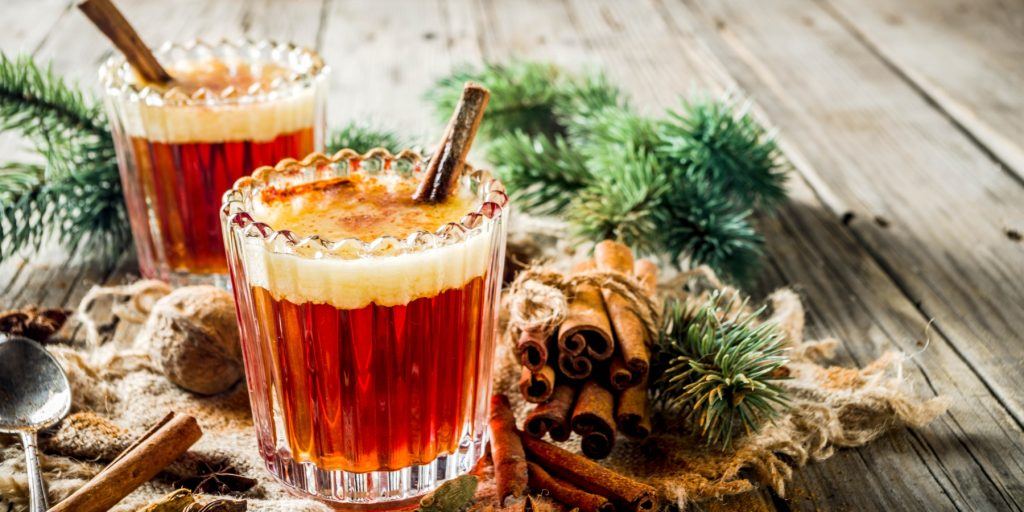 Your Christmas table isn't complete without this buttery holiday drink, and you can whip up a non-alcoholic version in less than 15 minutes. The trick is replacing the rum in the original recipe with rum extract, giving this mocktail the same signature flavor without any added alcohol. The rich creamy taste of this non-alcoholic hot buttered rum will be a pure delight at the end of your festive feasts!
11. Shirley Temple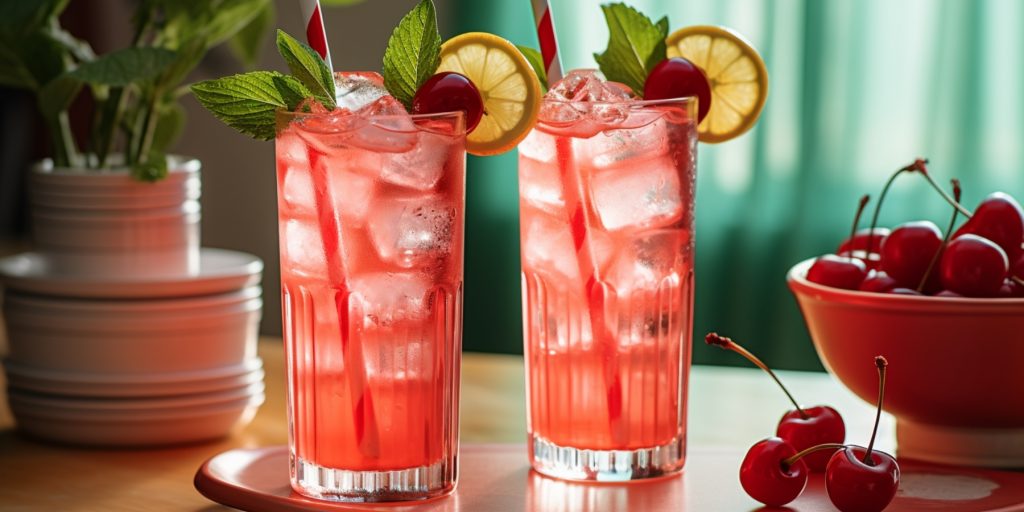 The sweet and innocent Shirley Temple mocktail is named after the famous child actress, Shirley Temple. It was created in the 1930s and became popular as a non-alcoholic drink option for children, thanks to Temple's wholesome image. Today it's a fun mocktail enjoyed by people of all ages – perfect for the holidays.
12. Christmas Morning Punch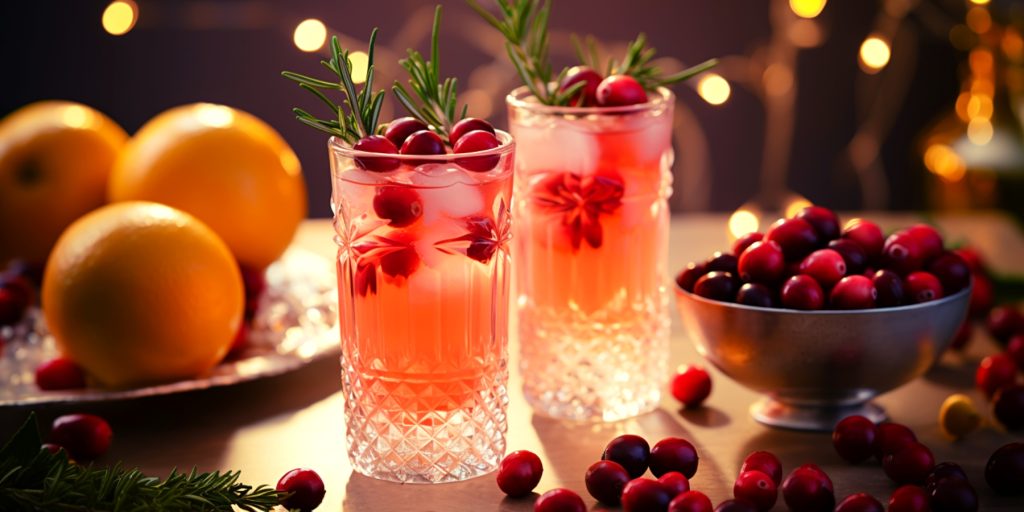 This sparkly, festive drink is a great option for the whole family, and perfect for holiday occasions where you want to clink a clean one. Add 2 cups of orange juice, 2 cups of cranberry juice, 1 cup of pineapple juice (fresh or tinned), and 1 cup of ginger ale to a large pitcher with ice. Give it a stir and serve. We love dressing it up with a few sugared cranberries or a slice of orange as garnish.
13. Roy Rogers Drink
The Roy Rogers, a classic and universally loved nonalcoholic drink, is simplicity at its best. Named after popular 1940s American actor and singer Roy Rogers, this easy clinker is a fun way to dress up a glass of cola for the holidays. To make one, add 1 oz of grenadine to a Collins glass with ice. Top off with 6 oz of cola, garnish with a slice of lemon and a cherry, and serve.
14. Mulled Apple Cider Mocktail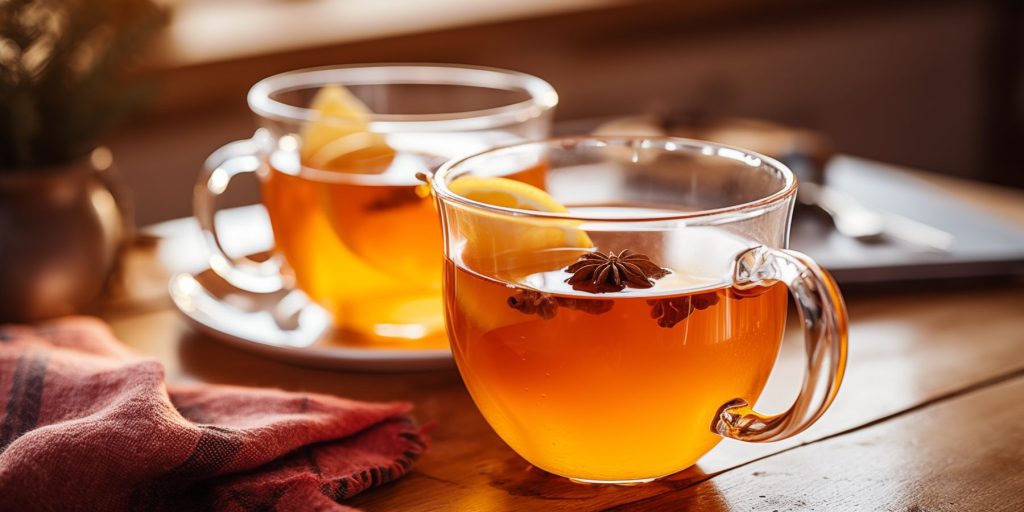 Is there anything more cozy than wrapping your hands around a mug of mulled cider on a nippy Christmas morning? We double dare you to top it! To make a batch of our Mulled Apple Cider Mocktail to share, you simply combine apple cider with baking spices in a saucepan, bring it to a simmer, and serve it with a stick of cinnamon if preferred. So simple, so delicious.
15. Non-Alcoholic Peppermint White Russian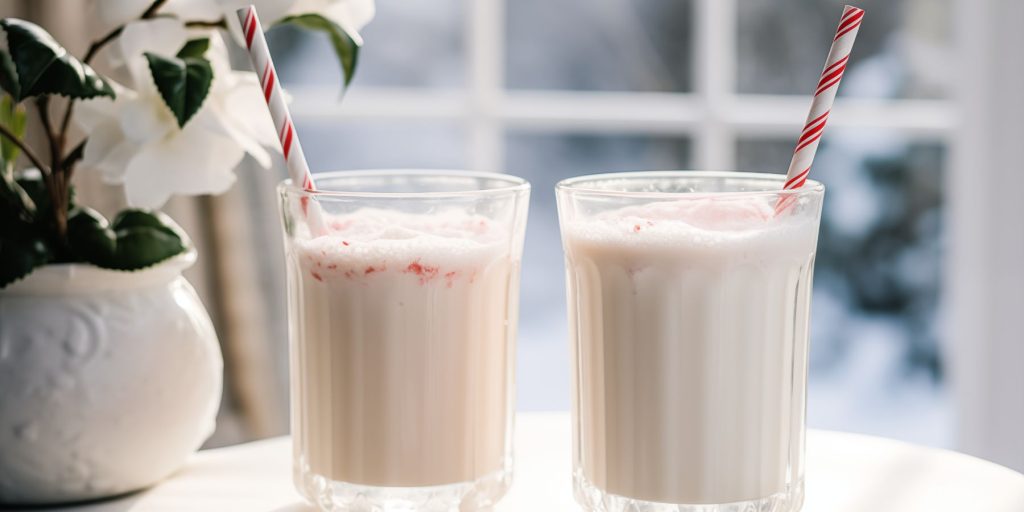 With its invigorating peppermint twist, this mocktail rendition of the classic White Russian brings a burst of holiday cheer to every sip. Whether you're hosting a festive gathering or simply unwinding after a day of holiday hustle, our Peppermint White Russian Mocktail is the ideal companion for spreading merriment and creating cherished memories.
16. Virgin Piña Colada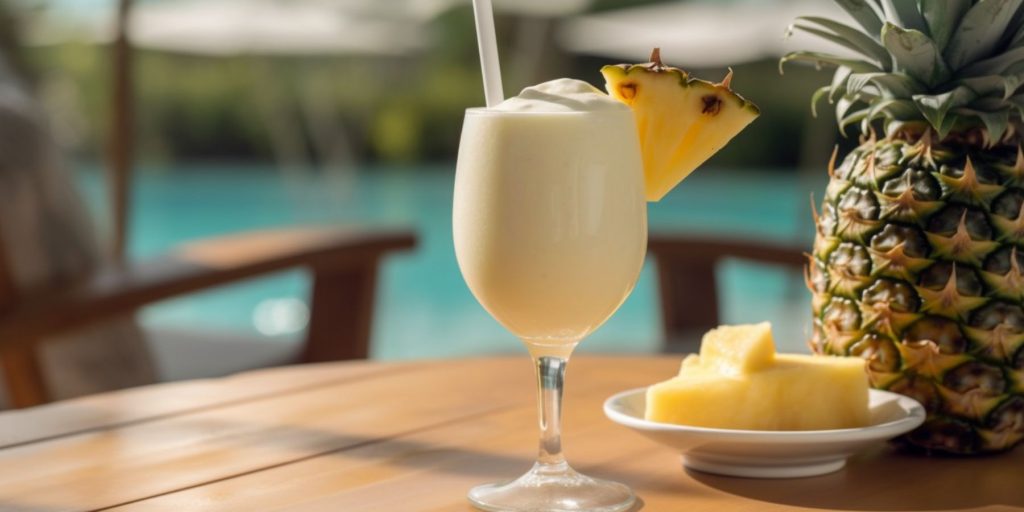 The classic Piña Colada always gives a get-together a vacation vibe, and our Virgin Piña Colada does exactly the same thing! Crafted from scratch using fresh fruit and coconut milk, this nonalcoholic delight is incredibly refreshing and full of flavor, making you forget all about the missing ABV.
There you have it – 16 amazing Christmas mocktails to add a little festive cheer to your table this year! Remember to sign up for our newsletter to receive the freshest inspirational articles delivered straight to your inbox.
FREQUENTLY ASKED QUESTIONS
Exactly like cocktails, mocktails can be made ahead of time to ensure your party or dinner goes as smoothly as possible. Simply start from a single-serving recipe and do some maths to work out the quantities based on the number of people you want to serve. Store in the fridge, and add ice just before serving.
Sure! Mocktails are a great way to please a crowd and meet all your guests' needs. Many cocktail recipes can easily be converted to non-alcoholic versions. You can also offer your guests the choice to spike their drinks by providing spirits alongside your mocktail batch.