9 of the Best Bourbon Winter Cocktails to Warm the Soul
November 22, 2022 by Karl Tessendorf
As the cold weather descends, there's never been a better time to snuggle up with a few winter bourbon cocktails. They can be served hot or cold, and every sip is like a slipping into a comfortable sweater that's scented with vanilla and oak. With flavors and aromas that range from sweet, floral, and fruity to spicy, wooded, and grainy, bourbon is one of the most versatile cocktail spirits. Discover how you can get the best out of this American classic with our list of the best winter bourbon cocktails.
1. Bourbon Hot Chocolate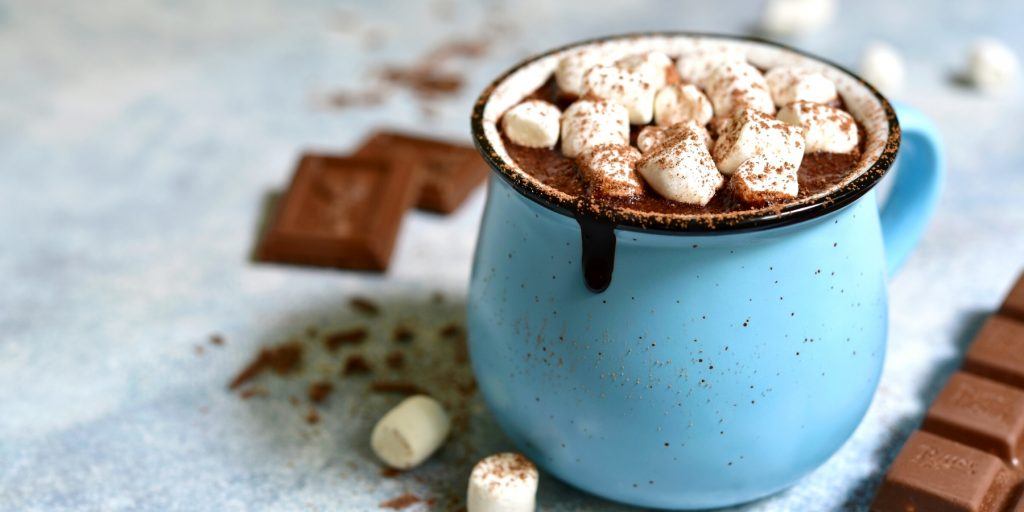 We're not saying that it was preordained by the hot chocolate and bourbon gods, but the bourbon hot chocolate was destined to happen. Chocolate's decadent flavors and luxurious texture are the perfect match for bourbon's vanilla, caramel, and oak flavors. Use semi-sweet milk chocolate for a richer experience, or add more complexity with bittersweet dark chocolate. Top it off with your choice of whipped cream or marshmallows, or both if you're feeling naughty.
Need another chocolate hit? Try our Mexican Hot Chocolate cocktail.
2. Boulevardier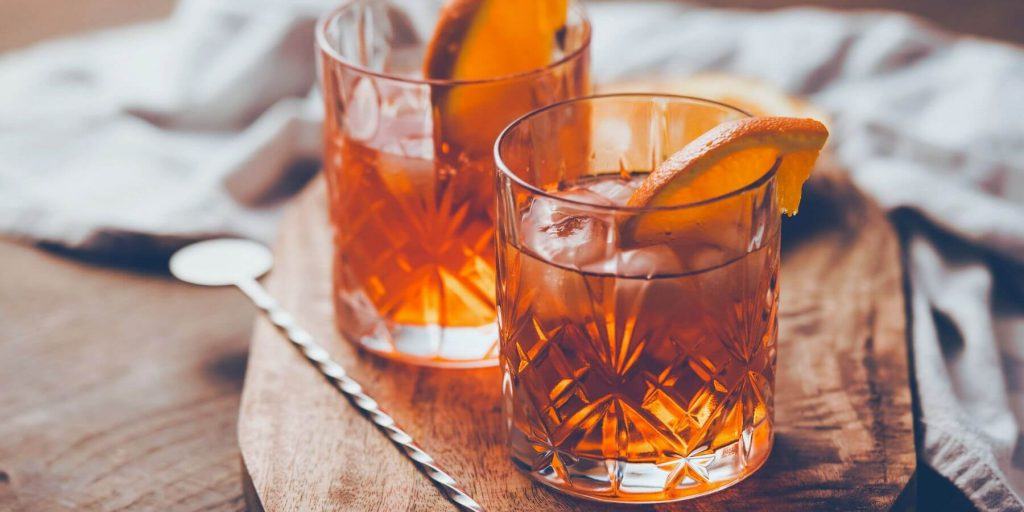 The roaring 20s were a time of music, excess, and the Boulevardier cocktail. Invented by Erskine Gwynne, it was named after the French magazine that he founded. It might have been a clever bit of marketing at the time, but the Boulevardier has stood the test of time. It's basically a Negroni but instead of gin, it uses bourbon. Imagine sitting by a blazing fire in an antique leather chair that's perfectly contoured to fit your body. That's what drinking a Boulevardier feels like. It's a melange of oak, vanilla, caramel, bitter Campari, and floral notes.
3. Old Fashioned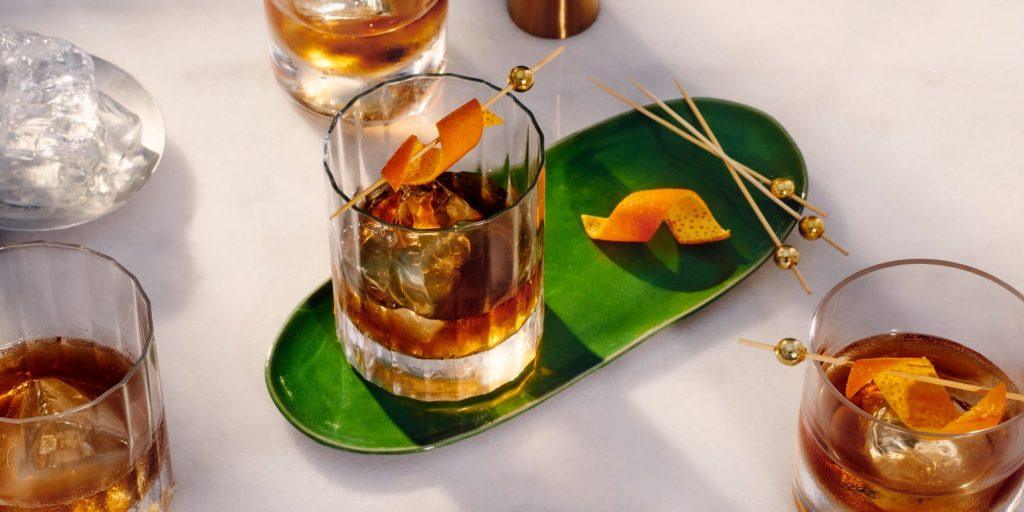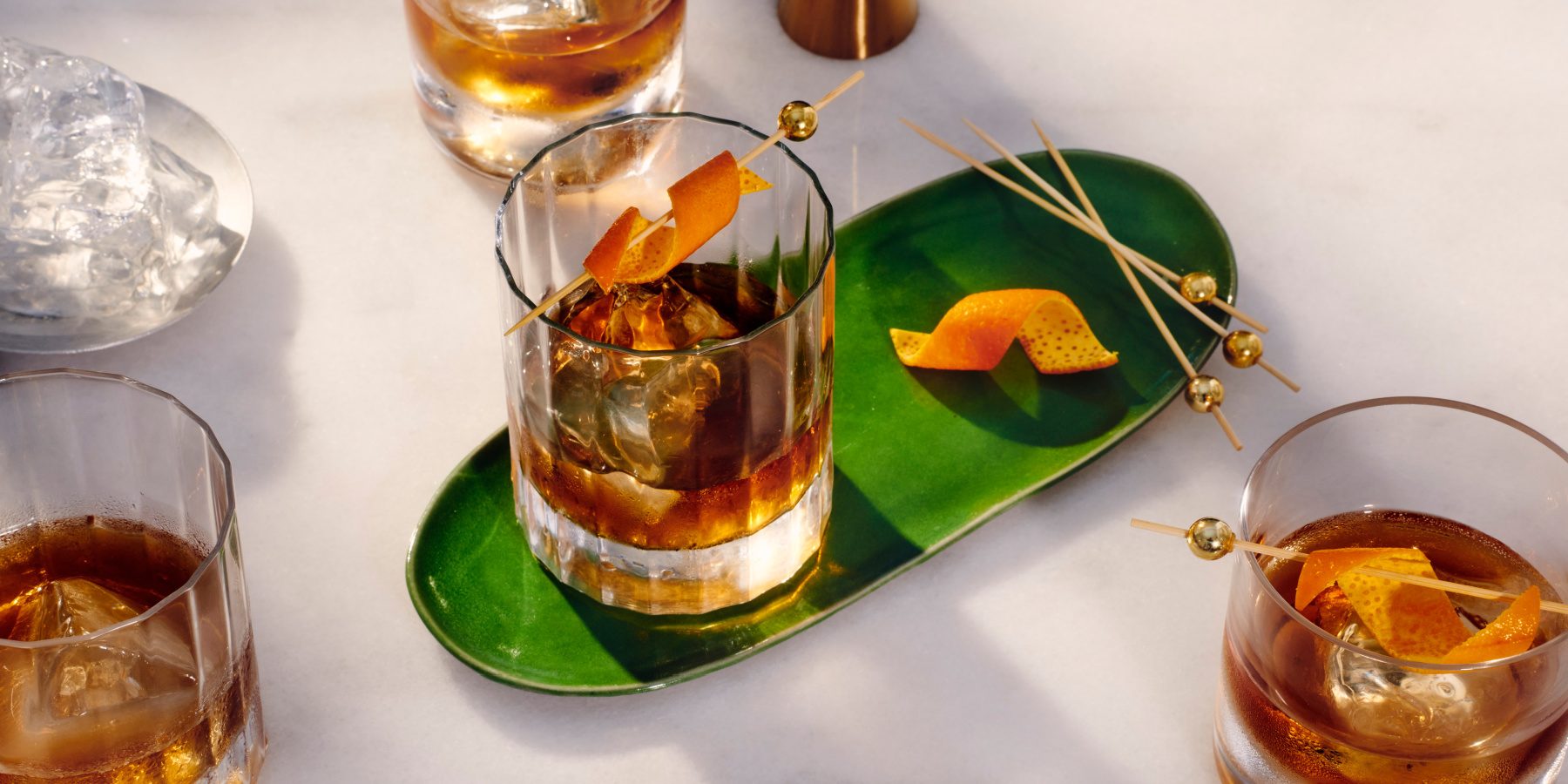 As far as winter cocktails with bourbon go, we'd be remiss if we didn't mention the original cocktail— the Old Fashioned. It's seen more winters than any other cocktail and warmed countless souls over its long years. It may be a simple blend of bourbon, sugar, bitters, and orange, but it's a deeply satisfying cocktail that will make the bleakest of winters seem charming.
4. Bourbon Apple Cider Sour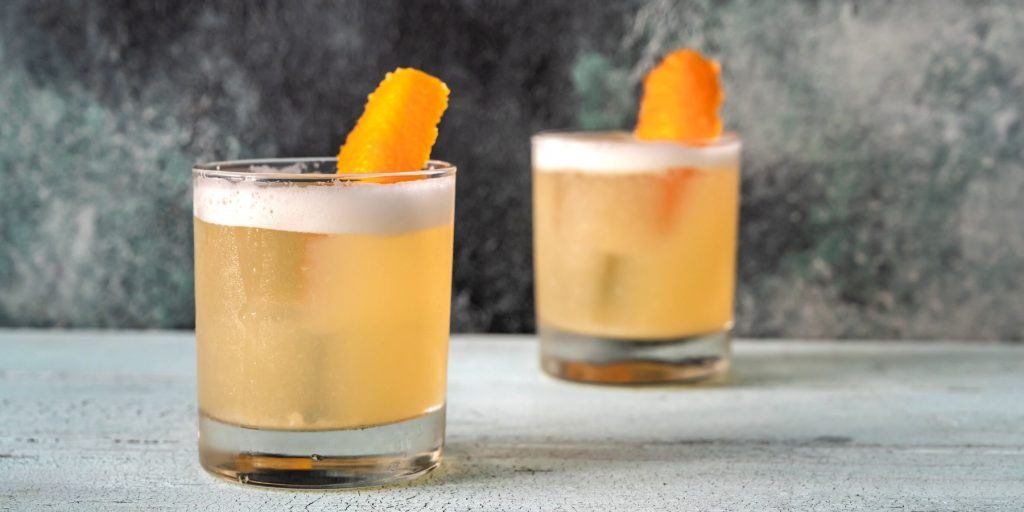 Nothing says winter comfort like the flavor of apple pie in a cocktail. Upon first sip, the Bourbon Apple Cider Sour is crisp, sweet, and tart with warming cinnamon and zesty lemon. As you roll it around your palate, its comforting bourbon character and flavors shine. Add to that its velvety texture (thanks to an egg white), and you've got a bourbon winter cocktail that will chase away any seasonal blues.
Need more apple flavor? 20 Apple Cider Cocktail Recipes.
5. Citrus & Spice Kentucky Mule cocktail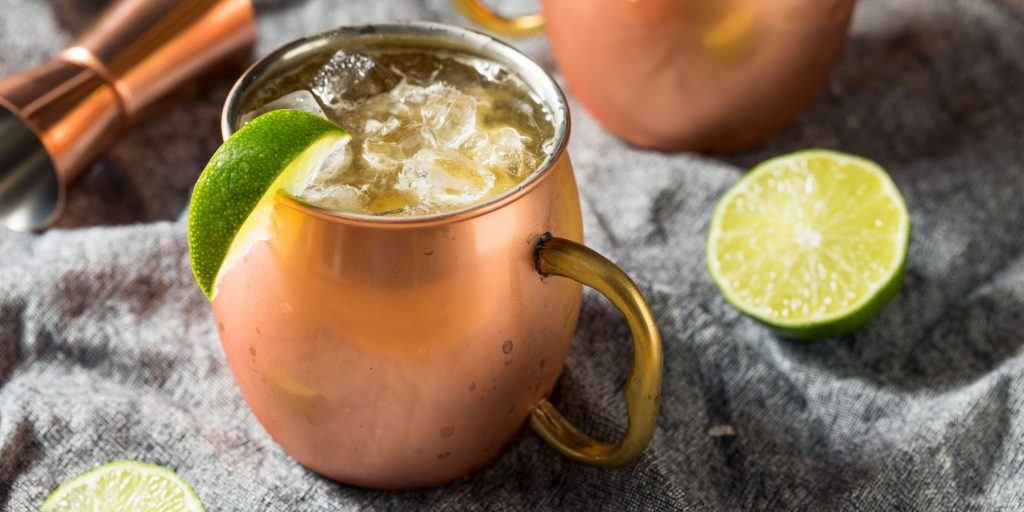 If warming winter spices are your thing, then this might just be your new ultimate winter mule cocktail. It's the bourbon-laced Kentucky Mule you know and love but with a spicy holiday twist. An easy simple syrup infused with cinnamon, cloves, star anise, and orange zest is all you need to get this mule galloping into flavor town. The spices sing with the mellow bourbon flavors while the citrus and ginger beer provide a refreshing snap.
6. Eggnog Rum Punch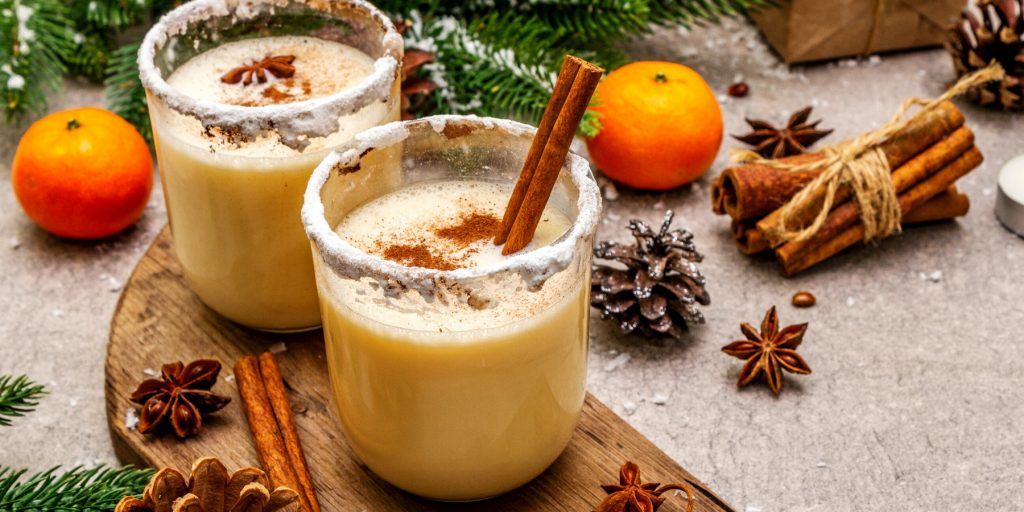 You knew it was just a matter of time before we got to everyone's favorite custard-like, smoothie-type, Eggnog Rum Punch! Yes, a jug of eggs, milk, sugar, spices, and rum might seem out of place during the rest of the year, but the festive season wouldn't be half as fun without Eggnog. It's a throwback to medieval England, and to the brave soul who mixed up the first batch, we tip our elf hats in respect. They didn't know it at the time, but their daring eggy mix changed the course of holiday history.
Looking for a fancy Eggnog cocktail? Try our Eggnog Martini.
7. Black Cherry Manhattan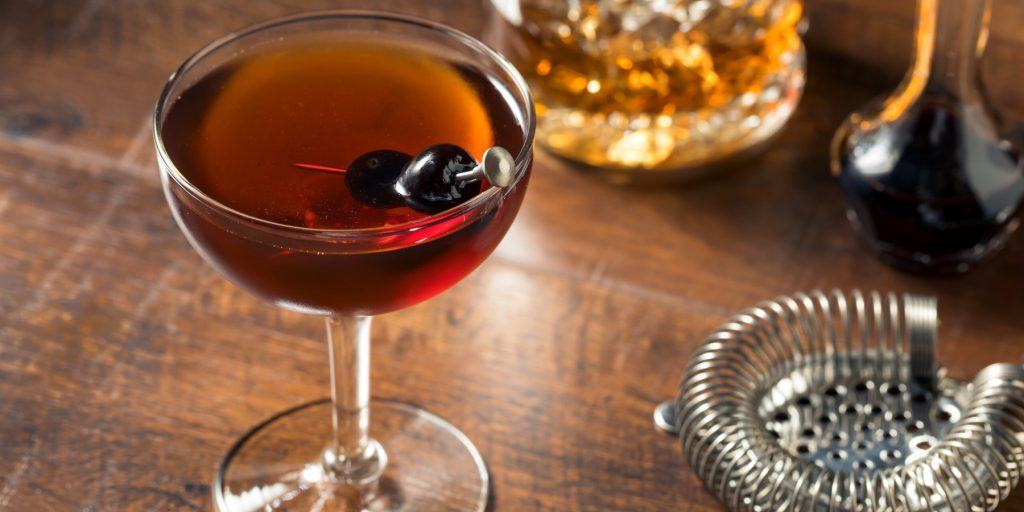 Much like New York's most famous borough, the Manhattan cocktail has always been a leader in style, taste, and sophistication. It ranks on the unforgettable list of the International Bartenders Association, and it's definitely a drink that everyone should try once in their lives. The Black Cherry Manhattan uses the same blend of whiskey, vermouth, and bitters, but with an added twist of cherry juice and garnish. As you'd expect it's sweeter than the original but the tart cherry flavors meld into the bourbon flawlessly.
8. Cranberry Apple Hot Toddy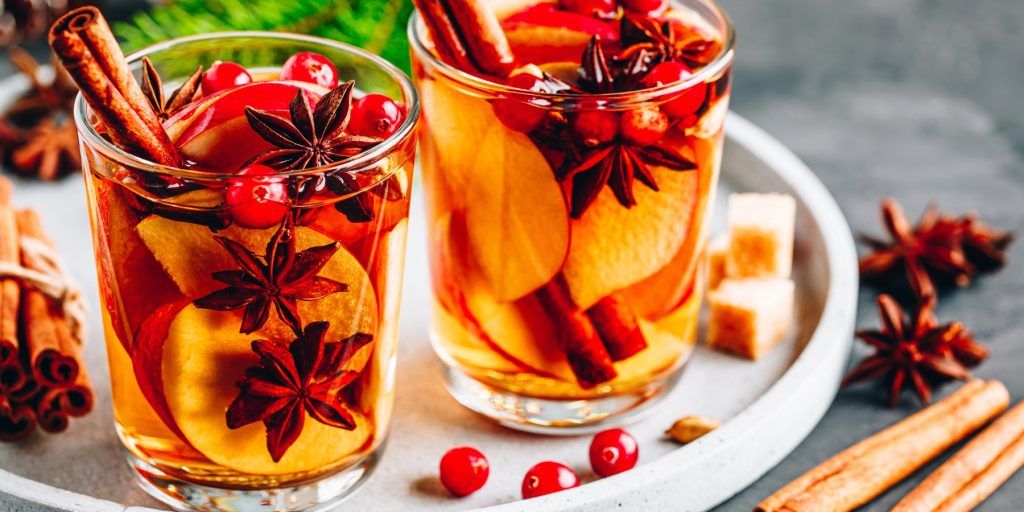 Hot Toddy cocktails are one of the best defences against winter's chill. They drive the cold from your bones and replace it with a festive glow that permeates your entire body. We've always been suckers for the classic Toddy, but this Cranberry Apple Hot Toddy is in the running as our new favorite in the Toddy family tree. It's bright and tart, yet sweet and spicy with a long oaky finish that will have you sighing in satisfaction. Like all Toddies, this one is best enjoyed with good friends around a toasty fire.
9. Hawaiian Gold Rush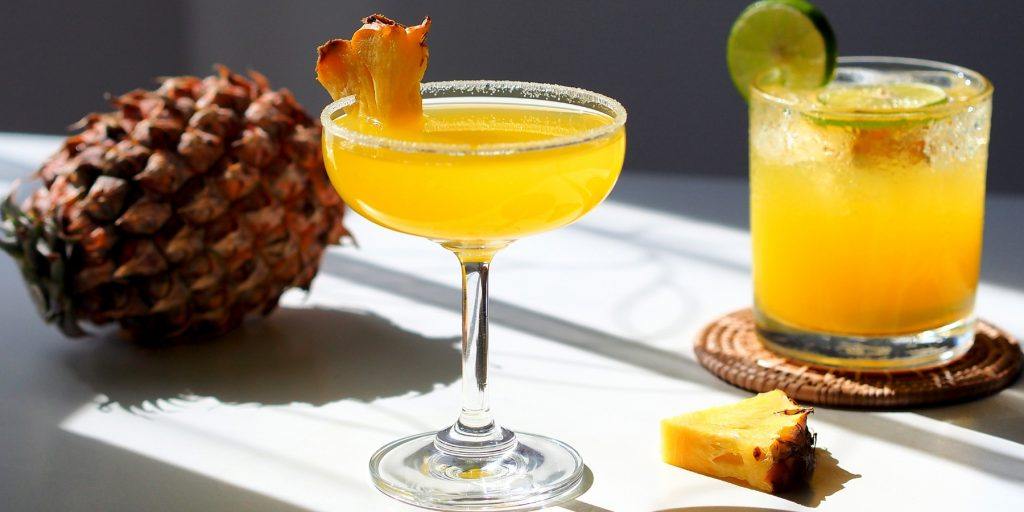 We get that anything with Hawaiian in the title doesn't exactly scream winter warmer cocktail, but hear us out. The Hawaiian Gold Rush takes the whiskey sour and floral honey combination of a classic Gold Rush cocktail and infuses it with pineapple juice. The result is a smooth-sipping tropical bourbon cocktail that will bring a ray of sunshine to the darkest of winter days. If you want to go deep, you can start pairing your bourbon's flavor profile with local, small-batch honey producers or single-origin honey. The Hawaiian Gold Rush can be as simple or as complex as you want it to be.
FREQUENTLY ASKED QUESTIONS
The key to any great cocktail is balance, but it's one of the hardest things to master. Balance in a cocktail means that no one flavor overpowers another. The next time you mix up your favorite bourbon cocktail, taste and adjust as you go. You'll know you've hit the sweet spot when all the ingredients come together to create a harmonious bourbon cocktail.
Bourbon and whiskey share a similar production process. They are both distilled from a mash which is a mixture of grains. For bourbon to be considered bourbon, it needs to have at least 51% corn in the mash. The rest of the mash can be made up of wheat, rye, or malted barley. Bourbon must also be aged in charred oak barrels.
Bourbon is a great mixer for cocktails due to its sweet and spicy flavors and its distinctive charred oak character. It can be the star flavor in a cocktail, or it can provide a warming, oaky base to build on.
Many of the world's best bourbons are produced in Kentucky but there are bourbon producers across America.