12 Easy St. Patrick's Day Cocktails to Try at Home
February 02, 2022 by Anna-Bet Stemmet
When the clovers grow thick and a pot o' gold glints at the end of the rainbow, it's time to pour some St. Patrick's Day cocktails and say sláinte! There's a bit of Leprechaun energy in us all, lads and lasses, and it tends to come out on St. Paddy's, so best you heed the call of the shamrock and let the luck of the Irish enfold you…
Here are 12 St. Patrick's Day cocktail recipes to try at home this year.
1. Baby Guinness Shot cocktail
Every list of top 10 St. Patrick's Day cocktails is sure to include the iconic Baby Guinness shot, and with good reason – it's all-around delightful. It also happens to be very easy to make. Fill a shot glass two-thirds full of coffee liqueur and then gently pour Irish cream on top, using the back of a spoon. Serve and enjoy!
2. Irish Coffee cocktail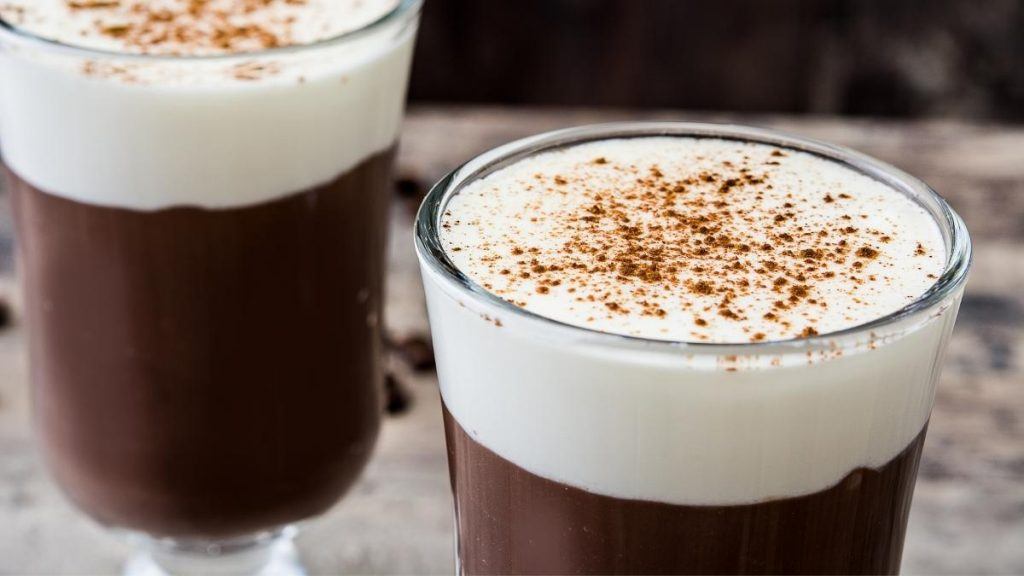 Another popular Irish St. Patrick's Day cocktail that has left an impression around the globe is the warm and cosy Irish Coffee. This sweet and creamy sip can easily take the place of dessert at casual suppers with friends, and also makes the perfect serve on chilly wintery evenings around the fire.
3. Irish Old Fashioned cocktail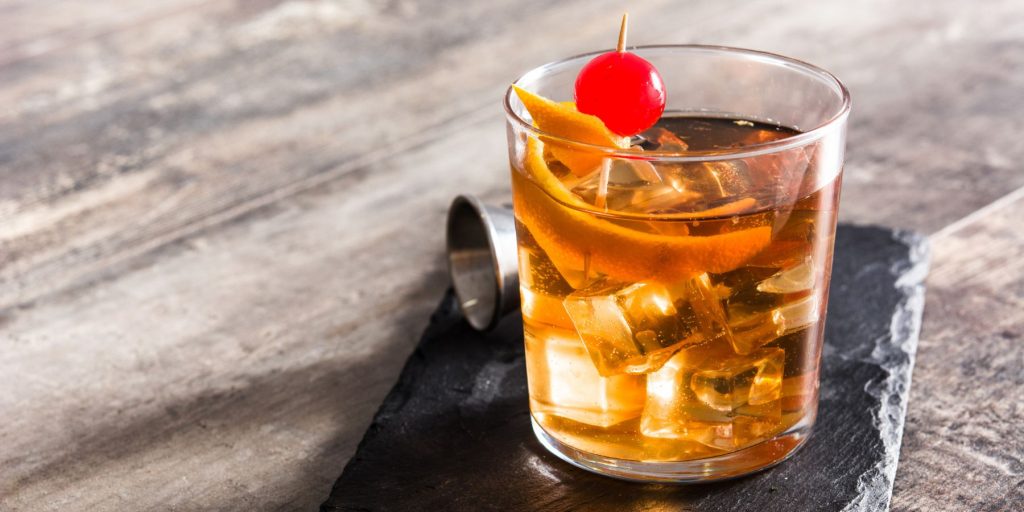 An easy St. Patrick's Day cocktail that's ideal to serve as a slow sipper, the Irish Old Fashioned puts a subtle Gaelic-inspired spin on the classic Old Fashioned. Add 60ml Irish whiskey, 15ml simple syrup, 3 dashes of orange bitters, and 2 dashes of conventional bitters to a mixing glass with ice, stir until combined, and strain into a serving glass with fresh ice.
4. Mint Julep cocktail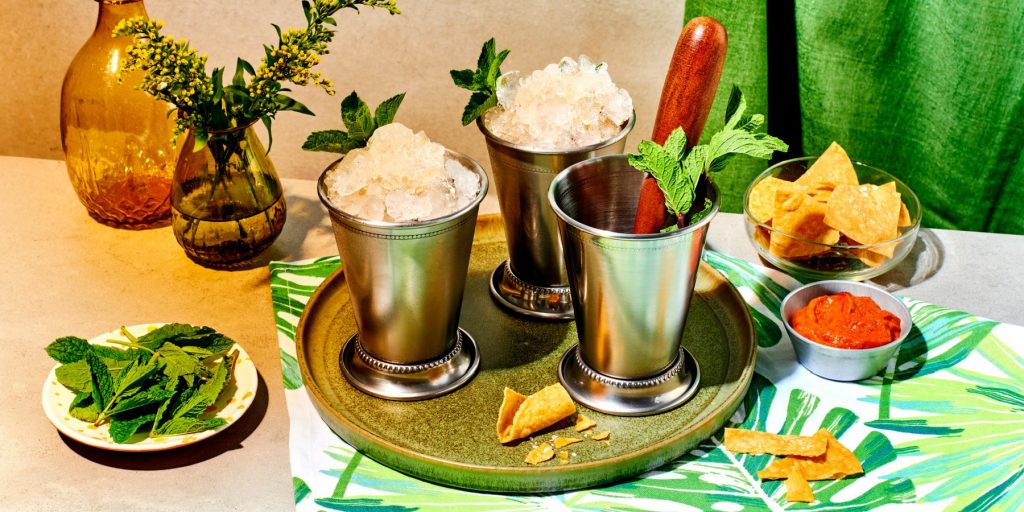 Keen on St. Patrick's Day cocktail recipes with just a hint of green? We've got the drink for you! The sassy Mint Julep is minty-cool and a little sweet with just enough kick. The magic of this drink lies in the trifecta of bourbon, mint, and syrup that come together like a charm.
5. Irish Martini cocktail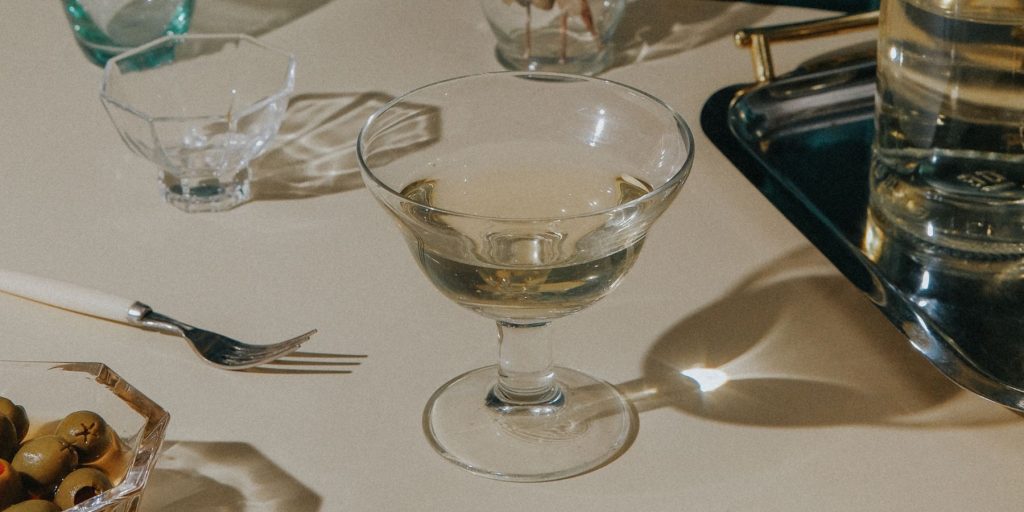 Cocktails for St. Patrick's Day can be classy and 007 cool. Try an Irish Martini on for size. Combine 60ml SKYY vodka and 15ml Cinzano Vermouth Bianco in a cocktail shaker half-filled with ice. Shake well. Our 15ml whiskey into a chilled cocktail glass, swirl it around to coat the inside and then keep it aside to prep the next drink. Decant the shaken cocktail into the whiskey-rinsed glass, garnish with an optional lemon twist, and serve.
Here's the original: Best Ever Classic Martini Recipe
6. John the Baptist cocktail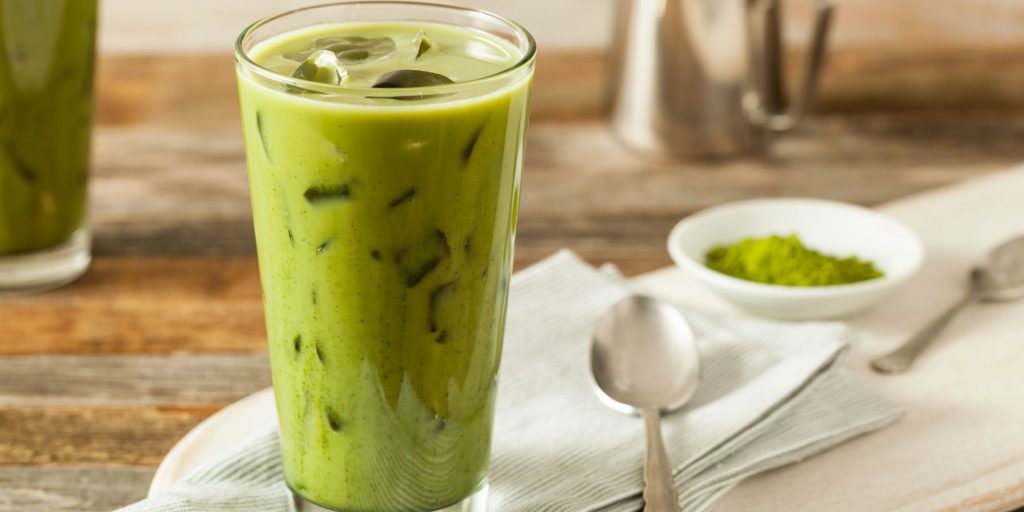 A Tiki cocktail with a twist, the John the Baptist combines the fruity and verdant flavours of pistachio, apricot, matcha, and more. To make it, add 30ml whiskey, 15ml apricot brandy, 15ml creme de cacao, 2 dashes absinthe, 15ml pineapple juice, 15ml pistachio syrup, 10ml cream, and one teaspoon matcha green tea powder to an ice-filled shaker and shake until well-chilled. Strain into a serving glass with fresh ice, garnish with freshly grated nutmeg, and serve.
7. Green Beer cocktail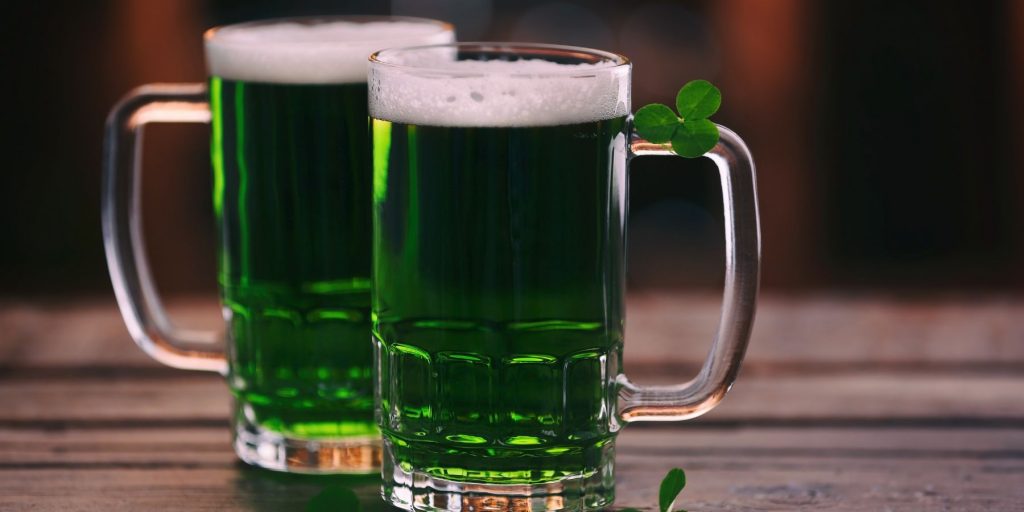 Green cocktails for St. Patrick's Day do not come any easier that the Green Beer cocktail. Simply add 1 drop of green food colouring to a clear glass. Top with your choice of beer and serve immediately. We love using a hoppy Pilsner or a sparkly cider.
More Irish inspiration: 14 Irish Cocktails to Serve All Year Round
8. Pot o' Gold cocktail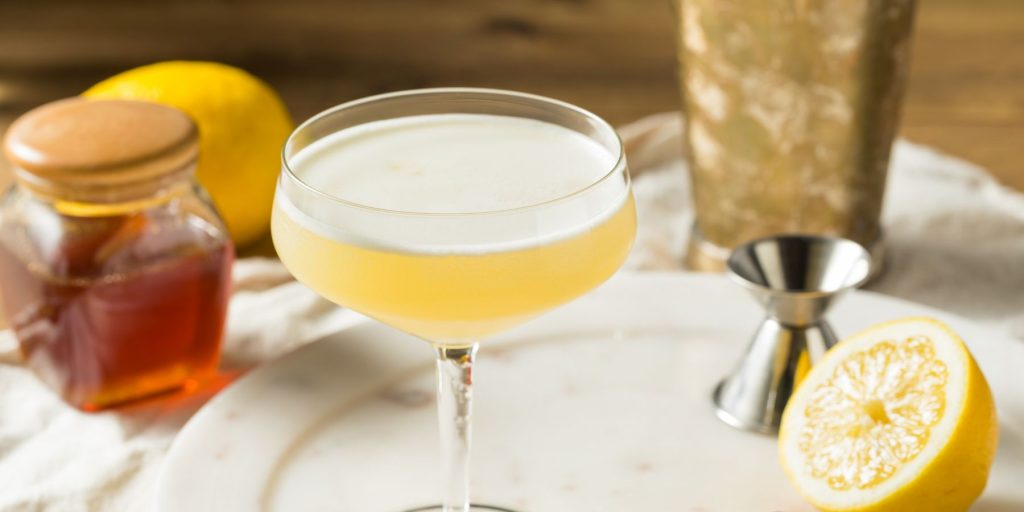 If you're looking for vintage Irish whiskey cocktails for St. Patrick's Day, we suggest the Pot o' Gold. It's the Emerald Isle version of a Bee's Knees, combining 60ml whiskey, 10ml ginger liqueur, 15ml fresh lemon juice, 15ml honey syrup, and egg white. Add all the ingredients to a cocktail shaker without ice, and dry shake to combine. Then add ice, shake until frosty, fine strain it into a serving glass, and add a touch of edible gold if you're feeling glitzy.
You might also like: How to Make a Gold Rush Cocktail
9. Black Velvet cocktail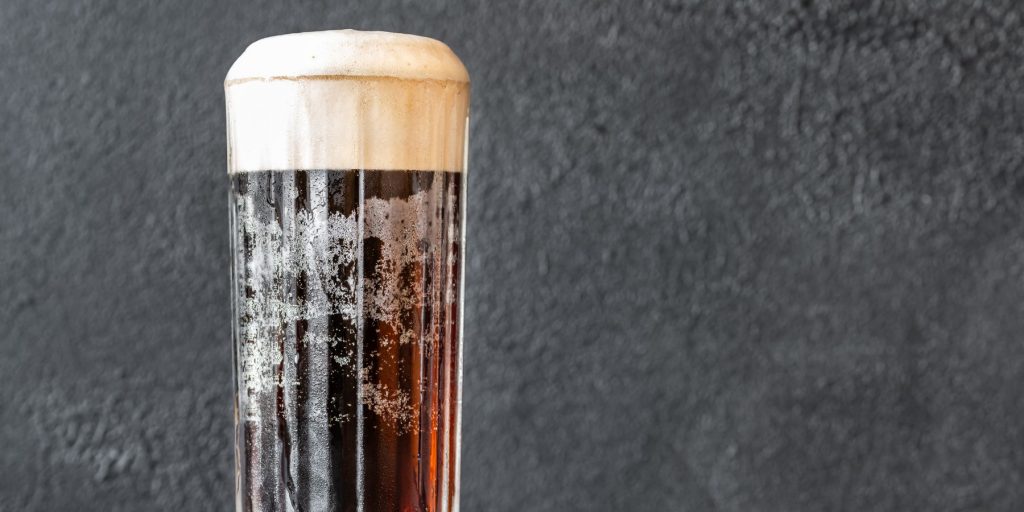 As far as beer cocktails go, the Black Velvet is definitely one of our favourites for St. Paddy's. Dapper yet bougie, it combines equal measures of stout and Champagne. Pour 60ml chilled stout into a Champagne flute, top it off with 60ml of Champagne, and serve. No flutes? Serve it in a Collins glass – works just as well!
10. Irish Mule cocktail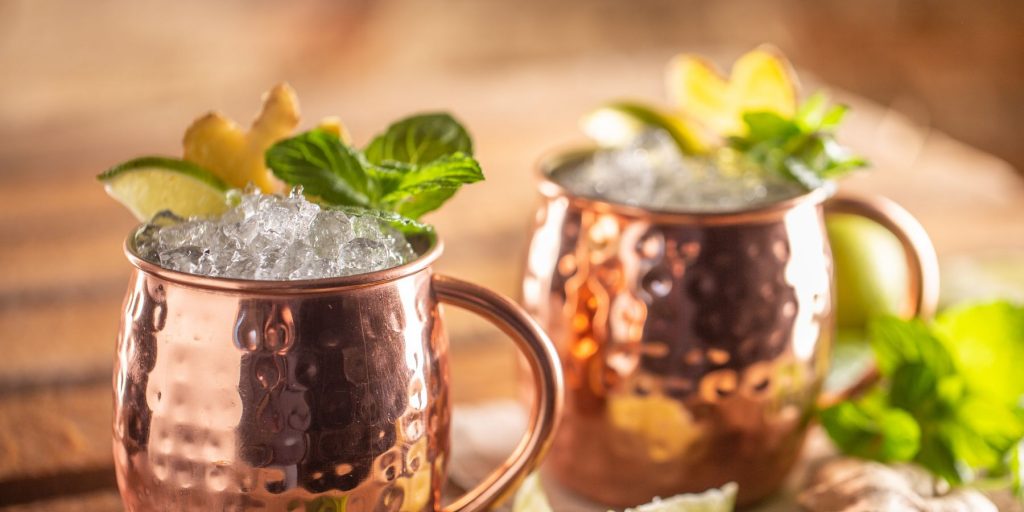 A very popular St. Patrick's Day cocktail among folks who love their cocktails on the refreshing end of the spectrum, the Irish Mule is the ideal thirst-quencher. To make it, build 60ml whiskey, 120ml ginger beer, and 15ml fresh lime juice over ice in a copper mug or highball glass. Stir to combine, garnish with lime slices and a mint sprig, and serve.
More mules this way! 13 Delicious Mule Cocktails to Make at Home
11. Green Bloody Mary cocktail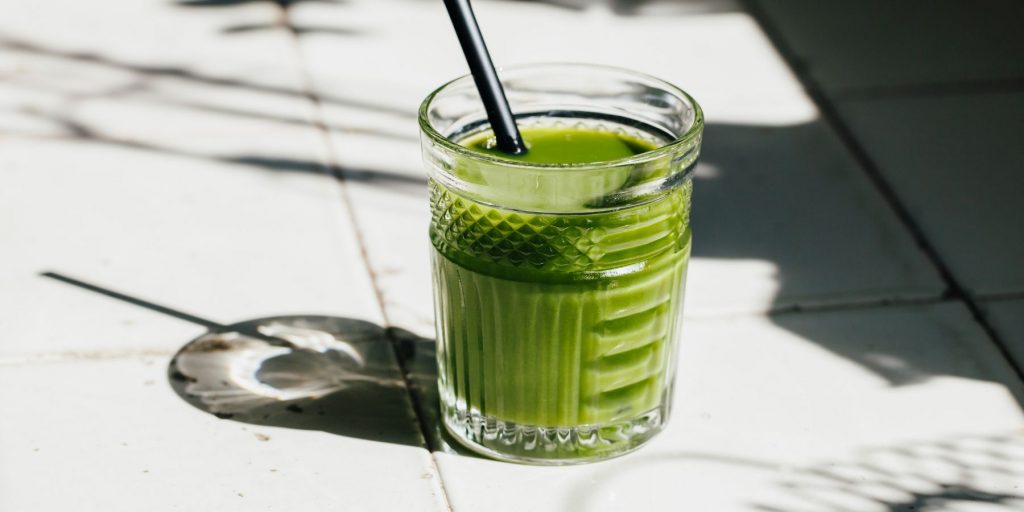 The original Bloody Mary will always be a true-blue classic, and the green version is a fun and fragrant spin on this savoury drink. Follow the standard recipe, but instead of using tomato juice, make your own green tomatillo juice instead. To do so, add 1 tomatillo (husks removed and chopped) and a quarter of a Granny Smith Apple (cored and chopped) to a food processor. Blend until smooth and combined, adding a little water if the consistency is more soup than a cocktail. This will yield enough juice to make one Green Bloody Mary.
12. Whiskey Sour cocktail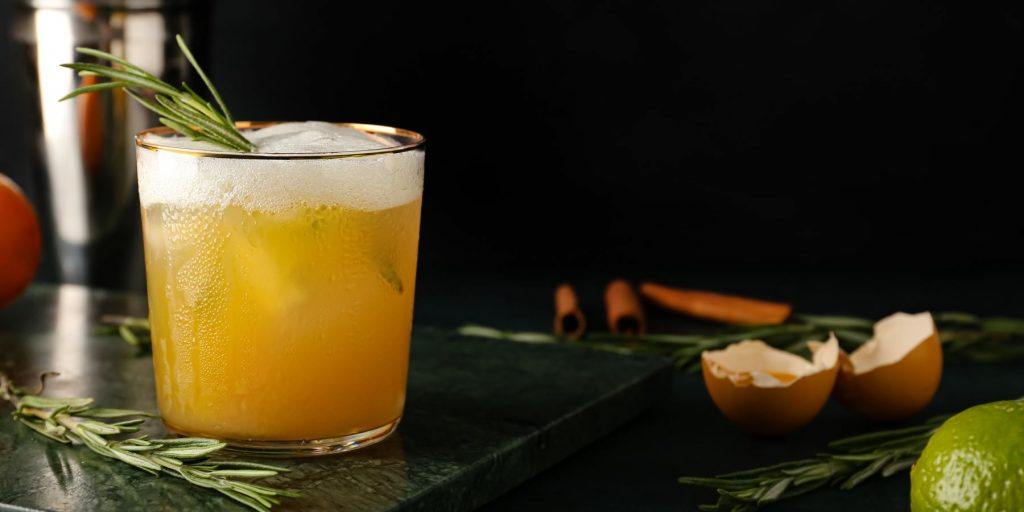 Plenty of St. Patrick's Day cocktails feature whiskey as their base ingredient, which makes sense. After all, it is said that Irish monks invented whiskey, and were so fond of it that they called it uisce beatha ('water of life'). Celebrate this legacy with a Whiskey Sour, a sweet, slightly tart drink with a cool-looking retro foam topping. Whiskey Sour recipes sometimes call for bourbon, but you can dress it up in Gaelic finery by opting for an Irish whiskey instead.
FREQUENTLY ASKED QUESTIONS
Green drinks of all kinds are very popular on St Patrick's Day, especially beer. There is also a great variety of Irish-inspired cocktails that are perfect for clinking on St Patty's, including the Pot o' Gold, Black Velvet, Irish Martini and more. Get a full list on The Mixer UK.
The Irish are very fond of beer and are known for celebrating with a pint on St. Patrick's Day. However, if your tastes lie more towards cocktails, you may want to try a Green Bloody Mary, John the Baptist, or Irish Coffee. Find a full list of St Patrick's Day cocktails on The Mixer UK.