Boozy Scoops: 15 Amazing Alcoholic Ice Cream Cocktails
December 09, 2022 by Karl Tessendorf
The problem with adding ice cream to a cocktail is that once you've done it, there's no turning back. Pretty soon you'll be buying ice cream in bulk and dropping perfectly shaped balls into every cocktail you come across. If you're already asking yourself, what's the problem with that? Then welcome! You've come to the right place. We love ice cream cocktails, and this is our top list of frozen treats you need to try.
1. Grasshopper
If you're a fan of an after-dinner mint, then meet your new favourite creamy alcoholic drink. It may sound all cute, but the Grasshopper packs a mean mint-choc punch that'll liven up your tastebuds. It's an indulgent mix of chocolate-flavoured liqueur, mint spirit, and heavy cream and it's just as good as it sounds. The Grasshopper was invented way back in 1918, and it's still as classic as it was back then.
2. Strawberry Ice Cream Martini
These days there are tons of ice cream flavours, but do you remember a time when you were either a strawberry or chocolate flavour kid? Well, if you were a strawberry kid, then today is your day my friends because this ice cream cocktail has your name written all over it. It's a blend of vodka, strawberry liqueur, white chocolate liqueur, and strawberry ice cream. It's a nostalgic throwback with an adult twist and it's nothing short of incredible.
3. Bushwacker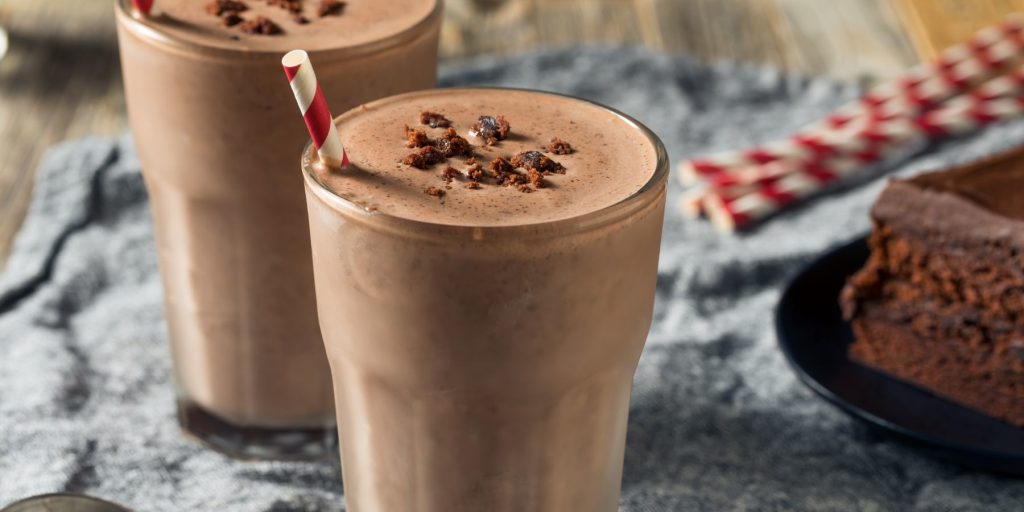 Alright strawberry kids you've had your moment now step aside because it's chocolate time! The Bushwacker is quite possibly the best boozy chocolate milkshake that was ever invented. It's a chocolate, coconut, and coffee bomb that's spiked with a spicy rum kick. The Bushwacker's got a bit of everything going on, and here at The Mixer it's a top contender for the best cocktail with ice cream award.
4. Beer Floats
The beer float might be the most versatile ice cream cocktail because of the sheer number of flavour combinations. There are over a hundred styles of beer and even more ice cream flavours. If you want a bright and summery float, then go for a Belgian witbier and a lemon ice cream. For a winter float, mix up a pumpkin ale with pumpkin ice cream. And for a winter warmer plop some coffee ice cream into an imperial stout. Get crazy, get creative, and get your beer float on.
5. Boozy Shamrock Shake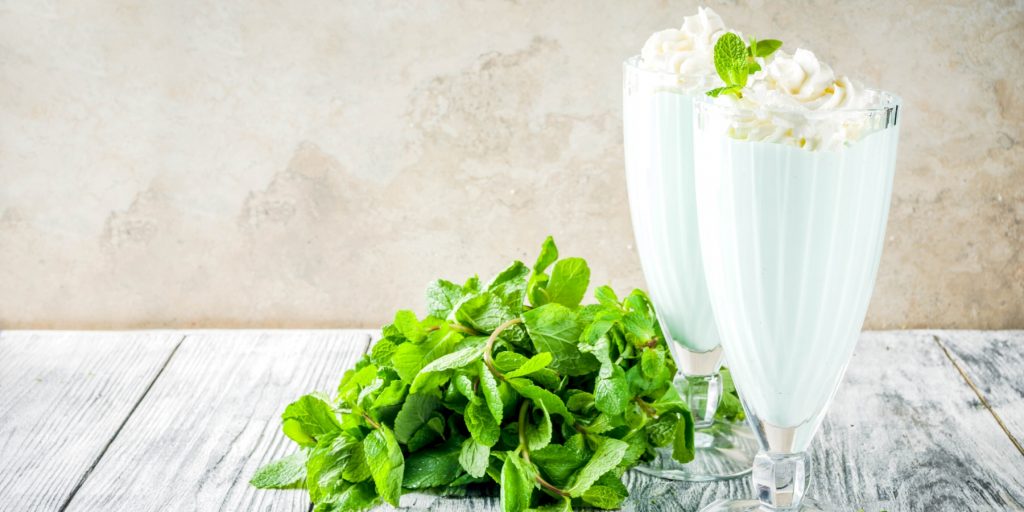 The luck of the Irish is with you today because we suspect after reading this, there'll be a Boozy Shamrock Shake in your future! That's right. Everyone's favourite St. Paddy's Day MacDonald's shake is getting the touch of the old giggle juice. All you need is ice cream, mint liqueur, a dash of Irish cream, and a splash of vodka (if you're feeling extra cheeky). Blitz it up and you'll be off to find a pot of gold at the end of the rainbow.
6. Pumpkin Ice Cream Float
Pumpkin and everything pumpkin spice have been in overdrive the last few years and for good reason. It's a great flavour combination and if you've never had a pumpkin float then you're in for a comforting treat. The cool thing about this ice cream cocktail is that you can customise it to suit your taste. You can use pumpkin ice cream and root beer, or vanilla ice cream and pumpkin soda. You can add extra pumpkin spice and jazz it up with all sorts of garnishes. We love a crumble of ginger biscuit for texture and bite.
7. Adult Root Beer Float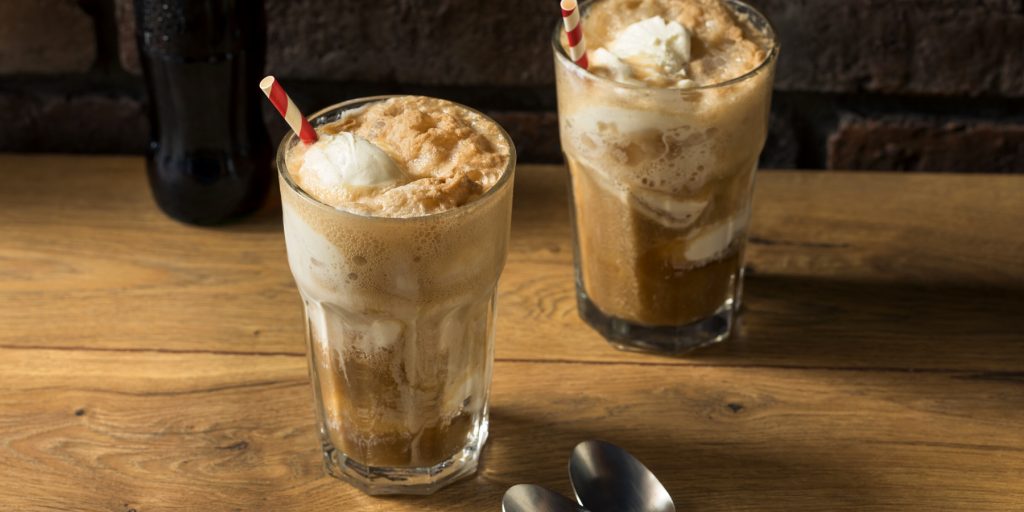 Root beer is one of those flavours that's hard to describe other than it tastes 'root beery.' It's an American classic and summer just wouldn't be summer without a root beer float. In this ice cream cocktail, this classic float gets an adult upgrade transforming it into a spiked drink that'll float your summer boat. It's rich and creamy with flavours of uh, root and 'beeriness'.
8. Pink Squirrel
The Pink Squirrel is a blast from the past back when creamy cocktails were the height of sophistication. It may have fallen off our radar in recent years, but we think it's time the squirrel came out of hiding. It's similar to the green Grasshopper but it uses almond-flavoured liqueur instead of mint. It's another winner for chocolate fans! The Pink Squirrel has a gorgeous almond undertone, and when you finish it with a grating of fresh nutmeg you'll have a nutty pop of flavour in every sip.
9. Adult Strawberry Ice Cream Party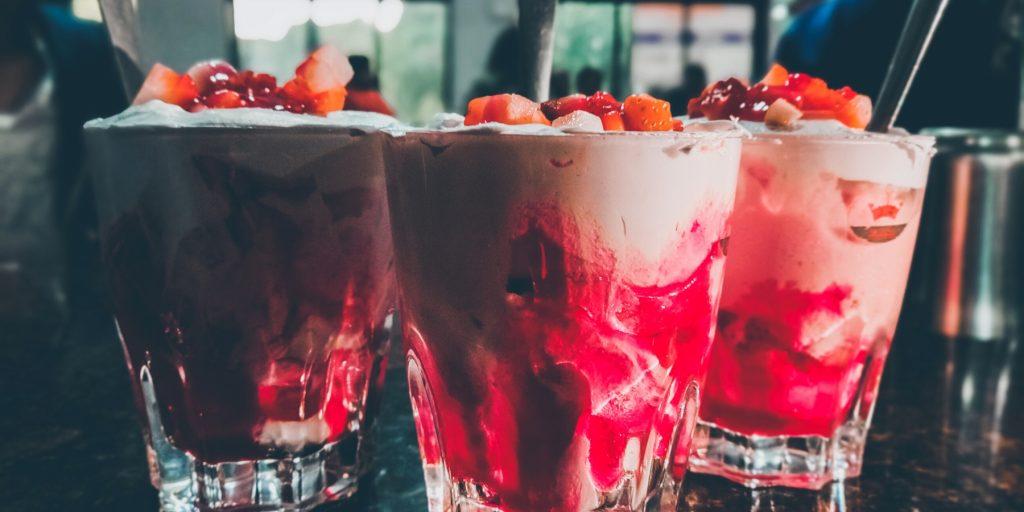 Consider this your invitation to the Adult Strawberry Ice Cream Party. What do you need to bring? Just your tastebuds and a party attitude because this ice cream cocktail is all about sweet excess. We're talking cake-infused vodka, strawberry vodka, strawberry ice cream, whipped cream, and all the sprinkles. Go big or go home because this cocktail is here to party.
10. White Russian Float
The White Russian Float takes everything you know and love about a White Russian and turns it up to eleven. The vanilla ice cream acts like a shot of nitrous oxide to the vodka fuelled engine. It's an ultra-creamy and frosty alcoholic ice cream recipe that couldn't be any simpler. Just add a blob of good-quality vanilla ice cream to your White Russian, and you're off to the races.
11. Spiked Mexican Chocolate Milkshake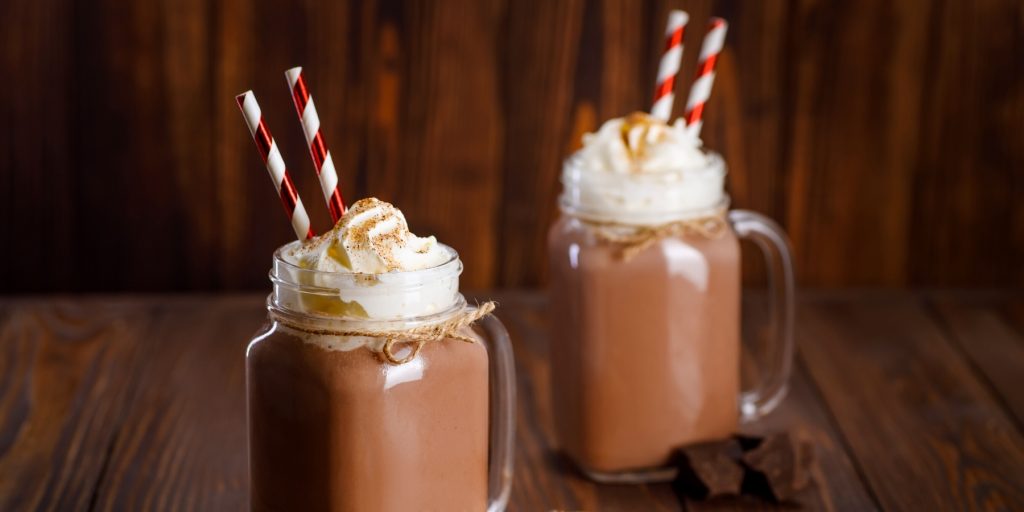 The real question is not if you're going to love this tasty cocktail because we know you will. The real question is how many cow jokes can we fit into this paragraph? Let's find out, amoogos! Mooove over Margarita because there's a new tequila cash cow in town. It features chocolate ice cream, stampeding tequila and spice—and it's udderly fantastic! So, take a trip to the Mexican Milky Way, and fall head over hooves with the Spiked Mexican Chocolate Milkshake.
12. Spiked Lime Ice Cream Soda
If you find creamy alcoholic drinks a little too rich, then the Spiked Lime Ice Cream Soda might be just what you need. Sure, it's still an ice cream soda but the addition of vodka, lime soda, and limeade adds sparkles, zest, and a bite. The result is a cocktail that's creamy upfront with loads of lime flavour, but finishes with a refreshing zing. It lives in the best of both worlds—and it's waiting for you to pay a visit.
13. Frozen Mudslide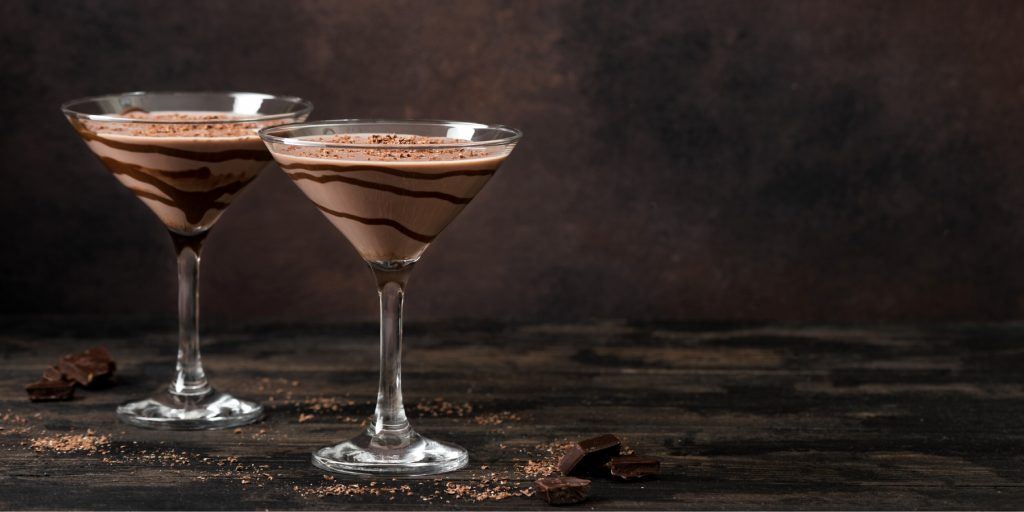 Chocolate and coffee both start life as a bean, so it makes sense that they'd be best flavour friends. They're both rich and creamy and when you blitz Irish cream liqueur and a scoop of ice cream, and coffee liqueur in a blender, you end up with a frozen Mudslide. It's the ultimate frosted coffee cocktail that makes you feel like a kid again. But when that coffee aftertaste kicks in you'll be reminded that you're actually an adult. It's great in summer, comforting in winter, and awesome just about any other time too.
14. Gin & Tonic Float
Gin is already a summertime classic, so this is one ice cream cocktail that won't lead you down the garden path. The floral and herbaceous layers of gin blend effortlessly with the rich vanilla ice cream, while the tonic adds a bitter snap to balance things out. Mix them up in jugs and make them to order at your next summer cocktail party.
15. Frozen Brandy Alexander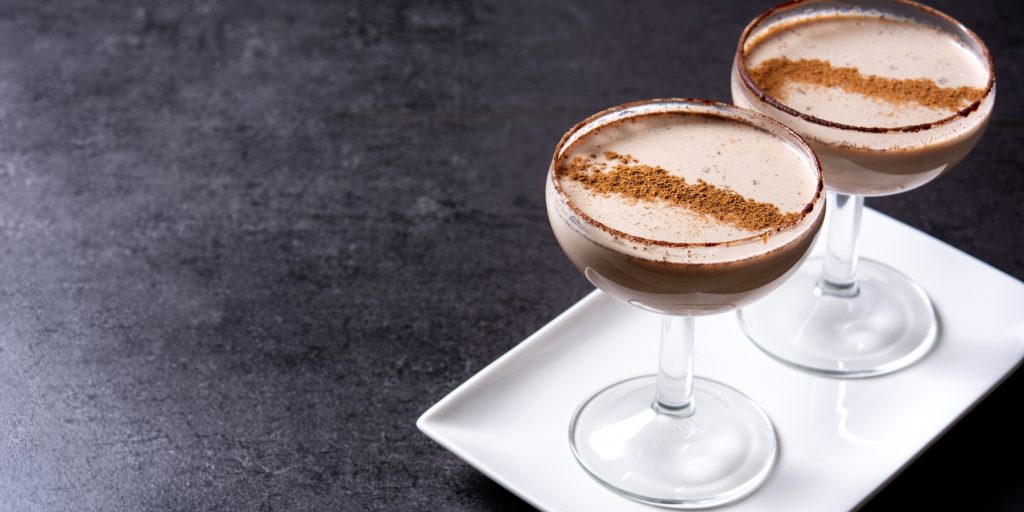 As soon as you take a sip of the Brandy Alexander, you'll understand why it was invented in the roaring 20s. It was said to be John Lennon's favourite drink and it's not hard to see why. It's a pure indulgent blend of brandy, chocolate liqueur, and cream. The frozen version takes the decadence up a notch by replacing the cream with ice cream. It's a chocolate vanilla taste sensation with layers of dark fruit and wood notes from the brandy.
FREQUENTLY ASKED QUESTIONS
Spirits or liqueurs both work well with ice cream so it's a matter of personal taste. If you want to taste the spirit, then opt for a spicy rum so it shines through the creamy layers. If you want something more neutral, then go for vodka.
Gelato is Italian ice cream that uses more milk in its custard base than ice cream. So, gelato drinks are very similar to ice cream drinks, but they have an Italian twist.
The short answer is because it's delicious, but ice cream also serves to tame the flavours of alcohol. It can make even very strong-flavoured spirits palatable in the right ratios.
Vanilla ice cream is the universal flavour base ice cream and pretty much anything goes with it. It has enough richness to stand up to strong flavours but it's also soft enough to let subtle flavours shine.