The Ultimate Wedding Cocktail Hour Guide
July 21, 2023 by Anna-Bet Stemmet
Planning a wedding cocktail hour and not quite sure where to start? Heading in to wedding season and need some last-minute tips? No problem, friend! Let's get you sorted with our go-to organizational blueprint for this fun and festive aspect of your wedding celebration. After all, the time between the ceremony and reception is the perfect opportunity to set the tone for the rest of your Big Day.
What to serve during cocktail hour
A wedding cocktail hour would not be complete without some tasty appetizers and drinks. Here are a few pointers to pave the way for a fuss-free event:
Food
Wedding cocktail hour food is normally served in the form of hors d'oeuvres or appetizers that are tasty enough to stimulate the appetite, but light enough so guests won't be too full to enjoy their main meal.
Cocktail hour wedding appetizers can be served by waiters, set up at individual food stations, or arranged as a harvest table from which guests can serve themselves. If you are unsure about which option to go for, check in with your caterer to see which set-up they prefer.
Drinks
Typically, a bridal party will choose a wedding cocktail or signature drink to be served during cocktail hour. However, if signature cocktails are not quite your thing, you can also opt for some batch drinks from which guests can serve themselves, or a full bar set-up so there is a wider range of beverages on offer. Always remember to offer mocktails or non-alcoholic drink options as well.
Big batch inspo: Gorgeous Wedding Cocktails for Easy Pouring
Tips for hosting a cocktail hour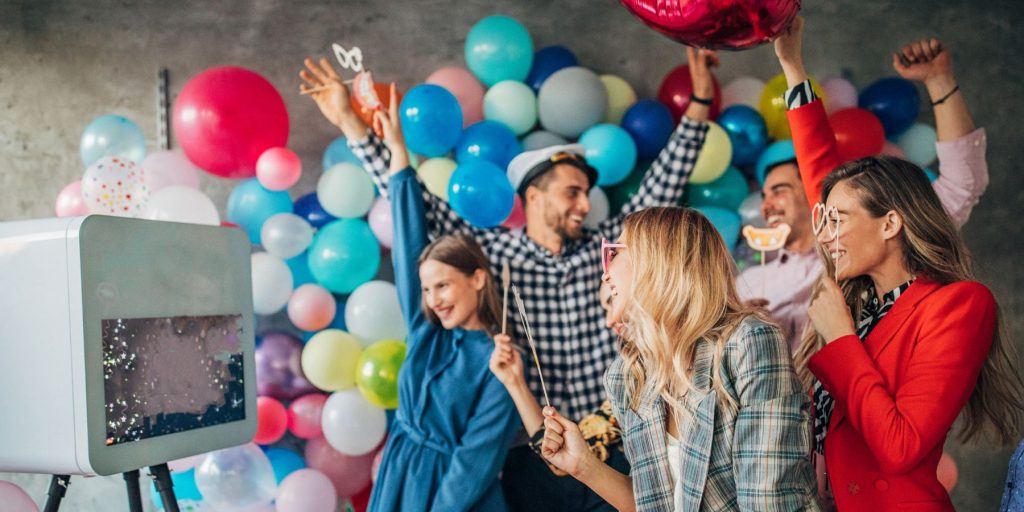 Now that you've got the food and drinks sorted, it's time to think about how the whole event segment will come together. Here are a few important things to bear in mind:
Design the atmosphere
When it comes to ideas for cocktail hour at weddings, we always like to take a step back and look at the space we're working with. Most wedding venues will have designated cocktail hour spaces that have been laid out to accommodate stand-up mingling. To ensure that your guests are comfortable while you slip away to commemorate your day in pictures, consider providing the following:
A coat- and bag check (especially if the wedding takes place in winter or fall)

A handy gift table (including a safe container to deposit cheques or monetary gifts)

Enough servers to keep tables clear of glasses and plates

Soft seating spaces for guests who want to sit down

Higher bar tables for guests who wish to stand but need a spot to place their drinks

Fans in summer and heaters in winter
Hosting outdoors? The Easy-Peasy Guide to Hosting an Outdoor Cocktail Party
Music
Wedding cocktail hour music should be chosen by the bridal couple to reflect the ambiance of their Big Day. Some folks may prefer a string quartet playing covers of popular wedding cocktail hour songs, while others may opt for a full-on mariachi band. The choice is yours! Our recommendation is to steer clear of deafening silence at all costs, however – even a Bluetooth speaker and iPhone playlist is better than nothing. Don't lose the vibe!
Interactive elements
Although it's not a must-have, interactive elements are a nice way to encourage mingling and get the party started in your absence. Some bridal couples like to offer cocktail hour photo ops in the form of photo booths, or a selfie installation. Others like to offer lawn games like croquet or giant chess.
Cocktail hour etiquette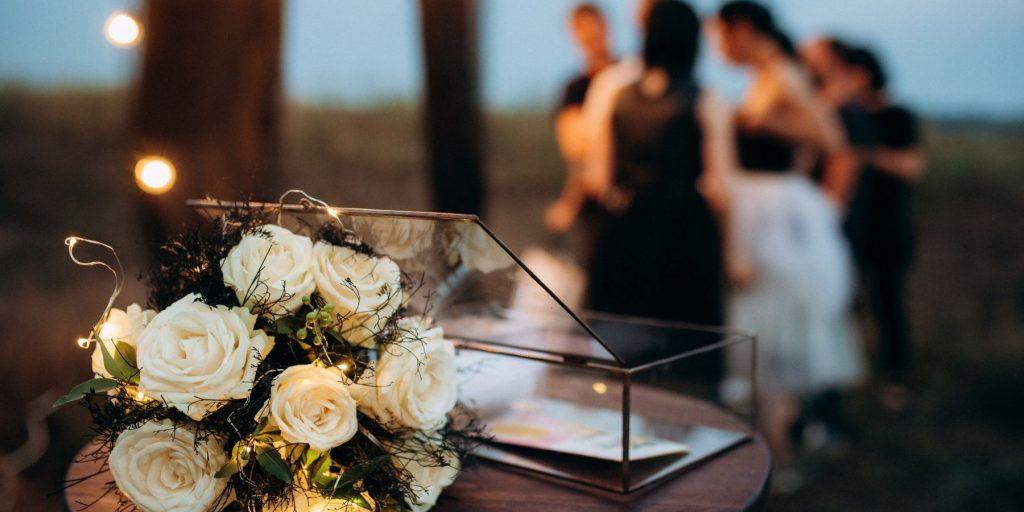 Weddings may no longer be quite as starched and stuffy as they were in previous eras, but there are still some etiquettes to observe if you are lucky enough to crack an invite to someone's Big Day.
How long does cocktail hour last?
A good rule of thumb is to keep the cocktail hour to, well, an hour. Sixty minutes should be enough time for the bridal party to get all the pictures they want, and for the guests to have a good mingling session before they sit down to the rest of the formal proceedings.
Do you need to have a cocktail hour
Here's the great thing about planning your wedding – you get to do, and not do, exactly what you want. If you don't see the need for a cocktail hour, skip it! However, we have found that this little reprieve in-between the formality of the ceremony, and the sit-down atmosphere of pre-dinner speeches gives everyone a welcome moment to unwind.
Can you have the cocktail hour before the ceremony?
As previously mentioned, the world is your oyster! The reason why most bridal couples choose to host the cocktail hour after the ceremony is because it makes for a nice smooth transition to the rest of the proceedings. Also, it has to be said that fun-loving guests can become a little hard to herd once they start chatting and mingling.
TIP: If you decide to go the pre-ceremony cocktail hour route, we suggest serving low-alcohol drinks to keep things on an even keel.
Can guests skip the cocktail hour?
Here's the thing—when a guest RSVPs yes to a wedding, the bridal couple factors them in for every aspect of their celebrations. So, when they order appetizers and discuss pre-drinks with their caterers, they assume everyone will be there and allocate budget to the food, drinks, and entertainment per head. In short, it's good manners to partake of all the beautiful and tasty things the nuptial hosts have arranged.
However, there are certain instances in which it might be okay to skip the cocktail hour. For instance, some guests may have to check in on their children that are being taken care of at their accommodation, or elsewhere on the premises. Elderly friends and relatives also sometimes take this moment to rest before the rest of the proceedings.
A good rule of thumb is to check in with the bridal couple beforehand if you do plan to skip the cocktail hour, and to explain your reason for doing so. This will give them and their organizational team a welcome head's up.
FREQUENTLY ASKED QUESTIONS
Typically, the bride and groom use the cocktail hour portion of the wedding proceedings to take official photos with their photographer and videographer.
The cocktail hour offers a welcome moment of pause between the official wedding ceremony and reception. This gives guests some time to relax and mingle, while the bridal couple use the opportunity to have official wedding portraits taken by their photographer.