Christmas Cocktail Party Themes & Matching Cocktails
November 19, 2022 by Karl Tessendorf
The most wonderful time of the year is almost upon us and we're here to help you plan your ultimate Christmas cocktail party! We're talking themes, sweaters, food, music, games, cookies, and of course, cocktails. 'Tis the season to be jolly and we're here for it! We've got full-on Christmas fever and we're not fighting it! Join us as we dive into all things Christmas and share our ultimate Christmas cocktail party ideas. You never know. You might make it onto Santa's good list!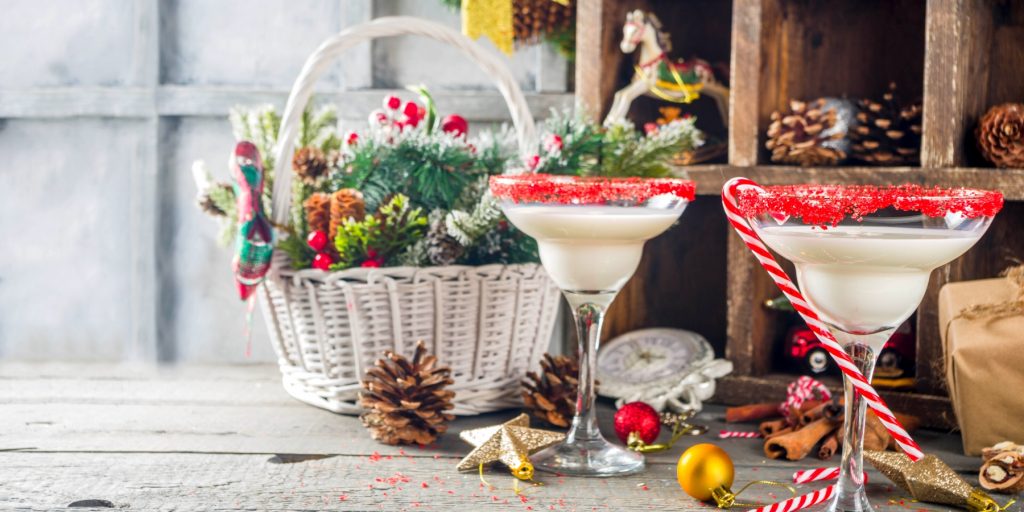 A Christmas Cocktail theme is a great way to bring friends and family together with plenty of laughter. It gives everyone a clear goal to aim for and it makes party decisions a whole lot easier. As long as the ideas are on theme, then you're headed in the right direction. Here's our top list of awesome cocktail party themes and the best cocktail to serve with each.
Ugly Christmas sweater cocktail party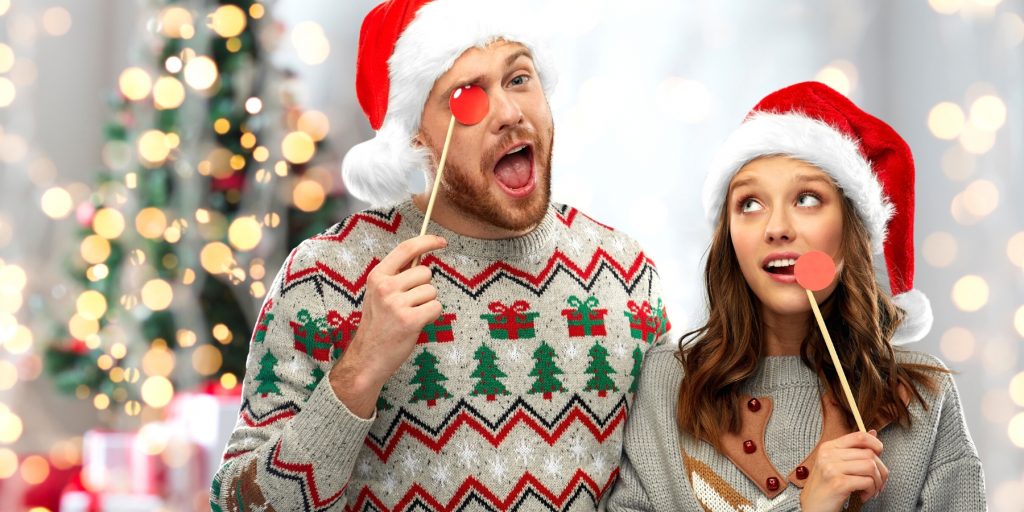 Christmas just wouldn't be Christmas without an ugly sweater cocktail party. The funny thing about these knitwear nightmares is that what started out as an amusing cliché, has turned into an entire Christmas subculture. A quick search on the internet and you'll find hundreds of ugly results and places to get your hands on them. With so many options available these days, you can tailor your sweater to your personality, or go one better and DIY it. Another fun idea is to create quirky awards categories and let sweater imaginations run wild. Pick a few categories like 'most traditional', 'most rock 'n roll', or 'most outrageous' then inform your guests ahead of time for best results.
Cocktail pairing: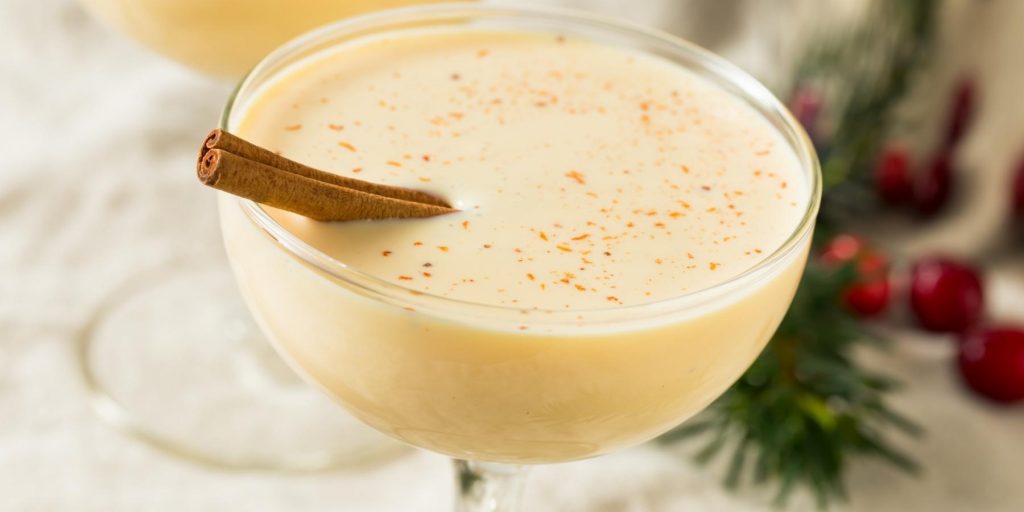 When it comes to Christmas party cocktails, there can be only one that's perfect for the ugly sweater soirée— Eggnog Martini. This holiday classic puts the cheer in cheerful and it couldn't be easier to make for a crowd. The vanilla vodka shines in the eggnog custard while the amaretto brings a sweet nuttiness to the party.
Best gingerbread bake-off cocktail party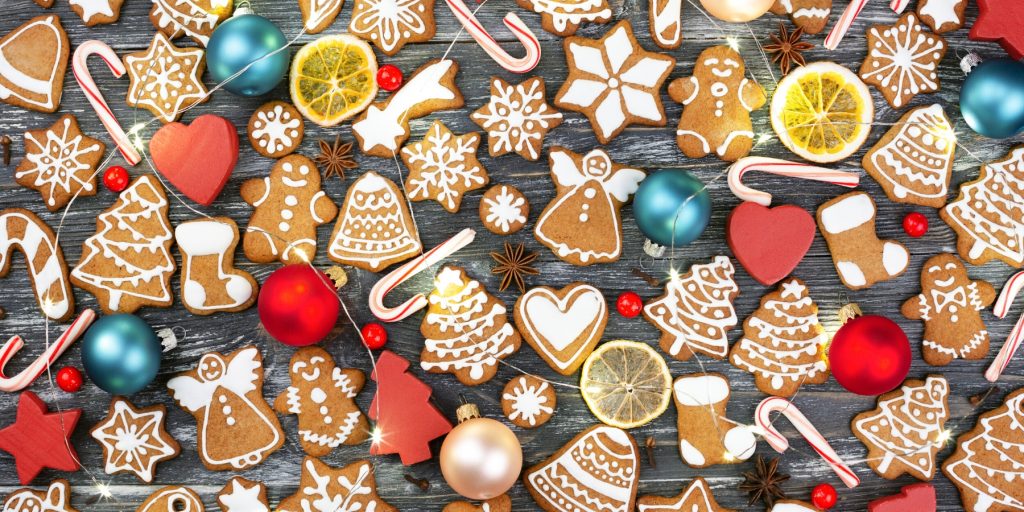 There's nothing like friendly competition to bring a little extra spice to your Christmas cocktail party. The rules for this one are simple: Guests can pair off in teams of two or as couples. Each team must bake one tray of gingerbread cookies. They must be Christmas-themed, and you can decorate them however you like within reason—leave the edible gold leaf at home. Points are awarded for creativity, flavor combinations, and cookie texture. Bonus points are awarded if your recipe has a great origin story. There's never been a better time to raid grandma's drawer and find your winning gingerbread cookie recipe!
Hungry for more? Best Edible Gifts for Christmas
Cocktail pairing: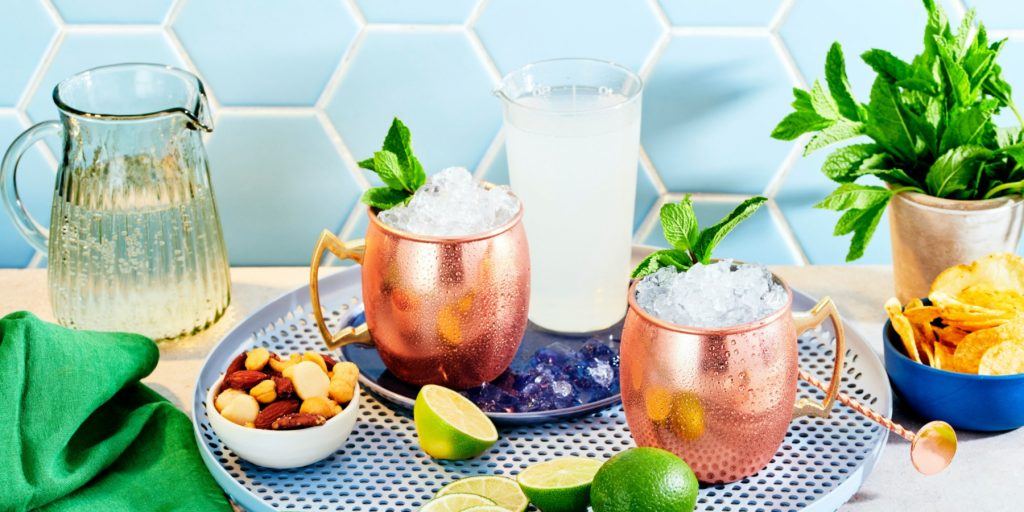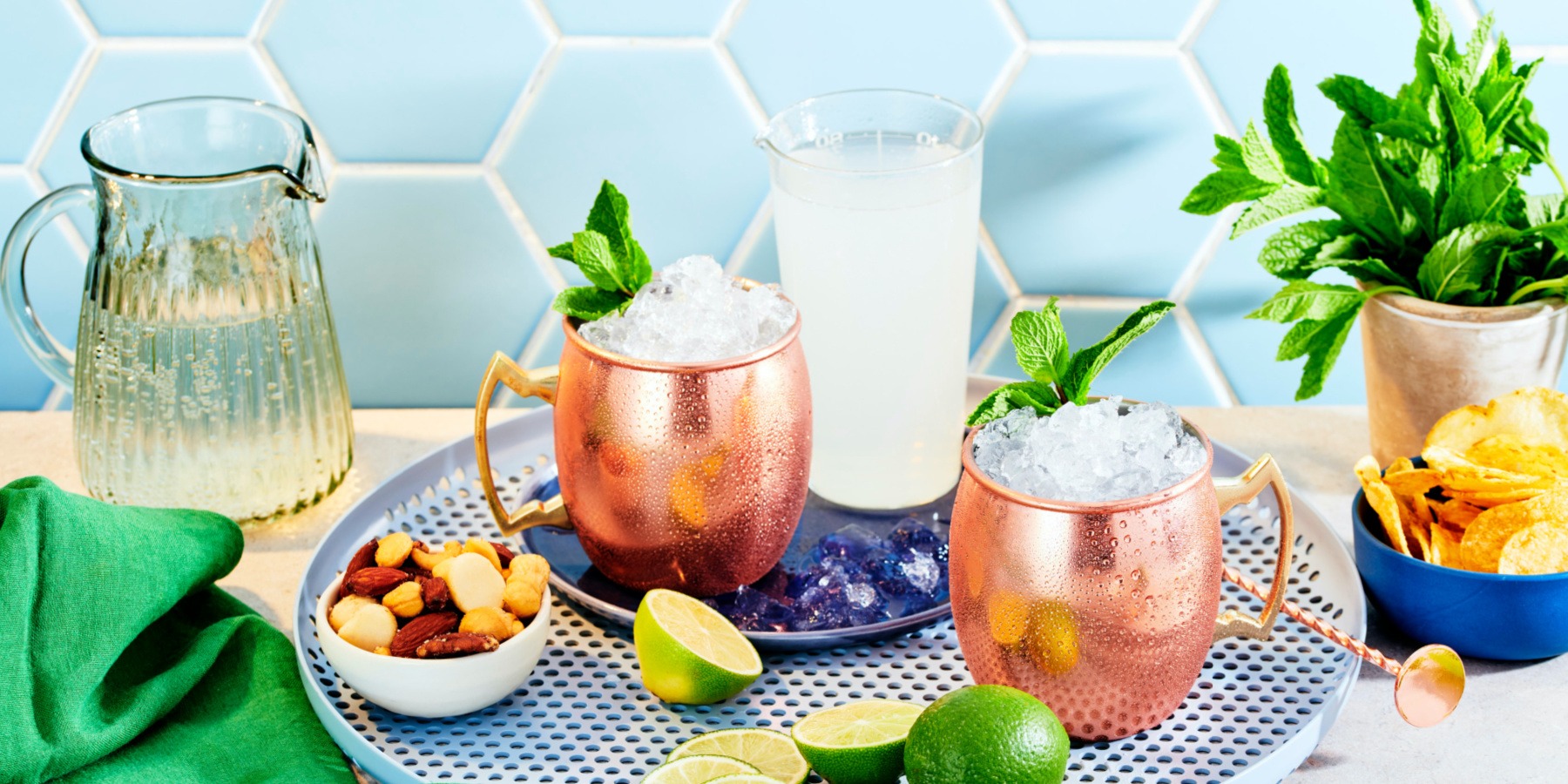 With so many tasty ginger cookies to get through, you're going to need a no-nonsense cocktail to match. The Moscow Mule is bright and refreshing, and they come together in a flash. Plus, the complementary notes in the cookies and ginger beer are Christmas love story. We recommend having two awards categories: 'best cookie', and 'best cookie and cocktail pairing.'
Christmas karaoke cocktail party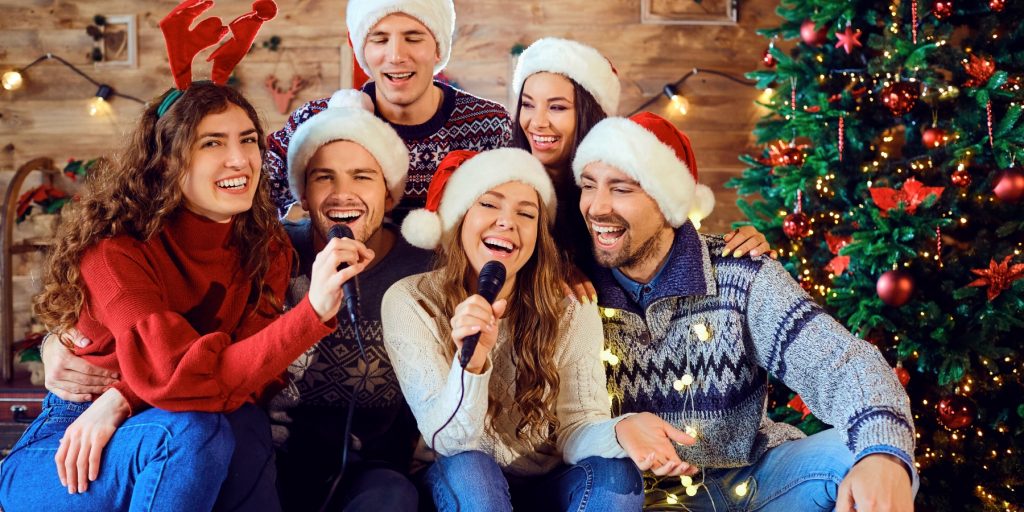 You know it's the festive season when you start hearing Mariah Carey's Christmas album everywhere. It starts in shopping malls and pretty soon you're hearing it in your sleep. What better way to embrace the tradition of Christmas musical classics, than by belting them out with your friends? That's right, the Christmas karaoke (or carol-oke if you're feeling zany) is a cocktail party just waiting to happen. Go big and rent a proper karaoke machine, or hook up a mic and go DIY with YouTube. Think of all the glorious Christmas tunes you can sing for your neighbors! Lucky them…
Cocktail pairing: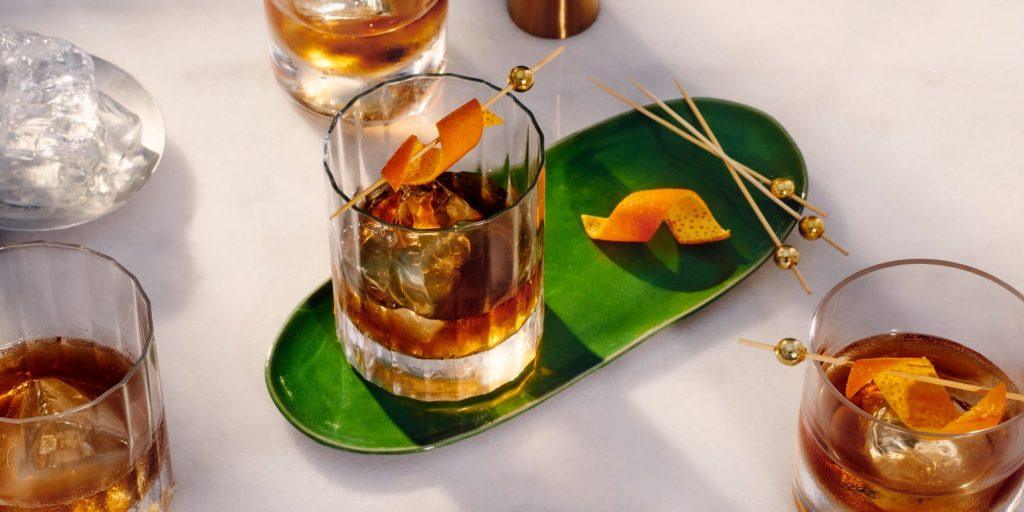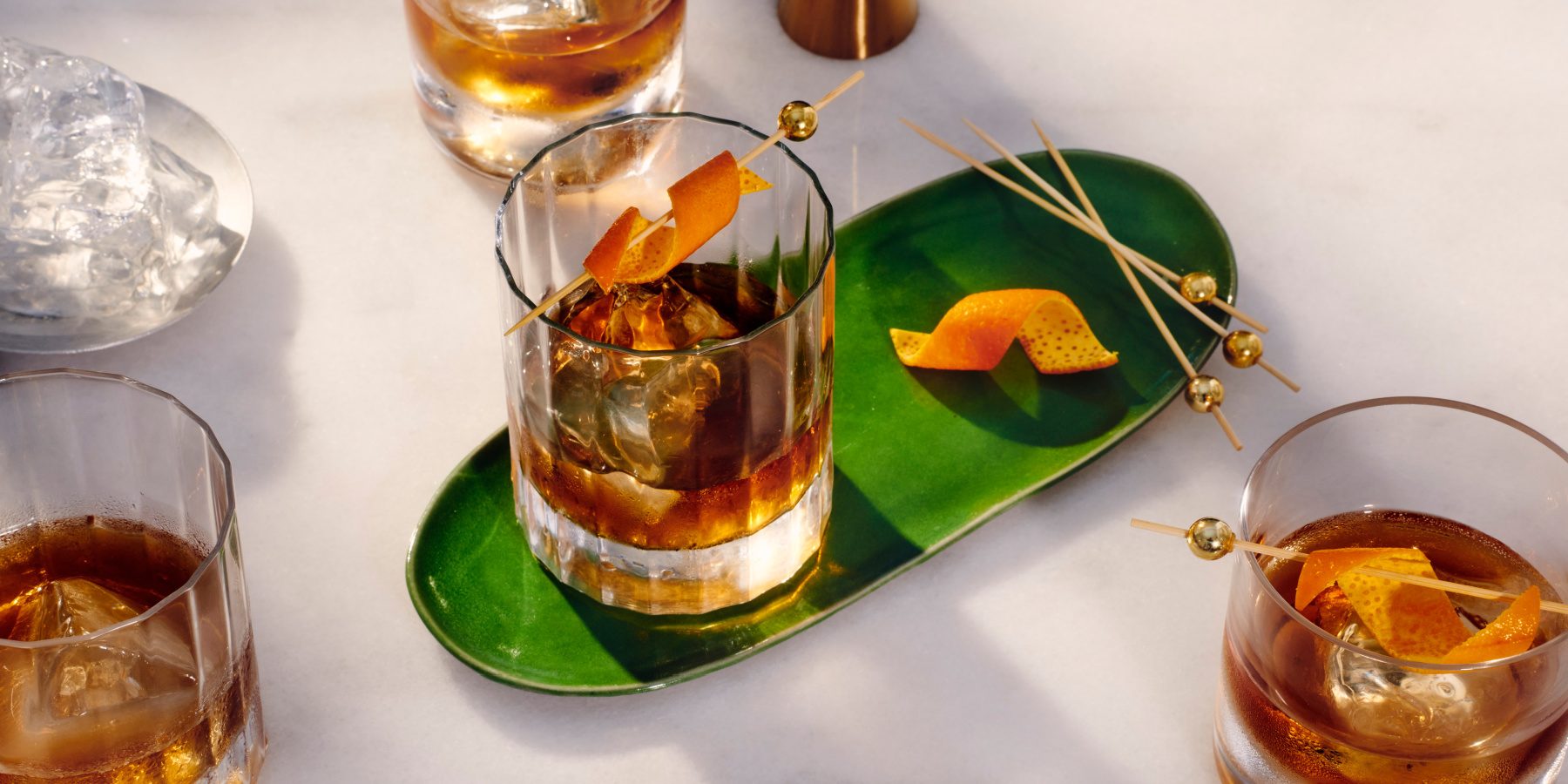 Even if you are among friends, the idea of standing up and doing justice to Mariah's All I want for Christmas can be daunting. Luckily, we've got a good old fashioned courage booster in the form of, you guessed it, an Old Fashioned. It's the original cocktail recipe and if you whip up a little cranberry simple syrup, you can tailor it with Christmas cheer.
Bad gift cocktail party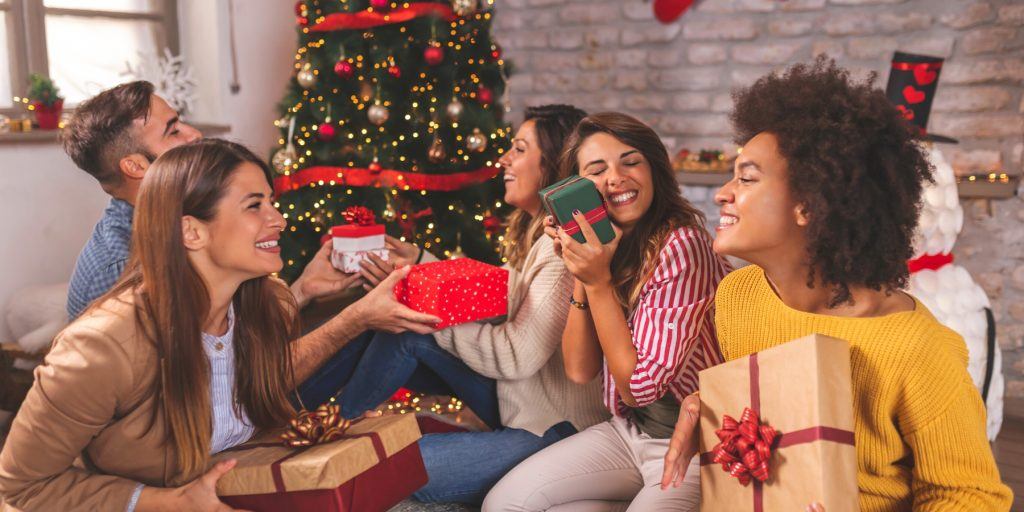 'Tis the season for giving so get into the spirit with a bad gift-giving party. Some people are lucky enough to have a regiftable bad gift stashed away in a cupboard somewhere, but another easy alternative is to set a cheap and cheerful bad gift budget. The rules for bad gifts are simple: it must be unisex and preferably something that is reusable so the gift can keep on giving—literally. All the gifts will go into a big pile and throughout the course of the night, you get to hand them out. Keep the gifts anonymous and make your guests guess who bought what gifts.
Cocktail pairing: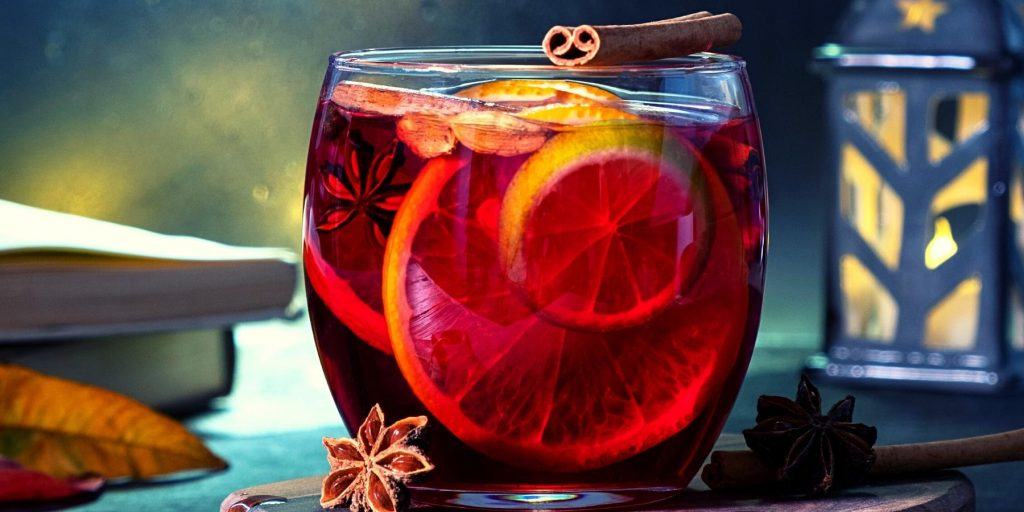 For an evening of bad-gift fun, our Christmas Negroni is a great cocktail fit. Its bittersweet profile matches the experience of receiving a bad gift perfectly. The added Christmas spice sets a festive mood, and you can even blend them in batches ahead of time.
The great elf hunt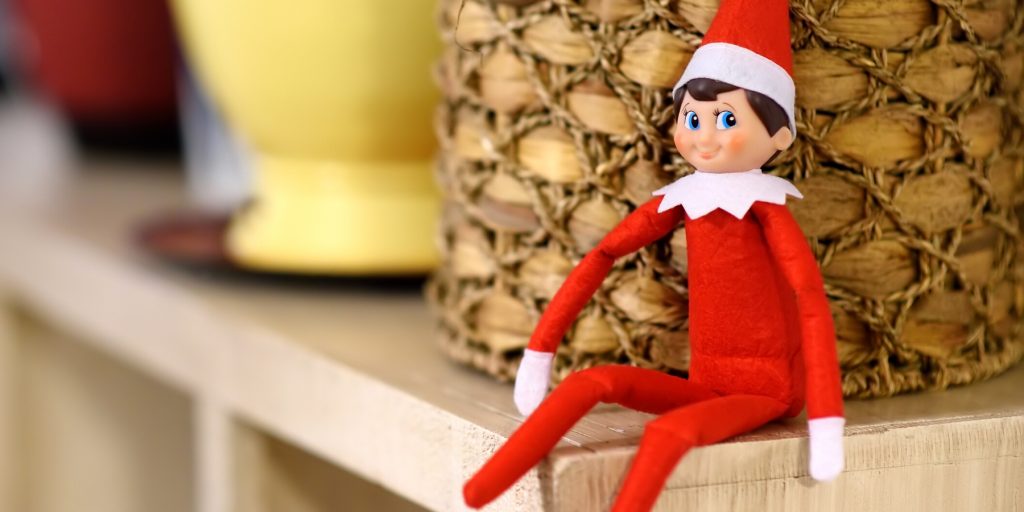 Elf on a Shelf is a Christmas tradition that started in 2005. After the release of the children's book by the same name, parents were moving elf decorations from room to room nightly for their kids to find in the morning. The idea is that the elves are keeping an eye on who's being naughty or nice in the lead-up to Christmas. Our cocktail theme idea turns this much-loved tradition into the Great Elf Hunt. It's a Christmas cocktail party elf scavenger hunt that all your guests can take part in. The person who finds the most elves, wins something nice. But if you want to be naughty then you also give the winner an elf costume that they must wear for the rest of the evening. Oh, you sneaky naughty elf you!
Cocktail pairing:
Since it's an elf convention we might as well keep the ball rolling with the Naughty Elf cocktail. It's essentially just a mix of your favorite fruit juices with club soda and spiked with orange liqueur, pomegranate liqueur, and rum. You can even make it punch style and let guests help themselves.
More mischief this way: Grinch Cocktail Recipe
Christmas cocktail party tips
Food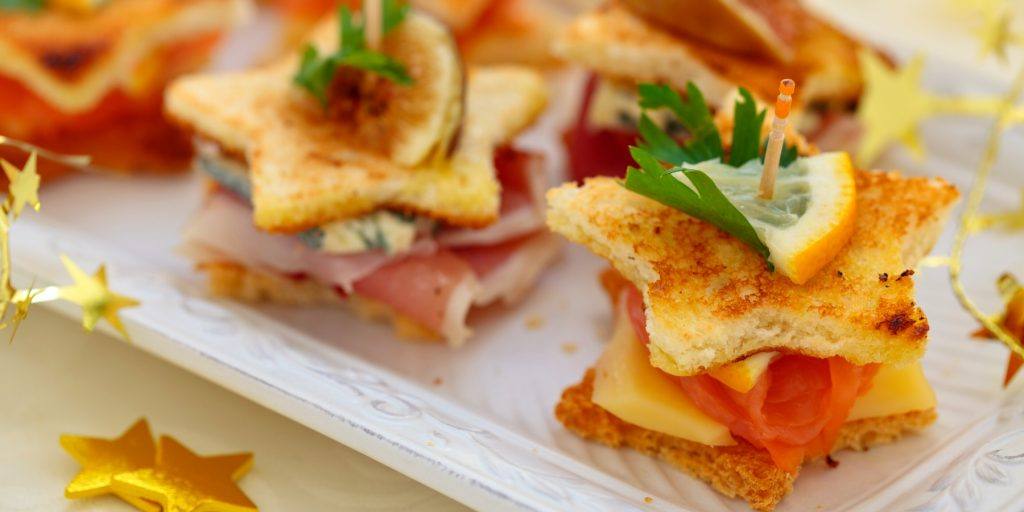 Unless you're hosting a formal cocktail party, keep the food simple. Think party platters with a Christmas flavor. A great way to plan snacks is to think of your guest's experience. Where will be most of the time? Will they be sitting or standing? Will they have a drink in one hand? Do they need cutlery, or will toothpicks get the job done?
The stress-free route is to have cold platters already prepared in the fridge. Pick a couple of hot (easy to make) items that are prepared when guests arrive. Anything that can be picked up and eaten in one bite is ideal. Think pigs in a blanket, stuffed mushrooms, devilled eggs, or goat cheese balls rolled in a festive spice mix. Charcuterie and cheese boards are always a winner, and whole baked camembert with crackers always looks impressive and are downright delicious. For more cocktail party food ideas and a few recipes check out our 11 perfect cocktail party appetizers.
Thirsty for more? 10 Best Christmas Prosecco Cocktails
Decorations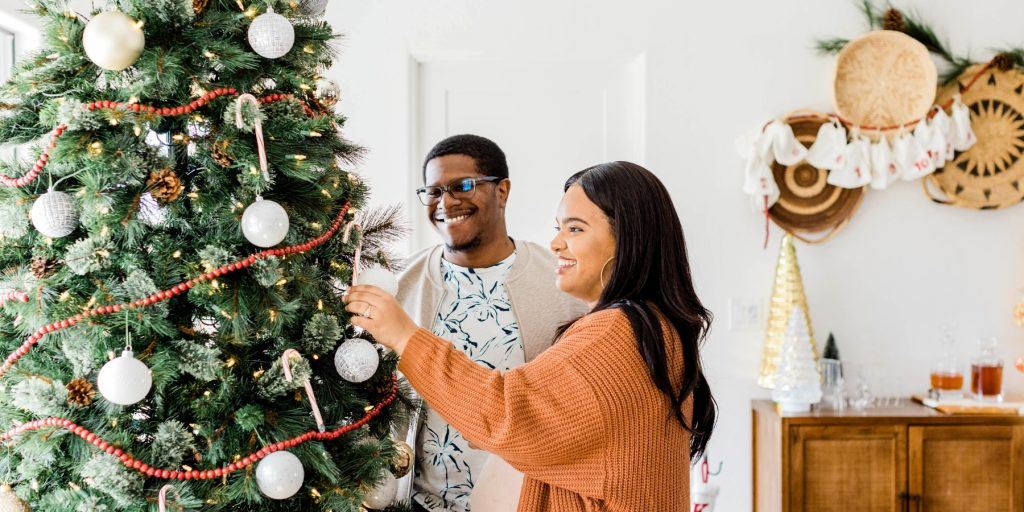 As festive fever hits, the urge to buy every available decoration comes out of hibernation like a rabid grizzly bear. Our advice is to keep things festive, but cocktail– party– classy. Less is more and a color scheme like all silver or black and gold help bring cohesion to the party. Good lighting is a great way to add a subtle mood and LED Christmas lights are a great budget-friendly solution. But if Christmas decorations are your obsession, don't let us stop you from rigging your entire house with lights that flash in tune to your favorite carols.
Music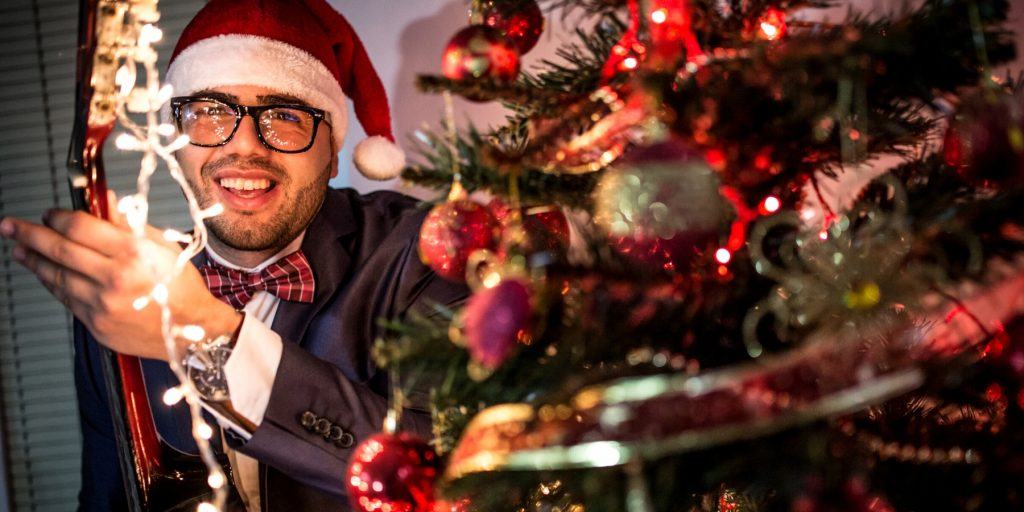 With all the streaming services available these days, it's never been easier to create your own Christmas playlist. Our advice is to mix up the Christmas classics with some modern counterparts. Try to match the music with the tempo of the evening and you'll have a winning playlist. Just don't forget to liberally sprinkle in some Mariah Carey here and there.
FREQUENTLY ASKED QUESTIONS
The best way to go about hosting a great Christmas cocktail party is to have a theme. It just makes life so much easier when it comes to deciding on what food and drinks to serve. As long as it fits within your theme then you're heading in the right direction.
Eggnog is the one drink that only gets made during the Christmas season. Our Eggnog Martini is classic, classy, and perfect for any festive occasion.
Never fear! Mocktails are all the rage right now and we've got a handy list just for you.
Classy but casual is a great middle-ground for any festive occasion. If you have a color scheme, then that is always a good guideline for guests. Unless of course, you're hosting an ugly sweater party and then all bets are off.