New York City's Best Cocktail Bars to Visit in 2023
July 21, 2023 by Anna-Bet Stemmet
Discover the vibrant cocktail scene of the Big Apple as we unveil the best cocktail bars NYC has to offer. From trendy speakeasies to classic establishments, immerse yourself in New York City's vibrant mixology culture. Experience the artistry of skilled bartenders who craft exquisite mixed drinks with precision and creativity. Whether you crave a timeless Manhattan, a completely contemporary mix, or an adventurous fusion, these cocktail bars will elevate your experience to brand-new heights.
Here, in no particular order of preference, are some of the best cocktail bars in New York for 2023.
1. Martiny's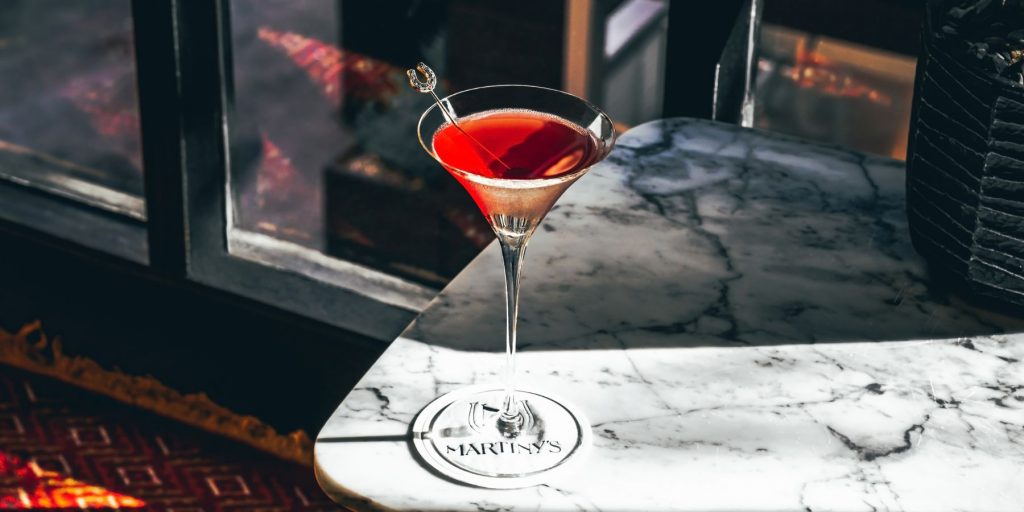 Location: 121 E 17th Street, Gramercy Park, New York
Takuma Watanabe has cultivated a dedicated following through his remarkable leadership of the bar program at Angel's Share, an iconic establishment in New York City. When the beloved speakeasy eventually closed its doors, Watanabe decided to pay homage to both his Tokyo roots and his Manhattan home by opening Martiny's. Housed in a historic Gramercy carriage house once owned by artist Philip Martiny, this three-story lounge exudes an air of opulence and is revered as one of the best new cocktail bars NYC has seen in a long time.
At Martiny's, the Japanese concept of omotenashi, which emphasizes hospitality, reigns supreme. Guests are warmly welcomed with an oshibori towel, and their meticulously crafted cocktails are served in exquisite Kimura crystal glassware. The focus is on reimagining classic cocktails from the Golden Age, enhanced with premium spirits and presented with impeccable flair. For example, the Grand Martiny is a harmonious blend of gin, sherry, Porto, Cognac, and elderflower liqueur, perfectly balanced in both taste and presentation.
2. Overstory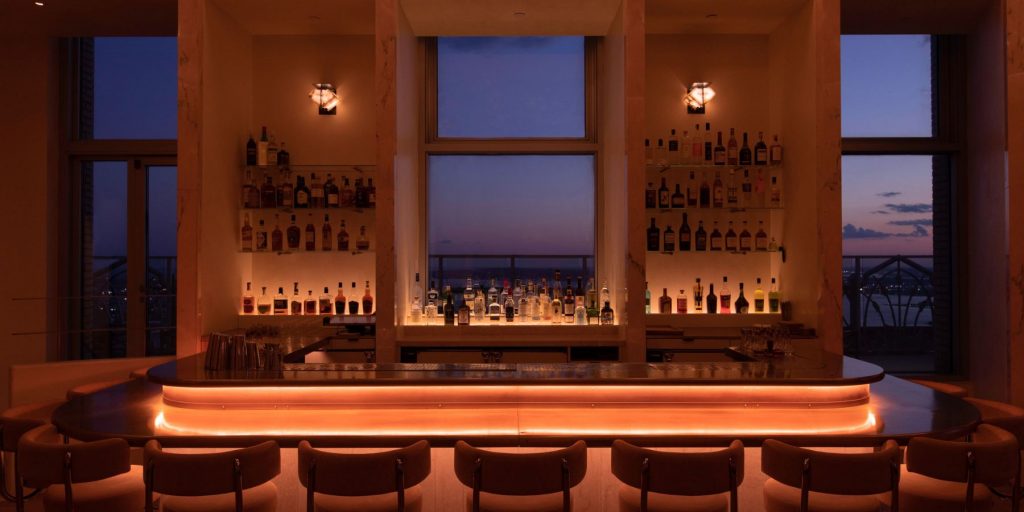 One of the best cocktail bars in Manhattan's Financial District, Overstory offers stunning 360-degree views of the New York City skyline from a wraparound terrace and a cocktail menu filled with creative and innovative drinks made with high-quality ingredients.
Some of the most popular cocktails on the menu include the In the Clouds, which is made with whiskey, Earl Grey tea, vanilla, champagne, and clarified milk; the Pink Tuxedo, which is made with vodka, vermouth, beet, cherry, and chocolate; and the Overstory, which is made with gin, cucumber, lemon, and sparkling wine. In addition to cocktails, Overstory also offers a small selection of snacks and small plates.
3. Mace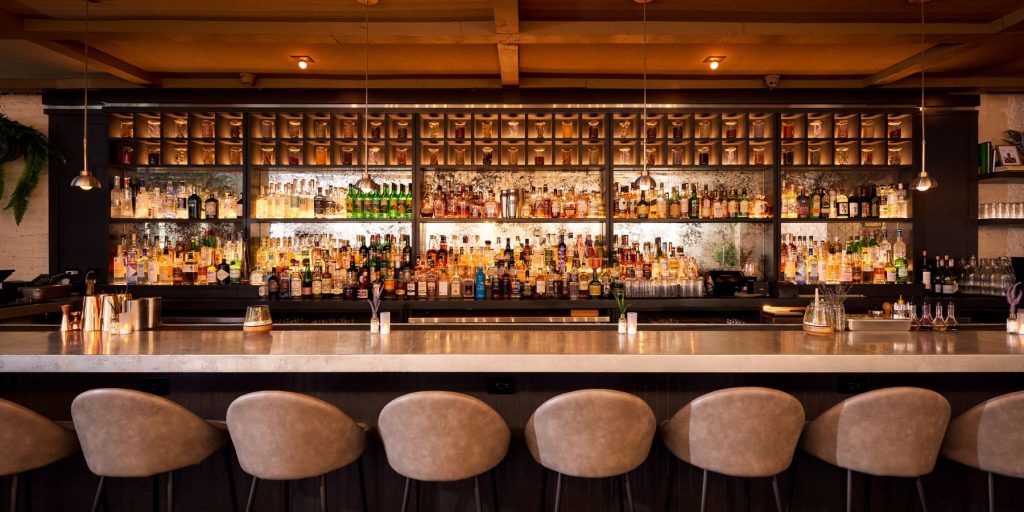 Location: 35 West 8th Street, New York
A list of the best cocktail bars in NYC would not be complete without mention of Mace. One of the World's 50 Best Bars for six years and counting, Mace is dedicated to incorporating unique spices handpicked from around the world. The bar is known for its creative cocktails, which are made with fresh, seasonal ingredients. The cocktail menu is divided into four sections: Spiced, Herbal, Floral, and Fruity. Each section features a variety of cocktails that showcase the unique flavors of the ingredients used.
This includes inventive drinks like the Bhut Jolokia, which is made with a blend of rums, rendang spices, coconut water, jackfruit, lime, and bhut jolokia; and Mace, which is made with olive oil-washed shochu sorghum spirit, seaweed oleo saccharum, lemon juice, chervil, and olive oil. In addition to its cocktails, Mace New York also offers a small selection of snacks and small plates. The bar is a popular spot for both locals and tourists alike and is the perfect place to enjoy a drink and some conversation.
4. Sugar Monk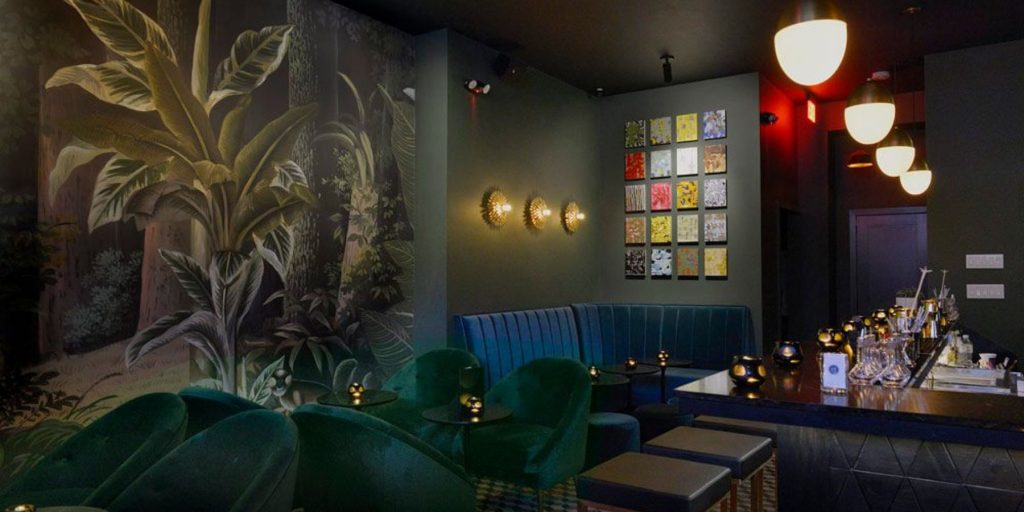 Location: 2292 Frederick Douglass Blvd, New York
If you're in the mood for a New York cocktail lounge with a chill ambiance presenting creative concoctions in an art-filled atmosphere, make your way to Sugar Monk. Located in the heart of Harlem, around the corner from the legendary Apollo Theatre, this spot is an homage to the delightful uptown speakeasies of yesteryear. Think velvet furniture, tropical wallpaper, and some very good (and complex) drinks.
If you like a lot of fanfare around your cocktails, this is the place to be. We are especially keen on the Madame Butterfly, which features vodka and Grand Marnier as a base, finished off with mandarin, grape, bitter orange, cinnamon, gentian, and orange blossom; and the Guardian Devil, with mezcal and Campari as its base, elaborated upon with notes of pineapple, lime, chili, cloves, rhubarb, and wild cherry. Divine, darling!
5. Dutch Kills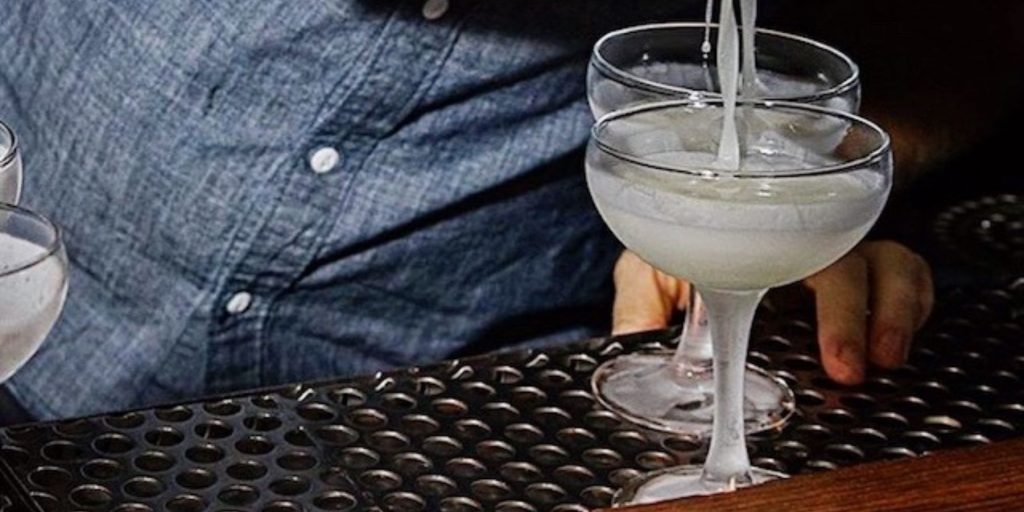 Location: 27-24 Jackson Ave, Queens, New York
If you love the idea of classic and newly invented craft cocktails served with hand-cut ice in a moody, throwback-style space, Dutch Kills should be on your list of top cocktail bars in New York. We love the seasonal cocktail menu that features drinks like the Tiger Chilled Coffee with dark rum, Jamaican rum, cold brew coffee, allspice liqueur, cinnamon syrup, and absinthe, served with a float of sweet, whipped cream. And the Happy Hour Daiquiris, of course!
6. Bar Americano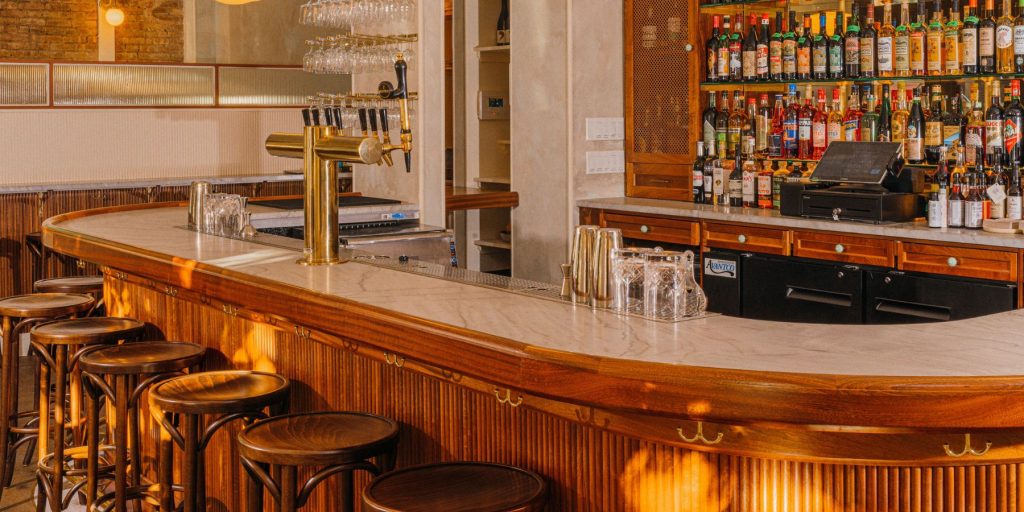 Location: 180 Franklin St, Brooklyn, New York
Inspired by the famed aperitif bars of Spain and Northern Italy, Bar Americano is a beloved neighborhood cocktail destination in Greenpoint, Brooklyn. Fortified wines complimented with small, shared plates are a big hit, and there is a wide range of French, Italian, and Spanish vermouth and aromatized wines to choose from.
The food menu is nimble and inventive (think Pecoraro Burrata with lavender, cremini mushroom, and sage, and a buttermilk fried chicken sandwich with crème fraîche, and fresh herbs); and the cocktail menu is likewise beguiling with drinks like the Mandarin Spritz with Aperol and olive oil, and complete classics like the Negroni and Tom Collins to round it all off.
7. The Long Island Bar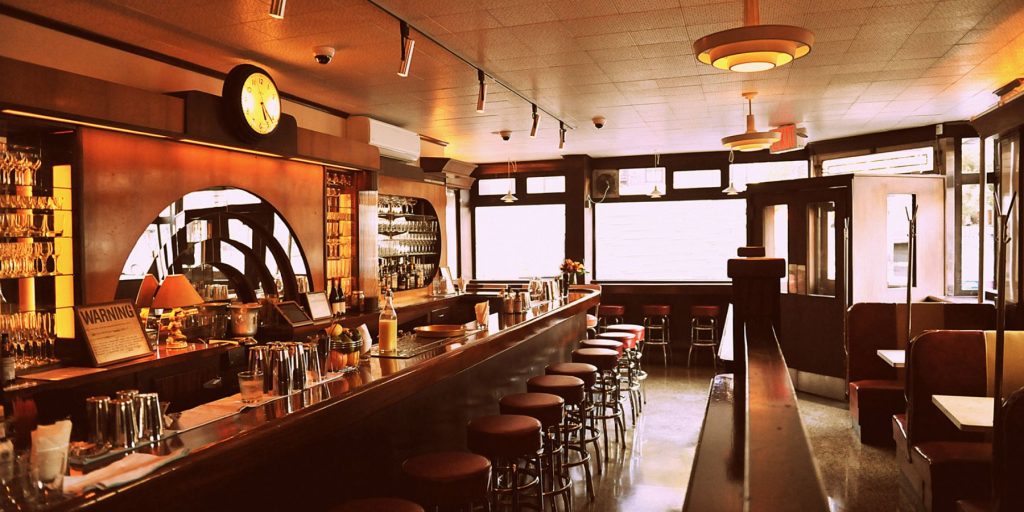 Location: 110 Atlantic Ave, Brooklyn, New York
The Long Island Bar has been around since the 1950s, run by the Sullivan family, and reopened in its current guise in 2013 by Joel Tompkins (co-founder of the underground restaurant Coach Peaches) and Toby Cecchini (who established the Manhattan bar Passerby, and author of Cosmopolitan: A Bartender's Life). Intimate, with a delightful old-timey vibe, the decades-old bar is a place to see and be seen without having to get too dressed up.
The concise lineup of expertly poured cocktails includes the Dolores Del Rio (Jalapeño-infused tequila, Aperol, passion fruit, and lime juice), and the Long Island Gimlet (gin, lime-ginger cordial, fresh lime juice). We're also rather partial to the Endive & Trevino salad with pickled peppers, pistachios, and mint (there's a very nice appetizer and dinner menu).
8. Seoul Salon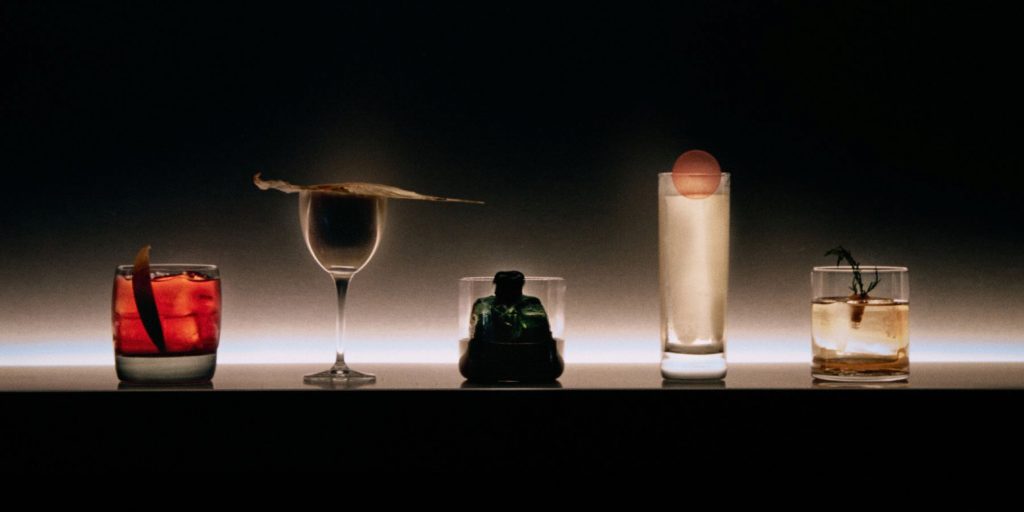 Location: 28 W 33rd Street, New York
One of the best cocktail bars Manhattan has to offer is Seoul Salon, a modern Korean cocktail bar located in Midtown Manhattan. The bar's cocktail menu features a variety of modern Korean-inspired drinks. Some signature cocktails include the Seoul Mule, made with soju, ginger beer, and lime, and Seoul Old Fashioned, made with soju, bitters, and orange peel. The bar also offers a selection of beer, wine, and sake.
In addition to cocktails, Seoul Salon also serves a variety of small plates and entrees. The menu features dishes such as Korean fried chicken, bibimbap, and bulgogi. The bar also has a late-night menu that is available until 1 am.
9. Bemelmans Bar
Location: Location, 35 E 76th Street, New York
Another destination to visit when you're on the lookout for the best cocktails NYC has up its sleeve is Bemelmans Bar inside Café Carlyle in The Carlyle Hotel. This true-blue NY institution has been serving up cocktails and live entertainment since 1947 and is known for its whimsical atmosphere, echoed by the murals of Ludwig Bemelmans, the creator of the Madeline children's books.
The cocktail menu is extensive and features both classic and signature drinks, including the Carlyle Sidecar, and the Madeline, a sweet and fruity cocktail made with vodka, St-Germain, and strawberry puree. The bar also offers a variety of wines, beers, and non-alcoholic beverages, and is known for its live entertainment, hosting a variety of performers, including singers, pianists, and jazz musicians.
10. Shinji's
Location: 37 West 20th Street, New York
Located in the Flatiron District of New York City, Shinji's is named after Shinji Nohara, the acclaimed food journalist and Japan native who is also the owner of the Michelin-starred omakase restaurant, noda.
Shinji's offers a menu of creative cocktails made with high-quality ingredients. This includes the Dirtiest Martini, which is made with gin, dry vermouth, and olive brine; and the Soba Cha Cha Cha, featuring soba-infused vodka, lemon, and ginger as ingredients.
Expect an intimate, 26-seat space, a lively atmosphere, and a horseshoe-shaped bar topped with gold granite and blue velvet drapes. There is also a concise selection of snacks and small plates on offer.
11. The Campbell
Location: 15 Vanderbilt Ave, New York
Another one of the top cocktail bars NYC has on its roster is The Campbell. Located in Grand Central Terminal, this classic bar has been serving up cocktails since 1904, and its menu features a wide variety of classic and modern cocktails.
Some of the most popular cocktails at The Campbell include the Old Fashioned, the Manhattan, and the Martini. The bar also offers a variety of specialty cocktails, such as The Campbell's Irish Coffee and The Campbell's Sidecar.
The Campbell has a warm and inviting atmosphere, the staff are friendly and attentive and is also a great place to people-watch due to its singular location. Aside from cocktails, the bar also offers a selection of beer, wine, and non-alcoholic beverages, and a full food menu, which features classic American fare such as burgers, sandwiches, and salads.
12. Attaboy
Serving arguably the best cocktails in Manhattan if you are into the real classics, Attaboy is located in a former tailor shop in the East Village. Founded in 2011 by Sam Ross and Michael McIlroy, the speakeasy-style bar is known for its classic cocktails, which are made with high-quality ingredients and a focus on technique.
Add a dimly lit, intimate atmosphere and a staff of experienced bartenders who are passionate about cocktails, and you've got a recipe for success. The cocktail menu changes seasonally, but some of the bar's signature drinks include the Penicillin, the Paper Plane, and the Greenpoint. Attaboy has been praised by critics and has been named one of the 50 Best Bars in the World.
13. PubKey
Location: 85 Washington Pl, New York
PubKey is one of the best cocktail lounges NYC has to offer if you're into crypto, although you won't be able to pay there with Bitcoin, sadly. Open daily from 12 pm to 4 am, it was established by an Ex-Fidelity blockchain executive, with a menu crafted by a chef who trained at a Michelin-star restaurant. The cocktails are delicious, the beer is cold, and the food is easy and delicious (think hot wings, waffle fries, and a variety of 'dogs). The cocktails err on the classic side, with a menu featuring iconic drinks like the Margarita, Mojito, and Boilermaker.
14. The Nines
Location: 9 Great Jones St, New York
We all need an occasion to get a little dressed up now and again, and this is when we love a romantic, old-school piano lounge and supper club with a dress code and fancy drinks like The Nines. Think coat check and velvet seats, but with a cheetah-print carpet… The dinner menu is delightfully classic, with dishes like Tuna Tartare and Shrimp Cocktail front and center. Cocktail-wise, they also lean into time-honored glamour with drinks like the Clover Club and Vieux Carré.
15. Katana Kitten
Location: 531 Hudson St, New York
If a cool, bi-level bar serving izakaya fare, traditional American bites, and whimsical cocktails sounds right up your alley, Katana Kitten is the NYC cocktail destination for you. This Japanese dive bar has an 80s party vibe with award-winning bartender Masahiro Urushido making magic as resident director of deliciousness.
The hospitality is flawless, the food is great (we love the nori fries and popcorn fujimi chicken with, sweet & sour chili sauce, scallions, and sesame seeds) and the cocktails are on point. We highly recommend the El Camino (umeshu, dry vermouth, Ancho Reyes Verde, iichiko shochu, sencha green tea, cucumber), and Amaretto Sour (Wild Turkey Rye, amaretto, salted plum, honey, lemon, egg white, yukari).
16. Sunken Harbor Club
Location: 372 Fulton St 2nd Floor, Brooklyn
Tucked away on the second floor above Gage & Tollner, the Sunken Harbor Club is an intimate nautical-themed cocktail bar with a nice tropical vibe to it. Small, dark, and pirate-ship themed, the cozy, wood-lined bar is run by the same crew as the restaurant downstairs – part sunken galleon, part Victorian-era explorers' club, and full-on fabulous.
We adore the Star Cycle, a cocktail containing milk-washed gin, jasmine, grapefruit, and Campari, which is described as 'as weightless and ethereal as stardust itself'; and the Devils on Horseback (bacon-wrapped dates stuffed with smoked almonds). The Club does not take reservations; bar seats and tables are available on a first-come, first-served basis. Enter through Gage & Tollner and see the host to be seated.
17. Apotheke NoMad
Location: 9 W 26th St, New York
Apotheke's second NYC location is in a basement behind an unmarked door in NoMad, serving expertly crafted functional and nutritious cocktails in an intimate and opulent setting. Open from Monday to Saturday from 4 pm until late, this atmospheric, subterranean destination is lit mostly by candles, offering a low-key fancy ambiance.
The cocktails are apothecary themed and make fresh using organic produce, herbs, and botanicals. This includes fanciful libations like the Tainted Love, featuring gin with beets, pomegranate shrub, ruby port, bitters, lime, and agave; and the aphrodisiac (so says the menu!) Deal Closer that contains quinoa vodka, horny goat weed tea, cucumber, mint, lime, agave, and vanilla essence.
18. Jac's on Bond
Location: 26 Bond St, New York
Jac's on Bond is the latest venue to debut from Authentic Hospitality, the ace crew that brought us Ray's, Pebble Bar, and more. The stellar location in the subterranean level of a landmark 1831 residence sets the scene for amazing food by celebrated chefs Jeremiah Stone and Fabian von Hausk, and cleverly devised drinks by Trevor Easton Langer.
At its core, Jac's on Bond was created for the neighborhood, by the neighborhood, recalling the joy of the Jazz Age, when no-barrier inclusivity was the norm. We love the Bitter Love cocktail, featuring bourbon, Campari, vermouth, cold brew, and orange; and the Caprese Martini, made with olive oil, tomato-and-basil-infused vodka, dry vermouth, and balsamic vinegar. The artichoke tart with black truffle and walnut is also something magical.
19. Dante NYC
Location: 79-81 MacDougal St, New York, NY
Situated on a picturesque block of Greenwich Village, surrounded by multicolored townhouses, Dante NYC dates back to 1915, when it was known as Caffe Dante. It was officially named the World's Best Bar in 2019 and continues to delight locals and tourists alike with its bustling Italian café vibe.
In fact, the Negroni revival trend that has spread around the globe is hotly rumored to have started right here, in the heart of the Big Apple. They also happen to serve a mean Garibaldi, and we cannot get enough of their deeply authentic Italian food menu. Do try Dante's signature Tiramisu – it's out of this world! Oh, and did we mention they serve brunch…?
20. Saint Tuesday
Location: 24 Cortlandt Alley, New York
You'll find Saint Tuesday two floors below the hip Walker Hotel Tribeca. Guests enter from Cortlandt Alley and descend two flights of stairs into a rustic lounge that also happens to be a very popular live music venue.
Saint Tuesday has a classic cocktail menu (Manhattan, Negroni, etc.), bespoke drinks like the Haitian Divorce (aged rum, mezcal, sherry, and bitters), and the bartenders are also itching to create something completely unique – all you need to share is your spirit preference and go-to cocktail style.
FREQUENTLY ASKED QUESTIONS
Several famous cocktails originated in New York City. The Manhattan, a classic whiskey-based drink, is said to have been born in the 1870s. The Cosmopolitan, a vodka-based cocktail popularized in the 1990s, was also created in NYC. Another iconic creation is the Long Island Iced Tea, a potent mix of various spirits. Additionally, the Martini, although not exclusively tied to NYC, gained popularity in the city and has become a timeless cocktail choice.