The Best Cocktail Bars in Chicago to Try in 2023
September 27, 2023 by Anna-Bet Stemmet
The Mixer has ventured into Windy City to find the best cocktail bars in Chicago, and boy what a ride! From the historic charm of Old Town's classics to the swanky vibes of River North, we're takin' you on a boozy tour through the top 23 bars that make this incredible city tick.
Whether you're keen on sippin' Martinis with a view of the Bean, knockin' back brews on Rush Street, or indulgin' in some deep-dish delights, Chicago's got a spot for you. So, join us as we raise a glass to Chi-Town's finest watering holes, where the drinks flow as steady as the Chicago River.
1. Vol. 39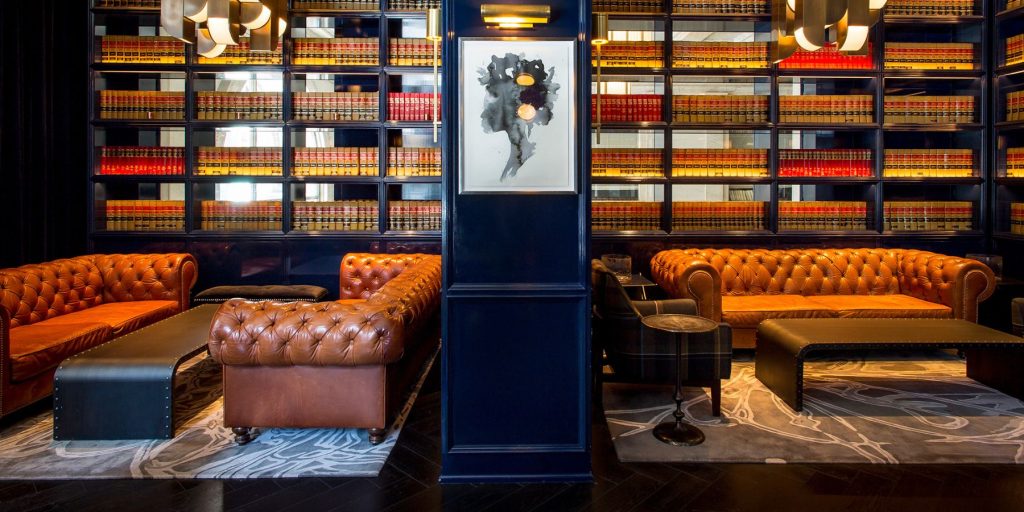 Location: 39 S La Salle St #200, Chicago
On the second floor of The Kimpton Gray Hotel, Vol. 39 blends timeless elegance with modern innovation, creating a refined cocktail bar experience. This beloved local spot presents a menu featuring bespoke cocktails inspired by classic recipes, along with an extensive selection of top-tier wines and spirits. Guests can also indulge in a tempting array of small plates.
For those with discerning tastes, there's an option for silver-cart champagne and caviar table service, adding an extra touch of luxury to the experience. The Mixer recommends the Garfield Park Conservatory Milk Punch with rhum, pandan, green chartreuse, oolong, sherry, Douglas fir, and bay leaf milk.
Get inspired: 10 Chartreuse (Yellow & Green) Cocktails to try in 2023
2. The Pearl Club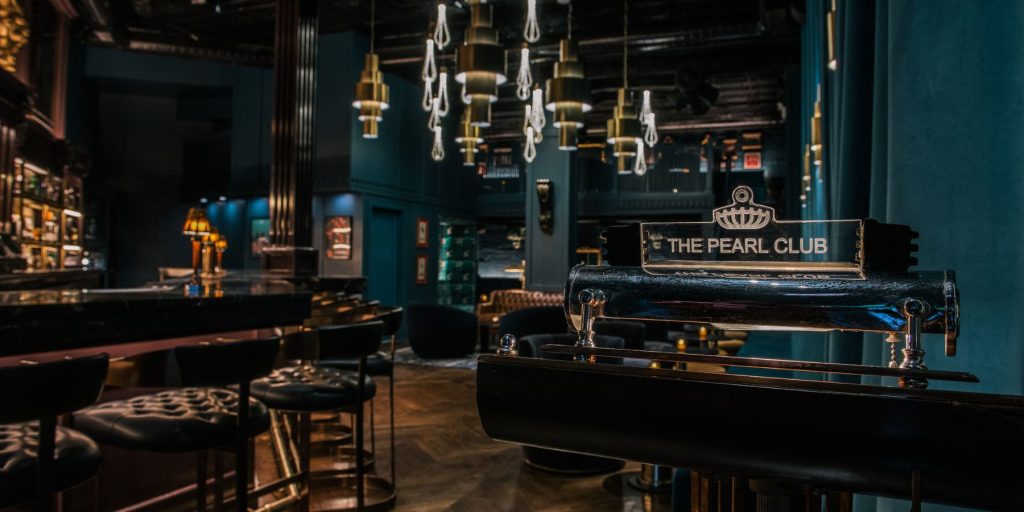 Location: 495 N Milwaukee Ave, Chicago
Adorned with velvety couches, sweeping floor-to-ceiling curtains, and a dazzling golden sign above the radiant bar, The Pearl Club evokes the exuberance of the Jazz Age. However, instead of the sultry jazz of Duke Ellington, an upbeat electronic playlist fills the air. While the first floor offers ample space, an intimate loft area adorned with vintage gold-framed artwork also awaits.
The drink menu features both timeless classics like the Gimlet, and inventive concoctions like the Trambler, featuring cheese-washed tequila, blackberry, Campari, mint syrup, and lime. To round it all off, there is a range of delectable bites on offer, ranging from tartare and sliders to easy chicken nuggets.
3. Osito's Tap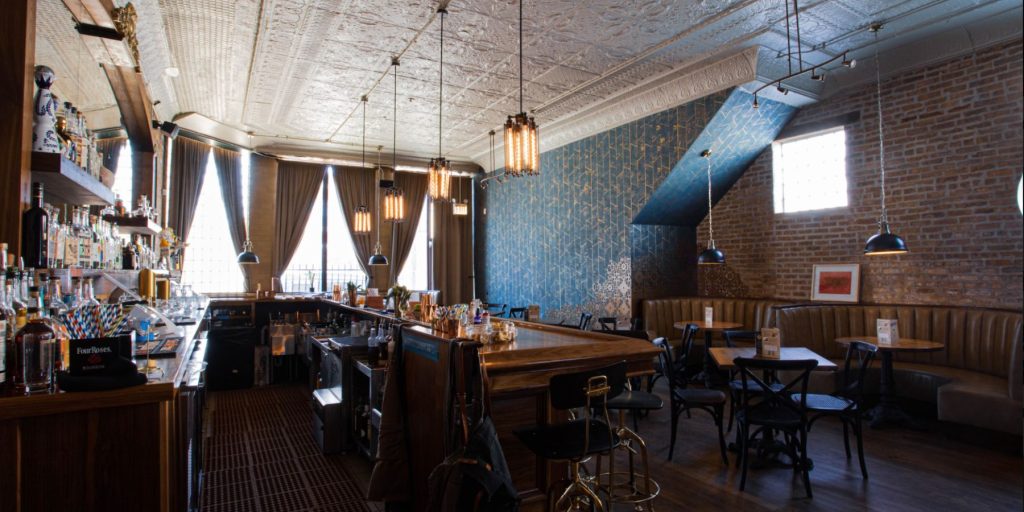 Location: 2553 S Ridgeway Ave, Chicago
In the early 1900s, Little Village predominantly housed Czech immigrants, with a history that included a Bohemian bar and an underground bookie establishment. Osito's Tap pays homage to this immigrant legacy by incorporating it into the bar's design, cuisine, and beverage offerings, seamlessly infusing it with modern Latinx influence and the timeless essence of Chicago. The Mixer recommends the Pisco Pal Calor with pisco, rose vermouth, watermelon juice, lemon juice, and mint syrup, topped off with sparkling rosé.
4. Nobody's Darling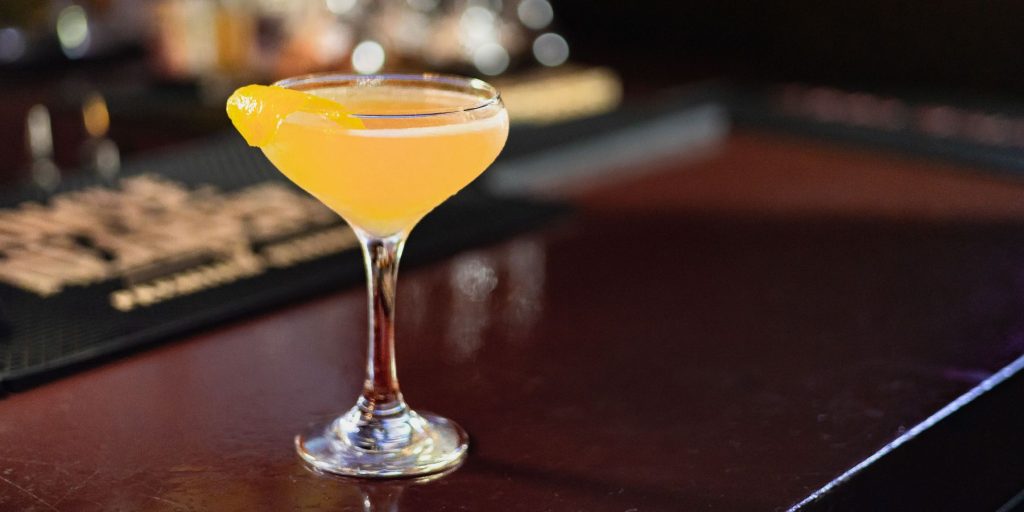 Location: 1744 W Balmoral Ave, Chicago
Angela and Renauda, two women with a delectable mission, each brought their unique visions to life at Nobody's Darling. Angela envisioned a Sunday morning lounge, that was laid-back and reminiscent of Nina Simone's style. In contrast, Renauda dreamed of an elegant, alluring space where exceptional cocktails are served at your beck and call.
Together, their dreams and creativity converged to birth Nobody's Darling. So, sit back, unwind, and savor the moment. The Mixer recommends The Baldwin with blood orange and marula gin, Campari, amaro, and chocolate bitters— rich, boozy, and smooth to the core.
5. The Alderman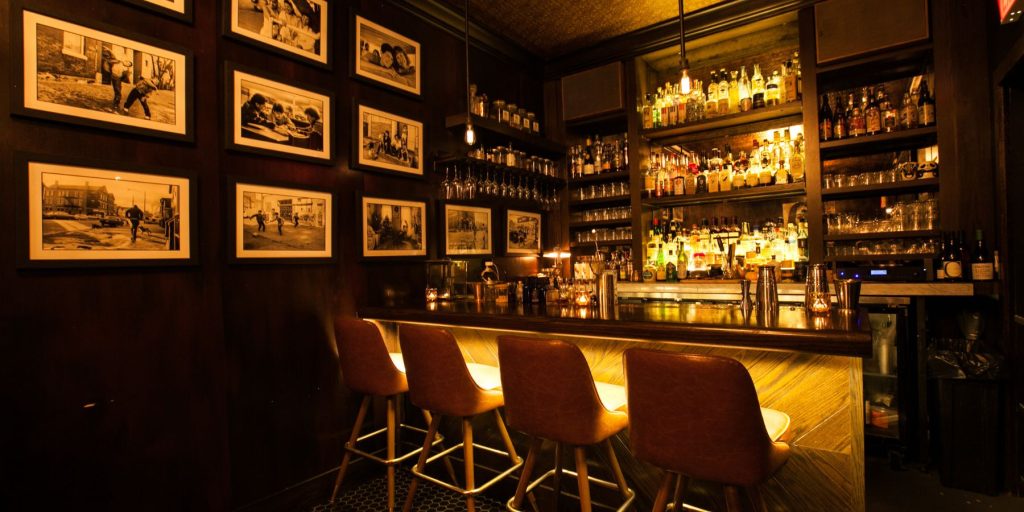 Location: 1163 W 18th St, Chicago
The Alderman, an intimate 16-seat cocktail hideaway, resides discreetly behind closed doors at Pilsen Yards. Celebrated as the winner of the 2022 Jean Banchet Award for Best Bar, it boasts a beverage program meticulously crafted by Chicago's esteemed mixologist, Lance Bowman. Bowman regularly refreshes half of the cocktail menu, infusing new life into American classics while preserving the essence of tradition at The Alderman.
Featuring a plush velvet banquette and a cozy 4-seat counter, this space is ideal for a nightcap, a romantic evening, or a relaxed gathering over a selection of exceptionally crafted cocktails. The Mixer recommends the Sidecar with toasted rice, crémant, and violet sugar.
6. Nine Bar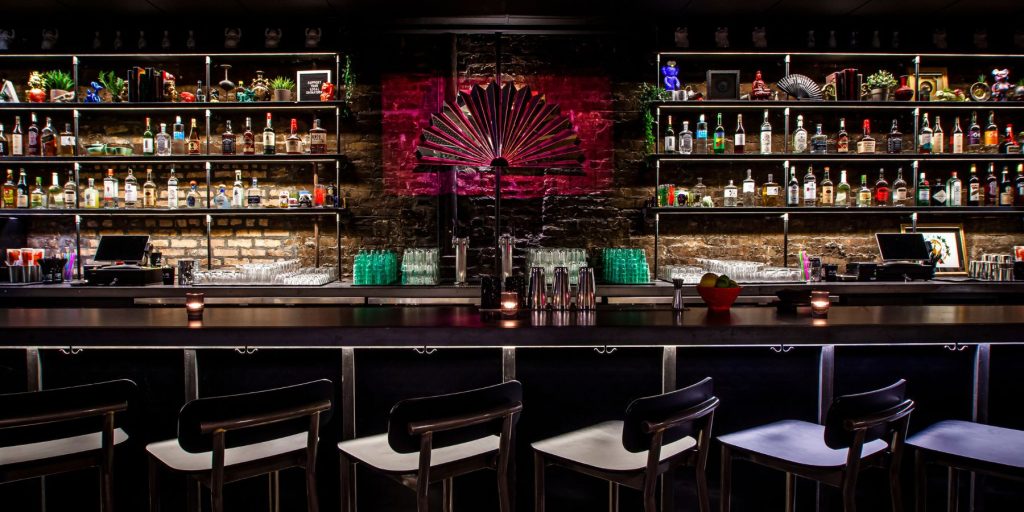 Location: 216 W Cermak Rd, Chicago
Tucked discreetly behind Chinatown's oldest eatery, Moon Palace Express (formerly Moon Palace Restaurant), you'll discover Nine Bar, a fresh addition to the scene. This hidden gem offers a decidedly unique bar experience. Lily Wang and Joe Briglio, the creative minds behind Estereo and Blind Barber, steer the ship here.
The menu blends Asian spirits like baijiu, soju, and shochu with ingredients like barley tea and Sichuan peppercorns. The cocktails put a spin on classic American libations like the Old Fashioned and Highball, infusing them with an exciting Asian twist. The Mixer recommends the Pink Cadillac with vodka, Campari, citrus, strawberry, and Thai basil.
Learn more: 20 Soju Cocktails to Master at Home
7. Best Intentions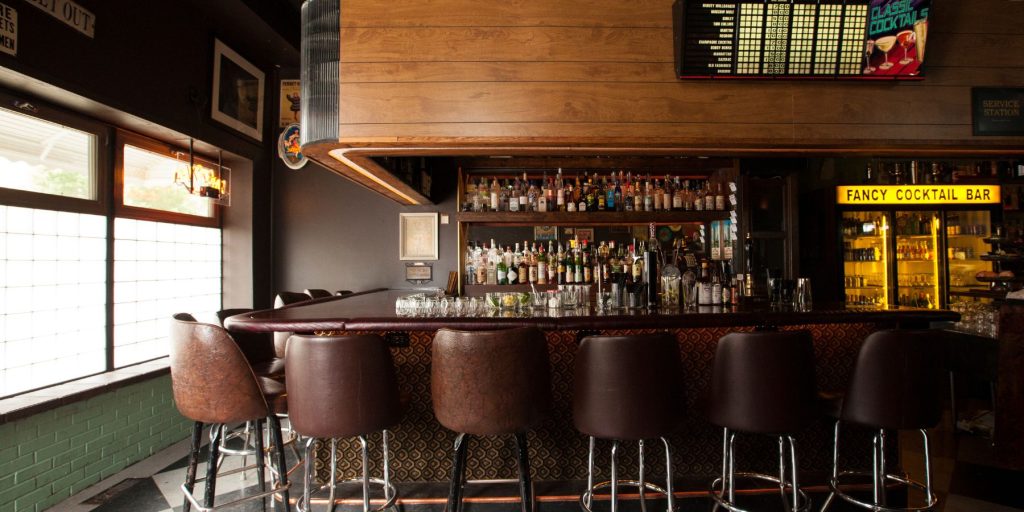 Location: 3281 W Armitage Ave
Best Intentions is 'a dark place for people with bright ideas'. The space consistently teems with patrons, most content to stand, as funk and soul melodies reverberate from the speakers. Setting it apart from typical dive bars, this venue offers outstanding cocktails that are still surprisingly well-priced. Moreover, it boasts a charming hidden patio and serves up an impeccable smash burger, the perfect accompaniment to their killer drinks.
8. Kumiko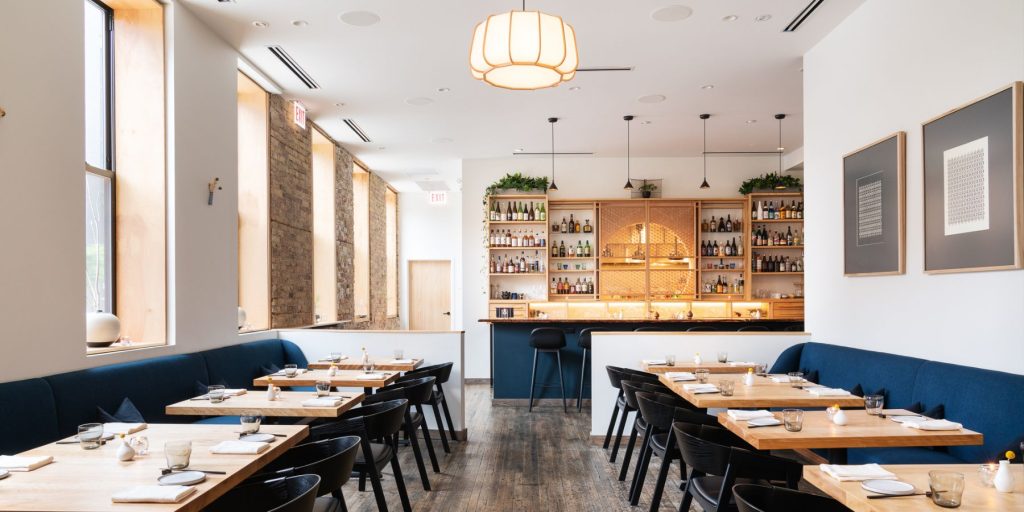 Location: 630 W Lake St, Chicago
This is one of the best cocktail bars in Chicago if you enjoy an authentic Asian experience. Kumiko embodies elegance in every aspect. Situated in the refined West Loop, the ambiance, with its exquisite woodwork and exposed brick, immediately whisks you away. Yet, it's in the menu where Julia Momose's Japanese-American heritage shines through. Spirits, available by pour, bottle, or flight, form the foundation, featuring imbued sake, shochu, rice whiskey, and Japanese whisky.
The bar team's expertise shines in vibrant, supple cocktails like the Bermutto Sazerac (bermutto, Japanese whisky, Riesling and absinthe) and Walk Softly (rice vodka, sake, vermouth, and brut Champagne) and
Read next: The Best Shochu Cocktails & Guide to the Famous Japanese Spirit
9. Kashmir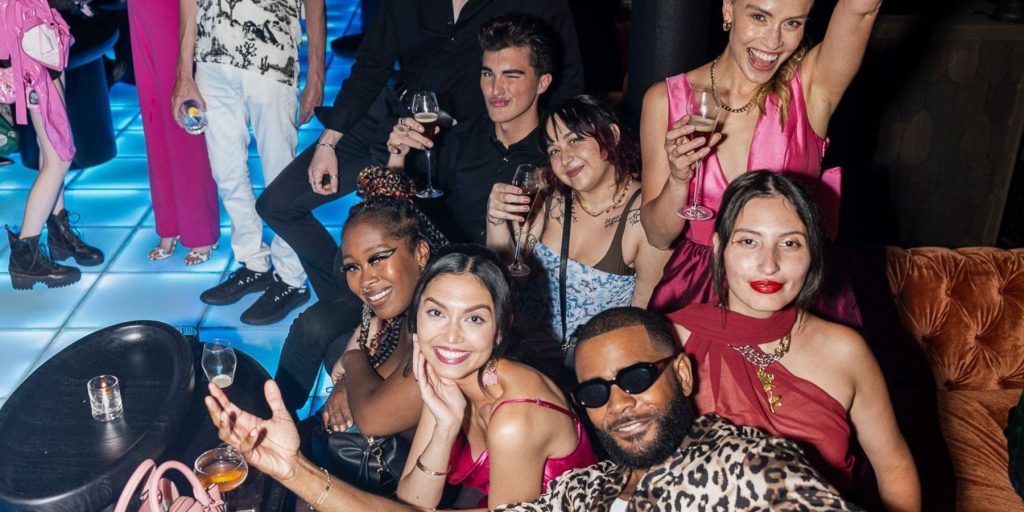 Location: 1436 W Randolph St
Situated within Chicago's bustling Fulton Market District, Kashmir offers an immersive nightlife encounter, blending exclusivity with unrestrained revelry. Crafted by the international hospitality group Bonhomme, Kashmir pays homage to the extravagant soirées of 1980s New York and London clubs. This experience unfolds within an intimate space characterized by Italian flair and Parisian elegance. The Mixer recommends the Night Fever cocktail with gin, aperitivo, strawberry, green tea, lemongrass, and citrus.
10. Tony's Rooftop Bar
Location: 916 W Fulton Market, Chicago
Arguably one of the best cocktail bars in Chicago 2023 if you love a gorgeous view, Tony's stands tall as the pride of Time Out Market Chicago. This snug, year-round rooftop bar boasts vintage Time Out London covers, inviting string lights, and handsome wood beams that span its length.
Named after Time Out's founder, Tony Elliott, the heart of the space is a generous bar offering a carefully curated range of wines, beers, and signature cocktails. On sunny days, step outside to savor the skyline vistas, including a clear view of Willis Tower among the city's architectural treasures.
11. The Aviary
Location: 955 W Fulton Market, Chicago,
Step into The Aviary, where your senses embark on a thrilling journey. Conceived by Chef Grant Achatz and Nick Kokonas, this establishment is a sensory playground that reshapes your expectations of a night out. Here, the experience encompasses sight, scent, sound, temperature, and, of course, taste, promising an unforgettable experience.
The Mixer recommends the Gumshop Fizz with Aperol, bubble gum, cucumber, egg white, and Tonka ice cream, or the Arnold Paloma with mezcal, grapefruit, and citrus black tea ice.
You might also like: What's the Difference Between Mezcal and Tequila?
12. Three Dots and a Dash
Location: 435 N Clark St, Chicago
Tucked away behind a discreet alleyway entrance, Three Dots and a Dash offers a modern interpretation of the classic island bar, inviting guests to step into the allure of bygone legends like Trader Vic, Stephen Crane, and Don the Beachcomber. Descending underground, patrons uncover a subterranean retreat boasting a menu drenched in rum, featuring over two dozen timeless, contemporary, and unique tropical cocktails, along with a tempting array of island-inspired cuisine.
The Mixer recommends the House Without a Key cocktail with Japanese whisky, aged Jamaican rum, lime, pineapple, and spice orgeat, or the eponymous Three Dots and a Dash with aged rum, lime, orange, falernum, and allspice.
Super interesting: What is Orgeat and How is it Used in Cocktails?
13. The Violet Hour
Location: 1520 N Damen Ave, Chicago
Located in the vibrant heart of Wicker Park, The Violet Hour is a go-to spot for expertly crafted cocktails. This James Beard Award-winning establishment offers a cocktail menu that evolves with the seasons and an impressive array of accessible yet highly coveted spirits.
A true icon among cocktail aficionados, The Violet Hour boasts an ever-changing mural on its facade, concealing a discreet single entryway. Inside, you'll find three cozy salons illuminated by the warm glow of candlelit tables and a spacious marble bar, creating an inviting atmosphere for a memorable night out.
The Mixer recommends the premium-spirit Mai Tai with Appleton Estate 8-year-old rum, Grand Marnier Cuvée Louis-Alexander, almond, lime, and bitters. Pair it with the truffle frites with parmesan and lemon aioli for the ultimate cocktail hour indulgence.
14. The Cauldron
Location: 1612 W Division St, Chicago
The Cauldron, a fantasy-themed pub and restaurant, breathes life into magic through the synergy of science, technology, and design. Here, operational magic wands empower patrons, immersing them in realms of imagination. Visitors can reserve a Potion-Making Experience, where they wield functional magic wands to concoct molecular cocktails. Alternatively, they can drop by for interactive cocktails and snacks at the alchemy bar, where a hands-on experience melds science with fantasy.
15. Milk Room
Location: 12 S Michigan Ave, Chicago
The Milk Room is 38th on the list of the 50 best bars in North America according to the World's 50 Best Bars 2023and you'll find it on the Chicago Athletic Association's second floor, under the operation of Land and Sea Dept. This exclusive micro bar accommodates only eight seats and places its emphasis on crafting classic, spirit-forward cocktails. These classy clinkers feature exceptionally rare, vintage spirits and elusive ingredients. Additionally, Milk Room offers an extensive and distinctive spirits selection for patrons to enjoy by the glass.
16. Warlord
Location: 3198 N Milwaukee Ave
Love a hole-in-the-wall spot for late-night drinking and drinks? Then you'll agree that Warlord is a hidden gem of a space. While the menu is constantly evolving, you'll be presented with a concise, one-page menu, typically featuring about 10 dishes. Operating from 6 p.m. to 2 a.m. on Fridays through Mondays, their skilled artisans will whip up any item from the menu deep into the night, making for a truly unique dining and drinking experience.
17. Afterbar
Location: 310 S Canal St, Chicago
Afterbar is an intimate cocktail lounge with gorgeous park views. Laine Peterson and Jeromiah Liver lead the menu, offering a blend of classic and inventive cocktails alongside selections of wine, beer, and bar snacks. The Mixer recommends the Oaxacan on Broken Glass with mezcal, Ancho Reyes Chili Liqueur, lime cordial, hellfire, and torched rosemary.
Get spicy: 15 Best Ancho Reyes Cocktails to Turn up the Heat
18. Monarch & Lion, A British Pub
Location: 302 E Illinois St, Chicago
Nestled in the heart of Chicago, a true-blue British pub has opened its doors for business. Guests can now relish a pint and indulge in elevated British pub fare at Monarch & Lion, which includes modern twists on traditional dishes like fish and chips, artichoke bhaji, shepherd's pie, and the beloved English classic, chicken tikka masala. The Mixer recommends the Pornstar Martini or Honey Mustard Old Fashioned to wash down these effortless eats.
19. Las Fuentes Restaurant, Lincoln Park
Location: 2558 N Halsted St, Chicago
In February of 1982, Don Jorge Albarran established Las Fuentes, a mere three years after his arrival in Chicago. Over the next 37 years, the restaurant embraced a diverse array of culinary influences, reflecting the backgrounds and regions of its dedicated staff.
As a genuine family-owned enterprise, the Albarran family persists in operating Las Fuentes to this day, now spanning locations in Lincoln Park, Alsip, and Morton Grove, all characterized by an atmosphere of warmth and authentic hospitality. The Mixer recommends the classic Lime Margarita (so good!), paired with slow-cooked Tinga Tostadas with avocado, black beans, Salsa Roja, queso fresco, and sour cream.
20. Diego
Location: 459 N Ogden Ave, Chicago
Diego pays homage to the vibrancy of Chicago's street life, with Chef Stephen Sandoval and Oscar Sotelo bringing the essence of Baja to the vibrant West Town neighborhood. This craft cocktail bar beckons guests to savor the craftsmanship of Mexican mixology while embracing the flavors of street food inspirations. The Mixer recommends the Quera, featuring Mexican honey, pineapple, and cava, paired with the snapper-and-coconut ceviche.
21. Billy Sunday
Location: 3143 W Logan Blvd, Chicago
Billy Sunday exudes the ambiance of a classic tavern, but with a mature twist, making it an ideal spot to perch at the bar and savor intriguing drinks paired with delectable food. While cocktails take center stage, the cuisine is far from being a mere afterthought. The Mixer recommends the Penicillin, or Billy Sunday Negroni, with aged gin, vermouth, bitters, and flamed orange. Pair it with a robust Plowman's Platter for the ultimate foodie treat.
22. Scofflaw
Location: 3201 W Armitage Ave
Whether you're headed on a date night or a casual gathering with friends, Scofflaw offers an inviting atmosphere, quality cocktails, and satisfying meals. To sweeten the deal, they treat patrons to freshly baked chocolate chip cookies at the stroke of midnight, adding an extra layer of charm to the experience. The Mixer recommends the Water Sign cocktail with gin, Douglas fir liqueur, clarified lime, and saline. Pair it with the Herb Roasted Pork Sandwich with chimichurri, caramelized onion, arugula, and mayo.
23. Good Night John Boy
Location: 905 W Randolph St, Chicago
Good Night John Boy transports guests to the disco era with an LED-lit dance floor and vintage decor. This 70s-themed bar serves up Studio 54 vibes, bringing granny's basement to vibrant life. The Mixer recommends the Wrigley Rita, a cucumber, jalapeño, and mango Margarita with subtle heat and a tajin rim. Pair it with Disco Fries topped with bacon, sour cream, green onions, mozzarella, and cheddar cheese.
Now you know! For more insider cocktail bar recommendations, sign up for our newsletter – The Mixer will keep you in the know.
FREQUENTLY ASKED QUESTIONS
Chicago, like many major cities, has a vibrant cocktail scene with a wide range of popular cocktails. Some classic and popular cocktails that were commonly enjoyed in Chicago include the Chicago Sour, a local twist on the classic Whiskey Sour, made with bourbon, lemon juice, simple syrup, and sometimes a splash of red wine on top for color.