18 Raspberry Cocktails to Try at Home This Year
July 31, 2023 by Anna-Bet Stemmet
Gorgeous line-up of raspberry cocktails, anyone? This small, vibrant red fruit is known for its delicate texture and delightful blend of sweet and tangy flavours, offering a burst of refreshing juiciness with every sip. Here are a few of our favorites:
1. Raspberry Margarita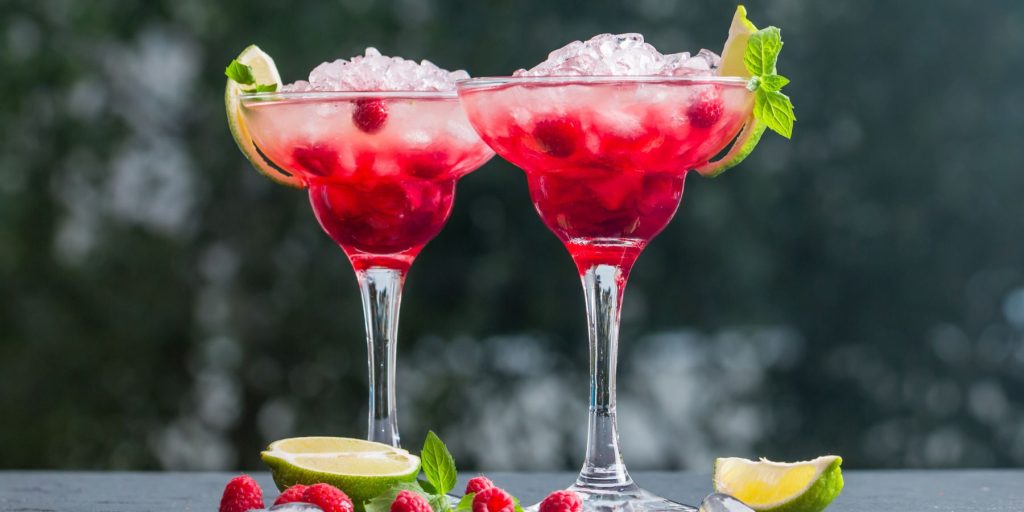 Arguably one of the best Margarita cocktails for berry enthusiasts, the Raspberry Margarita is a tutti-fruity delight. Cut a notch in a lime wedge, then run the lime around the rim of two glasses. Dip the edge of each rim into a plate of salt. Pour 90ml Espolòn Tequila Blanco, 60ml Grand Marnier, 60ml fresh lime juice, 30ml sugar syrup, 1 cup fresh or frozen raspberries, and a cup of ice into a blender. Blend until fully combined. Taste and add additional sweetener if desired. Pour into the glasses and serve.
2. Raspberry Martini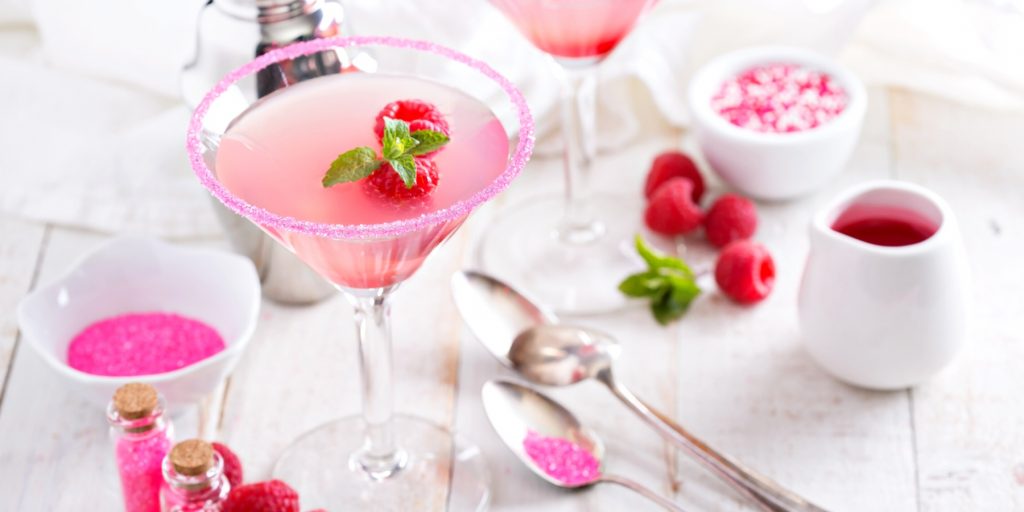 Raspberry vodka cocktails do not come any more stylish than the dainty Raspberry Martini. With just a few ingredients and a jiggle of your cocktail shaker, the Raspberry Martini comes together easily. The blushing red hue is seductive and inviting, and it hits all the right notes as it glides across your palate. It's sweet yet tart and oh-so-romantic with a lingering fresh berry burst.
3. Floradora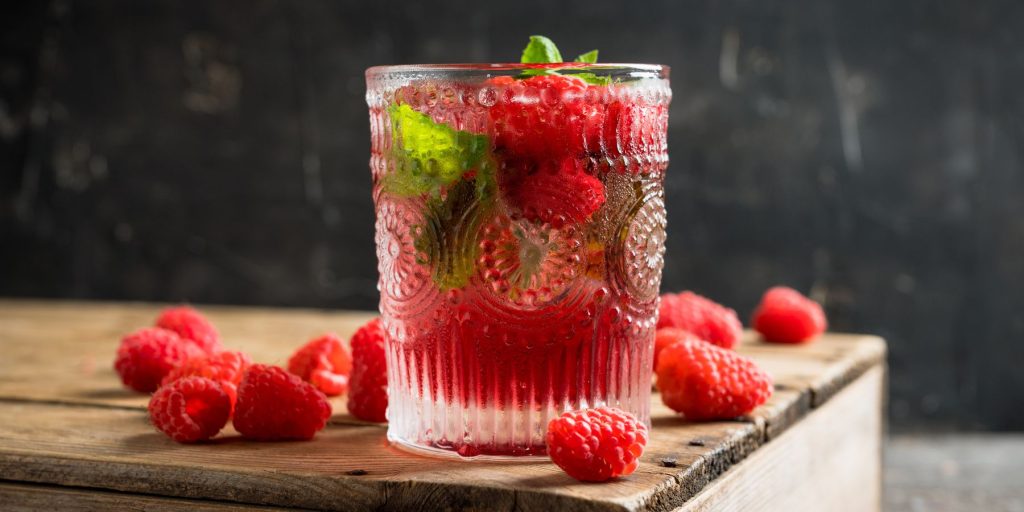 This raspberry vodka cocktail should be at the top of your list to try if you love refreshing ginger beer cocktails. To make a Floradora, add 60ml Bulldog Gin, 30ml raspberry syrup, and 20ml lime juice to a cocktail shaker with ice and shake vigorously for about 10 seconds. Strain into a chilled Collins glass with fresh ice, and top with ginger beer. Give the drink a gentle stir to combine the ingredients, and garnish with a few fresh raspberries and a lime wedge.
4. Clover Club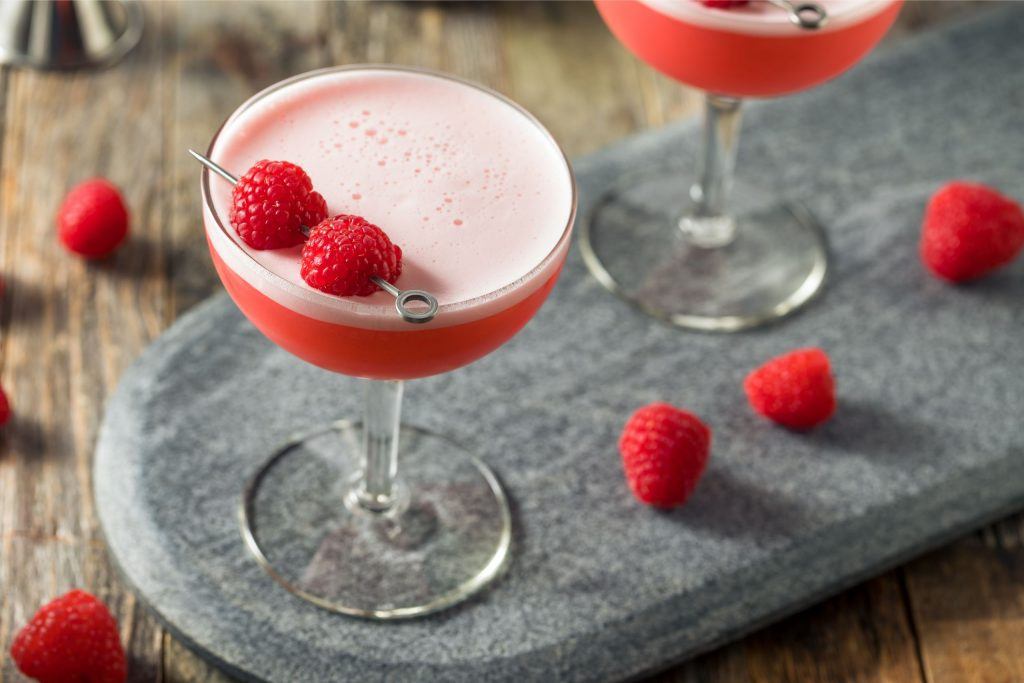 Looking for a cocktail with raspberries with a 1920s gentleman club theme? Sure thing, bestie. The pretty Clover Club cocktail might seem a little girly, but it was actually the drink of choice of a bunch of rather dapper lads back in the early-1900s. This picture-perfect drink tastes as delicious as it looks — like raspberry ice cream that has been infused with a kiss of gin, yet not too sweet. Simply dreamy!
5. French Martini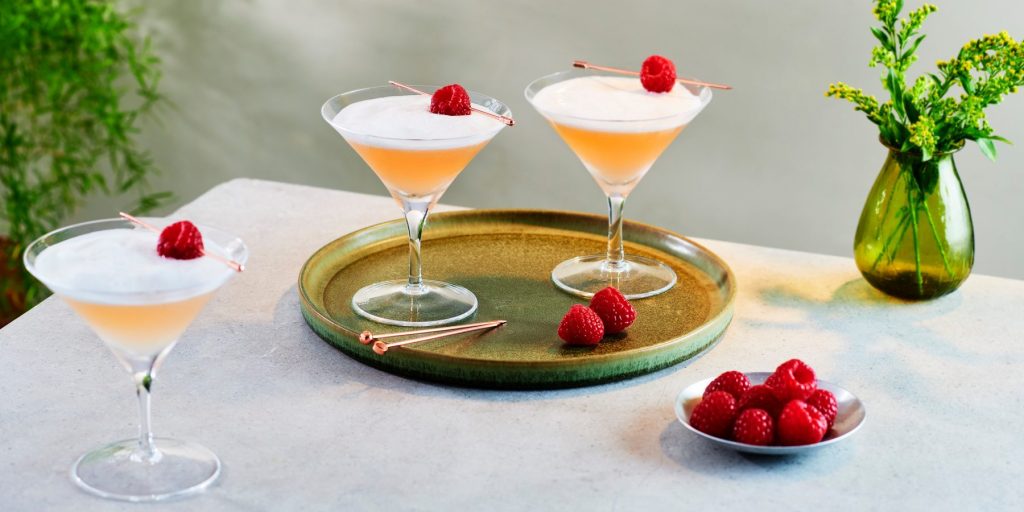 Raspberry liqueur cocktails are trés jolie, and the French Martini certainly is no exception. It was given its name as a nod to one of its original ingredients, a black raspberry liqueur from the French Loire Valley, which gives the French Martini its distinctive pink colour. Add pineapple juice and vodka, and the French Martini is definitely for those with a sweet tooth.
6. Raspberry Mojito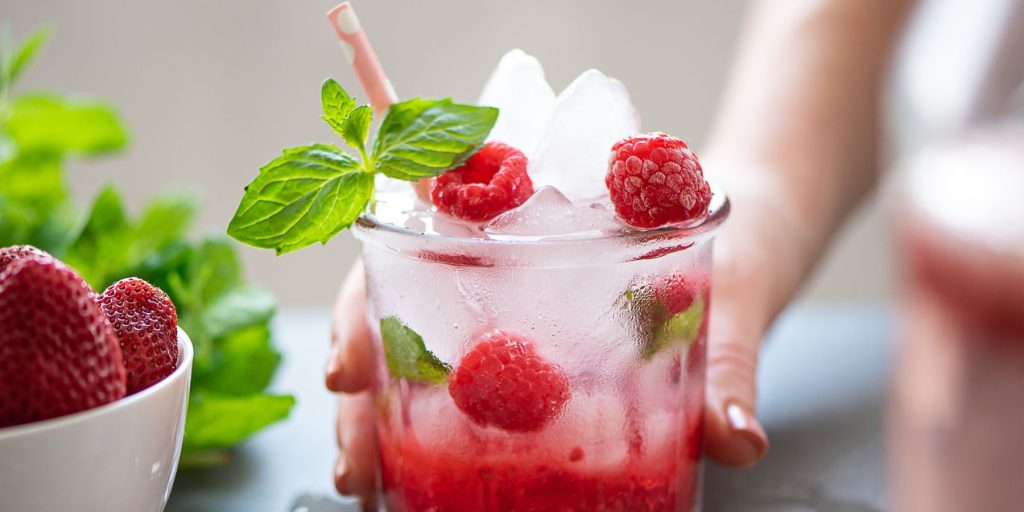 When the sun is high, and the weather turns scorching, a minty-cool Mojito always does the trick. This fruity riff on the classic adds a delightful berry layer to the mix. Muddle six mint leaves in a cocktail shaker, then add six raspberries and muddle again. Add 60ml Wray & Nephew White Overproof Rum, 30ml lime juice, and 30ml sugar syrup, and fill the cocktail shaker with ice. Shake until cold. Add fresh ice to a serving glass, and strain in the liquid. Top it off with 60ml soda water and garnish with fresh mint leaves and raspberries.
7. Raspberry Sour Cocktail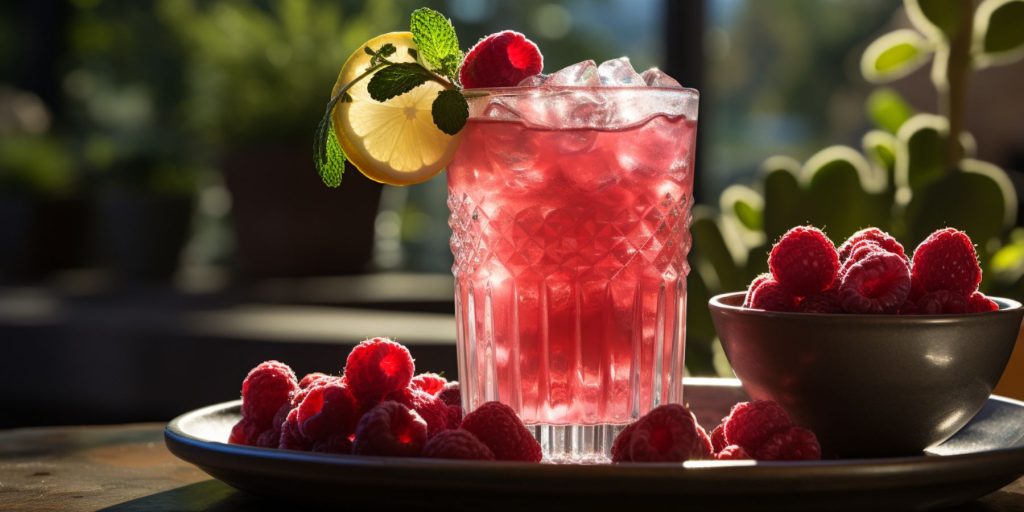 If you love a sour cocktail as much as we do, this Raspberry Sour will be right up your alley. Place 6 fresh raspberries in a cocktail shaker and add 15ml of simple syrup. Use a muddler to mash them up. Add ice to the shaker, along with 60ml SKYY Vodka, 20ml fresh lime juice, and 15ml simple syrup. Shake vigorously for about 10 seconds. Remove the lid of the shaker and pour the ingredients into a highball glass (ice and all), garnish with extra berries, and serve.
8. Raspberry Vodka Lemonade Cocktail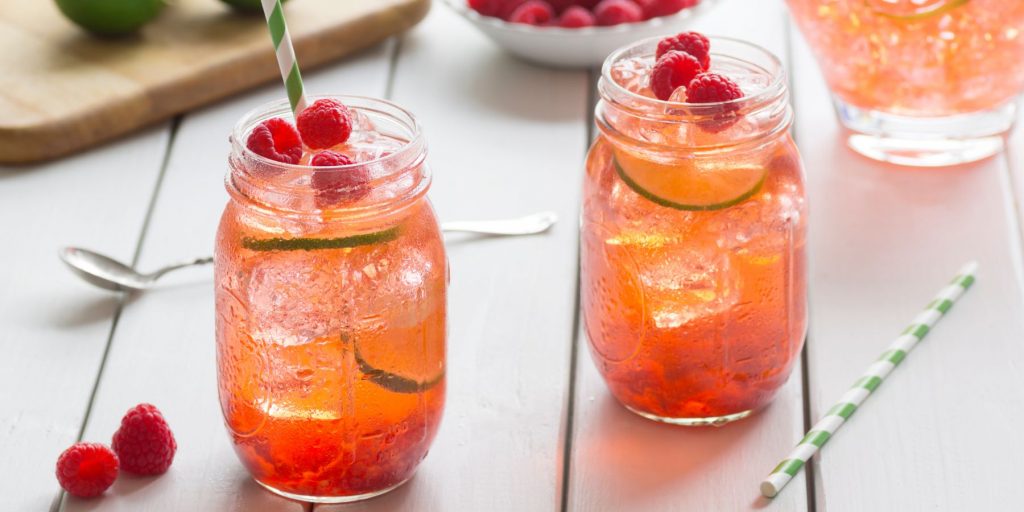 The Raspberry Vodka Lemonade s the ultimate summertime poolside indulgence. We like to make it a big-batch drink that can serve up to eight guests. Purée 1.5 cups of raspberries in a blender and sieve them, reserving the juice and discarding the pulp. In a large pitcher combine 1 cup (250ml) of lemon juice, the puréed raspberries, and 1 cup of simple syrup. Mix in 2 cups of SKYY Vodka, 1 cup of apple juice (optional), and 5-6 cups of water depending on how sweet/tart you prefer your lemonade. Garnish with lemon slices, raspberries and serve over lots of ice.
9. Raspberry Lime Rickey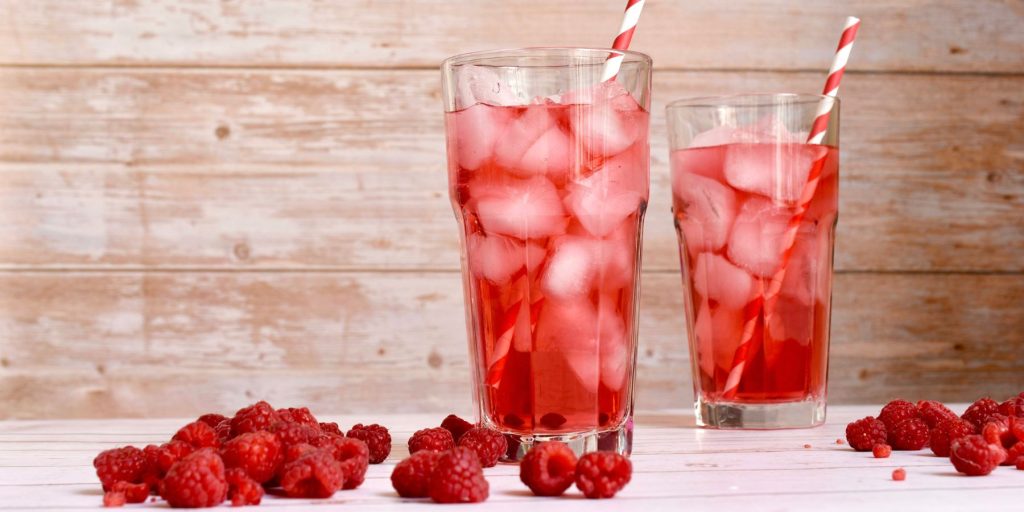 Once you know how to whip up an easy batch of raspberry syrup for cocktails (see the recipe under FAQs below), pouring drinks like the Raspberry Lime Rickey becomes a cinch. Add 30ml fresh lime juice, 60ml Bulldog Gin, and 30ml raspberry syrup to a highball glass and stir. Fill with ice and top with 90ml of sparkling water or soda water. Garnish with lime wedges and fresh raspberries.
More Rickey drinks to try: Gin Rickey | Bourbon Rickey
10. Raspberry Caipirinha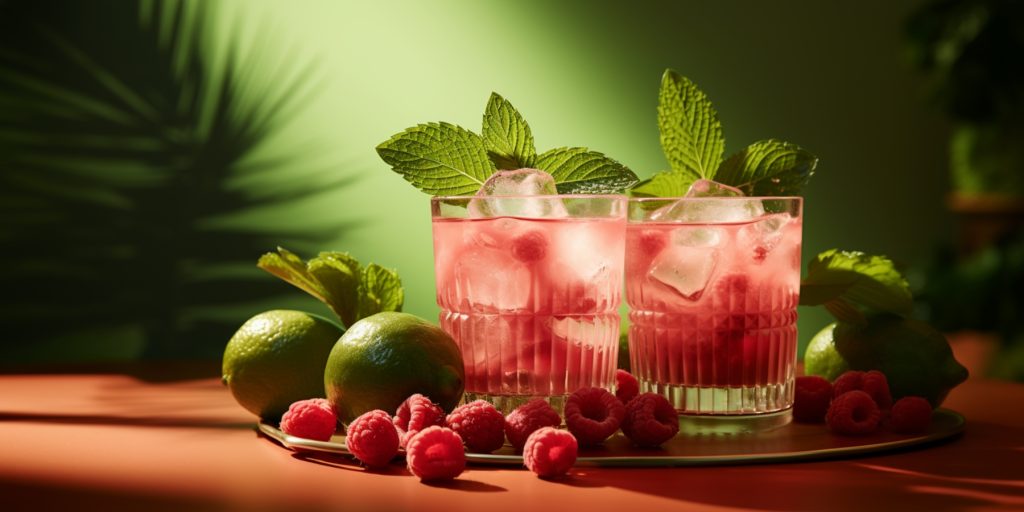 The time-honoured Caipirinha is a true-blue classic, and this berry-laced spin-off is just as amazing. Place half a lime, 8 raspberries, and 1 teaspoon of sugar in the bottom of a rocks glass. Muddle them together well to get lots of juice out of the lime and break up the raspberries. Add 60ml of Wray & Nephew White Overproof Rum to the glass, then either transfer to a shaker with some ice and shake well or add ice to the glass and stir to mix and cool. Top off with crushed ice to serve.
11. Raspberry Gimlet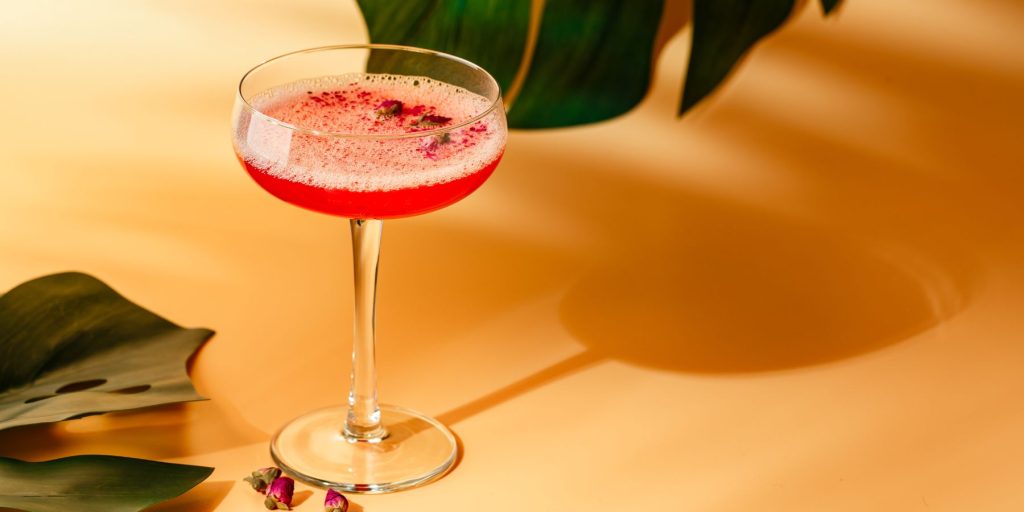 The original Gimlet was ostensibly developed to keep sailors from getting scurvy on the high seas. Its raspberry-infused cousin might not be quite as hardcore, but we love it just the same. Muddle 4 raspberries and 15 ml of sugar syrup in the bottom of a shaker. Pour in 45ml of Bulldog Gin, 45ml fresh lime juice, and then fill the shaker with ice. Shake well, then strain into a chilled glass.
12. Raspberry Lemon Drop Cocktail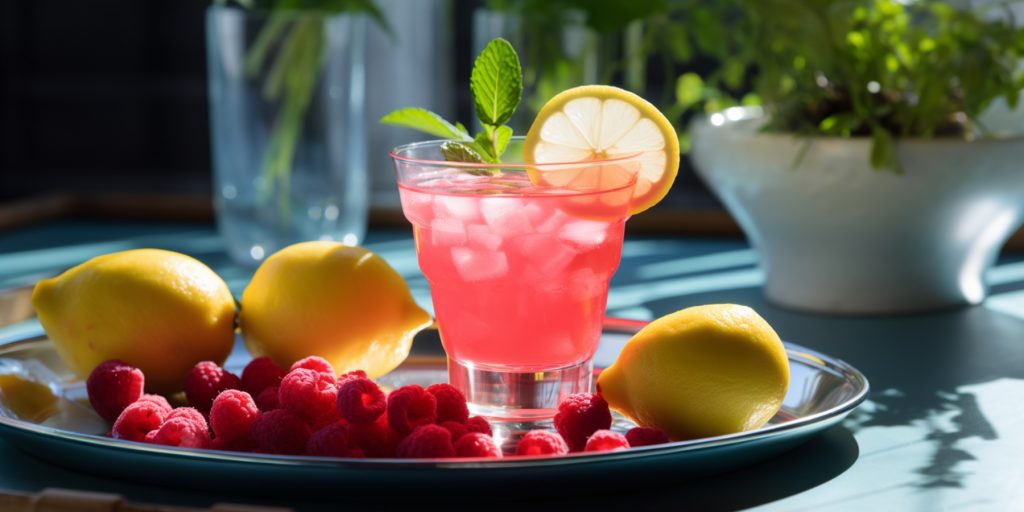 If a zesty vodka raspberry cocktail is what you are after, try the raspberry version of the classic Lemon Drop Martini. Muddle 8 – 10 raspberries with 2 teaspoons of sugar. Press through a wire mesh strainer to remove the seeds, pressing the berries down to release as much juice as possible. Mix raspberry purée with 60ml of SKYY Vodka, 60ml of lemon juice, and ice in a cocktail shaker. Shake to combine. Pour into a serving glass, top off with 90ml of lemon-lime soda, and serve.
13. Raspberry Bellini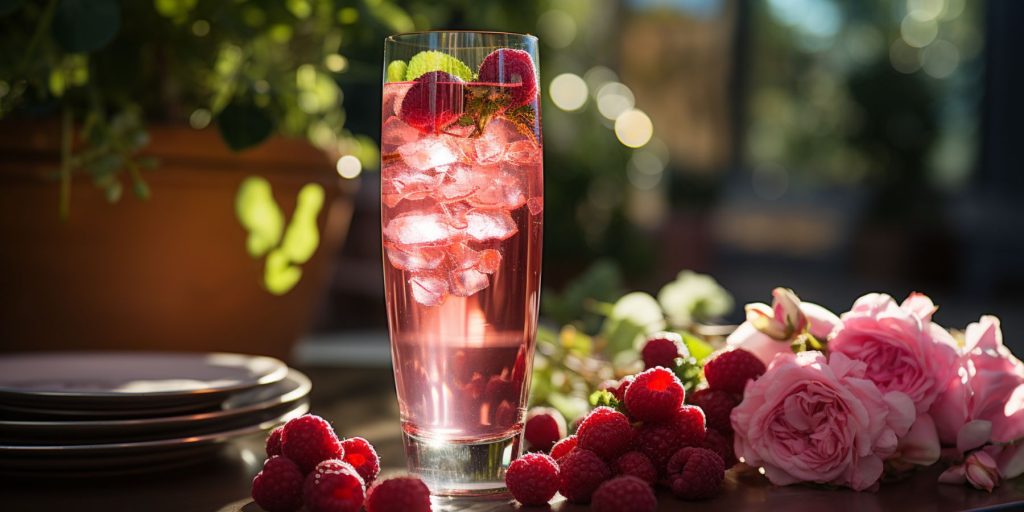 The peachy Bellini is a winner at a wedding or a brunch, and this raspberry-inspired riff on the original is just as whimsical. Pour 120ml of Champagne into a glass. Add 30ml of raspberry syrup. Top with fresh raspberries and serve immediately. Enjoy!
14. Raspberry Gin Fizz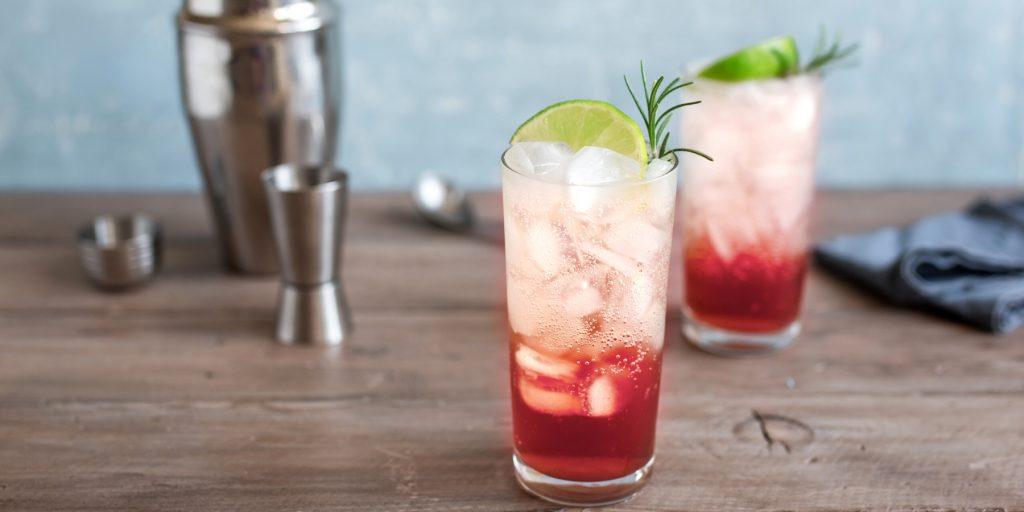 A raspberry gin cocktail with a nice kick of effervescence? Yes, please! Garnish glasses with fresh raspberries, add ice, then pour in 30ml raspberry syrup. Add 60ml lime juice, 60ml Bulldog Gin and top with soda water. Garnish with a fresh sprig of thyme and serve.
More fizzy goodness: Ramos Gin Fizz | Sloe Gin Fizz
15. Raspberry Limoncello Prosecco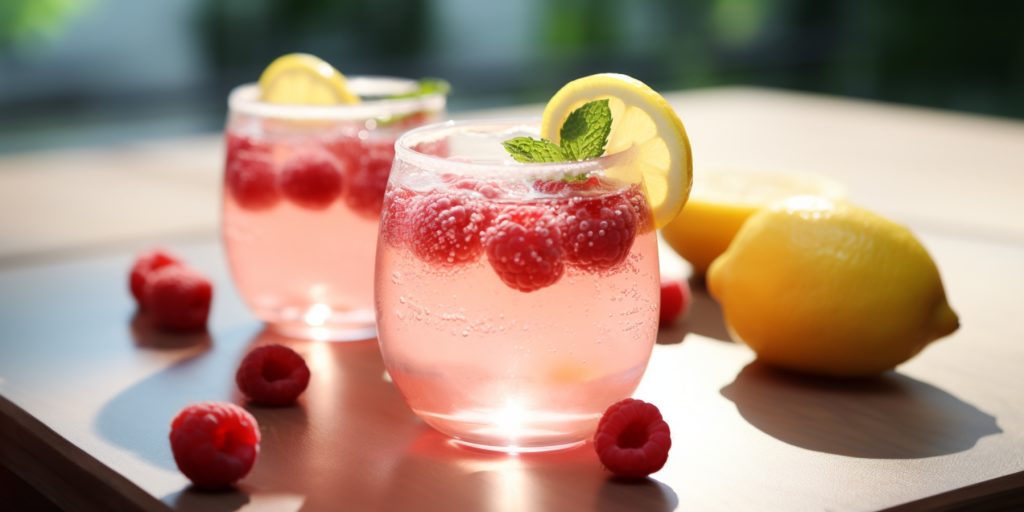 Limoncello cocktails are made for summer, and this Raspberry Limoncello Prosecco cocktail is certainly no exception. This easy-to-make pitcher drink calls for 3 cups rose Prosecco, 1 cup limoncello, and 0.25 cup raspberry sugar syrup. Combine all the ingredients in a large pitcher, garnish with fresh mint and lemon slices, and set out sugar-rimmed glasses and let your guests serve themselves.
16. Raspberry Mimosa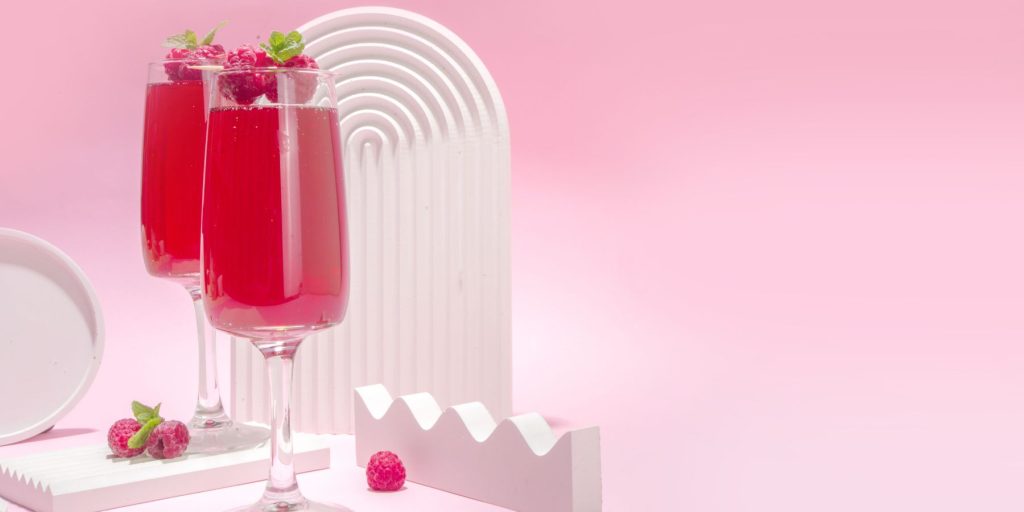 It's dainty, darling, and delicious, with a wee bit of sparkle to round it all off. To serve four thirsty guests, add 1 cup of raspberries, 0.5 cups of orange juice, and 2 tablespoons of honey syrup in a blender, and blitz. Strain through a fine mesh sieve and divide the juice between four Champagne flutes. Charge the glasses with Champagne, or sparkling grape juice if you prefer a non-alcoholic version, and garnish with fresh raspberries.
More Mimosas: Grand Mimosa | Strawberry Mimosa | Cranberry Mimosa | Classic Mimosa
17. Champagne and Chambord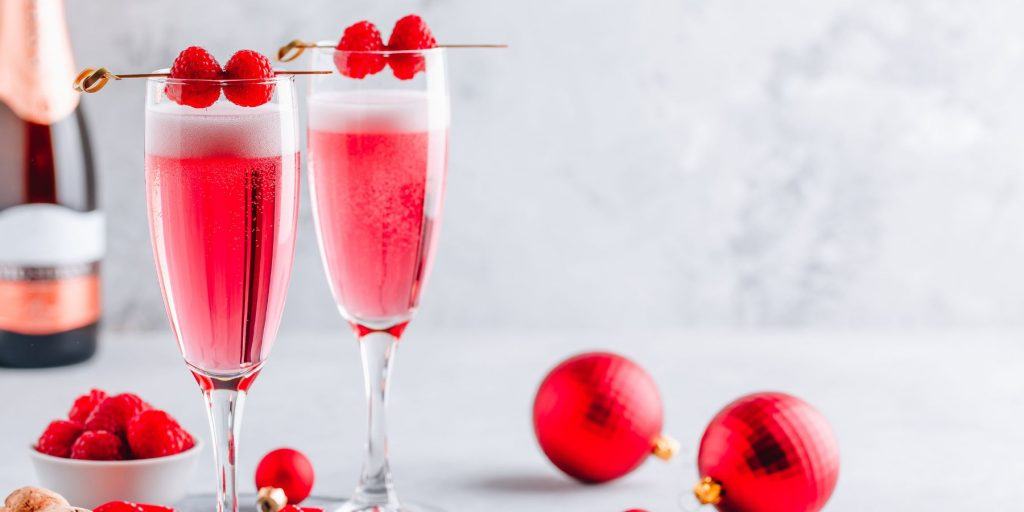 Champagne cocktails make the perfect twinkly addition to celebrations of all sorts. We adore this simple combination of Champagne and raspberry liqueur that is as easy to enjoy as it is to assemble. Pour 30ml raspberry liqueur into a Champagne flute. Top off with 180ml Champagne, garnish with fresh raspberries, and serve.
18. Raspberry Daiquiri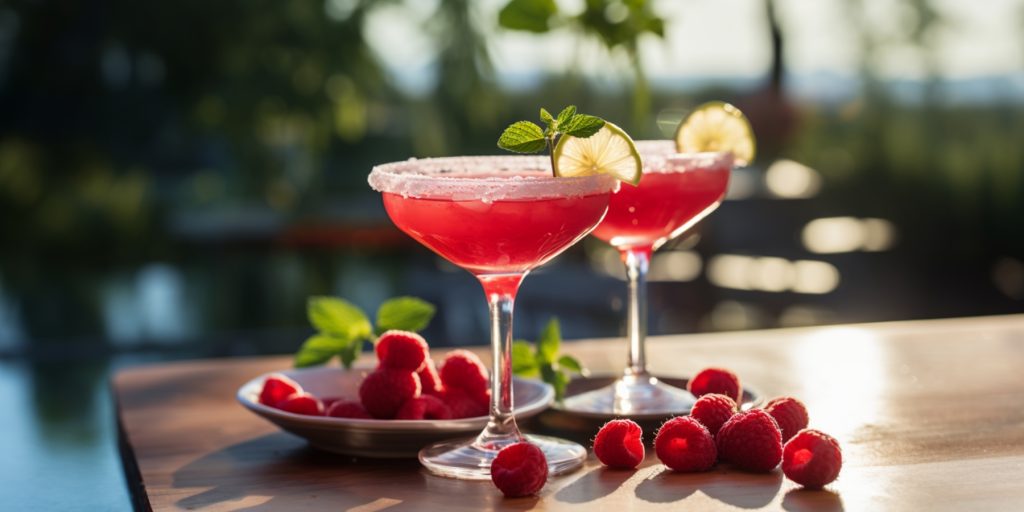 Once you've mastered the art of making a Strawberry Daiquiri, it's time to spread your wings and try your hand at a Raspberry Daiquiri. Prepare your glass by running a lime wedge around the rim of a martini glass. Dip the top of the glass into a plate sprinkled with sugar.
In a mixing glass, muddle 8 raspberries with 45ml lime juice and half a teaspoon of sugar. Add 60ml Wray & Nephew White Overproof Rum, 15ml Grand Marnier, and lots of ice. Shake well. Pour the mixture into a serving glass through a sieve to catch the raspberry seeds. Garnish with a lime twist (optional). Cheers!
Good stuff, right? To get more of this awesomeness delivered straight to your inbox for inspiration on the fly, sign up for our newsletter! It's crammed full of exciting hosting tips and tasty things to make at home.
FREQUENTLY ASKED QUESTIONS
To make raspberry purée, blend fresh or frozen raspberries until smooth. Optionally, add a bit of water and sugar to enhance the taste. Strain the mixture to the remove seeds, and you'll have a delicious raspberry purèe ready for cocktails. It's perfect for adding fruity goodness to your favorite mixed drinks.
Combine equal parts sugar and water in a saucepan, then add raspberries. Simmer on low heat until the sugar dissolves and the raspberries break down. Let it cool, then strain out the seeds. Now you have sweet and tangy raspberry syrup to sweeten up your cocktails and mocktails!
Raspberry vodka opens a world of cocktail possibilities. You can use spirits like SKYY Infusions Raspberry to make classics like a Raspberry Martini, a Moscow Mule with a raspberry twist, or a refreshing Raspberry Vodka Lemonade. For a fun and colourful option, try a Raspberry Rainbow Punch with various fruit juices. Experiment and create your own unique drinks with this fruity vodka base!