7 Best Cocktail Bars in Edinburgh for 2023
February 13, 2023 by Karl Tessendorf
Edinburgh has many amazing cocktail bars, but which one should you visit? You could ask Siri to search 'best cocktail bars Edinburgh', but you'd still have to sift through the results. Well, my friends, it's your lucky day because we've done the work for you, and compiled a handy list. It features Edinburgh's best bars, and there's something for just about everyone in Auld Reekie.
1. Hey Palu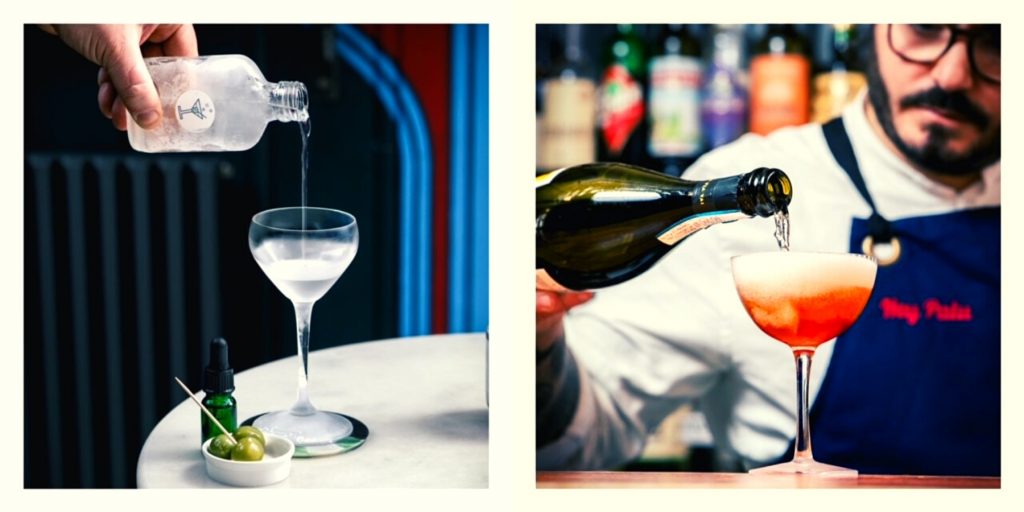 Location:

49 Bread Street, Edinburgh

Vibe:

If casual Italian aperitivo-style drinking with a modern twist is your thing, then

Hey Palu

is the bar for you. Not only is it one of the

best cocktail bars in Edinburgh, but

it also specialises in Amaro (Italian bitters) and vermouth. Hey Palu offers a vast range of amaro from all over Italy, and they feature in many cocktails. Expect classics like the ever-popular Negroni as well as their fruity take on the classic with a wild strawberry twist. They also have a selection of signature drinks like the rum-based Banana Jungle Bird and a zesty Yuzu Margarita. If you're as passionate about amaro as they are, then opt for the tasting flight on their menu, and savour the lingering bitterness.

Must-try cocktail:

Wild Strawberry Negroni – Scottish gin, bitter Bianco, wild strawberry and dry vermouth.
2. The Register Club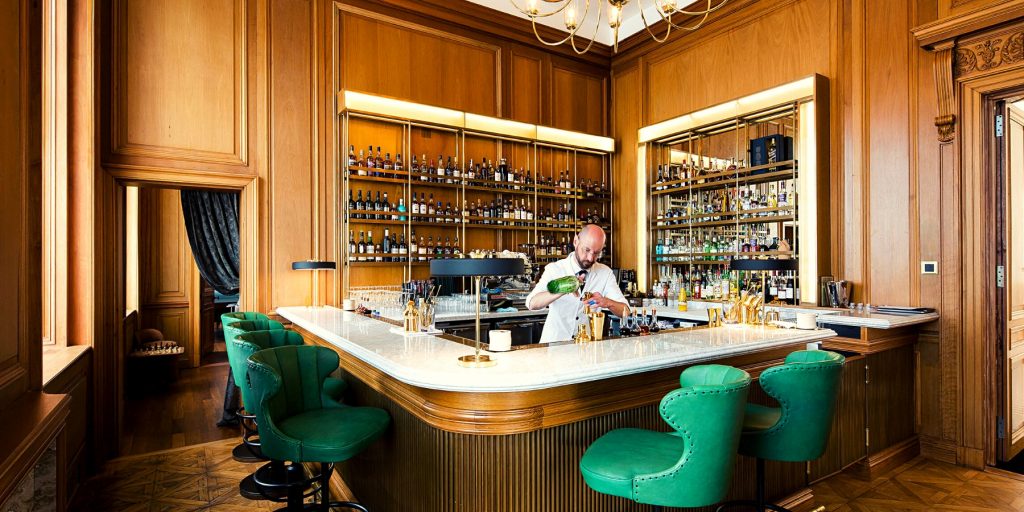 Location:

4

th

floor, Cheval The Edinburgh Grand, 42 St Andrew Square, Edinburgh

Vibe:

Situated in the historic Royal Bank of Scotland's former headquarters,

The Register Club

is a contemporary cocktail bar with old-school 1920s charm. Take a seat in the cosy cocktail lounge and choose from a tasty range of signature drinks like The Passion—a passionfruit and mandarin-based drink spiked with gin, sherry, amaro, Earl Grey and honey. The cocktails are expertly crafted by their in-house mixologist, and they also offer breakfast and an afternoon tea menu. The Register Club is a welcome break from the chaos of the street, and it's one of the

best cocktail bars in Edinburgh's city centre

.

Must-try cocktail:

The Kick – espresso and stout syrup, amaro, rum and spice.
3. Bar 99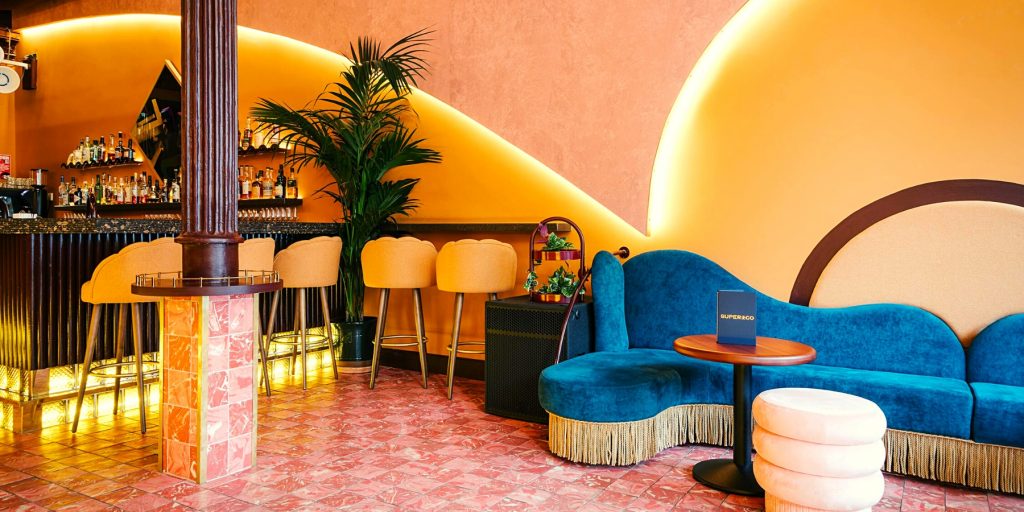 Location:

99 Hanover Street, Edinburgh

Vibe:

Google '

best cocktail bars Edinburgh'

, and you'll most likely come across Bar 99 (previously Superico)

on Hanover Street. That's because It's been making waves since 2018 for its impressive cocktail list and DJ line-up. The interior is stylish with art deco-inspired cues and an amazing Japanese paper moon hanging feature. Dive into their range of freezer cocktails like the Peach Negroni, or opt for one of their many signature drinks. A tasty selection of bar snacks is available to keep you going as you dance the night away.

Must-try cocktail:

Plum Sour – pisco, plum butter, sherry, falernum, lemon and lime.
4. Panda & Sons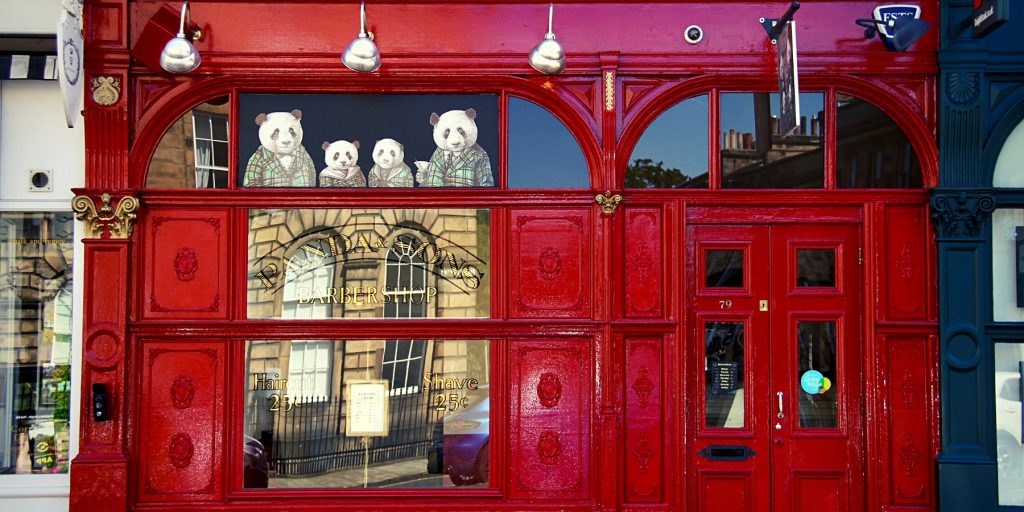 Location:

79 Queen Street, Edinburgh

Vibe:

Many of the

best cocktail bars in Edinburgh

are also some of the best bars in the world. Take

Panda & Sons

, for example. It's a tucked-away speakeasy-style bar with barbershop influences. On the surface, it looks quirky, but look a little deeper, and you'll find a globally recognised award-winning bar. They serve an incredible selection of cocktails that feature cutting-edge techniques like clarification, fat washing, and ultrasonic infusions. Expect classic cocktails, classics with a twist like Margaritas with jalapeño cordial, and a vast range of their own intriguing creations.

Must-try cocktail:

Red Panda – gin, lemon, tomato, sriracha, kaffir lime leaf, cucumber, Guinness foam, and Worcestershire sauce.
5. Uno Mas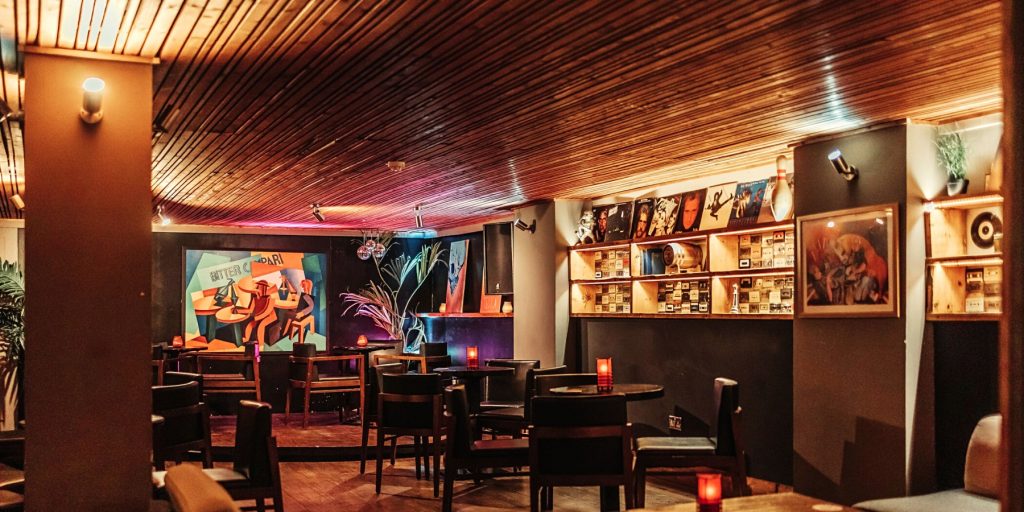 Location:

4 Picardy Place, Edinburgh

Vibe:

Edinburgh's best cocktail bars

often feature music, and none do it better than

Uno Mas

. With jam sessions on Wednesdays, live music on Thursdays and DJs on Fridays and Saturdays, Uno Mas has something for everyone. In Spanish,

uno mas

means 'one more', and this bar's got a great cocktail menu to help you do just that. Expect all the classics like the Old Fashioned and Martini, as well as an interesting selection of house drinks. The Funky Town features bourbon, fino sherry, banana, and coconut and it's always a smash hit.

Must-try cocktail:

L.E.S – bourbon, vermouth, amaro and blackberry.
6. Hoot the Redeemer
Location:

7 Hanover Street, Edinburgh

Vibe:

Described as 'an adventure at a 1950s New Orleans funfair',

Hoot the Redeemer

is, well, a proper hoot. It's a speakeasy-style bar filled with arcade games, a fortune teller, cocktail slushie machines, and a boozy ice cream vendor. You can even play the

Pinch 'n Sip

claw crane machine where you choose a flavour from the machine and take it to the bar. The bartender then makes you a cocktail using that flavour. Fun is the order of the day at Hoot the Redeemer, and it comes complete with funfair popcorn.

Must-try cocktail:

The Fool – gin, elderflower liqueur, gin liqueur, meadowsweet, lemon juice and soda.
7. Nauticus Bar
Location:

142 Duke Street, Edinburgh

Vibe:

Found in Edinburgh's hip port area, Leith,

Nauticus Bar

is a nod to Scottish heritage and the city's shipping history. The menu features almost exclusively Scottish products, with a just sprinkling of imports here and there. The space is comfortable and unassuming, but behind the bar, they're working Scottish cocktail wizardry. The menu is a historical journey through the ages with stops in historical timelines, including the spice route era, gin era, wine trading era and the whiskey boom. With world-class cocktails served in a beautiful and cosy setting, it's not surprising that Nauticus is among the best bars in the city.

Must-try cocktail:

Porridge Colada – coconut-washed whisky, local honey, homemade oat milk and pineapple.